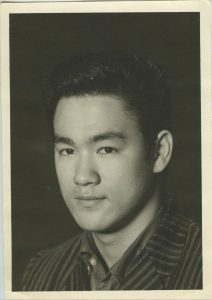 "My older brothers at Garfield were always complaining about this Chinese kid who was getting notorious around the neighborhood. He was known for being able to beat up more than one guy. Apparently, they were jealous of Bruce Lee."
This teenage anecdote from Annie Galarosa, former Central District resident is one of many. Lee's early years have left fingerprints in Seattle neighborhoods that many in our collective Asian American community can point to.
Separating local myth from truth can be difficult when it comes from Bruce Lee.  One thing that records can dispel against local myths is that Bruce Lee did not go to Garfield High School. He actually attended courses at Franklin High School. He eventually finished his secondary education at the former Edison Technical School. Sorry, Bulldogs. Go Quakers.
An important artifact I recently pulled were the Bruce Lee public archive records from Seattle Public Schools. They include his application to school, and his transcript records sent to the University of Washington. The application shows Lee's handwriting in perfect cursive.  Unfortunately, penmanship is now a lost art no longer taught in most public schools. Bruce Lee as a newly arrived émigré, somewhat amusingly leaves a plain question mark where a social security number is requested. We know Bruce Lee arrived in the late 1950's. Records read that he lived on Jefferson Street with Ruby Chow's restaurant as his living address. In his own handwriting he writes beautifully the job held there: washer.
Lee was essentially living on First Hill, near where Broadway & Jefferson meet.  This gave him a hub point to multiple areas and racially diverse neighborhoods.  He was connected in walking distance to Capitol Hill, the Central District, and the International District.  Garfield is a direct line over Cherry Hill via Jefferson.  Edison is now Seattle Central College and still on Broadway. These are walkable points from Ruby Chow's restaurant location.  As for the farther distance to Franklin along Rainier Avenue, bus lines and automobiles had become common in Seattle by the 1950's. Although living above the restaurant where you work may seem strange or humbling to some, in Lee's case it was absolutely convenient for the social lifestyle he was in as a working student.
Bruce Lee's brief time at Franklin High School reveals an interesting case study of how to value and enable students from different cultural backgrounds.  School records show he was in a program that fit for young people entering the American education system.  In Seattle Public Schools he would have been enrolled in what is called a "newcomer" program.  Newcomer programs exist at places like the Seattle World School today.  So, the Benjamin Franklin Adult program filled for course credit that would allow for his entry into standard education programs of the day.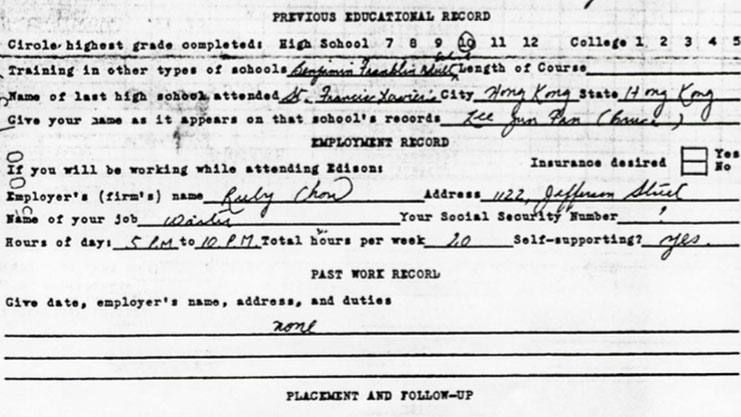 I've been highlighting an important piece of Lee's transcript to school district leadership.  There is a strategic effort in Seattle Schools for seeking to provide culturally responsive practices. The current term in use is "students furthest from educational justice" which is geared towards those historically not served by education systems at large.  Lee would have been considered part of this category as an Asian immigrant with a part-time job and no parents.
However, Lee's transcript provides a contrast; he was awarded four years of course study for Chinese Language & Literature. The numbers listed in the transcript show the respective years of high school they were crediting him for. This is an important historical exemplar to raise as progressive educators are pushing to provide immigrant students with more inclusion based on their heritage language and cultural skills. Seattle has an immense linguistic diversity today beyond what existed in the 1950's, and still there are students with language skills that are not leveraged as a benefit in their regular education. With Bruce Lee in reference, he is a case example of how the education system valued his Chinese knowledge and aptitude by giving credit to them. There was no deficit or educational gap found from his racial background.
The current movements in critical race theory as applied to education and Black Lives Matter activities we experience today would have been nothing new to Lee had he been living now.  Bruce Lee eventually became an educator starting martial arts schools across the West Coast.  His first student, and approved instructor, was fellow Seattle Schools classmate, Jesse Glover.  Inside this Seattle friendship with Jesse Glover, Bruce discovered that many African Americans sought to learn self-defense by learning martial arts because of police brutality.  Lee shared a perspective on teaching, "A teacher is never a giver of truth; he is a guide, a pointer to the truth that each student must find for [themselves]."  Bruce Lee would today see that an additional ugly truth remains for Black Americans and Asian Americans – that oppressive systems still exist.
Bruce Lee reflected on race once by saying, "The simple truth is that these opinions on such things as racism are traditions, which are nothing more than a 'formula' laid down by these elder people's experience. As we progress and time changes, it is necessary to reform this formula…I, Bruce Lee, am a man that never follows these formulas of the fear-mongers. So, no matter if your color is black or white, red or blue, I can still make friends with you without any barrier." His neighborhood experiences in Seattle would create relationships across a broad spectrum of racial groups from Blacks, Latinos, whites, and other Asian Americans.  People valued Lee's traditional Chinese concepts, while at the same time Bruce Lee sought to break and transform traditional barriers with American flair. In his practices as a martial artist he was able break binary barriers.
Popular culture often looks at the late 1960's and 1970's of Bruce Lee's life. Bruce lived his life across racial barriers, he married a white woman, Linda Lee Caldwell. He famously had friendships with people like Kareem Abdul Jabbar, a civil rights proponent in his own right.  One of his best friends was Filipino American Dan Inosanto who introduced him to the "chako" or Filipino nunchaku, traditionally known as "tabak toyok". Inosanto relates that Bruce did not like the chako, initially Bruce felt that it didn't play right. We know that eventually he got past his bias toward the awkward weapon. There are many small stories and moments like these that surround the name Bruce Lee. His name evokes reverence around the world, and something more intimate to those who knew him. His stamp on Seattle is still recognized by many from local neighborhoods, in some cases almost with a mythical sense.
"There was a high school house party in the Central District one night. Everybody was having a good time. Bruce Lee is there and he's very calm, cool, super-polite, and mingling on the side. As he's leaving he shocks the room. Out of nowhere, he just jumps up in the air and kicks the ceiling! Then he just walks out the door," a story from Anthony Laigo Cordova relayed from his cousin, a stunned house party attendee.
Devin Israel Cabanilla is a public historian, Asian American advocate, staff member at Seattle Public Schools, and member of the Filipino American National Historical Society.