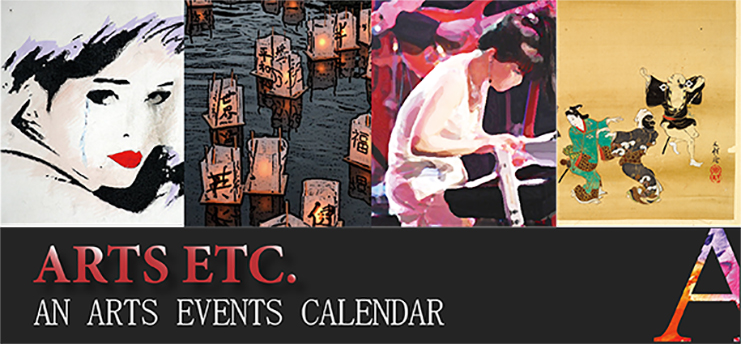 Visual Arts
Bellwether, the reimagined annual arts festival, brings visual art, music and talks from 40+ artists to downtown Belleuve Sept. 13 – 22, 2019. It is a free 10 day multi-disciplinary arts experience produced by the City of Bellevue with Bellevue's arts community and the guidance of the city's arts commission. Some highlights include the following – Glass & metal artist Minhi Winkempleck  engages in a cultural conversation on Wed., Sept. 18, 2019 at 1pm at Bellevue Arts Museum. On Sat., Sept. 21 at 2pm Monyee Chau will talk about her art at Bellevue Arts Museum. Roquin-Jon Quichoco Siongco does a Kataput Weaving workshop on Sept. 20 at 1pm (RSVP required) and a Katupat Weaving Ceremony later at 4 pm with both events at Bellevue Arts Museum. Some of the artists from various genres participating in Bellwether include Chanhee Choi, Garim Thakur, Kimberley Hinnekamp, Degenerate Art Ensemble, Erin Shigaki, Michelle Kumata, Kenji Stoll, Nikita Ares, Leah Nguyen, Mari Nagaoka, Nic Masangkay Tuan Nguyen, Wakuda and many others.  Venues include Bellevue Arts Museum, Bellevue City Hall, Bellevue Convention Center and Meydenbauer Center. General direction of the festival by SuttonBeresCuller. Guest curated by Sassy Black, John Boylan, Anthony White, Michelle de la Vega, Ellen Ito, Janet Galore, Elisheba Johnson, Angelia Villa Lobos and Jonathan Zwickel. Go to https://bellwetherartsweek.org for details.
"Girlfriends of the Guerilla Girls" refers back to an anonymous group of American women artists who staged protests to shine a spotlight on sexism and racism in the art world. This group show of local female artists picks up the torch for 2019. Hanako O'Leary's ceramic work of undulating vulvas and defiant middle fingers is included. Through Sept. 21, 2019. Center On  Contemporary Art. 113 Third Ave. 206-728-1980 or cocaseattle.org.
"Palouse to Pacific" is a show of new work that emphasizes the profound connection artist Z. Z. Wei has to the Pacific Northwest. Sept. 5 – 29, 2019 with opening reception on Sept. 5 from  6 – 8pm. Patricia Rovzar Gallery at 1111 – 1st Ave. 206-223-0273 or go to www.rovzargallery.com
The Bunka Fashion College's Annual Bunka Fashion Show takes place on Sept. 15, 2019 at 1pm and 3pm at Seattle Central Community College's Broadway Performance Hall. Free. 1625 Broadway. Make your reservations at [email protected]. 206-934-3052.
Work by Masao Yamamoto is included in "Photo Finish", a group show of photography. On view Sept. 6, – Oct 12,  2019 at G. Gibson gallery. Gallery reception is on Sat., Sept. 21 from 4 – 6pm. The gallery will be transitioning from a brick and mortar gallery to an on-line service soon. 104 West Roy St. 206-587-4033.
Seattle artist Romson Regarde Bustillo is a finalist in the "Open Media" division for a 2019 Neddy Cornish Award. All finalists will be featured in a group exhibition at Cornish Playhouse this fall. Winners will be announced soon. The Neddy at  Cornish is funded by the Behnke Foundation and is stewarded by Cornish College of the Arts as a tribute to Seattle painter and teacher Ned Behnke (1948 – 1989).
Multi-media visual artist Michelle Kumata has a new art installation at Bellevue City Hall as part of the Bellwether Art Festival from Sept. 13 – 22, 2019 which tells the story of Bellevue Japanese American farmers. Artist Erin Shigaki also has a sculpture installation at City Hall. (You can see her work @purplegatedesign on IG). For details on the 10-day festival in Bellevue, go to https://bellwetherartsweek.org/. Kumata is also the recipient of a 4Culture project grant for her Japanese Brazilian Diaspora project. She travels to Sao Paulo in the fall to interview family members and in 2020 will talk about her project in a public presentation. If you are interested in 4Culture grants, go to https://www.4culture.org. If you want to follow Michelle Kumata's artistic journey go to michellekumata.com or fellow her @michellekumata on IG.
"Magic Box: Defining Words in a Digital Age" is a show by butoh dancer/artist Shoko Zama and poet David Thornbrugh. It is an interdisciplinary dialogue between collage/painting, evoking dictionary illustrations and ekphrastic writing. During gallery receptions and community day, butoh dancers will perform in the window displays.   First Thursday reception is on Sept. 5, 2019 from 6 – 8pm. On view through Sept. 28, 2019. BONFIRE Gallery. 603 S. Main St. in Seattle. Go to www.thisisbonfire.com for details.
 "Quiet Hour: The Photography of Yukio Morinaga (1888 – 1968)" is the first solo exhibition by Seattle photographer Yukio Morinaga. He was an important member of the Seattle Camera Club, a group started by Dr. Kyo Koike, which consisted of mostly Japanese members that specialized in the school of Pictorialism. In the 1920's, his work won prizes in many national and international competitions. There was a silken, poetic sensibility in his work that captured the mood of the streets in early turn-of-the-century Seattle. On view through  October 13, 2019. Cascadia Museum in Edmonds, WA. 190 Sunset Ave. 425-336-4809.
The work of Tacoma artist Fumiko Kimura is included in a group show entitled "Departures and Arrivals: Artists in Abstraction" now on view through Sept. 29, 2019. Bainbridge Island Museum of Art. 550 Winslow Way on Bainbridge Island. 206-842-4451 or go to www.biartmuseum.org.
Washington artist Yoshiko Yamamoto's work is included in a group show entitled "West Coast Woodcut: Contemporary Relief Prints by Regional Artists" on view through Nov. 15, 2019. Maryhill Museum at 35 Maryhill Museum Dr. in Goldendale, WA. 509-773-3733.
At KOBO at Higo in the CID is the following –There will be two floral workshops lead by Delinger & Radovich in September, 2019. Participants will learn to create their own personal, one of a kind, floral arrangements using Heiando Traditional Japanese lacquerware and specially preserved flowers. "Preserved Flowers in a Shadow Box Frame" takes place on Sat., Sept. 14, 2019 from 10am – 2pm. All tools, supplies and frame are provided in the $210 cost. Class size is limited so registration and payment should be made by August 30, 2019. "Preserved Flowers in a Japanese Heiando Lacquer Box Workshop" is on Sat., Sept. 28, 2019 from 10am – 2pm. All tools, supplies and frame are included in the $210 cost of the class. Payment should be made by Sept. 14, 2019.  KOBO at Higo is open daily at 604 South Jackson St. 206-381-3000 or [email protected]. Kobo also has a sister location on Capitol Hill at 814 East Roy St., 206-726-0704.
Tacoma-based sculptor June Sekiguchi visited Laos a few years ago and it left a deep impression. So deep that she hopes to summon the powerful flow of the muddy Mekong River within the gallery walls providing visitors with a bridge to cross it as well. Set for the month of Oct., 2019. ArtXchange Gallery at 512 First Ave. S, 206-839-0327 or [email protected].
L.A.-based Ahree Lee is a multi-media artist working in video, photography, sound and interactive installations. She has a video installation entitled "Permutations"  currently on view in front of the Bill & Melinda Gates Foundation campus at 500 Fifth Ave. N. on view from 7am – 10pm. This same installation also appears at 4Culture's Storefront Media Gallery space at 101 Prefontaine Pl. S. It will be on view for a year.This is part of Storefront Media Gallery sponsored by 4Culture. 206-263-1588 for details. 
Asia Pacific Cultural Center has a show every month of a local Asian American artist every month in their gallery.4851 South Tacoma Way in Tacoma. 253-383-3900  or asiapacificculturalcenter.org.
Seattle Art Museum has the following – Opening at the John McCone Gallery on the 3rd floor on March 16, 2019  is "The Gentleman Warrior: Art of the Samurai" which features two complete sets of samurai armor, screen paintings and a print of the legendary battle between the Tara and Minamoto clans. On the third floor of SAM, tea ceremony demonstrations continue on Third Thursdays at 5:30pm and Third Sundays at 2:30pm. Free with admission.  Go to visitsam.org/performs for details. Seattle Art Museum is located at 1300 First Ave. 206-654-3210 or try www.seattleartmuseum.org.
Henry Art Gallery has the following -"Recto/Verso" features art by New York-based artist Carrie Yamaoka through Oct. 2019. It brings together work from the early 1990's to the present highlighting recurring themes of (in)visibility and perception. Early work is text-based explorations using chemically altered photographs. Also ongoing work made with reflective mylar and resin. Recent work straddles the media of painting, drawing and sculpture. Yamaoka is a founding member of the queer art collective known as fierce pussy. Located on the UW Seattle campus at 15th Ave. NE + NE 4lst Street. 206-543-2280 or try henryart.org.
Pacific Bonsai Museum shakes up this Japanese tradition with LAB (Living Art of Bonsai), an experimental collaborative for bonsai innovation This project is a re-sequencing in the order of influence between the bonsai artist, ceramicist and stand maker. The project kicks off in 2018 and continues through 2020. A video trailer from a film about this new process can be viewed at http://www.bonsaimirai.com. Other shows include "Gnarly", a tribute to "bonsai renegade" Dan Robinson who helped create the Northwest bonsai scene with his innovative designs. Also on view will be "Living Art of Bonsai: Principles of Design" which emphasizes key elements of the art form. Both shows on view through Sept. 29, 2019. For more information, go to http://www.pacificbonsaimuseum.org. The Pacific Bonsai Museum is at 2515 S. 336th St. in Federal Way, WA. 206-612-0026 for information.
Portland Art Museum has the following –  On view for the first time at the museum are Korean ink paintings from the Mary and Cheney Cowles Collection. Dating from the 16th to early 20th century, these paintings show the expressive moods of animals in landscape. "Squirrels, Tigers and Towering Peaks" is on view through Oct. 17, 2019. "Dramatic Impressions – Japanese Actor Prints" is a group show of woodblock prints of actors on the kabuki stage on view through Oct. 13, 2019. 1219 S.W. Park Ave. 503-226-2811 or try [email protected].
Bellevue Arts Museum previously had a retrospective for the late N.W. jewelry artist Ron Ho. They follow it up with "Ron Ho: A Jeweler's Tale" which looks more closely at his inspirations and how his Chinese roots and world cultures influenced and fed into his own work. With a reconstruction of his studio and the screening of a new documentary entitled "Ron Ho: Becoming Chinese, A Jeweler's Tale". On view  through Sept. 15, 2019. 510 Bellevue Way. 425-519-0770 or go to bellevuearts.org.
New and recent shows /activities at the The Wing   include the following – "Where Beauty Lies" is an exhibit that explores Asian Pacific American's relationship to physical appearance and personal presentation, the history of beauty standards and products, and the ways in which we are redefining beauty. Oct. 10, 2019 – Sept. 19, 2021."Excluded, Inside the Lines" is on view through Feb. 23, 2020. It uncovers the history of redlining and the impact on minority communities. "A Dragon Lives Here", part 4 of the ongoing Bruce Lee exhibition series is ongoing.  This concluding part hones in on Bruce Lee's Seattle roots and how this region played a key role in shaping Lee and his groundbreaking career. "I Am Filipino" exhibit is ongoing. A "Make A Lei" workshop as offered by Kalei'Okalani of Huraiti Mana. Ages 12 and over. On Sept. 15, 2019 from 11am – 1:30pm. Register at www.huraitmana.com/lei 206-623-5124×202 or wingluke.org.  Toddler Story Time set for Thursdays at 11am always has events centered around a kid's book and an art activity afterwards.   A new addition to The Wing's daily Historic Hotel Tour is "APT 507" which is the story of Au Shee, one Chinese immigrant woman who helped build Seattle's Chinatown. Her living room is interactive with objects meant to be felt, opened  and experienced.   "Worlds Beyond Here: The Expanding Universe of APA Science Fiction" is a show that remains on view through Sept. 15, 2019. From onscreen actors to behind-the-scenes writers, creators, artists and animators, learn about the impact Asian Pacific Americans have had and continue to have in science fiction. A mix of literary and pop culture works helps viewers to see how science fiction reflects the times they were written in. It addresses issues related to identity, immigration and race, technology, morality and the human condition. Curated by Mikala Woodward. Includes work by Tamiko Thiel, Simon Kono, June Sekigiuchi, Stasia Burrington, relics from George Takei's Sulu character on Star Trek, clips & stills from the film, Arrival" based on Bellevue writer Ted Chiang's story and much more.  Carina del Rosario curates an exhibit entitled "Wide Angle/Close up: A Self Portrait of the Asian Pacific Islander American Community" from May 10, 2019 – April 19, 2020. Includes photography, video, and photo-based installations by photojournalists that document the community from the inside out. Set for the George Tsutakawa Gallery. "Chinatown in the 1970s" recreates Seattle's Chinatown in the 1970's and explores the values and customs that continue to shape the neighborhood today. July 20, 2019 – Jan. 5, 2020 in the KidPLACE Gallery. The Museum is located at 719  South King St. (206) 623-5124 or  visit www.wingluke.org. Closed Mondays. Tuesday – Sunday from 10am – 5pm. First Thursday of each month is free from 10am – 8pm. Third Saturday of each month is free from 10am – 8pm.
 Tacoma Arts Month covers the month of October with arts and culture events, exhibits and workshops for all ages. Enjoy the arts and culture of the city  with music, dance, theatre performances, hands-on experiences, visual art exhibits, literary readings, lectures, workshops, film screenings and cultural events. On Oct. 12 – 13, from 11am – 5pm there will be  Tacoma Studio Tours where almost 50 artists will feature demonstrations of the artistic process with hands-on activities for visitors. See tacomaartsmonth.com for details. 
"Land of Joy And Sorrow: Japanese Pioneers of the Yakima Valley" is an ongoing exhibit that traces the story of the Japanese families who settled in the Yakima valley. Yakima Valley Museum at 2105 Tieton Dr. in Yakima, WA. 509-248-0747.
The Portland Chinatown Museum has the following – In the permanent gallery is "Beyond the Gate: A Tale of Portland's Historic Chinatowns". 127 NW Third Ave. 503-224-0008 or email [email protected].
Blackfish Gallery in Portland has the following –  Robert Dozono has a solo show featuring old and new work. His ongoing series "Upper Clackamas Garbage" drawn from trash found in the river while fishing and applied to large scale paintings will be on  view along with paintings and drawings of things he finds in his studio and garden. Oct. 1 – Nov. 2, 2019. First Thursday, Oct. 3, 2019 from 6 – 9pm. Regular hours are Tues. – Sat. from 11am – 5pm. 420 NW 9th Ave. 503-224-2634 or go to blackfish.com.
Oregon Nikkei Legacy Center presents the following – Through Sept. 22, 2019 will be a museum exhibit that covers Portland Taiko's 25 year history in the region entitled "Portland Taiko 25th Anniversary Exhibition". Beginning this year, visitors can see artifacts of the collection up close as the stacks will be open to see as the staff does filing. 121 NW Second Ave. in  Portland. 503-224-1458 or go to www.oregonnikkeir.org.
The Center for Contemporary Art & Culture at PNCA presents "A Body in Places" by Eiko Otake (of Eiko and Koma). After her opening Sept. 5 live performance, this Japanese performance artist  unveils a show of 2-D art on the same theme, her revisiting of post-nuclear-disaster Fukushima. There will be new prints and videos, including a screening of "A Body in Fukushima" with photos by William Johnston.  Opening reception on Sept. 5, 2019 from 6 – 8pm. On view from Sept. 5 – Oct. 24, 2019.511 NW Broadway. 503-226-4391 or go to ccac.pnca.edu.
The Portland Japanese Garden has the following –"A Potter's Eye: The George Cummings Collection of Japanese Ceramics" remains on view through Sept. 22, 2019. "O-Tsukumi, Moon Viewing Festival" takes place Sept. 13, 14 & 15, 2019.  Opening Oct. 5, and on view through Dec. 1, 2019 is "Noritaka Tatehana: Refashioning Beauty", a contemporary, multidisciplinary art show inspired by Japanese tradition, aesthetics and sensibilities toward nature. 611 SW Kingston Ave. in Portland, Oregon. 503-223-1321 or go to japanesegarden.org.
"Things That Don't Float" is a show by Shu-Ji Wang that features mixed-media sculptures and paintings on view at Waterstone Gallery from Sept. 3 – 29, 2019. 124 NW Ninth Ave. in Portland. 503-226-6196 or go to www.waterstonegallery.com.
The Jordan Schnitzer Museum of Art located on the campus of the University of Oregon in Eugene has the following – Upcoming exhibits include the following –  "Kwang Young Chun: Aggregations" on view through June 28, 2020. This South Korean artist combines hundreds of paper-wrapped parcels to create sculptural compositions that resemble crystal formations, asteroids of the surface of the moon. 1430 Johnson Lane in Eugene, Oregon. 541-346-3027.
Dr. Sun Yat-Sen Classical Chinese Garden in Vancouver, BC has the following. Last chance to register for a guided tour of the 360 Riot Walk, an audio visual experience tracing the route and history of the 1907 Anti-Asian Riots that shook that city's Chinatown & Japantown. Set for Sept. 8, 2019 at 2pm. "Tea & The Moon" is the 2019 Mid-Autumn Moon Festival set for Sept. 13 from 5 – 9pm. "Chaji" is the first exhibit in Lam Wong's year-long artist residency. It looks at tea philosophy and the aspect of respect. Includes work of invited artists Don Wong (the artist's father), Arthur Cheng, Bryan Mulvihill, and Chuck Rice plus the works of the late artist/composer John Cage. Opening event set for Sept. 13, 2019 from 5:30 – 6:30pm. The exhibit remains on view through Jan. 10, 2020. 578 Carrall St.  604-662-3207 or try vanouverchinesegarden.com.
Centre A at the Vancouver International Centre for Contemporary Asian Art presents "Everything is a Facade" featuring works by Tom Hsu and Lin Xin. Opening reception on Sept. 19, 2019 at 6pm. Incorporates video, photography and installation that draws on impulsive yet deliberate gestures and decisions. 268 Keefer St. 604-683-8326 or go to centrea.org.
"Promised Land" is a show by Geoffrey Fung that combines small and large scale oil paintings of BC scenery and the historical events of the artist's native homeland, China. Sept. 11 – Nov. 15, 2019. Dal Schindell Gallery at UBC's Regent College at 5800 University Blvd. in Vancouver, BC. 604-224-3245 or  try lookoutgallery.ca.
"A Study in Restraint, Nanlaban" is ceramic artist Aanton Cu Unjieng's response to recent political actions in his homeland of the Philippines and Duterte's mass killings officially classified as 'nanlaban'. The work features intricately taped, fired, and stacked ceramics. Opening Sept. 5 at 7pm and on view through the month. Grunt Gallery at 116 – 350 E. 2nd Ave. in Vancouver, BC. 604-875-9516 or go to grunt.ca.
VISUAL SPACE Gallery has a show entitled Gwangju Diary – Into Blue". Tomoyo Ihaya's show of drawings, mixed-media installation and animated videos recounts her residencies and exhibitions in Gwangju, Korea and her response to the history of a violently suppressed student uprising in that city in 1980. Opening reception is Oct. 5 2019 at 2pm. The show is on view from Oct. 2 – 21, 2019. 3352 Dunbar St. in Vancouver, BC. 604-559-0576 or go to visualspace.ca.
Ed Pien has a show of photographs entitled "Our Beloved", images of flowers he took at gravesites at a cemetery in Santiago, Chile, a final resting place for many of the political dissidents and victims of the murderous reign of dictator Augusto Pinochet. On view through Sept. 22, 2019. Glenbow Gallery. 130 – 9th Ave. SE. in Calgary, Canada.  403-268-4100 or go to glenbow.org.
"Up a Lemon Tree" is a solo show of abstract works by Vancouver-based artist Angela Teng. Sept. 14 – Nov. 3, 2019. Art Gallery at Evergreen Cultural Centre at 1205 Pinetree Way in Coquitlam, Canada. 604-927-6550.
The Touchstones Nelson Museum of Art & History in Nelson, Canada presents work by Gu Xiong entitled "The Unknown Remains" on view through Nov. 3, 2019. The show taken from archives  features portraits of the local Chinese community, drawings from the artist's collection and pages of sketchbooks by the artist when he was a teenager in China, living in a labor camp. It also has a container ship made of 1500 cardboard boxes, and a wall of 1500 portraits of immigrant workers from Ontario and British Columbia. 502 Vernon St. 250-352-9813 or go to touchstonesnelson.ca.
The Richmond Art Gallery in Richmond, Canada has the following:  Sept. 29 – Nov. 17, 2019 has "Cindy Mochizuki: Cave To Dream". The artist considers the passage of time, life and death and the power of dreams. Presented as a live performance and multi-media installation with  hand-drawn animation, sound and live action video. Opening on Sept. 28, 2019 at 6pm will be Jon Sasaki's "We First Need A Boat For The Rising Tide To Lift Us" which documents a performance in which the artist attempts to build a boat in the Fraser River so he can paddle back to shore. Documentation of the performance and ephemera will be included in this exhibit. 180-7700 Minoru Gate. 604-247-8300.
Chinese Cultural Centre Museum has the ongoing exhibit "Generation to Generation – History of Chinese Canadians in British Columbia." 555 Columbia St. Vancouver, BC. 604-658-8880.  Admission by donation.
Art Gallery of Greater Victoria has the following – On view through Sept. 15, 2019 is "Imagining Fusang: Exploring Chinese and Indigenous Encounters", a group show where artists explore and speculate upon early encounters and interactions between indigenous peoples and Chinese communities that settled on Vancouver Island. Curated by Haema Sivanesan.1040 Moss St. in Victoria, BC. 250-384-4171 or go to aggv.ca.
Bay Area photographer Michael Jang has a major exhibition entitled "Michael Jang's California" on view from Sept. 27, 20199 – Jan. 18, 2020. Introduced and curated by Sandra S. Phillips, SFMoMA curator emerita of photography. It explores the artist's career as a portrait street photographer in California with a focus on his early work as he was discovering the media. Opening reception is Sept. 28, 2019 at 5pm. At the McEvoy Foundation for the Arts  located at 1150 – 25th St., Building B in San Francisco. 415-580-7605 or try [email protected]. A book on his work entitled "Who Is Michael Jang?" will be released by Atelier Editions.
Asian Art Museum, San Francisco has the following – "Changing And Unchanging Things: Noguchi And Hasegawa in Postwar Japan" on view Sept. 27, 2019 – Dec. 18, 2019. This looks at a pivotal moment for both artists. Noguchi was returning to Japan after many years and Hasegawa had spent many years away in Europe. Together they discussed the many possibilities of combining Japanese tradition with outside influences they had had discovered on their travels. Noguchi would go on to design major permanent sculptural installations around the world and Hasegawa would become a strong influence on America's zen-inspired "Beat Movement." Opening Nov. 26, 2019 and on view through March 22 2020 is "Lost At Sea: Art Recovered from Shipwrecks". 200 Larkin St. 415-581-3500.
Berkeley Art Museum has the following – "Divine Women, Divine Wisdom" is on view through Jan. 12, 2020. It features art from South Asia and the Himalayan region that celebrates the wisdom, power and compassion of women within the context of Hindu and Buddhist traditions. "Meditation in Motion: Zen Calligraphy from the Stuart Katz Collection" on view through Oct. 20, 2019. Important works by Chinese Obaku monks who immigrated to Japan and the work of Japanese monks who expanded on their examples. 155 Center St. in Berkeley, CA. 510-642-0808 or go to [email protected].
"Future IDS At Alcatraz" is a yearlong project, exhibition, and series of monthly public programs on view in the New Industries Building on Alcatraz Island until October, 2019. The installation features ID-inspired artworks created by and with individuals who have conviction histories as they conceive and develop a vision for a future self. In stark contrast to prison-issued IDs, these artworks represent individual stories of transformation. Artist Gregory Sale leads a team of collaborators that translates criminal justice reforms efforts into a visual language to shift thinking about rehabilitation, reentry, and reintegration. The team includes Dr. Luis Garcia, Kirn Kim, Sabrina Reid, Jessica Tully, Sale and many others. Presented in partnership with the Art in the Parks program of the National Park Service, Golden Gate National Parks Conservancy, and Headlands Center for the Arts. The project and exhibition space has been designed to function as a platform for engagement through performances, workshops, and civic dialogue experiments that are co-curated with community partners. On the third Saturday of each month, there will be a day-long program of participatory programs.  Entrance to this exhibition comes with your boat cruise ticket to the island. The ferry leaves from Pier 33 Alcatraz Landing. For tickets go AlcatrazCruises.com. To learn more about the project, go to GregorySaleArt.com or FutureIDs.com.
LACMA or Los Angeles County Museum of Art has the following –"Muneo Mizuno: Harmony" is on view through Nov. 11, 2019 on the Resnick Lawn. The artist has constructed a natural teahouse with the powerful presence of natural surroundings. Includes sculptures where ceramic water drops and tea bowls are refined with meditative representations of Japanese characters such as "connect" and "harmony". These reflect the artist's longstanding interest in the communicative properties of trees and water.   "The Allure of Matter: Material Art from China" brings together work from the last four decades in which conscious choice of material has become a symbol of the artists' individual expression. Some of the most influential Chinese artists of today are included with work by Xu Bing, Cai Guo-Qiang, Lin Tianmao and Ai Weiwei. This traveling show premieres here before going on to Smart Museum of Art in Chicago, Seattle Art Museum (June 25 – Sept. 13, 2020) and the Peabody Essex Museum in Salem, Mass.. "Beyond Line: The Art of Korean Writing" is the first show outside of Asia  to focus on the history of writing and calligraphy in Korea. On view through Sept. 29, 2019. Opening Sept. 22, 2019 and on view through Dec. 9, 2019 is "Every Living Thing: Animals in Japanese Art." The installation artist Do Ho Suh re-envisions the apartment/studio he had when he lived in New York in "Do Ho Suh: 348 West 22nd St" which opens Nov. 10, 2019 and remains on view through Oct. 25, 2020. "Fiji: Art & Life in the Pacific" is exhibited from Dec. 15, 2019 – July 19, 2020. "Where the Truth Lies" The Art of Qiu Ying" on view Feb. 9 – May 17, 2020. The iconic Japanese artist Yoshitomo Nara known for his naïve figurative work has a retrospective from April 5 – August 2, 2020. 5905 Wilshire Blvd. 323-857-6010.
The Japanese American National Museum has the following shows  – "Common Ground: The Heart of Community." This overview exhibit of Japanese American history is ongoing. Through Oct. 20, 2019 is "At First Light: The Dawning of Asian Pacific America". This multi-media exhibition celebrates and explores the emergence of a politically defined Asian Pacific American consciousness and identity. It draws on the archives of Visual Communications and the museum itself. 100 N. Central Ave. in Los Angeles. 213-625-0414 or go to http://www.janm.org.
"Chiura Obata: An American Modern" is the first retrospective of this noted Bay area artist whose work reflected the glories of the American landscape from the Grand Canyon to Yosemite. His influence could also be felt at UC Berkeley where he had a distinguished teaching career. He also helped found art schools in internment camps during WWII.  Curated by ShiPu Wang with a catalogue. The exhibition concludes its tour at Crocker Art Museum in Sacramento on Sept. 29, 2019.
The Freer/Sackler Gallery on the Smithsonian Mall shows you how religion and art mix in "Encountering the Buddha: Art and Practice Across Asia through Nov. 29, 2020. 202-633-1000 or go to FreerSackler.si.edu for details.
The Metropolitan Museum of Art has the following –   Through Oct. 27, 2019 is a major sculpture exhibition from  the 18th & 19th century era in the Pacific Islands entitled "Atea: Nature And Divinity In Polynesia."  "Essential Korea" through Sept. 22, 2019. "Children to Immortals: Figural Representation in Chinese Art" through Feb. 23, 2020. "Kyoto: Capitol of Artistic Imagination" is on view through August 2, 2020. "Sita And Rama: The Ramayama in Indian Painting" remains on view through August 23, 2020. 1000 Fifth Ave. New York, New York. Go to metmuseum.org for details.
"Phenomenal Nature" is the first retrospective of Indian artist Mrinalini Mukherjee in the U.S. It explores the artist's longstanding engagement with fiber and her forays into ceramics and bronze, nature and her enthusiasm for Indian historic sculpture, modern design, local crafts and textile traditions On view through Sept. 29, 2019 at The Met Breuer at 945 Madison Ave. in New York City. 212-731-1675.
The Rubin Museum of Art has the following shows –"Charged with Buddha's Blessings – Relics from an Ancient Stupa" is on view through June 8, 2020."Masterworks of Himalayan Art" is on view through March 23, 2020. "The Power of Intention- Reinventing the (Prayer) Wheel" brings together select examples of traditional and contemporary art to illuminate the relationship between our intentions, commitments and actions. On view  through Oct. 14, 2019. "The Wheel of Intentions" is an interactive installation on view through Jan. 6, 2020.  "Gateway to Himalayan Art" is on view through June 8, 2020. "Shrine Room Projects: Wishes and Offerings" is on view through September 16, 2019. "The Tibetan Buddhist Shrine Room" is on view through September 16, 2019. 150 W. 17th St.  New York, New York. 212-620-5000×344 or go to rubinmuseum.org.
The Japan Society has the following – Opening Oct. 11, 2019 and on view through Jan. 6, 2020 is "Made in Tokyo: Architecture And Living, 1964/2020" which looks at how Tokyo has changed its architecture from the 1964 Summer Olympics up to its preparation for the 2020 event. 333 East 47th St. New York, New York. 212-263-1258.
The Museum of Chinese in America has the following –"With a Single Step: Stories in The Making of America" chronicles the history of the museum through Dec. 31, 2020. Through Sept. 15, 2019 is "The Moon Represents My Heart: Music And Belonging" which explores the tradition of music in Chinese communities. 215 Centre St. New York, NY. 855-955-MOCA or go to mocanyc.org.
The Asia Society Museum in New York presents the following – Opening Sept. 10, 2019 are the following shows – "Xiaoze Xie: Objects of Evidence" which looks at his work focusing on banned books. Wang Dongling: Ink in Motion" is a large scale calligraphy work by one of the most celebrated living calligraphers in China." "In Focus:Lakshmi" looks at the importance and worship of this beloved goddess who is part of a complex Hindu culture.  To find out more, go to AsiaSociety.org/NY. 725 Park Ave. New York City, New York. 212-327-9721 or go to www.asiasociety.org for more details.
The Noguchi Museum has the following –  "Noguchi: Body-Space-Devices" looks at how the artist implicates his body in his work. Artist Brendan Fernandes has made a version of Noguchi's non-rocking rocking chair that Noguchi created for Martha Graham's "Appalachian Spring" dance piece. Dancers will perform with the chairs and Noguchi's sculpture throughout the exhibition. On view through  May 3, 2020. "Models For Spaces" on view through Feb. 2, 2020 offers a selection of designs from lesser known projects. "In Search of Contoured Playground" on view through Feb. 2, 2020 has a design for a never built Noguchi playscape, a 10 foot square enlargement of Noguchi's model. 9 – 01 33rd Rd, Long Island City, NY. 718-204-
Tallur L. N. is an Indian sculptor who combines Indian craft traditions and novel sculptural techniques to infuse ancient iconography with contemporary meanings. "Multiplicity"  is a show that has around thirty works in a variety of mediums, from carved stone and wood to cast bronze and concrete to found objects. Through Jan. 5, 2020. Grounds for Sculpture at 80 Sculptors Way  in Hamilton, New Jersey.609-586-0616 or info@grounds for sculpture.org. 
Museum of Fine Arts Boston has the following – "Conservation In Action: Japanese Buddhist Sculpture In a New Light" is a rare look at the conservation of seven Buddhist sculptures. On view through June 30, 2020. 465 Huntington Ave. Go to mfa.org or call 617 -267-9300.
"Painting the Classics: Japanese Screens" through Nov. 17, 2019. "Power in S.E. Asia" is ongoing. "Sacred Dedication: A Korean Buddhist Masterpiece" is on view from Sept. 21, 2019 through March 22, 2020. "My Iran: Six Women Photographers" is on view August 10, 2019 through Feb. 9, 2020. All at the Freer/Sackler Gallery on the Smithsonian Mall in Washington D.C.
The Peabody Essex Museum has the following – "Japanomania! Japanese Art Goes Global" through Jan. 3, 2021.  "Mega City: India's Culture of the Streets" on view through June 28, 2020. "Double Happiness: Celebration in Chinese Art" through Jan. 3, 2020. On view through Jan. 19, 2020 is Kimsooja's "Archive of Mind." This is a participatory installation with visitor assistance that builds over the course of the exhibit. Museum visitors are encouraged to sit at the space and form a ball of clay with their own hands. Thousands of clay spheres will be generated through small individual gestures that reveal the emotional traces of their makers and cumulatively generate a complex array of texture, scale and tone.  On view through May 17, 2020 is "A Lasting Memento: John Thomson's Photographs Along the River Min". Scotsman John Thomson is considered to be one of the first photographers to document East and South Asia. This exhibit takes us back to an earlier time. It features more than 40 landscapes, city views and portrait studies. The show is complemented by a selection of photographs by contemporary artist Luo Dan who was inspired by Thomson to undertake his own journey in Southwestern China in 2010. 161 Essex St. in Salem, Massachusetts. 816745-4876 or go to pem.org.
 A show of over 50 prints displayed along with his poems by the late Seattle artist Munio Makuuchi  entitled "Defiant Vision: Prints & Poetry by Munio Makuuchi" is on view through December 8, 2019. This is the first major show to focus on this artist. Art historian Margo Machida will write the catalog essay. Also last chance to catch a video installation entitled "Green Room" by Kyung Woo Han on view through Sept. 8, 2019. 20 Elm St. at Bedford Terrace in Northhampton, MA. 413-585-2760 or go to [email protected].
The Minneapolis Institute of Art has the following – "An Art as Lyrical as Poetry: Recently Acquired Chinese Paintings through Nov. 24, 2019. "All Flowers in Bloom: Porcelains from China's Last Dynasty through Nov. 10, 2019. "Romance And Heroism: Theatrical Robes from Late Imperial China through Sept. 29, 2019. "Nature in Monochrome: Birds And Flowers in Japanese Ink Paintings from Sept. 29, 2019 to Oct. 27, 2019. "Living Rooms Made in China: The McFarlane Room Wallpaper on view through Dec. 29, 2019. "Artists Respond: American Art And The Vietnam War, 1965 – 1975 from Sept. 29, 2019 – Jan. 5, 2020.  Minneapolis Institute of Art. 2400 Third Ave. S. Call toll free at 888-642-2787.
 "Gods in Any House: Chinese New Year with Ancestor Portraits and Deity Prints" is  on view though Sept. 29, 2019. Royal Ontario Museum at 100 Queens Park in Toronto, Ontario, Canada. Go to rom.on.ca for details.
The Nikkei National Museum & Cultural Centre in Burnaby BC Canada has undergone some renovation and restructuring and presents a show entitled "Nikkei" which juxtaposes archives and artworks and includes stories, personal items, digitized "heritage" film footage and Cindy Mochizuki's video installation to examine what it means to be a person of Japanese ancestry. 6688 Southoaks Cres. 604-777-7000. Go to centre.nikkeiplace.org.
"Shadows, Strings and Other Things: The Enchanting Theatre of Puppets" is a cross-cultural exhibition with puppets from more than 15 countries in Europe, Asia and the Americas. Through Oct. 14, 2019. Museum of Anthropology at UBC. 6393 NW Marine Drive. 604-822-5087 or go to moa.ubc.ca.
On view through Oct. 27, 2019 is "Anno's Journey: The World of Anno Mitsumasa" at Japan House in London. It explores the work of one of Japan's greatest children's book illustrators and authors, best known for his picture books, with few or no words. The exhibition illustrates his life and creative journey with samples of varied work.   101-111 Kensington High St. 44-20-3972-7100 or try [email protected]. In addition, the Embassy of Japan in London will host an exhibition of his landscape paintings through Sept., 2019.
"Legendary Kyoto Painting from Maruyama Okyo to the Modern Era" is on view at the University Art Museum, Tokyo University of the Arts at 12-8 Ueno Park through Sept. 29. 2019. +81-3-5777-8600. Next stop is Nov. 2 – Dec. 15, 2019 at National Museum of Modern Art, Kyoto. Go to www.momak.go.jp/english/.
Nakanojo Biennale 2019 invites artists from around the world to use old village buildings to create site-specific installations. Work by Kazue Iwatsuka, Floria Goldmann, Motoko Hoshi and others. Through Sept. 23, 2019. Nakanojo Town in Gunma Prefecture. 0729-75-3329.
"Arita x Tokolo Exhibition"  opens Sept. 20, 2019 and remains on view through Nov. 24, 2019. Asao Tokolo was a name relatively new in the world of design until he became known as the man behind the distinctive indigo checkered  emblems for the Tokyo 2020 Olympic and Paralympic Games. Tokolo worked with ceramicists at Arita, a pioneering porcelain town utilizing his designs. Also opening on Oct. 5, 2019 is a show of porcelain made in Arita during the 18th – 19th centuries from the Kichiro Imaizumi Collection.  The Kyushu Ceramic Musuem. 3100-1 Toshaku-Otsu, Arita, Saga Prefecture. 0955-43-3681.
Tokyo Opera City Art Gallery has the following shows. Through Sept. 23, 2019 will be a retrospective on the art of Julian Opie, works by Ikeda Ryoji and Suematsu Yukari. 3-20-2 Nishi-Shinjuku, Shinjuku-ku, Tokyo,Japan. +81- (0) 3-5353-0756. 
National  Museum of Modern Art, Tokyo has a show of works from their collection on view until Oct. 20, 2019. The show features currents in Japanese modern and contemporary art from the beginning of the 20th century to the present. 1-1 Kitanomaru-koen, Chiyoda-ku, Tokyo, Japan. +81 3-5777-8600.
The Mori Art Museum has the following – Coming up is the highly anticipated exhibition for Berlin-based installation artist Shiota Chiharu entitled "Shiota Chiharu: The Soul Trembles" which is on view through Oct. 27, 2019. A show tentatively entitled "The Future And Arts" is set for Nov. 19, 2019 – March 29, 2020. T106-6108, Tokyo, Minato City, Roppongi, 6 Chome – 10-1 Japan. +81  3-5777-8600.
 "teamLab*Borderless" houses works by this hi-tech art group in the Mori Building Digital Art Museum. With computer-graphic projections of animals, plants and objects from nature to  light sculptures and a forest of lamps. On view indefinitely. Aomi Station, Odaiba, Tokyo, Japan. 03-6406-3949.
Los Angeles has the largest population of Korean Americans and the biggest Koreatown in the United States but until now, there hasn't been a permanent museum to celebrate this culture. Now, a two story, 16,900 square-foot building by Morphosis Architects will be built in Koreatwon by 2022. The museum has an interesting merger of design influences. A garden and terrace will be grafted on to the top of the building with the help of DSK Landscape Architects. Under the rooftop, the museum will follow the classic courtyard plan of a traditional Korean house.
Jasmine Cho is a baker in Pittsburgh. She creates hand-drawn cookie portraits of Asian American figures to raise awareness of Asian American history and identity. She explains it all in a recent TEDxtalk in Pittsburgh entitled "Role Models Who Look Like Me: Asian Americans & Pacific Islanders Who Made History". For details, go to npr.org and look for the August 31, 2019 entry for "The Salt – What's On Your Plate." The article is entitled "Cookie Artist Teaches Edible Lessons in Asian American History" by Caroline Choe.
"Woven" magazine is a Seattle publication that celebrates artists, designers and entrepreneurs while exploring the history of design through travel. Issue 4 explores the paradoxes at play in our world: death and rebirth, old and new, past and future. Included in this issue are profiles of photographer Justin Chung and ceramic artist Julianne Ahn. For details, go to www.wovenmagazine.org.
The art collection of the architect I.M. Pei and his wife, Eileen will be auctioned off by Christie's in Nov./Dec., 2019 after a global tour with stops in Paris, Hong Kong and Los Angles. The collection includes works by Barnett Newman, Jean Dubuffet, Zao Wou-ki, Zhang Daqian, Henry Moore, Franz Kline and Jacques Lipchitz. Many of these artists were friends of the couple and were given as personal gifts.
Performing Arts
The world-renowned Beijing Dance Academy under the direction of Seattle Director Li Hengda perform "The Butterfly Lovers", a legendary love story on  Sept. 5 – 7 at McCaw Hall at Seattle Center. Enjoy an evening of classical Chinese dance. Go to www.ticketmaster.com or www.asianperformingart.org or call 206-605-6787/425-830-8054.
SIS Productions  presents a co-production with Pratidhwani, the Northwest premiere of "Washer/Dryer" by Nandita Shenoy on stage from September 5 – 22, 2019 at Theatre Off Jackson. It features a multi-cultural Asian American cast in a romantic comedy about "Crazy Poor Asians."  This is a contemporary comedy about newly-weds (an Indian American woman who has eloped with a Chinese American man) who find it a challenge to make a marriage work on a limited budget and the pressures of culture and tradition. The play was developed in the Ma-Yi Writers Lab and first produced by East West Players in Los Angeles. Directed by Agastya Kohli and stars Reeti Diwan, Kathy Hsieh, Elisabeth Ballstadt, Lee Yang and Van Lang Pham. Plays Fridays at 8pm, Saturdays at 4:30pm & 8pm and Sundays at 4:30pm plus Monday, September 16 at 8pm. No afternoon performance on Saturday, September 7. 409 7th Avenue South in Seattle's Chinatown/International District. Online tickets are available at https://www.strangertickets.com/events/97688832/washerdryer-by-nandita-shenoy. Discount rates available for groups or tickets purchased online by August 31. For more information, email [email protected].
The Mukai Japanese Garden and Mukai House on Vashon Island is a non-profit formed around the original house and garden of one of the first Japanese farmers on the Island. They are in the process of renovating the house and re-building the garden and use the facility to educate the community about local Japanese American history and culture.  On Sat., Sept. 14, 2019 from 11am – 8pm, there will be the 2nd Annual Vashon Japan Festival. All events are free and all ages are welcome. 18017 – 107th Ave. SW on Vashon Island. [email protected].
The Olympic Music Festival at Fort Worden in Port Townsend has their focus this summer on "The Art of the Violin". The season finale includes Ray Chen & Julio Elizalde on Sept. 7 & 8, 2019. For complete information, go to olympicmusicfestival.org.
The Friends of Asian Art Association presents "The Cosmic Dance of Nataraja-King of Dancers – Dancing Creation Into Existence with his Cosmic Dance" in which four local Indian classical dance schools come together to perform this piece. Dancers from the following dance schools and their founders include the following – Bharata Natyam: Nirityalaya School of Dance with Vidya Vinod, Mohinlyattam: Minini Dance School with Smitha Krishnan, Odissi: Urvasi Dance with Ratna Roy and Marisee Betz-zell and Kathak: Anga Kala Kathak Academy with Antara Daatta. On Oct. 13, 2019 at 1:30pm. Crossroads Community Center  at 18000 NE 10th St. in  Bellevue. Free for Friends of Asian Art Association members and $10 for others. Light refreshments served. For tickets, go to www.friendsofasianart.org.
Singer/songwriter/violinist Kishi Bashi's latest recording "Omoiyari" reflects on the internment experience of Japanese nationals living in the U.S. on the eve of WW II. He will be doing songs from that album when he performs in Seattle on Sun., Oct. 6 at 8pm at Showbox SoDo at 1700 1st Ave. S. in Seattle. Go to www.showboxpresents.com.
Future Seattle Opera productions include the following –  "Charlie Parker's Yardbird – The Man Behind A Legend" with music by Daniel Schnyder and libretto by Bridgette A. Wimberly. Plays Feb. 22, 23, 26, 29 AND March 1, 4, 6 & 7, 2020. Kelly Kuo will make his Seattle Opera debut as conductor for the orchestra for this production.
In the fall, Seattle Symphony begins a new season under new conductor Thomas Dausgaard. Some highlights include the following – Dynamic classical pianist Lang  Lang returns from a previous injury to perform a program of Sibelius, Beethoven and Mozart on Wed., Oct. 9 at 7:30pm. Masaaki Suzuki conducts Seattle Symphony in a concert of the "Mozart Requiem" on Oct. 17, 19 & 20, 2019. The program also includes Takemitsu's "Requiem for String Orchestra". Beatrice Rana is the concert pianist on a performance of "Schumann Piano Concerto" on Oct. 24 & 26, 2019. Byron Schenkman & Friends presents international competition winner and Seattle native Rachell Ellen Wong in concert with Byron Schenkman in a program of "Brahms, Dvorak and Still" on Oct. 27. 2019. Lawrence Loh conducts Seattle Symphony in a program entitled "The Movie Music of John Williams" on Nov. 8, 9 & 10, 2019 as part of the "Pops Series".  Moving on to 2020, the annual "Celebrate Asia" concert has Tianyi Lu conducting and Gaurav Mazumdav on sitar and Conrad Tao on piano in a program of compositions by Huang Ruo, Reena Esmail, Conrad Tao and Gershwin. Eun Sun Kim conducts the orchestra with Elisa Barston on violin in Tchaikovsky's "Symphony No. 8" on March 12 & 14 with a special "Tchaikovsy Untuxed" concert on March 13. Pianist Aimi Kobayashi participates in "Bach Fest 1" on May 21 with conductor Ryan Bancroft and fellow pianist Alexandra Dovgan. All concerts at Benaroya Hall in downtown Seattle. 200 University St. Go to seattlesymphony.org for details or call 206-215-4747.
Named in honor of Seattle philanthropists James & Sherry Raisbeck who donated money to transform the former Soundbridge at 200 University across from SAM into a state of the art immersive environment for inventive performances and ideal for education programs and community engagement, the building is now called Octave 9:Raisbeck Music Center.  Some highlights from their innovative concert and educational programming include the following – Seattle Symphony pianist Jessica Choe appears in "First Concerts: Meet The Piano", an ongoing series featuring various instruments and instrumentalists from the symphony orchestra in which children will learn how to be musical explorers as they try out instruments before the show and get to ask questions of the musicians after each performance. Choe performs short pieces on Dec. 21, 2019 at 9:30am and 11am.  On Wed., Jan. 29, 2020 at 7:30pm, catch virtuoso violinist Patricia Kopatchinskaja in recital performing Gykorgy Kurtag's "Kafka Fragments" in which excerpts from the famous Czech writer's diaries and letters are set to music and song with soprano Ah Young Hong singing the words. On April 24, 2020 at 7:30pm, Hannah Lash & Hub New Music join forces to present music for flute, clarinet, violin, cello and harp. A new composition by Takuma Itoh will be performed.
Book-It Repertory Theatre reprise  their adaptation of "Howl's Moving Castle" by Diana Wynne Jones for their upcoming new season. Some people may remember this as a popular animated feature film by Studio Ghibli's Hayao Miyazaki. This version was adapted and directed by Myra Platt and features music and lyrics by Seattle's Justin Huertas. On stage November  29 – December 29, 2019. 305 Harrison St. at Seattle Center. 206-216-0833 or try [email protected].
ArtsWest has also announced their new 2019/2020 season entitled "Agents of Change" which looks at revolutions and the people who participate in them. The prolific and talented playwright/director/actress Sara Porkalob returns with a new play and a world premiere for the new season. "Alex and Alix" looks at the unseen forces that shape the way we remember love and a moving meditation on memory, trauma and healing. Two women in love  and one name. Set for April 30 – May 24, 2020. Learn more details about the entire new season at artswest.org. ArtsWest is located in West Seattle at 4711 California Ave. SW.
Village Theatre kicks off their 40th anniversary with "The 25th Annual Putnam County Spelling Bee", a Tony Award-winning comedy. The cast includes Justin Huertas and Arika Matoba. Presented at the Francis J. Gaudette Theatre in Issaquah Sept. 12 – Oct. 20 before moving to the Everett Performing Arts Center October 25 – Nov. 17, 2019. The Gaudette Theatre is at 303 Front St. N. in Issaquah. The Everett Performing Arts Center is at 2710 Wetmore Ave. in Everett.  425-392-2202 for Issaquah. 425-257-8600 for Everett. Try VillageTheatre.org for more details.
Seattle-based Japanese singer/songwriter Kuniko Matsumura who performs on both sides of the Pacific  in both Tokyo and the West Coast has a concert set for Sat., Sept. 7, 2019 at 12:30pm. $20 tickets. At the Chapel on the fourth floor of the Good Shepherd Center located at 4649 Sunnyside Ave. N. For tickets go to https://www.brownpapertickets.com/event/4109410. For more information, go to https://kunikoafternoon.godaddysites.com.
The Highlands Concert Series presents violinist Kristin Lee and pianist Kwan Yi in a recital of music by Tartini, Mendelssohn, Gluck and Ravel on Sunday, Sept. 15, 2019 at 5pm. At Florence Henry Memorial Chapel. 14823 Boundary Lane in Seattle. Go to www.thehighlandsseattle.org for details.
Seattle Contemporary Dance Company, Whim W'him's new season will include "Choreographic Shindig V", this 5th annual series kicks off the company's new Season X. It includes the choreography of New York-based choreographer Yoshito Sakuraba as well as the work of Kyra Jean Green and Joshua Manculich.  Sept. 13 – 15 & 18 – 21 at 8pm. Erickson Theatre Off Broadway. 707-350-9446 or go to whimwhim.org/season. 
Café Nordo has already announced their upcoming 11th season entitled "Where The Tea Party Never Ends" and early memberships are available. Come watch as they spin their interesting mix of original theatre, music and cuisine tailored to fit the theme of each production. The ever prolific Sara Porkalob is back with "The Angel in the House" from Feb. 8 – March 15, 2020. She wrote and directed this piece that's a Victorian thriller with corsets, blood, revenge and cake. "Night Parade: The Ghost Forest" takes place   June 13 – July 21, 2020. Conceived of and Directed by Tom Dang and written by Kendall Uyeji. Take a dive into Japan's Aokigahara Forest near Mr. Fuji, famous for suicides. When a Western blogger mockingly posts a photo of a suicide on social media, he is spirited away by ghosts and demons of that forest. Café Nordo is at 109 South Main. Go to www.cafenordo.com to find out more about their new season and how you can get tickets.
The 2019 NW Tea Festival takes place on Sat., Sept. 28 from 10 am – 6pm and Sun., Sept. 29 from 10am – 4pm.  Open to the public. Admission is $15 each for both days and children are free. A porcelain tasting cup and shopping bag will be given out as part of your ticket while supplies last. Sample teas at  program sessions. Everything you always wanted to know about the world's teas and ample opportunity to sample. At Seattle Center. For details, try nwteafestival.com.
The Skeleton Flower Band emerged from Degenerate Art Ensemble's theatrical production of the same name which premiered earlier this year. Now they present music from that production and new songs as well in a concert on Sept. 21, 2019. This art-rock sextet includes Haruko Crow Nishimura, Joshua Kohl, Kevin Nortness, Adam Koe and Scott Teske with visuals by Leo Mayberry. Opening acts include Fruit Juice, Tomo Nakayama and the Tiger Tails. Stand-up comic Biswa Kalyan Rath brings his "Live" tour here on Sunday, Sept. 22, 2019 at 8pm. Singer/songwriter Sid Sriram grew up with Indian classical roots but listened to Donny Hathaway and would also lend his talents to Indian cinema soundtracks. You've got to wonder what synthesis he would come up with in his own music.  You can find out when he performs on his "Crossover Tour" set for Friday, Oct. 17, 2019 at 8pm. The Neptune is in the University District at 1303 NE 45th. 206-682-1414.
Northwest Folklife and Seattle Center present the 6th Annual Seattle Children's Festival set for Sept. 21 & 22 from 10am – 4pm. Seattle Center Armory & Fisher Pavillion. A multicultural festival of music, dance and arts. For ages 3 – 12 and fun for the whole family.  Suggested donation of $10. For details, go to www.nwfolklife.org/obn.
The Asia Pacific Cultural Center in Tacoma sponsors numerous events to highlight the diversity of Asian Pacific American culture.  On Sept. 21 from 11am – 5pm, the "Chu Seck Korean Festival" takes place with Korean performing art, cultural activities and food booths.   The Center also has "Taste of Asia: A Cooking Series" in which participants are encouraged to learn, cook and taste. All classes are monthly from 11am – noon. The schedule is as follows – Sept. 7 is Burma, Oct. 6 is Japan, Nov. 2nd is the Marshall Islands and Dec. 7 is Samoa. APCC is at 4851 South Tacoma Way in Tacoma. 253-383-3900 or go to apcc96.org
Mxmtoon is an 18 year-old Chinese American singer/songwriter from Oakland, California. An internet phenomenon, she records all her music in her bedroom with just a ukulele and her voice. Her bare, honest lyrics about teenage coming-of-age struggles speak to her peer group. "Mxm: The Masquerade Tour" comes to the Crocodile on Sat., Sept. 21 at 5:30pm. 2200 2nd Ave. She will sing songs from her new recording. Not surprisingly, that concert is already sold out.
The Henry Art Gallery and Velocity Dance Center present "Property of Opaqueness" a performance by Portland dancer/choreographer Takahiro Yamamoto on Oct. 6, 2019 at 7:30pm at Velocity Dance Center at 1621 – 12th Ave. It is part of the activities surrounding the "Carrie Yamaoka: recto/verso" exhibit currently on view at the Henry. Portland filmmaker Roland Dahwen Wu and Seattle artist/arts administrator Rana San will perform with Yamamoto. For tickets, try velocitydance.secureforce.com. In addition, the following free event takes place at Henry Art Gallery on Oct. 5, 2019.  "Property of Visibility: An Artist-led Discussion with Takahiro Yamamoto. Reception is at 1:30pm and discussion starts at 2pm. For reservations, try shop.henryart.org or go to henryart.org.
The Meany Center For The Performing Arts has announced their 2019/2020 season. Some performers include the following – David Finckel & Wu Han perform with Philip Setzer in a program of Beethoven, Shostakovich and Mendelssohn on Mon., May 18, 2020 at 7:30pm. Concert pianist George Li plays a recital of Haydn, Schubert, Ravel and Schumann on Wed., April 19, 2020 at 7:30pm. The contemporary butoh dance troupe Sankai Juku return to Seattle Oct. 17 – 19, 2019 at 8pm with choreographer Ushio Amagatsu's new piece "Meguri: Teeming Sea, Tranquil Land." It is a poetic meditation on the passage of time as symbolized by the circulation of water and the seasonal transformation of the earth. Violin virtuoso Midori performs with   pianist Jean-Yves Thibaudet on Thurs., Jan. 23, 2020 at 7:30pm in an all-Beethoven program in honor of the composer's 250th anniversary. Meany Center is located on the Seattle campus of the University of Washington.  206-543-4880 or go to meanycenter.org. 
The Louise Greger International Women in Music Festival present local soprano Fumi Tagata with Ayase Saxman in concert on Oct. 5, 2019 at Whidbey Island Center for the Arts in Langley, WA. Tickets can be purchased at www.wicaonline.com. Proceeds from ticket sales benefit Tiny Houses in the Name of Christ, a nonprofit committed to building affordable housing in Langley for workers.
MACHA Theatre Works has a new season entitled "Look Back, Move Forward". It will feature works by local female playwrights. Maggie Lee's "The Flight Before Xmas" blends traditional expectations of the season with the challenges of modern families in a heart-warming comedy. Directed by Amy Poisson. Good for ages 7 and up. Dec. 6 – 22, 2019 at West of Lenin in Fremont. 608-909-1252 or go to www.machatheatreworks.com.
Earshot Jazz Festival's annual fall event takes place all around the Puget Sound Oct. 4 – Nov. 6, 2019. South Korean singer Youn Sun Nah performs on Sunday, Oct. 13 at the Triple Door at 7:30pm. Seattle multi-instrumentalist Jay Thomas appears as "artist-in-residence" throughout the festival. On Wed., Oct. 23, 2019 at 7:30pm at Town Hall Forum, he leads his East West Alliance which features Yasuhiro Kohama on tenor sax, Yuki Hirate on piano, Atsushi Ikeda on alto sax, Daisuke Kurata on drums, Maya Hatch (a Seattle vocalist popular in Japan) and Seattlite Phil Sparks on bass.  Tickets now on sale. The Triple Door is at 216 Union St. downtown. Go to thetripledoor.net. For details on Town Hall, go to townhallseattle.org. For complete festival details, go to earshot.org for details.
Seattle Art Museum presents their 12th Annual Diwali Ball on Saturday, October 12 at 7:30pm at SAM with Indian food & drinks, dance, Bollywood and Bhangra beats, henna, tours of SAM's collection and surprises. For tickets, call 206-654-3210.
A concert entitled "Music of India" includes percussionist Trichy Sankaran and violinist/vocalist Ganesh Rajagopalan on Oct. 19. 2019 at  7:30pm. Seattle Town Hall at 8th & Seneca. Go to townhallseattle.org for details.
Korean American performing artist Jay Park embarks on his first solo world tour "SEXY4EVA" and he touches down in Seattle on Sun., Dec. 1, 2019 at 8pm at Showbox Sodo. Expect hip-hop flows, melodic RnB vocals and spinning dance routines. 1700 First Ave. S.  206-652-0444 or go to http://ww.showboxonline.com.
On The Boards presents a performance piece entitled "Cuckoo" as conceived of and performed by Jaha Koo in which he takes viewers on a journey through the last 20 years of Korean history as told by a bunch of talkative rice cookers. The piece combines personal experience with political events and reflections on happiness, economic crises and death. Coming Jan. 23 – Jan. 26, 2019.   100 West Roy St. in the Queen Anne neighborhood of Seattle. 206-217-9886 or go to ontheboards.org.
Award-winning playwright Laureen Yee's "Cambodian Rock Band" continues its run through Oct, 27, 2019 at the Oregon Shakespeare Festival's Thomas Theatre. A young woman tries to piece together her family history 30 years after her father fled the killing fields of Cambodia. Featuring actor/musicians who perform a mix of contemporary Dengue Fever hits and classic Cambodian oldies live. 541-482-2111 or go to www.osfashland.org.
Kalakendra Performing Arts present a Kuchipudi Dance Drama entitled "ARDHANAREESWARAM" on Sept. 29, 2019 at 6:30pm. Newmark Theatre at 111 SW Broadway Ave. in Portland. 1-800-273-1530.
The Changmu Dance Company from South Korea has transformed Korean dance through innovative choreography with poetry and its mastery of traditional forms. They make their Portland debut on Wed., April 15, 2020 at 7:30pm. Arlene Schnitzer Hall. 503-245-1600 for tickets.
The Westward Music Festival presents Joji  with Phum Viphurit on Sept. 13, 2019 at 7:30pm. This Japanese singer, songwriter, rapper, record producer and former internet personality performs on stage. Queen Elizabeth Theatre in Vancouver, BC. 630 Hamilton St. 604-665-2193.
The classical duo of Nikki & Timmy Chooi on violins perform in concert with Angela Cheng on piano on Sept. 22, 2019. The Z.E.N. Trio as presented by the Vancouver Recital Society perform on piano, cello and violin on Oct. 20, 2019 at 3pm. George and Andrew Li perform solo and together on piano on Jan. 12, at 3pm. Vancouver Playhouse.600 Hamilton St. 604-665-3038.
The Vancouver Symphony Orchestra present an evening concert of compositions by Chinese composer Tan Dun entitled "Tan Dun – Crouching Tiger And Beyond" on Nov. 9, 2019 at 8pm. Also set for April 3 & 4, 2020 is a concert of "The Music of Joe Hisaishi", noted composer of movie soundtracks for Studio Ghibli films performed also by the Vancouver Symphony Orchestra. The Orpheum Theatre in Vancouver, BC. 601 Smithe St. 604-665-3035.
UZUME Taiko Drum Group Society presents "Taiko M.A.D. Concert And Album Release" which is a concert of new work for taiko drums with Max Murphy on wind instruments and electronic music. This is a celebration of the group's seventh album release. One of Canada's premier taiko groups. Performance set for Sept. 21, 2019. Pandemic Theatre/Rumble Theatre, Diwali in B.C. and New World Theatre present "Take dMilk, Nah?", a performance piece written and performed by Jivesh Parasram. This work blends storytelling and ritual to walk the audience through the complexities of his mixed culture experience. Oct. 16 & 17,  2019. Vancouver Asian Canadian Theatre presents "Kuroko" set for Nov. 6 – 17. 2019. This world premiere from acclaimed playwright/performance artist Tetsuro Shigematsu tells the story of a hikikomori (Japanese for extreme recluse) who is persuaded to come out by an online challenge but then what happens? All events at the Cultch. 1895 Venables St. in Vancouver, BC. 604-251-1363 or try either [email protected] or tickets@thecultch.
"Hannah And The Dread Gazebo" is a play by Jiehae Park and produced by The Fountain Theatre in association with East West Players. Directed by Jennifer Chang. A California premiere that incorporates the creation myth of Korea. Two weeks away from becoming a neurologist, a Korean American girl gets a strange package from her grandmother in South Korea who may or may not have just ended her life. A comedy and mystery that leads the protagonist from Los Angeles back to South Korea and the forbidden DMZ that divides both Koreas. On stage thorough Sept. 22, 2019. The Fountain Theatre is at 5060 Fountain Ave. in Los Angeles. 323-663-1525 or try [email protected].
Santa Fe Opera presents a new adaptation of David Henry Hwang's "M. Butterfly" as an opera in this world premiere. Music by Huang Ruo  and libretto by the playwright. Set for August of 2020. Stars Kang Min Justin Kim, David Bizic and Hera Hyesang Park. Musical conductor is Xian Zhang. 301 Opera Drive in Santa Fe, New Mexico. 1-800-280-4654.
"Umber – The Creative Thinker's Graphic Journal" is an Oakland, California-based printed publication that focuses on creative culture and visual arts from the perspective of Black & Brown people. The current issue #3 is focused on "Sound". Baltimore-based composer Bonnie Jones is profiled in this issue. She is a Korean American improvising musician, poet and performer working with electronic sound and text. She also performs solo in numerous collaborative music, film, and visual art projects around the country. 
Film & Media
 SIFF and the City of Issaquah Arts Commission present the Issaquah Film Festival set for Sept. 14 – 15, 2019 at Cinebarre Issaquah 8. "Go Back to China", a feature film by Emily Ting that played at SIFF 2019 reappears as part of this festival. It screens on Sept. 14, 2019 at 6pm along with 5 other films from around the world and a program of international shorts filling up the rest of the schedule.  The life of a spoiled, young Chinese woman in the US suddenly changes when she must return to China to work in her family's toy factory at the insistence of her father. 1490 – 11th Ave. NW. Free but you must RSVP. Try [email protected].
The SIFF Uptown screens a Japanese film entitled "One Cut of the Dead" starting Sept. 17, 2019. This zombie farce by Shinichirou Ueda tells the story of a small crew shooting a zombie film who suddenly find themselves under attack from actual undead creatures.  511 Queen Anne Ave. N. Go to siff.net for details.
The SIFF Film Center has the following – Film scholar John Trafton leads film buffs through the seasons of Akira Kurosawa's filmography for 5 successive Thursdays from Sept. 12 – Oct. 10, 2019. In addition he will introduce two screenings of his prize-winning film, "Rashomon" open to the general public on Sept. 6, 2019. Near the corner of  Warren and Republican on the Seattle Center campus. Go to siff.net for details.
Shuji Awai's animated prequel to his previous live action film, "Hana and Alice" is entitled "The Case of Hana And Alice". This manga adaptation tells the story of a transfer student who learns of a murder and decides to investigate with the help of her next-door neighbor/classmate. Final screening  on Sept. 8, 2019. Takashi Miike is a maverick Japanese workhorse director with over 100 productions to his credit since his 1991 debut. His films range from violent, bizarre, sexual, dramatic to even family friendly. It is generally agreed though that it was his "Black Society Trilogy" (includes "Shinjuku Triad", "Rainy Dog" and "Ley Lines") that put him on the cinematic map. This "Trilogy" will be screened from Sept. 27 – 29 with a special sneak preview of a recent film entitled "First Love."   Grand Illusion Cinema. 1403 NE 50th St. in the University District. 206-523-3935.
Gkids and Fanthom Events present Japanese animated feature "Promare" from Studio TRIGGER, a blistering action-adventure on Sept. 17 & 19, 2019. Directed by Hiroyuki Imaishi. When a race of flame-wielding mutants who burned up half the world with fire return generations later, it's up to a rescue team to wage an epic battle with these aggressors to save the planet. Screens Sept. 17 at 7pm in an English dubbed version and again on Sept. 19 at 7pm in Japanese with English subtitles. At several Puget sound locations. To get advance tickets and locations, go to www.fanthomevents.com/events/promare OR www.PromareMovie.com or get tickets at the door
Fanthom Events continues their screening of Studio Ghibli classic films in 2019 with the following  to hit local movie theatres (some with new prints). Screenings are usually in both Japanese with English subtitles and  dubbed in English. "The Secret of Arrietty" on Sept. 29 & 30. "Spirited Away" on Oct. 27, 28 & 30. "Princess Mononoke" on Nov. 17, 18 & 20. "The Tale of the Princess Kageya" Dec. 16 & 18. Tickets online at www.FanthomEvents.com or at the box office.
"Grit" is a documentary film that tells the story of villagers in East Java, Indonesia who found a mud slide engulfing and flooding over 15 villages. 12 years later, the sludge is still flowing. "Grit" profiles one girl's awakening to activism as her mother campaigns against the gas drilling corporation responsible. By Sasha Friedlander and Cynthia Wade. Premieres  Sept. 9 at 10pm on PBS. Check local listings or go to pov.org for details. 
Some of the films that appeared at the recent SIFF festival will get general distribution across the country. Here are the dates for those films and other new movies. On August 9, 2019, the documentary film "One Child Nation" which looks at the disastrous results of the government decision to limit families to one child is released. Directed by Nafu Wang and Jialing Zhang. August 14, 2019 brings the new Gurinder Chadha film "Blinded by the Light" about a South Asian teenager growing up in Thatcher's Britain whose mind is opened up when he hears Bruce Springsteen's music. On August 23, Justin Chon's new film "Ms. Purple" opens. It is about a Korean American woman who must make amends with her estranged brother in order to properly care for a dying father in LA's Korea Town.
Lou Ye, the Chinese director who has had his share of difficulties with Chinese government censors in the past, got the go ahead this time to screen his new film "Saturday Fiction" at Venice. It stars Gong Li as a former actress involved in theatrical production and espionage on the eve of WW II. 
Hirokazu Kore-eda's latest film "The Truth" which screened at this year's Venice International Film Festival takes place in France and stars Catherine Deneuve and Juliette Binoche as mother and daughter. This marks the first film the director has made outside Japan. Screens as well at the Toronto International Film Festival.
The Written & Spoken Arts
The University Book Store has the following events –The series "Thursdays with KUOW" features news journalists from the local NPR station addressing various issues. On Wed. Sept. 4, 2019 at 6:30pm, reporter Ruby de Luna addresses the topic of "Our Foods, Our Stories". She looks at people who are inspired by food and use it to follow their dreams. Noted actor/author George Takei is scheduled to be at the store for a book signing event only on Thursday, Sept. 5, 2019 at around 5:30pm. He will be signing copies of his recent graphic memoir about his internment camp experience entitled "They Called Us Enemy" (Top Shelf). On Sun., Sept. 8, 2019, noted young adult author May H. K. Choi will be at the book  store on behalf of her latest novel, "Permanent Record" (Simon & Schuster). What happens when a Korean American NYU dropout and a social media sensation accidentally meet in a bodega and sparks fly? Choi's previous novel "Emergency Contact" was a New York Times bestseller. 4326 University Way NE. 206-634-3400. 
Cascadia Magazine presents "An Evening of Words & Ideas: which brings together journalists, writers and poets. Seattle poet Shin Yu Pai will be reading new work accompanied with visuals. She joins fellow poets Susan Rich, Martha Silano and Robert Lashley. Also featured is sex columnist Karin Jones and climate scientist Sarah Myhre. At The Rendezvous' Jewelbox Theater in Seattle at 2322 – 2nd Ave. Free but a suggested donation of $10 is advised. Go to https://www.cascadiamagazine.org/art/artsculture/cascadia-magazines-evening-of-words-ideas/.
Elliott Bay Book Company continues to sponsor readings in their Capitol Hill bookstore as well as co-producing events all over the city. Below you will find a partial listing of some of their events. Events are at the bookstore unless otherwise noted. Ganesh Sitarman, Vanderbilt law professor and advisor to Senator Elizabeth Warren will talk about "The Public Opinion: How to Expand Freedom, Increase Opportunity and Promote Equality" (Harvard), a book co-authored with Anne Alstott. Co-presented by Town Hall Civics. On Friday, Sept. 6 at 7:30pm at Town Hall Seattle. Chandrahas Choudhury reads from "Clouds" (Simon & Schuster) at the book store, a novel about tribal land rights, the destruction of culture and the complexities of old age and grief. Co-presented by Tasveer. On Monday, Sept. 9 at 7pm. Also at the book store, in a reading billed as "Unidentifiable Asians" set for Mon., Sept. 16, 2019 at 7pm will be a reading by authors Farooq Ahmed and Leland Cheuk. Ahmed reads from his novel "Kansastan" inspired by the civil war in which a dystopic Kansas is besieged by its neighboring state. Infused with Islamic folklore, Quranic lyricism, Old Testament tales yet as American as Cormac McCarthy and viciously funny. Cheuk reads from "No Good Very Bad Asian" in which a famous Chinese American comedian from L.A. struggles with substance abuse and racism despite his fame. Amitav Ghosh reads from his new novel "Gun Island (FS&G) on Thurs., Sept. 19 at 7:30pm at Town Hall Seattle which is the co-sponsor of this event with EB. The novel traces Bengali folklore, modern human trafficking and the devastating effects of climate change across generations and countries. 206-624-6600 or go to www.elliottbaybook.com.
Renovations are complete  and the public is welcome back to the old building. Town Hall Seattle presents the following events as part of their "Homecoming Festival." Leta Hong Fincher talks about her book "Betraying Big Brother – The Feminist Awakening in China" on Sunday, Sept. 22, 2019 at 7:30pm. In The  Forum. 1119 – 8th Ave. (West entrance.) Go to Townhallseattle.org for details.
Seattle Arts & Lectures has released their new program details for their 2019/20 season. Among the many highlights included are these – In the "Literary Arts" series, Min Jin Lee will speak. Her last novel "Pachinko" looked at four generations of an immigrant Korean family living in Japan running a pachinko parlor and gave Americans an intimate peek at a mostly hidden Japanese-Korean culture. It was a finalist for the 2017 National Book Award in Fiction. Set for March 17, 2020. In the "Journalism Series", the award-winning husband/wife reporting team of Nicholas Kristof & Cheryl WuDunn who shared a Pulitzer Prize will talk about their new book "Tightrope" which looks at the crisis in working-class America, the lives of real Americans today. They appear on Feb. 5, 2020. In the "Poetry Series", Seattle-raised poet/prose writer Paisley Rekdal (now Utah State Poet Laureate) does a Q & A with Rebecca Hoogs about her contemporary re-write of Ovid's "Metamorphoses"  in her Copper Canyon Press title, "Nightingale". Feb. 6, 2020. Rick Barot, award-winning Tacoma poet engages in conversation with fellow poet Jane Wong about the long colonial structure that sustained Spanish control over, much of Latin and South America, the Caribbean and the Philippines as outlined in his recent book of poetry entitled "Chord". Set for March 19, 2020. Also look for appearances throughout the year at SAL events from 2019/20 Youth Poet Laureate, Wei-Wei Lee. Lee will have her first book published by Poetry NW Editions in the spring of 2020. For more detailed information on SAL and its new season, go to lectures.org.
Hugo House, that venerated Northwest center for writers and poets re-opens in brand-new digs with expanded space but in the same location. Catch their readings and celebrate their new space. Also with the opening of the new Hugo House, the writing center rolls out a new series of classes/workshops with a varied number of subjects taught by a talented group of writers like Nisi Shawl, Sonora Jha, R. O. Kwon, Anne Liu Kellor, Michelle Penaloza, Richard Chiem, Diana Xin, Anglela Garbes, Lora Shinn, Aimee Bhausar and Shankar Narayan. One of the events for the 2019-2020 Hugo Literary series is "Taking Liberties" set for Nov. 22, 2019 at 7:30pm which features former US Poet Laureate Juan Felipe Herrera, best-selling novelist Hannah Tinti and Seattle fiction writer Richard Chiem, author of the novel, "King of Joy." Also new music from blues-based singer-songwriter  Amber Flame. Hugo House has selected writers for the 2019-20 Hugo Fellowships. Joyce Chen and Jen Soriano were some of the writers selected. The writers will be given advice and have a space to write. They will give two readings as well. Chen is a writer/editor/creator from Los Angeles. She will be working on a collection of essays that examine the push/pull conflict between American ideals of independence and self-fulfillment and Taiwanese values of family community and sacrifice. Jen Soriano is a Filipinx-American writer who blurs the lines between non-fiction, surrealism and poetry. She is working on a memoir of colonization, historical trauma and the neuroscience of healing as well as an essay collection on gender, technology and mothering. 1634 – 11th Ave. 206-453-1937. Go to hugohouse.org to find out more.
Seattle journalist/editor/curator Mayumi Tsutakawa gives a free public talk entitled "Washington's Undiscovered Feminists" which highlights our state's women warriors who changed the Northwest and American society. She will talk about Imogene Cunningham, Ruby Bishop, Priscilla Chong Jue, Anna Louise Strong and Vi Hilbert. Part of the Speakers Bureau Program of Humanities Washington. Sept. 7, 2019 at 1pm. Please go to monamuseum.org to RSVP. At the Museum  of Northwest Art in La Connor, WA. At 121 South 1st St.
The first Seattle Childrens Book Festival takes place on Sept. 28, 2019 from 11am – 3pm. Kazu Kibushi, Leuyen Pham and Joyce Wan are just a few of the many children's authors and book illustrators appearing. Hands-on literary activities, crafts and author presentations. Young readers will have a chance to meet award-winning authors and artists from around the country, purchase books and have them signed. Greenwood Elementary School. 144 NW 80th St. Free. [email protected].
Below is a partial list of new books by or about Asian Americans and new titles on Asia. If you are interested in reviewing any of them, please let us know –
"Japanese Tales of Lacadio Hearn" (Princeton) as edited and introduced by Andrei Codrescu with a foreword by Jack Vipes. This volume, part of the Oddly Modern Fairy Tales" series bring together a choice selection of strange stories, inspired by Japanese folk tales as written by Western expatriate Lafcadio Hearn at the turn of the 19th century.
"Latani of The Distant Sea" (HarperCollins) is the latest book by Newberry Medal-winner Erin Entrada Kelly. This fable inspired by Filipino folklore is filled with a rich mythology and pits a timid twelve-year-old girl against epic tests to survive and save her village from disaster.
"Surrender" (Imprint) by Cao Wenxuan as illustrated by Yu Rong. In this picture book, children will read how seven animals try to survive the sweltering season but all are selfish. It isn't until they learn to share that they thrive. Lyrical poetic prose is matched by delicate, sensitive images.
"Along The Indigo" (Amulet) is by prolific young adult author/editor Elsie Chapman. Her new novel is a heart-wrenching story of a plucky heroine trying to escape the poverty of a seedy river town to give herself and her little sister a better life.
"Useful Phrases For Immigrants" (Blair) is a collection of stories by May-lee Chai that recently won the American Book Award from The Before Columbus Foundation. Set in China and in the Chinese diaspora, it presents characters who  cross borders, re-invent traditions and search for love. It was selected as the winner of the 2018 Bakmin Award by Tayari Jones.
"Last of Her Name – A Novella & Stories" (Kaya) by Mimi Lok. A wide range of stories that portray the interconnected lives of diasporic women and the histories they are born into. With a cast of outsiders like an elderly housebreaker, wounded lovers and kung-fu fighting teenage girls.
"The Ranger" (Groundwood) by Nancy Vo. When a ranger comes across a fox in a trap, she nurses it back to health. When misfortune befalls the ranger, the fox returns the favor. A picture book of understanding and companionship is evoked in striking illustrations.
"No Good Very Bad Asian" (C&R) is a comic novel by Leland Cheuk of a Chinese American underachiever's journey into stand-up comedy while navigating the duties and obligations of society and a traditional Chinese family.
"Place and Postcolonial Ecofeminism – Pakistani Women's Literary And Cinematic Visions" (Nebraska) by Shazia Rahman.  A look at contemporary Pakistani literature and film through the voices of women's narratives.
"Iced In Paradise" (Prospect Park) is by Naomi Hirahara, the Edgar-winning author of the Mas Arai mysteries. In it, we discover a new unlikely detective in Leilani Santiago. Leaving a post-collegiate Seattle life, she returns to the islands to care for an ailing mother and keep afloat a family business. But when she discovers a dead body and her estranged father becomes the suspect, she must work fast to solve the murder and put her life and that of her family back in order.
"Zhuangzi – The Way of Nature" (Princeton) is illustrated  by C. C. Tsai with a foreward by Edward Slingerland. Tsui is one of East Asia's beloved cartoonists. He is adept at taking tales of traditional Asian philosophy and literature and fashioning them into playful and illuminating  cartoons. In this volume, he takes on a pillar of classical Daoism aided by a skillful translation by Brian Bruya who provides an informative introduction.
"Skyward: The Story of Female Pilots in WWII" (Flying Eye) by Sally Weng. This children's picture book tells the little known story of women pilots who learn to fly and contribute to the war effort.
"Banned – Immigration Enforcement In The Time of Trump" (NYU) by Shoba Sivaprasad Wadhia tries to make sense of a muddled immigration policy with a thoughtful analysis of immigration law and policy illustrated by   insightful case studies and interviews.
"A Hero Born – Legends of the Condor House 1 (St. Martin's Press) is an epic novel by Jin Yong an translated by Anna Holmwood. This Hong Kong writer has created one of the world's most beloved martial arts novels that stretches from the mid-fifties to the emergence of Bruce Lee's career in film. His novels have been widely read in Asia. Hailed as a Chinese "Lord of the Rings", this kung-fu fantasy features fierce battles, complex characters and plots woven into historical events.
"Maangchi's Big Book of Korean Cooking" (HMH) by Maangchi is billed as "You Tube's Korean Julia Child" by the NY Times. This book is called the definitive book on Korean food and the culture it comes from. Set for Oct. 2019 release.
"Divine Gardens – Mayumi Oda & The San Francisco Zen Center" (Parallax) captures the essence of the artist's art and life as a zen practitioner. It is a celebration of the garden and her joyful female "goddesses" who leap off the page in vibrant colorful hues.
"How Do You Say Goodnight?" (Little Simon) by Cindy Jin and illustrated by Shirley Ng-Benitez is a cute board book for kids in which the little ones learn how to say good night in an array of languages and cultures.
"Masking Identity – The Performance Art of Roger Shimomura" (printed by CreateSpace, an Amazon Company) by Krystal Reiko Hauseur. This book is a monograph of the artist's thirteen performance pieces created over an eighteen-year period. Looks at the historical significance and visual impact of Shimomura's performance art that continually dealt with racism, discrimination, and the Asian American experience.
"Everest" (Flying Eye) by Sangma Francis & Lisk Feng. A non-fiction picture  book full of facts about the world's highest mountain with marvelous visuals by Feng.
"Rising Son – A US Soldier's Secret and Heroic Role in World War II" (Sasquatch) by Sandra Vea. The story of a Japanese American man who joined the Military Intelligence Service assigned to convince Japanese Imperial soldiers to lay down their arms while wearing a target on his back. Reveals a little-known history of how the confluence of race, war and loyalty played out when the nation called for the service of those it judged most harshly.
"Things To Make And Break" (Coffee House) is a book of stories by May-Lan Tran. A collection of stories that reveal old relationships, past selves and hopes for the future where the path is not always clear and self-invention and self-annihilation appear as road signs to a varied cast of characters.
"The Immortal Jellyfish" (Flying Eye) by writer/artist Sang Miao tackles the issue of death as a young boy loses his grandfather only to reunite again with him in a mythical city.
"Bullets And Opium – Real-Life Stories of China After the Tiananmen Square Massacre" (Signal) by Liao Yiwa. Now living in exile in Berlin, the author bears witness with first person accounts from ordinary people who were actually there that fateful day.
"Stories For South Asian Super Girls" (Kashi House) by Raj Kaur Khaira is a treasure trove of 50 illustrated biographies of amazing South Asian women. A young adult book of "sheroes" sure to inspire.
"ESL or You Weren't Here" (Nightboat) by Aldrin Valdez. A debut book of poems that looks at a young man's upbringing as a queer immigrant body adrift in a sea of contradictions with negotiations between Tagalog and English at every corner.
"Bone Talk" (David Fickling Books) by Candy Gourlay tells the story of an indigenous village boy in the Philippines who must use all his skills to   battle the encroachment of American invaders in this young adult novel set for November 2019 publication.
"Always Angali" (Bharat Babies) by Sheetal Sheth with illustrations by Jessica Blank. When an Indian girl in America finds she is bullied for her different name, she asks her parents to change it but they refuse. A timeless children's story about appreciating what makes us special and honoring our differences.
"Sightseer in This Killing City" (Penguin) by Eugene Gloria. This new book of poems captures the surreal and disorienting feelings of the present and reveals an obsession with arrivals and departures and the bitter divisions in America.
"Parade" (Soft Skull) by Hiromi Kawakami as translated by Allison Markin Powell. It's a summer afternoon and the student tells her former high school teacher a modern folk-tale of creatures over a bowl of cold noodles. Set for Nov 2019 publication.
"Bodega" (Milkweed Editions) is a debut book of poems by Minnesota poet Su Hwang. With rich lyrical and narrative poetics, she offers a revealing perspective on our nation of immigrants and the tensions rising in the margins where they live and work.
"My Story Starts Here – Voices of Young Offenders" (Groundwood) by Deborah Ellis is set for Oct, 2019 release. It is an oral history of kids involved in the criminal justice system telling their own stories. From different socioeconomic backgrounds, genders, sexual orientations and ethnicities, the common threads that bind include loss of parents, dislocation, poverty, truancy, addiction and discrimination.
The Goose Egg" (Knopf) by Washington author/artist Liz Wong tells the story of another elephant who rescues a baby goose who then adopts her as her mother. This picture book is tale of parenting and how love changes everything.
"Fashion And Beauty in The Time of Asia" (NYU Press) edited by S. Heijin Lee, Christina Moon and Thuy Lin Nguyen Tu. This collection of essays considers the role of bodily aesthetics foraged through engagements with fashion and beauty. Topics run the gamut from the American influence on plastic surgery in Korea, Chinese garment workers to Nepalese nail technicians in New York.
"You Go First" (Greenwillow) by Erin Entrada Kelly. How do two friends more than a thousand miles away survive middle school and heartbreak at home? A love of online scrabble binds them together and their lives intersect in unexpected ways in this young adult novel.
In "Hybrida" (Norton) is Tina Chang's new book of poems and in it, she confronts the complexities of raising a mixed-race child during an era of political upheavel in the United States.
"Spin The Dawn" (Knopf) by Elizabeth Lin. This fairy tale is about a young seamstress who must use her creativity as a weapon against evil forces invading the land.
"Before I Was A Critic I was A Human Being" (Book Hug) by Amy Fung. This collection of essays takes a closer look at Canada's mythologies of multiculturalism, settler colonialism, and identity through the lens of a national art critic.
"Jaya And Rasa: A Love Story" (Cinco Puntos) is both a teenage romance and a tale of crime fiction as a love blooms between two strangers who cross paths. Will their relationship survive the chaos of their respective lives?
"Love in the New Millennium" (Yale) by Can Xue with a foreword by Eileen Myles and translated from the Chinese by Annelise Finegan Wacmoen. A dark comic novel about a group of women who inhabit a world of constant surveillance, where informants lurk in the flower beds and false reports fly. Love stories of a new millennium by a master storyteller.
"Malaya – Essays On Freedom" (Little A) by Cinelle Barnes. These essays tell of a harrowing childhood in the Philippines and coming of age in the American South as a woman with a brown body in a profoundly white world. Set for Oct, 2019 release.
"Super Satya Saves The Day" (Bharat Babies) by Raakhee Mirchandani with pictures by Tim Palin. Can a little girl conquer the tallest slide in Hoboken without her superhero cape? Will she be able to face her fears, help her friends and be the true hero everyone knows she is?
"Empire of Style – Silk And Fashion in Tang China" (UW Press) by  Buyen Chen. During the Tang dynasty, the Silk Road was filled with a critical market and the thriving cultures of Central Asia and the Middle East. Chen looks at this vibrant fashion system that emerged through the efforts of Tang artisans, wearers and critics of clothing.
"The Art of Logic In an Illogical World" (Basic Books) by Eugenia Cheng. This mathematician and columnist demonstrates how to use mathematical logic to complement our emotions and transform the way we think about challenges.
"Team Taek Wondo #3 – How To Be Cheeri" (Rodale Kids) by Master Taekwon Lee & Jeffrey Nodelman and illustrated by Ethen Beavers. What happens when hand worker Cheeri must collaborate with fun loving Baeoh? How can they join forces and learn to work together to meet their next challenge? A lesson-learning graphic novel for kids.
"Bomb Children – Life In The Former Battlefields of Laos" (Duke) by Leah Zani. The author looks at how the explosive remnants of war continues to be a part of people's everyday lives.
"Chicks Rule!" (Abrams) is a picture book by Sudipta Bardhan-Quallen with pictures by Renee Kurilla that demonstrates that when little girls work together, no obstacle is insurmountable.
"Zeng Fanzhi" (Hauser & Wirth) is a catalog of a 2018 exhibition by one of China's most well known contemporary artists that toured Zurich, London and Hong Kong. The artist often works on multiple artworks in different styles and this book is a reflection of that as it moves from the purely abstract to the figurative to traditional landscape.
"Paper Son" (Random House) by Julie Leung and illustrated by Chris Sasaki tells the inspiring story of artist Tyrus Wong, the Chinese American responsible for bringing Disney's Bambi to life.
"Symptoms of a Heart Break" (Imprint) by Sona Charaipotra is a young adult novel of a young doctor treating kids with cancer who must mend her own broken heart even as she starts to become attracted to a patient.
"Hard Damage" (University of Nebraska) by Aria Aber won the Prairie Schooner Book Prize in poetry. Leaping from the personal to the political, an Afghani family history comes alive as a poet explores the historical and personal implication of Afghan American relatives in an urgent, lyrical language.
"Anna May Wong – Performing The Modern" (Temple University Press) by Shirley Jennifer Lim. The author explores modernity and women of color through the central presence of this famed Chinese American actress. In this study, Lim captures Wong's emergence through the contradictions of gender and race.
"The Rise of Kiyosi – Avatar, The Last Airbnder" (Amulet) by F. C. Yee with Avatar co-creator Michael Dante Dimartino. The story behind the longest-living avatar  in the history of this beloved world. It maps Kiyoshi's journey from a girl of humble origins to the merciless pursuer of justice in this young adult fantasy epic. 
"I Love You So Mochi" (Scholastic) by Sarah Kuhn. When a young girl gets into an explosive fight with her mother, she's able to escape to Kyoto when her grandparents invite her to visit. When she meets a Japanese med student, she learns more than she bargained for – about her self and her complex relationships.
 "Your House Will Pay" (Ecco) by Steph Cha is a novel that looks at a history of Los Angeles after Rodney King and how it impacted and shaped her city. She deals with issues of how crime, violence and injustice permeates communities and families.

Mommy Sayang" (Pixar Animation Studios Artist Showcase Books) by Rosanna Sullivan. When illness comes between a mother and her child, they must find a way to love in a different yet meaningful way. Charmingly illustrated by the author.
"Shojin Ryori – The Art of Japanese Vegeterian Cuisine" (Marshall Cavendish) by Danny Chu. Explores a cuisine that originated from Japanese Zen temples that uses no meat, fish, egg or dairy products. The author is a former foreign currency trader who let the corporate world to study this unique cuisine.
Chirri & Chirra – Underground" (Enchated Lion) by Kaya Doi and translated by David Boyd. A charming Japanese picture book about two sisters who embark on an adventure beneath the earth's surface as they follow badgers and discover another world. 
"Instantly Indian Cookbook – Modern Classic Recipes For The Instant Pot" (Knopf) is the latest by the godmother of Indian cookbook writers, Madhur Jaffrey. In it, she tries to make cooking Indian food in your home easier via the use of the Instant Pot. Runs the gamut with recipes, side dishes, spices, special ingredients and handy tips.
"A Scarf For Keiko" (Kar-Ben) by Ann Malaspina and illustrated by Merribe Liddiard. A special friendship is tested when Sam's Japanese American neighbor Keiko is forced into an internment camp with her family as WWII draws near. How they will remain friends?
"Like A Love Story" (Balzer + Bray) by Abdi Nazemian. Three characters in 1980's NYC – an Iranian boy who keeps the secret that he's gay, a young girl who wants to be a fashion designer and a gay uncle with AIDS that she worships. When all three get caught up in secrets and emotions, will friendship and love still triumph?
"A Song For China – How My father Wrote Yellow River Cantata" (Ground wood) by Ange Zhang. A true story of a  young Chinese author who composed the words to a song that became a patriotic anthem. Illustrated by the author's woodblock-style art with sidebars that explain the historic background to the story. Set for September, 2019.
"The Safety of Edges" (Marrowstone Press) by Thomas Hitoshi Pruiksma uses poetry to ponder liminal times and spaces, tracing between now and then and there, childhood and the grown poet.
"You Are My Magical Unicorn" (Cartwheel) is a colorful board book by Joyce Wan that expresses the mantra that every child needs to feel important and loved.
"Bloody Seoul" (Cinco Punto) by Sonia Patel is a young adult coming-of-age story about a boy who wants to inherit leadership of his father's gang but along the way, discovers important new truths that help him find himself and another way.
"My Big Bad Monster" (Disney Hyperion) by A.N. Kang. How a little girl defeats her monster  of self-doubt comes alive in these colorful pages.
"Kitchen Curse" (Verso) is a book of stories by Eka Kurniawan as translated by Annie Tucker. These dark tales explore the turbulent dreams of an ex-prostitute, a perpetual student, victims of anti-Communist genocide, an elephant and a stone. An Indonesian writer hailed as a SE Asian "Marquez."
"The Boy Who Grew A Forest – The True Story of Jadav Payeng" (Sleeping Bear) by Sophia Gholz and illustrated by Kayla Harren. This picture book tells the inspiring story of a little Indian boy who planted a forest on an island starting with one seed.
Big Sister, Little Sister, Red Sister – Three Women at the Heart of Twentieth-Century China" (Knopf) by Jung Chang, noted author of "Wild Swans". This book tells the story of three real-life sisters from Shanghai who married some of the most powerful men in modern China. A gripping tale of these women who helped shape the history of twentieth-century China.
"The Epic Crush of Genie Lo" (Amulet) by F. C. Yee. What happens when an overachieving Chinese American high school girl drops her studies to fight a hellspawn straight out of Chinese folklore with the aid of the mysterious new boy in school?
"The Memory Police" (Pantheon) by Yoko Ogawa as translated by Stephen Snyder. Due out August 2019, this is a haunting Orwellian novel about the terrors of state surveillance by the acclaimed Japanese author of "The Housekeeper and the Professor".
With "The Candle And The Flame" (Scholastic) by Nafiza Azad, we enter another world and another time. Based on Islamic mythology and Arabic folklore, the author evokes a city on the Silk Road and a young woman who must be quick on her feet and alert to her senses as she navigates political intrigue and the dangers of a magical battlefield to survive. A young adult fantasy novel. The author born in Fuji is an Indo-Fijian Muslim Canadian.
"Man Tiger" (Verso) by Eka Kurniawan is set in a small town on the Indonesian coast. This novel tells the story of two tormented  and interlinked families and an ordinary young man who conceals within himself a supernatural female white tiger. Translated by Labodalih Sembiring. 
 "Ojiichan's Gift" (Kids Can Press) by Chieri Uegaki and illustrated by Genevieve Simms. A picture book about a grandfather's garden in Japan and how an American granddaughter learns to tend the garden on her summer visits until everything changes. A story of facing change and  the bond of love.
"The Dragon Warrior" (Bloomsbury) by Katie Zhao. This middle-grade fantasy takes a page from Chinese mythology. A young outcast embarks on a quest to prove herself and honor her family as well. Set for October, 2019 release.
"Bilal Cooks Dahl" (Salaam) by Aisha Saeed and illustrated by Anoosha Syed. When a South Asian boy helps his dad cook his favorite dish, he worries if his friends will like it too.
"The Sea of Japan" (Spark Press) is a novel by award-winning Japanese author Keita Nagano. Fleeing a disastrous teaching job in Boston, an American girl gets another position teaching overseas in a Japanese fishing village. Saved from drowning by a local fisherman, she soon becomes immersed in a war over fishing rights between his village and the one nearby. Set for September 2019 release.
"Other Words For Home" (B+B) by Jasmine Warga. A Syrian girl and her mother are forced to flee their war-torn country leaving an older brother and father behind. Will they find a new home in Cincinnati? A young adult novel about losing and finding home or perhaps finding yourself.
"The Secrets of Noh Masks" (Kodansha) by Michshige Udaka with  photography by Shuichi Yamagata. This book is written by a Noh actor who is also a mask maker. He shares his love of this unique ancient drama form with the world. The photographs make the masks come out of the darkness and become alive
"Zombie Run" (Solstice) is a novel co-written by Dwayne Perkins and Koji Steven Sakai. It explores how to survive in a Zombie world and discover love along the way.
"The Gurkha and the Lord of Tuesday" (Tor.com) by Saad Z. Hossain. A compact story of a king who wakes up from imprisoned slumber only to find to his surprise that the city he  covets, has citizens unwilling to revolt.
"Grass" (Drawn & Quarterly) by Keum Suk Gendry-Kim is a graphic novel set for September 2019 release. This is the true story of a Korean comfort woman who documents how the atrocity of war devastates women's lives. A landmark graphic novel that makes truly personal the desperate cost of war and the importance of peace.
"Hello, Universe" (Greenwillow) by Erin Entrada Kelly. This Newberry Award-winner tells the story of a few kids whose lives collide in surprising and unexpected ways that enrich each of them.
A trio of Japanese American artists have created "442" (Little Nalu Pictures), a graphic novel that recounts the experiences of those in their community who served in the combat regiment that became the most decorated unit in the history of American warfare. Written by Koji Steven Sakai and Phineas Kiyomura and illustrated by Rob Sato.
"The Factory" (ND) by Hiroko Oyamada and translated by David Boyd. A Japanese novel  that looks at life in a factory from the perspective of three different characters. This surreal, modern fable dares to ask, "Where does the factory end and the rest of the world begin?" Set for October 2019 release.
"Take the Mic – Fictional Stories of Everyday Resistance" (Arthur A. Levine) edited by Behany C. Morrow. A powerful collection  of short pieces by some of the best young adult authors. Poems, prose and art that show how today's youth can resist injustice today.
"Who Is Afraid of Little Wolf?" (Prestel) by author/illustrator Yayo Kawamura is a board book for little ones that stresses the importance of overcoming prejudice and the power of friendship with colorful artwork of all the animals in the forest.
"Small Days And Nights" (Norton) by Tishani Doshi is this prize-winning poet's novel that tells the story of a young woman who returns home to Pondicherry after a failed US marriage to find she has inherited property in Madras, discovers a sister she never knew existed and must grow up fast to forge a life with meaning. Set for January 2020 release.
"A Life Made by Hand – The Story of Ruth Asawa" (Princeton Architectural Press) written and illustrated by Andrea D'Aquino. Imaginatively illustrated, this picture book tells the story of a pioneering Japanese American artist beloved in the Bay Area.
"Voices from the Railroad – Stories by descendants of Chinese railroad workers" (Chinese Historical Society of America) – Edited by Sue Lee & Connie Young Yu. An important document that gives voice and recognition  to a forgotten generation of early Chinese Americans who built the railroad that linked a nation.
"RUSE" (Simon Pulse) is the thrilling sequel to "Want" by Cindy Pon. Set in a futuristic Shanghai. What happens when a group of teens lose a friend, kidnapped by their evil adversary?
"Queen of Physics – How Wu Chien Shiung Helped Unlock the Secrets of the Atom" (Sterling) by Teresa Robeson and illustrated by Rebecca Huang. Overcoming prejudice and obstacles, this famous physicist went on to make a large difference in the world. Another "shero" story for the kids.
"Changing And Unchanging Things: Noguchi And Hasegawa in Post War Japan" (UC Press) edited by Dakin Hart and Mark Dean Johnson. When the artist Isamu Noguchi returns to Japan for the first time in 20 years, it is 1950. A key figure for Noguchi during this period was fellow artist Saburo Hasegawa who had lived abroad in Paris in the 1930's and later influenced the American "Beats" about Japanese culture. Together the two artists explore traditional Japanese culture and how it can strike a balance between tradition and Western modernity. The exhibition catalog for a show  at the Asian Art Museum in San Francisco.
"Yao Bai and The Egg Pirates" (West Margin Press) by Tim J. Meyers and illustrated by Bonnie Pang. A story of resourceful Chinese immigrants who journeyed to the Farallon Islands to gather eggs to sell, only to be attacked by pirates. A story  taken from history that will enlighten the kids.
"Fake It Till You Break It" (Swoon Reads) by Jenn P. Nguyen. What happens when best friends pretend to be a couple in order to get their matchmaking moms off their backs only to realize they are really falling for each other?
"The Dinner That Cooked Itself" (Flying Eye) by J. C. Hsyu and Kenard Pak. Told in the form of a folktale from ancient China, a decent man longs for a bride but remains lonely until a fairy appears bearing fragrant gifts.
"A Life in a Sea of Red – Photojournalism  by Liu Heung Shing" (Steidl). This book captures half a century of documentation by this noted Chinese photographer of the changes in life in the former Soviet Union and China.
"Mya's long Walk – A Step At A Time" (Clarion) is by Linda Sue Park and illustrated by Brian Pinkney. It is the picture book companion to "A Long Walk To Water" and evokes the visceral fragility of living without access to fresh, clean water in the desert of South Sudan.
Art News/Opportunities
The Jack Straw Cultural Center Residency Programs offer established and emerging artists in diverse disciplines an opportunity to explore the creative use of sound in a professional atmosphere through residencies in our recording studios and participation in our various presentation programs. Artists may apply to only one program per year with a deadline of Thursday, Nov. 1, 2019. Our residency applications are now online via Submittable! If this format is not accessible to you, please contact [email protected] or 206-634-0919. Programs offered include the following –  Jack Straw Artist Support Program with 20 hours of recording and production time with an engineer. Jack Straw New Media Gallery Program where artists from various disciplines can present works in which sound is an integral or exclusive element. The 2020 Jack Straw Writers Program in which twelve writers in all forms and styles are selected by an invited curator. 
Bamboo Ridge, Journal of Hawaii Literature & Art is looking for works of poetry and prose written for, by, or about Hawaii's unique people, places and culture for their forthcoming issue #18 Deadline is Sept. 30, 2019. Visit www.BambooRidge.com "Submissions" for information and details.