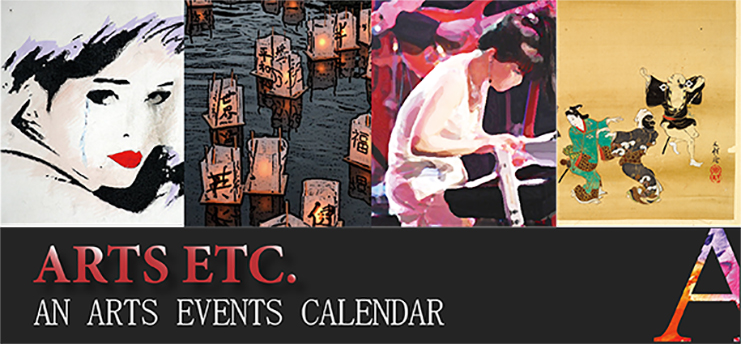 Visual Arts
"(Un)Earthly Delights" is the title of a show of new work by Philippe Hyojung Kim. In this show, Kim's fluorescent and biomorphic plastic forms evoke earthly pleasures as well as planetary blights. The artist examines society's duplicitous relationship with this consumer material of plastic and makes wondrous art in the process.On view from July 7 – 29. 2022 at Gallery 4Culture at 101 Prefontaine Pl. S. Open on First Thursdays from 5 – 8pm. Gallery hours are Thursday & Friday from 10am – 5pm. [email protected] or 206-296-7580.
"The Signified or if" is the title of a series of 7 etchings with aquatint and hand-coloring by Shusaku Arakawa now on view from July 8 – August 27. Arakawa was a conceptual artist/architect who infused his work with philosophical ideas that considered art's intrinsic functions, human perceptions of the physical world and the language of signs, symbols and visual images. Also on view is "What is Visible, What is Imagined", a series by Virginia Hungate-Hawk through July 30, 2022 and "Passage", a series of woodcuts by Charles Spitzack on view from July 8 – August 27, 2022. Davidson Galleries. 313 Occidental Ave. S. 206-624-7684 or www.davidsongalleries.com.
"Flower Flower" is not a florist shop. Instead it's a neighborhood "greenhouse" where community stores flourish, and creative expression is nurtured, cultivated and resourced. Founded by a collective of queer and trans, Pasifika and Asian artists and cultural workers who aim to create accessible, thriving art spaces in the CID for our communities to heal and grow.  Check out their window art display from July 2 – August 31, 2022 at 619 South Jackson. Co-sponsored by Scidpda.
"Transcending Boundaries" is the title of a group show that signals the U.S. grand opening of the Yuanru Art Center, a gallery that originates from Taipei. Artists in this inaugural show include Angie Dixon, Cormac McCarthy, Racquel Miller, Judy Chia Hui Hsu, Mariestella Colin Astacio, Chien-Hsing Lien, Wen-Yueh Tao, Julie Hsieh, Yang Lin and Sheng Reui Yu. On view  July 16 – October 16, 2022. On Bel-Red Road in Bellevue. For details, try [email protected] or [email protected].
"GATHER: 27 Years of Hilltop Artists" represents nearly 30 years of youth development and creative cultivation through glassblowing in this Tacoma neighborhood. Includes work from 21 Hilltop artists alumni with artistic practices rooted in this Tacoma community. Curated by Hilltop's own Trenton Quiocho, Hot Shop manager and "GATHER" curator who's presently artist-in-residence at the Glass Museum next door. On view through  September 4, 2022. Also on view for an extended time is "Painting Deconstructed: Selections from the Northwest Collection" which includes the work of a number of Northwest Asian American artists. 1701 Pacific Avenue.  253-272-4358 or  [email protected].
Seattle-based artist Maggie Jiang exhibition entitled "I-Ching Through Thick And Thin" is on view at J. Rinehart Gallery through July 20, 2022. In this exhibit, Jiang incorporates the vocabulary of the sixty-four hexagrams found in the I-Ching using the language of modern geometric abstraction. The artist will also be present on First Thursday on July 7, 2022 from 5 – 8pm. Images can also be seen online at www.jrinehartgallery.com.  Hours are Wed. – Saturday from 10am – 5pm or by appointment. 319 Third Ave. S. in Pioneer Square. 206-467-4508 or  www.jrinehartgallery.com.
ARTS at King Street Station hosts two exhibitions. "Izanami and Yomi" by Hanako O'Leary features a series of ceramic sculptures influenced by prehistoric fertility icons, Noh theatre masks, and samurai armor and a large-scale fiber installation of the underworld. The other exhibit is entitled "Her Body and After Boucher" by Molly Vaughan which features paintings, drawings, lithographs and textiles based on the works of 18th-century French painter Francois Boucher and a series of Vaughan's self-portraits. On view  through July 7, 2022. Free and open Tuesday – Saturday from 10 am – 6pm. Open until 8pm on First Thursdays. 303 South Jackson St. on the top floor. Learn more at (/arts/experience/galleries/arts-at-king-street-station-gallery/2022-hanako-and-molly).
Opening July 3 and running through October 9, 2022 is "George Tsutakawa – Language Of Nature", a retrospective exhibition honoring Seattle native and international arts icon George Tsutakwa (1910-1997). For a nice introduction to the work of this artist, check out the article by his daughter Mayumi Tsutakawa entitled "Stolen Beauty" in the Summer 2022 issue of University of Washington Magazine (magazine.uw.edu).  BIMA is located at 550 Winslow Way E. just as you get off the ferry dock.206-842-4451 or try biartmuseum.org.
Cascadia Art Museum in Edmonds presents a complimentary pairing with the BIMA  Tsutakawa show when it presents "George Tsutakawa: Works on Paper- The Early Years" which is on view December 1, 2022 – March 26, 2023.190 Sunset Ave. #E in Edmonds. 425-336-4809 or try CascadiaArtMuseum.org.
Seattle Art Museum's downtown location has the following. ""Folding Into Shape – Japanese Design and Crafts" is on view through September 25, 2022. Creating three-dimensional objects by folding, layering and weaving two dimensional materials is a core concept in Japanese design and crafts.  Ranging from textiles and paintings to ceramics and bamboo baskets, this exhibit serves up various examples from the permanent collection and private holdings. Also on view is "Pure Amusements: Wealth, Leisure, And Culture in Late Imperial China." Another ongoing show is "Northwest Modernism: Four Japanese Americans" which takes a look at the work of Kenjiro Nomura, Kamekichi Tokita, Paul Horiuchi and George Tsutakawa. Seattle Asian Art Museum has the following.  SAM recently created a new position for a South Asian art curator and the first show on that theme opens on January 14, 2022 and it is entitled "Embodied: South Asian Art Across Time." "Boundless: Stories of Asian Art" is an ongoing group show re-imagining of items from the museum's permanent collection of Asian art. "Be/longing: Contemporary Asian Art" is an ongoing show that showcases current trends in contemporary Asian art. In the Fuller Garden Court you will find Kenzan Tsutakawa Chinn's permanent installation "Gather." Tsutakawa Chinn is a Seattle-raised, New York-based LED light installation artist. Tickets released every Thursday at 10am. Tickets must be obtained in advance. Capacity is limited. Seattle Art Museum is downtown at 1300 first Ave. 206-654-3100 or try seattleartmuseum.org.
The Wing Luke Asian Museum reopens on March 5, 2021. Hours are Fridays through Sundays from 10am – 5pm. Reserving tickets online prior to visit is highly encouraged as it is operating at limited capacity.  Just opened is "We Are Changing the Tide: Community Power for Environmental Justice". This exhibit looks at BIPOC communities from the Quinault Nation fighting climate change to Duwamish River stewardship to the threat of rising seas on Pacific Island communities to Native Hawaiians opposing military installations and Beacon Hill neighbors fighting airplane noise and pollution. On view through April 23, 2023.  "Reorient: Journeys Through Art and Healing" is on view now through May 14, 2023. Opening July 8, 2022 is "Be Water, My Friend: The Teachings of Bruce Lee". The museum's annual "JamFest" heats up on July 28, 2022.   "Woven Together: Stories of Burma/Myanmar" on view through November 12, 2022. "Lunar New Year: Altars, Ancestors, Traditions Blessings" on view through January 8, 2023. "Where Beauty Lies" looks at what defines beauty from an Asian Pacific American perspective on view through September 18, 2022. On going are the following –   "The Heart of Our Journey" is a permanent exhibit dedicated to the Asian Pacific American experience, "I Am Filipino" looks at the story of Filipino Americans", "Hometown Desi" covers the local South Asian experience and "Cambodian Cultural Museum and Killing Fields Memorial" looks at the Cambodian America experience and the impact of the Killing fields on that country's history. Upcoming exhibits include the following – "Hai! Japantown" uncovers the history of Seattle's Japanese American community and opens on August 13, 2022. An exhibition entitled "Paradice Avenue Souf" opens on August 18, 2022. In the fall on October 14, 2022, there will be an exhibit on those Japanese nationals and Japanese Americans who defied government regulations and refused to enlist during WWII entitled "Resistors". There are virtual tours of the museum on weekday mornings. Pre-booking available for private groups. Contact the museum to sign up.  Live virtual tours of the Freeman Hotel on Thursdays at 5pm PDT. Check out what's in the gift shop with the Museum's online marketplace. The monthly storytime programs can be watched at www.digitalwingluke.org/programs.
KOBO, a unique shop of arts and crafts from Japan and items made by Northwest artists has two shops in Seattle on Capitol Hill and in the Chinatown/ID/Japantown community downtown. The gallery features new work by Rob Vetter. Masks are required and you must use the provided hand sanitizer upon entering.  Shipping and curbside pickup is still available by scheduling a Pickup Time at Checkout. They have a new instagram shopping account @koboseattleshop or try their website at  koboseattle.com.  KOBO at Higo hours are Wed. – Sat. from 11am – 5pm. The Capitol Hill store is at 814 E. Roy St. and their hours are Tues. – Sat. from 11am to 5pm.  KOBO at Higo is at 604 South Jackson St. in the CID.
The Frye Art Museum presents the work of Portland artist Srijon Chowdhury with a solo show entitled "Same Old Song". The artist creates dreamlike oil paintings that consider the present moment as part of a larger mythology. Opens October 8, 2022 and remains on view through January 15, 2023. 704 Terry Ave. in Seattle. 206-622-9250  or try fryemuseum.org.
Bellevue Arts Museum has the following – An ongoing collaborative exhibition of innovative glass works by Terri Grant & Purnima Patel entitled "Trace" is on view in the museum.  510 Bellevue Way NE in Bellevue, WA. 425-519-0770 or  try bellevuearts.org.
The Pacific Bonsai Museum has the following – "A Gallery of Trees: Living Art of Pacific Bonsai Museum" presents old and new favorites from the museum's collection on view through November 5, 2023. "De Groot – A Retrospective" presents bonsai from the personal collection of the museum's first curator, David De Groot on view through September 4, 2022. 2515 South 336th St. in Federal Way, WA. Admission is by donation. Hours are Tuesday through Saturday from 10am – 4pm. 253-353-7345 or email [email protected].
"Remembrance – The Legacy of Executive Order 9066 in Washington State" is a permanent exhibit on the third floor of the Washington State Historical Society. Visitors will experience history through photos, art, objects, letters and film. A significant part  of this exhibit was sourced by working with individuals and families who were directly impacted including survivors and their descendants. Coming July 1 – September 11, 2022 is "Art of the Aloha Shirt: Keoni of Hawaii, 1938-1951". 1911 Pacific Avenue in Tacoma. 1-888-238-4373.
AIG presents The Seattle Art Fair which returns to Lumen Field Event Center at 600 Occidental Ave. S. this summer from July 21 -24 with 85 top local, national and international galleries. Some featured Northwest artists include Naoko Morisawa at Traver Gallery and Greg Kucera Gallery's Humaira Abid who will present an installation of wood sculpture and small paintings entitled "The World is Beautiful and Dangerous Too" as part of the Art Fair's "Public Projects Program". This international fair includes galleries from Japan, China, South Korea and Taiwan as well as other international, national and local galleries. Tickets on sale beginning June 1, 2022.For details, go to seattleartfair.com.
"Looking Up – The Skyviewing Sculpture of Isamu Noguchi" July 16 – November 26, 2022. Skyviewing was an important theme in Noguchi's art but has never been explored in depth before. More than 40 sculptures and drawings, comprising 60 years of his career, showcase the various forms the theme takes in his art. Western Gallery & Sculpture Collection on the campus of Western Washington University at 516 High St. Fl 116. 360-650-3900 or try westerngallery.wwu.edu.
The Outdoor Sculpture Collection on the campus of Western Washington University in Bellingham is open and accessible to everyone. This is an outdoor collection of major sculptures from the late 20th century to the present and includes work by Do Ho Suh, Sarah Sze and Isamu Noguchi among others. Get a map from the information booth and explore the campus collection for yourself. Call 360-650-3900.
"Many Wests – Artists Shape An American Idea" is a group show that tries to show a more inclusive, multi-cultural perspective to our idea of the Western frontier. This traveling exhibit from the Smithsonian American Art Museum had the cooperation of many local and regional art museums around the Western states. Includes work by local artists like Marita Dingus and Gail Tremblay and Asian American artists like Patrick Nagatani, Hung Liuy, Wendy Maruyama and Roger Shimomura. Docent tours on Thursdays and Sundays from 1 – 2pm and Teen Docent Tours on most Fridays from 4 – 5pm.  On view through August 1,2022 at the Whatcom Museum in Bellingham. At two locations in the Lightcatcher Building at 250 Flora St. and Old City Hall at 121 Prospect St. 360-778-8930 or go to whatcommuseum.org.
The Jordan Schnitzer Museum of Art at WSU is a new art space for Eastern Washington. Inaugural shows include the following – The museum plans a retrospective exhibition for Eastern Washington artist Keiko Hara for 2022. "Keiko Hara: The Poetics of Space, Four Decades of Paintings" is set for May 2022 – December 2022.  1535 Wilson Road on the Washington State University campus in Pullman. 509-335-1910 or try [email protected].
The Museum of Vancouver has "A Seat at the Table: Chinese Immigration and British Columbia" which highlights the importance of food and restaurant culture in the Chinese-Canadian immigrant experience. Situated in Vanier Park at 1100 Chestnut St. in Vancouver, BC, Canada. 604-736-4431 or  try museumofvancouver.ca.
The Chinese Cultural Centre Museum at 555 Columbia St. in Vancouver B.C. has an ongoing exhibit entitled "Generation to Generation – History of Chinese Canadians in British Columbia". 604-658-8880 or go to cccvan.com.
"Broken Promises" is a 7 year multi-disciplinary, multi-institutional, community engaged project that explores the dispossession of Japanese Canadians in the 1940s. It illuminates the loss of home and the struggle for justice of one racially marginalized community.  Also on view is an ongoing exhibit on "TAIKEN: Japanese Canadians Since 1877". Opening on October 23, 2021 is "SAFE/Home" is a collaboration between Kellen Hatanaka and Alexa Hatanaka. Through the lens of the historic Vancouver Asahi baseball team, these artists explore issues of race, xenophobia, representation and implicit bias that are relevant in both sport and society today. Nikkei National Museum & Cultural Centre in Burnaby at 6688  Southoaks Crescent. 604-777-7000 or try nikkeiplace.org.
The Jordan Schnitzer Museum on the University of Oregon campus in Eugene has the following – "On Earth:  A Fragile Existence" is a group show culled from JSMA's permanent collection that reflect a multi-layered understanding of humanity's role in our shared ecology with the non-human, or more-than-human, world. On view through  September 18, 2022. "Myriad Treasures – Celebrating the Reinstallation of the Soreng Gallery of Chinese Art" on view through June 30, 2022.  Upcoming exhibition on the work of the late Bay Area artist Hung Liu entitled "Remember This: Hung Liu at Trillium" is on view through August 28, 2022. The renowned California artist explores portraits, landscapes and still-lifes that reflect upon history, memory, tradition, migration and social justice. 1430 Johnson Lane in Eugene, Oregon. 541-346-3027.
"Michihiro Kosuge: Memorial Exhibition" is on view from July 7 – 30, 2022. Kosuge's stone sculptures can be found around the state in prominent places. His ability to play polished and rough surfaces off against each other gives his work a monumental feel. Kosuge passed away in October, 2021 and this show celebrates his life and art. Russo Lee Gallery. 805 NW 21st Ave. Portland, Oregon. 503-226-2754 or  try russoleegallery.com.
Japanese American Museum of Oregon is now open in a new space.  Current exhibits include the following –   "Na Omi Shintani: Dream Refuge for Children Imprisoned". This Bay Area artist builds a refuge for imprisoned children, whether they be Japanese Americans in WWII concentration camps, American Indian boarding school children or Central American children imprisoned and separated from their families. This show will be on view through September of 2022. "Resilence – A Sansei Sense of Legacy" is a group show of eight artists whose work reflects upon the effect of Executive Order 9066 and how it resonated from generation to generation. This group show will be on view from October 1 – December 22, 2022. Artists include Kristine Aono, Reiki Fuji, Wendy Maruyama, Lydia Nakashima Degarrod, Tom Nakashima, Roger Shimomura, Judy Shintani and Jerry Takigawa. The show was co-curated by Jerry Takigawa and Gail Enns. Several online exhibits on the history of Japanese Americans in Oregon can also be viewed. 411 NW Flanders. 503-224-1458 or email [email protected].
Portland Chinatown Museum has the following –Portland installation artist Roberta Wong has a window installation in memory of Vincent Chin, the Chinese American man killed by two Detroit workers entitled "Vincent".  On view through September 10, 2022 will be a career retrospective of set designs for theatre and the performing arts by Northwest set designer Carey Wong. Wong had a hand in designing the interior of the museum itself. Portland Chinatown Museum is located at 127 N.W. Third Ave. 503-224-0008 or email [email protected].
"Sansei Granddaughters' Journey" is a new group show set for display from Sunday, July 24 through Saturday, September 3, 2022 at AZ Gallery at the Shops at Tanforan in San Bruno California.  The gallery is on land where the former Tanforan Racetrack and temporary detention center for Japanese Americans during WWII stood. The work of five noted third generation Japanese American artists will be on view. Participating artists include Shari Arai DeBoer, Ellen Bepp, Reiko Fujii-Oka, and Na Omi Judy Shintani. Media includes video, installation, prints, paintings, and mixed media pieces. 1150 El Camino Real, Suite 254 in San Bruno, California. Hours are Wed. – Fri. from 11am – 4pm and Sat. from 11am – 6pm and Sun. from 11am – 5pm. Opening reception is set for Sat., July 30 from 12:30 – 3pm  (PDT). The following program activities are presented – Na Omi Judy Shintai will lead a "Shining a Light on Remembrance Lantern Making Workshop" on Sunday, August 7 from 1 – 4:30pm for 12 people. To register, go to www.sanseigrandaughters.com. Topaz Stories Project editor Ruth Sasaki will lead a reading with five local authors entitled "Topaz Stories: Preserving Stories of the Japanese American Incarceration" on Saturday, August 13 from 1 – 2:30pm followed by a Q&A and panel discussion. On Sunday, August 14, 2022, the short film "Sansei Granddaughter's Journey" done in conjunction with the artists will be screened at 1pm with a Q&A to follow.  "Remnants of Tanforan Incarceration" is the title of a taiko performance by Naoki Amemiya and Lori Honjiyo set for Sat., August 20, 2022 from 1pm – 2:30pm followed by a Tanforan artifact display and talk by Nancy Ukai, Project Director of "50 Objects". There will be a "Flowering Cherry Blossom Workshop" on Sunday, August 21 from 1 – 3pm. Facilitated by artist Kathy Fujii-Oka, twelve attendees will create textile cherry blossom flowers using personal photos of their loved ones.Registration is required, go to www.sanseigranddaughters.com. On Sunday, August 28, 2022 from 1 – 2:30pm, producer/director Emiko Omori will introduce two films, "Flying Cranes" and "Tsuru History". Members of the Tsuru for Solidarity group will share stories and display their large-scale origami creations with a hands-on origami art-making activity to follow.  There will also be artist-led tours of the exhibition on Sunday, August 7 at 11am, Saturday, August 13 from 12 – 12:30pm, Sunday, August 31 from 3:30 – 4pm and Sunday, August 28 from 1 – 1:30pm and finally on Saturday, September 3 from 1 – 1:30pm. Go to www.sanseigranddaughters.com for details.
The Asian Art Museum, San Francisco has the following currently on view.  "Team Lab: Sketch Ocean." "Zheng Chongbin: I Look For The Sky." "After Hope: Videos of Resistance."  "Afruz Amighi: My House, My Tomb." Site-specific installations – "Momento: Jayashree Chakravarty and Lam Tung Pang." Outside murals by Channel Miller and Jennifer K.Wofford are visible from Hyde St. Opening December 17, 2021 is "Weaving Stories – Indonesia, The Philippines and Malaysia". "Seeing Gender" opens January 21, 2022. And coming in the Summer of 2022 is the first major museum retrospective for Bay Area iconic performance artist and visual artist Carlos Villa, a longtime noted instructor at San Francisco Art Institute. The show is entitled "Carlos Villa: Worlds in Collusion". 200 Larkin St.  San Francisco, CA. 415-581-3500.
The Berkeley Art Museum/PFA has the following – "Candice Lin: Seeping, Rotting, Resting, Weeping". This L.A.-based artist creates multisensory environments that investigate the legacies of colonialism, racism and sexism. On view through  November 27, 2022. The ceramic work of Ahn Lee is included in the group show of "The 52nd Annual UC Berkeley MFA Graduate Exhibition" on view through July 24, 2022. 155 Center St. Berkeley, CA 510-642-0808 or go to [email protected].
The San Jose Museum of Art has the following.  A massive installation entitled "Factory of the Sun" by European artist Hito Steyerl is on view through September 25, 2022. It tells the surreal story of workers whose forced moves in a motion capture studio are turned into artificial sunlight.  110 South Market St. in San Jose, CA. 408-271-6840.
"Guo Pei: Couture Fantasy" will celebrate the designs of Guo Pei hailed as China's first couturier and includes more than 80 works from the past two decades highlighting her most important collections shown on Beijing and Paris runways. The exhibition will be on view through September 5, 2022 at The Palace of Legion of Honor in San Francisco. The show was organized by Jill D'Alessandro, curator in charge of  costume and textile arts at the Fine Arts Museums of San Francisco. 100 – 34th Ave. 415-750-3600 or try https://legionofhonor.famsf.org.
Japan House Los Angeles has the following – "The Art of The Ramen Bowl" on view through July 5, 2022. This exhibit comes in three sections. 1. Introduction to Ramen, its History and Culture'. 2. "Designer Ramen Bowls" in which you can see how various artists have put their own spin on the ramen bowl. 3. "The Cermaic Valley of Mino" where most ramen bowls in Japan are made.  In the Hollywood & Highland Building on Level 2 & 5 on 6806 Hollywood Blvd. in Los Angeles. 1-800-516-0565 or try japanhousela.com.
The Japanese American National Museum (JANM) has the following – Ongoing is "Common Ground – The Heart of Community" which features a WWII Japanese internment camp building.  Ongoing is "The Interactive Story File of Lawson Ichiro Sakai", an oral history project in which visitors can ask Japanese American elder Sakai any questions they want about his life and past history such as the bombing of Pearl Harbor, the Japanese internment camps, his service as a soldier in WWII. Opening on February 26, 2022 is "Sutra And Bible-Faith and the Japanese American World War II Incarceration". The exhibit examines the role that religion played in saving the exiled Japanese American community from despair during the war years. In additional news, the museum has announced the launch of their Google Arts & Culture web page which features the Mine Okubo Collection at JANM, an online exhibition and the video entitled "UNBOXED: Mine Okubo's Masterpiece: The Art of Citizen 13660". The online exhibition is included in Goggle Arts & Culture's Asian Pacific American Cultures hub as part of Google's celebration of Asian
American and Pacific Islander Heritage Month. The Collection features 210 drawings and paintings created by Okubo when she was incarcerated in California and Utah during WWII and after the war in New York. Artwork from her illustrated memoir, "Citizen 13660" is also part of the collection. 101 N. Central Ave. in Los Angeles, CA. 213-625-0414.
The USC Pacific Asia Museum in Pasadena, CA has the following –   "Crossroads – Exploring the Silk Road" opens October 22, 2021. This new permanent exhibit tells the story of centuries of cultural exchange stimulated by the movement of travelers and goods along the ancient trade route. In the fall of 2021, a group show entitled "Intervention: Perspectives For a New PAM" will be shown. "Global Asia's: Contemporary Asian And Asian American Art from the Collections of Jordan D. Schnitzer & the Jordan Schnitzer Family Foundation" comes to the museum from March – June, 2023. 2680 N. Los Robles Ave.  in Pasadena, CA.  626-787-2680  or [email protected].
The Dallas Museum of Art presents "Slipzone: A New Look at Post-War Abstraction in the Americas and East Asia" on view through July 10, 2022. Also showing is "The Keir Collection of Islamic Art" through December 31, 2022. 1717 North Harwood St.  214-922-1200.
The Museum of Fine Arts, Boston has the following –  "Weng Family Collection of Chinese Painting: Art Rocks" through May 3, 2023. A special exhibition on famed Japanese woodblock artist "Hokusai" opens March 26 and remains on view through July 23, 2023. 465 Huntington Ave. Boston, MA. 617-267-9300 or go to mfa.org.
The Peabody Essex Museum in Salem, MA has the following ongoing exhibits – "South Asian Art", "Double Happiness Celebration in Chinese Art", "Japanese Art", "Japanomania! Japanese Art Goes Global" and finally "Anila Quayyum Agha: All the Flowers Are For Me". This Pakistani American artist creates precise, stylized floral forms to make a sculptural chamber of light and shadow. Her effort creates a sense of how women can reclaim and safely open up private space to invite others. 161 Essex St. in Salem, MA 816-745-4876 or go to pem.org.
The Minneapolis Institute of Art has the following – "Dressed by Nature: Textiles of Japan is on view through September 11, 2022. This exhibit reveals the ingenious ways that people of Japan use the materials that nature provides to make things of use and comfort.  "The Prints of Maki Haku: Prints from the Kimm-Grofferman Collection on view through April 9, 2023.  2400 Third Ave. S. Minneapolis, MN 888-642-2787.
The Walker Art Center has the following –  "Paul Chan: Breathers" on view from July 27, 2022 – April 22, 2023. And a Pacita Abid retrospective planned for sometime in 2023. 725 Vineland Place, Minneapolis, MN. 612-375-7600 or try [email protected].
The Art Institute of Chicago has the following – "Kingfisher Headdresses from China" is on view through May 21, 2023. "Recollections of Tokyo 1923-1945" is on view through September 25, 2023. "Among Friends & Family" is a group exhibit that reflects the importance of time spent with loved ones through objects from China, Japan and Korea.  111  South Michigan Ave./159 E.  Monroe. Chicago, ILL. 312-443-3600.
"Witness to Wartime: The Painted Diary of Takuichi Fujii" is a traveling exhibition on this Seattle artist curated by Barbara Johns. It is currently on view at the Canton Museum of Art in Canton, Ohio. "Asian Voices From the CMA Collection" is a group show of work taken from the permanent collection. Both shows on view through July 24, 2022.1001 Market Ave.N.330-453-7666 or try cantonart.org.
The Cleveland Art Museum has the following on view – "Escaping to a Better World: Eccentrics and Immortals in Chinese Art" now on view through November 6, 2022. "Creating Urgency: Modern and Contemporary Korean Art" now on view through October 23, 2022. "Japan's Floating World", a show displaying the Ukiyo-e tradition on view through October 9, 2022. Opening August 26, 2022 and on view through March 5, 2023 is "Text and Image in Southern Asia.  "Martial Art of India" on view through August 8, 2022. Opening December 11, 2022 and remaining on view through February 26, 2023 is "China Through the Magnifying Glass: Masterpieces in Miniature & Detail". Opening June 11, 2023 and remaining on view through September 10, 2023 is "A Splendid Land: Paintings from Royal Udaipur." 11150 East Blvd. Cleveland, Ohio. 261 – 421- 7350 or go to https://www.clevelandart.org.
The Metropolitan Museum of Art in New York City has the following – "Kimono Style: The John C. Weber Collection" reveals itself to be more than just clothing but a silk canvas of wearable art. A terrific  collection on view through February 20, 2023.  "Companions in Solitude- Reclusion and Communion in Chinese Art" through August 14, 2022.  "Bodhisattvas of Wisdom: Compassion & Power" through October 30, 2022. "Celebrating the Year of the Tiger" through January 17, 2023. "Samurai Splendor – Sword Fittings from Edo Japan" is ongoing. 1000 Fifth Ave.  212-535-7710. Go to https://www.metmuseum.org.
Asia Society Museum has the following – These two shows on view through August  14, 2022. "Mirror Image: A Transformation of Chinese Identity" includes 19 works by seven artists born in China in the 1980s and reflects the dramatic economical, political and cultural shifts these artists have all experienced in their lifetimes.  "Visionary Legacies: A Tribute to Harold J. Newman" celebrates artwork that Newman and his wife donated to the Asia Society Museum.  "Buddha And Shiva, Lotus And Dragon" presents nearly seventy works of Asian art from the Rockefeller Collection on view through September 18, 2022.  725 Park Ave. in New York City.212-327-9721 or try www.asiasociety.org.
Ippodo Gallery has the following – "Magic of the Tea Bowl – Volume 2" is on view through July 7, 2022. Besides the many tea bowls done by contemporary  Japanese potters, the exhibit includes a tea house designed by Shigeru Uchida. "On The Axis" features works by glass artists Kota Arinaga & Kiyoko Morioka which expresses their interest in the Silk Road. On view July 21 – August 20, 2022. "Susumu Shingu- Sculpting With Wind" is the first solo exhibition in New York for this renowned kinetic sculptor. October 20 – December 29, 2022. 32 E. 67th St., 3rd Floor. New York City. +1-(212) 967-4899 or [email protected].
The Rubin Museum of Art announces the 2022 exhibition "Healing Practices: Stories From Himalayan Americans" which highlights the diverse ways that Tibetan Buddhist artworks and practices have served as roadmaps to well-being. The exhibition juxtaposes objects from the museum's collection with stories from Himalayan Americans, revealing the many ways these living traditions are transformed and adopted for today's world. On view through January 16, 2023. This exhibition was developed in collaboration with a Himalayan American and Asian American Community Advisory Group which includes New York tri-state area and DC artists, medical professionals, spiritual leaders, activists, educators and art therapists interested in the intersection between art, healing, and activism. A new podcast premieres on June 8, 2021 entitled "Awaken" hosted by musician/composer Laurie Anderson. It features stories of transformation by Aparna Nancheria, Alok Vaid-Menon, Tara Branch and more.  Get the podcast on RubinMuseum.org/awakenPOD and other major podcast platforms. Mandala Lab" is the Museum's new interactive space for social, emotional and ethical healing. Designed by Peterson Rich Office, it invites visitors to participate in five unique experiences inspired by a Tibetan Buddhist mandala. Through October 1, 2031.  "Gateway to Himalayan Art" remains on view through June 5, 2023. "Journey Through Himalayan Art" remains on view through January 8, 2024."150 West 17th St. in New York City. 212-620-5000 or go to rubinmuseum.org.
The Japan Society has the following – "Kazuko Miyamoto" is the first solo survey of this artist's work in New York. It showcases the artist's contributions to the development of Minimalism and her sustained interest in the body through evocative conceptual experiments and investigations in performance and textiles. On view through  July 10, 2022. 333 East 47th St. New York,New York. 212-263-1258.
At the Korea Society is "Heeseop Yoon/ Agglomeration" on view through August 25, 2022. Yoon is known for her intricate installations that spread over walls onto ceilings and floors. Yoon gives an artist talk on video on July 12, 2022 at 5pm (EST). Located at 350 Madison on the 24th floor. 212-759-7525.  Go to Koreasociety.org for details.
The Noguchi Museum presents "Noguchi Subscapes" on view through May 7, 2023. These installations reveal his interest in the unseen and hidden.  "Veronicka Spierenburg, Aus-Hohlen" shows two films on monastery caves in Georgia done by this filmmaker. Screening June 15 – October 2, 2022. Also on view is a group show entitled "In Praise of Caves: Organic Architecture Projects from Mexico" by Lazo, Goeritz, O'Gorman and Senosiain on view October 19, 2022 – February 26, 2023. 9-01 33rd Road. Long Island City, New York. 718-204-7088 or [email protected].
New York City-based Joan B. Mirviss LTD Gallery presents a group show entitled "Listening to Clay" which features work by all sixteen Japanese artists that are showcased in a new book entitled "Listening to Clay: Conversations with Contemporary Ceramic Artists (Monacelli Press). Opening July 19, 2022. For more information.  An upcoming gallery event is a Zoom Talk entitled "Listening to Clay: The Artists, Curators, and Collectors Who Listen which will take place on Tuesday, July 26, 2022 at 5pm (ET) in association with Asia Week New York. To register for this event, try https://us02web.zoom.us/webinar/register/WN_MIK_lGV9SSmX3TGrg2AJkw. Go to: https://www.mirviss.com/exhibitions/listening-to-clay for more exhibition information.
The Chinese American Museum has opened in Washington DC. It's the only museum in the nation's capitol dedicated to the Chinese American story – its history, culture and voice.  The museum had an exhibit tour of their exhibition "Golden Threads – Chinese Opera in America" which is now available on youtube for viewing. "China From China – Porcelain And Stories of Early American Trade" is a new exhibit that explores the dawn of economic trade and commerce between America and China. From the Dietrich American Foundation  Collection.On view through October 1,2022. Go to www.chineseamericanmuseum.org  for details. 1218 – 16th St. NW. 202-838-3180 or chineseamericanmuseum.org.
The National Museum of Asian Art – Sackler/Freer Gallery has the following – Ongoing shows include "Engaging The Senses – Arts of the Islamic World", "Body Image – Arts of the Indian Subcontinent". The Tibetan Buddhist Shrine Room opens March 5, 2022. "Underdogs and Antiheroes: Japanese prints from the Moskowitz Collection" runs from through January 29, 2023. "Revealing Krishna: Journey to Cambodia's Sacred Mountain" on view through September 17. 2022. "A Splendid Land: Paintings from Royal Udaipur" runs from November 19 – May 14. 2023. "Mind Over Matter: Zen in Medieval Japan – Calligraphic Paintings from the Museum's Collection" on view February 26 – July 24, 2022. Freer Gallery of Art,  Smithsonian Institution, Washington, DC. Jefferson Drive at 12th St. SW. Try asia.si.edu for details.
The New Orleans Museum of Art has the following – "Katherine Choy: Radical Potter in 1950s New Orleans" is on view through April 23, 2023. This is the first monographic review of this artist whose work was celebrated by the 1950s craft world before her sudden death. Her early pots show inspiration from Asian clay traditions but expanded to include aggressively large asymmetrical forms with glazes that had intentionally left parts of the raw clay exposed. "The Free Hermit Life: Images of Reclusion and Retirement in Japanese Edo-period painting" remains on view through October 8, 2022.  One Collins C. Diboll Circle, City Park in New Orleans, Louisiana. 504-658-4100.
The Tate Modern has the following on view – On view, is a show entitled "Carving & Printing" by Singapore-born, London-based artist Kim Lim who displays both his sculpture and prints and the viewer can see how they are interrelated. The Traveling exhibition entitled "Surrealism Beyond Borders" will be on view through August 29, 2022 at the Tate Modern and will feature work by Japanese artist Koga Harue. Go to tate.org.uk for details on all these.
"Isamu Noguchi" is the first touring retrospective of Noguchi's work in Europe in over twenty years. After an initial stop in England, it is now on display until July 31, 2022 at Ludwig, Koln (Cologne). The focal point  of this exhibition are Noguchi's surrealist interlocking sculptures from the 1940s. Heinrich-Boll-Platz,50667 Koln. +48-221 221 26165.
"Isamu Noguchi/Danh Vo: A Cloud and Flowers" is on view through September 19, 2022 at D. Leir Pavillion in Luxembourg. Noguchi's cultural identity as a Japanese American which found  expression in a formal expression that crossed eastern and western cultures can also be seen in the Danish-based Vo's sculptural works and installation. In this location, Vo has created a conceptual garden – an interaction between Noguchi's Akari lamps and the artist's new mineral and plant-based work. 3, Park Drai Eechelen,L-1499 Luxembourg-Kirchberg. +352 453785-1 or [email protected].
"Yayoi Kusama: A Retrospective" continues on its world tour with stops in Berlin and Tel Aviv. April 23 – August, 2022. Gropius Bau in  Berlin. Niederkirchner Stra Be7,10963 Berlin. Tel Aviv Museum of Art from November 2 – April 23, 2022. The Golda Meier Cultural &  Art Center, sderot sha'ul HaMelech Blvd., Tel Aviv-Yafo, Israel. +972-3-6077020.
The first major retrospective of artist Lee Ufan in Tokyo is set to be on view through November 7, 2022 at the National Art Center, Tokyo. This exhibit will then travel on to Hyogo Prefectural Museum of Art where it will be on view from December 2022 – February, 2023.   The National Art Center, Tokyo is at   7-22-2 Roppongi Minato-Ku  Tokyo 106-8558. For details, go to https://www.annohideakiten.jp/.
At the Mori Arts Center –  In the Tokyo City View room, you will find "Hyakkiyako Exhibition of Mizuki Shigeru" from July 8 – September 4, 2022. The main museum has "Listen to the Sound of the Earth Turning: Our Wellbeing Since the Pandemic", a group exhibition on artists in a time of healing. On view through November 6, 2022.In Tokyo, Minato City, Roppongi, 6 Chome-10-1, Roppongi Hills, Japan. +8150-5541-8600.
Japanese historian Meher McArthur  has curated a touring group exhibit entitled "Washi Transformed: New Expressions In Japanese Paper" which features the work of nine contemporary Japanese artists which include Hina Aoyama, Eriko Horiki, Kyoko Ibe, Yoshio Ikezaki, Kakuko Ishii, Yuko Kimura, Yuko Nishimura, Takaaki Tanaka, and Ayomi Yoshida. The exhibit tours over 6 cities across the United States beginning in October of 2021.The lone West Coast date thus far is at Mingei International Museum in San Diego, CA. October 13, 2023 – January 7, 2024. Please contact [email protected] for more information.
Lei Ann Shiramizu wil be hosting a social media takeover of Seattle's Asian life-style publication, Origami Magazine for the next few months. Shiramizu who previously owned "MOMO" in Seattle's Japantown will touch on topics related to Seattle's Japanese arts and culture. Go to https/www.facebook.com/origami.seattle for details.
Robert D. Mowry gives a lecture for the Korea Society entitled "Korean Ceramics – The Great Tradition". Go to http://www.viewpure.com/VElgRvINYOw?start=0&end=0.
The San Bruno Bart Station in the Bay Area examines local history and the impacts of Japanese American internment. The station was built at the site of the former Tanforan Racetrack that was converted into one of the assembly centers used to house Japanese Americans during WWII. Now BART has installed a long-term arts exhibit that examines the local history and impacts of Japanese American incarceration during WWII. Go to www.bart.gov/news/articles/2020/news20200122.
Soo Shin is a Korean-born sculptor based in Chicago. Her work emphasizes pieces made of brass, iron and cedar inspired by her own poetry. She uses her materials to render parts of the human body in uncertain states of transformation. PATRON Gallery in Chicago has released a video on her work. To view, go to PATRONgallery.com and hit the upper category "context" with your indicator.
The Biden-Harris administration has signed a bill to create a Commission to establish the first National Asian Pacific American Museum into law. Led by 2022 APAICS Pioneer Award Honoree, Congresswoman Grace Meng of New York, the bill passed the House and Senate with bipartisan support. This museum would be dedicated to preserving the history, culture and accomplishments of Asian Pacific Americans. Locally, Ron Chew will be one of the advisors to this project.
The work of the late pioneering Japanese American sculptor Leo Amino has been gaining renewed appreciation as of late with his work included in gallery and museum shows. Now comes word that the 13th Annual ReVIEWING Black Mountain College conference set for October 7-9, 2022 in Asheville, North Carolina will have a thematic focus on this  Black Mountain College faculty member. In conjunction with the conference, Black Mountain College Museum + Arts Center will mount an exhibition entitled "Leo Amino: Black Mountain College Sculptor" as curated by Genji Amino, Director of The Estate of Leo Amino. This exhibition will demonstrate Amino's ingenuity in working with new materials to investigate the dynamics of perception through material and phenomenal transparency. Amino is the innovator of cast plastics in the history of American sculpture, and the first artist in the U.S. to create a full body of work in the medium. Dr. Marci Kwon will be the keynote speaker. She is co-director for the Cantor Arts Center's Asian American Art Initiative.
The San Diego Museum of Art's South Asian Arts Council presents a talk entitled "A (Personal) Jaunt through Northwestern Indian Textiles" with Dr. Ravinder Reddy, M.D. Set for July 16, 2022 at 10am (Pacific Time). Advance registration required at https://www.sdmart.org/event/a-personal-jaunt-through-northwestern-indian-textiles/. Free for SAAC & SDMA members and $10 for others.
Performing Arts
Christine Toy Johnson is in the touring production of the Broadway Tony Award-winning musical "Come From Away" which tells the story of a small town in New Foundland that welcomed the world when airplanes of passengers were diverted there after the 9/11 disaster. On stage at the 5th Avenue Theatre at 1308 5th  Avenue in downtown Seattle. 206-625-1900 or try www.5thavenue.org.
"The Changing Face of the API Community" is a panel discussion moderated by Rita Brogam set for Saturday, July 16, 2022 at 4pm during Strawberry Festival Weekend at Mukai Farm & Garden. 18017 – 107th Ave. SW/Mukai Way on Vashon Island. Go to www.mukaifarmandgarden.org for details.
Taproot Theatre brings classic mystery to the stage this summer when they perform Agatha Christie's "Black Coffee" from July 13 – August 13, 2022. When the formula for a secret weapon has been stolen and Sir Claude discovers the theft, he locks everyone in the library. Moments later there's a dead body, a room full of suspects, and a Belgian sleuth in the shape of the famous Hercule Poirot at the door. The cast includes Nathan  Brockett, Justine Yu-Ping Davis, Samuel Johns, Tyler Kimmel, Claire Max, Kim Morris, Nolan Palmer, James Schilling, Richard Nguyen Sloniker and Michael Winters. Tickets are available at taproottheatre.org or call 206-781-9707 or in-person at the Box Office (Tues. – Sat., from noon-5pm) at 204 North 85th St. in Seattle.
"Pay What You Can" night is July 20 at 7:30pm. Midweek Matinees  on July 19 and 20 at 2pm for seniors.
STG's annual "Dance This" program, now in its 24th year provides funding, space and mentorship to support local artists as they create a work for the Moore Theatre show.  This year, Gary Champi, previously of the Merce Cunningham Trust and Akoiya Harris, previously of Spectrum Dance Theater have been selected as the inaugural artists. Guest performers include Bailadores de Bronce, Morning Star Korean Cultural Center, Natya UW, Northwest Tap Connection, and Radost Folk Ensemble. Additional choreographers include Adam Parson, Nicey & Miguel Almario and Kirsten Barron Kinney. July 15 at 7:30pm at the Moore Theatre downtown. Tickets are $18 at stgpresents.org.
The Wayward Music Series presents Tongue Depressor. A group of improvising musicians who play pedal steel, double bass, bells, tapes and fiddles. They are joined by Austin Larkin,Eyvind Kang and Jessika Kenny. On Friday, July 8, 2022 at 8pm in person. $10 to $15 donation at  the door. Chapel Performance Space at Good Shepherd Center.4th floor. 4649 Sunnyside N. Try [email protected] for information.
The 2nd ever Salish Sea Butoh (Japanese contemporary movement) Festival takes place this summer from August 6 – 14, 2022 in Port Townsend, Washington.  Besides performances, there will be immersive Butoh workshops available to the community. Performers/teachers include Hiroko Tamano, student of Butoh founder Tatsumi Hijikata, Katsura Kan from Kyoto, Yuko Kaseki from Berlin and Jacquelyn-Marie Shannon from New York. There will be a performance with live music as well as a FREE multimedia lecture for the community titled "Origins of Butoh: The Japanese Avant-Garde Artistic Movement of the 1960's & 1970's". For details, try www.salishseabutoh.com.
The 2022-2023 Heritage Arts Apprenticeships have been announced. Sixteen teams of artists and craftspeople will conserve cultural traditions important to Washington's communities. Some of those chosen from the Asian Pacific American community include the following –Master Srivani Jade will teach Suchitra Iyer "Abhangs: Marathi Songs of Devotion". Devika Gates will teach Naya Gates "Bharatanatyam Kalakshetra Dance. Anwesha Das will teach Nidhi Achanta the ancient Indian classical dance known as "Bharatanatyam". Ringtaro Tateishi will teach Eugene Arai "Japanese Taiko Drumming." Sandhya Kandadai Rajagopal will teach Vibha Krishna the art of "Nattuvangam Techniques" which refers to the art of reciting syllables and playing cymbals to follow the footwork of a dancer. Deepti Agrawal will teach Prisha Mundra the "Madhubani/Mithila Painting" tradition that women practice on the walls of their home in the state of Bihar.
"An Introduction To Chanoyu (Japanese Tea Ceremony") will be made available at the Shoseian Tea house in Seattle Japanese Garden from 1 – 4pm (PDT) for the following dates. July 2 & 9 And  August 6,13,14,27 & 28 AND September 3,10,16,17,24, & 25 AND October 1, 8,14,15,21,22 & 23, 2022.
Bob Antolin's Comfort Food Band holds down a Wed. night spot at Rumba Notes Lounge at 5041 Rainier Ave. S. #108. 206-420-2192. Bob Antolin also does a program entitled "Solo Excursions" on sax, flute and guitar on Saturday nights from 6 – 9pm at Kezira Café. 5100 Rainier Ave. S.  206-588-1024 or try keziracafe.com. The Comfort Food Band plays  the Madaraka Festival on August 13 – 14, 2022 at 2pm. Pier 62 at Waterfront Park at 1951 Alaskan Way.   You can also catch Bob Antolin (saxes, flutes & guitar) and Norm Bellas (keys/vocals) as they play "Friday Night Jazz" at Harissa's from 6 – 10pm. 2255 NE 65th St. in Seattle. 206-588-0650.
Seattle Opera has announced the line-up for their upcoming season. Some highlights include the following – Andrew Stenson has the role of Shepherd/Sailor in "Tristan & Isolde" set for October 15,21,23,26 & 29, 2022. Yonghoon Lee has the starring role as Samson in the Seattle Opera production of "Samson & Delilah" set for January 20 & 22, 2023. The world premiere of an adaptation of Afghani author Khaled Hosseini's award-winning novel "A Thousand Splendid Suns" takes place Feb. 25 & 26, March 3,5,8 & 11, 2023. Directed by Afghan filmmaker Roya Sadat. Rame Lahaj and Duke Kim share the role of Alfredo in "La Traviata" set for May 6,7,10,13,14 & 19, 2023. Samoan tenor Amitai Pati makes his Seattle Opera  debut as Nemorino in "L'elisir d'amore" set for August 5 – 20, 2023. Seattle Opera perfroms out of McCaw Hall at 321 Mercer St. 206-389-7676 or try [email protected].
Pork Filled Productions present announce their new season. Some productions to look forward to in the upcoming season include –   "She Devil Of The China Seas" by Roger Tang set for July 2022. A full live production at Theatre Off Jackson, developed in Unleashed 2017. "PFP's First Devised Show – 2022 Cohort  Auditions". Follow us for auditions announcement, the cohort will devise a full production for 2023. For more details, email [email protected].
Freehold Theatre Lab/Studio now located in the CID continues their classes in various aspects of the theatre both virtual and in-person.   For a list of current classes, go to freeholdtheatre.org for details or call 206-595-1927.
Go to Nonsequiter's website to listen to free links by local musicians performing original music at waywardmusic.org.  Carol J. Levin on electric harp engages in a series of "Duo Improvisations" with Susie Kozawa who plays various sound objects. Jackie An performs music for violin and electronics. Sovan is an ambient music duo featuring songwriter Tomo Nakayama and film composer Jeramy Koepping. Classically trained pianist and designer Tiffany Lin plays a piano program of originals in this series. Local sound artist Susie Kozawa has a piece she did invoking the space at the Chapel. Percussionist/composer Paul Kikuchi explores new music.
Choreographer/dancer/singer Haruko Crow Nishimura performs a new vocal piece. Other performers include Leanna Keith, Nordra, Ahmed Yousefbeigi, Mother Tongue with Angelina Baldoz, trumpeter Cuong Vu and drummer Ted Poor, the wife/husband classical duo of Melia Watras and Michael Jinsoo Lim, Joshua Limanjaya Lim, Rahikka & James Lee, Kaoru Suzuki and Chris Icasiano with more to follow. The Chapel Performance Space at Good Shepherd Center has re-opened and is now booking again various kinds of adventurous/experimental music. Go to waywardmusic.org for details.
Forty-three years ago, dancers Jay Hirabayashi and Barbara Bourget met while performing with the Paula Ross Company. They fell in love, married and in 1986, formed Kokoro Dance, one of Canada's most respected Butoh dance companies. They started the Vancouver International Dance Festival and KW Studios in Vancouver's Downtown Eastside neighborhood. They have created over 200 dance works and performed across Canada, in the US, UK, the Netherlands, Germany Poland Lithuania, Mexico, Argentina, Cuba and Japan. To this day, they continue to create, teach, dance and mentor. Dance Collection Danse, one of Canada's major dance institutions has inducted the couple into the 2022 Dance Collection Danse Hall of Fame along with others including David Y. H. Lui. The 2022 DCD Hall of Fame Event will be held on Oct. 2, 2022 at the Palais Royale Ballroom in Toronto. Congratulations to all.
Opera Vision screens live streams of San Francisco Opera's productions of the first three performances of Don Giovanni, Dream of the Red Chamber and a one-night only concert of Eu Sun Kim conducts Verdi. Try sfopera.com for details. San Francisco Opera's latest installment of their "In Song" series spotlights soprano Meigui Zhang. This film also includes footage of Zhang reconnecting with her family in Chengdu. "In Song: Meigui Zhang" is free to view on the SF Opera website, YouTube, Facebook and Instagram.
City Opera Vancouver has the world premiere of a new opera entitled "Chinatown" with the libretto by Madeleine Thien and music by Alice Ping Yee and the Hoisan translation by Paul Yee. It's a story of family and neighborhood, racism and resistance and history and tomorrow. It will run from September 13 – 17, 2022. For a sneak peek, go to cityoperavancouver.com.
Asian American chefs are making their mark. Martin Yan, famous Chinese American chef and host of the TV program, "Yan Can Cook" received the 2022 James Beard Achievement Award. The award is given out to an individual whose lifetime body of work has had a positive and lasting impact on the way we eat, cook and think about food in America.  In addition the following individuals won the 2022 James Beard Best Chef Awards this year. "Best Chef California" went to Brandon Jew of Mr. Jiu's Restaurant in San Francisco. "Best Chef NW & Pacific" went to Robynne Maii of the Native Hawaiian Fete Restaurant in Honolulu. "Best Chef New York City" went  to Chintan Pandya of Dhamaka Restaurant in New York City.
Seattle-raised composer/musician Byron Au Yong's "Stuck Elevator" will get a new performance by the Nashville Opera at the Noah Liff Opera Center. Set for January 20 – 22, 2023.
Coldrain a Japanese rock band formed in Nagoya in 2007 and featuring vocalist Masato celebrate 15 years together as a band with their 7th studio album "Nonnegative" set for July 6, 2022 release on Warner Music. They will be touring soon to promote the recording.
South Korean composer Jung Jaeil who has composed the soundtracks for the movie "Parasite" and the hit Netflix series, "Squid Game" has signed a contract with Decca Records. His first release will be a choral-electronic album entitled "Psalms".
Canadian composer Alison Yun-Fei Jiang has been chosen as the "RBC Affilate Composer" for the Toronto Symphony Orchestra. During her two year term, she will create two works for the orchestra set for 2023 and also teach music education to children.
Soho Rep is an off off Broadway theater company in lower Manhattan known for its experimental, inventive work. But in 2023, they will premiere a first for them. It's a Bengali-English play by Shayok Misha Chowdhury entitled "Public Obscenities." Set for February 15 – March 26, 2023, the play will be a co-production with the National Asian American Theatre Company's National Partnership Project. The story follows a queer studies doctoral student who returns to his family in Kolkata with his Black American boyfriend only to make a startling discovery.
Film & Media
Local poet Shin Yu Pai hosts "The Blue Suit", part of a KUOW Radio Shorts Podcast series dedicated to locally produced short-run audio series. The series will debut on July 11, 2022 in the KUOW shorts feed. "The Blue Suit" is about our emotional kinship with everyday objects presented in eight episodes. It will explore how commonplace things that touch our daily lives can transform from the mundane into the remarkable. Pai will introduce listeners to artists, activists, thinkers and community leaders and the relics that they invest with meaning. Out of 84 submissions, it was only one of four shows that got the go ahead to move forward to a full series pilot. For details, go to kuow.org.
Northwest Film Forum screens the following –The beloved Korean director Hong Sang-Soo's new one is entitled "In Front of Your Face" and screens July 8-10, 13-14 and 16 – 17, 2022. It traces the story of a former actress who returns to Seoul after years abroad to stay with a sister. As the day's details accrue, one suspects the woman has secrets to hide as she meets with a director to discuss her return to acting. "Blue Island" is a film by Chan Tze Woon that screens July 13 – 16 and July 20-21,2022. It covers the story of the large scale protests of 2019 in Hong Kong when a wave of young people took over the streets to defy the Chinese government's clampdown on Hong Kong's independent status. "The Films of Kinuya Tanaka" is Janus Films new 4K restoration of the noted Japanese actress/director's work  which will be split between the Northwest Film forum and The Beacon. NWFF has "The Moon Has Risen" on July 16 at 7:30pm, "Forever A Woman" on July 20 at 7:30pm and "Love Letter" on July 21 at 7:30pm. At the Beacon, you will find "The Wandering Princess" on July 24, "Girls of the Nights" on July 31 and "Love Under the Crucifix" on August 7, 2022. In August, NWFF presents two Hong Kong classics. August 5,6,7,10 & 11 brings Johnny To's "The Heroic Trio" in which Hong Kong female icons Maggie Cheung, Michelle Yeoh and Anita Mui star as a trio who must track down an evil baby snatching eunuch in this wild, martial arts comedy.  August 17 – 21, 2022 brings Johnny To's sequel entitled "Executioners" co-directed by Ching Siu-Tung. In this one, the three kung fu crusaders Cheung, Yeoh and Mui return to battle a maniac intent on seizing political power in a post-nuclear landscape. The Northwest Film Forum is on 1515 – 12th Ave. 206-329-2629. The Beacon is at 4405 Rainier Ave. S.
Mukai Farm & Garden's Anime Club explores the influence of anime on pop culture. Screening Tuesday, July 12 at 8pm (PT) at the Vashon Theatre on Vashon Island is a special showing of Hayao Miyazaki's Academy Award-winning film "Spirited Away" in which a feisty young girl challenges goblins and monsters to rescue her parent who have turned into pigs. Free but donations welcome. For details, go to mukaifarmandgarden.org.
"Maika: The Girl From Another Galaxy" is a film from Vietnam directed by Han Tran that made its debut at Sundance. It is a children's adventure story about a lonely boy who meets a friendly alien and the troubles that ensue all set in the urban landscape. Screens locally at AMC Southcenter 16 and other local theatres. Distributed by Well Go USA Entertainment.
"Ben & Jody" is the third film in a series by Indonesian director Angga Dwimas Sasongko. It's a drama about pro-environmentalists who lead a strike with local cillagers against deforestation. Streaming on Netflix.
Kan Eguchi's underworld thriller "The Fable: The Human That Doesn't Kill" is based on a manga series about a hit man living in retirement with his female partner shoes life is threated by a ruthless gangster. Streaming on Netflix.
"Railway Heroes" is a Chinese film set during the Second Sino-Japanese war by writer/director Yang Feng that tells the story of resistance miners and train workers struggling for Chinese independence. Rent or buy on Vudu.
"Sing, Dance, Act: Kabuki Featuring Toma Ikuta"as directed by Tadashi Aizawa is a documentary film about a former teen idol who asks his friend and his father to teach and school him in the genre of Kabuki. A revealing look behind the curtain at the key elements of this  dramatic art form. Streaming on Netflix.
"Thar" is a revenge western set in the Northern border area of Rajasthan by Raj Singh Chaudhary. Streaming on Netflix.
Chie Hayakawa's "Plan 75" looks at a government push to euthanize the elderly. It won a "special distinction" award at Cannes and deals with the very real issue of how to deal with one of the world's largest older populations. Close to one third of Japan's population is over 65.
Film Movement has exclusive premieres of three films based in Japan available for streaming and purchase. For details, email [email protected]. Available July 15, 2022 is Masaharu Take's "100 Yen Love" in which a middle-aged woman living at home with her parents gets in a heated argument and leaves for good.  With few employment options, she gets a job, the night shift in a 100 yen shop (dollar store). On her way home, she passes a boxing gym where she becomes infatuated with a man at practice. As the two enter into a relationship, her life changes. Available on Friday, July 22, 2022 is "While The Women Are Sleeping" Directed by Wayne Wang and starring Beat (aka Takeshi) Kitano who plays a mysterious older man in a relationship with a younger woman and involves the novelist who gets to know them. It's been called "a stylish psycho noir".  Available on July 29, 2022 is Yujiro Harumoto's "A Balance" in which a documentary director has mastered the balance between journalistic integrity and self interest. But things go awry when a scandal much closer to home is about to break. An official selection at the 2021 Berlinale and won the "New Currents Award" at the 2020 Busan IFF and the Rossellini Jiury Award and Audience Award at the 2020 Pingyao IFF.
MUBI presents the following –Kim Bora's 2018 debut film "House of Hummingbird" portrays the everyday struggles of a teenage girl in Seoul and how one Teacher makes a difference in her life, if only briefly. Midi Z's 2019 film "Ninawu" stars actor/writer Wu Ke-Xi as an actress that becomes a victim of the film industry's callous sexism. "Lilting" is a 2014 film debut by Hong Khaou. This drama explores the contours of grief and how love can surpass the invisible barriers of language and cultural difference. Stars Cheng Pei-pei and Ben Whitshaw. Lee Chang-dong's 2018 film, "Burning" is based on a Haruki Murakami story. It's part ghost tale and part commentary on contemporary capitalism. Co-starring Steven Yuen. Hirokazu Koreeda's touching family drama "I Wish" done in 2011 looks at the challenges of the nuclear family unit as the director observes the ebbs and flows of a family's unstable dynamic. Another Koreeda film done in 2017 entitled "The Third Murder" is crime thriller and a mysterious whodunit that explores truth, memory and the power of stories that we tell ourselves and others. Hong Sang-Soo's film done in 2000 entitled "Virgin Stripped Bare by Her Bachelors" is an erotic comedy drama that follows the romantic adventures of a video producer and a gallery owner and the deceit they conceal around their relationship. Andrew Ahn's ("Fire Island") intimate coming-of-age 2016 film "Spa Night" looks at the queer Asian American experience through the lens of L.A.'s Koreatown and the unspoken prejudices that exist with that community.  Liu Jian's 2017 animated feature is a neo-noir full of biting critique with shades of anti-Trump and Brexit references. The subversive depiction of the moral decay in contemporary China couldn't have pleased the censors much. Score by The Shanghai Restoration Project. Satyajit Ray's 1981 film "An Enemy of The People" looks at the persistent conflict between spiritualism and rationality and questions the greed of the powerful and the naivety of blind faith.  Wayne Wang's 2001 "The Center of The World" was a change of pace for this director. A dark  erotic thriller about sex, stripping and self-delusion with a script by Paul Auster, Siri Hustvedt and Miranda July. Stars Peter Sarsgaard and Molly Parker.
Shirley Kurata, L.A. based costume designer whose imaginative work can be seen in the recent hit movie "Everything Everywhere All at Once" is profiled in a recent N.Y. Times article. In the film, she created costumes for all the lead characters as they traveled through multiple universes. She's done recent work for Billie Elish, Pharrell Williams and the all-girl band, the Lindalindas.
Director Alex Liu's personal take on American sex education entitled "A Sexplanation" got a "Critic's Pick" designation in a recent New York Times. In this documentary film, Liu looks at the politics and culture of sex education in the U.S. and examines his own shame regarding sexuality that dates back to his adolescence. Available on demand via Apple TV, Amazon and other streaming platforms.
"The Policeman's Lineage" is a new film by Kyu-maan Lee. It stars Choi Min-jae ("Parasite") as a clean-cut young cop assigned to shadow a top officer (Cho-jin Woong) under suspicion. Now on Google Play, Vudu and other streaming platforms.
One of Japan's leading directors of anime, Mamoru Hosada takes on the story of "Beauty and the Beast" in his version entitled "Belle". Available on  most major platforms.
"After Yang" by Kogonada looks to the future. When his daughter's "technosapien" android Yang breaks down, a father must deal with the task of getting him fixed for his child.Colin Farrell plays the husband, Jodie Turner-Smith plays his wife.  Justin H. Min is the android and Malea Emma Jiandrawidjaja portrays the adopted Chinese daughter. Streaming on Showtime.
Tyrus Wong was a pioneering Chinese American artist whose impact on Asian American art and popular culturespanned the animated art for Disney's "Bamboi" to storyboards for noted films like "Rebel Without A Cause" to painted kites. Check out these videos on this artist. Go to http://www.viewpure.com/fxFAQZdnXQU?start=0&end=0 AND https://www.pbs.org/wnet/americanmasters/tyrus-about-the-film/8917/.
Some of the latest films that debuted at Cannes included the following – Korean filmmaker Park Chan-wook )"The Handmaiden") returns with "Decision to Leave" and stars Park Hae-il as a detective investigating a murdered man's widow played by Tang Wei. It's a romantic thriller with echoes of Hitchcock. Japanese filmmaker Hirokazu Kore-eda ("Shoplifters") returns with "Broker" which has "Parasite" lead actor Song Kang Ho as a good-natured criminal trying to sell an abandoned baby. A virus overwhelms the city of Taipei in "The Sadness", a violent contagion apocalypse film starring Berant Zhu and regina Lei as a couple fighting off fellow infected citizens who become a horde of assailants. Directed by Canadian writer/director/editor Rob Jabbaz. Streaming on Shudder.
"Paulie Go" directed by Andrew Nackman is a comedy and coming-of-age story of a nerdy teenager played by Ethan Dizon determined to prove his expertise to a reclusive professor who runs a robotics lab.
"ExberHell-Exposing an Internet Horror" by Jin-seong Choi is a true crime documentary set in South Korea where chat room operators coerce young women into sending explicit videos. Now on Netflix.
The martial arts film "The Karate Kid" which earned actor/comic Pat Morita an Oscar nomination as an Okinawan-born janitor and Karate master known as Mr. Miyagi has been transformed into a musical. It's debuting at the New St. Louis Kirkwood Performing Arts Center with the goal of reaching Broadway. Robert Mark Kamen, creator of the original film has Kumiko Yoshii as his producer. The musical stars John Cardoza as Daniel and Canadian actor Jovanni Sy as Miyagi. The film is directed by Amon Miyamoto  who was the first Japanese citizen to ever direct a show on Broadway. Keone and Mary Madrid serve as choreographers. The Filipino American formerly married couple have worked with Justin Bieber and Billie Eilish. The costume designer is Ayako Maeda who's won numerous awards for her work in her native Japan. Kamen wrote the book and Drew Gasparini wrote the music and lyrics.
The Written & Spoken Arts
Join the Seattle Public Library as they host the following – Seattle author Daniel James Brown discusses his book "Facing The Mountain" about Japanese American heroes in American history with Densho founder Tom Ikeda and Michael Shiosaki. Liv-in person and streaming on Saturday, July 23, 2022 at 1pm in Microsoft Auditorium. Elliott Bay Book Company co-sponsors. Go to www.spl.org for details.
Hugo House, a Seattle-based literary center that offers readings and writing classes offers a full slate of Fall & Winter writing classes for all levels. Some classes are in person or on a learning platform or via ZOOM. Go to hugohouse.org for complete details.
Elliott Bay Book Company has a full slate of events in their reading series. Here are a few. Historian Janice P. Nimura will do a virtual interview with doctor/author Perri Klass on July 6 at 6pm (PDT) about her book "The Best Medicine: How Science and Public Health Give Children a Future" (Norton). F. C. Yee, author of the popular "Chronicles of the Avatar" series appears virtually on behalf of his third volume entitled "Avatar: The Last Airbender: The Dawn of Yang Chen" (Amulet). On Wed., July 20, 2022 at 6pm (PDT). Co-presented by Wing Luke Museum. Register at https://www.eventbrite.com/e/fc-yee-avatar-the-last-airbender-the-dawn-of-yangchen-virtual-event-tickets-367241708837.
For making reservations to the virtual events, go to elliottbaybook.com and click on the "events" page or call 206-624-6600 or toll-free at 1-800-962-5311.  Most events are virtual and accessed through eventbrite.com. The bookstore remains open. 1521 – 10th Ave. 206-624-6600.
Third Place Books has the following – Betsy Aoki talks about her new poetry collection "Break Point" with Cookie Hiponia on July 8, 2022 at 7pm in a live event at the Ravenna branch of Third Place Books at 6504 – 20th Ave. N.E. 6504 – 20th Ave. N.E. 206-525-2347. Join children's picture book author Andy Chou Musser as he does a "Kids Storytime" on Saturday, July 23, 2022 in this live event at 11am at the Seward Park branch of Third Place Books. 5041 Wilson Ave. S. 206-474-2200. Local Filipino American horticulturalist Riz Reyes talks about his new book "GROW: A Family Guide to Plants and How to Grow Them" (Abrams) in this live event on Sunday, July 24 at 2pm in the Ravenna store. He will bring plants and shrubs to show and those who attend can win these to take home.6504 – 20th Ave. NE or call 206-525-2347. Shoreline/Richmond Beach & Lake Forest Park Libraries join forces to present local author Daniel James Brown as he talks about "Facing the Mountain – A True Story of Japanese American Heroes in World War II" with Tom Ikeda of Densho  in this virtual only conversation. Hosted by Third Place Books. Set for Monday, July 25, 2022 at 7pm. Register at https://www.thirdplacebooks.com/event/virtual-event-daniel-james-brown. Try thirdplacebook.com for details.
In –person and live stream will be this talk at Town Hall Seattle on Thursday, July 28 2022 at 7:30pm (PT). Jane C. Hu, award-winning Seattle journalist will interview noted author Michael Pollan about his latest book on plant drugs entitled "This Is Your Mind On Plants". In the Great Hall at 1119 Eighth Ave. (enter on Eighth).
Bruce and Ju-Chan Fulton are  a married couple who have together translated dozens of contemporary Korean fiction writers into English. Recently they listed their most recent translations as well as a pick of what they considered the best translations of Korean literature available in English. Go to the link, https://shepherd.com/best-books/hell-chosn to read about it.
Humanities Washington has announced their 2021 – 2023 Speakers Bureau Roster with presentations ranging from the personal to the global. Public presentations are free and will start July 1, 2021. Some speakers include the following – Under "Arts & Literature", Deepti Agrawal will speak on "The Ancient Art Of Madhubani Painting." Under "History", Julie Pham speaks on "Hidden Histories: The South Vietnamese Side of the Vietnam War." Under "Life & Culture", Lori Tsugawa Whaley talks about "The Samurai Code: How Bushido Changes Lives". Under "Race & Identity", Michelie Liu talks about "Laughing Matters: Asian Americans, Comedy And Inclusion"  and Rals Bhulyan speaks about being shot by a White supremacist in "One Second of Hate: A Story of Forgiveness" and how he learned to forgive. To reserve an online virtual program, contact [email protected]. For more information, try [email protected].
EAST WIND BOOKS in Berkeley, California remains one of the most comprehensive bookstores in the country for Asian American and Asian titles. They are sponsoring the following free virtual events. "Painting The Streets" feature an artist panel that discusses artists who do street art in the Bay Area. Sat., July 6 at 4pm. To register for this event, try paintingthestreetsevent brite.com. "Together: Children's Storytime and Activity – Black & Asian solidarity" with Dr. Mishi Booker and Ko Kim is set for Sat., July 30 at 2pm (PST). Free in-person at Tarea Hall Pittman South Branch Library at 1901 russell St. in Berkely.To get more details on these events, email [email protected] or go to asiabookcenter.com.
Sisters in Crime announced that the 2022 winner of the annual Eleanor Taylor Bland Crime Fiction Writers of Color Award this year is Shizuka Otake of Jackson Heifhts, New York. Her submission, "Murder in Tokyo" is the story of a Japanese American teen's life  which is shattered when her boyfriend is arrested as the prime suspet in a classmate's murder. 2022 judges were D. Ann Williams, Sujata Massey and Wanda Morris.  Jennifer K. Morita of Scramento, CA was one of the five runners-up. Otake plans to perhaps visit Japan to do more research for her manuscript.
California photographer Jerry Takigawa's book "Balancing Cultures" was a Top Ten winner in the 2022 LensCulture Critics Choice Awards. He earns a $1,000 grant and participation in a group exhibition in Paris during Paris Photo 2022.
The University of Washington Press is seeking writers working on a manuscript or new book proposal. UW Press editors are eager to connect with current and prospective authors about new projects and book proposals. Contact them via email of set up a meeting by phone or Zoom. Executive Editor is Lorri Hagman at [email protected].
Below is a partial list of new books by or about Asian Americans and new titles on Asia. If you are interested in reviewing any of them, please let us know –
"I Want To Die but I Want to Eat Tteokbokki"(Bloomsbury) by Baek Sehee as translated by Anton Hur. This Korean bestseller is part memoir and part self-help book. It captures the edgy relationship many millennials and Gen Z-ers have with hopelessness, hunger, and the pressure to be perfect. It tells the story of a successful young social media director at a publishing house when she begins seeing a psychiatrist about her depression.
"Poukahangatus" (Knopf) by Taye Tebble. Hilarious, intimate, moving and virtuosic, this young woman is one of the most exciting new voices in poetry today. She challenges a dazzling array of mythologies – Greek, Maori, feminist, Kiwi – peeling them apart, respinning them in modern terms. Along the way, Tibble scrutinizes perception and she as a Maori woman fits into trends, stereotypes, and popular culture.
"You've Changed – Fake Accents, Feminism, and Other Comedies from Myanmar" (Catapult) by Pyae Moe Thet War. A Myanmar millennial speaks back in this electric debut essay collection playfully challenging us to examine the knots and complications of immigration status, eating habits, Western feminism in an Asian home, and more, guiding us toward an expansive idea of what it means to be a Myanmar woman today.
"Koreatown, Los Angeles – Immigration, Race, and the 'American Dream'" (Stanford University Press) by Shelly Sang-Hee Lee. This book tells the story of an American ethnic community often equated with socioeconomic achievement and assimilation, but whose experiences as racial minorities and immigrant outsiders illuminate key economic and cultural developments in the United States since 1965.
"Becoming Nisei – Japanese American Urban Lives in Prewar Tacoma" (UW Press) by Lisa M. Hoffman & Mary L. Hanneman. Based on more than forty interviews, these informants share stories of growing up in Japanese American Tacoma before the incarceration. Recording these early twentieth-century lives counteracts the structural forgetting and erasure of prewar histories in both Tacoma and many other urban settings after WW II.
"Gods of Want – Stories" (One World) by  K-Ming Chang, author of "Bestiary". Imbued with silken sensuality and potent viscerality, this collection delves into startling juxtapositions.  This is a collection of Sapphic desire, of hunger, of the ecstatic rejection of female frailty and respectability. Short stories with immense impact.
"Discovering Fiction (Duke University Press) by Yan Lianke as translated by Carlos Rojas. This major Chinese novelist offers insights into his views on literature and realism, the major works that inspired him, and his theories of writing.
"The Diary of Dukesang Wong – A Voice From Gold Mountain"  (Talon Books). Edited by David McIlwraith. Diary translated by Wanda Joy Hoe. This book is the only known first-person account by a Chinese worker on the construction of the Canadian Pacific Railroad. It restores a lost central voice to a foundational episode in Canadian history – one that changes our understanding of the history it recounts.
"The Strange Inheritance of Leah Fern" (Melville House) by Rita Zoey Chin. Raised as "the youngest and very best fortune Teller in the world" by her mother, Leah Fern is devastated when that very same mother disappears from her life. Fifteen years later and no sight of her mom, Leah decides to end her life only to be interrupted by a knock on the door and a message that takes her on an journey that will be a revelation.
"The Dawn of Yangchen – Chronicles of the Avatar" (Amulet) by F. G. Yee. Yangchen has not yet earned the respect felt for her predecessor, and the loss of her sister has left her with few true allies. But in Bin-Er – a city run by corrupt shang merchants seeking to extract themselves from the Earth King's influence – a chance encounter with an informant named Kavik leads to a wary partnership.  This propulsive third installment in the Chronicles of the Avatar series illuminates our heroine's journey from uncertain, young woman to revered leader.
"The Artisans – A Vanishing Chinese Village" (Astra House) by Shen Fuyu as translated by Jeremy Tiang. Born in a rural Southeast Chinese village, the author grew up in a family of farmers. Years later as an adult, the author returns to his hometown intent on capturing the village's rich history before it disappears entirely with the encroachment of industrialization.
"Zara's Rules for Record-Breaking Fun" (Salaam Reads) by Hena Khan. The first book in a humor-filled middle grade series starring a young Muslim girl with an endless list of hobbies searching for ways to maximize fun for her family and neighborhood friends.
"Fuccboi" (Little Brown), a novel  by Sean Thor Conroe. It's late 2017, a year after Trump's election and our main character is broke, bitter and washed up as a failure at everything he's attempted in life. As he wonders how sustainable is this mode of failure, the reader gets a look at an unvarnished, playful and searching examination of what it means to be a man in today's world.
"If You Could See The Sun" (Inkyard) is a young adult novel by Ann Liang. In this genre-bending debut, a Chinese American  girl monetizes her strange new invisibility powers by discovering and selling her wealthy classmates' most scandalous secrets. But as the tasks escalate from petty scandals to actual crimes, she must decide if it's worth losing her conscience for –or even her life.
"Trinity  Trinity  Trinity" (Astra House) is a novel by Japanese writer Erika Kobayashi as translated by Brian Bergstrom. A work of speculative fiction that reckons with the consequences of the past and continued effects of nuclear power in the aftermath of the Fukushima Daiichi Nuclear Power Plant disaster. The book follows the lives of three generations of women as they grapple with the legacy of mankind's quest for light and power.
"Good Arguments – How Debate Teaches Us to Listen and Be Heard" (Penguin Press) is by two-time debating world champion Bo Seo. From the family dinner table to the political stage, arguments are ubiquitous in daily life but way too often we yell over each other without trying to listen or understand. Seo makes a passionate case for the power of debate and expertly demonstrates how the skills he has learned can apply to everyday life and democracy at large.
"The Song of the Cell – An Exploration of Medicine and the New Human" (Scribner) by  Siddhartha Mukherjee is a crash course in cellular biology and cellular engineering told in the author's inimitable, vivid, humane language – through the stories of scientists and their discoveries and of patients treated with the newest cellular medicine. Mukherjee's artful prose, brilliant use of metaphor, and the astounding breath of his own knowledge and references make reading him exciting for both scientists and non-scientists alike.
"While I was Away"(Quill Tree) by Waka T. Brown is a young adult non-fiction book. When Waka's mother suspects her twelve-year old daughter can't understand basic Japanese, she makes a drastic decision to ship Waka from her rural Kansas home to Tokyo to live with her strict grandmother and reconnect with the culture and master the language. If she's always been the "smart Japanese girl" in American but is now the "dumb foreigner in Japan, where is home…and who will Waka be when she finds it?
"Afterparties" (Ecco) – Stories by Anthony Veasna So was the debut short story collection about Cambodian American life that offered insight into the intimacy of queer and immigrant communities. It garnered much praise upon publication even after the author's untimely death before its publication. Now this summer, it will make its paperback edition debut.
"Fairest" (Penguin) by Meredith Talusan. This book tells the story of a precocious boy with albinism raised in a rural Philippine village who would grow up to become a woman in America. Perceived as white in the U.S., Talusan would go on to Harvard but required a navigation through complex spheres of race, class and sexuality until she found her own place within the gay community.
"An Immense World – How Animal Senses Reveal The Hidden Realms Around Us" (Random House) by Ed Yong. Pulitzer Prize-winning  author of "I Contain Multitudes". In this book Yong does a deep dive into a new dimension, the world as it is truly perceived by other animals. We hear stories of pivotal discoveries in this field while looking ahead at the many sensory mysteries that remain unsolved. What do bees see in flowers, who do songbirds hear in their tunes, and what do dogs smell on the street?
"Vanished" (University of Nebraska Press) – Stories by Karin Lin Greenberg. Winner of the RAZ/Schumaker Prairie Schooner Book Prize in Fiction, this book tells the story of women and girls in upstate New York who are often overlooked or unseen by those around them. Humorous and empathetic, the collection exposes the adversity in each character's life, each deals with something or someone who has vanished – a person close to her, a friendship, a relationship – as she seeks to make sense of the world around her in the wake of that loss.
"Golden Age" (Astra House) is a novel by the late Wang Xiaobo as translated by Yan Yan. When a rumor surfaces that a man is having an affair with a woman in a Chinese village, a 21 year-old ox herder is shamed by local authorities and forced to write a confession for his crimes. Instead, he takes it upon himself to write a modernist literary tract. A leading icon of his generation, Xiabo's cerebral and sarcastic narrative is a reflection on the failures of individuals and the enormous political, social and personal changes that traumatized 20th century China.
"People From Bloomington" (Penguin Classics) by Budi Darma. Translated by Tiffany Bao. This is the first English translation of a short story collection about Americans in Mid-west America by one of Indonesia's most beloved writers. Set in Bloomington where the author lived as a grad student in the 1970s. In an eerie, alienating, yet comic and profoundly sympathetic portrait, the author paints a picture of the  cruelty of life and the difficulties that people face in relations to one another.
"The Fortunes Of Jaded Women" (Atria) by Carolyn Huynh. In this heartwarming, humorous novel, a family of estranged Vietnamese women – cursed to never know love or happiness – reunites in a series of events precipitated by a psychic's startling prediction.
"And Those Ashen Heaps That Cantilivered Vase of Moonlight" (Wave) by Lynn Xu. This unique book-length poem is part protest against reality, part metaphysical reckoning, part international for the world-historical surrealist insurgency and part arte povera for the wretched of the earth.
"Stranger In The Shogun's City" (Scribner) by Amy Stanley. The author assumes the role of historian as detective and historian as storyteller as she weaves a story of a woman's life from archives and opens the window to an isolated Japan on the eve of opening its doors to the world.
"Complicit" (Atria) is a novel by Winnie M. Li. It tells the story of a young but eager daughter of Chinese immigrants who takes a lowly but coveted position at a New York film production company. Gradually she works her way up the ladder only to see her dream crumble to dust. Ten years pass and when a reporter appears, investigating the director she once worked for before quitting the business – she must decide what to do. Does she tell the world her story? Does she want revenge? And can she face her own involvement in her downfall?
"Saving Sorya – Chang And The Sun Bear" (Dial Graphic) by Trang Nguyen & Jeet Zsung is based on a true adventure. When endlessly curious and tenacious Chang discovers a bear bile farm near her Vietnamese home, she decides to do everything she can to save animals – by becoming a conservationist. When she becomes a rescue center volunteer, her biggest challenge arises when she is tasked with returning a sun bear she's raised from infancy.
"No Escape – The True Story of China's Genocide of the Uyghurs" (Hanover Square) by Nury Turkel. "Turkel's book is part autobiography, and part biography, of his homeland and people. In combination he paints a picture that is both vivid and unrelenting, of Beijing's crackdown on the Uyghurs of Xinjiang and the destruction of their families and the erasure of their culture." – Richard McGregor, author of "The Party: The Secret World of China's Communist Rulers".
"Beating Heart Baby" (Flatiron) by Lio Min is a tender friends-to-enemies-to lovers story with AAPI leads, celebrates first love, second chances, indie rock and transitions in life of many kinds. An anime-influenced queer coming-of-age love story not without complications and challenges.
"House of Sticks"(Scribner), a memoir by  Ly Tran. The author weaves together her family's immigration experience with her own fraught and courageous coming-of-age to form a portrait of one girl's struggle to reckon with her heritage and forge her own singular path.
"Solo Dance" (World Editions) by Li Kotomi is an important queer Chinese-Japanese novelist who as a millennial paints a picture of growing up in today's Japan and Taiwan and his efforts to find a place for himself in a  this shifting, confusing landscape. Translated by Arthur Reiji Morris.
"A Mermaid Girl" (Viking) by Sana Rafi and illustrated by Olivia Aserr.  When a Muslim girl enters the water at a community pool in her yellow birkini, she is met with skepticism. But when her mother instills confidence in the tradition of her family, she begins to shine.
"Chinatown" (New Directions) by Thuan. An abandoned package is discovered in the Paris Metro: the subway workers suspect it's a terrorist bomb. A Vietnamese woman sitting nearby with her son, begins to reflect on her life, from her constrained childhood in Communist Hanoi, to a long period of study in Leningrad and finally to the Parisian suburbs where she now teaches English. Through everything runs her passion for Thuy, the father of her son, a writer who lives in Saigon's Chinatown, and who, with the shadow of the China-Vietnam border war falling darkly between the, she has not seen for eleven years.
"I Guess I Live Here Now" (Viking) by Claire Ahn. When Melody and her mother are suddenly forced to leave New York to join her father in Seoul, she is resentful and homesick. But she adjusts into her fashionable Korean lifestyle until cracks begin to appear on its glittering surface. The story is a revealing exposure of who and what "home" really is.
"If I Were the Ocean, I'd Carry You Home" (Red Hen Press) is a book of short stories by Pete Hsu. This debut collection tells the stories of children and young people navigating a world not made for them, where the presence of death and violence is found everywhere. Each story is a meditation on living in  a world not made for us – the pervasive fear, the adaptations, the unexpected longings. Hsu's writing beats with the naked rhythms of an unsettled human heart.
"Kundo Wakes Up" (Tordotcom) by Saad Z. Hossain. "Cyberpunk, high fantasy, climate catastrophe, and at its heat, a compelling story about broken people finding each other and a way to become whole again." –Samit Basu. A companion to the Ignite  And Lucus Award-nominated novella "The Gurkha And The Lord Of Tuesday".
"UNNIE" by Yun-Yun is inspired by a true tragedy. Yun-Young's sister who was a secondary school teacher and was one of those who go missing during the sinking of the Sewol ferry in South Korea in 2014. Yun-young and the family await word of her rescue or that her body has been found. Yet no news comes as the days, months and years go by. Yun-Young's sorrow feels poisoned. She can't move on with her life without understanding her sister's life. Thus begins a journey to discover who her sister really was.
"Zachary Ying And The Dragon Emperor" (McElderry Books) by xiran  Jay Zhao.Zachary Ying had never had many opportunities to learn about his Chinese heritage. His single mom was busy enough making sure theyu got by, and his schools never taught anything except Western history and myths. So Zack is woefully unprepared when he discovers he was born to host the spirit of the First Emperor of Chin for a vital mission. To save the mortal realm, a young hero must journey into a world where myth and history collide.
"The Book Eaters" (TOR) by Sunyi Dean. Out on the Yorkshire Moors lives a secret line of people for whom spy novels are a peppery snack and romance novels are sweet and delicious. Eating a map can help them remember destinations, and children, when they misbehave, are forced to eat dry, musty pages from dictionaries. When Devon, part of an old and reclusive clan of book eaters, learns that his son is born with a different kind of hunger- not for books but for human minds, things get complicated.
"Yellow Rain" (Graywolf) by Mai Der Vang. In this staggering work of documentary, poetry and collage, this Hmong American poet reopens a wrong doing that deserves a new reckoning. As the United States abandoned them at the end of its war in Vietnam, many Homg refugees recounted stories of a mysterious substance that fell from planes during their escape from Laos starting in the mid-1970s. This "yellow rain" caused severe illnesses and thousands of deaths. American scientists argued that yellow rain was the feces of honeybees defecating en masse. Integrating archival research and declassified documents, this book calls out the erasure of a history, and the silencing of a people.
"COSPLAY – The Fictional Mode of Existence" (Minnesota) by Frenchy Lunning. Flourishing far beyond its Japanese roots, cosplay has become an international phenomenon with fervid fans who gather at enormous, worldwide conventions annually. Lunning offers an intimate, sensational tour through cosplay's past and present, as well as its global lure.
"TSUCHI: Earthy Materials In Contemporary Japanese Art" (University of Minnesota Press) by Bert Winther-Tamaki. This book is an examination of Japanese contemporary art through the lens of ecocriticism and environmental history. Collectively referred to by the word "tsuchi", earthy materials such as soil and clay are prolific in Japanese contemporary art. Highlighting works of photography, ceramics, and installation art, the author explores the many aesthetic manifestations of "tsuchi" and their connection to the country's turbulent environmental history, investigating how Japanese artists have continually sought a passionate and redemptive engagement with the earth.
"Fierce And Fearless – Patsy Takemoto Mink,First Woman of Congress" (NYU Press) by Gwendolyn Mink. "This book chronicles Mink's transformative leadership as she fought for ethnic, racial, gender, and environmental justice-and an end to war – even as she encountered systemic discrimination, physical and psychological abuse, and betrayal by her party. This gripping narrative illuminates the extraordinary policy accomplishments and the astounding personal costs of a principled and path breaking life in U.S. politics." Excerpted from a quote from author Mary Hawkesworth.
"Taste Tibet – Family Recipes from the Himalayas" (Interlink Publishing) by Jule Kleeman & Yeshi Jampa.  Nourishing, simple, seasonal food that heals as well as fuels might be popular today but it has been traditional in Tibet for over 8,000 years. This book offers over 80 recipes from the Tibetan Plateau, written for today's home cook. Alongside the recipes, stories are interwoven of a Tibetan childhood in Tibet.
"Dream of the Divided Field" (One World)  by Yanyi. "Here is a book of the body, a book like no other: tender and eloquent, a singing across borders, across silences. This is a book to read when we wake in the middle of the night and need a voice that is filled with longing, triuth, and the delight of being, despite all the painful odes" – excerpted from a quote by Ilya Kaminsky.
"Activities Of Daily Living" (Norton) is a novel by Lisa Hsiao Chen. Built around the performance art of Tehching Hsieh and the act of witnessing the end of a father's life, our narrator struggles with issues of time, death, illness and the making of art and its symbiotic relationship to everyday life.
"Self-Portrait With Ghost" (Mariner) by Meng Jin (publication date of July 5, 2022) is a new book of short stories by the author of "Little Gods". Written during the turbulent years of the Trump administration and the beginning of the pandemic, this book explores intimacy and isolation, coming-of-age and coming to terms with the repercussions of past mistakes, fraying relationships, and surprising moments of connection. The stories move between San Francisco and China, and from unsparing realism to genre-bending delight, this collection considers what it means to live in an age of heightened self-consciousness, with seemingly endless access to knowledge, but to have little actual power.
"The Noh Family" (Kokila) by Grace K. Shim. A Korean American teenage girl in Tilsa, Oklahoma is obsessed with K-dramas but she gets a real shock when she learns she's related to an extended family on her deceased father's side. When an invitation is extended, she is exposed to this family's luxurious life-style. While the grandmother is welcoming, the rest of the family gives her the cold shoulder. What deep, dark secrets are hiding in this family's closet?
"Japan's Best Friend – Dog Culture In The Land Of The Rising Sun" (Prestel) by Manami Okazaki. For thousands of years, dogs have played a crucial role in Japanese society. This profusely color illustrated book looks at the country's love affair with canines, exploring how they are represented through local traditions, as well as the extraordinary lengths to which they are exalted within pop culture.
"Only the Cat knows" (Red Hen Press) is a novella by Ruyan Meng. This harrowing and extraordinary story, based on a true event, is part of a series of tales illuminating the microcosm of all humanity contained in a typical Chinese "worker village" in the 70s. Here, an exploited young factory worker has nothing to live for beyond a frail chance of a pay raise. When it never  happens, he feels trapped between his family and official greed, indifference, and corruption.
"The Interrogation Rooms Of The Korean War – The Untold History" (Princeton) by Monica Kim. "This is a deeply researched and insightful book. Drawing on a parade of fascinating characters, surprising scenes, and recently declassified material. Kim casts a fresh, innovativ1e light on the Korean War and shows how the ideological struggle in prisoner-of-war camps and their interrogation rooms became the final front line of a pivotal American conflict." – Charles J. Hanley, Pulitzer Prize-winning journalist.
"Kin Thai – Modern Thai recipes to Cook at Home" (Hardie Grant)  by John Chantarasak. The title translates as "Eat Thai" and is a collection of accessible, modern and classic recipes from one of London's leading chefs. Influenced by his Thai and British heritage, Chantarasak shines a light on lesser-known Thai cuisine as well as the more popular dishes by exploring the use of western ingredients to achieve the flavors synonymous with Thai food. With over 60 delicious recipes and accompanying photography, "Kin Thai" is a celebration of the culture, cooking techniques and flavors of Thailand.
"Scatterted All Over The Earth" (New Directions) by Yoko Tawada as translated by Margaret Mitsutani. In this novel, the world's climate disaster and its attendant refugee crisis are viewed through the loving twin lenses of friendship and linguistic ingenuity. In the not-too-distant future, Japan as a country has vanished. Hiroko, a former citizen and climate refugee  teaches immigrant children in Denmark. As she searches for anyone who  an still speak her native tongue, she makes new friends through her travels.
"Troubling the Water – A Dying Lake and a Vanishing World in Cambodia" (Potomac Books – University of Nebraska Press) by Abby Seiff. A eulogy to Cambodia's once magnificent Tonle Sap Lake and the water culture of Cambodia and how it was destroyed by global warming, a dam and the greed of people.
"Love Decoded" (Razobill) by Jennifer Yen. When the niece of a professional matchmaker gets it in her head to create a fun-friend-making app online, it goes viral. But when this success turns into a major scandal and threatens her relationship with her best friends, this teenage girl is put in a dilemma only she can solve, but can she really?
"Winter Love" (McNally Editions) by Han Suyin. This short novel by the author of "Love is a Many Splendored Thing" recalls a love affair between two women at the end of WWII in war-torn London.
"The Last Ryu" (Levine Querido) by Emi Watanabe Cohen. Kohei has never seen a big dragon in real life like his grandpa says he has. But when his grandfather falls seriously ill, Kohei goes off on a journey to find this dragon with the help of friends.
"Woman Running in The Mountains" (NYRB) by Yuko Tsushima with an introduction by Lauren Groff as translated by Geraldine Harcourt. A young single mother seeks refuge in the company of other women, then ventures beyond the city into the countryside towards a mountain that captures her imagination and desire for a wilder freedom.
"Tokyo Dreaming" (Flatiron) by Emiko Jean is the sequel to "Tokyo Ever After" in which a common Japanese American family  learn their connection to Japanese royalty and a teenage girl becomes a princess. But just as her parents are about to be married, the Imperial Household questions their pedigree. What can she do if playing the perfect princess means sacrificing her own path and the failure to follow her own heart.
"Kapaemahu" (Kokila) by Hinaleimoana Wong-Kalu, Dean Hamer and Joe Wilson and illustrated by Daniel Sousa. This book tells the story of our dual male and female spirits from Tahiti that traveled to Hawai'i. They brought gentle ways, miraculous cures and healing arts. This story is a reclamation of this native Hawaiian legend and a reminder of the power of story to honor ancestors. Based on an animated short film shortlisted for an Oscar in 2021.
"Racist Love – Asian Abstraction and the Pleasures of Fantasy" (Duke) by Leslie Bow. The author traces the ways in which Asian Americans become objects of anxiety and desire. Conceptualizing these feelings as "racist love", she explores how race is abstracted and then projected onto Asianized objects.
"Fish Swimming In Dappled Sunlight" (Bitter Lemon) by Riku Onda as translated by Alison Watts. Set in Tokyo over the course of one night, a couple meets for one last time before breaking up. Their relationship broken down by the death of their guide on a mountain trek, each believes the other to be a murderer.
"All the Flowers Kneeling" (Penguin)  by Paul Tran. Visceral and astonishing, this debut book of poetry investigates intergenerational trauma, sexual violence, and US imperialism in order to radically alter our understanding of freedom, power and control.
"Peasprout Chen – Battle of Champions" (Henry Holt) by Henry Lien. Now in her second year at Pearl Famous Academy of Skate and Sword, Peasprout Chen tries to reclaim her place as champion of wu liu, the deadly and beautiful sport of martial arts figure skating. But Peasprout faces a surprising threat. As Peasprout guides her mission to save a kingdom, she must learn what it truly means to be a leader.
"Vulgar Beauty – Acting Chinese in the Global Sensorium" (Duke) by Mila Zuo. In this book, Zuo offers a new theorization of cinematic feminine beauty by showing how mediated encounters with Chinese film and popular culture start to produce a feeling of Chineseness.
"Disorientation" (Penguin Press) by Elaine Hsieh Chou tells the unforgettable story of a Chinese American grad student trying to finish a dissertation on a late canonical Chinese poet and be done with the cultural thing. A curious note in the archives leads to an explosive discovery that sets off a rollercoaster of mishaps and mis-adventures. A blistering send-up  of privilege and power in America.
"All About Vietnam – Projects & Activities for kids" (Tuttle) by Phuoc Thi Minh Tran as illustrated by Dong Nguyen & Hop Thi Nguyen, In this lavishly detailed picture book, children will get an inside look at Vietnam's vibrant culture, while learning through fun, hands-on games, songs, and activities. This multicultural children's book is a great fit for story time at home or in a classroom.
"Climate Lyricism" (Duke) by Min Hyoung Song looks at how climate change affects the work of American authors as varied as Frank O'Hara, Tonny Pico, Sholmaz Sharif, Kazuo Ishigoro and others. This is a powerfully argued case for literature and poetry as a way of cultivating sustained attention to climate change in this tumultuous time.
"Birds of Paradise Lost" (Red Hen Press) by Andrew Lam is a collection of short stories that looks at what happened to the "Boat People" who escaped after the fall of Saigon.
"My Mechanical Romance" (Holiday House) by Alexene Farol Follmuth. When Bel accidentally reveals her talent for engineering, she finds herself a loner in her school's legendary robotics club. Fortunately, Mateo who is captain of the club recognizes Bel as a potential asset. As competition heats up for national competition, the two form a closer relationship. This YA novel explores the challenges girls of color face in STEM and the vulnerability of first love with wit and honesty.
"Eighteen Vats of Water" (Creston) by Ji-Li Jiang as illustrated by Nadia Hsieh.  The award-winning author of "Red Scarf Girl" returns with another story of Chinese culture and history. Xian has always wanted to be a great calligrapher like his father. As he studies, Xian learns how much work and creativity go into what look like effortless strokes. Based on actual history, this book is about creativity, learning to see, and determination, as well as the importance of family traditions.
"Love Decoded" (Razorbill) by Jennifer Yen. A young adult novel about a teenage girl creates a friend-making app to earn a shot to represent her school and the chance at a prestigious tech internship. Trouble is, the app becomes a major scandal and ends up hurting her friends. How can she salvage her friendships?
"When I'm Gone, Look For Me In The East" (Pantheon) by Quan Barry. From the acclaimed author of "We Ride Upon Sticks" comes her new novel that moves across a windswept Mongolia, as estranged twin brothers make a journey of duty, conflict, and renewed understanding. Are our lives our own, or do we belong to something larger? This novel is an examination of our individual struggle to retain our convictions and discover meaning in a fast-changing world, as well as a meditation on accepting simply what is.
"And Those Ashen Heaps That Cantilevered Vase of Moonlight" (Wave) by Lynn Xu. This book-length poem is epic yet intimate and in various shades of design that unrolls itself across the page s it spreads its words like seeds in the wind. Part protest against reality, part metaphysical reckoning, part international for the world-historical surrealist insurgency and part arte povera for the wretched of the earth.
"Tokyo Dreaming" (Flatiron Books) by Emiko Jean is a sequel to the bestseller "Tokyo Ever After". When Japanese American teenager Izumi Tanaka learns that her father was the Crown Prince of Japan, she goes to Tokyo to finally find a place she belongs. When it appears that she will have a royal wedding and marry her bodyguard turned boyfriend, things turn awry.  Her parents are breaking up, the Imperial Household Council refuses to approve the marriage and her boyfriend makes a shocking decision about their relationship. Will Izumi pull it all together.
"Peach Blossom Spring" (Little, Brown) by Melissa Fu. It is 1938 in China, and Meilin, a young wife, has a bright future. But when the Japanese army approaches, Meilin and her four-year old son, Renshu are forced to flee their home. Years later, Renshu has settled in America as Henry Dao. Though his daughter, Lily, is desperate to understand her heritage, he refuses to talk about his childhood. Spanning continents and generations, this book is a look at the history of China, told through the journey of one family.
"CURB" (Nightboat) by Divya Victor won the 2022 Pen Open Book Award. These poems document how immigrants and Americans navigate the liminal sites of everyday living undergirded by violence. It bears  witness to immigrant survival, familial bonds, and interracial parenting within the context of nationalist and white-supremicist violence against South Asians.
"The Verifiers" (Vintage) is a novel by Jane Pek. Claudia Lin is an amateur sleuth who verifies people's online lives and lies for a dating detective agency in New York. Things go smoothly until a client with an unusual request goes missing. She breaks protocol to investigate—and uncovers a maelstrom of personal and corporate deceit. Part literary mystery and part family story, this novel offers an incisive examination of how technology shapes our choices, and the nature of romantic love in the digital age.
"Set On You" (Berkley) by Amy Lea is a romance novel that follows the life of a fitness instructor who after a recent break-up takes solace in the gym, her place of power and positivity. That calm turns competitive when a firefighter enters the gym and the two begin to spar.
"Red Thread Of Fate" (Berkley) by Lyn Liao Butler is a story of loss and recovery and a powerful message about the ties of family. After the tragic death of her husband and cousin on the eve of their adoption of a son from China, things get complicated. Tam Kwan finds herself a widow and sudden mother. She is named the guardian of the cousin's five- year-old daughter without her knowledge. Now, Tam must decide if she will complete the adoption on her own and bring home the son waiting for her in a Chinese orphanage.
"Sunday Funday in Koreatown" (Holiday House) written and illustrated by Aram Kim. Yoomi has big plans for her day – make kimbap for breakfast, wear her favorite shirt, get her favorite books from the library and visit Grandma with her dad. But nothing goes right. This charming picture book shows how even when things don't turn out the way you want to, the day can be rewarding. This is a story of resilience, family, and Korean culture.
"The Sunflower Cast A Spell To Save Us From The Void" (Nightboat) by Jackie Wang. Although dreams, in psychoanalytic discourse, have been conceptualized as a window into the unsconscious, Wang's poetry emphasizes the social dimensions of dreams, particularly the use of dreams to index historical trauma and social processes.
"Search History" (Coffee House Press) is a novel by Eugene Lim. Frank is dead—or is he? While eavesdropping on two women discussing a dog-sitting gig over lunch, a bereft friend comes to a shocking realization: Frank has been reincarnated as a dog! This epiphany launches a series of adventures—interlaced with digressions about AI-generated fiction, virtual reality, Asian American identity in the arts, and lost parents—as an unlikely cast of accomplices and enemies pursues the mysterious canine.
"A Magic Steeped In Poison" (Feiwei & Friends) by Judy I. Lin. When Ning realizes it was she who unknowingly brewed the poison tea that killed her mother and now threatens to take away her sister too, she is beside herself. But she takes on the challenge to find the kingdom's true masters of the magical art of tea-making for the princess will grant a favor to the winner. A favor she hopes will save her sister.
"The Trees Witness  Everything" (Copper Canyon Press) by Victoria Chang. This latest book of poetry by Chang balances the Japanese traditional from of tankas to grab at the core of the world. Largely insipid by the poet W.S. Merwin, she explores the self and how it abuts nature, often running through that boundary entirely.
"Art & Trousers – Tradition & Modernity in Contemporary Asian Art" (Artasiapacific) by David Elliott. An anthology of writings by cultural historian  Elliott that offers a panoramic view of contemporary art across Asia. The book focuses on the impacts of invention, exchange, colonization, politics, social development and gender and moves between regional analysis, portraits of artists and a metaphorical history of trousers.
"Aerial Concave Without Cloud" (Nightboat) by Sueyeun Juliette Lee. This is a collection steeped in the bluest apocalypse light of solar collapse and the pale, ghostly light of personal devastation.nr Lee channels and interprets the language of starlight through her body into poetic form.
"Hana Hsu And The Ghost Crab Nation" (Razorbill)  by Sylvia Liu. Desperate to figure out what's going on, Hana and her friends find themselves spying on one of the most powerful corporations in the country – and the answers about the mystery could be closer to home than Hana's willing to accept. Will she be able to save her friends – and herself – from a conspiracy that threatens everything she knows?
"Cadenzas" (Redbat Books) by Alex Kuo. This is a unique, double-sided work of fiction that narrates a conversation between music and languge, with walkins by Dorothy Parker, Dante, Edith Sitwell, J.S. Bach, Qiu Jin, Dmitri Shostakovich and June Jordan. It is Alex Kuo's accumulation of more than eighty years of living, listening, and writing on several continents and breathing in the cadences of several languages, including three Chinese dialects.
"Loveboat Reunion" (Harper Teen) by Abigail Hing Wen. A couple teenagers emerge from a tumultuous past in which hearts were broken and revenge was plotted but all is forgiven as they become friends Determined to forge a future, Sophia has college plans and Xavier plays the waiting game, hoping to dodge his overbearing father long enough to collect his trust fund when he turns eighteen. But obstacles are in their way, can they succeed together or are they destined to combust?  Find out in this young adult romance novel.
"Two at the Top: A Shared Dream of Everest" (Groundwood) by Uma Krishnaswami as illustrated by Christopher Corr. In this colorfully illustrated picture book, the author lets the Nepalese Sherpa Tenzing Norgay and mountain climber Edmund Hillary both tell their story as they ascend Mt. Everest.
"Sunny Song Will Never Be Famous" (Sourcebooks) by Suzanne Paek. A comedic YA novel about a Korean American teenager cyber star whose addiction to social media has taken over her life. She is hauled off to a social media detox camp in the Midwest where she is forced to confront herself.
"Back To Japan – The Life and Art of Master Kimono Painter, Kunihiko Moriguchi" (Other Press) by Marc Pettijean and translated from the French by Adriana Hunter. This book describes the life and art of a master Kimono painter and Living National Treasure whose influences ranged from the Paris art scene of the1960s to the Japanese world of tradition where he began to contemporize the craft of yuzen (resist dyeing) through his innovative use of abstraction in patterns.
"Maizy Chen's Last Chance" (Random House) by Lisa Yee. A Chinese American teenage girl finds herself in a small all-white town where her family's Chinese restaurant has been around for years. But something's not right. A family treasure is missing and someone has left a racist note. This book is a tribute to Chinese Americans and to immigrant families, and an unforgettable celebration of love, belonging and asking hard questions.
"The Village Of Eight Graves" (Pushkin Vertigo) by Seishi Yokomizo as translated by Bryan Karenyk. A mountain village called "Eight Graves" takes its name from a centuries-old massacre. When a young man arrives from the city to claim a mysterious inheritance and death follows in his wake, the villagers suspicions fall upon the newcomer. The young man must rely on the help of detective Kosuke Kindaichi to uncover the murderer and save his own reputation before the villagers take justice into their own hands.
"Brother's Keeper" (Holiday House) by Julie Lee. Its 1950 in North Korea and everything is restricted. A family prepares to flee but war breaks out. Only the twelve year old daughter and her mother's eight-year old son can make it out to escape to the South.  They face insurmountable obstacles as they begin this journey.
"The Dreamweavers" (Holiday House) by  G. Z. Schmidt. As Mid-Autumn Festival approaches, 12 year olds Mei and Yun Wu are excited as the Emperor of China's son comes to their village to sample their grandfather's incredible moon cakes. But when disaster strikes that night, these kids are left to their own devices on how to rescue their grandfather and village from a terrible fate. A middle-age novel  for youngsters.
"The Wishing Tree" (Harper) by Meika Hashimoto and illustrated by Xindi Yan. This picture book tries to depict the spirit of giving and the spirit of xmas in a young child and how it lights up a whole town.
"The Grandmaster's Daughter" (Green Willow) by Dan-ah Kim. In a small quiet village sits a martial arts school where the daughter of the grandmaster must teach as well as learn from every daily task. Colorful illustrations enhance this picture book.
"How We Fall Apart" (Bloomsbury) by Katie Zhao. A young adult  thriller about students at an elite prep school who are forced to confront their secrets when they discover their ex-best friend dead.
"Love and Reparation – A Theatrical Response To  The Section 377 Litigation In India" (Seagull Books) by Danish Sheikh. On 6 September 2018, a decades-long battle to decriminalize queer intimacy in India came to an end. The Supreme Court of India ruled that Section 377, the colonial anti-sodomy law, violated the country's constitution. 'LGBT persons,' the Court said, 'deserve to live a life unshackled from the shadow of being "unapprehended felons".' But how definitive was this end? The playwright navigates these questions with a deft interweaving of the legal, the personal, and the poetic in these two plays.
"It All Comes Back To You" (Quill Tree) by Farah Naz Rishi. For fans of "Pride & Prejudice" comes an enemies-to-lovers rom com about first love and second chances by this Pakistani American YA novelist.
"Rouge Street – Three Novellas" (Metropolitan Books) by Shuang Xuetao and translated by Jeremy Tiang. With an introduction  by Chinese Canadian novelist Madeleine Thien. An inventor dreams of escaping his drab surroundings in a flying machine. A criminal, trapped beneath a frozen lake, fights a giant fish. A strange girl pledges to ignite a field of sorghum stalks. These are the characters that populate the world of this writer who evokes the voice of people from China's frigid northeast in Shenyang, China. A gritty region once an industrial hub but now weighed down by unemployment, poverty, alchoholism, domestic violence, divorce and suicide.
"Word Travelers And The Taj Mahal Mystery" (Sourcebooks) by Raj Haldar and illustrated by Neha Rawat. Best friends Eddies and MJ are going to play outside, create an obstacle course for MJ's newts, watch their favorite movies and then travel to India to solve a mystery and save a kingdom.
"Touring The Land of The Dead" (Europa Editons) by Maki Kashimada as translated by Haydin Trowell. This book consists of two novellas that concern memory, loss and love. The title story invokes a woman who takes her chronically ill husband to a spa, the site of a former luxury hotel that her grandfather had taken her mother to when she was small. "Ninety-Nine Kisses" portrays the lives of four unmarried sisters in a close-knit neighborhood of Tokyo. Inspired by Tanizaki's "The Makioka Sisters".
"Longing and Other Stories" (Columbia University Press) by Jun'ichiro Tanizaki.  Tanizaki is one of the most eminent Japanese writers of the twentieth century and known for his investigations of family dynamics, eroticism, and cultural identity. He is acclaimed for postwar novels such as "The Makioka Sisters" and "The Key". This book presents three early stories of family life from the first decade of the author's career. Translated by Anthony H. Chambers and Paul McCarthy.
"Pillar of Books – The Moon Country Korean Poetry Series" (Black Ocean) by Moon Bo Young as translated by Hedgie Choi. Still in her early 30's, Young is part of a younger generation of poets in South Korea. As Kim Na-Young, judge of the Kim Soo-Young Prize awarded to this volume said, "The work of witnessing and representing life is so easily marred and thwarted by the anxieties and loneliness present in each of our lives, and yet, this poet looks squarely at the world, presenting the truth in it with such solidity and composure that I can't help but root for her and the new language she discovers in the process."
"Winter Phoenix – Testimonies In Verse" (Deep Vellum) by Sophia Terazawa.  A book of testimonies in verse, this book is a collection of poems written loosely after the form of an international war crimes tribunal. The poet, daughter of a Vietnamese refugee, navigates the epigenetics of trauma passed down, and across, the archives of war, dislocation and witness, as she repeatedly asks, "Why did you just stand there and say nothing?"
"The One Thing You'd Save" (Clarion) by Linda Sue Park and illustrated by Robert Sae-Heng.  In this book, a Newbery medalist poses a provocative question about what matters most. Students talk, argue and stand by their choices as they discover unexpected facets of one another—and of themselves. With insight and humor, Park captures the voices of an inclusive classroom in verse inspired by the Korean poetry form sijo.
"The Wandering Earth" (Tor) by Cixin Liu. A collection of ten stories that form an ode to earth, its pasts and its futures. Liu's stories show humanity's attempts to reason, navigate and survive in a desolate cosmos.
"Murakami T – The T-Shirts I Love" (Knopf) by Haruki Murakami. Photographs of Murakami's T-shirt collection are paired with short, frank essays that include his musings on the joy of drinking Guinness in local Irish pubs, the pleasure of eating a burger upon arrival in the United States and Hawaiian surf culture in the 1980s.
In "Gamma  Draconis" (Titan Comics), acclaimed artist Eldo Yoshimizu teams up with writer Benoist Simmat to create a dazzling crime tale of a Japanese heroine who takes on a sinister crime organization.
The Gleaner Song – Selected Poems" (Deep Vellum) by Song Lin as translated by Dong Li. Song Lin is one of China's most innovative poets. When the Tianamen protest exploded in Beijing, Song led student demonstrations in Shanghai for which he was imprisoned for almost a year. Leaving China, this selection of poems spans four decades of exploration with a focus on poems written in France, Singapore and Argentina and more recently, his return to China.
"Leilong the Library Bus" (Gecko Press) by Julia Liu and illustrated by Bei Lynn. This award-winning book from Taiwan translated by Helen Wang tells the charming tale of a dinosaur who loves books and story time. Unfortunately his huge size causes problems when he tries to enter the library with the kids. How the problem is solved and how the dinosaur becomes an ambassador of library books is cleverly and humorously resolved in this picture book that parents will enjoy reading to their kids.
"Wombat" (Candlewick) by Christopher Cheng and illustrated by Liz Duthie. This picture book teaches kids about the wombat, Australia's "bulldozer of the bush."
"The Wedding Party" (Amazon Crossing) by Liu Xinwu and translated by Jeremy Tiang. A wedding party is planned in a Beijing courtyard. Set at a pivotal point after the turmoil of the Cultural Revolution, Xinwu's tale weaves together a rich tapestry of characters, intertwined lives, and stories within stories. A touching, hilarious portrait  of life in this crowded city.
"The Secret Listener – An Ingenue In Mao's Court" (Oxford)  by Yuan-Tsung Chen tells the fascinating tale of an extraordinary life in a tumultuous China from the 1920s to the 1970s. It's a vivid, compelling portrait of life, conflict and love among the elite and downtrodden circles in the Republican and Communist eras.
Newbery Medal winner Erin Entrada Kelly makes her middle-age level debut which she illustrates herself with "Maybe Maybe Marisol Rainey" (HarperCollins). It's a story about friendship and being brave when you feel shy or shaky.
"Bodhi Sees the World – Thailand" (bala kids) is written and illustrated by Marisa Aragon Ware. A young girl finds herself in a foreign city, exploring the streets of Bangkok where she begins to experience the world through a new culture.
"The School For Good Mothers" (Simon & Schuster) is a novel by Jessamine Chan. A taut thriller of a story about a mother who struggles to get her daughter back under the punishing scrutiny and judgment aimed at mothers everywhere – especially against those who aren't wealthy or white.
"Dragon Legend – The Dragon Realm Series, Book 2"  (Sterling) by Katie & Kevin Tsang. When a friend is kidnapped and taken through a time portal, Billy Chan and his friends must travel through time on their dragons to save him in this middle-grade level adventure novel.
"Scars of War – The Politics of Paternity  and Responsibility for the Amerasians of Vietnam" (University of Nebraska Press) by Sabrina Thomas. This book explores ideas of race, nation, and gender in the aftermath of war. Thomas exposes the contradictory approach of policymakers unable to reconcile Amerasian biracialism with the U.S. Code. As they created an inclusionary discourse deeming Amerasians worthy of American action, guidance, and humanitarian aid, federal policymakers simultaneously initiated exclusionary policies that designated these people unfit for American citizenship.
"India Mahdavi" (Chronicle) is the first monograph on this world-renowned, award-winning Iranian interior designer. Along with her design projects, the book highlights her custom furniture, lighting, accessories and brand collaborations in a visually stunning design that sets off the work.
"Of Arcs And Circles – Insights from Japan on Gardens, Nature and Art" (Stone Bridge Press) by Marc Peter Keane. From his vantage point as a garden designer and writer based in Kyoto, the author examines the world around him an delivers insights on the Japanese garden, the meaning of art and other fascinating topics.
"Happy Diwali" (Henry Holt) by Sanyukta Mathur and Courtney Pippin-Mathur. Pippin-Mathur also did the illustrations This radiant picture book celebrates Diwali, the Hindu festival of lights.
"Borderless – A Memoir Of A  Young Revolutionary In The 21st Century" (Wake Up Press) by Gary Pak. A fifteen-year-old revolutionary of mixed  ethnicities, narrates this story of promise and opportunity in a post-captitalist/post-imperialist country formerly part of the USA. Join this teenager and his sister on a journey through a city devastated by earthquakes and breed, but during a time when a new world of sharing and equality is being built from the ashes of the old.
"Ready for the Spotlight" (Candlewick) written and illustrated by Jaime Kim. This picture book demonstrates the sometimes competitive but always loving relationship between two sisters who shine in different ways. Little sister trains hard to be a ballerina but is always overshadowed by her big sister who gets the leading role.
"Roxy The Unisaurus Rex presents Oh NO! The Talent Show" (Feiwel & Friends) by Eva Chen and illustrated by Matthew Rivera.  The annual talent show is coming. Many dinosaurs have brilliant skills to show off but Dexter feels like he has no talent at all. With encouragement from Roxy, he learns being a good friend could be the most important talent of all.
"Where Is Bena Bear?" (Henry Holt)  written and  illustrated by Mike Curato. Tiny is having a party but the bear is nowhere to be found. Searching for Bina, Tiny realizes something is wrong and sets out to make it right. A humorous picture book about friendship, understanding and embracing our loved ones  just as they are (even if they are painfully shy).
"American Home" (Autumn House Press) by Sean Cho A. won the 2020 Autumn House Chapbook Prize. The poems reflect a keen eye on everyday occurrences and how these small events shape us as individuals.
"Genghis Chan on Drums" (Omnidawn),  poems by John Yau. This noted arts writer and poet returns in his latest book to his alter-ego of Genghis Chan and lacerates with acerbic humor and wit the  topics of the day, clichés about being Chinese, the language of philosophers and the residue of racism and popular culture.
"Usha and the Big Digger" (Charlesbridge) by Amitha Jagannath Knight and illustrated by Sandhya Prabhat. Part of the "storytelling Math" series in which books depict children using math as they play, build, and discover the world around them. When two kids look up at the seven stars in the sky, they see different things. One sees the Big Dipper and another sees the Big Digger and a cousin sees the Big Kite. What exactly is going on?
"Anzu The Great Kaiju" (Roaring Brook Press) written and illustrated by Benson Shum. All great Kaiju are born with a superpower to strike fear into the heart of their city but Anzu is different. Instead of mayhem, he likes mayflowers. Instead of striking fear, he prefers to be sincere. Can Anzu find a way to make his family proud and still stay true to himself. From this Disney illustrator comes this heartwarming book about making your own way and the unexpected power of gentleness.
"Idol Gossip" (Walker) by Alexander Leigh Young. A Korean American girl from San Francisco goes from singing lessons to a K-pop boot camp when she and her mom move to Seoul. This debut YA novel is all about dreaming big but staying true to your own values.
"Brown Boy Nowhere" (Skyscape) by Sheeryl Lim. When a 16 year old Filipino American boy is uprooted from his San Diego home to the middle of nowhere just as he plans to enter a big skateboarding competition, he can't help but think that "life sucks". And now he's the only Asian in an all-white school. But being an outcast has its rewards when he bands together with the rest of his high school outsiders.
"Remembering Our Intimacies – Modelo, Aloha Aina, and Ea" (University of Minnesota Press) by Jamaica Healimeleikalani Osorio. Hawaiian "aloha 'aina" is often described in Western political terms as nationalism, nationhood, or even patriotism. In this book, the author focuses on the personal and embodied articulations of aloha aina to detangle it from the effects of colonialism and occupation.
"Faraway" (Columbia University Press) by Taiwanese novelist Lo Yi-Chin and translated by Jeremy Tiang. A Taiwanese man finds himself stranded in mainland China while attempting to bring his comatose father home. He finds himself locked into a protracted struggle with byzantine hospital regulations while dealing with relatives he barely knows. A book that examines  the rift between Taiwan and China on the most personal of levels.
"Manifest Technique – Hip Hop, Empire, and Visionary Filipino American Culture" (University of Illinois) by Mark R. Villegas. Filipino Americans have been innovators and collaborators in hip hop since the culture's early days. But despite some success, the genre's significance in Filipino American communities is often overlooked. The author takes into consideration the coast-to-coast hip hop scene to reveal how Filipino Americans have used music, dance, and visual art to create their worlds.
"Enforced Rustification In The Chinese Cultural Revolution" (Texas Review Press) by Jianqing Zheng sounds like an academic study when it actually is a poetic retelling of the author's experience working in the countryside as a young student. It's told in poems full of humor, wit and poignancy.
"This Jade World" (University of Nebraska Press) by Ira Sukrungruang , Thai American poet and writer, chronicles a year of mishap, exploration, experimentation, self-discovery, and eventually, healing. It questions the very nature of love and heartbreak, uncovering the vulnerability of being human.
"Personal Attention Roleplay" (Metonymy Press) – Stories by  Helen Chau Bradley. A young gymnast crushes on an older, more talented teammate while contending with an overworked mother. A  newly-queer twenty-something juggles two intimate relationships. A codependent listicle writer becomes obsessed with a Japanese ASMR channel. A queer metal band's summer tour unravels in the summer heat. These tales offer portrayals of awkward interactions and isolations of a generation, community and culture.
"Pure Invention – How Japan Made The Modern World" (Crown) by Matt Alt. Japan is the forge of the world's fantasies: karaoke and the Walkman, manga and anime, Pac-Man, online imageboards and emojis. But in this book,  a Japan media reporter proves in his investigation, these novelties did more than entertain, they paved the way for our perplexing modern lives.
"ABC Of Feelings"(Philomel) written and illustrated by Bonnie Lui. This picture book is a journey through the alphabet that shows kids it's perfectly okay to feel many different things, sometimes all at once. The perfect read-aloud for little ones learning all about feelings and their ABC's.
"Beasts Of A Little Land" (Ecco) is a novel by Juhea Kim. It is an epic story of love, war, and redemption set again the backdrop of the Korean independence movement. From the perfumed chambers of a courtesan school in Pyongyang to the glamorous cafes of a modernizing Seoul and the boreal forests of Manchuria, where battles rage, Juhea Kim's unforgettable characters forge their own destinies as they wager their nation's.
First published in 1937, Genzaburo Yoshino's "How Do You Live?" (Algonquin) has long been acknowledged in Japan as a crossover classic for young readers and a favorite of Academy Award-winning anime director Hayao Miyazaki who will base his final film on the book. With a foreword by Neil Gaiman and translated by Bruno Navasky, the story involves a young boy who loses his father at the age of fifteen and the journal entries he receives from his uncle about life's big questions.
"Goodbye, again – essays, reflections, and illustrations" (Harper Perennial) by Jonny Sun. The author of "everyone's a aliebn when ur a aliebn too" returns with this offering of meditative essays, short humor pieces and memorable one-liners covering topics such as loneliness and burnout, advice on caring for dying houseplants, and a recipe for scrambled eggs that might make you cry.
"Faultlines" (Custom House) by Emily Itani. A bittersweet love story of a bored Japanese housewife in a dilemma who  must make choices and a piercing portrait of female identity.
"Outside Voices, Please" (Cleveland University Press) is a new book of poetry by Valerie Hsiung due out October 5, 2021. "Hsiung orchestrates a symphony of voices, past, present, and prescient: time (and with it, history) compresses and expands, yielding long poetry sequences reminiscent of Myung Mi Kim's sonic terrains and C.D. Wright's documentary poetics." – Diana Khoi Nguyen
"Heaven" (Europa Editions) by Mieko Kawakmi. From the best-selling author of "Breasts And Eggs", a striking exploration of working women's daily lives in Japan comes a new story of the experience of a teenage boy who is tormented by his schoolmates. It explores the meaning and experience of violence and the consolations of friendship. Translated from the Japanese by Sam Bett and David Boyd.
"Alma Presses Play" (Make Me A World) by Tina Cane. Alma is a half-Chinese and half-Jewish teenage girl going through changes with her Walkman on most of the time. Friends move away, love comes and goes and her parents divorce. In this world of confusing beginnings, middles, and endings, is Alma ready to press play on the soundtrack of her life?
"Japanese Dress in Detail (Thames & Hudson/Victoria & Albert Museum) by Josephine Rout is the catalog for an exhibition held in Britain in 2020. It brings together more than 100 items of clothing and reveals the intricacies of Japanese dress from the 18th century to the present and includes garments for women, men and children. The details have been selected for their exquisite beauty and craftsmanship and for how much they impart about the wearer's identity.
A Way of Looking" (Silverfish Review Press) by Jianqing Zheng. Winner of the 2019  Gerald Cable Book Award.  Zheng, shaped by the Cultural Revolution in China somehow ended up in Mississippi and fell in love with the blues and in this book, he takes the haiga Japanese literary form (one prose journal entry followed by the echo of a haiku poem to end it) and plants it in the deep south.  autumn night/a freight train chugging/across the Yazoo.
"XOXO" (Harper Teen) by Axie Oh. A teenage romance that blossoms in L.A. and re-ignites in Seoul. A Korean American girl meets a Korean guy on his last day in the city of angels and sparks fly. But she forgets about him when he flies off to Seoul. But when the girl and her mother fly to Seoul to take care of an ailing grandmother, guess who she discovers is in her class. But he is not an ordinary guy, he's in one of the most popular K-pop bands in the land. And in K-pop, dating is strictly forbidden. Read the book if you want to find out how this complex relationship turns out.
"Head – Hoard" (University of Chicago Press) by Atsuro Riley. Winner of the Alice Fay di Castagnola Award from the Poetry Society of America, juror Julie Carr had this to say about Riley's new book – "A landscape charged with the bright light of discernment, where emotions are stirred by rhythmic torsion and sonic density."
"Amira's Picture Day" (Holiday House) by Reem Faruqi and illustrated by Fahmida Azim. A joyful and sensitive look at the Muslim holiday of Eid as seen through the eyes of a young girl who loves to celebrate but feels conflicted because her school class photo shoot happens the same day.
"Colorful" (Counterpoint) by Eto Mori. Translated from the Japanese by Jocelyne Allen. This popular novel in Japan finally finds its way to the U.S. in this English translation.  A young adult tale of death, mental health and what it means to truly live. When a formless soul is given a second chance to return to earth and inhabit the body of a fourteen-year-old boy who has just committed suicide, things get complicated.
Now it's becoming more common for foreign players to break into U.S. professional baseball but "MASHI – The Unfulfilled Baseball Dreams Of Masunori Murakami, The First Japanese Major Leaguer" (Nebraska) by Robert K. Fitts takes us back to 1964 and tells the story of Japan's first major leaguer in America. A baseball  pioneer's tale.
"The Alpactory – Ready, Pack, Go!" (Harper) written and illustrated (charmingly, I might add) by Ruth Chan. Most kids when embarking on a trip have trouble deciding what and how to pack. Let an alpaca with unusual packing skills be your guide as you contemplate your next journey.
"In The Watchful City" (Tor Dot Com)  by S. Qiouyi Lu. Anima is an extrasensory human with the task of surveilling and protecting the city. But what happens when a mysterious outsider enters this world with curiosities from around the world? A multifaceted story  of borders, power, diaspora and transformation.
"City of Illusion" (Viking Graphic) is the graphic novel follow-up to Victoria Ying's "City of Secrets". In this sequel our child heroes Hannah and Ever live with the Morgan family in peace until Mr. Morgan is kidnapped. The kids get in a spat with street magicians but the two must learn to work together if the mystery of the missing is ever solved.
"Silent Parade – A Detective Galileo Novel" (Minotaur) by  Keigo Higashino. Detective Galileo, the author's best-loved character from "The Devotion of Suspect X" returns in a complex and challenging mystery – several murders, decades apart, with no solid evidence. DCI Kusanagi turns once again to his college friend, Physics professor and occasional police consultant Manbu Yukawa, known as Detective Galileo, to help solve the string of impossible to prove murders.
"The Rice in the Pot Goes Round and Round" (Orchard) by Wendy Wan-Long Shang and illustrated by Lorian Tu.  A clever twist on "The Wheels on the Bus" in which  the eating of Chinese food is celebrated with love and laughter within a multi-generational family.
Ghost Food (One World) by Pik-Shuen Fung. A sparely written novel about a first generation of immigrants in Canada whose father decides to stay in Hong Kong earning him the title of "astronaut" father. With a lonely mother and ill father, a daughter struggles to understand her family history revealing threads of matrilineal history and the inheritance of stories and silences.
"Intimacies" (Riverhead) by Katie Kitamura. An American woman newly relocated to The Hague works as an interpreter at a war crimes tribunal. Interpreting for a notorious former president accused of crimes against humanity, and entangled in a complicated love affair with a married man, she wrestles with mounting professional and personal dramas.
"On The Ho Chi Minh Trail  –The Blood Road, The Women Who  Defended It, The Legacy"(ASIALINK, London) by Sherry Buchanan. Buchanan reveals the stories of the women who defended the Trail against the sustained American bombing campaign – the most ferocious in modern warfare – and of the artists who drew them. She focuses on what life was really like for the women and men under fire, bringing a unique perspective to the history of the Vietnam War.
"Not Here to Be Liked" (Katherine Tegen Books) by Michelle Quach. This young adult novel is about a high school girl Eliza Quan who sees herself as the perfect candidate to be editor of her school paper until an ex-jock white male candidate appears and threatens her ambitions. To thwart his challenge, she writes a viral essay inspiring a feminist movement. But what happens when she starts to like the guy?
"Anne's Cradle – The Life & Works of Hanako Muraoka" (Nimbus) by Eri  Muraoka as translated by Cathy Hirano. Hanako Muraoka  is revered in Japan for her  translation of L. M Montgomery's children's classic, "Anne of Green Gables." Because of her translation the book had a massive and enduring popularity in that country. This bestselling biography of Muraoka written by her granddaughter, traces the complex and captivating story of a woman who risked her freedom and devoted her life to bringing quality children's literature to the people during a period of tumultuous change in Japan.
"Second Sister" (Black Cat) by Chan Ho-Kei. When a schoolgirl commits suicide by leaping from the twenty-second floor, her older sister refuses to believe it. What follows is a cat-and-mouse game through the streets of Hong Kong as big sister hunts for the truth about the murder and the murderer.
"Faraway Places" (Diode Editions) by Teow Lim Goh. The poems in this book reside in the spaces between the wild and the tamed, from orchid gardens and immense seas to caged birds and high alpine landscapes. It resists narrative and instead inhabits the residues of experience. It may be a private dictionary.
"Jenny Mei Is Sad" (Little, Brown and Company) written and illustrated by Tracey Subisak. This book introduces young readers to the complexity of sadness and shows them that the best way to be a good friend – especially to someone sad – is by being there for the fun, the not-fun, and everything in between. Charmingly illustrated.
"Vessel – A Memoir" (HarperVia) by Cai Chongda. This tender collection of personal essays by the Editorial Director of GQ China spotlights the family, friends and neighbors of his small town who helped shape him as he struggled to understand himself and what the future might bring as a young boy from simple means.
"A Way of Looking" (Silver Fish Review Press) by Jianqing Zheng. Half prose, half verse, this book is a heartfelt account of exile and homecoming. Uprooted from Chinese soil after the Cultural Revolution, this immigrant found new roots in the rich dark soil of the Mississippi delta and the home of the blues. Winner of the 2019  Gerald Cable Book Award.
"Singing Emptiness – Kumar Gandharva Performs The Poetry Of Kabir" (Seagull) by Linda Hess. In this book, two men, five centuries apart, make contact with each other through poetry, music and performance. A great twentieth-century Hindustani classical vocalist takes up the challenge of singing the songs of Kabir, the great fifteenth century poet.
"Boys I Know" (Peachtree Teen Books) by Anna Gracia. A high school senior navigates messy boys and messier relationships in this bitingly funny and much-needed look into the overlap of Asian American identity and teen sexuality. June Chu is leaving high school to face an unknown world, battling her mother's expectations and the drama of relationships and unsure on how she should work her path through it all.
"Glyph – graphic poetry + trans. sensory" (Tupelo) by Naoko Fujimoto. The poet finds a new way to connect word and image. Inspired by Emaki (Japanese picture scroll). The poet/artist uses bright colors and designs to bring the words of each poem to the reader in novel ways and  from different directions. Or as Gabrielle Bates states, "I was wondering around the house of poetry and this book showed me to a door I didn't know existed."
"Lurkers" (Soho) by Sandi Tan. The author peoples her corner of surburban Los Angeles with two Korean American sisters rocked by suicide and a cast of characters like a creepy drama teacher, a gay horror novelist and a white hippie mom and her adopted Vietnamese daughter. Add drama and stir with a deft pen for optimum results.
"The Many Meanings of Meilan" (Kokila) by Andrea Wang. Meilan's world is made up of a few key ingredients: her family's beloved matriarch, the bakery the family owns and a run in Boston's Chinatown; and her favorite Chinese fairy tales. But things change after her grandmother dies putting the family on the road in search of home. This young adult novel is an exploration of all the things it's possible to grieve, the injustices large and small that make us rage, and the peace that's unlocked when we learn to find home within ourselves.
A God at the Door" (Copper Canyon) by Tishani Doshi. Doshi is an award-winning  writer and dancer of Welsh-Gujarati descent. She has published seven books of fiction and poetry. This new volume of poems calls on the extraordinary minutiae of nature and humanity to redefine belonging and unveil injustice.
"Finding My Voice" (Soho) is a reprint of a classic young adult novel by Marie Myong-Ok Lee. It is a timeless coming-of-age story of a Korean American teenage girl who attends an all-white high school in Minnesota. She struggles to fit in while being different. When she falls for a popular white football player. Can this relationship withstand the bigotry of a small town and her family's disapproval?
"Tokyo Ever After"(Flatiron) by Emiko Jean. It's hard growing up Japanese American in a small, mostly-white Northern California town with a single mom. But when Izumi or "Izzy" as she's known discovers her missing dad is the crown prince of Japan, things become surreal. Traveling to Japan to find her dad, her life is turned upside down. Not American enough in the States, not Japanese enough in Japan. Will Izumi ever land on her feet?
"The Bombay Prince" (Soho) by Sujata Massey. This popular mystery writer's latest book is a Perveen Mistry series volume. Bombay's fist female lawyer tries to bring justice to the family of a murdered female Parsi student just as the city streets erupt into riots protesting British rule. Set in 1920s Bombay.
"Angel & Hannah – A Novel in Verse"  (One World) by Ishle Yi Park.The electricity of first love in the heart  of New York's neighborhoods.  When a Korean American girl from Queens meets a Puerto Rican American boy from Brooklyn at a  quincecanera, sparks fly and so does family opposition and cultural complexity. This former poet laureate of Queens uses bursts of  language and imagery in sonnet and song form to bring alive the glow of first love.
"Swimming Back To Trout River" (Simon & Schuster) by Linda Rui Feng. It's 1986 and a ten-year-old girl lives in a small Chinese village with her grandparents. Her parents left for the opportunities in America years ago. Now her father promises to pick her up and take her to America by her 12th birthday. The little girl is determined to stay. And what she doesn't know is that her parents are estranged, burdened by demons from their past. Can one family, with an ocean between them, start anew without losing themselves –or each other? Jean Kwok calls this novel, "A beautifully written, poignant exploration of family, art, culture, immigration, and most of all, love."
"Body Facts" (Diode Editions) by Jody Kim. These poems tell the story of a voice that is Korean, American, woman and body. It weaves together Korean history and aesthetics, the speaker's childhood and family stories, US foreign policy with North Korea, and the things we do and shouldn't do to our bodies.
"Made In Korea" (Simon & Schuster) by Sarah Suk. A "rom-com" novel debut depicts two entrepreneurial teens who butt heads – and maybe fall in love- while running competing Korean beauty businesses at their high school.
"At The End Of The Matinee" (Amazon Crossing) by Keiichiro Hirano as translated by Juliet Winters Carpenter. Billed as a love story and psychological thriller, this novel traces the years long relationship between a concert guitarist and a journalist and examines whether the relationship will endure and perhaps blossom into something deeper.
"Finding Junie Kim" (Harper) by Ellen Oh. A young adult novel about a Korean American girl who tries to fit in at school by not sticking out. But when racist graffiti appears at her middle school, she must make a decision. When a teacher assigns an oral history project, Junie decides to interview her grandparents about the Korean war and her world changes.
"Never Have I Ever" (Small Beer Press) by Isabel Yap is a collection of powerful short stories of speculative fiction/fantasy that  explores themes ranging from monstrousness, shared trauma, systemic violence, friendship and the ambiguity of love.
"A Pho Love Story" (Simon & Schuster) by Loan Le is a romantic YA rom-com in which two Vietnamese American teens must navigate their new  found love amid their family's age-old feud about their competing pho restaurants.
"If I Were A Tree" (Lee & Low)  by Andrea Zimmerman as imaginatively illustrated by local artist Jin Jing Tsong. This picture book traces two siblings journey into the woods and how they use the five senses to explore the natural world. Tsong's kaleidoscopic art makes the wooded world come to life and illuminates the author's poetic ode to trees.
"Death Fugue" (Restless) by Sheng Keyi as translated by Shelly Bryant. This novel is a dystopian allegory of the Tiananmen Square massacre and banned in China.
"When Father Comes Home" (Orchard) is written and illustrated by Sarah Jung. June's father is like a goose: he flies away for long periods of time so when he comes home, it's a special occasion. This picture book turns the story of migrant fathers who work abroad in hopes of widening the field of opportunity for their children into a heart-warming, reflective tale.
"The Intimacies of Conflict – Cultural Memory and The Korean War" (NYU) by Daniel Y. Kim. The author delves into novels, films and photos to reconstruct memories of war and what it means to Koreans, Asian Americans and people of color
"The Tangle Root Palace" (Tachyon) by Marjorie Liu ("Monstress"} is her debut collection of dark, lush and spellbinding fantasy fiction. It's full of thorny tales of love, revenge and new beginnings.
"Tell Me Who You Are: Sharing Our Stories of Race, Culture, And Identity" (Penguin Random House) by Winona Guo and Priya Vulchi. Two 17 year old girls (a Chinese American and an Indian American) take a year off after high school and travel the country asking Americans how race has impacted their lives. Out of 500 stories, they edited it down to 115 for this anthology.
Inspired by the Peabody Award-winning podcast, "The Unexplainable Disappearance of Mars Patel" (Walker) by Sheila Chari is a young adult thriller. As kids are disappearing one by one from a middle school and their parents don't seem to care, Mars Patel and his crew go on a desperate search for answers.
"Mapping Abundance For  a Planetary Future- Kanaka Maoli and Critical Settler Cartographies in Hawai'i" (Duke) by Candance Fujikane. Fujikane criticizes settler colonial cartographies that diminish life and instead highlights the all encompassing voices of Hawaiian communities and their perspective of abundant healing and protection for the land.
"All You Knead Is Love" (FSG)by Tanya Guerrero. When a 12 year old girl must leave her mother to live with her grandmother in Barcelona, she feels estranged. But then she grows to love that city that her mother once called home. She connects with her Spanish roots, becomes close with her Filipino grandmother and discovers a passion and talent for baking bread. When her favorite bakery is in trouble, she learns what she can do to help.
International bestseller "Kim Jiyong, Born 1982" (Liveright) by Cho Nam-Joo as translated by Jamie Chang is now available in a paperback edition. It follows one Korean millennial "everywoman" as she descends into a psychic deterioration in the face of a rigid misogyny. A rallying cry of feminism and gender that resonated  with women all over Korea.
"I Am A Bird" (Candlewick) by Hope Lim as illustrated by Hyewon Yum. When a little girl goes on her morning bike ride with her dad, she imitates the sounds of birds. But when she sees a strange woman with a stern demeanor and a mysterious bag, she becomes frightened. A children's book that encourages readers to embrace over similarities rather then letting our differences divide us.
"Planet Omar Incredible Rescue Mission" (Putnam) by Zanib Mian as illustrated by Nasaya Mafaridik. Omar is excited about his first trip to Pakistan but then tragedy strikes. His favorite teacher goes missing. Could his teacher been abducted by aliens? Omar investigates. Will creative thinking and a galactic spirit of adventure help solve this young adult mystery?
"Much Ado About Baseball" (Yellow Jacket/Little Bee) by Rajani LaRocca. When Trish finds herself on the same summer baseball team as Ben, her math competition rival, two people must set aside their animosity and join together to help their team win. Will solving a math puzzle help the team succeed? Trish and Ben think so.
"The Unicorn Rescue Society – The Secret of the Himalayas (Dutton) by Adam Gidwitz & Hena Khan is a continuation of the New york Times bestselling young adult series about the juvenile members of this group who travel to the rugged mountains of Pakistan to rescue a unicorn.
"The Elephant Doctor of India" (Chicago Review Press) by Janie Chodosh. When a young elephant touching a sagging electric line in Assam, India gets stuck in the mud, there  is only one person to call – Dr. Sarma, the elephant doctor. Chodosh spends time with the doctor and reveals to young readers what this unique veterinarian does for the elephants he encounters.
"Kudo Kids – The Mystery in Manhattan" (Razorbill) by Maia and Alex Shibutani. This brother & sister Olympic ice skating pair have turned their hands at writing young adult novels. The Kudo Kids come to New York to see the sights but when a dress from their fashion designer auntie's collection goes missing, they end up in a chase around the city to nab the culprit.
"From Little Tokyo With Love" (Viking) by Sarah Kuhn. Rika is an adopted bi-racial girl with formidable judo skills and a fiery temper. When she hears rumors in her neighborhood that her real mother is not only alive but a Hollywood movie star, she goes on a quest to find her. Accompanied by actor friend Hank, she must make some big decisions that could change the direction in her own life.
"Dial A for Aunties" (Berkley) by Jesse Q. Sutanto. In this rom-com/murder mystery mash-up of mistaken identity and sisterhood, a wedding photographer enlists the aid of her mother and her sisters in hiding the dead body of her blind date while attempting to pull off an opulent wedding for a billionaire client.
"Renegade Flight" (Razorbill) by Andrea Tang. In this YA fantasy adventure, a young pilot-in-training is grounded when found cheating on an entrance exam. Eager to re-join, she competes in a combat tournament to regain entry only to find she must battle a strangely attractive nemesis.
"Daddy's Love For Me" (Mascot) by Sarah and JoAnn Jung as illustrated by Chiara Civati. A daughter feels resentment towards her overworked dad when he has no time to spend with her and show his love. When she overhears a conversation between her parents, she realizes how wrong she was
"Counting Down With You" (Inkyard) by Tashie Bhuiyan. A reserved Bangladeshi teenage girl looks forward to a restful break when her demanding parents go abroad. Instead, she is roped into tutoring the school's resident bad boy and then talked into a fake-dating façade. But then her life changes as the days go by and the two get to know each other.
"Nina Soni, Sister Fixer" (Peachtree)  by Kashmira Sheth as illustrated by Jenn Kocsmiersky. This continuing series on the adventures of a young Indian American girl who looks for a new project while at the same time getting aggravated by her little sister's behavior. Maybe there is a way to solve both issues at the same time?
"Fatima's Great Outdoors" (Kokila) by Ambreen Tariq as illustrated by Stevie Lewis. This picture book is a celebration of an immigrant family's first outdoor camping trip and how it brings them all together for once inside one big tent under a canopy of stars.
"Queen of Ice" (Duckbill) by Devika Rangachari. This young adult historic novel delves into the turbulent history of tenth-century Kashmir and Didda, princess of Lohara who learns how to hold her own in a court ridden with factions and conspiracies.
"Foreign Bodies" (Norton) by Kimiko Hahn. Inspired by her encounter with the Jackson Collection of ingested curiosities at the Mutter Museum, this poet investigates the grip that seemingly insignificant objects have on our lives.
"Black Water Sister" (ACE) by Zen Cho. A modern fantasy  tale of ghosts, gods and the eternal bonds of family ties in the setting of modern-day Malaysia. A young woman returns to Penang and reunites with her extended family while at the sa
"Leave Society" (Vintage) is Tao Lin's first work of fiction since 2013. It follows a thirty-year-old novelist living part-time with his parents in Taiwan and part-time in New York who grows increasingly alienated from friends and community back in the U.S. As he rotates between places, the novel chronicles his growth as son, writer and misfit.
"The Henna Wars" (Page Street Kids) by Adiba Jaigirdar. This romcom about two teen girls with rival henna businesses who find despite their competition, they have to come to terms with a realization of the affection they have for each other.
"In the Watchful City" (TorDotCom) by S. Qiouy Lu. An unforgettable futuristic tale in a secondary world that feels familiar in essence, and that centers trans, nonbinary, queer, mentally ill and Chinese-coded identities. It asks the eternal question, "What good is a city if it can't protect its people?"
"Clues to the Universe" (Quill Tree) is the Young Adult debut novel by Chrsitina Li. What do an aspiring young rocket scientist reeling from her father's death and an artistic boy who loves superheroes and comic books have in common? When the two become science class partners, they embark on an adventure and discover themselves while banding together to confront bullying, grief and their own differences.
"Love Without A Storm" (Blood Axe Books) by Arundhathi Subramaniam is filled with poems that celebrate an expanding kinship: of passion and friendship, mythic quest and modern day longing, in a world animated by dialogue and dissent, delirium and silence.
"Heiress Apparently" (Abrams) by Diana Ma is the first book in an epic, romantic young adult series following the fictionalized descendants of the only officially recognized regent of China. When a young Chinese American woman from Illinois embarks on an acting career in Los Angeles having abandoned plans for college – things turn strange. When she gets a role in "M. Butterfly" shooting in Beijing, she uncovers a royal Chinese legacy in her family her parents would rather she never knew.
"Catcalling" (Open Letter) is a book of poems by Lee Soho. This poet is part of the new wave of innovative feminist and queer poetry appearing in South Korea today.
"Terminal Boredom – Stories" (Verso) by Izumi Suzuki. This book of short stories introduces readers to a cult figure in Japanese literature who takes a unique slant on science fiction and concerns about technology, gender and imperialism.
"Forty Two Greens – Poems of Chonggi Mah" (Forsythia) as translated by Youngshil Cho. Winner of the Korean Literary Award, this poet's search for the infinite in nature illuminates moments of beauty in the subconscious.
"Beyond Line: The Art of Korean Writing" (LACMA/Prestel) by Stephen Little and Virginia Moon is the exhibition catalog for a major show that illuminates the restrained beauty strength and flexibility of Korean calligraphy. It is the first exhibition held outside Asia to focus on the history of writing and calligraphy in Korea.
"A Sky Beyond The Storm" (Razorbill) is the finale to the popular "Ember in the Ashes" series by Sabaa Tahir. This fantasy series finds the soul catcher must look beyond the borders of his land and take on a mission that could save or destroy – all that he holds dear.
"The Surprising Power of a Dumpling" (Scholastic) by Wai Chin. A teenage girl balances looking after her siblings, working in her dad's restaurant and taking care of a mother suffering from a debilitating mental illness. A deep true-to-life  exploration through the complex crevices of culture, mental illness and family.
"The Phone Booth at the Edge of the World" (Overlook) by Laura Imai Messina. A Japanese woman loses her mother and daughter in the tsunami. When she hears of a phone booth where people come to speak to departed loved ones, she makes a pilgrimage there only to find her grief won't allow her to pick up the phone. A novel based on a true story.
"Ten – A Soccer Story" (Houghton Mifflin Harcourt) by Shamini Flint. A good half-Indian girl in  1980's Malaysia isn't supposed to play a "boys" sport but Maya is all game as she achieves her goals while placating a bossy Indian grandmother and holding together a mixed race family on the verge of drifting apart. A young adult novel  that will inspire.
"The Secret Talker" (HarperVia), a novel by Geling Yan as translated by Jeremy Tiang. Hongmei and Glen seem to have the perfect idyll life in the Bay Area even though their marriage is falling apart. When a secret admirer contacts Hongwei on the internet, his flirting turns into an obsession.
"The Collected Poems of Chika Sagawa" (Modern Library) won the Pen Award for "Poetry in Translation" for translator/poet Sawako Nakayasu. Now it's brought back in print in the new Modern Library Torchbearers Series that highlights women who wrote on their own terms, with  boldness,  creativity and a spirit of resistance. Sagawa was a turn-of-the-century daringly experimental voice in Tokyo's avant-garde poetry scene. Her life was cut short by cancer at the age of 24 but the words she left behind linger on.
"CURB" (Nightboat) is a new collection of poems by Divya Victor. This book documents how immigrants and Americans both, navigate the liminal sites of everyday living, ripped by violence and paved over with possibilities of belonging.
"Séance Tea Party" (RH Graphic) by Reimena Yee. A lonely girl meets a ghost who haunts her home and finds a new friend. But what happens as the girl grows older and the ghost stays the same age?
"Nina Soni, Master of The Garden" (Peachtree) by Kashmira Sheth and illustrated by Jenn Kocsmiersky. This young adult series about an Indian American fourth grader finds her working on a   garden project with her siblings supervised by their landscape architect mom. What they hadn't counted on was the unpredictability of mother  nature. Can Nina Soni help this garden survive?
Mindy Kim, Class President" (Aladdin) by Lyla Lee is part of a series of books on the adventures of a teenage Korean American girl. In this story, she decides to run for class president but first she must overcome her fear of public speaking.
"The Truffle Eye" (Zephyr) by Vann Nguyen is the debut collection of poems by this Vietnamese-Israeli poet as translated by Adriana X. Jacobs. In it she tackles questions of identity and cultural legacy from points of emotion and shock.
"Flowering Tales – Women Exorcising History in Heian Japan" (Columbia University Press) by Takeshi Watanabe. This is the first extensive study of this historical Japanese tale. It unravels 150 years of happenings in Heian era society penned by female writers.
"Pippa Park Raises Her Game" (Fabled Films Press) by Erin Yun. This loose reimaging of "Great Expectations" follows a young Korean American girl learning to navigate her new life at an elite private school in this young adult novel.
"Some Girls Walk Into The Country They Are From" (Wave) is a new book by Sawako Nakayasu, an artist working with language, and translation – separately and in various combinations. She, alone is responsible for introducing a wide variety of modern Japanese poets  to English readers throughout the years with her fresh and skillful translations. This new volume is a multilingual work of both original and translated poetry.
"A Taste for Love" (Razorbill) by Jennifer Yen. When a rebellious teenage girl agrees to help her mom's bakery stage a junior competition, she soon realizes it's a setup. All of the contestants are young Asian American men her mom has handpicked for her to date. What can she do?
"That Was Now, This Is Then" (Greywolf Press) is the first new collection from Paris Review Editor Vijay Seshadri since his 2014 Pulitzer Prizewinning book, "3 Sections." Rosanna Warren says of this new book, "These are poems of lacerating self-awareness and stoic compassion. It is a book we need, right now."
"Midsummer's Mayhem" (Yellow Jacket) by Rajani LaRocca. When her dad , a renowed food writer loses his sense of taste, it puts a damper on this eleven-year old girl's dream of becoming a baker and winning a cooking contest. When she meets a boy in the forest, he teaches her about new natural ingredients. Will the everyday magic of baking give her the courage she needs to save her father?
"Every Reason We Shouldn't" (Tor Teen) by Sara Fujimura. When a teenage girl's Olympic figure skater dreams fade, she meets a young man at her family's rink who's driven to get to the Olympics in speed skating. As a rivalry develops, so does a romance.
"My Name Will Grow Wide Like A Tree" (Greywolf) by Yi Lei and translated from the Chinese by Changtai Bi and Tracy K. Smith. Yiyun Li says of this book, "Yi Lei, one of China's most original and independent poets, documents not only Chinese history in the past four decades, but also more importantly a woman's private history of rebellion and residence."
"Disappear Doppelganger Disappear" (Little A) is by the author of "The Hundred-Year Flood", Matthew Salesses. Laura Van den Berg writes "How to live in a world that refuses to see you? Matt Kim's intoxicating battle with his mysterious doppelganger moves him deeper and deeper into the vast and urgent sea of this question – and towards a possible answer. Inventive and profound, mordantly hilarious and wildly moving."
"The Boys in the Back Row" (Levine Querido) by Mike Jung. When band geeks, comic nerds and best friends Eric and Matt tire of being bullied by racist comments and being called "gay", they hatch a plan to meet a famous comic book artist during regional marching competition but an enemy has other ideas.
"The Girl Who Stole an Elephant" (Peachtree)  by Nizrana Farook. Deep adventures in the Sri Lankan jungle await young readers as a nobleman's rebellious daughter steals the queen's jewelry and makes her escape on the king's elephant. How will things turn out in the end?
"Pink Mountain on Locust Island" (Coffee House) by Jamie Marina Lau. In her debut novel, shortlisted for Australia's prestigious Stella Prize, old hazy vignettes conjure a multi-faceted world of philosophical angst and lackadaisical violence. A teenage girl drifts through a monotonous existence in a Chinatown apartment until her dad and boyfriend plot a dubious enterprise that requires her involvement.
"Kimono Culture – The Beauty of Chiso" (Worchester Art Museum) by Vivian Li and Christine D. Starkman tells the story of a Kyoto-based designer that is one of the oldest and most prestigious kimono makers in Japan today.
"Everything I Thought I Knew" (Candlewick) by Shannon Takaoka. A teenage girl wonders if she's inherited more than just a heart from her donor when odd things begin to happen. As she searches for answers, what she learns will lead her to question everything she assumed she knew.
"Goat Days" (Seagull Books) by Benyamin as translated by Joseph Koyippally. A poor young man in Southern India dreams of getting a job in a Persian Gulf country so he can earn enough money to send to his family back home. When his wish becomes reality, things don't turn out as planned and he is locked into a slave-like existence herding goats in the desert. Circumstances force him to conceive of a hazardous scheme  to escape his life of loneliness and alienation. But will it be enough?
"Last Tang Standing" (Putnam) by Lauren Ho. "Crazy Rich Asians" meets "Bridget Jones" in this funny debut novel about the pursuit of happiness, surviving one's thirties intact and opening one's self up to love.
"AN I NOVEL" (Columbia) by Minae Mizumura as translated by Juliet Winters Carpenter. This novel focuses on a single day of a Japanese expatriate in America as she reflects on her life in this country and why she wants to return to Japan to become a writer and write again in Japanese.
"Sacrificial Metal" (Conduit Books & Ephemera) by Esther Lee. It won the Minds on Fire Open Book Prize. Sean Dorsey writes that the book "dances with astute curiosity and deep tenderness across the shifting grounds of grief, touch, bearing witness, memory, and our obstinate human instinct for future planning. With great compassion, Lee's poems remind us that everything human eventually unravels…"
"Forbidden Memory – Tibet During the Cultural Revolution" (Potomac)  by Tsering Dorje. Edited by Robert Barnett and translated by Susan T. Chen. The author uses eyewitness accounts with expert analysis to tell the story of how Tibet was shaken by foreign invasion and cultural obliteration. This book is a long-overdue reckoning of China's role in Tibet's tragic past.
"Paper Bells" (The Song Cave) by Phan Nhien Hao and translated by Hai-Dang Phan is a new volume of poems by a poet shaped by the Vietnam War, forced to re-start a life as a teenager in the U.S. His poems bear witness to a delicate balance between two countries and cultures.
"So This Is Love: a Twisted Tale" (Disney) by Elizabeth Lim. A young  adult re-telling of the Cinderella story. In this one, Cinderella leaves the house where she works and gets a job as the palace seamstress. Here she becomes witness to a grand conspiracy to overthrow the king. Can she find a way to save the kingdom?
"From Maybe To Forever – An Adoption Story" (Creston) by M. L. Gold and N. V. Fong as illustrated by Jess Hong. Told from a big sister's point of view, this picture book makes the complicated adoption process clear for the youngest readers and the colorful art show
"Butterfly Sleep" (Tupelo) by Kim Kyung Ju as translated by Jake Levine is a historical drama based in the early Joson Dynasty. With a mixture of magic realism and dark humor, he tells an existentialist allegory of Korean's rapid development. This play is a modern fable of a rapidly changing country that must confront its ghosts.
"Lion Boys and Fan Girls" (Epigram) by Pauline Loh looks at teenage boys who make a pledge to ban dating and focus on lion dancing. But they must contend with unusual girls and cyberbullying. The rich culture of Singapore and the fascinating history of lion dance make this a compelling young adult read.
Set in a New England town where accusations led to the Salem witch trials, Quan Berry's novel "We Ride Upon Sticks" (Pantheon) looks at a 1980's girls field hockey team who flaunt society's notions of femininity in order to find their true selves and lasting friendship.
"People From My Neighborhood – Stories" (Soft Skull) by Hiromi Kawakami and translated by Ted Goossen. From the author of the internationally bestselling "Strange Weather in Tokyo", this new book is a collection of interlinking stories that masterfully blend the mundane and the mythical. In these people's lives, details of the local and everyday slip into accounts of duels, prophetic dreams, revolutions and visitations from ghosts and gods. Here is a universe ruled by mystery and transformation.
"A Bond Undone" (St. Martin's Griffin) by Jin Yong is the second volume of "Legends of The Condor Heroes", one of Asia's most popular martial arts novels. Translated by Gigi Chang.
"Taiwan In Dynamic Transition – Nation Building And Democratization" (UW)  edited by Ryan Dunch and Ashley Esarey. This book provides an up-to-date assessment of contemporary Taiwan highlighting that country's emergent nationhood and its significance for world politics.
"The Journey of Liu Xiabao – From Dark Horse to Nobel Laureate" (Potomac) edited by Joanne Leedom-Ackerman with Yu Zhang, Jie Li and Tienchi Martin-Liao. Liu Xiabao was more than a dissident poet and this collection of essays capture the intellectual and activist spirit of this late literary critic and democracy icon.
"Harris Bin Potter And The  Stoned Philosopher" (Epigram) by Suffian Hakim. This young Singapore-based writer's parody of Harry Potter bases the story in Malaysia and seasons it with local and pop cultural references.
"Mindy Kim and the Lunar New Year Parade" (Aladdin) by Lyla Lee and illustrated by Dung Ho. Mindy is excited to go to the annual lunar new year parade but things don't go as planned. Can she still find a way to celebrate?
"From Maybe To Forever – An Adoption Story" (Creston) by M.L. Gold and N.V. Fong and illustrated by Jess Hong. Told from the view of an eager older sister, this is an endearing story about adoption from an often-neglected point of view.
News & Information
Centrum has announced the 2022 Emerging Artist and Writer residents for residencies at Centrum, a residency program for creative artists in Port Townsend. This year marks the first Emerging Writers component to the annual Emerging Artist Residency. All residents will receive a month of lodging and stipends for October 2022. Among the ten selected are Frank Abe, Josephine Lee and Satpreet Kahlon. Congratulations to them all and may their stay there reap creative rewards that we all can enjoy. For more details, go to centrum.org.
Mukai Farm & Garden on Vashon Island has two food-related events. On Sunday, June 19, 2022 from 11am – 2pm, enjoy a gourmet $25 lunch box created by chefs Michaella Olacarri, Dre Neeley and Chantel Jackson. On Sunday, June 26, 2022 from 1 – 4pm, come to an Asian Pacific American Community Potluck Picnic. Bring food to share and your own beverages. Eating utensils, plates, cups, napkins will be provided. 18017 – 107th Ave. SW/Mukai Way. Go to [email protected] for details.
Artist Trust has a new source of emergency support for Washington State artists in their Artist Trust Endurance Grants  which will provide 40 need-based artists grants of $2,500 each. Go to artisttrust.org for details.
The Seattle Public Library offers free tickets to visit Puget Sound museums. Visit www.spl.org/museumpass for details. Also available for loans is the Discover Pass which provides access to more than 100 state parks and other recreational amenities. Go to www.spl.org/outdoorrecreation.
The University of Washington Press issues a call for writers working on a manuscript or new book proposal. The editors at this local press want to connect with current and prospective authors about new projects and book proposals. They invite writers to contact them by email to set up a meeting by phone or zoom. If interested, contact Executive Editor Lorri Hagman at [email protected].
The Readings & Workshops program at Poets & Writers has funds to provide mini-grants to pay poets, fiction writers and creative non-fiction writers to give readings throughout King County between now and June 30, 2022. Deadline is six weeks prior to any event. Email [email protected] for more information.