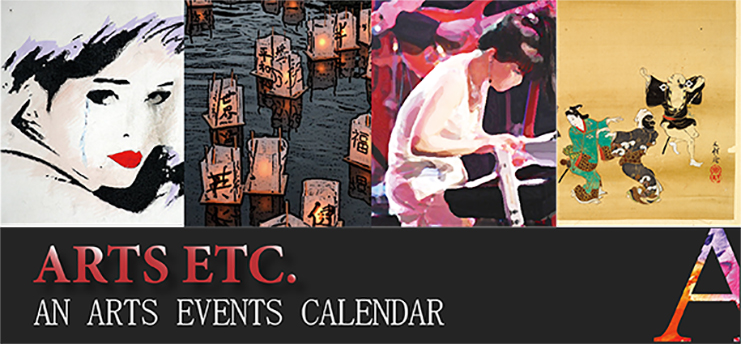 Visual Arts
The Columbia City Gallery has received a grant from the National Endowment for the Arts to support two exhibits to support arts and the healing process in the Asian American and immigrant communities of Southeast Seattle. The first exhibit entitled "Unbound – Beautiful 2020" features artwork created by the participants of the behavioral health therapy program at Asian Counseling & Referral Services (ACRS), which offers culturally appropriate curricula to support recovery. Vietnamese American artist Chau Huynh of the ACRS art therapy program will create the show which runs through March 29, 2020.  The second exhibition funded by the NEA is entitled "The Resting Place" and it examines the intersections of grief, migration and cultural identity among Filipino Americans. The project includes artist talks, a poetry reading, and a Filipino "padasal" ritual in addition to the exhibit itself. Filipino American artist Derek Dizon curates this show which runs from April 1 – May 10, 2020. 4864 Rainer Ave. S. 206-760-9834.
"Notations" by Seattle Anglo-Indian artist Lucy Garnett explores her multi-national past and current identity in a show of large-scale artworks and build-out installations in the lobby and 3rd and 4th floors of Shoreline City Hall. Also includes sculpture, prints, video and paintings. Her themes include migration, human health, social justice and family dynamics. Presented in collaboration with Seattle Artist League. On view through  March 20, 2020. 17500 Midvale Ave. N. in Shoreline, WA. 206-801-2661.
"The Global Language of Headwear: Cultural Identity, Rites of Passage, and Spirituality" is the title of a traveling exhibit that presents hats and headdresses from a private collection of international headwear. Features hats from Asia, Africa, Europe, the Middle East, and North & South America. Organized by International Arts & Artists, Washington, DC and independent curator Stacey W. Miller. Through April 26, 2020 at the Lightcatcher Building of the Whatcom Art Museum. 250 Flora St. in Bellingham. WA. 360-778-8930 or go to www.whatcommuseum.org.
"Two Views: Photographers Ansel Adams and Leonard Frank" give viewers two perspectives of internment and incarceration of people of Japanese descent in the early 1940s. Organized by The Nikkei National Museum and Cultural Centre in Burnaby, B.C. Canada. On view through  May 17, 2020. At Whatcom Museum's Old City Hall at 121 Prospect St. in Bellingham, WA. 360-778-8930 or try [email protected].
"Coming Home" is a juried group show of young people's art presented by Student Art Spaces. The show will open the evening of March 6 and remain on view through April 1, 2020. Submissions are currently open to Washington State artists ages 13 -24. Submit your work to studentartspaces.com. The work will be shown at Shoreline City Hall on the 4th floor. 17500 Midvale Ave. N. in Shoreline, WA. 206-801-2661.
In Jack Straw's New Media Gallery, multi-media artist Yunmi Her shows "Natural Individuals", an integrated VR and sculpture set up to explore the spatial characteristics of collecting behavior and to explore the lost identity of a collected object. On  view Feb. 14 – March 27, 2020. Artist talk on March 13 at 7pm. A Youth & Family Workshop tbd (email [email protected] for an update). 4261 Roosevelt Way NE. 206-634-0919 or  www.jackstraw.org.
Seattle Asian Art Museum re-opens after a renovation with two new shows. Both open on Sat., Feb. 8, 2020. "Be/longing: Contemporary Asian Art" features 12 expatriate  (or one time expatriate) contemporary artists from Azerbaijan, Iran, India, Thailand, China, Korea, and Japan. Sourced from the museum collection and two private sources, the work reflects their perspectives on Asian heritage "as both insiders and outsiders" in the world. "Boundless Stories of Asian Art" tries to explore the complexity of the populous continent of Asia. Instead of the usual geographic approach, the Asian art curators have organized the displays around 12 common themes such as "worship and celebration, visual arts and literature, and clothing and identity" with a broad division of "spiritual life"-themed art in the south galleries and "material life" in the north. 1400 E. Prospect St. 206-654-3210. In related news, New York-based/Seattle-raised artist Kenzan Tsutakawa-Chinn has a new lighting sculpture in the main atrium  which covers the entire ceiling of the garden court. He is the founder of Studio 1,Thousand, a Brooklyn-based lighting design studio that specializes in complex LED installations. For more info., go to https://www.studio1thousand.com/
"SubSpontaneous" is the title of a collaboration between artists Rob Rhee and Francesca Lohmann. This show intermingles the works of both artists who collaborate with the forces of nature in their sculptural practices. 206-622-9250.  On view through April 19, 2020. Free. Frye Art Museum at 704 Terry in Seattle.
At KOBO at Higo in the CID is the following – Two workshops with author and artist Junko Matsushita take place March 22, 2020. Workshop #1  is "Junko's blouse" and takes place 10 am – 12pm. Workshop #2 is "Junko's shrug" which takes place 2 – 4pm. Participants will be hand-sewing their projects using Japanese fabrics provided by Junko. Class size is limited. Register by March 15 at either KOBO store by calling 206-381-3000. Junko Matsushita started her label "Wrap Around R (robe)" in 2005. Based in Osaka, she has published books on her patterns and is featured in magazines and on television programs in Japan. 602   South Jackson. 206-381-3000. Kobo also has a sister location on Capitol Hill at 814 East Roy St., 206-726-0704.
ArtXchange Gallery has the following – "Sense Us 2020" is a juried group exhibition celebrating the rich contributions that immigrants and their descendants have made to the Pacific Northwest. On view  March 5 – April 25. Special First Thursday openings each month from 5 – 8pm. Some participants include Teruko Nimura, Emi Burns, Fiona Lau, Kamla Kakaria, MiYoung Margolis, Chau Huynh, Carina del Rosario, Malpina Chan, Cheryll Leo-Gwin, Eric Chan, Kim-Ahn Schreiber and many others. The gallery is located  at 512 First Ave. S, 206-839-0327 or [email protected].
L.A.-based Ahree Lee is a multi-media artist working in video, photography, sound and interactive installations.  She has a video installation entitled "Permutations" currently on view in front of the Bill & Melinda Gates Foundation campus at 500 Fifth Ave. N. on view from 7am – 10pm.  This same installation also appears at 4Culture's Storefront Media Gallery space at 101 Prefontaine Pl. S. It will be on view for a year. This is part of Storefront Media Gallery sponsored by 4Culture.  206-263-1588 for details.
Pakistani artist Humaira Abid  who works out of Seattle and Lahore will present new work at Greg Kucera Gallery in a show with fellow sculptor Peter Millet during the months of May & June, 2020. In 2017, she received the Arts Innovator Award from Artist Trust. Seattle-raised artist Roger Shimomura is working on a monumental project one small piece at a time. His new series entitled "100 White Lies" which consists of 100 small 12" by 12" paintings detailing the hypocrisy of American history will make its debut at the gallery in Jan., 2021. Greg Kucera Gallery is located at 217 Third Ave. S. in Pioneer Square. 206-624-0770 or go to www.gregkucera.com.
Asia Pacific Cultural Center has a show every month of a local Asian American artist every month in their gallery. Now on view is the work of  Sun Hui Watkins. On the First Saturday of each month there is a cooking class from a different country of the Asia/Pacific region from 11am – noon. To register and get details, call 253-383-3900.  APCC is at 4851 South Tacoma Way in Tacoma. 253-383-3900 or go asiapacificculturalcenter.org.
Seattle Art Museum has the following –  "Exceptionally Ordinary: Mingei (folkart) 1920-2020".  George Tsutakawa's lovely "Obos 1" wood sculpture is included in this show which expands upon the meaning of folk art. Includes work by artists from Japan, Korea and the U.S. It positions Mingei within a history of crafts and crafts making. On view  through July 11, 2020. Ongoing is "Pure Amusements: Wealth, Leisure, and Culture in Late Imperial China". The "Winter Saturday University Lecture Series" continues with a series of talks on the subject of "What is 'Precious?'" with scholars Yukio Lippit of Harvard on wooden sculpture, Emma Flatt of the University of North Carolina on scent, artist Xiaoze Xie on banned books and others.  The series will explore ways that art objects, relationships, and areas of knowledge have been highly valued in different times and places in Asia. Here is a partial schedule – Feb. 22 has "The Castaway Princess and Other Stories of Japan in the Pacific", Feb. 29 has "Out of the Dark: Banned Books in China" and March 7, "Chaekgeori, Korean Still-life Painting". The series goes on from Feb. 1 – March 28, 2020 at 10am at Seattle Art Museum.   Individual tickets at the door and free for students with ID. As part of the "Asia Talk" series, Judith Lerner from the Institute for the Study of the Ancient World at NYU will give a talk entitled "Travels of the Horn Rhyton, a Uniquely Iranian Drinking Vessel" on Thursday, April 16, 2020 at 7pm at Seattle Asian Art Museum. $10 general, $5 for members and free at the door for students with ID. On the third floor of SAM, tea ceremony demonstrations continue on Third Thursdays at 5:30pm and Third Sundays at 2:30pm.  Free with admission. Go to visitsam.org/performs for details. Seattle Art Museum is located at 1300 First Ave. 206-654-3210 or try www.seattleartmuseum.org.
Artists have been selected for the Storefront Media Gallery's 12th season by 4Culture. Among those selected is Sri Prabha, a multidisciplinary artist originally from Hyderabad, India now based in Florida. The artist asks how our intellectual understandings compare with our emotional responses to scientific discoveries in "Brahama 3", a three channel 1080P video. For details, go to 4culture.org.
Pacific Bonsai Museum shakes up this Japanese tradition with LAB (Living Art of Bonsai), an experimental collaborative for bonsai innovation.  This project is a re-sequencing in the order of influence between the bonsai artist, ceramicist and stand maker. The project kicks off in 2018 and continues through 2020.   A video trailer from a film about this new process can be viewed at http://www.bonsaimirai.com.  For more information, go to http://www.pacificbonsaimuseum.org.  The Pacific Bonsai Museum is at 2515 S. 336th St. in Federal Way, WA. 206-612-0026 for information.
New and recent shows /activities at the The Wing include the following – "Where Beauty Lies" is an exhibit that explores Asian Pacific American's relationship to physical appearance and personal presentation, the history of beauty standards and products, and the ways in which we are redefining beauty.  On view through Sept. 19, 2021. "Woven Together" presents a window into Burma/Myanmar with personal stories reflecting on its history, diversity and perseverance. On view through Nov. 10, 2020. "New Years All Year Round" is the annual look at familial and cultural aspects of the Lunar new year on view through Feb. 2, 2020. "Excluded, Inside the Lines" is on view through Feb. 23, 2020.  It uncovers the history of redlining and the impact on minority communities. "A Dragon Lives Here", part 4 of the ongoing Bruce Lee exhibition series is ongoing. This concluding part hones in on Bruce Lee's Seattle roots and how this region played a key role in shaping Lee and his groundbreaking career. "I Am Filipino" exhibit is ongoing.  Toddler Story Time set for Thursdays at 11am always has events centered around a kid's book and an art activity afterwards.   A new addition to The Wing's daily Historic Hotel Tour is "APT 507" which is the story of Au Shee, one Chinese immigrant woman who helped build Seattle's Chinatown.  Her living room is interactive with objects meant to be felt, opened and experienced.  Carina del Rosario curates an exhibit entitled "Wide Angle/Close up: A Self Portrait of the Asian Pacific Islander American Community" through April 19, 2020. Includes photography, video, and photo-based installations by photojournalists that document the community from the inside out. Set for the George Tsutakawa Gallery. The Museum is located at 719  South King St. (206) 623-5124 or  visit www.wingluke.org.  Closed Mondays. Tuesday – Sunday from 10am – 5pm. First Thursday of each month is free from 10am – 8pm. Third Saturday of each month is free from 10am – 8pm.
Seattle artist Alan Lau (full disclosure, that's me) has a solo show of his paintings at Shoreline Community College Gallery. On view through  March 13, 2020. The gallery is open M – F from 9am – 5pm and closed on the weekends. 16101 Greenwood Ave. N. in Shoreline, WA. 206-546-4101 or email [email protected] for more information.
Tacoma Art Museum has the following – "Immigration Artists and the American West" rediscovers stories and experiences of immigrant artists caught up in the Western expansion. On view through June, 14, 2020. "Places to Call Home: Settlements in the West" gives you representations of American cities throughout their history and development. Includes work by Kenjiro Nomura and Mian Situ. On view through March 1, 2019. Opening on Feb. 22, 2020 is "Forgotten Stories: Northwest Public Art of the 1930s". This show looks at the public art initiatives under the WPA that pulled America out of a depression and gave many artists work   painting murals for the government during the 1930s. 1701 Pacific Ave. 253-272-4258.
The art of Paul Horiuchi is included in a group show entitled "Especially Special: A Celebration of Betty Black and her Collection of Art" as curated by Kathleen Moles. Black was a noted local art collector who supported emerging and noted Northwest artists. On view through  March 15, 2020. The Museum of Northwest Art at 121 South 1st St.  In La Connor, WA. Try [email protected].
The Puget Sound Sumi Artists present: "The World of Sumi", a group show on view March 26 – May 19, 2020. Free reception on Fri., March 27 at 6pm.  Open for viewing for ticket-goers 1 hour prior to an event or by appointment. Held in the Washington Center for the Performing Arts at 512 Washington St. in Olympia.
"Land of Joy And Sorrow: Japanese Pioneers of the Yakima Valley" is an ongoing exhibit that traces the story of the Japanese families who settled in the Yakima valley.  Yakima Valley Museum at 2105 Tieton Dr. in Yakima, WA. 509-248-0747.
The Portland Chinatown Museum has the following –  "Visions of Diana" is the first Portland show of abstract paintings and photographs of Diana Lo Mei Hing. The work illuminates nature in infinite motion and transformation. The artist grew up in China but fled with her family to Italy. In 2015, she moved to Portland. On view through  March 15, 2020. In the permanent gallery is "Beyond the Gate: A Tale of Portland's Historic Chinatowns". 127 NW Third Ave. 503-224-0008 or email [email protected].
Oregon Nikkei Legacy Center has a number of shows that cover Seattle's Nikkei-American history.  "Genji Mihara: An Issei Pioneer", "Unsettled/Resettled: Seattle's Hunt Hotel" and "Original Seattle Japanese Language School and Nihonmachi Restaurant Artifacts".  All are currently on view at 121 NW Second Ave. in Portland. 503-224-1458. For current activities and exhibits, go to www.oregonnikkeilr.org.
The Portland Japanese Garden has the following exhibits – "Spirits Rising: Hiroshima" is a series of photographs taken by Ishiuchi Miyako of clothing worn by victims of the atomic bombing. On view through  March 15, 2020. 611 SW Kingston Ave. in Portland, Oregon. 503-223-1321 or go to japanesegarden.org.
The Jordan Schnitzer Museum of Art located on the campus of the University of Oregon in Eugene has the following – Most people following the visual arts are familiar by now with the paintings/prints by Roger  Shimomura that simultaneously evoke American pop culture, ukiyo-e, internment and American history. But few are equally aware of his career in performance art. A solo show on that phase of his work will rectify that. Entitled "Staging Shimomura" the exhibition will cover his performance art career and is on view from Feb. 29 – June 21, 2020. "Kwang Young Chun: Aggregations" on view through June 28, 2020.  This South Korean artist combines hundreds of paper-wrapped parcels to create sculptural compositions that resemble crystal formations, asteroids of the surface of the moon. "Evocative Shadows: Art of the Japanese Mezzotint" is on view until August 2, 2020. 1430 Johnson Lane in Eugene, Oregon. 541-346-3027.
Portland Art Museum has "Curator's Choice – Japanese Print Acquisitions of the Past Decade" Through April 12, 2020.  New shows coming up include the following – "Objects of Contact – Encounters between Japan and the West" from Feb. 29 – August 29, 2020. "Joryu Hanga Kyokai 1956-1965 – Japan's Women Printmakers"  on view from May 9 – Nov. 8, 2020. 1219 SW Park Ave. 503-226-2811.
The Museum of Anthropology at UBC presents a  group show of 11 artists who have achieved mastery in ceramics. Entitled "Playing With Fire: Ceramics Of The Extraordinary", it includes work by Ying-Yueh Chuang, Brendan Tang and many others. On view through  March 29, 2020. 6393 N.W. Marine Dr. in Vancouver, B.C. Canada. 604-822-5087.
Dr. Sun Yat-Sen Classical Chinese Garden in Vancouver, BC has the following. Artist-in-Residence Lam Wong is joined  by co-curator Steven Dragon. They have put together the first edition of The Canada-China Art exchange for Young Emerging Artists in a show entitled "Investigation of Things." Hosted in collaboration with The Shang Foundation for Art and on view through March 21, 2020.  578 Carrall St. 604-662-3207 or try vancouverchinesegarden.com.
Chinese Cultural Centre Museum has the ongoing exhibit "Generation to Generation – History of Chinese Canadians in British Columbia."  555 Columbia St. Vancouver, BC. 604-658-8880. Admission by donation.
The Dundarave Print Workshop and Gallery presents "The Creative Process: North to South" which features printmakers Karen Nguyen from Canada and Patricia Gaspar from Argentina. March 4 – 29, 2020. 1640 Johnston St. on Graville Island in Vancouver BC Canada. 604-689-1650.
SFU Galleries Audain Gallery has work by Helen Cho in a show entitled "Space Silence" on view through March 14, 2020. 149 Hastings St. in Vancouver BC, Canada. 778-782-9102.
Libby Leshgold Gallery has work by Japanese ceramic artist Masaomi Yasunaga in a show entitled "Empty Landscape" through March 29, 2020. At the Emily Carr University of Art + Design at 520 East 1st Ave. in Vancouver, BC, Canada. 604-844-3809.
Instructor Cheryl Lawrence conducts a Katazome Japanese Textile Workshop March 11 – 15, 2020 at Maiwa East in East Vancouver BC. This art form incorporates elements of printmaking and painting using natural materials of paper, pigments, rice paste and soy milk. $595  class fee. Email [email protected] for complete details.
Gwenessa Lam and Hyung-Min Yoon explore the power of the computer and the internet through multiple mediums and the evolution of meaning across time, countries, and platforms. On view through March, 2020. Art Gallery at Evergreen Cultural Centre at 1205 Pinetree Way in Coquitlam, Canada. 604-927-6557.
Abhisek Mukherjee's show of sculpture entitled "Background for Thoughts" is on view March 4 – 29, 2020. The Gallery at Queen's Park, Centinnial Lodge, Queen's Park in New  Westminister, Canada. 604-525-3244.
Asian Art Museum, San Francisco has the following –On view through March 22 2020 is "Lost At Sea: Art Recovered from Shipwrecks".  On view through April 26, 2020 is "Chang Dai-Chien: Painting from Heart to Hand." "Awaken: A Tibetan Journey Toward Enlightenment" remains on view until May 3, 2020. 200 Larkin St. 415-581-3500.
Berkeley Art Museum has the following – "Brave Warriors and Fantastic Tales: The World According to Yoshitoshi" on view through May 31, 2020. "Divine Women, Divine Wisdom" which celebrates women of South Asia and the Himalayan region on view through May 24, 2020. 155 Center St. in Berkeley, CA. 510-642-0808 or go to [email protected].
"Liquid Circuit" is New York-based artist Tishan Hsu's first museum survey exhibition that traces the artist's key ideas and how they are inspired by the implications of the increasing presence of technology and artificial intelligence and the effects they have on the body and the human condition. Organized by Sculpture Center New York and curated by Sohrab Mohebbi. On view through  April 19, 2020. At the Hammer Museum in Los Angeles. 10899 Wilshire Blvd. 310-443-7000 or try [email protected]. After Los Angeles, the show travels to the Sculpture Center in New York (May 9 – August 12, 2020) and ends at Rose Art Museum at Brandeis University in Waltham, MA. Oct. 23, 2020 – Jan. 10, 2021.
At Nonaka-Hill from Feb. 8 – March 21, 2020 is the work of Sofu Teshigahara. This is a gallery that specializes in contemporary Japanese ceramic artists. 720 N. Highland Ave. in Los Angeles. 323-450-9409 or go to www.nonaka-hill.com.
The work of L.A. artist Takako Yamaguchi is included in a group show "With Pleasure: Pattern And Decoration in American Art 1972 – 1985" which traces this groundbreaking art movement in all media. Through May 11, 2020.  Museum of Contemporary Art, Los Angeles. 250 South Grand Ave. 213-626-6222 or try [email protected].
LACMA or Los Angeles County Museum of Art has the following – The installation artist Do Ho Suh re-envisions the apartment/studio he had when he lived in New York in "Do Ho Suh: 348 West 22nd St" which remains on view through Oct. 25, 2020.  "Fiji: Art & Life in the Pacific" is exhibited through July 19, 2020. "Where the Truth Lies"  The Art of Qiu Ying" is on view through May 17, 2020. This is the first exhibition on this great Ming Dynasty painter ever organized outside Asia. Includes works by his predecessors and teachers and his daughter and followers as work by the man himself.The iconic Japanese artist Yoshitomo Nara known for his naïve figurative work has a retrospective from April 5 – August 2, 2020. 5905 Wilshire Blvd. 323-857-6010.
USC Pacific Asia Museum has the following –Dreams of A Sleeping World" by Oscar Oiwa is on view through April 26, 2020. This Japanese artist from Sao Paulo and now based in New York invites viewers into his immersive environment, a 360 degree dreamscape. It is his effort to waken the paralysis we find ourselves in by the chaos of our times in today's world. On view from March 13 – June 7, 2020 is a group show entitled "We Are Here: Art And Asian Voices in L.A.". Seven female contemporary artists of diverse API heritages living and working in L.A. are included. Artists are Reanne Estrada, Phung Huynh, Ann Le, Ahree Lee, Kaoru Mansour, Mei Xian Qiu, and Sichong Xie.  46 N. Los Robles Ave. in Pasadena, CA. 626-787-2680 or try pacificasiamuseum.usc.edu.
Tatsuo Miyajima has his first solo exhibition in over two decades in the US with "Keep Changing, Connect With Everything, Continue Forever", a presentation of four light-based works. The pieces are silent, vividly glowing objects made from LED numbers and computers technology that evoke profound and infinitive worlds of being, space, and time. On view through  April 19, 2020. Santa Barbara Museum of Art. 1130 State St. 805-969-4364 or go to sbma.net.
Orange County Museum of Art has Season 3 – Six Exhibitions of Works by Contemporary Pacific Rim Artists on view through March 22, 2020. Included in this mix are shows by the following artists. "Eternal Landscape" by Yang Yongliang. Influenced by the Chinese landscape painting tradition, this Shanghai-based artist uses the media of film, photography and virtual reality to create landscapes of the mind. "Effect" is an installation by Robert Zhao Renhui, a Singaporean visual artist that works chiefly with photography but often adopts a multi—disciplinary approach, presenting images together with documents and objects. "A Man, A Monster  And The Sea" by Mulyana. This Indonesian fiber artists works with yarn pom poms and knitted shapes of sewn material to evoke images of Southeast Asian sea life. 1661 W. Sunflower Ave. in South Coast Plaza Village, Santa Ana, CA. 714-780-2186 or try ocmaexpand.org.
The Japanese American National Museum has the following shows  –"Under a Mushroom Cloud: Hiroshima, Nagasaki and the Atomic Bombs" is on view through June 7, 2020. It will include artifacts of "A" bomb victims. "Common Ground: The Heart of Community." This overview exhibit of Japanese American history is ongoing. On view through March 29, 2020 is Taji Terasaki's installation entitled "Transcendients: Heroes At Borders".  100 N. Central Ave. in Los Angeles. 213-625-0414 or go to http://www.janm.org.
The Freer/Sackler Gallery on the Smithsonian Mall has the following. "Xu Bing: Monkeys Grasp for the Moon" is ongoing. "Sacred Dedication: A Korean Buddhist Masterpiece" puts on view a thousand-year old guilded wood statue of the Korean bodhisattva of compassion through March 22, 2020.  202-633-1000 or go to FreerSackler.si.edu for details.
The Metropolitan Museum of Art has the following –      "Kyoto: Capitol of Artistic Imagination" is on view through August 2, 2020.  "Sita And Rama: The Ramayama in Indian Painting" remains on view through August 23, 2020. 1000 Fifth Ave. New York, New York. Go to metmuseum.org for details.
The Rubin Museum of Art has the following shows – A multi-media group show entitled "Measure Your Existence" curated by Christine Starkman features work by Felix Gonzalez-Torres, Shilpa Gupta, Teh Ching Hsieh, Meiro Koizumi, Lee Mingwei and Taryn Simon.  The show closes on August 20, 2020. "Shahidul Alam: Truth to Power" is a new show by this Bangladeshi photographer who looks at the global South. On view through May 4, 2020. "Charged with Buddha's Blessings – Relics from an Ancient Stupa" is on view through June 8, 2020.  "Masterworks of Himalayan Art" is on view through March 23, 2020. "Gateway to Himalayan Art" is on view through June 8, 2020. "Shrine Room Projects" includes work by Shiva Ahmadi, Genesis Breyer _-Orridge & Tsherin Sherpa up until Sept. 14, 2020 and "The Tibetan Buddhist Shrine Room" on view until Sept. 27, 2021. 150 W. 17th St. New York, New York.  212-620-5000×344 or go to rubinmuseum.org.
The Japan Society has the following –  Opening March 6 and remaining on view through June 14, 2020 is "Boro Textiles: Sustainable Aesthetics". This exhibit looks at Boro ("rags" or "tatters")  which are patchwork textiles hand-pieced by peasants in Tohoku. The inability to cultivate cotton in the North necessitated the practice of stitching remnants of used fabric into utilitarian items. From the collection of  Dr. Chuzabura Tanaka on loan from the Amuse Museum. Augmenting the exhibit are portrait photographs of people wearing the clothes by Kyoichi Tsuzuki and contemporary examples by Susan Cianciolo and Christina Kim. 333 East 47th St. New York, New York. 212-263-1258.
The Museum of Chinese in America has the following –  "Gathering, Collecting And documenting Chinese American History" and "The Chinese Helped Build the Railroad – The Railroad Helped Build America". Both shows are on view through March 22, 2020. 215 Centre St. New York, NY. 855-955-MOCA or go to mocanyc.org.
MoMA (Museum of Modern Art) has a comprehensive renovation which will include more ethnic artists and women of color when it re-opens in October 21, 2019. It includes a show of Haegue Yang's kinesthetic sculptures. 11 West 53rd St. Go to moma.org for details.
The Asia Society Museum in New York presents the following – "The Art of Impermanence: Japanese Works from the John C. Weber Collection and Mr. And Mrs. John D. Rockefeller 3rd Collection" on view through April 26, 2020. To find out more, go to AsiaSociety.org/NY. 725 Park Ave.  New York City, New York. 212-327-9721 or go to www.asiasociety.org for more details.
"To See From A Distance" is the first major retrospective on the work of Chinese artist Guo Fengyi.  Her intricate ink drawings reference Chinese mythology, traditional medicine and the philosophy of the I Ching.  Through May 3, 2020. At the Drawing Center at 35 Wooster St. in New York City. +1-212-219-2166 or try www.drawingcenter.org.
The work of Roger Shimomura is included in a group show at the American Academy of Arts And Letters. Every year, over 100 artist  nominees working in various media are submitted by members to be represented in this show. Art And Purchase Awards will be selected from this exhibition and works will be donated to museums across the country. On view during  March/April of 2020. 633 West 155th St. 212-368-5900..
Yto Barrada and Michael Wang have site-specific installations at The Lower Manhattan Cultural Council on Governor's Island starting on Sept. 19, 2019.  Go to lmcc.net for details.
The Noguchi Museum has the following –  "Noguchi: Body-Space-Devices" looks at how the artist implicates his body in his work.  Artist Brendan Fernandes has made a version of Noguchi's non-rocking rocking chair that Noguchi created for Martha Graham's "Appalachian Spring" dance piece.  Dancers will perform with the chairs and Noguchi's sculpture throughout the exhibition. On view through May 3, 2020. "The Sculptor & The Ashtray" looks at how Noguchi approached this utilitarian object for smokers on view through August 23, 2020. Also his "Composition for Idlewild Airport" looks at his design for this New York landmark also through August 23, 2020. "Unfolding Noguchi" looks at his lamps and furnishings on view through May 24, 2020. And finally "Noguchi Body-Space Devices" will be on view through May 3, 2010. 9 – 01 33rd Rd, Long Island City, NY. 718-204-7088.
The work of multi-media artist Yayoi Kusama is as popular as ever. At age 90, she continues to work and produce new work at an amazing rate. "Kusama: Cosmic Nature" is a mix of old and new works that will be displayed inside and out at the New York Botanical Garden in the Bronx. It will be on view starting May 2, 2020 and will be up for six months. It will include a monumental site-specific pumpkin sculpture as well as a display of her sketchbooks. Tickets for this go on sale in January.
The Asia Society of New York has announced that over 40 artists and collectives from 19 countries have been selected to participate in the inaugural Asia Society Triennial, a multi-venue festival of art, ides and innovation entitled "We Do Not Dream Alone". The exhibition will be open to the public on June 5, 2020 at Asia Society Museum as well as multiple locations throughout the city. Co-curated by Boon Hui Tan Vice President of Global Artistic Programs and Director of Asia Society Museum, and Artistic Director of the Triennial and Michelle Yun, Senior Curator of Asian Contemporary Art and Associate  Director of the Triennial. Nearly half of the artists of various disciplines have been commissioned to create new work, many of which are site specific. A range of interdisciplinary programs will be held in conjunction with the Asia Soceity Triennial ranging from film, music and food and will address the global challenges of refugees and migration, artificial intelligence and environmental concerns. The Asia Society is located at 725 Park Ave. For details on exhibition events, go to AsiaSociety.org/triennial.
The Freer Gallery on the Smithsonian Mall in Washington D.C. has a major exhibition entitled "Hokusai: Mad About Painting" on view through Nov. 8, 2020. The museum has one of the largest collections of this artist in the world including paintings, sketches and drawings. So vast is this collection that the exhibition will be rotated mid-course. Jefferson Drive at 12th St. S.W.
The Sackler Gallery on the Smithsonian Mall in Washington D.C. has two major exhibitions worth noting. Tomioka Tessai was one of the last great Japanese brush painters whose career crossed over into the 20th century but his roots go back to the great Chinese literati painting tradition. "Meeting Tessai – Modern Japanese Art From the Cowles Collection" is on view from March 28 – August 2, 2020. Now on view through Oct. 25, 2020 is "Age Old Cities: A Virtual Journey from Palmyra to Mosul". Now that the Middle East, long thought of as one of the cradles of civilization is in the news everyday, it couldn't be a more timely occasion to take note of this exhibition. Visitors will journey to three cities in the Middle East – Palmyra and Aleppo in Syria and Mosul in Iraq in this virtual exhibition organized by the Arab World Institute, Paris and created in collaboration with UNESCO. The exhibit includes large-scale projections and digital reconstructions of iconic monuments and ancient structures under danger from war. 1050 Independence Ave. S.W. in Washington, D.C.
Museum of Fine Arts Boston has the following – "Conservation In Action: Japanese Buddhist Sculpture In a New Light" is a rare look at the conservation of seven Buddhist sculptures.  On view through June 30, 2020. "Weng Family Collection of Chinese Painting: Family And Friends" celebrates a landmark gift of Chinese art and is on view through August 9, 2020. 465 Huntington Ave.  Go to mfa.org or call 617 -267-9300.
"Power in S.E. Asia" is ongoing.  "Sacred Dedication: A Korean Buddhist Masterpiece" is on view through March 22, 2020.  "Resound: Ancient Bells of China" through July 5, 2021. All at the Freer/Sackler Gallery on the Smithsonian Mall in Washington D.C.
The Peabody Essex Museum has the following –   "Mega City: India's Culture of the Streets" on view through June 28, 2020. On view through May 17, 2020 is "A Lasting Memento: John Thomson's Photographs Along the River Min".  Scotsman John Thomson is considered to be one of the first photographers to document East and South Asia. This exhibit takes us back to an earlier time. It features more than 40 landscapes, city views and portrait studies.  The show is complemented by a selection of photographs by contemporary artist Luo Dan who was inspired by Thomson to undertake his own journey in Southwestern China in 2010. 161 Essex St. in Salem, Massachusetts. 816745-4876 or go to pem.org.
"Cutting Edge: Noguchi's Aluminum Monolith Sesshu, 1958" is the artist's sculptural take on a Sesshu ink painting landscape on a  long horizontal scroll. It's shown along with paper maquettes of proposed sculptures. On view through March 15, 2020. Wadsworth Atheneum Museum of Art at 660 Main St. in Hartford, CT. Go to thewadsworth.org for details.
The Minneapolis Institute of Art has the following –  "Abstract Prints by Hagiwara Hideo" through Dec. 6, 2020. "Nguyen Trinh Thi: Fifth Cinema" through March 1, 2020. "Yoshitoshi: Master Draftsman Transformed" on view through April 12, 2020. "Romance And Heroism: Theatrical Robes from Late Imperial China" through April 19, 2020. "All Flowers in Bloom: Porcelains from China's Last Dynasty" through May 17, 2020.  "Minature Snuff Bottles from The Minneapolis Institute of Art on view through June 7, 2020. Ai Weiwei's "Safe Passage 2016" makes its U.S. debut as part of the exhibition "When Home Won't Let Us Stay: Art And Migration" on view from Feb. 23 – May 4, 2020. The installation is comprised of thousands of discarded lifejackets, worn by refugees making the dangerous journey from Turkey to Greece. For this local presentation, the museum commissioned artworks highlighting stories of home and the difficult journey of immigrants. Minneapolis Institute of Art.  2400 Third Ave. S. Call toll free at 888-642-2787.
The Art Institute of Chicago presents the following –  "Noda Tetsuya: My Life in Print" is on view Feb. 29 – June 21, 2020. "Diary" is a series the Japanese printmaking pioneer has continued on a daily basis up to the present and now numbers over 300. This exhibit marks the largest presentation of the artist's work in North America. There will be a talk about the artist led by educator Nancy Chen on March 11, 2020 at noon. 111 South Michigan  Ave. /159 E. Monroe in Chicago. 312-443-3600.
The late Nam June Paik  was known as the "Father of Video Art" and a recent retros  decade overview of his multi-media career will be on view from Nov. 7, 2020 – Jan 17, 2021 at the Museum of Contemporary Art in Chicago. 220 E. Chicago Ave. 312-280-2660.
"Form is Emptiness, Emptiness is Form" is a show of wooden and metal works by Miya Ando. The materials are manipulated in such a  way by the artist that it asks the viewer to consider time and the pervasiveness of change. On view through March 29, 2020. At Asia Society Texas located  at 1370 Southmore Blvd. in Houston, Texas. 712-496-9901.
"Waking Dream" includes major works by Do Ho Suh and Christian Marclay on view through 2022.  Suh's work is a major sculptural recreation of the apartment he rented when he lived in London.  A piece by Maya Lin is also on view. At Ruby City located at 150 Camp St. in San Antonio, Texas. Go to Rubycity.org.
The Nikkei National Museum & Cultural Centre in Burnaby BC Canada has undergone some renovation and restructuring and presents a show entitled "Nikkei" which juxtaposes archives and artworks and includes stories, personal items, digitized "heritage" film footage and Cindy Mochizuki's video installation to examine what it means to be a person of Japanese ancestry.  6688 Southoaks Cres. 604-777-7000. Go to centre. nikkeiplace.org.
The Tate St. Ives has a show by Haegue Yang from May 22 – Sept. 6, 2020.  Porthmeor Beach, St. Ives, Cornwall, England. Go to tate.org.uk for details.
Japan House in London has the following – "WOW – City Lights and Woodland Shade, Digital Art Encounters with Japan" through March 23, 2020. 101-111 Kensington High St. 44-20-3972-7100 or try [email protected].
"The Appeal of Ko-Imari And Nabeshima" is on view through March, 2020. These two decorated styles of ceramics cherished by powerful rulers that eventually gained global impact are explored. Idemistsu Museum  of Arts, Moji. 2-3 Higashi-Mina Tomachi, Mojiku, Kitakysushu, 801-0853 Fukuoka Prefecture, Japan.
National Museum of Modern Art, Kyoto has the following – "100 Years of Czech Design" from March 6 – May 10, 2020.  Go to www.momak.go.jp/english/.+81(0)  3 – 5777-8600 (Hello Dial).
After four years of reconstruction, the Artizon Museum of Art (formerly Bridgestone Museum of Art) has reopened. Their first show "Inaugural Exhibition, Emerging Artscape: The State of Our Collection" is on view but more importantly, Japanese artists who worked in the Western oil painting tradition. 1-7-2 Kiyobashi, Chuo-ku, Tokyo near Tokyo Station.  03-5777-8000.
"Color Magic: From the Taguchi Collection and Ando Collection" on view through March 22, 2020. Based on color and form and drawn from two major collections of this museum.  The Museum of Fine Arts, Gifu.4-1-22, Usa, Gifu, Gifu Prefecture, Japan. +81 58-271-1313.
The National Museum of Modern Art Osaka presents  "Impossible Architecture – The Architects' Dreams" which looks at designs by architects that somehow for some reason never got built. Through March 15, 2020. "Collection: The Aesthetics of Contemporary Japan" is on view through March 15, 2020.  4-2-55 Nakanoshima, Kita-ku, Osaka. Go to nmao.go.jp for details.
The Museum of Oriental Ceramics has the following –   "Japanese Bamboo Art from New York: The Abbey Collection, Gifts to the Metropolitan Museum of Art" is on view through April 12, 2020.  1-1-26 Nakanoshima, Kita Ku in Osaka. 81-06-6223-0055 or go to moco.or.jp.
Tokyo Opera City Art Gallery has the following shows.   Now through March 22, 2020 includes shows by Kazuo Shiraga, "Pietas" group show and "Ulala" by Imai.  3-20-2 Nishi-Shinjuku, Shinjuku-ku, Tokyo, Japan. +81- (0)3-5353-0756.
National Museum of Modern Art, Tokyo has the following – A show by Peter Doig, an internationally recognized Scottish painter of landscapes and portraits. 1-1 Kitanomaru-koen,  Chiyoda-ku, Tokyo, Japan. +81 3-5777-8600.
The Mori Art Museum has the following – A show tentatively entitled "The Future And Arts" is set for Nov. 19, 2019 – March 29, 2020.  T106-6108, Tokyo, Minato City, Roppongi, 6 Chome – 10-1 Japan. +81-3-5777-8600.
"teamLab*Borderless" houses works by this hi-tech art group in the Mori Building Digital Art Museum.  With computer-graphic projections of animals, plants and objects from nature to light sculptures and a forest of lamps.  On view indefinitely. Aomi Station, Odaiba, Tokyo, Japan. 03-6406-3949.
The National Museum of Modern & Contemporary art in Seoul has the following – "The 50th Anniversary Exhibition of MMCA – Lee Kyung Sung Retrospective" through March 29, 2020. 30 Sam Cheong-ro  Samcheong-dong, Jongnogo, Seoul. +822 3701-9500.
"Everyday Extraordinary" is a solo show of new work by Suhasini Kejriwal which includes her responses to spending time in the Chitpur neighborhood of north Kolkata and the Chor Bazaar area of Mumbai. The work communicates the poetry of the everyday and the interactions of the people living there. Her techniques  synthesizes the disciplines of painting, drawing, photography and collage into a cohesive whole. Besides the wall size works, there are new sculptures she has created in collaboration with the Collective Hamdasti in Chitpur. Through March 14, 2020. Nature Morte Gallery at A-1, Neeti Bagh, New Delhi-110049 India. +91 11 40687117.
Performing Arts
Seattle's Book-It Repertory Theatre brings to the stage "The Turn of The Screw" by Henry James. Adapted by Rachel Atkins and directed by Carol Roscoe with Nabilah S. Ahmed and Rheanna Atendido in the cast. This classic ghost story tells the story of a young governess in charge of taking care of two angelic children. Soon, however, two sinister and supernatural specters cast a shadow over the trio. Through March 8, 2020. At The Center Theatre located at 305 Harrison in Seattle Center near the Armory. 206-216-0833 or try [email protected].
The Triple Door has the following –  Plan ahead for two evenings with Japanese jazz piano stylist Hiromi who comes to the club on March 9 & 10 at 7:30pm. 216 Union St. 206-838-4333 or try thetripledoor.com
Desdemona Chiang directs a new take on this children's classic "Snow White" by Greg Banks. Through March 15, 2020 at Seattle Children's Theatre. 201 Thomas St. 206-441-3322.
The 35th Seattle Improvised Music Festival continues at the Chapel Performance Space. March 12, 2020 at 8pm has a Quartet with drummer Thomas Campbell and a Quintet that has Rebekah Ko on percussion, Crow Nishimura on voice and others. Featured solo artist is Ben Goldberg. March 13 program at 8pm has a Trio with Rebekah Ko and others, a Quartet led by Galin Hebert and solo sax with Sam Newsome. March 13 program at noon is a free event entitled "SAND: Sessions in Drone". March 14, 2020 at 3pm is "Dance + Music" curated by dancer/choreographer Lorraine Lau featuring local dancers and musicians. 4649 Sunnyside Ave. N.  Go to [email protected].
Bob Antolin's jazz group, "Comfort Food" performs  in an "Urgent African Fundraiser" on Sunday, March 15 at 7pm. Columbia City Theater at 4916 Rainier Ave.. For more information, go to reverbnation.com/comfortfood.
Future Seattle Opera productions include the following –  "Charlie Parker's Yardbird – The Man Behind A Legend" with music by Daniel Schnyder and libretto by Bridgette A. Wimberly.  Plays March 4, 6 & 7, 2020. Kelly Kuo will make his Seattle Opera debut as conductor for the orchestra for this production. Andrew Stenson will play the role of Beppe in "Pagliacci". Seattle Opera brings a production of "Pagliacci & Cavalleria Rusticana" to stage in August. Small town lives are turned upside down when a returning soldier and a vengeful clown upset provincial norms, resulting in shocking crimes of passion. Guy Montavon's new production transforms the public square of Southern Italy into a mask-filled arena with eye-catching costumes. August 8, 9, 12, 15,16,  19, 21 & 22, 2020. And looking even further ahead, Seattle Opera brings the modern opera "Flight" with music by Jonathan Dove and a libretto by April De Angelis to the stage Feb. 27 28, March3, 6,7,10, 12, & 13, 2021. David Dq Lee performs the role of the Refugee, Karen Vuong takes on the role of Tina and Viswa Subbaraman makes his Seattle debut as conductor. Production Designer on this opera will be David Murakami. The opera is based on actual events and tells the story of a stateless refugee's 18-year forced residency at a European airport as an omniscient air traffic controller watches over a departure longue bustling with a varied cast of characters. An excitable couple on vacation, an Eastern European diplomat and his wife and a mysterious older woman all wait out a storm as the refugee plays cat and mouse with an immigration official. Available  for purchase as part of a season ticket package. Individual tickets go on sale May 27, 2020. For complete details on all the shows, go to seattleopera.org.
Seattle Symphony begins a new season under new conductor Thomas Dausgaard.  Some highlights include the following –The annual "Celebrate Asia" concert has Tianyi Lu conducting and Gaurav Mazumdav on sitar and Conrad Tao on piano in a  program of compositions by Huang Ruo, Reena Esmail, Conrad Tao and Gershwin. Sunday, March 8, 2020 at 4pm. Eun Sun Kim conducts the orchestra with Elisa Barston on violin in Tchaikovsky's "Symphony No. 8" on March 12 & 14 with a special "Tchaikovsy Untuxed" concert on March 13. For lovers of the Joe Hisaishi composed soundtracks to the films of Hayao Miyazaki, look no further. "Joe Hisaishi Symphonic Concert: Music From The Studio Ghibli Films of Hayao Miyazaki" comes to Benaroya Hall April 9 – 11, 2020.  Pianist Aimi Kobayashi participates in "Bach Fest 1" on May 21 with conductor Ryan Bancroft and fellow pianist Alexandra Dovgan. All concerts at Benaroya Hall in downtown Seattle. 200 University St. Go to seattlesymphony.org for details or call 206-215-4747.
Named in honor of Seattle philanthropists James & Sherry Raisbeck who donated money to transform the former Soundbridge at 200 University across from SAM into a state of the art immersive environment for inventive performances and ideal for education programs and community engagement, the building is now called Octave 9:Raisbeck Music Center.  Some highlights from their innovative concert and educational programming include the following – On April 24, 2020 at 7:30pm, Hannah Lash & Hub New Music join forces to present music for flute, clarinet, violin, cello and harp. A new composition by Takuma Itoh will be performed.
Lee Yang and Jose Aboaang are in the cast of George Bernard Shaw's "Saint Joan", an upcoming production of Arts West directed by its artistic director Mathew Wright on stage from March 12 – April 5, 2020. The company has also announced their new 2019/2020 season entitled "Agents of Change" which looks at revolutions and the people who participate in them.  The prolific and talented playwright/director/actress Sara Porkalob returns with a new play and a world premiere for the new season. "Alex and Alix" looks at the unseen forces that shape the way we remember love and a moving meditation on memory, trauma and healing. Two women in love and one name. Set for April 30 – May 24, 2020. Learn more details about the entire new season at artswest.org.  ArtsWest is located in West Seattle at 4711 California Ave. SW.
Café Nordo has already announced their upcoming 11th season entitled "Where The Tea Party Never Ends" and early memberships are available.  Come watch as they spin their interesting mix of original theatre, music and cuisine tailored to fit the theme of each production.  The ever prolific Sara Porkalob is back with "The Angel in the House" now through March 15, 2020. She wrote and directed this piece that's a Victorian thriller with corsets, blood, revenge and cake.  "Night Parade: The Ghost Forest" takes place June 13 – July 21, 2020. Conceived of and Directed by Tom Dang and written by Kendall Uyeji. Take a dive into Japan's Aokigahara Forest near Mr. Fuji, famous for suicides. When a Western blogger mockingly posts a photo of a suicide on social media, he is spirited away by ghosts and demons of that forest.  Café Nordo is at 109 South Main. Go to www.cafenordo.com to find out more about their new season and how you can get tickets. APCC is at 4851 South Tacoma Way in Tacoma. 253-383-3900 or go to apcc96.org.
Since 1994, The 5th Avenue Theatre's Adventure Musical Theatre Touring Company has brought the wonder and joy of live musical theater to students (grands k-8) throughout Washington State. Productions are created by local composers and writers and designed to incorporate standards-based educational content. This year the company will bring "Baseball Saved Us' to more than 120 schools in the Northwest. Based on the award-winning children's book by Seattle author Ken Mochizuki, the plot follows the journey of a young Japanese American boy who along with his family is imprisoned in an incarceration camp by government decree. After the attack on Pearl Harbor, 120,000 people of Japanese descent were forced to leave their homes on the West Coast taking only what they could carry and imprisoned behind barbed wire. There will be several performances of this play. All performances are free. The remaining schedule is as follows.  Thursday, March 5 at 6pm at Museum of History and Industry located at 860 Terry Ave. N. in Seattle. Saturday, March 14 at 3pm. University Heights Center at 5031 University Way in Seattle. Saturday, April 25 at 11am at Nisei Veterans Committee at 1212 South King St. in Seattle. Saturday, May 2 at 2pm at The Museum of Flight (free with admission to the museum) at 9404 E. Marginal Way S. in Seattle. Saturday, May 9 at 10am at Wing Luke Museum (free with admission to the museum) at 719 South King St. in Seattle. The cast includes Jason Bui, Laura Dux, Terry Kitagawa, Sage Suzerris and Cole Zieser. Aaron Jin is the touring music director and Cori Campbell is the Adventure Musical Theatre tour manager.
Live Nation presents Hayley Kiyoko's "I'm  Too Sensitive For This X – North American Tour 2020" at Showbox Sodo on March 8, 2020 at 8pm. 1700 1st Ave. S. 206-652-0997.
Flute 'n Feather Dance Company and Love to Share Foundation America present  "Sri Thyagaraja – Ragam, Thanam, Pallavi – An Arabesque of Sublime Devotion", an Indian Classical dance ballet at Renton IKEA Center for Performing Arts on March 15, 2020. This production brings together performers and dancers from various parts of the country specializing in different Indian classical dance forms. Proceeds will benefit free medical facilities in rual South Inida. Tickets at https://trtpseattle.brownpapert9ickets.com. Email [email protected] for details.
"Pakistan Another Perspective" is the title of a talk by motorcycle traveler Dionne Haroutunian as presented by the Friends of Asian Art Association. Join Haroutunian as she shares her Pakistan adventures through days of high desert dirt-riding at "high speed" on the Karakoram Highway to the Chinese border on the "Road of Death" and everywhere else in-between. On March 15, 2020 at Skyline Retirement Center on Capitol Hill at 2pm. Members are $15 and non-members, $20. Limited free parking available (Enter garage on Columbia St. between 8th & 9th Ave. Park in "Staff Permit" or "Visitor" parking spaces.)  725 Ninth Avenue. To register, go to https://www.friendsofasianart3.org.
The Freehold Theatre Lab/Studio newly moved to the CID  is offering a spring quarter full of classes in acting, playwriting, improvisation etc. A Spring 2020 Class Sampler is set for March 18, 2020. 206-323-7499.
The Showbox presents Dabin in his "Into The Wild" Tour on Sat., April 4, 2020 at 9pm.  206-618-3151 or go to www.showboxpresents.com. This JUNO nominated music producer/instrumentalist from Toronto presents an evening of electronic music. The Showbox at 1426 – 1st Ave  in downtown Seattle.
"First Sundays" is the title of a concert series of jazz and classical music held at Bainbridge Island's Waterfront Park Community Center from January through spring. Concerts start at 4pm. On April 5, former Puget sound resident Frank Huang returns from Ohio to perform a classical piano concert. 370 Brien St. SE on Bainbridge Island. For details on the whole series, go to firstsundaysconcerts.org.
The Meany Center For The Performing Arts has announced their 2019/2020 season. Some performers include the following – David Finckel & Wu Han perform with Philip Setzer in a program of Beethoven, Shostakovich and Mendelssohn on Mon., May 18, 2020 at 7:30pm.  Concert pianist George Li plays a recital of Haydn, Schubert, Ravel and Schumann on Wed., April 19, 2020 at 7:30pm. Meany Center is located on the Seattle campus of the University of Washington. 206-543-4880 or go to meanycenter.org.
The Wind Ensemble with Donna Shin on flute prepare for a Korea tour with a concert on Thursday, March 12 at 7:39pm. 7:30pm.  Kathryn Alvord Gerlich Theater at Meany Hall. Go to music.washington.edu for details.
Caracol Productions presents  the following – "Model Minority – An Asian Womxn Comedy Show"  on April 25, 2020 at 7pm at Columbia City Theater. Go to www.caracolcreative.com/comedy-shop for tickets and details.
Indian virtuoso percussionist Zakir Hussain comes to Seattle for his annual concert with Kala Ramnath and Jayanthi Kumaresh on March 28, 2020.  Presented by STG. For details, try stgpresents.org/season or call 206-812-1114.
The Edmonds Center for the Arts has the following – The International Guitar Night celebrates their 20th Anniversary Tour with a stop here on Wed., March 4, 2020 at 7:30 pm. Hawaiian slack key master Jim Kimo West is part of this group of global guitar luminaries.  "Masters of Hawaiian Music" brings guitar wizards George Kahumoku Jr., Nathan Aweau and Jeff Peterson in an evening of music from the islands. Set for March 21 at 7:30pm. South Korea's acclaimed Brush Theatre present a performance piece entitled "Yao Yao" which tells the story of a father who must go to work and the child left at home who wants him to stay. The troupe introduces a magical world of adventure and discovery with a playful blend of reality and imagination using screen art technology and live music. Part of the Edmonds  Center for the Arts Education Matinee Series. On March 31 at 10am. For schools wishing to reserve tickets, contact [email protected] or call 425-275-9485.  ECA is located at 410 – 4th Ave. N. in Edmonds, WA. Info # is 425-273-9595.
"Asian Arts in Action" is a series of Asia-related performances and visual artists' demonstrations presented by Seattle Art Museum throughout the year. Eurasia Consort performs a program entitled "The Wind in the Pines" on March 22, 2020 at 2pm in Seattle Asian Art Museum's Stimson Auditorium. Founded by Tomoko Sugawara and August Denhard, this group presents music of the Silk Road, past and present. Music in this concert includes new compositions by Alice Shields and Bun-Ching Lam and music from the Tang Dynasty discovered in the Mogao Caves in Dunhuang, China. On April 10 at 7pm and April 12 at 2pm, Tasveer presents a new production of poignant stories using Eve Ensler's "Vagina Monologues" as an inspiration. Narrated by South Asian women as part of Tasveer's 15th Annual Aaina Festival. Held at Seattle Asian Art Museum's Stimson Auditorium. May 14 at 6:30pm is "Makers' Night" which takes place in the Seattle Asian Art Museum Education Studio. This is the beginning of a new summer series of monthly sessions for adults held on the 2nd Free Thursday evenings in sessions led by rotating artists. This session is led by  artist Juliet Shen who shares his personal videos of flowing water in northwest rivers and shorelines that inspire her experiments with ink on paper. Technique will emphasize using brush and ink to interpret from memory the lively contradicting movements of water currents observed in the videos. 206-654-3210 or try visitsam.org/tickets. To stay up to date on SAM news, try the website, visitsam.org and select "Gardner Center".
Friends of Asian Art and Jade Guild present "Chinese Opera", a special program on this ancient performing art form with Allen and Judy Chen. The talk will cover the use of facial makeup and costumes, music and instruments, body movements, symbolic gestures and a short live performance. Free to all but pre-registration is required. April 5 at 1pm. Seattle Asian Art Museum in Volunteer Park. Free parking available. Go to [email protected] to register. Made possible by a Robert Chinn Foundation Grant.
Emerald City Music stages a number of concerts in the Puget Sound area.  A program entitled "What You Are To Me" is a landmark collaboration between three national arts organizations. This season finale features a world-premiere by Philadelphia-based composer Patrick Castillo with three unique gems of the chamber music library. Performers are Kristin Lee and Sean Lee on violins, Dmitri Atapine on cello and Hyeyeon Park and Gloria Chien on pianos. Friday, May 1, 2020 at 8pm at 415 Westlake in Seattle  AND Sat., May 2, 2020 at 7:30pm at Minnaert Center in Olympia. 206-250-5510 or go to emeraldcitymusic.org for details.
Tacoma Arts Live presents a play entitled "Cowboy vs Samurai" by Michael Golamco June 4 – 21, 2020 at Theatre On The Square at 915 Broadway. The story is about a quartet of searching lovers who confront some Asian stereotypes of Ango America along with the self-image struggles of Asian Americans themselves, all the while trying to connect as whole people. 253-591-5894.
Olympia Symphony performs Beethoven's Emperor Concerto with New York-based pianist Angie Zhang on March 15, 2020. On April 19, 2020 at 3pm, the Olympia Symphony returns with a program entitled "Da-Da-Da-Daaaah!" with Kristin Lee as guest soloist on violin performing Barber's Violin Concerto.  Washington Center for the Performing Arts at 512 Washington St. SE in Olympia. Try [email protected] for tickets.
The Changmu Dance Company from South Korea has transformed Korean dance through innovative choreography with poetry and its mastery of traditional forms.  They make their Portland debut on Wed., April 15, 2020 at 7:30pm. Arlene Schnitzer Hall. 503-245-1600 for tickets.
Santa Fe Opera presents a new adaptation of David Henry Hwang's "M. Butterfly" as an opera in this world premiere.  Music by Huang Ruo and libretto by the playwright. Set for August of 2020. Stars Kang Min Justin Kim, David Bizic and Hera Hyesang Park. Musical conductor is Xian Zhang.  301 Opera Drive in Santa Fe, New Mexico. 1-800-280-4654.
Seattle jazz musician Bob Antolin has been nominated for two 2020 Golden Ear Awards given out by Earshot Jazz as voted on by local area jazz fans and performers. He is nominated in the category of "NW Jazz Instrumentalist of the Year" and his band Comfort Food for "Alternative Jazz Group of the Year". Congratulations, Bob! Awards will be given out on March 9, 2020 at the Royal Room. You can vote online at earshot.org, by email to [email protected] or by mail to Earshot Jazz, 3417 Fremont Ave. N. # 221, Seattle,WA 98103.
Eun Sun Kim made history by becoming one of the first female conductors hired by a major musical organization when she was hired  by San Francisco Opera. Now Music Director Designate Kim will open San Francisco Opera's 2020-21 season with a gala concert featuring Albina Shagimuratovas and Pene Pati in September. In the same month she leads a new production of Beethoven's "Fidelio" from Sept. 12 – Oct. 1, 2020. This monumental work of the composer's only opera of love and liberty triumphing over corruption gets an insightful new staging by Director Matthew Ozawa. This American director's father was born in a Japanese American internment camp during WWII so the opera is appropriately set within a government holding facility. San Francisco Opera is located at 301 Van Ness Ave. 415-864-3330 or try sfopera.com.
Baruch Performing Arts Center will present a work-in-progress presentation of "Siachen" April 20 – May 2, 2020 at Baruch Performing Arts Center in New York. The play is by playwright Aditya Rawal, a writer and actor from Mumbai, India. The story revolves around a post between Pakistan and India where three Indian soldiers wait for a helicopter rescue that shows no sign or arriving. For tickets/info., go to https://ci.ovationtix.com/1091/production/1014637.
The world premiere & Geffen Playhouse commission of Qui Nguyen's "Revenge Song – A Vampire Cowboy's Creation" is currently on stage through March 8, 2020 at the Geffen Playhouse in Los Angeles. It is directed by Robert Ross Palmer  and features Noshir Dalal, Beth Hawkes, Tom Myers, Margaret Odette, Amy Kim Waschke and Eugene Young in the cast. The play is inspired by the true life story of Julie d'Aubigny, a 17th century French woman whose flamboyant lifestyle became the subject of gossip and legend within her own time. Qui Nguyen is the author of the plays "Vietgone" and "Poor Yella Rednecks." Nguyen is preparing an off broadway production of "Poor Yella Rednecks" and working on a film project for Disney. 10886 Le Conte Ave. in Los Angeles. 310-208-5454  or try geffenplayhouse.org.
Film & Media
Kelly Reichardt's latest film "First Cow" centers on the friendship between a frontier cook and a wandering Chinese man on the run who hatch a plot of frontier entrepreneurship in 1820's Oregon territory. Orion Lee stars as the Chinese man and John Magaro stars as his Caucasian friend. Opens March 20, 2020. Masaaki Yuasa's ("The Night is Short, Walk on Girl") latest anime feature entitled "Ride Your Wave" tells the story of a surfer girl in small-town Japan who falls in love with a fireman who rescues her from an apartment fire only to lose him in a  tragic accident. But his image keeps appearing in the water haunting her. Opens March 20, 2020. "Pom Poko" is the late Isao Takahata's anime classic about magical raccoons who can shape-shift into practically any object. Opens March 28, 2020. SIFF Cinema Uptown. 511 Queen Anne Ave. N. Go to siff.net for details.
The Northwest Film Forum presents the following – The Annual Children's Film Festival screening annually since 2005 returns with an all new line-up of films from over 40 countries Feb. 27 – March 8, 2020. "Kings of Mulberry Street" by Judy Naidoo  from South Africa tells the story of what happens when two neighborhood boys in love with Bollywood films unite to take on the local bully and crime boss? This feature film is set for March 7 at 5pm. Go to childrensfilmfestivalseattle.org for details on all the films. The Northwest Film Forum is at 1515 – 12th Ave. on Capitol Hill in Seattle. 206-329-2629  or try nwfilmforum.org.
The SIFF Film Center has the following – Diao Yinan's "The Wild Goose Lake" tells the tale of a Chinese gangster on the run after mistakenly killing a cop. Opens on March 20, 2020. The "Post Alley Film Festival – Women-Centric Short Films from All Over The World" screens on March 28, 2020. 305 Harrison St near the corner of Warren & Republican on the Seattle Center Campus. Go to Siff.net for details.
Fathom Events brings to the Puget Sound ,"Tokyo Godfathers" the acclaimed holiday classic by the late director Satoshi Kon returns to theaters in a brand new restoration with an all new English dub version as well in March. This film tells the story of three Tokyo street people who find an abandoned baby and take turns trying to find her parents and in the process, find themselves. The English sub-titled version screens on Monday, March 9 at 7pm and the English language dubbed version screens on Wed., March 11 at 7pm. For tickets for both films, go to www.FanthomEvents.com.
The Beacon is a new art house cinema showing unusual finds of international cinema from around the world.  Their "Anime Sunrise" series continues on Sundays at noon. 4405 Rainier Ave. S. 206-420-SEAT or try [email protected]
Toei Animation and Fathom Events presents the new film "Digimon Adventure: Last Evolution Kizuna" on March 25 in a special one one-night-only screening. There will also be a 15 – minute preshow which includes an interview with the film's director Tomohisa Taguchi and chief animation director, Seiji Tatsukawa. Screens at 7pm at  local theatres such as Lincoln Square Cinemas in Bellevue, AMC Pacific Place in Seattle and others. Get advance tickets at www.FanthomEvents.com or at the local box office.
"Chinatown Rising" is a documentary film made by a San Francisco Chinatown father and son based on early footage shot around demonstrations in the community during the 1960s and 70s, a time of revolution and protests. It premiered in San Francisco a few months ago and now surfaces in Seattle for a one day screening on Sat., March 7, 2020 at 11am at SIFF Uptown in Queen Anne. Tickets available at brownpapertickets.com.
Plan ahead for a one-time only screening of the "Asia Films" series at Seattle Art Museum. "Masters of Modern Design: The Art of the Japanese American Experience" will screen on May 7, 2020 at the Asian Art Museum's Stimson Auditorium with director Akira Boch in attendance. The work of Japanese American designers permeated post-war American culture although their contributions are not widely known. This film lifts the veil on that by presenting the stories and contributions of Ruth Asawa, George Nakashima, Isamu Noguchi, S. Neil Fujita and Gyo Obata (architect son of noted artist Chiura Obata). Free but you must RSVP starting in Feb., 2020.
"Jinpa" is the latest film by Tibetan director Pema Tseden. A truck driver picks up a hitchiker with a dagger who claims he's on his way to kill his father's murderer. Both hitchhiker and truck driver are named Jinpa. So begins this parable about karma, destiny and the futility of vengeance.
Actress Kelly Nakahara has died at the age of 73. She is best known for her memorable role as a nurse on the long running TV series "M*A*S*H".
The Written & Spoken Arts
Juanita Tamayo Lott, a student at San Francisco State back in the 70's and an active participant in the Third World Student Strike that brought about an Ethnic Studies Department on that campus looks back on those early years in a memoir entitled "Golden Children: Legacy of Ethnic Studies, San Francisco State" (East Wind). She talks about it on Wed., March 18, 2020 at 7pm.Third Place Books in Seward Park. 5044 Wilson Ave. S. 206-474-2200.
Open Books – A Poem Emporium has the following readings – UNESCO Cities of Literature celebrates a World Poetry Day Celebration. Locally Civic Poet Jourdan Imani Keith and Youth Poet Laureate Wei-Wei Lee will read poems about "the environment" on March 21 at 7pm. Local poet Woogee Bae joins Sarah A. Chavez, Sarah Mangold, Sarah Rosenthal and Valerie Witte in a group reading on April 4, 2020 at 7pm. 2414 N. 45th St. 206-633-0811. [email protected].
Elliott Bay Book Company continues to sponsor readings in their Capitol Hill bookstore as well as co-producing events all over the city.  Below you will find a partial listing of some of their events. Events are at the bookstore unless otherwise noted. Yangsze Choo, fiction writer from Malaysia (currently based in California) who had to cancel an earlier date because of illness returns to Seattle to read from "The Night Tiger", a murder mystery set in colonial-era Malaysia. Thursday, March 12 at 7pm. Poet/essayist Cathy Park Hong, in her new book "Minor Feelings: An Asian American Reckoning" (One World) takes on the most economically divided group in the country in this fierce meditation on race and gender from her perspective as a Korean American woman. She talks to UW instructor/author Vince Schleitwiler on Friday, March 13 at 7pm.  Nguyen Phan Que Mai talks with Karl Marlantes about her powerful new novel "The Mountains Sing" (Algonquin) which covers the stories of generations of her family living in Vietnam before, after and during the Vietnam war and the experiences they lived through. This specific reading/talk takes place at Seattle Public Library at 1000 Fourth Ave. downtown on March 31 at 7pm. Back at the bookstore on Sunday, March 29, 2020 at 6pm, Washington State Poet Laureate Claudia Castro Luna reads from her poems for women killed at the U.S./Mexican border in "Killing Marias: A Poem For Multiple Voices" (Two Sylvias Press) and Seattle Times journalists Corinne Chin and Erika Shultz talk about the situation there based on their reporting for the Seattle Times. 1521 Tenth Ave. on Seattle's  Capitol Hill. 206-624-6600 or go to www.elliottbaybook.com.
In a project powered by Shunpike, poet/curator Shin Yu Pai is launching a new series entitled "Lyric World: Conversations with Contemporary Poets", a literary conversation series that will be hosted at Town Hall Seattle. It builds upon her previous work as an artist-in-residence for the organization. It includes a poetry reading, a musical guest and a facilitated conversation between the poet and a peer from the community centered on a specific theme. March 19 includes poet Koon Woon on the theme of "displacement/home" in conversation with Paul Nelson and a performance by percussionist Paul Kikuchi. June 25 features poet Prageeta Sharma dealing with the theme of "memory and grief" in conversation with Afrose Fatima Ahmed. The goal is to support local writers of the Asian diaspora who have never presented their work on Seattle Town Hall's stage. In The Forum at 1119 – 8th Ave. 206-652-4255 or email [email protected].
Seattle poet Anastacia-Renee as this year's guest curator has selected the 2020 Jack Straw Writers. Among the writers selected are Ching-in Chen and Troy Osaki. They make their debut with the other winners in the first three Fridays in May, 2020. Jack Straw Cultural Center is at 4261 Roosevelt Way NE. 206-634-0910 or go to www.jackstraw.org.
Seattle Arts & Lectures has released their new program details for their 2019/20 season. Among the many highlights included are these – In the "Literary Arts" series, Min Jin Lee will speak.  Her last novel "Pachinko" looked at four generations of an immigrant Korean family living in Japan running a pachinko parlor and gave Americans an intimate peek at a mostly hidden Japanese-Korean culture.  It was a finalist for the 2017 National Book Award in Fiction. Set for March 17, 2020. Rick Barot, award-winning Tacoma poet engages in conversation with fellow poet Jane Wong about the long colonial structure that sustained Spanish control over much of Latin and South America, the Caribbean and the Philippines as outlined in his recent book of poetry entitled "The Galleons".  Set for March 19, 2020 at the Erickson Theatre. Also look for appearances throughout the year at SAL events from 2019/20 Youth Poet Laureate, Wei-Wei Lee. Lee will have her first book published by Poetry NW Editions in the spring of 2020. For more detailed information on SAL and its new season, go to lectures.org.
Hugo House that venerated Northwest center for writers and poets re-opens in brand-new digs with expanded space but in the same location.  Catch their readings and celebrate their new space. Also with the opening of the new Hugo House, the writing center rolls out a new series of classes/workshops with a varied number of subjects taught by a talented group of writers like Nisi Shawl, Sonora Jha, R. O. Kwon, Anne Liu Kellor, Michelle Penaloza, Richard Chiem, Diana Xin, Anglela Garbes, Lora Shinn, Aimee Bhausar and Shankar Narayan.  Hugo House has selected writers for the 2019-20 Hugo Fellowships. Joyce Chen and Jen Soriano were some of the writers selected. The writers will be given advice and have a space to write. They will give two readings as well. Chen is a writer/editor/creator from Los Angeles. She will be working on a collection of essays that examine the push/pull conflict between American ideals of independence and self-fulfillment and Taiwanese values of family community and sacrifice.  Jen Soriano is a Filipinx-American writer who blurs the lines between non-fiction, surrealism and poetry. She is working on a memoir of colonization, historical trauma and the neuroscience of healing as well as an essay collection on gender, technology and mothering. South Asian lesbian poet and spoken world artist Ananya Garg joins poet Jalayna Carter in the series, "White Noise: Readings by Queer Writers of Color" on March 27 at 7pm. Also noted fiction/non-fiction writer Sigrid Nunez appears in the "Word Works" series with a talk entitled "Giving Full Play to the Imagination" on May 21 at 7pm.  Hugo House is at 1634 – 11th Ave.  on Capitol Hill. 206-453-1937.  Go to hugohouse.org.
Sharon H. Chang, local author/activist of books on mixed race issues joins with the Seattle JACL to put together an all-day conference entitled "Mixed Race Seattle" which will bring together artists, activists and youth together. It promises to be a transformative day of storytelling, art and creative expression meant to grow community among multiracial teens, young adults and their families. Featured performers include attorney, poet and former Seattle Mayoral candidate Nikkita Oliver,  MidWest Mixed conference co-founder Alissa Paris, performer Michael O'Neal Jr., flautist Leanna Keith and Native American/mixed-race filmmaker, curator, community organizer and City of Seattle Arts Commissioner Tracy Rector. This event is free and open to all but RSVP is required as the building has a maximum capacity of 300 people. The public is welcome to attend the whole day or just drop in for specific events (check the facebook page for this event). The site is ADA-accessible and barrier-free. Sat., March 28, 2020 at Blaine Memorial Methodist Church located at 3001 – 24th Ave. S. in Seattle. Go to  https://forms.gle/56TuhnXbFVWKfDt38. For questions or to volunteer, email [email protected].
The Washington Language Arts Council sponsors a conference entitled "Poetry in Action" featuring NCTE-award winning poet Janet Wong, former Oregon state poet laureate Lawson Inada and Seattle award winning poet Lawrence Matsuda. There will also be workshops by award winning teachers as well. On Saturday, April 4, 2020 from 8am – 3pm.  Center for Urban Horticulture at 3501 NE 41st St. Register  at www.washingtonlac.org.
The Wing features a group poetry reading of current and former Washington Poet Laureates Claudia Castro Luna, Sam Green and former Oregon Poet Laureate Lawson Fusao Inada on Thursday, April 2, 2020.
It's early but mark your calendars for a panel discussion between Diasporic Vietnamese writers. The line-up is impressive and includes Viet Thanh Nguyen, Kim Thuy, Marcelino Truong, Vincent Lam, Diana Khoi Nguyen, Lan Cao, Mai Elliott, Le Ly Hayslip, Duy Doan and Cathy Linh Che. Tickets are $20. The event sponsored by DVAN and the Smithsonian Asian Pacific American Center will take place at Town Hall Seattle on May 2, 2020 at 4pm. Details are being worked out but for questions, email [email protected].
The University of Washington Alumni Association has released their schedule of 2020 Winter Public Arts & Lectures. The Near Eastern Languages and Civilization department presents  Fatemeh Shams, poet and Assistant Professor of Persian Literature at the University of Pennsylvania who gives a talk entitled "Revolution in Rhyme: Official Poets of the Islamic Republic" in which he explores the complex social history and politics of literary production in Iran after the 1979 revolution and how the Islamic Republic uses literature in identity construction. March 10, 2020 at 7pm in Kane Hall 225 on the Seattle UW campus. UW Tacoma's School of Interdisciplinary Arts & Sciences presents a monthly series entitled "Grit City Think & Drink" at the Swiss Restaurant And Pub located at 904 Jefferson Ave. in Tacoma. Cynthia Howson, Senior Lecturer, Interdisciplinary Arts & Sciences at UW Tacoma and Pierre Ly, Associate Professor at the University of Puget Sound present a talk entitled "The Rise of Chinese Wine: A Political Economy Story" in which they trace how Chinese wine has gone from being ignored to earning gold medals and praise by famous critics. Hear how the story of wine is linked to politics, globalization, economic growth, environmental challenges, land rights and governance. March 10, 2020. To find the full schedule, go to uwalum.com/golectures.
Seattle poet Shin Yu Pai will have a book launch party for her upcoming new title "ENSO" (Entre Rios) at Hugo House on April 23rd at 7pm. Besides a reading, there will be special guests and handmade gifts will be given out to all who attend. Hugo House is at 1634 – 11th Ave. on Capitol Hill.
New Mexico-based poet Arthur Sze won the 2019 National Book Award for his Copper Canyon Press title "Sightlines". The prize recognizes the best American fiction, non-fiction, poetry and youth literature of the year.
Jeanne Wakatsuki Houston, co-author of "Farewell to Manzanar" was one of the 10 inductees to the California Hall of Fame's 13th class in  December, 2019. The Hall of Fame celebrates Californians who embody the state's spirit of innovation and achievement and have made their mark on history. Past winners include George Takei, Bruce Lee, Kristi Yamaguchi and Amy Tan.
Fashion photographer Peter Ash Lee with his sister Hannah, has launched a new magazine called "Burdock" aimed at celebrating the multi-dimensional Asian American experience. For details, go to BurdockMedia.com.
Below is a partial list of new books by or about Asian Americans and new titles on Asia. If you are interested in reviewing any of them, please let us know –
"Ellie Makes A Friend" (Disney/Hyperion) as written and illustrated by Mike Wu. In this kids picture book, Wu reprises his elephant artist character, Ellie who questions her own artistic merit when a new Chinese panda named Ping makes a splash with his brush painting skills. But doubt turns to new inspiration when the two collaborate and work together
"Umma's Table" (Drawn & Quarterly) is a graphic novel by Yeon-Sik Hong. This honest memoir of a young artist and family man trying to build a new life of hope and joy at the same time his aging parents need his care as well. To cope, he finds himself reminiscing about his mother's kim chee recipe.
"Child of the Universe" (Random House) by Ray Jaywardhana and illustrated by Raul Colon. This leading astrophysicist and author brings his fascination with the universe and his love for his daughter together into an intergalactic journey fueled by the warm, glowing colors of his illustrator.
"Cherry Blossoms – Sakura Collections from the Library of Congress" (Smithsonian) by Mori Nakahara and Katherine Blood with a foreword by Carla D. Hayden. This book is a celebration of a springtime tradition in our nation's capitol that originated more than one thousand years ago in Japan. The artifacts in this collection trace the rich culture and history of Japan and how it became a part of America's cultural experience as well.
"The Only Child" (Ecco) is a novel by Korean author Mi-ae Seo as translated by Yiwon Jung. This English language debut follows a criminal psychologist who interviews an infamous serial killer and discovers disturbing similarities between him and his eleven-year-old stepdaughter.
"Hunted by the Sky"  (Farrar Straus & Giroux) by Tanaz Bhathena is a young adult tale. This gripping adventure is set in a world inspired by medieval India. A girl pursued by soldiers is rescued by a group of rebel women. A boy tries to save his terminally ill father. When the two meet, they journey together on a mission of revenge. A story that explores identity, class struggles and romance.
"Pirate Queen – a Story of Zheng Yi Sao" (Groundwood Books) by Helaine Becker and illustrated by Liz Wong. This picture book tells the story of a Chinese female prirate around the 18th century and how she built a fleet of ships that defeated the emperor's navy. When she retires, she finds a way to do so on her own terms.
"Color Outside the Lines  – Stories About Love" (Soho Teen) edited by Sangu Mandanna. This groundbreaking young adult anthology explores the complexity and beauty of interracial and LGBTQT relationships in today's modern world.
"American As Paneer Pie" (Aladdin) by Supriya Kelkar is a young adult novel about the only Indian American kid in a small town who meets an immigrant girl from India. While the American-raised girl tries to fit in, the immigrant girl is proud of her heritage and won't take racist bullying quietly. What these two have in common will bring strength to both when a racist incident rocks the community.
"My Summer of Love and Misfortune" (Simon Pulse) by Lindsay Wong. A troubled Chinese American teenage girl is sent to China to visit family. What initially looks like a tourist trip turns into unexpected discoveries about her family, her future and herself when she is thrust into the opulent world of Beijing's elite.
"Whiter – Asian American Women on Skin Color and Colorism" (NYU) is an anthology of essays edited by Nikki Khanna. This book tackles the various issues around how skin color impacts the lives of these women. In thirty essays, we read first-hand accounts of their experiences with colorism and the importance of resisting and redefining the beauty standards that bind us.
"Mad, Bad & Dangerous To Know" (Soho) is a young adult novel by Samira Ahmed. A teenage mixed race American Muslim girl on vacation in Paris with her family is at a crossroads looking for herself. When she meets a descendant of Alexandre Dumas, she learns of a 19th century Muslim woman who crossed paths with Dumas, Delacroix and Lord Byron. Echoing across centuries, the lives of the two girls intertwine.
"American Harvest – God, Country, And Farming in The Heartland" (Graywolf) by Marie Mutsuki Mockett. The author sets out on a months-long journey through nine states in the mid-west to learn about family members and others who harvest and till the soil. April  2020 release.
"A Place at the Table" (Clarion) by Saadia Faruqi & Laura Shouan. When two teenage girls troubled by home and school get thrown together in an after-school South Asian cooking class, a shaky alliance develops when they discover both of their moms are applying for US citizenship.
"Not Your All-American Girl" (Scholastic) by Madelyn Rosenberg & Wendy Wan-Long Shang. When two best friends try out for a school play and one snags the lead and the other is put in the ensemble because she supposedly fit the part, complications ensue. Will their friendship become undone?
"The Curious World of Seaweed" (Heyday) by Josie Iselin. The author explains the artistic and biological presence of sixteen sea  weeds and kelp that live where the Pacific Ocean converges with the North American continent in vivid and compelling detail.
"Feast of Peas" (Peach Tree) by Kashmira Sheth and illustrated by Jeffrey Ebbeler is a children's picture book that looks at friendship in India that is tested by a love of peas and the anticipation and rewards from gardening.
"Breasts And Eggs" (Europa) by Mieko Kawakami and translated by Sam Bett and David Boyd. April 2020 release. This novel tells the story of three women: the thirty-year old narrator who fears growing old alone and childless, her older sister who is looking for an affordable breast enhancement procedure and the older sister's daughter paralyzed by her fear of puberty. This author's work has been praised by Haruki Murakami.
"Prairie Lotus" (Clarion) by Newberry Medalist Linda Sue Park. This young adult novel tells the story of a half-Chinese girl living in Dakota Territory in the 1880's who must forge friendships in a hostile environment.
"Waste Tide" (Tor) by Chen Qiufan as translated by Ken Liu is a thought-provoking and timely vision of the future. A waste worker on an island filled with the world's electronic junk gets caught up in a war brewing between humanity's past and its future.
"Lion Needs a Haircut" (Abrams) written & illustrated by Hyewon Yun explores the universal fear of first haircuts with honesty, tenderness and humor. A father tries to coax his son to get his first haircut.
"The Queen's Assassin" (Putnam) by Melissa de la Cruz is the newest book of young adult fiction by this popular author. It tells the story of an assassin sworn to protect his queen and country and his apprentice – a young woman determined to forge her own path in the world.
"Why We Swim" (Algonquin)  by New Yorker contributor Bonnie Tsui is an eye-opening meditation on water and our own fascination with its properties.
"Nina Soni, Former Best  Friend" (Peach Tree Books) AND "Nina Soni, Sister Fixer" Peach Tree Books) both by Kashmira Sheth. A middle-grade series of an Indian-American heroine who juggles science experiments, a boyfriend and a little sister as she tries to manage her chaotic life.
"The Mountains Sing" (Algonquin) by Nguyen Phan Que Mai is this prize-winning poet's debut novel. The writer returns to her parent's village to learn what life was really like for generations of her people caught between a painful and turbulent century of war and conflict. The author plans a visit to Seattle's Elliott Bay Book Company in the future.
"We Are Not Free" (HMH) by Traci Chee. Chee is the author of the YA fantasy trilogy "The Reader", "The Speaker" and "The Storyteller". In her new young adult novel she tackles the story of Nisei teenagers from the Bay Area trapped and imprisoned in a US government internment camp during WWII who must survive as racism and injustice pulls them apart.
"The City of Good Death" (Restless) by Priyanka Champaneri won the Restless Books Prize for New Immigrant Writing. A woman is the manager of a "death hostel" in the sacred city of Banares where families of pilgrims attending their dying kin flood in and out.
"Rebelwing" (Razorbill) is the young adult novel debut of Andrea Tang. It tells the story of a cybernetic  dragons, harsh media regulations and a corrupt North America and the young girl forced to save the world.
"Ship of Fates" (Lanternfish Press) by Caitlin Chung is a historic novel set against the backdrop of the Gold Rush-era of San Francisco's Chinese immigrant community and tells the story of two young women on a ship and a lighthouse keeper who longs to be free. It is a coming-of-age fairy tale that stretches across generations. April 2020  release.
"Hat Tricks" (Peach Tree) by Satoshi Kitamura. A humorously exaggerated tale of a rabbit magician and the surprising things he pulls out of his hat. Serves as a great interactive, read-along picture book for parents and kids.
"Brown Girl Ghosted" (Versify) by Mintie Des is a mystery thriller centered around a South Asian teenage girl in the Midwest forced to confront her past and solve the murder of a classmate.
"Where The Truth Lies – The Art of Qiu Ying" (Del Monico) by Stephen Little serves as the catalog for this 16th century painter and reveals his influence and contributions to Ming Dynasty painting.
"What's Growing in Mommy's Tummy?" (Cameron + Company) written and illustrated by Rachel Qiuqi Li. The fruit metaphor serves as the picture of a lovely visual journey as a little boy and his mother follow her pregnancy.
"Sigh, Gone" (Flatiron) by Phuc Tran is a "a mis-fit's memoir of great books, punk rock and the fight to fit in". It is set for April 2020 publication and tells the story of a teenage immigrant who tries to navigate the push and pull of immigration, isolation, rebellion and assimilation.
"Last of Her Name" (Kaya) by Mimi Lok. This collection of a novella and short stories gives us a glimpse into the interconnected lives of diasporic women and the histories they were born into circling the globe from the 80's UK suburbia to WWII Hong Kong and urban California. Lok is coming to Seattle to talk about this book at Elliott Bay in the near future.
The Eagle Huntress: The True Story of The Girl Who Soared Beyond Expectation" (Little Brown) by Aisholpan Nurgaiv with Liz Welsh. Set for May 2020 publication. Aisholpan was the subject of the award-winning documentary film about the first Kazakh girl trained as an eagle hunter who went on to win at the Ogli Eagle Festival in Mongolia. This is her story as told to Liz Welsh.
"How To Pronounce Knife (Little Brown) by SouvanKham Thammavongsa is a book of short stories that captures the day-to-day lives of immigrants and refugees in nameless cities illuminating their hopes, disappointments; love affairs and their pursuit of a place to belong. Set for April 2020 release.
"Sansei and Sensibility" (Coffee House)  – Stories by Karen Tei Yamashita. This book has the author putting Japanese American characters from '60s and'70s California into  familial, cultural, emotional and artistic landscapes – using Jane Austen's novels as her template.
"Ship of Fates"  (Lanternfish Press) by Caitlin Chung. Set against the backdrop of the Gold Rush-era San Francisco's Chinese immigrant community, this story of two young women on a ship and a lighthouse keeper who longs to be free is a coming-of-age fairytale that stretches across generations.
"Good Talk A Memoir in Conversations" (One World) by Mira Jacob is a witty and intimate memoir about American identity, interracial families and the realities that divide us. Triggered by a child's innocent  questions about race that lead to an ongoing dialogue about race and family.
"Seventeen" (Picador) is the new paperback edition of a novel by Hideo Yokoyama as translated by Louise Heal Kawai. A seasoned journalist gets a scoop on a story about an air disaster. Seventeen years later, that reporter must make good on a promise he made about an unsolved mystery derived from that incident.
"Layla And The Bots #1: Happy Paws" (Scholastic) by Vicky Fang and illustrated by Christine Nishiyama. This board book for toddlers tells the story of Layla and the Bots who are ready to rock out at an amusement park. But what to do when the park gets shut down before the big day?
"Latitudes of Longing" (One World) by Shubhangi Swarup. This novel set for May 2020 release is a story about the interconnected lives of characters searching for true intimacy as they travel across India and their lives intertwine.
"Sleepy Farm" (Scholastic) by Joyce Wan. On the farm, it's time for animals to sleep and hopefully your toddler will too as you read this board book of pictures and text together.
"Blood Heir" (Delacorte) by Amelie Wen Zhao. A princess  with a deadly gift. A conman with no past and no future.  An empire spiraling into chaos. The story of a princess and a crime lord who match wits in a rush  to solve the murder of an emperor in this young adult fantasy thriller.
"A Bowl of Peace" (Carolrhoda) by Caren Stelson and illustrated by Akira Kusaka. This kids picture book tells the story of a Japanese girl who survives the wartime atomic bombing of Nagasaki only to see her family dying from bomb-related illnesses as the  years go by. A precious family heirloom offers a vision of peace
"The Chinese Lady – Afong Moy in Early America" (Oxford) by Nancy E. Davis. The story of the first recognized Chinese  woman to come to America in 1834. Treated as a curiosity and used as an advertisement for a merchant firm, she spent her last years in poverty. This is a first biography of a Chinese woman living in a foreign land.
"The Phone Booth in Mr. Hirota's Garden" (Orca Book Publishers) by Heather Smith and illustrated by Rachel Wada. This kids picture book looks at survivors of a tsunami in Japan and how a neighbor's outdoor phone allows them to talk to their loved ones who perished. A touching tale of  grief and recovery based on a true story.
"Civil Bound" (Omnidawn) is a new book of poetry by Myung Mi Kim. The poet looks at language as the mechanism by which society operates. She uses multiple methods to make sense of this pervasive tool – its powers, nuances and influences over the structure of our civilizations.
"Pop Flies, Robo-Pets, And Other Disasters" (One Elm)  by Suzanne Kamata. A young adult novel about a Japanese teenager who was a star in his Atlanta, Georgia middle-school baseball team. But when he returns to Japan he feels like a stranger and must learn how to adjust.
"The Arabic Quilt – An Immigrant Story" (Tilbury House) by Aya Khalil and illustrated by Anait Semirdzhyan. The daughter of an Egyptian immigrant family must face her first day in a new American school. Little does she know that a treasured quilt will help ease her in the transition.
"The Kinship of Secrets" (Mariner) by Eugenia Kim. This novel, now out in a new paperback edition tells a family story. A Korean family leaves South Korea to the U.S. in search of new opportunities but must leave behind an infant daughter with their extended family. As war breaks out, how can the family get their daughter back and will they ever be truly re-united? Based on a true story.
"One Earth – People of Color Protecting Our Planet" (Orca Book) by Anuradha Rao. This young adult book profiles black, indigenous and people of color who work as environmental defenders of this earth. Through their stories, one sees the intersection of the environment and ethnicity as an asset and not an obstacle towards achieving environmental goals. Set for April 2020 publication.
"A Drink of Red Mirror" (Action) by Kim Hyesoon. Translated by Jiwon Shin, Lauren Albin and Sue Hyon Bae. A new book of poems by this landmark feminist poet and critic from South Korea that start off as riddles that conjure up sites of pain and wonder, a horizon inside the vanishing point.
"Echo on the Bay" (Two Lines Press) by Matsatsugu Ono as translated by Angus Turvill. Winner of the Mishima Prize, this novel is a masterful epic of a Japanese village brimming over with stories and secrets to tell. Set for June 2020 publication.
"Starling Days" (Overlook) is the second novel by Rowan Hisayo Buchanan, author of "Harmless Like You". A story about love, mythology, mental illness and the times we seek out a cure in milder psychological climates. Set for April 2020 publication.
"The Perfect Seat" (Disney Hyperion) by Minh Le and illustrated by Gus Gordon. A charming kids picture book about a child and parent who search for the perfect seat where they can read together.
"Beauty" (2040) by Christina Chiu won the 2040 Book Award. Set for May 2020 release, the book follows an up-and-coming designer in New York City who finds herself at odds with rival designers in a world rife with chauvinism and prejudice. Through career and personal struggles, the protagonist must confront her own limitations to succeed as a designer and the person she wants to be.
"Asha and the Spirit Bird" (Chicken House)  by Jasbinder Bilan. An uplifting story of desperation, peril, and faith that follows a girl in the Himalayas who must journey to the faraway city to find her missing father. Set for June 2020 publication.
"The Blossom and The Enemy" (Putnam) by Sherri L. Smith. This young adult novel tells the story of a difficult love story set in war-town Japan in 1945. A promising violinist ravaged by experiences of war meets a kamikaze pilot ready to die for his country. Between them, will they find a will to live?
"Braised Pork" (Grove Atlantic) by An Yu is a debut novel by a Chinese writer who writes in English. It is the story of a middle-class Beijing woman whose life is thrown into chaos when her husband suddenly dies. Set for April 2020 publication.
"Mulan Before The Sword" (Disney) by Grace Lin is an original prequel novel based on the upcoming Disney live action "Mulan" film. When her sister  is bitten by a snake, Mulan embarks on a search for a cure, taking her to extraordinary places and great adventures.
"Revenge of the Asian Woman" (Diode) by Dorothy Chan. This book of lively poems comes to life in a sexed-up soap opera/B-movie platter where passion, food and fantasy reign supreme.
"I Was Their American Dream: A Graphic Memoir" (Potter) by Malaka Gharib. This book is a tale of self-discovery, a celebration of a family's rich heritage and a love letter to American immigrant freedom. As a youngster, the author learns to code-switch between her family's Filipino and Egyptian customs while adapting to white culture to fit in.
"Halal If Your Hear Me – (Volume 3 of The Break Beat Poets Series)" (Haymarket) edited by Fatimah Asghar & Safia Elhillo. This anthology of writing by Muslims who are women, queer, gender queer, nonbinary, and/or trans takes no prisoners with voices that prove that there are as many ways to be muslim as there are muslims.
"This Is My World – Meet 84 Kids From Around The Globe" (Lonely Planet Kids). If you were asked to tell someone on the other side of the world about yourself, where would you start? This is the premise of this anthology that lets kids tell their own stories and introduce themselves.
"My Baby First Birthday" (Tin House) is a book of poems by Jenny Zhang, author of the award-winning collection of short stories, "Sour Heart." In it, she examines innocence, asking us who gets to be loved  and who has to deplete themselves just to survive.
"Kona Winds" (Bamboo Ridge) by Scott Kikkawa is a "noir" detective novel set in 1950's Hawai'i that is a violent meditation on corruption and class warfare. It follows  the experiences of a Japanese American WWII war veteran who returns to civilian Honolulu and finds himself exposed to the cynicism of power politics as he tries to solve a murder.
"Interrogation Room" (White Pine) by Jennifer Kwon Dobbs. A searing book of poems that looks at the continuing consequences of the Korean conflict and the toll it has taken on women, children and orphans and adoptees.
"Mr. Cat And The Little Girl" (Clavis) written and illustrated by Wang Yuwei was inspired by the author's experience adopting a cat. It conveys in dreamy illustrations and spare text the unique relationship and emotion fostered between people and cats through a fairytale-like concept.
"Toy Tokyo" (Kingyo) by Manami Okazaki looks at the lo-fi technology of toy cameras and how it frames a special view of Tokyo. The author talks to photographers who use the cameras and the technicians who make them.
"Rebel" (Roaring Brook) by Marie Lu marks the finale of the "Legend" series as she tracks two brother's lives. One enters the dark side and the other must rely on the help of strangers to save him in this young adult fantasy.
"Little Gods" (Custom House) by Meng Jin. This debut novel by first generation Chinese American author Meng Jin looks at immigrants in America. It  takes a revealing look at how bottomless ambition can spur family members to hurt and betray one another.
"Takumi: Downtown Tokyo Artisan Culture" (Kingyo) by Manami Okazaki.  The author looks at the small shops in downtown Tokyo where craftspeople still make handmade things in backstreets in contrast to the glitz of this high tech metropolis.
"Fifth Chinese Daughter" (UW Press) by Jade Snow Wong. This autobiography of a Chinese American girl coming of age in San Francisco's Chinatown was originally published in 1950 and retains a strong influence on other Chinese American woman writers. This new edition retains the original illustrations and a new introduction by Leslie Bow who examines the changing reception and enduring legacy of this book through the years.
"A Beginning At The End" (Mira)  by Mike Chen. Six years after a global pandemic, the world comes out of quarantine and is split between self-governing big cities, hippie communes and wasteland gangs. Out of this, a father searches for a daughter and four lives collide.
"Mathematics For Human Flourishing" (Yale) by Francis Su with Reflections by Christopher Jackson. The author has written for a wide audience but especially for those disenchanted by their past math experiences. Su weaves personal reflections, puzzles and stories to show how math meets basic human desires and cultivates virtues essential for human flourishing.
"The Food of Sichuan" (Norton) is a new and updated edition of the classic "Land of Plenty" by Fuchsia Dunlop. This cookbook author from England delves deep into the spicy cuisine of Sichuan in sixty new recipes.
"Land of The Rising Cat – Japan's  Feline Fascination" (Prestel) by Minami Okazaki. The author looks at Japan's fascination for cats, how it started and why it continues to grow. Fully illustrated with color photos and illustration.
"The Henna Artist" (Mira) by Alka Joshi. A teenage bride in rural India escape from an arranged marriage marred  by abuse to make her way to the city of Jaipur. Here she becomes a henna artist and confidante to the city's wealthy women. But when her husband tracks her down with a sister she ever knew she had, things get complicated.
"Bred From The Eyes of A Wolf" (Plays Inverse Press) by Kim Kyung Ju as translated by Jake Levine. This Korean drama transplants the Oedipus myth into a post-zombie apocalypse world exposing the wilderness at the heart of every human relationship.
"America For Americans – A History of Xenophobia In The United States" (Basic) by Erika Lee. Though many of us cling to the idea of America as a nation of immigrants, this award-winning historian returns with a sober look at how our nation has fostered a dark history and violence of hatred against foreigners landing on our shores.
"The Plotters" (Anchor Books) by Un-Su Kim as translated by Sora Kim Russell. This crime novel tells the story   of an assassin who steps out of line only to discover an extraordinary scheme set into motion by a trio of young women. Our man must decide at that moment if he'll remain a pawn forever or finally take control of the plot.
"A Savage Dreamland – Journeys in Burma" (Bloomsbury) by David Eimer. This former Asia correspondent for The Telegraph was one of the first outsiders to access the country in its entirety. He arrived in 2010 as the country transitioned from a dictatorship to a supposed democracy.
"Liking in Silence" (White Pine) by Kin Sa-in translated by Brother Anthony of Taize & Susan Hwang. This poet looks at the names and gestures of everyday persons forgotten by South Korean economic prosperity and gives them a voice.
"Death is Hard Work" (Picador) by Khaled Khalifa. This novel tells the tale of three ordinary people who face a crisis with simple determination. How does a family bury their father in his hometown when the whole country of Syria is a war-zone?
"Dreams of Fallen Blossoms – Tune Poems of Su Dong-Po" (White Pine) as translated by Yun Wang. This great Sung Dynasty Chinese poet is rendered in English with clarity and valuable notes about each poem.
"Shape Shifters – Journey Across Terrains of Race And Identity" (University of Nebraska) edited by Lily Ann e Y. Welty Tamai, Ingrid Dineen-Wimberly and Paul Spickard. This collection of essays challenges readers to think in new ways about race an d social mobility as it probes peoples of mixed race identity.
"Eight Outcasts – Social and Political Marginalization in China Under Mao" (UC Press) by Yang Kuisong and translated by Gregor Benton and Ye Zhen. The communist revolution brought sweeping changes in the country on all levels. But these movements did not come about without the persecution of hundreds of thousands of the country's citizens. This book reveals the stories of eight victims of the Maoist dictatorship.
"The Hidden History of Burma – Race, Capitalism And The Crisis of Democracy in the 21st Century" (Norton) by Thant  Myint-U. This historian, former diplomat and presidential advisor looks at his country at its breaking level and offers a sobering re-evaluation.
Art News/Opportunities
Bay Area community activist (and former Seattle resident) Chizu Omori has been awarded the Clifford Uyeda Peace and Humanitarian Award this year for the Bay Area Day of Remembrance event held on February 16, 2020. Congratulations, Chizu!
The Artist Trust Newsletter provides monthly information on upcoming grant deadlines, workshops, Artist Trust events and just general useful information/opportunities for artists in all media. Applications for 2020 Artist Trust Fellowships are now available. Deadline is March 9, 2020. Applications for the 2020 Yvonne Twining Humber Award for Lifetime Achievement and SOLA Awards for Washington State female artists are also available beginning Feb. 24, 2020 and carry a deadline of March 23, 2020. Go to www.artisttrust.org for all details.
Applications for 4Culture's 2020 project grants in Arts, Heritage and Preservation are due March 4, 2020. For details, go to 4culture.org.
Friends of Asian  Art was awarded a three-year Civic Partners Grant from the Seattle Office of Arts & Culture. The grant will go toward producing interactive Asian arts and culture programs to senior centers and retirement communities within the greater Seattle area. For more details  on this organization or to become a member, to to friendsofasianart3.com.
ARTS at King Street Station is a cultural space that celebrates the creativity of communities of color, and that reflects and foster the creativity and talents of people that continue to create the fabric of Seattle. We are seeking proposals for exhibitions, performances, workshops, lectures, readings, screenings, gatherings, events and more. All creative mediums are welcome. Apply anytime with the rolling deadline. All selected proposals will be resourced up to $25,000 depending on scale and type. Download an application. Go to Seattle.gov or type in ARTS at King Street Station.