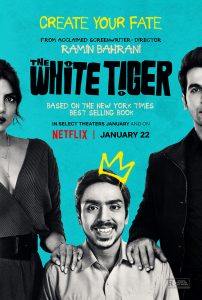 I have taught Aravind Adiga's Booker prize-winning novel White Tiger (2008) several times, and the novel has always grabbed my students' attention for its dark comedy, the menacing yet empathetic protagonist, and for its critique of global capitalism. So when Ramin Bahrani adapted the novel as a film, I must confess to being somewhat skeptical. I am one of those people who more often than not comes away from such adaptations saying that the book was better. 
White Tiger's Iranian American filmmaker was Adiga's friend from his Columbia days and is known for films featuring the underdog, and this adaptation of Adiga's novel fits well into his oeuvre. I am happy to report that the film is successful and stands on its own, and you do not need to have read the novel to appreciate the film.
 In keeping with Adiga's novel, the film frames the narrative as a flashback where a successful Balram, now an entrepreneur, writes a letter to Wen Jiabao, former Chinese premier on a state visit to India. Balram (played by Adarsh Gourav) expresses his admiration for China and writes his story because, as he notes, the new century belongs to the Chinese and the Indians and not white people. 
In sharing his story, Balram Halwai writes he is a lower caste, poor boy from a small village where caste hierarchies and feudal relationships between landowners (zamindars) and their servants continue across generations and keep the poor in bondage to the landlord because of fear, debt, and ancient loyalties.
Balram is smart and in his poorly resourced school, an academic standout. While he dreams of going to a better school in Delhi, his vicious grandmother, a foot soldier for patriarchy and feudalism, forces him into a menial job in a tea shop and smashes his aspirations while taking all his wages. Balram will not be held down; he uses the metaphor of a rooster cage to explain why oppressive systems continue. Like roosters stacked in a cage watching the slaughter of chickens and doing nothing about it, so, too, do the oppressed who watch helplessly as their peers suffer as they patiently await their turn in the system. Balram is no rooster; he is a white tiger, a rare creature born once in a generation. 
Balram extracts money from his parsimonious granny, takes driving lessons, and becomes a junior driver for the Stork, as the landowner is known, and soon snags the senior driver position by blackmailing the incumbent. When Ashok (played by Rajkummar Rao) and Pinky (Priyanka Chopra), the Stork's younger son and daughter-in-law, come back to India from the United States, Balram moves to Delhi with them to a luxury flat as they work to grease the political machinery to ensure their family coal mines get major tax breaks. 
The film tone shifts quickly from dark comic to grimly violent and Balram eventually gets to Bangalore and becomes an entrepreneur who runs a fleet of cars for the multinational call centers that are the backbone of that city's tech economy.
This film is not poverty porn like Slumdog Millionaire, but a finely honed satire of caste, class, religion and globalization. Balram defines caste as those with small and big bellies, thus astutely noting how class mobility is predicated on caste. The bland delivery of lines about Muslims underscore the communal divides in India and the hegemony of caste Hindus. Even as the youthful Balram venerates his young master Ashok and Ashok's wife Pinky, the couple's protestations of class equality underscore their fatuous politics. The great Socialist, the powerful woman politician, is just as corrupt as the other political figures, and the constant back and forth of bags filled with currency highlights the entrenched corruption of a supposed democracy. 
Adiga's novel exposed the dark underbelly of globalization as criminal, although the Indian government celebrated neoliberal policies as economic opportunity and advancement and branded this as "shining India."  The film does the same, and this message becomes particularly relevant for the West Coast tech culture in the United States where our ties to the tech capitalism of India are strong and often built by Indian Americans like Ashok, Balram's master. The final scene, a sly hat tip to the song and dance numbers of Slumdog Millionaire, is clever. The film is definitely worth watching, and, of course, do read the book too!
White Tiger is now streaming on Netflix.