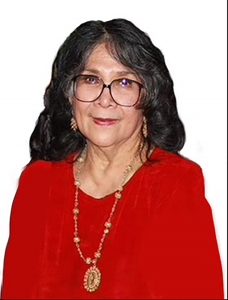 Dr. Dorothy Laigo Cordova is the mother of eight, grandmother of 17, and great-grandmother of 22.  To many across the nation, she is affectionately and figuratively our beloved Auntie Dorothy.
Dorothy's daughter, Bibiana Cordova Shannon, asked her mother to reflect on her 90 years. She responded that she "thinks of (herself) being a mother, grandmother and great grandmother first…, and then she launches into memories of her work on youth empowerment, social justice, and historic preservation."
Dorothy was born on February 6, 1932, in Seattle. She grew up on 27th and Denny in Seattle's Madison Valley neighborhood in a home that her family owned. She was the child of immigrant parents – artist Ilocano mother Bibiana Montante Laigo Castillano who came to the U.S. in 1928, and businessman Ilocano father Valeriano Laigo who came in 1919.  In the 1930's, her parents owned two businesses in Chinatown International District – the V.M. Laigo Co. Grocery Store at 408 7th Ave. S. and the Laigo Café at 410 6th S. (the old Post Office) on what is now the west extension of the old Hing Hay Park. Dorothy recalled spending time at the café as a small girl, with the wooden sidewalks, sitting on the food counter, and going down two flights of stairs at the back of the restaurant before there were brick alleys.
Her life changed abruptly when her father was killed in 1936, leaving her Mom with four small children and a fifth on the way. In 1938, Mike Castillano married Bibiana and they had four more children together.  Dorothy recalled, "He took us all in and treated us like his own." These pivotal life experiences directly shaped Dorothy's outlook on life around resiliency and family.
Dorothy met her late husband, Dr. Fred Cordova, in 1948, during Dorothy's senior year in high school. At that time, Fred Cordova who came from Stockton, CA was attending Seattle College (now Seattle University) with Dorothy's eldest brother Val Laigo. Their community work began while attending Seattle University with the Filipino Catholic Youth (FCY) organization. Dorothy and Fred both graduated from Seattle University with degrees in Sociology. They married in 1953, raised eight children in the Catholic faith, were lifelong collaborators and inseparable until Uncle Fred's death in 2013.
The strong sense of community and Filipino identity led the Cordovas to co-found with other similar minded families the Filipino Youth Activities (FYA) in 1957 so their collective children could engage in productive and meaningful youth activities.  In 1959, Fred and Dorothy Cordova started the award-winning FYA Drill Team, which remains vibrant today, 63 years later.
Dorothy volunteered to be the first and longest running FYA executive director. The traveling highly competitive award-winning FYA Drill Team included immigrant and American born youth, many from mixed families. While the FYA promoted Filipino-American cultural awareness and engaging activities for the growing Filipino American youth population, Dorothy's perspective as a sociologist saw and felt the struggles of the parents with racism and discrimination impacting every aspect of their lives.
The 60s decade saw Dorothy engaged fully in this call for racial, socio-economic and gender justice. She wrote community grants and hired FYA staff to provide immigration and employment services for the parents. She advocated for legislation to employ immigrant bilingual teachers at the Seattle Public Schools, as well as advocating for medical testing and placement of doctors who are trained in the Philippines so they can practice in the U.S. This made FYA arguably the first Asian social service agency that had a race and social justice advocacy focus while providing comprehensive wrap-around services.
Dorothy's strong sense of community building came from her parents. Just before The Great Depression, (Valeriano) Laigo was a member of a small group of Filipino businessmen who began a fund in 1927 and 1928 towards the purchase of a building for a Filipino Community Center. The young Dorothy participated in community fundraising at a young age. As a shy 16-year-old, she complied with her parent's request to run for the Filipino Community queen contest. She won by raising the most money from family, friends, and the many "Uncles" the family knew in Chinatown.  She also served as a teen Board member on the Filipino Community Council.
The Cordovas as a couple collaborated for over 50 years on many community projects involving young people. They developed a Filipino American curriculum and were adjunct professors at the University of Washington for nearly 10 years until 2004. One legacy project led to their being known as the founders of the national Filipino American Identity movement. The Cordovas conceptualized in 1971 the "Young Filipino Peoples' Far West Convention: A Quest for Emergence" and Dorothy implemented it. Over 300 Filipino youth came from Washington, California, Alaska, Chicago and Oregon to attend the conference at Seattle University.
During the conference, Dorothy saw that the youth were not as engaged and changed the program design. She created a rule that from thereon, only the youth can speak. The youth poured their hearts out. They spoke passionately of being misunderstood, devalued, discriminated against, and not feeling adequate.  Eleven subsequent youth conferences were held focusing on youth empowerment and developing youth services. Last October 2021, the 50th anniversary of the Conference was celebrated with a virtual national panel and reunion. During the 2021 reunion, many shared how the convention in 1971 inspired them to become community activists, and how we continue to pass on the sense of community to today's youth.
In 1971, the Demonstration Project for Asian Americans (DPAA) was launched to research and document the challenges of Asian Americans (including the newly arrived Southeast Asian refugees) and propose national solutions. Dorothy served as executive director accepting the position on the condition that her children could come and stay at her office when school was over.  One lesser-known but highly impactful contribution by Dorothy was conducting a DPAA sociology study of Filipinos who lived in Chinatown with recent immigrant Levi Romero, a dentist from the Philippines. The data indicated that the Filipino residents were moving from hotel to hotel because of the poor living conditions. Bob Santos was on Dorothy's DPAA board and was aware of this research. Subsequently, as director of Interim CDA and later director of Seattle Chinatown International District Preservation and Development Authority (SCIDpda), Santos redeveloped the hotels in Chinatown ID for low-income housing, earning him the beloved title of "Mayor of Chinatown ID".
A project funded by the Washington State Humanities Oral/Aural History Program to research and document problems affecting Asian Americans was a preview of Dorothy's next venture. In 1982, Dorothy and Fred established the Filipino American National Historical Society (FANHS). She served as pro bono executive director and Fred was a pro bono Archivist establishing the National Pinoy Archives (NPA)—one of the largest collections on Filipino American history in the world. FANHS mission is to "promote understanding, education, enlightenment, appreciation, and enrichment through the identification, gathering, preservation and dissemination of the history and culture of Filipino Americans in the United States." The FANHS' headquarters includes the national office, research center, collections, and archives at the Immaculate Conception school building.
Under Dorothy's leadership, FANHS National now has 40 chapters throughout the continental United States, Alaska and Hawaii. They gather every two years at national conferences to share Filipino American achievements and histories, and to reconnect with the FANHS community family. In 1992, FANHS started celebrating Filipino American History Month (FAHM) in October.  In 2009, Congress passed a resolution making it official and in 2015, President Barack Obama publicly acknowledged FAHM to the nation. In 2016, the FANHS Museum was launched by the Stockton Chapter with Dorothy providing the first two national exhibits. The Greater Seattle FANHS Chapter will be hosting the 19th FANHS Conference this year on August 11 to 13 to celebrate its 40th anniversary with the theme "Past, Present and Future."
Dorothy's historic preservation legacy also includes documenting the histories of Seattle's Central Area – a historic black neighborhood, and Immaculate Conception Church that Dorothy successfully co-nominated as a historic landmark. She is now writing the historic context statement for Filipino Americans in Washington state, as funded by National Parks via the WA Dept of Archaeology and Historic Preservation. Equally important is her continuing legacy of mentoring thousands of Filipino and Filipino American high school, college, graduate and doctoral students, community researchers and historians to carry on the work.
Auntie Dorothy is not lacking in recognition. She has received a Seattle University honorary doctorate for lifetime achievements in 1998 with her husband Fred Cordova, has been interviewed for the Seattle Civil Rights & Labor History Project, was honored with the Legacy Award from AKCHO (Association of King County Historical Organizations) and much more.
At the end of the day, she is indeed a mother, grandmother, and great-grandmother first. To a much larger national family, she is family, she is Auntie Dorothy. Thank you, Cordova family, for sharing Auntie Dorothy, supporting her in many ways, and driving her to the FANHS office six days a week to continue carrying out her work of passion. Happy 90th Birthday!