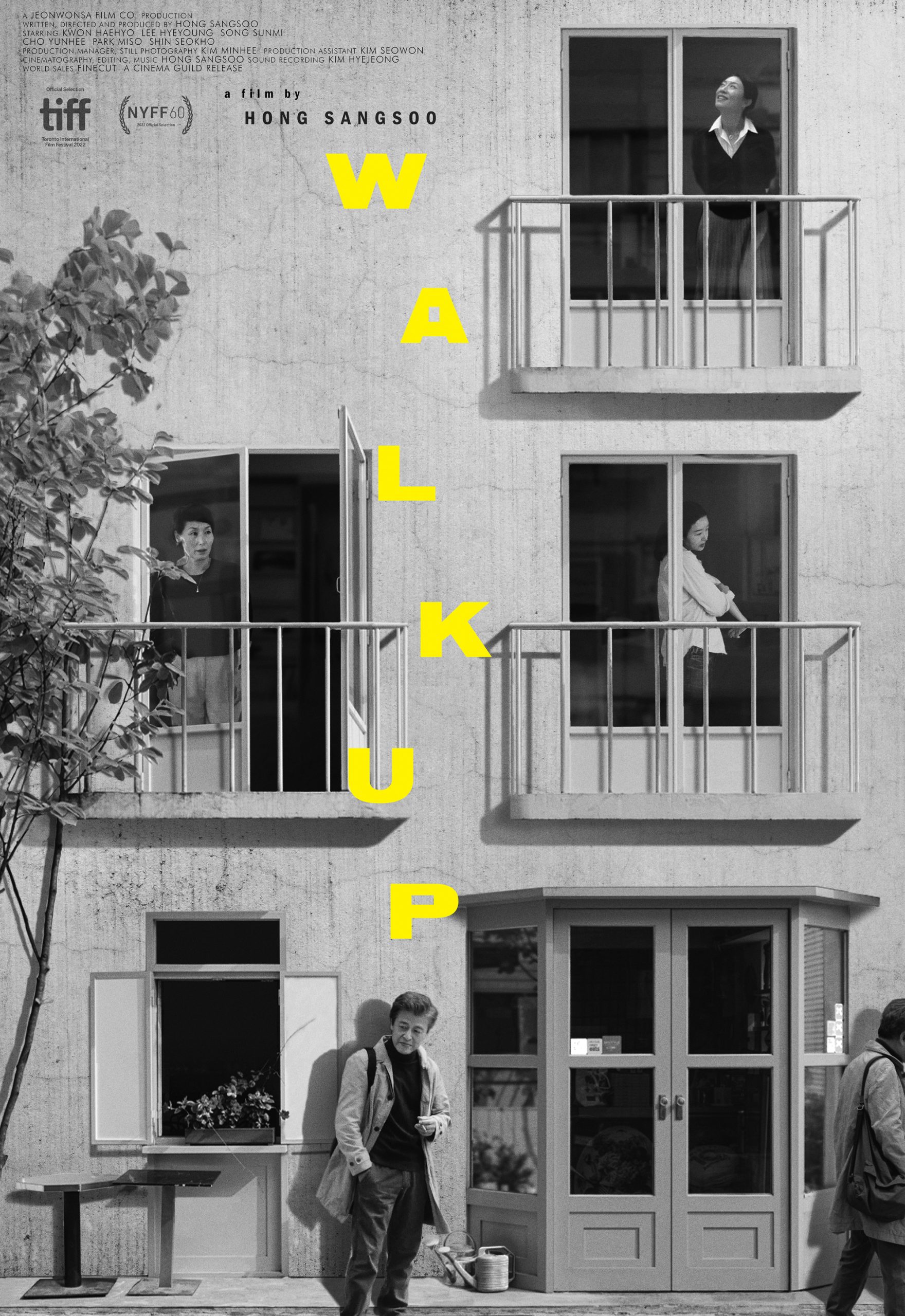 Talking about film directors as the primary authors of their works can notoriously be misleading, but it seems especially appropriate for those rare filmmakers whose movies are variations on a theme. I'm thinking of Ozu Yasujirō's family dramas, for instance, or most of the films of Éric Rohmer, which show the moral and romantic entanglements of young French bourgeois men and women. These novelistic bodies of work explore a single area of experience, and if they succeed, it's probably not because we filmgoers identify particularly with the characters or situations; rather, it's because long engagement with a subject allows room for moral insight and nuance.
The South Korean director Hong Sang-soo certainly belongs to this school of filmmakers. He has made 28 films since the late nineties, and over time his filmmaking approach has become a system. Like Rohmer's, his movies are almost wholly built from scenes of dense dialogue. His characters usually work in film or the arts, or they are film students. They meet in restaurants and cafes, drink soju, and talk; much of the dialogue is improvised. Their relationships sometimes raise questions of sexual ethics, and Hong has given unflattering accounts of male film directors' behavior. Even in less fraught situations, there is often an undercurrent of embarrassment masked by politeness.
His new film, Walk Up, is about a middle-aged film director named Byungsoo (Kwon Hae-hyo) who, in the first scene, brings his estranged daughter to meet Ms. Kim (Lee Hye-young), an old acquaintance with a successful interior design business. Byungsoo's daughter has been an art student but wants to try working in interior design because, she says, it is a good way to meet people. Uncomfortable questions about art and commerce echo through the film. Meanwhile, though Ms. Kim's approach to design seems to be purely artistic, she is also the landlord of a small four-story building where she has her studio, and where chef Sunhee (Song Seon-mi) runs a small restaurant. The movie's four segments show Byungsoo returning to this building, moving in, and moving up to the top floor.
The film is shot in black and white and makes the most of its setting, which is almost entirely limited to Ms. Kim's apartment building. The building is also a literal structure on which Hong founds one of his unconventional narrative structures. After spending time with Ms. Kim in the first two segments, Byungsoo moves in first with Sunhee, then with a real estate agent. Do the four segments make a single narrative? Or are they variations on a theme, exploring different facets of Byungsoo through possible relationships to four women? In an early scene, Jeongsu complains that her father's public persona as an artist doesn't resemble the reality experienced by his estranged wife and daughter. Ms. Kim suggests that his public persona may be just as real, though. Maybe we should say that character is real, but it only exists in relations.
Lee Hye-young is a celebrated film actress, who returned from a hiatus for Hong's 2021 film In Front of Your Face. There, she played a middle-aged actress with a terminal illness, and Kwon Hae-hyo was a director who wanted to bring her back to the screen. For me, that film was one of the highlights of Hong's filmography. Walk Up reverses their roles, making Lee the supporting character. It's more cerebral and less affecting; the postmodern formal devices allow freedom from fixed character traits, but they don't seem to be demanded by these characters.
***
In the last year, American audiences have had chances to see some Japanese films that show aspects of society seldom put on screen. Restored activist documentaries by Kazuo Hara have made their way to streaming platforms and online festivals, and in February, Seattle filmgoers were able to catch two independent films by Masashi Yamamoto at the Northwest Film Forum, both of them showing life on the margins of society.
Maybe, then, the time is ripe for revisiting the films of Imamura Shōhei, whose work already has a certain stature in American film culture. Imamura had close ties to the film industry, having begun as an assistant to Ozu on films like Tokyo Story. But in celebrated films like The Pornographers, The Insect Woman, and The Ballad of Narayama, he would show an unofficial Japan that contrasts with what critic Donald Richie called an "official" image of the country (tea ceremonies, traditional values and aesthetics, and so forth).
This week, The Beacon will screen a new digital restoration of Warm Water Under a Red Bridge, the 2002 film that was Imamura's last feature before his death in 2006. It begins in an encampment of homeless men in Tokyo, where recently unemployed salaryman Yosuke (the great Yakusho Kōji) discovers the body of an old man. Known as "The Philosopher," the man once told him about a treasure left, years earlier, in a house by a red bridge in the fishing town of Himi. With nothing to lose, Yosuke travels there for a look. Instead of a golden Buddha, he meets Saeko (Shimizu Misa), who … how shall we put this? Her body fills with water, which she needs to release in sexual intercourse. Call this magical realism, if you like; the film is adapted from a novella by Henmi Yō. But Imamura always associated the bottom of the social structure with the lower half of the body, and as Yosuke settles into a new life a as a fisherman, sex is linked to vitality and utopian possibilities.
Imamura is no longer unmasking official lies, but he's still exploring the value of what the official story represses. The story emerges out of Japan's economic downturn, and it turns a real incident of industrial poisoning of the waters near Himi into an ecological parable. Intimations of multicultural Japan in the form of an African runner-in-training are threatened by racism; and vicious gangsters persist on the fringes of this town of oddballs. But ultimately this is a romantic comedy about freedom, and it shows Imamura at his most humane and optimistic.
Walk Up will be shown at the Northwest Film Forum, 1515 12th Avenue (nwfilmforum.org, 206-329-2629) on April 5-9. Warm Water Under a Red Bridge screens at The Beacon, 4405 Rainier Avenue South (thebeacon.film, 206-420-SEAT) on April 7, 9, and 10.