Three recent Asian cookbooks, all of whom have been well-received, offer a wealth of flavors, family anecdotes, and cultural tips. 
Rambutan: Recipes from Sri Lanka by Cynthia Shanmugalingam, Bloomsbury Publishing, 335 Pages, $35.
Cynthia Shanmugalingam, a British-Sri Lankan restaurateur, offers an impressive debut cookbook, whose title, Rambutan, refers to the creamy, juicy, fruit highly popular in Sri Lanka.  
Packed with personal narratives, candid family portraits, and gorgeous food photography, this book offers over 80 recipes. These luscious recipes exemplify the range of influences Sri Lankan food bears: South India, Indonesia, and Dutch. For generations, the home cooks there have combined these influences with local ingredients and innovative ideas to come up with an extraordinary set of dishes. Examples are, Coconut Dal with Kale, Shrimp and Seafood Kool Stew (Kool being the seafood gumbo of the Tamil community), and Black Pepper Beef.  
Although the cuisine is relatively unknown in the United States, the reader need not be daunted. Under the heading, "9 Things about Sri Lankan Food," Shanmugalingam explains basic techniques used in Sri Lanka cooking, such as tempering. This consists of roasting whole spices in oil to release their aroma before adding them to a dish.  
Curries are well-loved in Sri Lanka. In a chapter titled Curry Everything, Shanmugalingam says: "Curry means a lot of different things in poetic Tamil: Just like the dish itself, it is a shape-shifting, magical thing." There are recipes for Roasted Aubergine Red Curry, Coconut Milk Greens Curry, Cashew Nut Curry, and many others. 
Condiments and side dishes play a big role in the island's dining. Pol Sambol, the "King of sambals," is made with coconut, dries red chllies and spices and is said to be "Great with everything." All in all, this is a cookbook to treasure.  
Sambal Shiok: The Malaysian Cookbook by Mandy Yin, Hardie Grant, 256 Pages, $35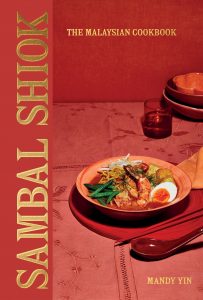 London-based restaurateur Mandy Yin, born and raised in Malaysia, explains the tittle thus: Sambal is a condiment, which comes in many varieties and is offered as a side dish to a meal. Shiok is Malay for "shockingly good," an appropriate description of Malaysian cuisine. Still relatively unexplored in the U.S., this tasty cuisine showcases influences of China, India, Malay, and Indonesia.  
Yin, trained as a lawyer and living in England, changed her profession after burning out. A frequent visitor to the night market scene in London, she began to supply dishes to street stalls. At present she owns Sambal Shiok Laksa Bar in London.   
The recipes she supplies in this book encompass both home-style dishes, handed down by her family, as well as hawker center favorites. Those who have traveled to Malaysia or Singapore will recognize the hawker centers, an integral part of the local food culture, where all are welcome. Laksa, a spicy fragrant noodle soup laced with curry, a dish too time-consuming to prepare at home, is often ordered at these stalls. Yin provides a recipe titled Signature Curry Laksa. Street food aficionados will also rejoice that a recipe for the ubiquitous Hainanese Chicken rice hasn't been forgotten. This is a dish of silky-smooth poached chicken and savory rice, served with a garlicky sauce.   
Yin doesn't fail to cover many basics in this book. In a chapter titled, "Store-Cupboard Staples," she introduces such items as pandan leaves, Shaoxing rice wine, and yellow bean paste. "My Essential Home-Kitchen Equipment," lists the usual necessities, including a small noodle basket for blanching noodles, a handy item not often found in a Western kitchen. She provides substitution suggestions to make a dish vegan. At the end of the book, she incorporates such add-ons as "Malaysia Travel Tips." These useful tips also list dishes to order in restaurants in Kuala Lumpur and Penang.    
Ammu: Indian Home Cooking to Nourish Your Soul by Asma Khan, Interlink Books, 287 Pages, $35
Asma Khan, British-Indian chef and restaurateur, celebrates home cooking as it was once practiced in her family's kitchen in India while she was growing up. "It is a chance for me," she says, "to honor my ammu—my mother—and to share with you the recipes that made me and root me to home." 
Her early memories of sharing food with a sibling comes from Calcutta. No wonder that she explores Bengali-style cooking, as practiced in Calcutta, and provides recipes such as, Chingri Bhorta (Spicy Mashed Shrimp) and Misti Kumro (Pumpkin with Red Chile). That is not all. She also includes recipes influenced by Afghanistan and Pakistan, namely Chapli Kabab (Kabab from the Northwest Frontier) and Zarda (Sweet Rice with Saffron and Nuts), often served in Muslim weddings.  
"I am happy to have Ammu to hold my hand and guide me through life," she says, "and I hope this book inspires you to cook for the Ammu in your own life, whoever they may be." 
Bharti Kirchner is the author of eight novels and four cookbooks. Her most recent novel is 'Murder at Andaman: A Maya Mallick Mystery.'