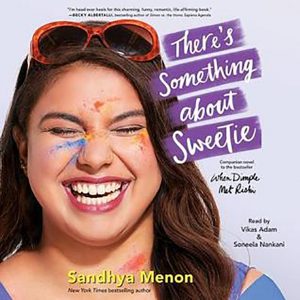 Sandhya Menon's debut novel When Dimple Met Rishi (2017) hit the New York Times Best seller list and got a lot of rave reviews for its charming narrative about two Indo-American teenagers who are very different from each other and whose parents try to arrange a marriage between them secretly. The teens end up in a summer intensive coding/app development camp, sparks fly, and then all's well that ends well. In other words, a young adult rom com with some Indian spicing for an audience craving exoticism and a Benetton version of diversity and multiculturalism.
There's Something About Sweetie is a semi-sequel to that novel but focuses on Ashish Patel, Rishi Patel's younger brother, who is as different from the tradition loving Rishi as is possible. Ashish is the son of a Silicon Valley one percenter who has cool friends, is a hot shot tennis player at a private high school, drives a Porsche but is a sad little rich boy because his girlfriend, Cynthia, who is in college dumped him. His meddling parents and friends decide to set him up with an Indian girl because they would share common values.
Enter Sweetie who is the only child of not-so-wealthy Silicon Valley Indian Americans (read top 10% as opposed to 1%) who is smart, creative, and is an amazing athlete whose running record is the best in the school. Sweetie, however, has a weight problem and her mother never lets her forget it. The mother micromanages her diet while at the same time making lots of Indian sweets to sell at the local farmer's market and feeding some to Sweetie whenever she needs to show her love. Mother also believes that nothing good will come to Sweetie unless she reaches an ideal weight, and she never acknowledges Sweetie's talents as an athlete, student, or singer.
When Ashish's mother approaches Sweetie's mother to fix the kids up in a relationship, Sweetie's mother turns her down because she fears that Sweetie will not be good enough and will be hurt by people's comments. Sweetie, who has developed a crush on Ashish, takes matters into her own hands. She invites Ashish to meet her at the running track and challenges him to race, and she beats him. She addresses the body issue head on with him and he responds that he finds her beautiful. A charming romance develops between them. Ashish's parents get involved in orchestrating their relationship, obstacles pop up in the form or Sweetie's mother and the return of Cynthia. All's well that ends well.
Charming as this narrative might be and like all romance novels delivers a feel-good message for the reader, its politics are complicated. We must commend the author for taking on a pervasive problem in the South Asian community, the obsession with body size. Her body positivity message and her plucky female protagonist are inspiring and will, no doubt, impact young female readers of all persuasions.
The problem in this novel and its predecessor is that it romanticizes arranged marriages by opening up the practice a little bit to American values and allowing young folks to date under strict parental oversight. More importantly, under all the flowers and candlelight romance is the message that South Asians marry their own kind. Men like Ashish might fall for white girls, but ultimately, they must follow the desires of their parents and become obedient sons. So even as Sweetie is celebrated for resisting her mother, the ultimate message is that of obedience to the parents and adherence to community expectations and values.
This novel gives a nod to homosexuality as a counterpoint to the heteronormative plot line but the gay couple are non-South Asians. In Menon's world, queer South Asians do not exist. Like Jane Austen's novels, Menon adheres to the South Asian version of marriage balancing passion and prudence but unlike Austen, Menon is writing for a twenty first century audience. Do we really need to reinforce stereotypes about arranged marriages, heteronormativity, and a stereotyped Hindu world for today's youth?