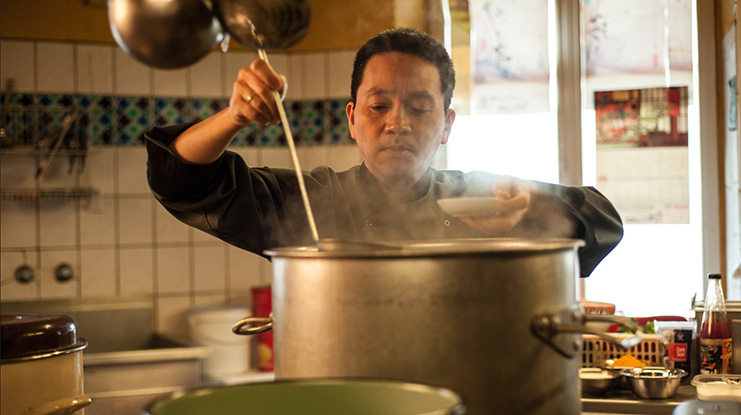 You'll appreciate The Taste of Pho's warm, touching moments as you brave the harsh winter of Warsaw with Long and his precocious daughter, Maja.
This is not your ordinary daddy-daughter duo. We see Long lovingly ironing his daughter's school clothes and packing her lunch every morning, but his daughter arrives at school with a different outfit and no lunch to speak of. It feels like they are miles apart, but it's food, and the shared grief of losing Maja's mother, that keeps them close.
At 10 years old, Maja is fluent in Polish, and is becoming less interested in her half-Vietnamese heritage. Her father is a daily reminder of what makes her different from her classmates. On the other hand, Long, who is a cook at a Vietnamese restaurant, clings to his connection to home by cooking traditional meals and listening to Vietnamese folk music.
Long's pho draws in young Polish workers and families craving a hot and satisfying meal. He takes great pride in his soup, crafted especially to please the Polish palate. When his restaurant is sold to a new Polish owner, he initially takes this news in stride, expecting his pho to remain a mainstay at the new restaurant. Not so. Long is asked if he knows how to cook sushi, how to cook Thai food, because "it's all the same, right?"
This film provides an intimate view into the life of a family, whose cultural and generational differences aren't unique to those of us who also grew up in immigrant families. But Mariko Bobrik's keen eye for detail in the small things that bind us together provides a fresh perspective on a familiar experience.
The Taste of Pho was circulated among the international film festival circuit in 2020 and won a Jantar for Best Debut Actor for Lena Nguyen (Maja). The film also holds nominations from the Molodist International Film Festival and Osaka Asian Film Festival for Best Feature Film and Best Film, respectively. This is Mariko Bobrik's third film. It is now showing exclusively on Film Movement Plus (www.filmmovementplus.com).