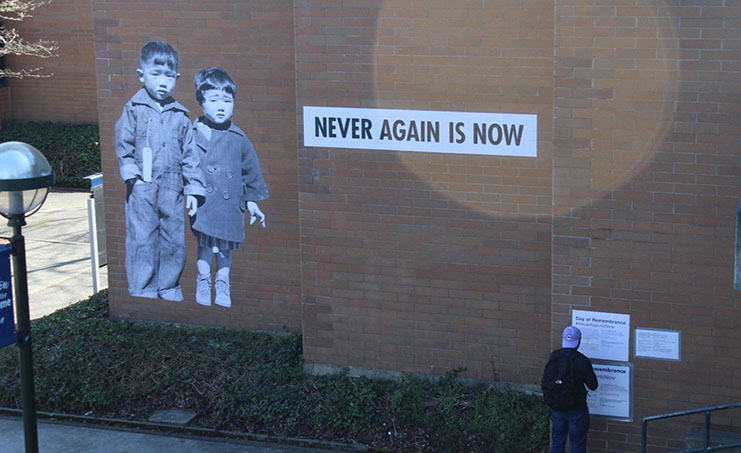 The International Examiner continues to recognize the outstanding achievements of Asian Pacific American leaders through the Community Voice Awards. Erin Shigaki will be honored with the Excellence in Arts Award for her work in public art and her advocacy on behalf of the Japanese American community. 
Shigaki holds a B.A. from Yale University and completed additional design and art study at American University and in Brissago, Switzerland. She has exhibited in Seattle at The Wing Luke Museum, Occidental Park, Nihonmachi Alley, Cornish Playhouse, and ARTS at King Street Station. She was a 2018 Artist-in-Residence at Densho, a non-profit organization which documents the history of Japanese Americans who were incarcerated during World War II.
For Shigaki, who was born and raised in Seattle, art and community have long been intertwined. "As a teenager, I remember walking into a gallery with my mom and seeing Roger Shimomura's work for the first time," she said. "I recall thinking, 'You can make work about this?!?' 'This' being the Japanese American incarceration experience."  The memory stayed with her. 
As an adult, while working as a graphic designer, illustrator, and art educator in New York City, she kept one foot on the west coast. "I was fortunate to stay connected to Seattle community through my family," Shigaki said, "and by being part of projects such as the Wing Luke's permanent exhibition design team for the current building." 
Then, several years ago, she brought the other foot home too. "I was accepted into the Seattle Office of Arts and Culture Public Art Boot Camp, though I didn't really know what the full definition of public art was!" Shigaki said.  "In parallel, I was working on the annual Minidoka Pilgrimage which is at the Japanese American concentration camp site in southern Idaho." 
Shigaki soon came to see how entwined these seemingly disparate projects were.  "I was heavily immersed in my family and community history, particularly around their WWII incarceration and the resilience required to survive it," she said.  "At the boot camp, I became clear about the fact that what's in my heart is to tell stories of my family and my community through art." 
She recalled the influence that Roger Shimomura's work had had on her years earlier. "The way he asks us to confront our racism is clear-eyed and powerful," Shigaki said. "I was really honored to work with him last year on the design of a book about his performance art."
For Shigaki, art offers an important way of revealing what has been concealed. "I really want the truth about the United States to be told, that this country was built on the backs of Black, Indigenous, and people of color," she said. "It continues to be undercover, under-written, and under-discussed in our education system and textbooks." 
And Shigaki feels that this secrecy damages the American fabric. "I feel we need to be accountable for our sins, no matter how painful," she said. "I love America. I am so glad I'm American, but we have done some dirty deeds and there's nothing wrong with calling it out because that's what's required for healing." 
Public art, Shigaki believes, has a special role in this healing for Asian Americans. "I can't overstate how important it is to have representation in and access to art," she said. "I also want to create opportunities for other people to learn about us in a complete way, especially as Seattle gentrifies at an alarming rate and tends to disregard all that communities of color have struggled to build and overcome." 
The urgency of these concerns is too strong for Shigaki to ignore. "What happened to Japanese Americans during WWII rhymes so strongly with what's happening to migrants today," Shigaki said, "where innocent people are being detained, in terrible conditions, where people who do what we're now calling 'essential work' are being tossed away." 
It's her community's turn, she believes, to stand up for others. "Our WWII incarceration is also linked to this country's obsessive history of incarcerating BIPOC bodies," she said. "We as Japanese Americans have a moral imperative to tell our story because of the way that our history echoes what is going on now."
Shigaki makes an explicit link to the protests following the death of George Floyd at the hands of a white police officer. "It is difficult for all of us to acknowledge anti-Blackness within us and it has been particularly painful for me to see it within my own community, which was literally rounded up and jailed en masse," she said. "We Asian Pacific Americans have been fed the false constructs of the 'model minority myth,' and have been kept apart from our Black, Brown, and Indigenous siblings by a white supremacist notion that we're 'closer to white.'" 
But the reprieve from racism was only temporary. "During the COVID-19 pandemic, we once again have seen how false that status is, as xenophobia and hate are stirred by our unfortunate president," Shigaki said. "I fervently believe that none of us are free until all of us are free. In my work, I ask people to consider hard questions about what kind of world we want to leave behind for the generations to come."
One of the ways she is doing this is through outreach to children. "Recently, I joined the board of an amazing public access television show called Look, Listen + Learn that inspires and advances early learning in young children of color," she said.  "I plan to continue to amplify the history, needs, and demands of BIPOC communities with these organizations by creating opportunities for all of us to learn, heal, and make society equitable."
Shigaki also has definite advice for young artists. "Build beloved community and build trust within that community," she said.  "Be clear about your personal mission as an artist. Be humble and express gratitude. Ask for help when you're struggling. I think you will then find strong backing for your messages and art." 
But artists aren't the only ones for whom Shigaki is putting out the call.  "I think there's something for each of us to do in this fight so find your lane and don't succumb to fear," she said. "And of course, please vote, support Black businesses and voices, and take good care of each other."