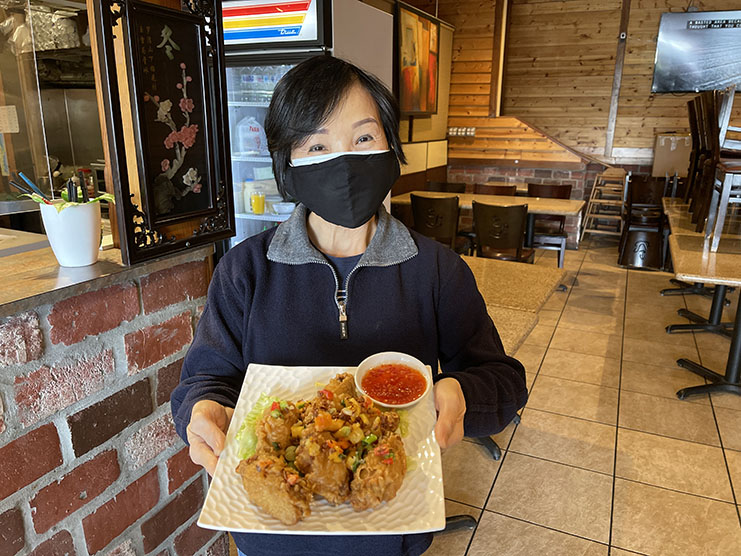 This article is sponsored by Comcast.
Our businesses in Seattle's historic Chinatown-International District (Chinatown-ID) thrive off people and face-to-face transactions, and the pandemic has changed all that. While some have found ways to sell products and services via their website and use the internet to promote their business, nearly half do not have any website or digital presence, according to data from the Chinatown-International District Business Improvement Area (CIDBIA).  
To help bridge this gap, the CIDBIA began planning a new digital-first initiative in 2020 through a collaboration with Comcast Washington. After researching the needs of the community, it became clear that owners needed mechanisms and support for selling their goods and services and reaching customers online. These resources became especially important as the neighborhood prepared for one of its most important annual events, the Lunar New Year celebration.
"Lunar New year is a time where we are used to gathering for group activities, shopping for gifts, and meeting with friends to explore the different stores and businesses providing seasonal items – it's a time where our community truly comes together," notes Monisha Singh, executive director of the CIDBIA. "Social distancing and business closures eliminated that foot-traffic, and we want businesses to feel comfortable with turning to do things online, and our community to use the internet to support the shops and services they love."
After months of work, the two organizations unveiled Shop C-ID, a new e-commerce site and digital business skills training platform to get as many of these businesses' products and services online. The new site will help businesses connect with customers virtually during one of the most important times of the year for members of the Asian Pacific American (APA) community and the International District.
Through this project, businesses across the International District can now market themselves and give customers a way to shop and purchase products and services online, even if they are closed or have limited pandemic hours.
And as CIDBIA and Comcast get this program off the ground, a key part of the partnership will be helping those businesses without an online presence sell their goods and services and use basic online tools to continue to operate during the pandemic. Long-term, this will be a platform that fills a critical need the neighborhood has needed for years.
The critical gap these projects fill
The International District neighborhoods of Japantown, Chinatown and Little Saigon are full of fantastic businesses led by people and families who have lived and worked in the area for decades. They have history and are rooted in the community, and have been able to rely on neighborhood support and word of mouth reputation to make a living and find success. Because of this and other socioeconomic factors, there is a large subset of these businesses that have not needed or had the opportunity to embrace marketing, promoting, and selling their goods and services online.
The CIDBIA estimates that 100 out of the 250 businesses they currently support do not have a website for selling to customers. So, when the pandemic hit and owners were forced to close up shop, many were not prepared to jump to the digital world.
This "digital divide" is seen across Seattle, yet communities and neighborhoods of color experience it the most. Access to proper technology infrastructure and skills, and education for using technology are key reasons for this gap, and it is a problem Comcast is innately familiar with addressing.
"Digital equity has been our flagship cause and mission for over a decade. Our efforts span the whole spectrum of digital equity and inclusion from technology equipment access, digital literacy training, job skills, low-cost Internet access, and building digital learning labs," notes Diem Ly, director of community impact of Comcast Washington.
"Community partners like the CIDBIA have a deep understanding of the community and what it needs to continue being a vibrant district and neighborhood in these unprecedented times. I'm proud how we've pulled together our different resources and skills to create responsive, meaningful programs that fill these needs. We can't and shouldn't try to do everything. But if we continue to focus our efforts, side by side with these partners, on building more equitable access to technology, then we'll see benefits for generations." 
The CIDBIA and Comcast joint project is bridging this divide for these owners by helping those without access to these tools and skills embrace digital to save their business.
Thanks to this partnership, more businesses are selling their goods and services online that the community loves, while also finding opportunities to expose themselves to new customers during the Lunar New Year holiday season.
Long-term, as CIDBIA and Comcast rollout the educational pieces of this program, it will help businesses without an online presence understand and embrace technology and hopefully create new avenues for growth and prosperity.
For some in the Chinatown-ID, the adaptation of technology is a smooth transition. For others, a multitude of language barriers in addition to the lack of appropriate resources and guidance has left  owners less than prepared to accept the digital age.
In the example of Ironsteak, a business with two locations operating in Chinatown-ID and Redmond, owners Jacky and Maggie Lo experienced the need to transform their business model online. When the COVID-19 pandemic last March forced the restaurant to shut down from temporary dine-in, Lo immediately made the transition into the online ordering world and shifted their priorities to attracting customers digitally, as it was the only viable option.
Building an online business has its unique challenges. Especially for restaurants like Ironsteak, Lo added "Ironsteak is more appealing to customers who want to enjoy the experience rather than to-go boxes, but that's hard to do while complying with state restrictions." To make up for this experience gap, Ironsteak packaged their sauces and created bundle gift baskets for the holidays, utilizing the new Shop C-ID platform to amplify their products.
On the other side of the neighborhood, Trinh Ong runs a small Vietnamese restaurant, Mi La Cay. As a 1.5 generation immigrant, Trinh expressed that technology is moving at a pace faster than she can comprehend. "Everyone has social media and websites, but I am just getting started on Facebook". Last year, Laura Clise from the Intentionalist helped Trinh set up e-gift certificates for Mi La Cay, and since then, Trinh feels a better grasp of the impact from being online. 
The combination of language and technology hurdles remain a difficult issue for many small businesses in the C-ID, but Trinh is hopeful that education and proper resources like the new Shop-CID site will promote products and services offered by businesses to help ease the digital transition for those navigating this gap. 
The pandemic has magnified these longstanding issues of technology access for businesses in communities of color. But, through initiatives created by local organizations like the CIDBIA with the assistance of businesses like Comcast Washington, it is bringing changes and innovation to these community businesses to help them become more accessible to new customers and people that love and support them.  
The ultimate goal of course of programs like Shop-CID is to not only help our local businesses survive during the pandemic, but also give them the ability to thrive for years to come.  
To shop local and support the businesses in the Chinatown-ID visit the new CIDBIA website today www.seattlechinatownid.com/shop.