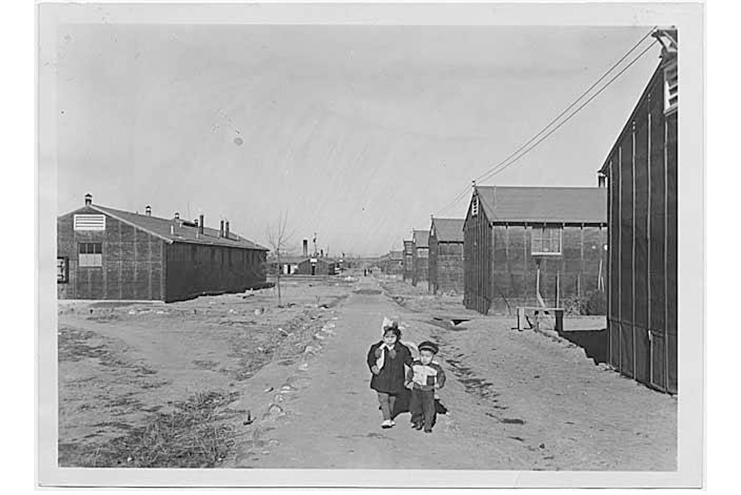 The first time Mary Tanaka Abo went back to Minidoka, she took her reluctant older sister Alice Tanaka Hikido. They both spent three years of their childhood within the walls of the Minidoka War Relocation Center (euphemistically named by the U.S. government) in remote southern Idaho, among some 13,000 Japanese Americans who were sent there and incarcerated during WWII.
Mary's mother and siblings were taken there from Alaska, separated from the childrens' father. They had no idea how long they would be held in this place, full of barracks and armed guards. Concerned that the family would be starved, Mary's mother started hiding toast from the mess hall under her cot. 
Alice, the older child, was worried about their mother's mental health. Mary remembers crying a lot while she was in the camp, from ages two to five. "I don't know why I cried all the time, but it could be the trauma of my mother," said Mary, now age 81, interviewed over video from her home in Bremerton. When they were finally released and resumed their lives, Mary grew up feeling ashamed of being Japanese American.
When Mary and Alice visited the site again as adults, "we sat outside on the stoop of the barrack and we kind of laughed at each other for being there," said Mary. "It's like, I guess a feeling that prisoners might have when they're released. We're so relieved we're not there, we don't have to live there anymore."
Mary later travelled to Minidoka with her daughter Julie Abo and Julie's family.
There, they met other survivors and their descendants. "It was a very moving and impactful experience, and it reminds us that this should never happen again," said Julie. 
Nothing could prepare Julie for seeing Minidoka first-hand and experiencing what it must have been like — its remoteness, views of empty fields, the intense heat.
Mary, Julie, and other survivors of Minidoka and their descendants are concerned that the site's sense of history will be damaged by a proposal to build a wind farm within view of the site. 
The Lava Ridge Wind Project would be one of the largest wind farms in the country. It is proposed by Magic Valley Energy, an affiliate of New York-based LS Power. According to the company's website, construction could begin in 2022, following permitting and outreach, and the farm could begin operating in 2024.
The site is proposed on public land administered by the Bureau of Land Management (BLM). The agency is reviewing whether the project complies with environmental and historic preservation laws, and is preparing an Environmental Impact Statement to see how it complies with National Environmental Policy Act (NEPA). The BLM is also implementing Section 106 of the National Historic Preservation Act (NHPA), to evaluate how the project would impact the Minidoka historic site, and how to mitigate these impacts. The National Park Service (NPS) is advising the BLM as it reviews both these laws. 
The nearest wind turbines would be two miles away from Minidoka, Magic Valley Energy noted in an email statement to the International Examiner. 
Part of the farm would be built within the boundary of the original Minidoka site. Dan Sakura, who is helping organize community organizations against the project, noted that 340 of the 400 proposed turbines would be visible in almost half the park's viewshed. Towers could be up to 740 feet tall, higher than the 605-feet Space Needle. Massive spinning blades the size of airplanes would be "distracting and have an impact on people's ability to have a better understanding of what life was like in camp," said Sakura.
Sakura has worked for the last 20 years helping preserve and interpret Minidoka and other Japanese American confinement sites. As a staffer in the Clinton White House, he was there when the president designated the Minidoka Internment National Monument as part of the National Park Service.
In 2008, the Bainbridge Island Japanese American Exclusion Memorial was added to the site, recognizing the shared history. Together, the two locations comprise the Minidoka National Historic Site.
Three generations of Sakura's family were incarcerated in the 1940s, many of them at Minidoka.
"Over the last 20 years the park has really developed into an incredible resource for healing, learning, connecting and honoring people like my family members who are no longer with us who died feeling ashamed of their heritage, ashamed that they were Japanese American," Sakura said. "And we're very concerned that this wind project is a giant step backward."
When Minidoka was established as a national monument in 2001, the National Park Service took input from the Japanese American community to develop fundamental values for the park's management plan, Sakura said. The wind project would damage these in a few ways, he said, starting with Minidoka's remote environmental setting, which allows visitors to understand what life was like there during WWII. 
In a letter to the community, the National Park Service echoed concerns that the proposed Lava Ridge Project would damage the "historic integrity" of the Minidoka site. 
"As proposed, the Lava Ridge Project would fundamentally change the psychological and  physical feelings of remoteness and isolation one experiences when visiting Minidoka NHS," according to the letter. "Approaching the site and walking its grounds, visitors would no longer experience the feeling of  a rural, undeveloped landscape recalling what Minidoka was like during World War II." 
Another of the park's values is for commemoration and healing, Sakura said. "It's almost like a cemetery," Sakura said. "It's where people go to commemorate folks that are no longer with us, it's a place where we can honor the almost 1,000 men from Minidoka that joined the war." People go to Minidoka to help heal painful memories of something that for decades was "too raw, too emotional" for many survivors to talk about, Sakura said. 
Last, the park has an educational role. "Right now, Minidoka is an outdoor classroom," Sakura said, where school children and the public can visit and learn about what life was like.
"We think it's an affront, we believe it will dishonor the memories of our relatives, our families," Sakura said, speaking on behalf of the Minidoka Pilgrimage Committee and Friends of Minidoka, Sakura said. "We think it's a step backward in the U.S. government's official acknowledgement that the incarceration was wrong."
In response to a show of interest from the Japanese American community, the BLM extended its scoping period where it accepts comments from the public, and received over 1,000 responses. Mary Abo signed a letter, along with some 150 other survivors of Minidoka, raising concerns about the project. 
In an email statement to the International Examiner, Magic Valley Energy said the project's site was chosen because of the strong winds in the area, and because it "contains few sensitive biological resources compared to other potential development sites and has been impacted by multiple wildland fires over the years."
"As a country, we have an obligation never to forget Minidoka or the impact that time in history had on those unjustly confined there," the statement reads. "We feel the project's contribution to the clean energy transition and its benefits to Idaho's economy can exist while honoring this important historical site."
The company will continue coordinating with Minidoka stakeholders and is open to dialogue with organizations and the National Park Service, according to the statement. 
Artist Erin Shigaki is the descendant of survivors of camps on both sides of her family. Dozens of her relatives were incarcerated there, from her great grandparents to her father, who was born there. 
Shigaki often mentions that her father was delivered by a horse veterinarian instead of a regular doctor, illustrating what the conditions were like for people living there. 
Shigaki went on her first pilgrimage there with her parents. "For all of us to be there together and try to make peace with the story and carry it forward in a meaningful way I think really adds a lot to people's healing." She now helps run the annual pilgrimage to Minidoka.
During her most recent visit in the middle of October, the site didn't have many visitors, allowing her to appreciate the landscape. "I think it would be totally disrespectful to what we've built there and to the memory of the people that survived that ordeal and for those who lost their lives," she said of the proposed wind project. "This is supposed to be a national historic site that captures a really shameful chapter of American history, and to take away from this kind of physical setting that really still echoes what it was like after WWII days, it would just be a huge insult."
Shigaki is working to mobilize more community members against the project, and hopes to being in people outside the Japanese American community as well. "It's an Asian American issue and frankly it's a BIPOC issue," she said, because the incarceration of Japanese Ameircans is linked to the detention and carceral histories that people of color have faced in the U.S. Shigaki wants people to make change by pushing together and connecting people's stories.
For survivors of Minidoka and their descendants, the fight continues. "We're going to do everything we can to stop this proposal," said Sakura. "We are very concerned and we will look at all of our options to make sure that our voices are heard and that our concerns are registered by the decision-makers."