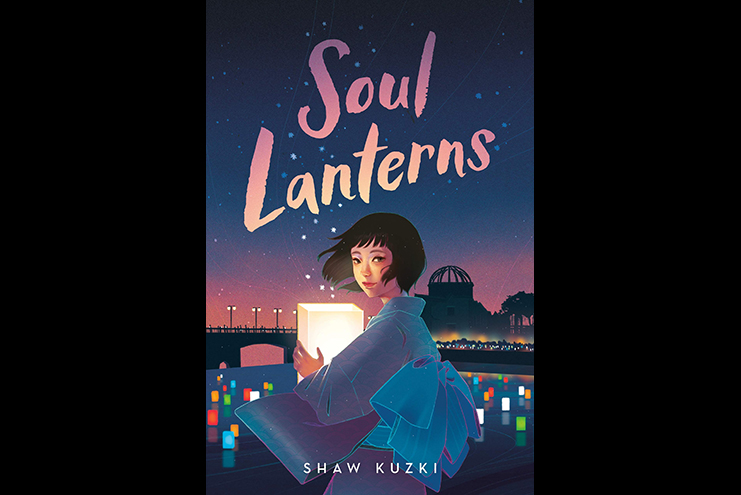 As a fourth-generation Japanese American, when I think of the aftermath of World War II, I typically think of my grandmother's experience in the internment camps. But in reading Shaw Kuzki's Soul Lanterns (translated by Emily Balistrieri), I gained a glimpse into how life was extensively changed after the atom bombs were set down in Hiroshima and Nagasaki.  
Through the eyes of middle school students in Japan, the reader gets to experience what it is like for young people to uncover a history that came before them. Soul Lanterns centers Nozomi, a 12-year-old girl living in Hiroshima, who has a strange interaction with an old woman at the annual floating lantern ceremony, a remembrance for those who were lost during the bombing. This gets Nozomi and her classmates thinking, and they propose that their school's culture festival focuses on the theme "Hiroshima: Then and Now" with art pieces that were inspired by people in their community.  
From there, the book highlights many different stories—those of a melancholy art teacher who lost his love; a schoolteacher who had taken her class on a field trip that day; and finally the story of Nozomi's mother before the war, a satisfying resolution to Nozomi's initial experience at the lantern ceremony.  
There is something magical about those pre-teen years; a growing into the world, a kind of blooming. These young students, the same age as targeted middle readers, demonstrate a kind of maturity and awareness as they learn the stories of those that came before. Kuzki does a wonderful job of transporting the reader into the different vignettes, but at the same time weaving together a cohesive, compelling narrative.  
Granted, the subject matter becomes pretty heavy at times; understandably, there is a lot of talk of loss and death. While sensitive young readers may have some difficulty with the big feelings that the stories evoke, Kuzki also shows them how to embrace those emotions by sharing stories and channeling those emotions into art. There is also a lot of hope and optimism in the stories of Nozomi and her classmates. There is an acknowledgement that understanding the history of their families and their community also helps the young find their place in the world.  
As the 76th anniversary of the Hiroshima and Nagasaki bombings came and went earlier this summer, Soul Lanterns helps us reflect on the past, and how we carry on in the present.