The nature of working a small farm is constantly adjusting to volatility: uncertain storms, unwanted pests, and in the case of 2020, a global pandemic. Farmers markets can no longer function as the community hubs they once were, requiring the small farmers that have relied on these marketplaces to think creatively about how to reach their customers when most folks are staying home. 
Online ventures
Many farms have quickly pushed their businesses online, transitioning into a new normal of pre-ordering, pick-up, and delivery. Kamal Sidhu, the eldest son of Sidhu Farms in Puyallup, WA, has been spearheading this effort to rewire the family business. He's worked over the past few months to create sidhufarm.org, an online store where customers can place orders and request deliveries of frozen berries, jams, honey, and flowers. Sidhu Farms produces around 50 different varieties of berries, including ten kinds of blueberries, eight kinds of raspberries and blackberries, and special types like marionberries, loganberries and tayberries.  
"Ironically, this website is the first time I have used my computer science degree," Kamal laughed. The website isn't a substitute for their regular markets, however. The website revenue doesn't compare to the revenue from farmers markets, where there simply is much more foot traffic. At the end of May, strawberries – indicating the first harvest of the season – will be ready. Kamal plans to put these and other fresh berries on the website, but he is unsure if Sidhu Farm's current methods of online delivery can sustain the fresh berries in the upcoming months. 
"With the amount of berries we have, to deliver it all would require so much more labor than we have right now," Kamal said. This constraint could even impact the amount they harvest from their fields. "The worst-case scenario would be throwing it away…We just have to be sure that it is feasible for us to harvest. We're definitely going to be harvesting, but to the same level [as last year] — I don't know. We don't like to waste anything we've created," Kamal said. 
Sustainable origins 
Sidhu Farms has been an operation of sustainability since they started in Washington back in 1997, five years after arriving. It was Kamal's mother, Shinder, who saw the potential in the land covered with neglected blueberry shrubs. She was the one who encouraged the family to start thinking about farming seriously. 
In the early days, Chet, Kamal's father, learned about the labor and business of farming largely through a process of trial and error. Chet comes from a family with a generation's long history of farming in Punjab, India. The American way of farming was unfamiliar, even if their neighbors in Puyallup were friendly enough to suggest solutions. Kamal recalls this part of Chet's story. 
"When he first came here and approached others with problems he found in the field, other people would say, 'Just spray this; just spray that,' "Kamal recalled. "But spraying chemicals is bad both for the food and the person applying them." 
They found it was more worthy to take the time to try new and natural solutions during the growing season and wait for the next season to assess how their methods worked. It was a sort of reverse engineering they used to fix their problems. By doing this, they have limited their amount of food waste as well. Throughout these past three decades they have faced numerous challenges, overcoming many of them with innovation and transforming the challenges into success. The COVID-19 pandemic is now another challenge to learn how to navigate.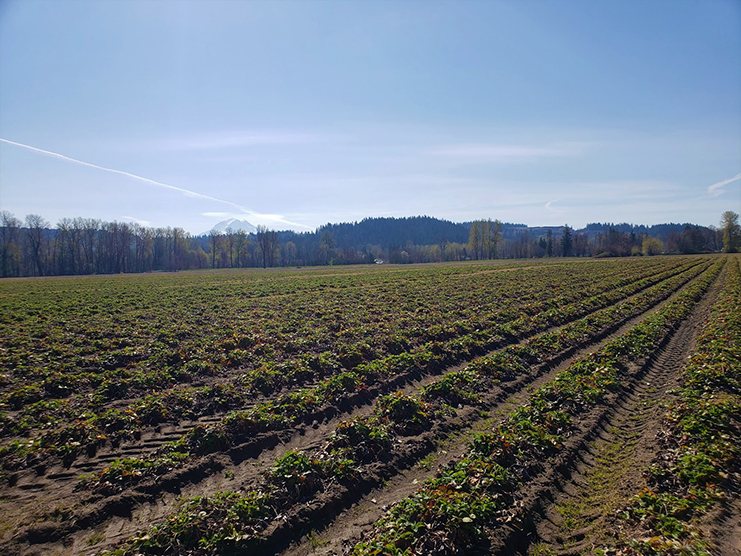 Looking forward
The implications of the pandemic have tweaked the roles of each family member in the business, in which, previously, every person had a distinct part — whether it be working at the fruit stand, at farmers markets, or in the fields.  Kamal's parents, Shinder and Chet, have taken a step back, mostly staying indoors and at home keeping safe. Kamal's brothers, Sunny and Sarge, have taken up the logistics of fruit deliveries. 
The Sidhu family is just one of the many stories of small farmers across Washington that are adjusting, iterating, and trying to find success under the conditions of  these new normals. Despite it all, Kamal still finds meaning in his work. "To be out here in the fields at 7AM all the way to 7 PM, in the cold, the rain, and then the sun. The ability to connect with the communities here in the PNW – all of it is invaluable."
Follow Sidhu Farms on Instagram for the most up to date news about their farm.