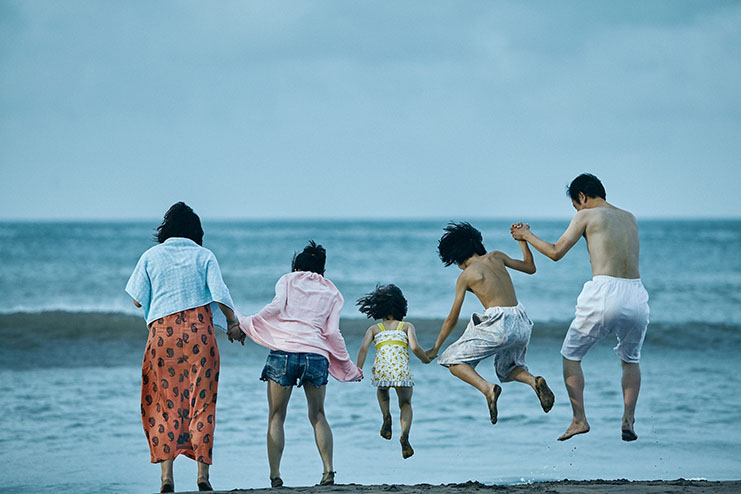 Award-winning director Hirokazu Kore-eda is no stranger to receiving acclaim and praise for his heft of work from the past 20 years, so it comes as no surprise that his most recent film, Shoplifters, received the prestigious Palme d'Or award at the 2018 Cannes Film Festival. Kore-eda has won other awards from Cannes, such as the Jury Prize in 2013 for Like Father, Like Son and the Best Actor Award for 14-year-old Yuya Yagira, the youngest actor to receive this award in the film festival's history, in 2004 for his film Nobody Knows.
Kore-eda's most memorable works revolve around the family unit, and Shoplifters is no exception, but contrary to his past work, Shoplifters centers around a band of petty thieves unrelated to each other living on the margins of society. Kore-eda challenges society's notion of the traditional family by presenting a family of misfits that chose to stay together through common interest and love rather than bloodlines.
For Americans who are more open to practices such as adoption, the blurred lines of what constitutes a family may be taken for granted and seem like a no-brainer. Family background and bloodline is of the utmost importance in East Asian societies, however.
Far surpassing box office expectations last year in Japan, the movie brings to focus the invisible people in society and questions what put them there in the first place. Kore-eda's intention is not to point fingers at individual politicians or government institutions but to have individuals examine themselves and society as a whole to see how they have contributed to placing these people beyond the outreach of human concern. Rather than blaming an individual's lack of social mores as the cause for a crime, Kore-eda wants the focus to shift to society's responsibility on the crimes that are committed. Perhaps it is our collective disinterest and lack of compassion that drive such people to subsist on petty crime.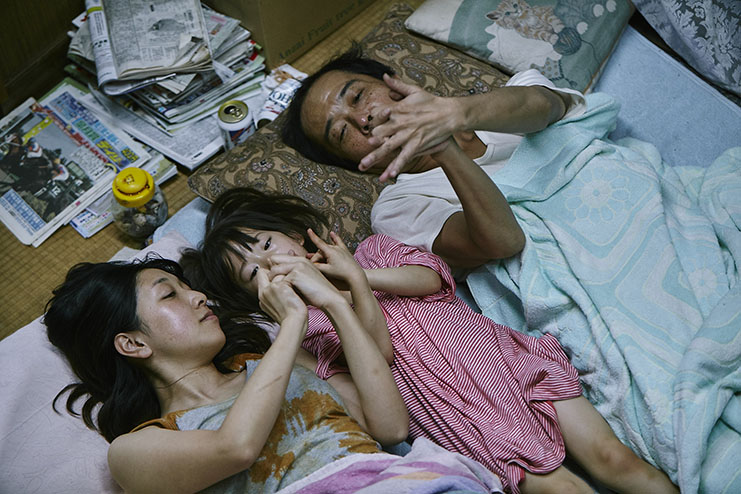 Meet the Shibata Family
The family consists of one set of parents, two children and a grandmother. After shoplifting from a market, the father, Osamu, disrupts this family dynamic by taking in a young girl he sees playing by herself outside her apartment on a cold winter night. Luring her with piping hot croquettes, his family takes her in temporarily to shield her from the cold and give her some food. Noticing scars all over her arm and not wanting to involve themselves in a problematic family affair, Osamu and his wife, Nobuyo, walk back to return her to her parents. Upon arriving at her home, they overhear a fervid and violent argument between her parents that cements their suspicions that the child is being abused at home. Perhaps reminded of her own troublesome past, Nobuyo refuses to return the child, and brings her back.
Although her adoptive family seems like a traditional family at first, the plot slowly unravels to reveal that things are not what they appear to be. Piecing together how this family came together will have viewers doing a bit of detective work as they watch the movie carefully for clues. Osamu and Nobuyo, both laden with criminal records, find it impossible to find full-time work, so it is up to Grandma, the matriarch of the family and arguably the most intriguing character in the story, to be the breadwinner by supporting them on her pension money, the source of which is also questionable as the movie gradually reveals her past. Aki, the older sister, has a side job of being an MVK or a "male virgin killer," where she stokes the imagination of men's sexual fantasies through a partial one-way mirror.
As dysfunctional as the family appears to be, they prove to be a wonderful substitution for Lin's biological family, despite living in a hovel. Nobuyo, in particular, goes out of her way to make the child feel safe and loved, going the extra mile to provide her with material goods while risking exposure. Despite having a mess of problems, the group acts like a family, never failing to support and protect each other.
It is up to Shota and Osamu to provide whatever the family cannot afford with its meager income through their shoplifting exploits. As Lin assimilates into the family's way of life, Osamu takes it upon himself to teach Lin his shoplifting tactics so that it would be easier for her to feel like she belonged in the family. Troubled from the start that his younger sister is partaking in these exploits, Shota starts to question the morals of what Osamu and Nobuyo do, especially when the owner of a small shop asks Shota not to teach his sister how to shoplift after revealing he knew what Shota had been doing all these years. Guilt-ridden, Shota makes an act of desperation that, in the end, breaks up his entire family, revealing the surprising, if not shocking and uncomfortable, back stories of the adult characters.
Never imposing, mawkish or preachy, Shoplifters is an engaging film to watch that will probably have you questioning and assessing your own relationships with family and friends. Written, directed and edited by Kore-eda himself, his focus on human relations and his unfailing attention to and talent for drawing out the nuances and details of everyday life will delight viewers and put them at a comfortable vantage point to observe and evaluate the actions and the agendas of the characters.
Shoplifters will open at the Grand Illusion Cinema on Jan. 25. Check www.grandillusioncinema.org for details and showtimes.