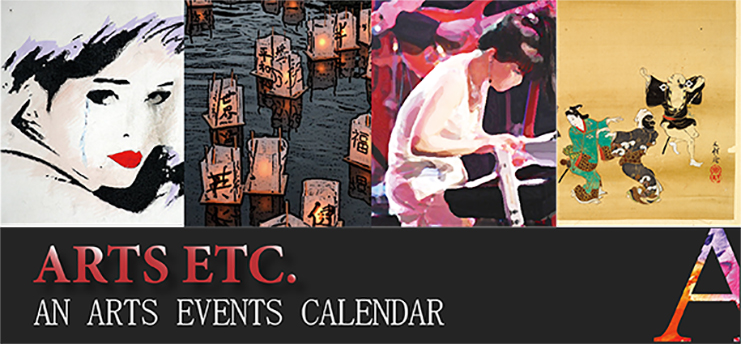 Due to the Covid 19 crisis, it is advisable that people check ahead with institutions before visiting by calling or going to their websites as government restrictions may apply or change at any time. Some galleries have limited hours with a limit of how many people may enter at one time. Face masks are mandatory.

Visual Arts
Seattle Art Museum's downtown location has re-opened. Tickets to SAM are being released in batches and you can now purchase them for visits to SAM through October 11, 2020. Ongoing and on view is the group show "Exceptionally Ordinary: Mingei 1920 – 2020" which includes wood sculpture by George Tsutakawa  from his "Obos" series.  "Color in Asian Art: Material and Meaning" is the latest installment in the popular Saturday University lecture series. Starts on Saturday, October 3 online and it is free.  The Seattle Asian Art Museum is still closed. Go to seattleartmuseum.org for details on all this. 
Sherry Ying Ruden's show entitled "X-paper Neoteric" features delicate abstractions on Chinese rice paper. On view through  September 26, 2020. Gallery  110 at 110 3rd Ave. S.  Wed. – Sat. from 11am – 6pm.  206-624-9336 or go  to www.gallery110.com.
The Cascadia Art Museum is now open and announces the following shows. "Gifts And Promised Gifts To The Museum's Permanent Collections" is a group show that includes the late John Matsudaira's masterpiece "Quiet Motion And Blue" which was featured at the Seattle's World Fair back in 1962. On view from September 17, 2020 through May 23, 2021. Other exhibits include "Dreaming Forms: The Art of Leo Kenny" and "Stolen Moments: The Photography of Shedrich Williams", a Portland photographer. These two shows above on view September 17, 2020 through January 10, 2021. Currently on view is "The Art of John Carl Ely" through November 8, 2020. 190 Sunset Ave. S. in Edmonds, WA. Hours are Th. – Sun. from 11am – 6pm. 425-336-4809.
The work of George Tsutakawa is included in a group show entitled "Around The Northwest School" on view through September 26, 2020. The work of Jueun Shin and Yerin Yang appears in a group show entitled "Contemporary Northwest Print Invitational 2020" also on view through September 26, 2020. Tuesday – Saturday by appointment only. 313 Occidental Ave. S. 206-624-7684 or go to www.davidsongalleries.com.
L.A. based Filipino American artist Elyse Pignolet's new show entitled "Send Her Back" combines offensive text against women by male politicians of our day with ubiquitous, decorative floral watercolors and classic vessels from the ceramic tradition to force an uneasy collision of art and ideas. As the artist notes – "Intentionally, I begin my process with something strongly associated with the feminine…pretty, decorative, domestic, familiar, a vase, a flower arrangement. My hope is to then slightly create a shift: to make the situation a bit uncomfortable, a bit strange. Perhaps offensive  or even vile. I'm interested in contrasts." On view at Koplin del Rio Gallery through  September 30, 2020. By appointment only  from Wed. – Sat. by  emailing [email protected]. The exhibition can also be viewed online.  313 Occidental Ave. S.  206-999-0849.
Humaira Abid, the  local Pakistani artist who works with wood to shape  thoughtful works that deal with women's issues has a show of new work entitled "Sacred Games" scheduled for Greg Kucera Gallery from Sept. 3 – 26, 2020.  Roger Shimomura comes in with a new series of paintings entitled "100 Little White Lies" set for January 7 – 30, 2021. 212 – 3rd Avenue S. 206-624-0770 or try [email protected].
The work of sculptor Calvin Ma is included in a large group exhibition entitled "Elements: Earth" on view through September. Ma also has a solo exhibition of his sculpture forthcoming November 5 – 21. Foster/White Gallery. 220 Third Ave. S. 206-622-2833 or try [email protected].
Alaska-based printmaker Fumi Matsumoto has a show of monotype prints depicting animals on teabag papers September 4 – 27 at Roby King Gallery on Bainbridge Island. Also on view is Susan LeVan's mixed media collages. 176 Winslow Way East. 206-842-2063 or go to www.robykinggallery.com.
"Anatomy of a Collection" is a group show that shows more than 80 works of art from the permanent collection. On view through  January 3, 2021. At Whatcom Museum's Lightcatcher Building. 250 Flora St. Bellingham, WA. 360-778-8930 or go to www.whatcommuseum.org.
The Wing Luke  Asian Museum has many virtual programs now as well.   The "It Happened Here!" Storytelling Series happens every Wed. through September 30, 2020 at noon. Learn about neighborhood history through storytelling and Q & A. Each session will be hosted via facebook. There are virtual tours of the museum on weekday mornings. Pre-booking available for private groups. Contact the museum to sign up.  Check out what's in the giftshop with the Museum's online marketplace. The monthly storytime programs can be watched at www.digitalwingluke.org/programs.
"Quieter Days" is the title of a show of new work  slowly done at a now departed Ballard studio by Alan Lau (full disclosure – that's me)  on view from September 3 – Oct. 24, 2020. Artxchange Gallery is at 512  1st Ave. South. 206-839-0377 or email [email protected]. There will also be an  exhibition catalog available for purchase soon. An art talk and poetry reading by the artist will be posted on the gallery's website shortly. 
"Traveling At Home" is the 28th annual exhibition of Z.Z. Wei, an artist known for his evocative paintings of Northwest landscapes. The month of September, 2020 at Patricia Rovzar Gallery in downtown Seattle. 1111 First Ave. 206-223-0273 or go to www.rovzargallery.com.
On view September 19 – October 31, 2020 is the large scale mixed-media work by Lakshmi Muirhead in a show entitled "There is Always a Before" at J. Rinehart Gallery. 319 – 3rd Ave. South. 206-467-4508  or try www.jrinehartgallery.com.
"Do Not Avert Your Eyes" is the title of a group show of gallery artists which includes the work of Patti Warashina. September 3 – 26, 2020. At Traver Gallery in downtown Seattle. 110 Union St. #200. 206-587-6501 or try travergallery.com.
The Columbia City Gallery has the following – In the Community Gallery is "The Resting Place", a show that examines the intersection of grief, migration and cultural identity among Filipino Americans curated by Derek Dizon. This project was funded by the  National Endowment for the Arts. In the Members Gallery is a group show that includes the work by Kamla Kakaria. September 23 – November 8, 2020. 4864 Rainier Avenue South in Seattle's Columbia City neighborhood. 206-760-9843. Hours are Wed. – Sundays from 11am – 7pm.  206-760-9843 or go to www.columbiacitygallery.com.
Studio E Gallery in Seattle's Georgetown neighborhood features work by Ko Kirk Yamahira and Emily Counts. Both artists are tactile and material focused. Open on Saturdays from 1 – 4pm or by appointment. 5 people are allowed into the gallery at any given time and facemasks are required to enter. Sept. 5 – Oct. 17, 2020.206-762-3322 or try www.studioegallery.net. 
Join Amanda Donnan, Chief Curator at Frye Art Museum for a "Virtual Visit" with Frye artist/poet Jane Wong. There is also a Guided Art Discussion about the artist's "Altar" created for her 2019 exhibition at the Frye. Go to fryeartmuseum.org.
Local artist Minh Carrico has two public art installations available for viewing through the end of 2020. "Tattarrattat", a length of colorful fencing can be found at Seattle Public Utilities in Fremont at N.E. Canal St. and 2nd Ave.  N.W. Sponsored by Seattle Office  of Arts and Culture. "Be Here Now – Bring The Mind Home" is a text-driven panel on view at Pine St. and 4th Ave. in downtown Seattle. Sponsored by Shunpike. For more information, go to [email protected].
 Kobo Seattle features a new virtual art space showcasing a show of  wood objects by Michael Zitka through September. KOBO at Higo is now open on Saturdays from 11am – 5pm. Masks are required and you must use the provided hand sanitizer upon entering.  30 minute shopping sessions by appointment only at the KOBO on Capitol Hill will soon be made available through an online booking system. Time slots will be limited to keep everyone safe, plus more protective protocols in place to meet safety guidelines. More information  to come. Shipping and curbside pickup is still available by scheduling a Pickup Time at Checkout. They have a new instagram shopping account @koboseattleshop or try their website at  koboseattle.com.  The Capitol Hill store is at 814 E. Roy St.  KOBO at Higo is at 604 South Jackson St. in the CID.
"World War Bonsai: Remembrance & Resilience" is the title of a show curated by Aarin Packard at Pacific Bonsai Museum. This show tells a history rooted in racism told through the living art of bonsai. It presents the powerful and inspiring untold history of bonsai artists working in the WWII-era and how they changed the course of bonsai art history forever.  With 32 bonsai, archival documents and photographs. The exhibition traces the cultural practice of bonsai in the U.S. and Japan  immediately before, during and after WWII, amid incarceration and at peace. Artists from the Puget Sound, California, Colorado, Hawaii and Japan are featured including Ben Oki, the Domoto family, Kelly Nishitani, Kenny Hikogawa and Joe Asahara, Ted Tsukiyama, Mas Imazumi, Kyuzo Murata and Yuji Yoshimura. The exhibition also includes  a site-specific artwork by Seattle artist Erin Shigaki which includes wheat-pasted images of individuals who played a role in the incarceration of more than 120,000 Japanese Americans.  A post-event recording of the "Branch Out" event held in August will be available on Pacific Bonsai Museum's You Tube channel. On view now through Oct. 10, 2021. 2515 South 336th St. in Federal Way,WA. Admission is by donation. Hours are Tuesday through Saturday from 10am – 4pm. 253-353-7345 or email [email protected].
The Outdoor Sculpture Collection on the campus of Western Washington University in Bellingham is open and accessible to everyone. This is an outdoor collection of major sculptures from the late 20th century to the present and includes work by Do Ho Suh, Sarah Sze and Isamu Noguchi among others. Get a map from the information booth and explore the campus collection for yourself. Call 360-650-3900.
Forthcoming at the Northwind Arts Center in Port Townsend, WA. is a photography exhibit entitled "Manzanar: Their Footsteps Remain" by Brian Goodman. This show contains over 40 years of documenting one of the many internment camps where persons of Japanese ancestry were imprisoned during WWII. This exhibit marks the 75 anniversary of the closing of that camp in November of 1945. Nov. 6 – 29,  2020. There will be an art talk online to be announced. The gallery is open Friday – Sunday from noon – 5pm or by appointment. 701 Water St. Go to www.northwindarts.org for details.
The Schneider Museum of Art at the Oregon Center For The Arts at Southern Oregon University presents "Migrating Bodies: For(Saking) Life, Liberty And the Pursuit of Happiness". The exhibition presents work by five artists or artist collectives that address global migration, the causes and effects. On view  through October 10, 2020. 555 Indiana St. in Ashland, Oregon. 541-552-8484 or go to sma.sou.edu.
The Chinese Canadian Museum of British Columbia opens its first exhibit in Vancouver's Chinatown. Entitled "A Seat at the Table", the exhibition explores historical and contemporary experiences of Chinese Canadians, particularly through the lens of food and restaurants. There are stations for writing and recording videos. Co-curator Viviane Gosselin said "the whole idea is to kind of generate a new body of historical knowledge that the Chinese Canadian Museum can use for future research and programming." A sister exhibition is set to open at the Museum of Vancouver's main location in the fall. Both exhibitions are expected to travel across B.C. within a year. This exhibition is at 27 East Pender. For details, go to [email protected].
The Chinese Cultural Centre Museum at 555 Columbia St. in Vancouver B.C. has an ongoing exhibit entitled "Generation to Generation – History of Chinese Canadians in British Columbia". 604-658-8880 or go to cccvan.com.
The Dr. Sun Yat Sen Classical Chinese Garden presents "Luminous Garden, the third installment of artist-in-residence Lam Wong. Done in collaboration with Glenn Lewis, it's an investigation of the concept of thseptember 30. Lipont Gallery in Richmond B.C. Canada.e garden as a sanctuary for spiritual growth. 578 Carrall St. in Vancouver B.C. 604-662-3207 or  go to vancouverchinesegarden.com.
"Resonance of Paper Drifting" is the title of a show of paintings and calligraphy by Jiangang Su on view through September 30, 2020 in Richmond, B.C. 604-285-9975 or go to lipontgallery.ca.
"Next Spring" is the title of an exhibit by Katrina Vera Wong. Learning from literature, botany, herbaria and ikebana, Wong makes flowers from dried or press plants an calls them "Frankenflora." On view through   November 1, 2020. Beaty Biodiversity Museum, 2212 Main Mall, UBC. 604-827-4955  or go tobeatymuseum.ubc.ca.
"Empty Landscape" by Masaomi Yasunaga is a virtual exhibition at Libby Leshgold Gallery in Vancouver, B.C. A display of  over 90 sculptures  on a wall, on plinths and on a raised bed of gravel that resemble recently unearthed artifacts. Go to libby.ecuad.ca.
Eric Louie has a show of abstract paintings on view September 9 – 22 at Bau-Xi Gallery at 3045 Granville St. in Vancouver, B.C. 604-733-7011 or try bau-xi.com.
"Grass Drama" is the first solo show for Vancouver-based artist Julian Hou at the Contemporary Art Gallery at 555 Nelson St. in Vancouver, B.C. 604-681-2700 or go to contemporaryartgallery.ca.
"Broken Promises" is a 7 year multi-disciplinary, multi-institutional, community engaged project that explores the dispossession of Japanese Canadians in the 1940s. It illuminates the loss of home and the struggle for justice of one racially marginalized community. Also ongoing is "TAIKEN: Japanese Canadians Since 1877". Nikkei National Museum & Cultural Centre  at 6688 Southoaks Crescent in Burnaby. 604-777-7000 or go to nikkeiplace.org.
"Parts of the Cosmic Tree" by Kane Ikeda is on view through September 26, 2020. By using a variety of media, installations, paintings, drawings, and verses, the artist furthers his explorations of a dream, a cosmic tree symbolizing an organic, plant-like form colored with spiraling patterns that resemble the stars and the galaxies.  Also on view is "Fantasia Las Meninas" by Monica Mitchell. Blackfish Gallery at 420 NW 9th Ave. in Portland, Oregon. 503-224-2634 or blackfish.com.
Opening in September, 2020 at Portland Art Museum is a group show entitled "Joryu Hanga Kyokai, 1956-1865: Japan's Women Printmakers" which looks back at the careers of the founders of the Women's Print Association, Japan's first printmaking society for women artists. 1219 SW Park Ave. 503-226-2811 or  portlandartmuseum.org.
JEFRE is a Filipino-American artist. He has created numerous site-specific artworks in major cities around the world including "Reflection" in Philadelphia's Unity Plaza, "The Beacon" and "Code Wall" in Orlando and "Heaven's Gate" in Manila. The Orlando Museum of Art has announced its marquee fall exhibition "JEFRE: Points of Connection" will open on Sept. 24, 2020 and be on view through Jan. 3, 2021. Designed as a touchless, interactive exhibition, "Points of Connection" will feature a series of site-specific installations and sculptures constructed at a human scale, introducing the audience to JEFRE's past projects alongside a series of works exemplifying his current studio practice. He is currently working on a 24-story high standing figure with an arm raised, titled "The Victor" located at a bridge connecting the cities of Pasig and Quezon in the Philippines. For more information on the Orlando Museum of Art, go to www.omart.org.
The National Portrait Gallery at the Smithsonian in Washington, D.C. will present the first major large-scale retrospective of work by Hung Liu, the internationally acclaimed Chinese-born American artist. "Hung Liu: Portraits of Promised Lands, 1968-2020" will feature more than 50 artworks spanning Liu's time in Maoist China in the 1960s, her immigration to California in the 1980s, and the height of her career today. This is the first time the museum will celebrate an Asian American woman with a solo exhibition. The exhibition's opening coincides with Asian Pacific American Heritage Month 2021. The dates of this exhibition are May 21, 2021 – January 9, 2022. 

Performing Arts 
Forterra presents its seventh annual Ampersand LIVE event, a one-night showcase that celebrates Pacific Northwest art, storytelling, science, activism, dancing and more. You can enjoy this event from your favorite streaming device on Thursday, October 29 from 7pm – 8:30pm.  Forterra is a Washington-based nonprofit that supports its communities and ecosystems and Ampersand is their regional magazine. This evening makes that magazine's contents come alive on stage. This year's theme is restoration and singer/songwriter Tomo  Nakayama curated the program with that in mind. "To me, restoring the land goes hand in hand with restoring our society and to addressing the systemic issues in our country. We're in a moment of history that has deual pandemcs: COVID-19 and racism. It has opened our eyes to the root problems we must address in order to heal and restore our nation and our planet." Some of the performers include Amanda Morgan, the only Black member of Pacific Northwest Ballet and Degenerate Art Ensemble to name but a few. Although the event is free, any donations will support Forterra. Registered attendees who do make a donation of $45 or more will receive a print copy of Forterra's upcoming Ampersand Magazine. Register online at Forterra.org/AmpersandLIVE.
Violinist Kristin Lee, Artistic Director of Emerald City Music announces Season Five. In an effort to bring chamber music to as many people as possible in the Puget Sound area, their fall 2020 highlights include a 10-part digital series of concerts and discussions hosted by Emerald City Music's resident artists, a city-wide festival entitled "This is Beethoven", presented in collaboration with twenty area arts organizations of various disciplines, an in-school program in Olympia where teaching artists will engage with 5th grade students to create a composition, a Project Music Heals Us which will use classical music to bring hope to doctors, nuses and those affected by Covid-19, a focused outreach and engagement strategy that will bring classical music to transitional housing shelters, drug treatment centers and family support services and a collaboration with Seattle youth Symphony Orchestras to build up the next generation of musicians. For more details, go to www.emeraldcitymusic.org.
Pacific Northwest Ballet has announced an all  new virtual lineup for its 2020-2921 season. Some highlights include an excerpt of "The Trees   The Trees" with choreography by Robyn Mineko Williams set for October 8, 2020 and a world premiere by choreographer Edwaard Liang on June 20, 2021. For complete details, go to PNB.org/DigitalSubscription or call 206-441-2424.
The Meany Center For The Performing Arts has announced fall schedule changes with the season opening postponed to January of 2021. Some fall performances have been canceled or rescheduled for late winter or spring. Virtual programming is being developed with many of the artists as an alternative to live performances. For a complete listing, go to https://meanycenter.org/tickets/season. Current ticket holders to canceled events are encouraged to contact the ArtsUW Ticket Office to request a refund, exchange into a later performance or other alternatives.
Freehold Theatre Lab/Studio now located in the CID continues their classes in various aspects of the theatre both virtual and in-person. For a list of current classes, go to freeholdtheatre.org for details.
Even though the Wayward Music Series at Chapel Performance Space is currently closed, go to nonsequiter's website to listen to free links by local musicians performing original music at wayward music.org or try gscchapel.com.. Also listed are live streaming of local concerts by contemporary musicians that you can rent. Local sound artist Susie Kozawa will have a piece she did invoking the space at the Chapel in a forthcoming edition.
Indo-American Arts Council presents the "Erasing Borders Dance Festival" from September 20 – 27, 2020 at 8:30pm EST each day for free on Facebook Live at facebook.com/iaac.us. For the twelfth year of this annual event, IAAC has expanded the event. For the first time, eleven artists trained in Indian dance forms from across the world will be brought together in a virtual borderless festival. Details are available at iaac.us/erasing-borders-dance-festival-2020/.
Film & Media
"Local Sightings", the annual festival of films made by Northwest filmmakers returns in a virtual screening format this year to Northwest Film Forum September 18 – 27, 2020. Over 135 short and feature films from the region will be screened. The 20 day festival will also serve as a celebration for NWFF's 25th Anniversary. All programs available on demand any time from September  18 – 27. Of special interest is a short entitled "Taky Kimura – The Heart of the Dragon" which profiles one of Bruce Lee's Seattle disciples and friends. Also premiering at the festival is the feature film "The World Is Bright" by Canadian filmmaker Ying Wang. When an elderly couple in Beijing learn of their son's suicide in Canada, they travel to Vancouver to investigate as a mystery unravels. For details on the festival, go to nwfilmforum.org.
The Social Justice Film Festival co-sponsored by the Social Justice Film Institute, Meaningful Movies Project and Northwest Film Forum present a series of short and feature-length documentaries in "TRANSFORM: Another World is Possible" October 1 – 11, 2020 at NWFF. As a movement, Social Justice promotes  a global culture where equality is achieved on all levels. The festival will showcase works that challenge society structures all over the globe on a macro and micro level, as well as works that challenge the medium. Tickets and passes on sale now. Browse the festival by program. Go to socialjusticefilmfestival.org.
Stage 13 presents their award-winning unscripted Asian cuisine and travel series "Family Style" for a second season.  Led by the "Foodie Fam" cast, each story features a group of friends and celebrity guests exploring popular Asian food restaurants and cultural locales. This free streaming series debuts on September 8, 2020 and runs for eight episodes. Available on Stage13.com, YouTube and  Facebook channels. New episodes will premiere every Tuesday and Thursday through September 29, 2020.
Isabel Sandoval wrote, directed and stars in the film "Lingua Franca" about an undocumented Filipino transgender woman desperate to obtain legal residency as she works as a caregiver to a gay Russian expatriate.
MUBI presents the following – "China Across Time: A Jia Zhangke Doublebill" in which they are currently streaming on line "The Hedonists", a hybrid short that stars the director's veteran actors playing fictional versions of themselves. Completing the bill is "Mountains May Depart" set in the past, the present and the future of China starring actress Zhao Tao. Also from MUBI is Park Chan-wook's "Joint Security Area". This film came way before "The Handmaid's Tale" and "Old Boy" which put him on the international map. It was a surprise hit at a previous SIFF. It's a murder mystery set witin  the DMZ and a politically charged yet humanist whodunit. Also just released for streaming by MUBI is "3 Idiots", a 2009 Indian Hindi-language coming-of-age comedy/drama co-written with Abhijat Joshi and directed by Raj Kumar Hirani. The film follows the friendship of three students and is a satire about the social pressures under an Indian education system. A huge domestic success when it was released, the film prompted spin-offs in both Israel and Mexico. This buddy epic mixes slapstick with coming-of-age drama and some of Bollywood's best song-and-dance routines. MUBI  also presents a series on "The New Taiwanese Cinema of the 1980s" featuring "The Terrorizers"  and "In Our Time" by Edward Yang, "A Time to Live and a Time to Die" by Hou Hsiao-hsien. and "The Sandwich Man" by Hou Hsiao-hsien, Tseng Chuang-hsiang and Wan Jen.Go to [email protected] to find out about this film streaming service where you can rent by the month or by the year.
 "Our Time Machine" by S. Leo Chiang and Yang Sun (China & U.S.) tells the story of the painful decline of Make, former artistic director of Shanghai Chinese Opera Theatre forbidden by the Cultural Revolution from working. But eventually he finds himself returning to theatre which inspires his young son Maleonn. When his father is diagnosed with Alzheimers the son races to complete a time travel adventure with human size puppets that will involve his father. Screens September 11 – 17, 2020.  Northwest Film Forum. Go to  nwfilmforum.org or call 206-329-2629.
 "Made in Bangladesh" opens August 28th. A young woman in a clothing factory is faced with difficult work conditions and decides to start a union with her co-workers. Norris Wong-Yee Lam's cinematic debut is "My Prince Edward" screening in September, 2020. The film is about a woman navigating modern marriage with two relationships at the same time. Go to siff.net for details.
Rodd Rathjen's "Buoyancy" screens September 11 – October 1, 2020 at Grand  Illusion Cinema. It is the winner of the Ecumenical Jury Prize at Berlinale Panorama and Australia's official submission to the 92nd Academy Awards. When a spirited 14 year old Thai teenager tires of working in the ricefields with his family, he leaves home and seeks out a local broker to get work in a Bangkok factory. Instead the broker sells him and other Cambodians and Burmese to a fishing captain as work slaves. As misery transpires and workers are tortured and murdered around him, the young man decides to take action.  Virtual screening from September 18 – October 1, 2020 is Masayuki Kojima's "MADE IN ABYSS: Dawn of the Deep Soul" presented subtitled and also dubbed in English. This anime follows Rico and Reg and their new friend Nanachi as they descend into the Abyss' treacherous fifth layer, the Sea of Corpses.  Mayen Mehta and Tomai Ihaia are in the cast of Hayden J. Weal's "Dead", a film about a hapless stoner who can see ghosts and a recently dead wannabe super-cop who join forces to save lives and deaths in this surreal New Zealand comedy. Screens virtually  September 25 – October 15, 2020.1403 N.E. 50th St. in Seattle.  206-523-3935 or try grandillusioncinema.org.
Local artist/educator Cheryll Leo-Gwin has over the past few years collected histories from Chinese women in China and the U.S. who were young adults during times of revolution, civil rights and the women's revolution in the U.S. and the Cultural Revolution in China. It was a decade of change in the 60's and 70's in both countries with similar yet different cultures. She has interpreted and retold these stories in her multi-media artworks and now in an animation video. To view, go to https:www.youtube.com/watch?v=g0p4EU-.
"BREAK THE SILENCE: The Movie" follows this South Korean boy band on their world tour. Tickets are on sale across the U.S. and Canada for this documentary film that screens in the Puget Sound at several theatres. Available for a limited time  starting September 24, 2020. Visit www.BREAKTHESILENCETHEMOVIE.com for showtimes and locations. Directed by Park Jun-soo.
Chinese film director Jia Zhang Ke takes on a new genre in his new film "Swimming Out Till The Sea Turns Blue", a documentary film about literature and life in the Chinese province where he grew up. It has its premiere at the 58th New York Film Festival. Another highlight is Chloe Zhao's "Nomadland" with Frances McDormand as a widow in search of seasonal labor based on the book by Jessica Bruder.
 Film Movement has  announced a new digitally restored version of Zhang Yimou's classic "Shanghai Triad" starring Gong-Li will be on sale August 4, 2020 on Blu-ray/DVD/Digital.The film looks at the Chinese criminal underworld of the 1930's. It was an Academy Award and Golden Globe nominee and winner of the "Best Foreign Film" from the National Board of Review.  Also on Film Movement streaming online starting October, 16, 2020 is "White Riot: London" directed by Rubika Shah. It tells the forgotten story of 1977 London when neo-nazi sympathizers roamed the streets. In protest, a diverse group of artists got together and started a fanzine in response culminating in a rock concert against racism headlined by The Clash. This musical documentary won "Best Documentary" at London's 2019 Film Festival. Go to www.filmmovement.com  or [email protected] for details.
The Cambodian Film Festival goes virtual this year from September 16 – 20. It will be the international premiere of Comor Pich Rithy's "Young Love". The U.S. premiere of Sok Visal's "Poppy Goes To Hollywood" and the world premieres of Calvin Keo's "The Photographer" and Morn Vanntey's "Traditional Dance Teacher."  There will also be a free virtual screening of Arthur Dong's "The Killing Fields of Dr. Haing S. Ngor". Dong will also be a featured panelist for a group discussion entitled "Stories We Didn't Learn in School" which streams September 20, 2020 at 6:30pm PST. For more information, try cambodiatownfilmfestival.com.
Last chance to catch the  five-part series "War Brides of Japan" by former Tacoma resident Yayoi Winfrey on Vimeo on Demand. Click https://vimeo.com/watermelonsushi/vod.com to see it now. For more information on this series, go to www.warbridesofjapan.com. More private screenings will be scheduled later this year.
Tasveer, a South Asian social justice arts non-profit organization based in Seattle usually brings their annual South Asian Film Festival to the Puget Sound area in the fall but this year is special. In an unprecedented effort by the South Asian film festival community in North America and in response to the COVID-19 pandemic, seven well-established South Asian film institutions are joining hands to produce and host the Coalition of South Asian Film Festivals (CoSAFF). This first-of-its-kind virtual festival will run for free for 15 days from October 3 – 17, with online screenings of the latest films and virtual Q&As with the filmmakers. It will also include unique virtual events focused on key industry topics and panel discussions. CoSAFF is  being produced by Seattle-based Tasveer. Film festivals from Chicago, Washington DC, Mississauga/Toronto,Maryland, Montreal and Vancouver are all involved  in this event. CoSAFF issued a joint statement saying, "We're excited and honored to becoming together during this very challenging time, in a show of unity and in pursuit of the creation of something meaningful for all our communities to engage in. Now is the time to collaborate rather than compete, and to work together to support our film professionals. CoSAFF's efforts will provide filmmakers an opportunity to showcase their hard work to the widest possible audiences in a respectful and secure manner. And, in turn, for all our audiences to have a shared experience watching these films without the burden of paying for them."  Some of the highlights include "Mee Raqsam (I Dance) which is Baba Azmi's directorial debut, Nepalese filmmaker Shirish Gurung's "Lato Kosero and the closing night film will be Prateek Vats' "Eeb Allay Ooo!"Short film programs will cover themes such as "Diaspora", LGBTQI stories, animation, stories pertinent to Black Lives Matter and addressing  South Asians and racism, films by women filmmakers, stories about love and relationships and much more. There will be live virtual programs every day with include live Q&As with filmmakers, actors and other film talents.For upcoming details, try the webpage at www.cosaff.org. For further information or to request interviews with any of the participating festivals, please contact [email protected]. For interviews and other press queries, go to [email protected].
HBO announced the finalists of their 2020 Short Film Competition. They are Johnson Cheng's "Lonely Blue Night", Thomas Percy Kim's "Si" and Tiffany So's "Fine China". The films will premiere during the 2020 Los Angles Asian Pacific Film Festival on September 25 at 5pm PT/ 8pm ET via HBOVisionaries.com. Besides the film screenings, there will also be special appearances from 2020 HBO APA Visionaries Ambassador Shannon Lee, Lovecraft Country's Jamie Chung and a performance by 88Rising star NIKI and more. In addition to the Festival, HBO will also debut the films on HBO and they will be available to stream on HBO Max on September 29, 2020.
Karen Fukuhara plays the physically enhanced fugitive Kimiko in "The Boys", the Amazon series that takes an irreverent look at the superhero genre. It starts its second season on September 4, 2020.
Disney's real film version of its animated hit "Mulan" which tells the story of a famous Chinese woman warrior starts streaming on September 4, 2020. Go to disneyplus.com for details.
"Star Wars" actress Kelly Marie Tran became the first Southeast Asian Disney lead when she was named as the star of the new animation feature "Raya And The Last Dragon". The character is the chief's daughter who embarks on a quest to find the last dragon which  she believes will save their kingdom. The water dragon will be  voiced by Awkwafina. The film takes place in the fictional land of Kumandra, a location said to be inspired by Southeast Asia. The script s co-written by Adele Lim ("Crazy Rich Asians") and Qui Nguyen.
"Children of the Sea" is a new animated feature film adapted from Daisuke Igarashi's manga and directed by Ayumu Watanabe with a score by Joe Hisaishi. The film explores the mysteries of the sea through the eyes of a 14 year old girl and two brothers.

 Town Hall Seattle has digital programming of upcoming events on their live stream page. They also have a media library of hundreds of video and audio free to enjoy. Go to townhallseattle.org for details.

  Most local theaters are doing virtual screening via the internet where you can rent new films and see them at home. Go to the websites for Northwest Film Forum, Grand Illusion Cinema, Siff Uptown, AMC theatre chains and others.
"The Personal History of David Copperfield" directed by Armando Iannucci is  a comedy-drama film based on the 1850 Victorian era novel "David Copperfield" by Charles Dickens. It stars Dev Patel in the lead role and the actor Benedict Wong in the role of Mr. Wickfield. It was released by Searchlight Pictures into theatres on August 28, 2020.
CMC Pictures brings the Chinese blockbuster film "The Eight Hundred" to North American screens. It will be the first major Chinese film to hit American shores as cinemas reopen. Directed by Guan Hu ("Mr. Six"). The 80-million-U.S.-dollar production is based on true stories that depict Chinese soldiers' defense of a warehouse against the invading Japanese army during the "Battle of Shanghai" in 1937. Despite being outnumbered and outgunned, the battalion of soldiers dubbed "The Eight Hundred Heroes" held out for four days and nights. In addition to the Chinese cast and crew, the film also boasts the help of Hollywood veterans for visual effects, action and soundtrack. This is also the first Chinese movie completely filmed with the state-of-the-art IMAX cameras.
"Nomadland", a film written and directed by Chloe Zhao based on the book by Jessica Bruder, won this year's Golden Lion. It is the top prize of the Venice Film Festival in its 77th edition. The film stars Frances McDormand as a woman living as a nomad across America after the recession.
Disney had hoped to have a hit film with "Mulan" in China but stumbled when it was revealed that scenes were shot on location in Xinjiang, the area in China where Uighur Muslims have been detained in mass internment camps. Even before that, a controversy arose when the actress Liu Yifei who played Mulan expressed support for the Hong Kong  police against protestors. Though director Niki Caro said the movie was a love letter to China, it's not so clear whether that love was being returned if stagnant reviews in China are any indication.
"I Am A Woman" is a new biopic film on the pop singer Helen Reddy as directed by Unjoo Moon. Tilda Cobhams-Hervey stars as the singer.
"#Alive" by II Cho stars Oh Joon-wo as the protagonist, a gamer trapped in his apartment as zombies roam the streets.
The Smithsonian Asian Pacific American Center has put out a "self-care package" of poems, short films and other media and they will be adding to it periodically. Go to https://smithsonianpa.org/care/.

PBS has many digital-only shorts produced for its website Art 21 including work by Ai Weiwei. Go to art21.org for details.


The Written & Spoken Arts
Former IE editor Ron Chew gives a virtual presentation on his memoir entitled "My Unforgotten Seattle" around town. He is scheduled to do a virtual Townhall Seattle conversation with Naomi Ishisaka on Oct. 1, 2020 at 6pm, participate in a Seattle Lit. Crawl event on Oct. 24, 2020 and do a talk at the Wing on Nov. 20, 2020. Details to follow.
Third Place Books present the following virtual readings they sponsor or co-sponsor. In the  series "Author Voices" presented by the King County Library System, Nguyen Phan Que Mai, author of the novel "The Mountains Sing", a multi-generational tale of a Vietnamese family's experiences before and after the Vietnamese war will be in conversation with Thanh Tan on Thursday, November 5, 2020 at 7:30pm. Visit httpas://www.crowdcast.io/e/mountains-sing to register to watch this event.  Another event in that series is "Conditional Citizens" by Laila Lalami in which she will discuss her latest book on the global immigrant crisis as it pertains to the U.S. with noted Vietnamese American author/editor Thanh Nguyen on Friday, September 25 at 7:30pm. Bruce and Ju-chan Fulton, a local husband and wife translating team will engage in a virtual conversation about the English translation of Kim Soom's "One Left". Co-sponsored with Townhall and the Korean American Historical Society on September 27 at 6pm. The book is a novel about a comfort woman who was kidnapped at the age of 13 to serve as sex slave for Japanese soldiers during WWII. When she finds out there is only one other surviving comfort woman, she makes the journey to see her. Go to townhall.org and click on to "calendar" for details.
Elliott Bay Book Company has a full slate of events in their virtual reading series. Here are a few – Prize-winning poet Kazim Ali appears in a conversation with Tacoma poet Rick Barot moderated by former Utah Poet-laureate Paisley Rekdal. All three are out with new volumes of poetry.  Don't miss this convergence of excellent poets all in one room set for October 14, 2020 at 6pm. For making reservations to the virtual events, go to elliottbaybook.com and click on the "events" page or call 206-624-6600 or toll-free at 1-800-962-5311. Although all events are virtual for the time being, the book store is open.
Fall class registration at Hugo House is now open. All classes and events will take place virtually for the remainder of 2020. Samples of classes available include some of the following – "The Political Essay" by Sonora Jha, "The Personal and the Political" with Rick Barot, "The Longest Poem: Writing with the Mahabharata with Shakur Narayan, "Writing the Family Saga" with Jaimie Z. Li, "Exploring Minor Feelings: An Asian American Reckoning" with Anne Liu Kellor and  "Poetry in & of Crisis" by Chen Chen You can register online but if you have questions, send an email with your name and # to lily@hugohouse.org. For more information try [email protected]. 
A new addition to the Town Hall media library is the recently concluded discussion by Town Hall correspondent and poet Shin Yu Pai with fellow Seattle poet Koon Woon. Woon explores the topic of displacement and the role that poetry can have in creating a sense of belonging and home.
Former Northwest figure Peter Jamero gives a presentation based on his memoir entitled "Growing Up Brown" (UW Press) as part of the Hanson Diversity Speaker Series on Friday, September 25, 2020 at 6:30pm. The reading takes place on the field outside the library and the event is free. You can also catch this event via zoom with a link provided. Go to www.hansonlibrary.org or email [email protected].
Tasveer, a Seattle-based South Asian arts non-profit, celebrates the second annual Tasveer South Asian Litfest from October 20 – 25, 2020. The event is scheduled to take place virtually over six days on Tasveer's social media channels. This free event will feature South Asian writers participating in events focused on various themes through readings, discussions and Q & A sessions. TSAL 2020 will showcase a stellar lineup of writers from South Asia and its diaspora. The lineup will be released soon on the website, tasveer.org so stay tuned.
Rochester's Writers & Books pairs with BOA Editions to launch a Virtual Reading/Conversation Series in September called "Tuesdays With BOA".  As the last reader in the series, Bay Area Filipino American poet Barbara Jane Reyes will be reading from "Letters to a Young Brown Girl" on October 6, 2020. Readings take place at 7:30pm at what I assume is eastern standard time. The series is free to the public but registration is required at www.wab.org. 
Avni Doshi's "Burnt Sugar" is a novel about an artist's struggles to cope with an aging mother.  It was shortlisted for the prestigious Booker Prize. The winning title will be announced on November 12, 2020.
Below is a partial list of new books by or about Asian Americans and new titles on Asia. If you are interested in reviewing any of them, please let us know –
"New Deal Art In The Northwest – The WPA And Beyond" (UW) by Margaret Bullock. This book tells the story of hundreds of Northwest artists employed by the U.S. Federal government under the WPA Project and also serves as the catalog for an accompanying exhibition at Tacoma Art Museum. Includes work by Kamekichi Tokita, Kenjiro Nomura and Fay Chong.
"My First Book of Haiku Poems – A Picture, A Poem And A Dream – Classic Poems by Japanese Haiku Masters" (Tuttle) by Esperanza Ramirez-Christensen and illustrated by Tracy Gallup. Classic Japanese haiku imaginatively illustrated with bilingual English and Japanese text. Each poem comes with questions for the young reader to think about.
"Interior Chinatown" (Pantheon) by Charles Yu is a deeply personal novel about race, pop culture, immigration, assimilation and escaping the roles we are forced to play.
"Sacrificial Metal" (Conduit Books & Ephemera) by Esther Lee. It won the Minds on Fire Open Book Prize. Sean Dorsey writes that the book "dances with astute curiosity and deep tenderness across the shifting grounds of grief, touch, bearing witness, memory, and our obstinate human instinct for future planning. With great compassion, Lee's poems remind us that everything human eventually unravels…".
Seattle poet Don Mee Choi calls Anna Maria Hong "the genius poet of fairy tale language and conventions in "Fablesque" (Tupelo), a new book by this former Seattle resident. She goes on to say how "Hong explores the grammar of horror and hunger, survival and abuse across the contorted historical, cultural, and familial terrains of the Korean diaspora."
"The Mad Kyoto Shoe Swapper" (Tuttle) by Rebecca Otowa is a collection of short stories by an Australian woman who went to Japan in 1978 and never left. Her stories deal with universal issues such as love, work, marriage, aging, death and family conflict all illustrated with the author's drawings. A glimpse into everyday life  in Japan.
"Forbidden Memory – Tibet During the Cultural Revolution" (Potomac)  by Tsering Dorje. Edited by Robert Barnett and translated by Susan T. Chen. The author uses eyewitness accounts with expert analysis to tell the story of how Tibet was shaken by foreign invasion and cultural obliteration. This book is a long-overdue reckoning of China's role in Tibet's tragic past.
"Paper Bells" (The Song Cave) by Phan Nhien Hao and translated by Hai-Dang Phan is a new volume of poems by a poet shaped by the Vietnam War, forced to re-start a life as a teenager in the U.S. His poems bear witness to a delicate balance between two countries and cultures.
"So This Is Love: a Twisted Tale" (Disney) by Elizabeth Lim. A young adult  re-telling of the Cinderella story. In this one, Cinderella leaves the house where she works and gets a job as the palace seamstress. Here she becomes witness to a grand conspiracy to overthrow the king. Can she find a way to save the kingdom?
"Troubling Borders – An Anthology of Art and Literature by Southeast Asian Women in the Diaspora" (UW) edited by Isabelle Thuy Pelaud, Lan Duyong, Mariam B. Lam and Kathy L. Nguyen. Juxtaposing short stories, poetry, paintings and photographs, this volume showcases the work of women of Vietnamese, Cambodian, Lao, Thai and Filipino ancestry. Shaped by wars, colonization, globalization and militarization, the stories serve as entry points for broader discussions about questions of history, memory and identity.
"Gita – The Battle of the Worlds" (Harper Collins) by Sonal Sachdev Patel and Jemma Wayne-Kattan is a reimagined adventure story for children transporting the sacred Hindu verse of the Gita into a book made relevant to everybody's life.
"The Passenger – For Explorers of the World" (Europa Editions) is an eclectic anthology series for readers who want to understand contemporary realities of a given country or city. The issue on Japan is a potpourri of essays and images with "Ghosts of the Tsunami" by Richard Lloyd Parry, "A Love Letter to the Shimokitazawa Neighborhood of Tokyo" by Yoshimoto Banana and "Why Japan Has Avoided Populism" by Ian Buruma and much more. 
"Sonata Ink" (Ellipsis) by Karen An-Hwei Lee imagines Kafka in the city of angles seen through the eyes of a Nisei woman hired to be his interpreter and chauffeur. Los Angeles seen as the epicenter of "The Wasteland."
"Story Boat" (Tundra) by Kyo Maclear and illustrated by Rashin Kheiriyeh. A picture book that tells the story of a little girl and her brother forced to flee home and create a new one out of dreams and stories amidst migration and crisis.
"Territory of Light" (Picador) by Yuko Tsushima as translated by Geraldine Harcout. This novel finds a young woman left by her husband starting a new life in a Tokyo apartment with her two year-old daughter. As the months go by she must confront what she has lost and who she will become.
"Moms" (Drawn & Quarterly) by Yeong-shin Ma is a graphic novel from Korea about mothers in their mid-fifties fed up with their husbands and the grind of their menial jobs. This book re-examines romance, lust and gender norms  for middle-aged women.
"Butterfly Sleep" (Tupelo) by Kim Kyung Ju as translated by Jake Levine is a historical drama based in the early Joson Dynasty. With a mixture of magic realism and dark humor, he tells an existentialist allegory of Korean's rapid development. This play is a modern fable of a rapidly changing country who must confront its ghosts.
"Lion Boys and Fan Girls" (Epigram) by Pauline Loh looks at teenage boys who make a pledge to ban dating and focus on lion dancing. But they must contend with unusual girls and cyberbullying. The rich culture of Singapore and the fascinating history of lion dance make this a compelling young adult read.
"Azadi – Freedom, Fascism, Fiction" (Haymarket) is a new book of essays in which award-winning author Arundhati Roy challenges us to reflect on the meaning of freedom in a world of growing authoritarianism.
"Monsoon" (Seagull) by Vimala Devi as translated by Paul Meto e Castro is a book of short stories first published in 1963. They delve into divisions of caste, religion, language and material privilege in the colonial Portuguese colony of Goa.
"Then The Fish Swallowed Him" (Harpervia) by Amir Ahmadi Arian is the first novel in English by this critically acclaimed Iranian author. It's a timely and unflinching look at the potential dangers of the everyday citizen living under a despotic regime. An original  Iranian voice.
"Eat A Bowl of Tea" (UW) by Louis Chu is a classic influential novel that captured the tone and sensibility of everyday life in an American Chinatown. This new edition comes with a foreword by Fae Myenne Ng and an introduction by Jeffrey Paul Chan.
Set in a New England town where accusations that led to the Salem witch trials, Quan Berry's novel "We Ride Upon Sticks" (Pantheon) looks at a 1980's girls field hockey team who flaunt society's notions of femininity in order to find their true selves and lasting friendship.
"Superman Smashes The Klan" (DC) by award-winning comic book writer Gene Luen Yang with art by Gurihiru. Inspired by a 1940s superman radio serial, teenagers Roberta and Tony Lee team up to aid the caped crusader as they fight the klan in Metropolis.
"Stuck – Why Asian Americans Don't Reach The Top of The Corporate Ladder" (NYU) by Margaret M. Chin. Using extensive interviews, the author shows the ways both subtle and overt  discrimination keeps Asian Americans  from reaching the highest levels of professional life.
"A Bond Undone" (St. Martin's Griffin) by Jin Yong is the second volume of "Legends of The Condor Heroes", one of Asia's most popular martial arts novels. Translated by Gigi Chang.
"Let The Samurai Be Your Guide – The Seven Bushido Pathways to Personal Success" (Tuttle) by local writer Lori Tsugawa Whaley is a revised edition of a popular self-help book that shows people today how they can improve their lives based on the traditional samurai code of conduct.
"Taiwan In Dynamic Transition – Nation Building And Democratization" (UW)  edited by Ryan Dunch and Ashley Esarey. This book provides an up-to-date assessment of contemporary Taiwan highlighting that country's emergent nationhood and its significance for world politics.
"The Aosawa Murders" (Bitter Lemon) by Riku Onda. When a hospital hosts a party and seventeen people die from cyanide in their drinks, only a blind girl survives. When a prime suspect commits suicide, things get murky. An origami-obsessed ex-chain smoking detective tries to untie the knots of this who-dunnit.  Winner of the Mystery Writers of Japan Award for Fiction.
"The Journey of Liu Xiabao – From Dark Horse to Nobel Laureate" (Potomac) edited by Joanne Leedom-Ackerman with Yu Zhang, Jie Li and Tienchi Martin-Liao. Liu Xiabao was more than a dissident poet and this collection of essays capture the intellectual and activist spirit of this late literary critic and democracy icon.
"The Boy Who Became a Dragon – A Bruce Lee Story" (Graphix) by Jim Di Bartolo tells the life story of this martial arts acting legend in comic book form from his childhood in Hong Kong, his martial arts quest and his leap across the silver screen.
"Harris Bin Potter And The  Stoned Philosopher" (Epigram) by Suffian Hakim. This young Singapore-based writer's parody of Harry Potter bases the story in Malaysia and seasons it with local and pop cultural references.
"Mindy Kim and the Lunar New Year Parade" (Aladdin) by Lyla Lee and illustrated by Dung Ho. Mindy is excited to go to the annual lunar new year parade but things don't go as planned. Can she still find a way to celebrate?
"Kusama – The Graphic Novel" (Laurence King) is the first graphic novel on this world famous artist and follows her incredible journey from rural Japan to international icon. Offers a fascinating new way to look at one of the most intriguing artists of our time.
"Peach Blossom Paradise" (NYRB) by Ge Fei and translated by Canaan Morse. This novel is the first volume of the award-winning "South of the Yangtze" trilogy. It is a sweeping saga of  twentieth-century China that follows a family from a tiny village through three generations of history.
"Gold Mountain Big City – Ken Cathcart's 1947 Illustrated Map of San Francisco Chinatown" (Cameron & Co.) by Jim Schein with a foreword by Gordon Chin. This is like an illustrated scrapbook of photos and illustrations done by a Caucasian photographer who lived near Chinatown that chronicles his involvement with that community.
"Our Voices, Our Histories – Asian American And Pacific Islander Women" (NYU) edited by Shirley Hune and former  UW professor, Gail M. Nomura. This innovative anthology brings together thirty-five Asian American and Pacific Islander authors in a single volume to explore  the historical experiences, perspectives, and actions of  these women in the U.S. and beyond.
"The Swamp" (Drawn & Quarterly) by Yoshiharu Tsuge is one of  Japan's most important cartoonists and in this book, he hits his stride. It's a mix of classical popular samurai manga and more modern desperate post-war drama. Edited by Mitsuhiro Asakawa and co-edited and translated by Rayn Holmberg.
"In the Face of Death We Are Equal" (Seagull) by Mu Cao and translated by Scott C. Meyers. This novel is an authentic and powerful portrait of a working class gay man who works in a crematorium. Combining elements of magical realism and the grotesque, and alternating between first, second and third person, we are treated to a story of this man and the colorful cast of characters he encounters in the course of a most unusual life.
"Sweet Time" (Drawn & Quarterly) is an intimate rumination on love, empathy and confidence by Singapore cartoonist Weng Pixin. Her stories dabbed with colorful bursts of color illustrations explore strained relationships with a kind of hopefulness while acknowledging the inevitable collapse.
"Breasts And Eggs" (Europa) by Mieko Kawakami and translated from the Japanese by Sam Bett and David Boyd explores and questions the assumptions of womanhood and family – the bonds and abuses, expectations and betrayals and choices and denials. It won the Akutagawa Prize and is her fist novel to be published in the U.S.
"This Could Have Become Ramayan Chamar's Tale: Two Anti-Novels" (Open Letter) by Subimal Misra translated from the Bengali by V. Ramaswamy. Misra is an anarchist activist, anti-establishment, experimental anti-writer and one of India's greatest living authors. This volume of two "anti-novels" is the first of his works to appear in the U.S.
"From Maybe To Forever – An Adoption Story" (Creston) by M.L. Gold and N.V. Fong and illustrated by Jess Hong. Told from the view of an eager older sister, this is an endearing story about adoption from an often-neglected point of view.
"Outside The Lines" (Catalyst) by Ameera Patel is a novel where boundaries divide and blur in this comedy/thriller that shatters the façade of suburban life in Johannesburg, South Africa.
"The Paper Kingdom" (Random House) by Helena Kurhea and illustrated by Pascal Campion. In this kid's picture book, the parents must bring their son along with them as nighttime office cleaners when a baby sitter cancels. The boy, expecting a boring night finds the work of cleaning an imaginative adventure.
"Grievance is Their Sword, Subterfuge Is Their Shield" (OkeyDokeySmokeyPokey Publishing) in the words of former IE staff person Thomas R. Brierly is "an intersectional persuasion to elucidate and educate on matters of race, violence, white supremacy and the United States' adherence to brutal capitalism…". Go to vvovnn.bigcartel.com to order.
"Arrow" (Alice James) by Sumita Chakraborty's debut poetry collection is a literary-philosophical exploration of the unknown and the unpredictability of life. The poems challenge gender and race-based violence, ecological devastation, grief and mourning. "Arrow" then is a love letter to a flawed world.
"Layla and the Bots" (Scholastic) by Vicky Fang and illustrated by Christine Nishiyama is a series meant to empower girls. It's about a rock star and her team of bots. The books pair science, engineering and math with kid-friendly themes.
"Each of Us Killers" (703 Books) by Jenny Bhatt is a book of stories that moves through the words, thoughts, subversions involved in the experience of interracial relationships, east-west communications, theft, justice and migration.
"Skin Deep" (Polis) by Sung J. Woo follows the story of Korean-american adoptee Siobhan O'Brien who's in a quandary. How can she carry on the PI agency her dead boss left her? When an old friend asks her to find a missing daughter, the saga of this rookie detective begins.
"In The Footsteps Of A Thousand Griefs" (Poetry Northwest Editons) is the debut poetry publication by Seattle Young Poet Laureate Wei-Wei Lee. She is the 2019/2020 Youth Poet Laureate of Seattle as sponsored by Seattle Arts & Lectures. Born in California but raised in Taiwan, she has made Seattle her home for the past few years. Her poems have a beauty of language that pays tribute to both cultures and countries.
"The Maze Of Transparencies" (Ellipsis Press) by Karen An-hwei Lee. A futuristic novel in which Alan Davies remarks, "Karen Lee writes the present and the ever-impinging future through the lenses of several jargons. The language is dense, the future, impossible, and this book a solid scream."
"Tokyo Travel Sketchbook – Kawaii Culture, Wabi Sabi Design, Female Samurais and Other Obsessions (tuttle) by Amaia Arrazola. A look at a city where  high-tech untramodern meets tradition and the contradictions between the two. The author's colorful sketches accompany the text.
Art News/Opportunities
Gallery 110's Annual Juried Exhibition issues a call for entries. Juror is Henry Art Gallery Senior Curator Shamin Momin.  Deadline is October, 30, 2020. Apply at callforentry.org. For details, go to gallery110.com/call-for-entries. This Seattle gallery is located at 110  3rd ave. S.
The Wing Luke Museum of the Asian Pacific American Experience has announced a call for a curriculum writer for their Japanese American Remembrance Trail Project. That writer would be responsible along with neighborhood partners to compose text for a curriculum guide to educate the public and K-12 students about Japanese American confinement site stories illustrated through the Temporary Detention Station and more than 40 locations in the historic Seattle Chinatown-International District. Deadline for applications is September 30, 2020 at 4:30pm. For further information, contact Wren Wheeler at [email protected]. After September 15, 2020, a FAQ sheet may be posted on the Museum website at http://www.wingluke.org/job-opportunities.
Artist Trust has announced the winners of the 2020 Arts Innovator Award. They go to Haruko Crow Nishimura and Joshua Kohl  of the Degenerate Art Ensemble and artist Etsuko Inchikawa.  Panelists on the selection committee included Anida Yoeu Ali, Shin Yu Pai, John Feodorov and Chieko Phillips. The Arts Innovator Award is funded by The Dale and Leslie Chihuly Foundation. Read the full announcement at artisttrust.org.
The Jack Straw Artist Residency Programs (recording/production, New Media Gallery, writers program) are all open for submission via Submittable. For details and deadlines, go to [email protected] or call 206-634-0919.