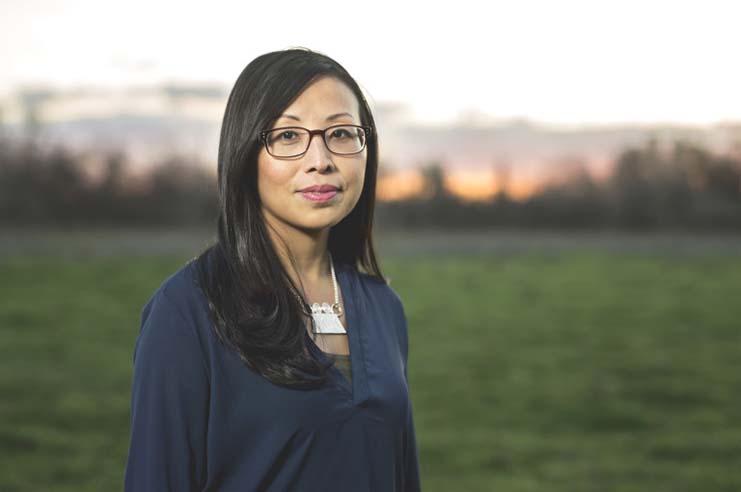 Last spring, on a visit to San Diego, I browsed the sizable stack of books belonging to my poet friend until I came to Afterland by Mai Der Vang. I paged through the poems amazed by the imagery, syntax, and emotional persuasion of the work. Though Vang is a relatively new poet (this is her first collection) her work announces itself as self-assured and vital to the landscape of American poetry, so much so that Carolyn Forche selected it for this year's Walt Whitman Prize.
In addition to her own poetry, Vang co-edited, How Do I Begin: A Hmong American Literary Anthology. It seems safe to say that the community work she's done infuses her own work. She explains that Afterland owes much to Hmong cosmology. It is also highly influenced by the work of the Jewish Argentinean poet, Alejandra Pizarnick. I caught up with Vang recently as she began the new teaching term at Fresno State.
Mai Der Vang is the author of Afterland (Graywolf Press, 2017), winner of the 2016 Walt Whitman Award of the Academy of American Poets, longlisted for the 2017 National Book Award in Poetry, and a finalist for the 2018 Kate Tufts Discovery Award.
The recipient of a Lannan Literary Fellowship, she served as a Visiting Writer at the School of the Art Institute of Chicago. Her poetry has appeared or is forthcoming in Poetry, Tin House, the American Poetry Review, among other journals and anthologies. Her essays have been published in the New York Times, the Washington Post, and elsewhere. Mai Der is a member of the  Hmong American Writers' Circle where she co-edited How Do I Begin: A Hmong American Literary Anthology.
A Kundiman fellow, Mai Der has completed residencies at Civitella Ranieri and Hedgebrook. Born and raised in Fresno, California, she earned degrees from the University of California Berkeley and Columbia University. In Fall 2019, Mai Der will teach in the Creative Writing MFA Program at Fresno State.
IE: Your poem Afterland is organized in 5 sections; it's a gorgeously crafted and imagined. Can you say a little on how it came to be?
MDV: The book is a culmination of ideas and poems I'd be been working on and within the Hmong cosmology. I grew up in a family that practiced shamanism so the notion of spirits and ancestors as ever present in our lives came naturally to me. It wasn't until I ended up in an MFA program that I finally had time to refine my thinking and deepen the work around these poems. Once I left the program, the work on Afterland began to solidify and take on its current shape.
IE: Could you share something about the structure of this book? How did you organize it?
MDV: Sure, my sense of the structure was somewhat fluid. I think I was resisting the need to attribute a kind of hierarchy or definitive structure to the collection, which is why I did not number or categorize the various sections. I feel that would have been too restrictive.
There is a loose structure, however, in that the collection opens with depictions of war and displacement, and then closes with the title poem taking the reader through a process of returning to the ancestors only to start over again.
This title poem has its own kind of structure too. In all, the book felt as though it wanted to be circular, always coming and going, shape-shifting in a way, and resisting a kind of linear timeline.
IE: How do whales and lovers fit with the overall themes?
MDV: Good question! I think whales are very spiritual animals who are privy to the mysteries of the world and in particular the sea. They're just amazing creatures and it is devastating when you see one washed ashore which happens in the poem "Gray Vestige".
As for lovers, it's natural to assume the romantic union of two people, but I also like to imagine the "lover" dynamic as it relates to a person yearning for a place that can no longer be returned to or a time that will not happen again. Among some Hmong elders I know, there seems to this unrequited eternal reaching for a life and a land that was left behind.
IE: The poem "I the Body of Laos and All My UXO's" is the work that I've read and reread. Can you talk about the imagery and the poem's inception?
MDV: This poem speaks to the physical trauma and devastation that a landscape can undergo as a result of war and human actions. I tried my best in the poem to convey this issue through the perspective of the land, and in this case, that land is Laos. According to Legacies of War, an organization that advocates for the removal of UXOs in Laos, "From 1964 to 1973, the U.S. dropped more than two million tons of ordnance on Laos during 580,000 bombing missions – equal to a planeload of bombs every eight minutes, 24-hours a day, for nine years – making Laos the most heavily bombed country per capita in history." (Info taken from their website) That statistic alone was enough to propel me into this poem and out of it came the imagery as well.
IE: Who are some of your mentor poets – poets (dead or alive) that have meant a good deal to you and influenced your work?
MDV: Adrienne Rich, Yusef Komunyakaa, Tracy K. Smith, Emily Dickinson, Alejandra Pizarnik, and so many more!
IE: Could you tell us something about Alejandra Pizarnik? How did you first encounter her work and what is it that draws you to her? The other writers on your list are to be expected, perhaps, and would appear on many poets lists but not Pizamik. I'm very intrigued.
MDV: Alejandra Pizarnik was an Argentine poet whose works captured a kind of obsessive intimacy and navigation of the body that really fascinated me. Back when I was at Columbia, I took a seminar taught by the poet Mónica de la Torre where I was lucky to encounter Pizarnik's work along with other poets of Latin America.
IE: How do you negotiate the overlapping of culture, history, and multiple identities?
MDV: I feel it's ongoing, the ever-constant precarious balance to negotiate these parts of ourselves. It's funny because I feel I've been trying to do this since I was five years old! Which is to live and grow up in spaces of duality, learn multiple languages, internalize multiple belief systems, or absorb the history of the dominant culture before I began to realize that I had my own unique history.
I eventually arrived at a point where battling, confronting, and acknowledging each of these parts of myself allowed them to coexist and achieve some semblance of balance. Sometimes, though, I go through phases where I'm feeling incredibly let down by my American ways, which is an indication to me that some aspect of my Hmong self is attempting to surface and needs enriching.
We are not made of a singular thing or identity or history or culture – it's absolutely okay to be and accept that we are of many.