Before he passed away in 2016, did Chinatown-International District (CID) community activist Bob Santos support a proposed 17-story housing project planned for construction on the site of Bush Garden restaurant and karaoke bar?
It's a claim made by James Wong, the developer of Jasmine, the proposed project — and one that state Rep. Sharon Tomiko Santos (D-37), who was married to Bob Santos, has heard is being made. According to Rep. Santos, it is not clear the claim is true.
"I cannot say, and Bob has certainly not said to me definitively that he supported this project," Santos said. When people have asked her whether or not he did, "my response has always been, 'I can't imagine that he would actually know what the particulars of the project were,'" Santos said.
Wong, owner and developer of the site and CEO of Vibrant Cities, has said on multiple occasions that Santos supported the project before he passed away, according to people who have attended Vibrant Cities open houses and International Special Review District (ISRD) design review briefings. Cynthia Brothers, a founding member of the Chinatown International District Coalition, and Sue Kay, remembered Wong saying that Bob Santos supported the project at an ISRD meeting in July 2018, and at two Vibrant Cities open houses in March. Elaine Ishihara and Leslie Morishita also remembered Wong saying at a March open house that Bob Santos supported the project.
At the March open house, Wong "said it very directly," according to Morishita, real estate development specialist with InterIm Community Development Association. "He said, 'Before he passed I had lunch with Bob…and he supports this project.'"
Wong wrote in an email to the International Examiner that he had lunch with Bob Santos along with and Assunta Ng and George Liu, previous owners of the site containing Bush Garden and an adjacent vacant basement, in March 2016, soon after his company bought the site. "The purpose of the lunch was to get to know Uncle Bob and vice versa and to discuss our future plans of developing the site into residential housing," Wong wrote. 
At the meeting, Santos was supportive of the project, according to Wong. "I remember from that lunch conversation that Uncle Bob said the Maynard sites are currently under-utilized, he was not opposed to our development and, in fact he wanted to help us in getting it developed," Wong wrote. "He told me stories about how he helped with a lot of development within the CID and how he wanted to see more people living here. I left that lunch meeting feeling energized because I was going to have Uncle Bob's assistance for our project to help us with moving through the process within the community."
Ng, founder and publisher of the Seattle Chinese Post and Northwest Asian Weekly newspapers, declined to comment about this meeting.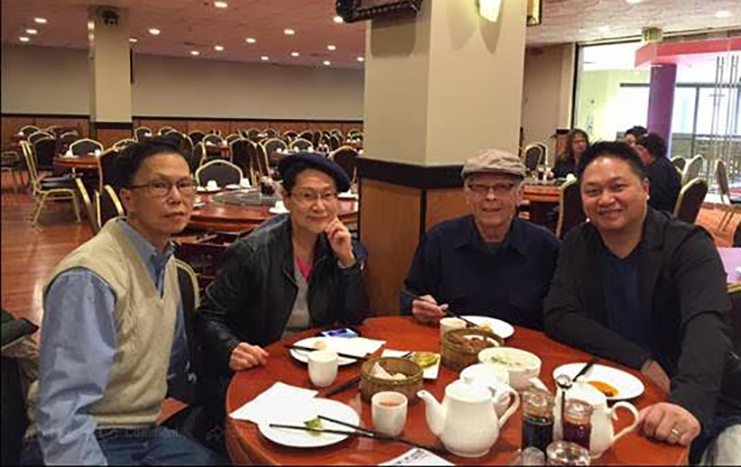 Rep. Santos doubts that her husband would have had enough information to support the project at the time, noting that Bob Santos passed away in August 2016, five months after he met with Wong, and the project would have been in its early stages. "Even if the individuals who were involved in developing this idea had spoken to Bob early on, I fail to see how it could have been anything other than a conceptual conversation," she said.
It was normal for Bob Santos to meet with prospective developers in the CID, according to Rep. Santos. "Bob was willing to meet with anyone and everyone who wanted to meet with him about what is important about the International District," she said. "I'm sure he would have been very clear about the vision and the responsibility we all have for care-taking this community, and that housing does play a very important role in anchoring any community."
Jasmine is still in early stages of development, and is undergoing design review to obtain a certificate of approval from the ISRD board, a necessary process before construction can begin.
Some aspects of the project — including what proportion, if any, of low-income units will be built on-site — are still uncertain. Without details like this, "the project wouldn't have been far enough along for him to say yes or no, 'I support it'," Morishita said.
Whether Jasmine builds some low-income units or pays into an affordable housing fund (two options allowed by the city's Mandatory Housing Affordability, or MHA requirement), most of its units will likely be market-rate housing. This is one of the reasons why InterIm — which was founded by Bob Santos and which aims to preserve his legacy — is opposed to the project.
"InterIm CDA remains gravely concerned about development and displacement pressures in the neighborhood that large scale speculative developments like Jasmine are fueling," wrote InterIm executive director Pradeepta Upadhyay in a letter to the ISRD board.
"We all recognize that it's healthy to have a mix of incomes in the community," Morishita said. "But we don't want the market-rate housing to overrun the community so then everybody else is pushed out." 
The fact that Bob Santos himself was not always opposed to market-rate housing in the CID has been invoked by supporters of Jasmine. At an ISRD meeting in May addressing the Jasmine project, retired architect Dennis Su spoke in favor of the project during public comment and presented a document titled International District 1999 that he helped create in 1983 for InterIm's 15-year anniversary. The document, signed by Santos, is slightly "tongue in cheek," Su acknowledged in an interview — but he said it is a visioning document for a desirable future of the CID neighborhood, and mentions market-rate housing and high-rise towers.
Su said he heard Santos's name often brought up by opponents of Jasmine, and he wanted to present in an alternative perspective. "Uncle Bob envisioned various income levels, not just low-income, assisted living — you have to have some market-rate. Which we're having," Su said. For him, the document demonstrates that "future development in this area is inevitable, in a controlled sense," he said. "Even 30-some years ago, we already envisioned — including Uncle Bob — development of all kinds."
For Morishita, it would be a leap too far to imply that Bob Santos would support Jasmine. "It's not like 'aha, because market-rate housing is in the mix, Bob would support this project," said Morishita. "It's an incorrect connection that he's making."
According to Morishita in a followup email, the "the dynamics of development and displacement" in the CID were vastly different in 1983, when the visioning document was created.
"The challenges for sustaining the community were different," Morishita wrote. "The ID's infrastructure was crumbling from decades of neglect and investment in the neighborhood was needed. And, of course, 1983 was almost 30 years prior to the huge Livable South Downtown upzones and the subsequent MHA upzones, not to mention the booming economy, exploding local tech scene, and rapid growth of the city.  So, in 1983, a large scale speculative development like the Jasmine would not have been allowed at all, let alone economically feasible."
Bob Santos "was not averse to market-rate housing, but it was certainly a much lower priority," said Rep. Santos. "His priorities were taking care of our elders, making sure that poor immigrant families had a place to land that made sense." Bob Santos believed, "to the extent that there ought to be market-rate housing, it should be market-rate housing that again does not destroy or harm the fabric of this community and its character," Rep. Santos said.
"I really appreciate the fact that people hold Bob in high esteem and that his name means something," Rep. Santos added. "I would remind people that in order for his name to mean something, it has to be tied to the principles that he stood for." These principles are, she said, "non-displacement and the protection of the International District, its history, its culture, and making sure that we could have a thriving, livable community into the next generation."
When asked if she believed the Jasmine project embodies these values, Rep. Santos said, "I still don't know what the project is." When she met with a representative of Vibrant Cities, the project was still conceptual, and she didn't see renderings.
For Morishita, invoking Bob Santos's name to support a project like the Jasmine is "really self-serving and it just feels like cooption of his name," she said. "It's not based on caring about his legacy or having a relationship with him."
Morishita has heard people in the CID invoke Santos's name not only with Jasmine, but other issues in the neighborhood. "It kind of reminds me of how people use Jesus as the ultimate measure of if something is right or wrong," Morishita said with a laugh.
Further reading:
Bush Garden to seek new location as site is developed for apartments
Uncle Bob's Place aims to carry forward his legacy with new affordable housing in the heart of the CID