Salmon is the only safe seafood to eat from the Duwamish River. This was the message echoed on July 29, 2023 during a presentation by eight local high school students from the Agents of Change: Youth for Healthy Seafood cohort, a youth program organized out of a partnership between Public Health — Seattle & King County and South Seattle-based environmental organization ECOSS.
On a sunny Saturday morning, the group celebrated the end of their 12-week summer program with community leaders who had supported them from the beginning. The youth program was originally designed to equip the region's youth with environmental stewardship skills and experiences, all while educating Seattle and South King County's growing immigrant and refugee communities who may live near or fish from Duwamish River, a designated superfund site.
"Nature and outdoors, historically, has been inaccessible to people of color, to immigrants," said Cindy Nguyen, a program manager at ECOSS. "It's important that we create opportunities for them to engage with the water and go fishing, to help them feel like they have a place and a deeper connection to the land."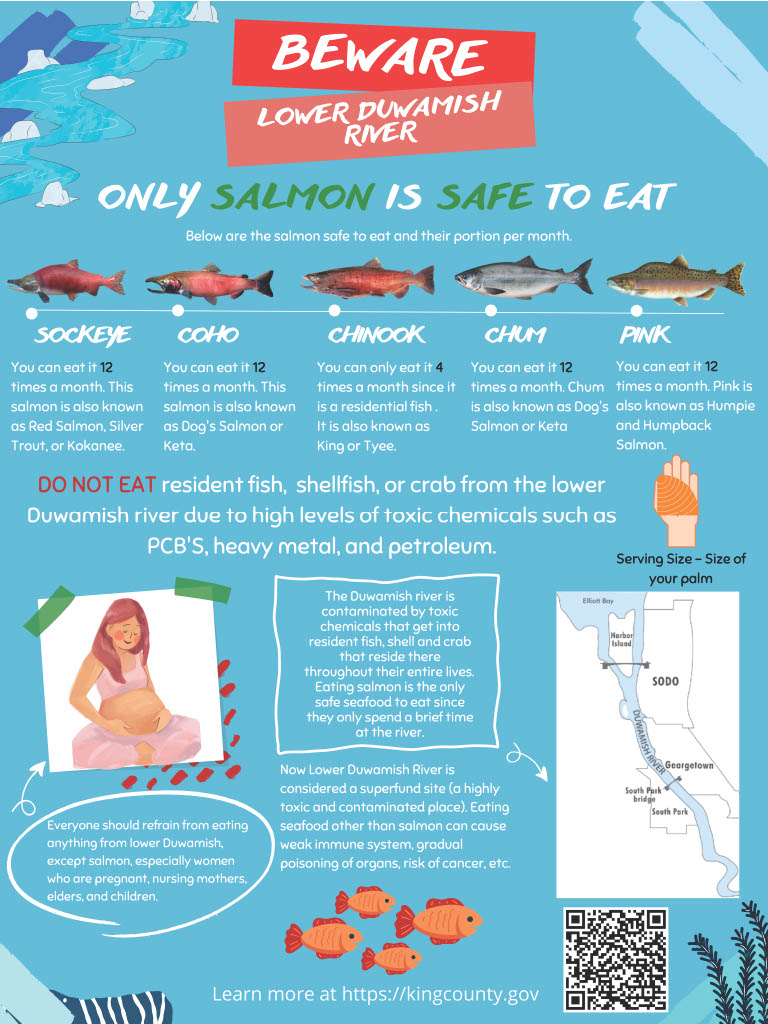 A child of immigrants, Nguyen reflected on why it's essential to make environmental education more accessible to communities that are excluded from the white-dominant, outdoor narrative, yet are frequently most impacted by environmental toxicity and pollution. To her, the program is  about local youth reclaiming their equal right to enjoy nature's mental and physical benefits while proudly expressing their cultural identities, no matter where they live or descend from.
In May 2023, Nguyen's team — three multilingual community engagement specialists who work with culturally diverse communities on environmentally sustainable solutions — piloted Agents of Change: Youth for Healthy Seafood, connecting eight high school students from refugee and immigrant backgrounds to hands-on experiences pertaining to the Duwamish River ecosystem.
They learned about and interacted with local residents who had been historically impacted by the river, all while developing their community outreach skills and earning a stipend.
"I see it as a project-based learning style," said Nguyen on the development of the program's curriculum. "By the end, [youth] are creating [an outreach poster] and then going to present it to the entire [Community Health Advocates], Public Health, ECOSS community. What information do they have to learn to get there? What kind of skills do they have to practice to get there?"
Immigrant and refugee cultural fishing practices
This is not ECOSS' first Duwamish River project. From 2014 to 2016, the organization collected data to support the Environmental Protection Agency (EPA) and Public Health — Seattle & King County in identifying alternative cleanup efforts for the toxic chemical-filled river, which was polluted from upstream industrial activity, putting both human health and the environment at risk.
"ECOSS was hired on to go out to the docks and assess the demographic diversity of fishers who fish along the [Duwamish River], but also to see if people know that the only fish that's safe to eat is salmon," said Nguyen.
The study revealed that the predominant ethnic and/or language groups that fished from the river were Vietnamese, Latino, Khmer, and Lao, which led to the formation of Public Health's four Community Health Advocates (CHA) teams in 2015 to 2017, and 2021.
These advocates were experienced multilingual fishers working in close liaison with the department and their respective communities, educating these groups on the health risks of eating seafood other than salmon from the Duwamish River.
"Fishing is a very strong part of the cultural identity of these groups," said Khanh Ho, educator consultant at Public Health – Seattle & King County. "[CHA] shared so many stories about fishing: how it's been a generational practice, how it makes them feel connected to their home countries, and just how they used to fish back home."
She explained that many immigrants and refugees who settled in the Duwamish Valley find comfort in Seattle's only river, which represents the lower 12 miles of Washington's Green River. Though there's a familiarity of home when fishing for seafood like rockfish, flounder, perch, and crab to feed their families traditional cultural dishes, the seafood these communities gravitated toward were often highly contaminated for human consumption, and they didn't know it.
In order to decrease this risk, Public Health — Seattle & King County, in collaboration with the EPA, established the Fun to Catch, Toxic to Eat program in 2018. This program, led by Ho, consists of a community steering committee whose members include the four CHA teams. They developed outreach strategies to inform fishers, caregivers who cook family meals, community and faith-based organizations, and youth about the Duwamish seafood advisory.
The Agents of Change: Youth for Healthy Seafood program, implemented by ECOSS, is the final strategy that the community steering committee hopes will increase awareness on this health issue, specifically identifying youth outreach and environmental education as a priority.
"[We] felt like youth voices had a lot of impact," Ho explained. "Youth have the ability and the potential to educate each other, generations before them, and generations after them — within their families and within their community."
Environmental justice is for everyone
Throughout the 12-week program, youth attended learning sessions led by the ECOSS team at the Duwamish River Community Hub and participated in CHA-led field trips to various locations around the Duwamish River area.
One field trip the youth highlighted as memorable is the fishing trip organized by the Lao CHA team. "[CHA] provided fishing gear and supplies and had experienced fishers, like elders, who are kind of mentoring each of the youth at the site and just teaching them how to use the pole," said Nguyen. The lesson was declared a success after one student caught a fish.
During this same trip, members of the cohort had the opportunity to have fun in nature while observing the Department of Health's seafood advisory signs which are placed around fishing sites along the river. Despite the bold red, yellow, and green signage, CHA knows that it might not be enough to deter a public who have fished here for over two decades.
"A lot of folks are grateful to learn [about the content on this seafood advisory sign] in a way that they can understand," Ho said. "Folks who have been fishing there for years would say, 'Well, you know, I'm glad I'm hearing it from a friend because I don't pay attention to the sign.'"
Though the signs messaging is written in multiple languages, the text is minuscule in comparison to the overshadowing texts in English. In the end, community members prefer in-person outreach from CHA workers who share a culture and language with them, an exchange students witnessed during the field trip.
By including the young people in this process, they learned effective methods for educating their communities on important municipal terms and regulations in a digestible manner The concept of environmental justice, for example, was a topic that the students explored with ECOSS during a class by watching a governmental video and then working together to simplify the definition in their own words.
"This term that might feel very big and academic then feels more like something that they can actually explain to their peers," Nguyen said. "They're validated by that too — to see their words being put into this collective definition."
Inspiring the next generation of community leaders
Back at the Agents of Change: Youth for Healthy Seafood celebration, Nguyen introduced the "kind and thoughtful" youth, Joann N., XinTong H., K.T., Adrian B., Abdussamad A., Eyman A., Shareef A., and Aman S., inviting them to present their outreach posters to the community steering committee. Utilizing knowledge gained from previous lessons, each student designed a poster to be displayed on bulletin boards across Seattle and South King County.
After graduation, the hope is that the program's participants might be inspired to implement their newly-practiced skills beyond the 12-week session, becoming community leaders themselves.
"At first, a lot of Community Health Advocates started doing outreach just in their living rooms or other community spaces," said Ho. "There were a lot of cultural and community festivals, like Folklórico, that [they] would table at that [reached] really broad audiences."
"We went to the Folklórico Festival on June 24, which mostly serves the Spanish-speaking community, and one student invited his family to come out," Nguyen added. "We saw his mom, his little sister, and he was able to engage in Spanish when some people came to our table."
This same student presented his poster in both Spanish and English — taking the opportunity to speak in his first language, showcasing his ability to overcome language barriers and enhance meaningful conversations when sharing information about the Duwamish River.
Three students have made videos featuring their family members making a salmon dish, said Nguyen, which demonstrates how the youth are empowering their immigrant parents to reclaim a connection to nature, to enjoy their rights to fish, and to form real connections.
The future of the 'Youth for Healthy Seafood' program
"If the youth want to join or create a Community Health Advocate team for their community, [then] I think that would be a great ultimate goal," said Ho. "But of course, I want our community steering committee to lead and drive that direction."
As autumn approaches and a new school year begins, the community steering committee will evaluate youth survey responses and reflect on the cohort's presentations to determine whether this pilot program is effectively empowering and educating Duwamish River communities about the seafood advisory and the river's status as a toxic site for fishing.
The future of the program remains unknown, which will ultimately be decided by the community steering committee. They, however, are not the only community members who can implement strategies beneficial for students from the K-12 education system.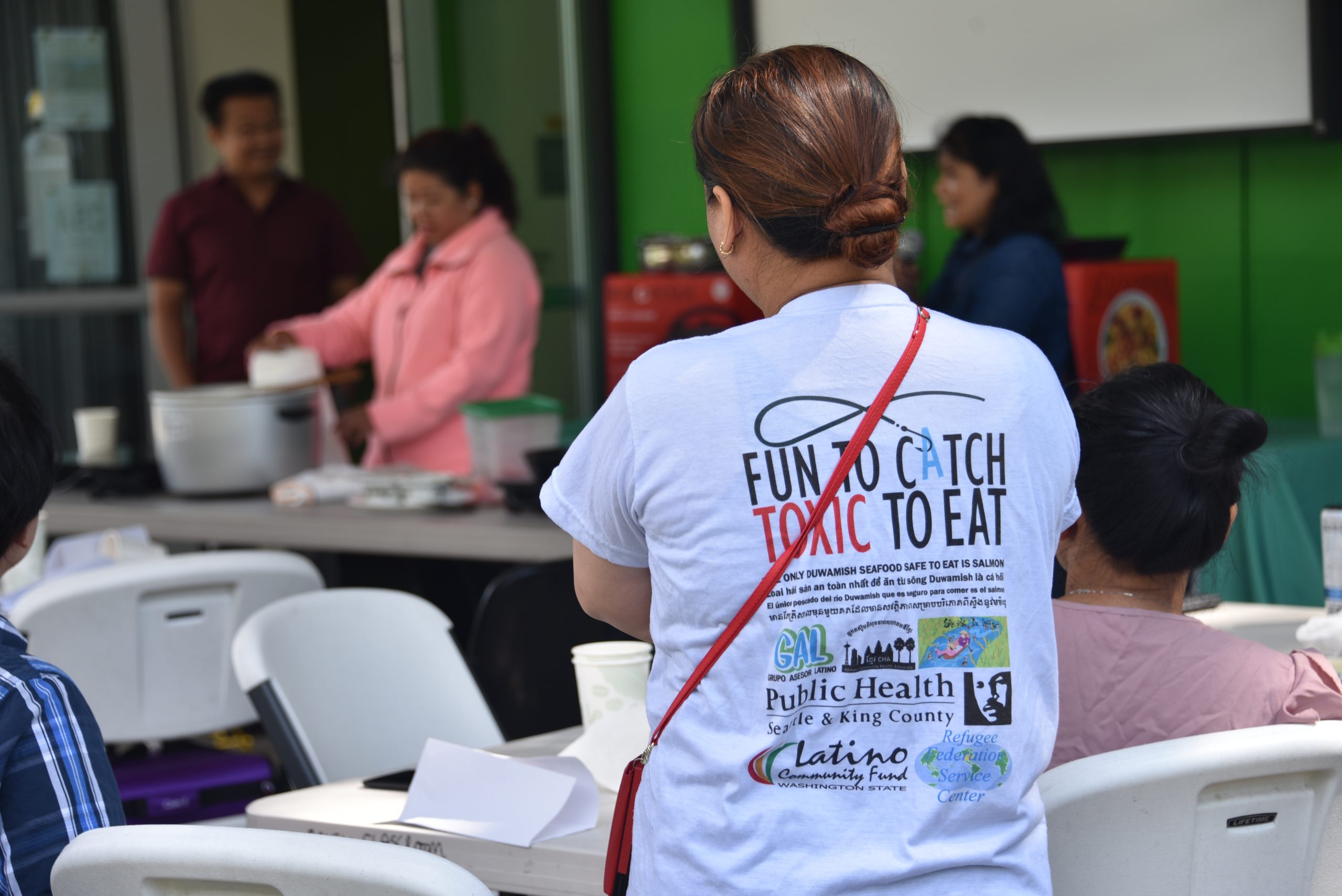 "I really want to encourage schools to be open to having partnerships or collaborations with nonprofit community organizations, where youth can see the environmental field, for example, as a career pathway," Nguyen said.
"If you give them the experiences and make [opportunities] accessible, these youth will sign up for programs they might not see at school. They're very open to learning new things and are capable of tying it back to their family. They want to engage as long as there are opportunities. It's just, are we showing up for them or not?"
We acknowledge that the places where immigrants and refugees have found refuge, where youth have spent their summer exploring, where community members have gathered to exchange knowledge are on traditional land of the Coast Salish Duwamish People.
This story was produced in partnership with our media sponsor Communities of Opportunity, a growing movement of partners who believe every community can be a healthy, thriving community.