For years, Sharon Lei dreamt of owning a restaurant. She envisioned a spot to serve familiar faces and create community through her love of food service. Then, just one month before the scheduled grand opening of her first milk tea shop Nuggi in White Center, an early morning fire quickly switched up her plans.
The in-the-works boba and bingsu shop was one of six other White Center businesses that were severely damaged by the July 5th fire, along with Rat City Tattoo; The Boxing Gym Westside; Dottie's Double Wide Bar; John's Hair and Nails; La Tipica Oaxaquena; and the Lumber Yard Bar. Officials from the King County Sheriff's Office say the fire started around 1:40 AM in the basement of the Lumber Yard bar. While initially ruled an accident, an ongoing investigation is now finding evidence that points to arson.
Lei along with partner and local chef Young Cho woke up to the news just hours after coming home from fourth of July celebrations. The couple drove down early that morning to find the fire put out, and their soon-to-be business reduced to ashes.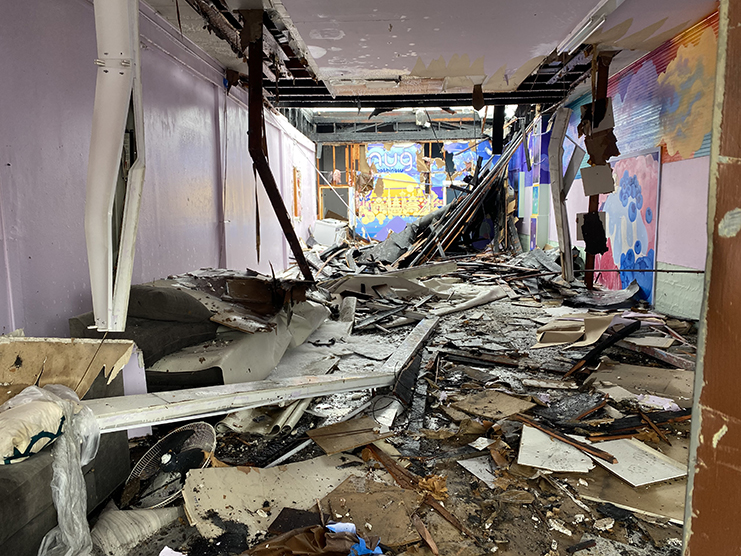 "I definitely go through waves of emotions," she said. "I tried to make light of it at first, but I am still human and have those moments of realization where I'm like…well shit."
In the wake of tragedy, Lei is ready to move forward with an optimistic attitude.
While this is Lei's first restaurant, the couple are no strangers to the Seattle food community. The recent UW graduate has worked in food service since she was 16, while Cho has owned multiple establishments around the city, most notably the Mex-Asian fusion food truck Phorale. The pair share a passion for the industry, and Lei was ready to channel that into a place she could call her own.
The idea for the tea shop came last year after Cho originally began thinking about opening a truck for bingsu, a Korean shaved ice dessert, which would have been his second restaurant on wheels. During the early stages of development, the couple decided Lei would take the project over as her own and bring her longtime vision to life. While driving in White Center last Christmas Eve, the couple pulled over to an unoccupied space in the complex with a sign hanging that read, 'for lease.'
"We stopped, looked in the window, and the next day she made the decision to put all her chips in," Cho said.
Lei wanted her business to combine the three things she loves: milk tea, community and dogs.
She has a self-described 'boba addiction,' and many of us can relate. Lei says milk tea acts as a medicine for her — not in a physical way, but in a sense that keeps her centered and at peace. Lei had plans to use her craft to bring her neighborhood together, including after-school art classes for students where she could provide free boba.
In her three years living in south Seattle with Cho and their four dogs, Lei has felt constant support from her community. She specifically recalled a time she briefly lost one of the dogs, and her neighbors rushed to help her find him.
"We are all looking out for each other, and that's the type of community I want to bring my tea to," she said.
The restaurant name Nuggi comes from the couple's black micro-American bulldog, who Lei says resembles a boba.
While the duo is going back to the drawing board for now, they are confident Lei's vision can exist in any form aside from a traditional establishment. They are currently looking to collaborate with other local dessert businesses and food connoisseurs to possibly open the shop as a pop-up, or temporary business.
"A lot of great plans, ideas and concepts in Seattle have essentially blossomed from the pop-up game," Cho said.
The couple along with the other businesses affected have felt their community's support pour in since the fire. In one week, Lei and Cho have so far raised $26,000 on their gofundme for Nuggi in just over a week with a goal of $40,000. Sheena Acosta, owner of The Westside Boxing Gym, has raised $43,168 in the last week. Lumberyard Bar, a staple to White Center's LGBTQA+ community, was able to exceed their goal of $100,000 just days after the fire.
"My community's not giving up on me, so I can't give up on them," Lei said. "They are me as much as I am them."