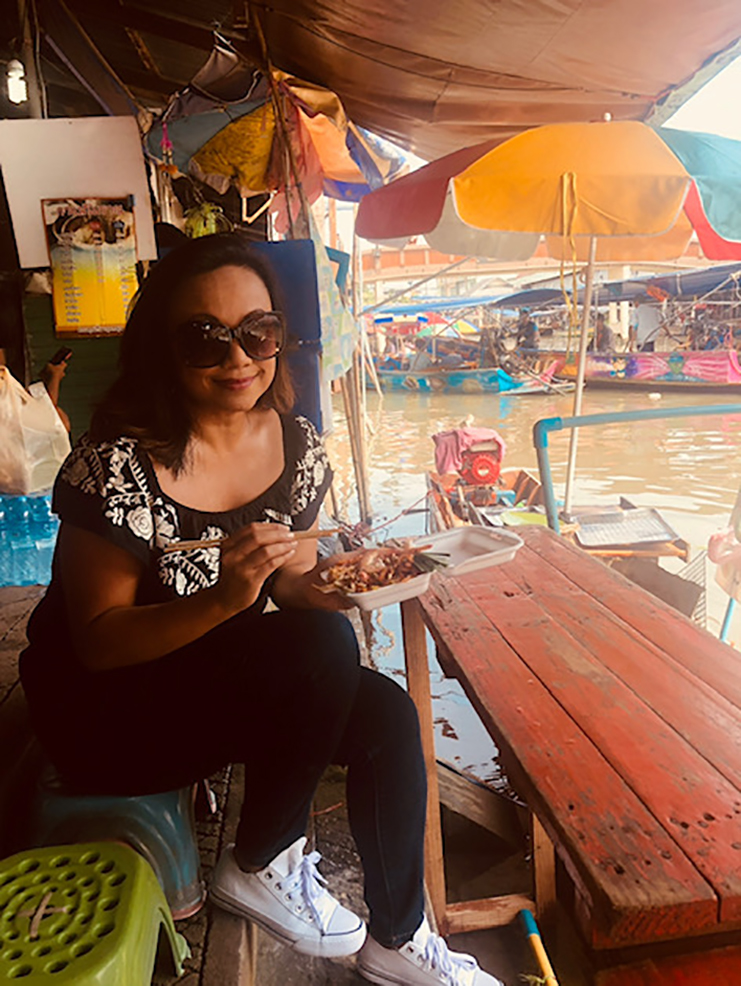 Meet Patranya Bhoolsuwan: a storyteller, reporter and creator. Bhoolsuwan is the founder and star of Patranya Plates, a food and travel-centered YouTube channel. She originally started her YouTube channel as a way to collectively deliver recommendations to her family and friends around the world, and in a short time it has grown into a passion for not only her, but also her 1.2K followers.
Bhoolsuwan's father was a diplomat for Thailand, and when she was two months old, she lived in Poland before coming to the United States. "I finally came to America with that sense of wanting to tell stories because that's kind of how I grew up," says Bhoolsuwan. "I feel like I have a global audience, my family in Thailand can watch [Patranya Plates], my friends can watch it, and I adore traveling to all these places and making content that way."
Since 1998, Bhoolsuwan has been traveling the world. She has lived in Washington DC, San Francisco and Seattle, and has traveled to and explored the food scenes of New York, Hawaii and Las Vegas. She has made return trips back to Thailand where she was born including her birth city, Bangkok, and another popular Thai city, Chiang Mai. She moved to Seattle three years ago and reported for KIRO 7 from 2016 to 2019 (Bhoolsuwan very recently moved to Las Vegas, Nevada).
"I moved here when I was 18 and I just fell in love with my life here, but as i got older I got drawn to going back to Thailand. I love being a journalist here in America. And doing Patranya Plates connects me to different parts of my life and where I came from as well," said Bhoolsuwan.
Through Patranya Plates, Bhoolsuwan highlights culture makers like pioneering Thai chef and food expert, Toi. Toi is the matriarch and former owner of a restaurant built in her namesake and is now focused on her family-owned sauce and curry business, Thaifusions.
"Now families become successful and dig into their roots and share their cultures, and I feel like that's what I'm doing with Patranya Plates. And I interview people in America and not just Thai cultures," says Bhoolsuwan. She also connects her Seattle community to her Thai community, featuring videos such as Seattle's Thai Festival, exploring the floating markets of Amphawa, Thailand where vendors sell their wares from boats, and how-to videos from ordering off the secret menu in Thai restaurants to budgeting for travel.
Bhoolsuwan said the Thai tourism board recently reached out to her to talk to interview a Thai chef that is big in the Thai community, which felt like a moment of things coming full circle. "I came here to be an American reporter, to be able to tap into my Thai culture that I left behind 20 years ago and incorporate my love for media and storytelling into something like this," she said. "I'd maybe like to share artistic things people have done like I want to tell more story about people from Thailand doing things in the U.S. and incorporate food and more than pad thai and Phuket."
In addition to food and travel videos, Patranya Plates also features cooking videos such as spam musubi, pad thai and other dishes viewers might not otherwise make at home. "I like when people call and ask me can you give me tips to this and this, and where to go. I like being that person, the in-house expert on cuisine and hot spots. Helping people as a reporter, you give info, but here [Patranya Plates], you give fun info," she said.
As for recommendations, Bhoolsuwan had plenty to share. "Victoria is two hours from Seattle. You don't have to go that far like go see a different country in two hours," said. She added, "We're doing a series on food trucks, there's an Indian food truck and they're just making homemade Indian food." And where do Thai people in Seattle get their recipes? "Mekong Rainier Valley. Every city I've lived in there's usually only one [Thai market] and that's where all the Thai people get their recipe."
Watch Patranya Plates here.