The Chinatown International District (CID) looks bustling on the weekends. With the worst of the COVID-19 pandemic (hopefully) over and Seattle reopening, customers in the CID eagerly line up outside restaurants.
After a year and a half of shutdowns, things are apparently looking up enough that some entrepreneurs want to open new businesses in the neighborhood.
But appearances are not the whole story. Businesses face a number of challenges, profit margins remain thin, and recovery will be long, said Jamie Lee, director of community initiatives for SCIDpda. "I don't know if there's going to be a point, honestly, where things go back to the way they were before, because I think we're all kind of dealing with a new normal now," she said.
Mi La Cay, a restaurant in Little Saigon, hardly generated any revenue during the shutdowns, said owner Trinh Ong.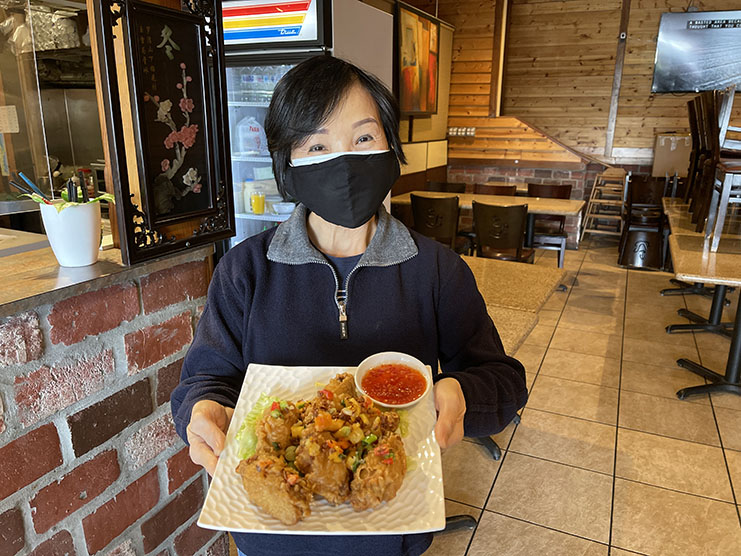 Ong said the reason her restaurant didn't close a year ago is thanks to loans and grants from the City, the federal government, and nonprofits, like the CID Restaurants and other Small Businesses Relief Fund. This fund was created by the Chinatown International District Business Improvement Area (CIDBIA), Friends of Little Saigon, and SCIDpda, and raised nearly $1 million dollars, distributed as one time grants to businesses.
"If I didn't get help, I would have closed my doors a long, long time ago," Ong said.
"For now, business is slowly recovering," said Ong. "Some days it's okay, some days a bit better. It's not stable but it's slowly coming back for sure."
The pandemic compounded economic strife in the neighborhood. Neighborhood businesses took a long time to recover from the 2008 recession, said Lee. Combined with the street closures and disruption that came with building the streetcar line, the neighborhood was only starting to bounce back in 2019, she said. Then the pandemic hit — bringing even worse economic impacts.
"Historically, this neighborhood, businesses here operate on a way thinner profit margin than other businesses across the city," said Lee. What may seem to be a small hit is more impactful than it looks. "When a small business is successful, it's almost kind of like a miracle that it actually happens."
Businesses in the CID have had to adapt to systems that weren't built for them in mind, including language barriers.
For Ong, recovery is made harder because she can't find employees to hire. Before the pandemic, it was easy to find employees who speak Vietnamese, as Ong requires — but for the last few months she has had no success. "As business is recovering, we're short on employees," she said. "When things pick up, everything is behind and slow and customers complain."
Such labor shortages are a challenge across the neighborhood. "Even if people wanted to go back to full capacity, some of them cannot because they don't have enough employees," said Lee.
Some businesses may owe back rent or utility payments. The overall sanitation of the neighborhood, and public safety, have an impact too, said Lee.
Alex Hang of Pacific Range Hoods & Modern Trading Co. on Jackson St. is concerned that both sanitation and public safety in the neighborhood could negatively affect business. "A lot of our customers are afraid to come down to his area," he said.
Friends of Little Saigon (FLS) and SCIDpda are still supporting businesses, helping them apply for grants from the Department of Commerce, Working Washington and the FDA's restaurant revitalization fund, said Valerie Tran, operations director at FLS.
The organizations are also part of larger conversations about recovery and the effort to reopen downtown, highlighting the unique needs of the CID.
"It's not like the CID exists in isolation or a vacuum," said Tran. "It relies on other companies and organizations and city departments that operate downtown that provide a lot of the business to the neighborhood."
Business is starting to pick up at goPoké next to Hing Hay Park, said employee Jon Liang. This is driven in part by downtown customers, and he hopes that as office workers return to work in the fall, revenues can start to return to how they were before the pandemic. "We've still got to climb a little bit more."
The business closed temporarily during the shutdowns, but it's been able to stay open thanks to help from the community, including grants and events like the Dragon Fest food walks. "Community was a big part of it," Liang said. "In the International District everybody really supports everyone."
FLS, SCIDpda and the CID Business Improvement Area have a variety of summer events planned to encourage business in the neighborhood, including food walks, an arts and crafts fair, and welcome back events.
"There's no clear turning point where we're now on the up and up," said Tran. She believes recovery will require "really strong and intentional policies to prevent further displacement of our legacy businesses, many of which are hanging on by a thread," she said, including protections for those at risk of displacement.
In the meantime, customers in the CID can help by being understanding of the challenges businesses face. "Re-opening isn't as simple as just opening your doors again, there's a lot that needs to happen," said Lee. "So folks should be patient and have some grace."
At Mi La Cay, Ong has seen impatient customers walk out after realizing their food will take too long, or refuse to leave tips because service is slow. "We are trying, but of course we cannot please everybody," she said.