Summer is a time for fun and love, and the Seattle Opera is getting into the spirit with their production of Donizetti and Romani's 1832 opera The Elixir of Love, a comedy about love and truth, this time set in the 1940's. Sharing the tenor role of Nemorino are Andres Acosta and Amitai Pati, and Auckland-based Pati is looking forward to his Seattle debut with this show.
Pati is also excited for the challenge of singing the part of Nemorino, a young villager who is in love with Adina, a farm owner whom Nemorino believes will never requite his feelings. "This role, I would say, is one of the most difficult roles in the tenor repertoire," Pati asserted. "The most interesting thing for me would be how Donizetti manages to incorporate so many emotions into every scene and although it can get a little repetitive, the changes in dynamic and character developments throughout the show are so amazing."
So Pati has been preparing extensively. "I spent the month leading up to our first rehearsal going over the music constantly and trying to find out how I wanted to portray my character," he recounted. "I always like to add a bit of myself in all the roles I perform because, for me, that's where the humanity comes from."
That humanity forms the basis for Pati's first musical experiences. "My earliest memory of music would be singing with my dad and siblings as children," he recalled. "We were taught to use our voices at a very young age."
But contrary to expectation, Pati did not initially enjoy these musical activities. "I always thought music was part of every household, so it wasn't special," he admitted. "Singing was never a thing I thought I could pursue as a career."
He almost chose to pursue medicine instead, but ultimately changed course. "I ended up going with music because it was the one thing I couldn't shake from my mind," he said, "and I enjoy the discipline."
But it took time for Pati to find his true path. "I was never exposed to opera as a child," he said. "I fell in love with the music when I got older and found the connection between artist and music so rewarding."
Once immersed in opera, Pati experienced other obstacles to creating his career. "People have been the biggest challenge," he shared. "It's not a career for the faint of heart, this opera stuff."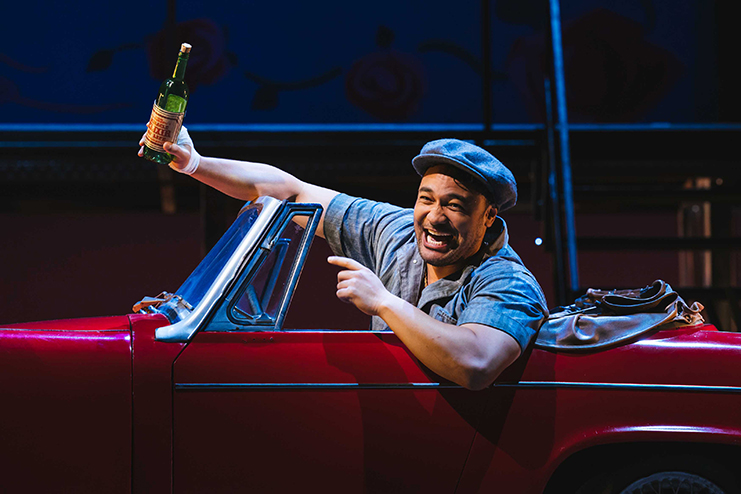 Whenever he has encountered a lack of support, Pati has found strength in tenacity. "You have to develop thick skin and push forward regardless of what people say and do around you," he advised. "Be true to yourself and stick to your guns because at the end of the day, it's your happiness that drives you to keep pursuing this."
Now, after performing many roles around the world, Pati is delighted to be working with Seattle Opera. "I'm really looking forward to singing in the hall as I have a few friends that have sung here and have all said amazing things about it," he relayed. "The people are great and I'm looking forward to making some great music with everyone involved."
But opera isn't the only music that Pati makes, as he also, with his brother Pene Pati and cousin Moses Mackay, comprise the New Zealand vocal trio SOL3 MIO, which mixes both classical and contemporary music. "My brother and I have had all sort of words thrown at us and we've pressed on," Pati said. "Head to our website to find out all about us."
Once The Elixir of Love closes, Pati's calendar is full. "After Seattle, I head home for a few recitals and a short holiday," he said, "before heading to France for Die Zauberflöte with Opera Montpellier."
In the meantime, he'll always be checking out another opera. "Sometimes, I find it satisfying just being able to listen," he said. "It can be so rewarding when you can decipher exactly what the composer was thinking and their reasons for writing a certain way."
That process of discovery never stops calling to Pati. "If I can find that out in an opera that I'm listening to, that's my favorite show, at the time," he said. "It'll always change."
The Elixir of Love runs from August 6 to 20 at Seattle Opera, McCaw Hall, 321 Mercer Street, Seattle.