The significance of a dedicated and hardworking politician who is the paragon of leadership and bipartisanship can sometimes get lost and sidelined in the narratives of modern history as new developments and generations come to pass. Norman Mineta may be one such person, a man who officially retired in 2006 after over 50 years of public service. Despite rampant racism against Japanese Americans, Mineta surpassed the prejudice and intolerance, making many breakthroughs in his career: He became the first Asian American mayor of a major city, the first Japanese American elected to Congress from the mainland, and the first Asian American to serve in not just one, but two presidential cabinets.
Although officially retired, Mineta continues at the age of 87 to tirelessly serve others by mentoring Asian Americans interested in pursuing public service, improving relations between Japan and the U.S., and fostering an interest in Japanese culture. His dedication to the city of San Jose in California has been recognized many times through public dedications such as the Norman Y. Mineta San Jose International Airport; the Mineta Transportation Institute in San Jose State University; and the California State Highway 85, where a portion of the highway is known as the Norman Y. Mineta Highway. He also received the Presidential Medal of Freedom from President George W. Bush in 2006.
His dedication becomes more astonishing after one considers the fact that he and his family were one of the 120,000 Japanese Americans who were forced to live in incarceration camps because of Japan's attack on Pearl Harbor. After the passing of Executive Order 9066 on February 19, 1942, Mineta and his family had to temporarily settle in an assembly center in Santa Anita before moving to a relocation center in Heart Mountain, Wyoming. They were interned for a total of 18 months in these two locations before leaving the camp to live in Evanston, Illinois.
Mineta has never become bitter about this experience. Instead, he recognized the urgency for Asian American representation, and in 1994, he co-founded the Congressional Asian Pacific American Caucus. Although he is a Democrat, he is bipartisan and believes in working with Republicans to reach a compromise and push bills through Congress. Mineta worked tirelessly with Republican senator Alan Simpson to pass the Civil Liberties Act of 1988, a 45-year belated redress and reparation for camp internees. He also co-authored the Americans with Disabilities Act in 1991 and has always been a staunch supporter of gay rights.
For readers who wish to learn more about Norman Mineta, they don't need to look far. PBS will show a one-hour documentary called Norman Mineta and His Legacy: An American Story, which will premiere on May 20 at 9:00 PM EST (check local listings). Non-fiction writer Andrea Warren has also written a book called Enemy Child: The Story of Norman Mineta, a Boy Imprisoned in a Japanese American Internment Camp During World War II, which focuses on Mineta's time at Heart Mountain Relocation Camp.
Norman Mineta and His Legacy: An American Story
Director and co-producer Dianne Fukami asked Norman Mineta to be the subject of a documentary for almost 10 years, but his humility proved to be her worst enemy. Her persistence finally paid off in November 2013 when, instead of saying, "Aw, I'm just a regular Joe; no one is interested in my story," he said, "Let's talk." It took her four years to complete the film.
Fukami has been directing, writing and producing documentaries about the Asian American experience since 1993. Fukami believed Mineta's story is a source of inspiration and wanted to share his legacy with others. Making the documentary became more pressing for her and co-producer Debra Nakatomi after the 2016 presidential election.
"[We] realized it was important to raise the visibility of a man who had been subjected to civil liberties violations as a child and who later spent more than 50 years in public service," Fukami says in the filmmaker statement. "There is an urgency to remind the American public that there are people who serve our government with integrity, practice civility, and believe in bipartisanship."
This documentary is part of the Mineta Legacy Project, which seeks to focus on six core principles demonstrated through him and his family's life: immigration, civil liberties and equity, civic engagement, justice and reconciliation, leadership and decision-making, and U.S.-Japan relations. The Stanford Program for International Cross-Cultural Education will also provide a free online curriculum for high school and college students on the day it airs.
The film gives a good broad overview of Norman Mineta's life and focuses mostly on the highlights of his political career. It features many people he worked with who reflect on his integrity and importance, two of them being former presidents Bill Clinton and George W. Bush. It also features friends and family members. These reflections are balanced out with perspectives from scholars who give explanations about Japanese culture and the Japanese American experience to help put everything into context.
Enemy Child
Andrea Warren first became interested in writing about Heart Mountain War Relocation Center when she made a pit stop at its interpretive center on her way to visit Yellowstone National Park. She was appalled by the harsh and crude conditions Americans were forced to endure all because of their Japanese ancestry.
After learning more about Mineta and the significant role he played in getting the Civil Liberties Act passed, she reached out to him and got his approval on the project. A big deal, considering this is the first book project Mineta has accepted, all because he wants young readers to know more about the incarceration camps in the U.S.
Although the Civil Liberties Act had passed, Americans are not done singling out certain groups and discriminating them, notes Warren. She brings up Muslim Americans as an example since they have been associated with extremist groups that contort Islam for their own agenda and purpose.
"We are a nation of immigrants," she writes in the introduction of her book, "yet we are still often hostile to those seeking new lives in America."
Enemy Child is an engaging book and makes the perfect supplement to the documentary. The book goes into greater detail, starting from the turn of the 20th century, about how racism and discriminatory policies affected the Japanese and Asian American community as a whole. It also talks about pressing issues that have divided Japanese Americans, including the refusal to serve in the war and why the Japanese community quietly accepted the injustice.
For the most part, the book is a gold mine for people interested in learning more about internment camps. One fact not mentioned in the book, even towards the end where Warren puts in additional information about the war, is that Italian and German Americans were also put into camps, a fact that deserves some attention since it helps bring some perspective on the war's outcome.
One of the most interesting stories in the book is how the friendship between Mineta and Alan Simpson started. Another interesting story is how Heart Mountain internees transformed a stretch of land valued for cattle ranching into thriving farmland. Despite all odds, they managed to grow vegetables such as wheat, barley, potatoes, corn, pumpkins and tomatoes. The harvest was so bountiful that they needed to build underground root cellars to store their vegetables.
I have noticed one discrepancy with the book and the documentary regarding his father's mistaken arrival in Seattle. Other than that, the facts in the book and documentary seem to fall into place. This is a wonderful book that will undoubtedly inspire some children and, possibly, even some adults, to bring positive change into their community as Norman Mineta did against all odds.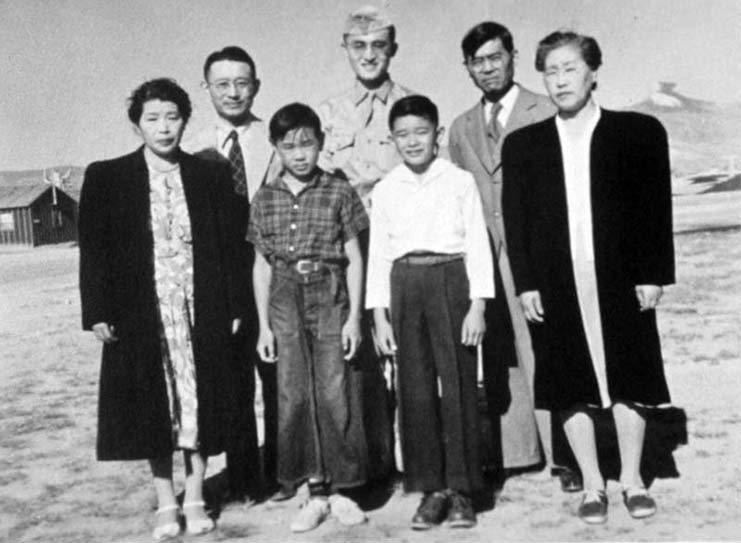 PBS will show a one-hour documentary called "Norman Mineta and His Legacy: An American Story," which will premiere on May 20 at 9:00 PM EST (check local listings).