The Internatinal Examiner enters it's third year of the Advocacy Journalism Fellowship Program, made possible by a grant from the Seattle Foundation. Five Fellows will receive an eight-months long training and be assigned to a community group identified as being underrepresented within the larger Asian Pacific Islander American community. This year, the communities are Cham, East Indian, transracial adoptee, Taiwanese and API LGBTQIA
Fellows will learn about the communities' histories, relationships, and evolving struggles with the purpose of empowering those communities to mobilize, and to provide them with an appropriate platform to make their voices heard. Each Fellow working with the underrepresented communities will have pages in the print edition of the International Examiner and web pages dedicated to community voices, issues, news coverage, and culture. Please meet and get to know our fellows and the communties they are writing about.
Alexa Strabuk
By Angel Chi
Compassionate, curious, and creative – three words that Alexa Strabuk used to describe herself. You could feel it in the way that she tells her story, through art and through writing.
After graduating with a degree in Media Studies and Asian American studies a few years ago, Alexa continued to seek opportunities to express herself creatively, using art and writing as ways to write herself into stories. She is currently working as a communications manager for Arts Corps, a multidisciplinary organization that provides free arts learning opportunities to young people in Seattle. Yet prior to that job and even before joining the 2019 Advocacy Journalism Fellowship Program, she has already written multiple articles for the International Examiner. 
"It's been such an honor to report on stories that have really impacted the Asian American community," she said. "The feedback that I've gotten has been so empowering and just makes me feel like I'm part of something much bigger than myself."
This was one of the reasons that Alexa applied for the program – to build a bridge between people, sharing different narratives that could cultivate more compassion and empathy within the community. Specifically, Alexa will be focusing on stories within the transracial adoptee community, which is one of the many marginalized communities that the International Examiners wants to represent. 
Born in Shanghai, China, Alexa was adopted at nine months and raised on Bainbridge Island, a predominantly white suburban neighborhood outside of Seattle. Although there was a time when she felt a sense of cultural loss, and then perhaps a phase when she felt ashamed of being Asian, overtime, she has learned to embrace what it means to be Asian American. That experience is prominent from the storytelling that is told through her art. Other than bright colors, Alexa uses recurring Asian elements and influences intentionally, and her unique and vibrant work often symbolizes her resilience in reclaiming her Asian identity in a Western context.
While in college, she also noticed that a lot of scholarly articles and narratives in books centered the parents, who seemed to be under the spotlight as "saviors". However, there were very few resources that actually prioritized the children growing up in these transracial families. Therefore, she is very interested in uncovering the different perspectives of what it means to be in a multi-racial family, and she looks forward to complicating the narratives surrounding transracial adoptions. 
"I feel like that's one of the really beautiful things about this fellowship… it really is an avenue to hopefully bring our community closer together to show us that despite our differences, we also have so much in common."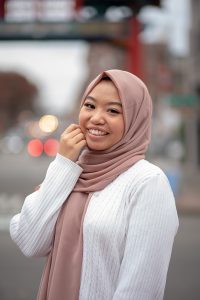 Sabreen Abdullah
By Alexa Strabuk
Somewhere between generations, cultures and languages, Sabreen Abdullah is bridging all of the gaps she can. 
The 21-year-old UW Bothell student is on the road to everywhere, laying the groundwork for the future of the Cham community in Seattle and beyond. She shows few signs of slowing down. 
"My name, Sabreen, means 'patience' in Arabic, but it's one of the biggest things I struggle with. Isn't that always how it happens? I really try to fill my day with as much adventure as possible," she says. "For me, the worst day is staying home and doing nothing." 
Abdullah has spent her entire life living in Rainier Beach, where the majority of her family settled after immigrating from Vietnam as refugees. She and her family are Cham, a sub-ethnic diasporic group that originates from Southeast Asia. This year, she will work with the Cham community as an Advocacy Journalism Fellow for the International Examiner. 
Though Abdullah is an only child, she has a huge extended family. Her mother is one of 10, with eight of those siblings living in Seattle and two who remain in Vietnam.
Thanks to weekly Friday gatherings at an aunt's house and a rotating household of family members renting out the downstairs of their home, Abdullah rarely feels truly alone. If she does catch a moment to herself, the space is soon filled with singing or make-believe cooking tutorials for an invisible audience. She is also a henna artist and is constantly exercising her creativity. 
In 2010, Seattle's Rainier Valley was reported as one of the country's most diverse zip codes, a fact which Abdullah says influenced her racial formation and conception of community. 
"There were always so many immigrant groups living alongside us. For example, I grew up with a lot Somali people — Somalia is a Muslim-majority country — so with the Somali and Cham communities so close together it was as if being Muslim was just normal," she explains. "But that also meant I didn't really embrace my own identity because no one knew what Cham was."
Unlike other ethnic groups, Chams do not have a specific country to return to, and explaining what it was to be Cham proved challenging throughout Abdullah's formative years. Sure, there was the Cham Refugees Community (CRC) gathering space and a language that few young people could speak fluently, but that was all she understood Cham to be at the time. It was not until Abdullah's senior year of high school that she started to realize her culture's significance.
"I just wanted to blend in, to assimilate," she says. "I would take off my hijab so I could just be seen as Asian or Vietnamese. What I didn't realize was how uncomfortable I was with myself as a person, so much so that I felt I needed to change myself to be more palatable for other people." 
"When you grow up in America, you're not taught the history of your culture in school, so most of what we know about who we are is shaped by our immediate communities." 
Many Cham elders feel the culture is dying and that the way to preserve it is by passing on the language, which Abdullah agrees is important. But she also feels that this approach overlooks other issues that need reconciliation first.
Some young people, for instance, are intimidated by their elders because they fear judgement for not being 'Cham enough' or not being 'Muslim enough,' even though not all Cham are necessarily Muslim. Conversely, older generations tend to be less open and vulnerable about their experiences. These disconnects, partnered with a general lack of available information on Cham history, culture, and tradition leaves much for Abdullah to uncover. 
"I'm very aware of spiritual gaps, of generational gaps, but I also know that the sacrifices of past generations have led to me to this point. But how can I heal or be grateful for generations past if I'm not fully aware of what they've really gone through?" asks Abdullah. 
This is where the role of storytelling becomes imperative. 
In addition to her work as CRC Youth President, Abdullah also serves as a community liaison with Seattle's Department of Neighborhoods, bringing city resources to the Cham population in a culturally competent way. 
During a recent community conversation about zoning changes, she translated the announcement in Cham. Most people at the event were elders that she hadn't previously interacted with outside of formalities, so it was powerful when a woman approached her for guidance afterwards, which Abdullah posits, might not have happened had someone else given the presentation. 
Similarly, last Ramadan, Abdullah took time to sit down with several members of her community, old and young, familiar and unfamiliar, to ask them about spirituality and their thoughts on Ramadan. She never could have anticipated the stories she would hear or the hours-long conversations that she would get to have. 
What started as a simple curiosity quickly evolved into the construction of a stronger foundation for trust within her community, which she hopes to harness even more as a fellow.  
"For a long time, I only knew people's faces, not their stories," says Abdullah. 
"Sharing our stories creates greater appreciation for one another, helps us to see the things that are wrong in our community that we can improve on, and reminds us of the achievements that we haven't stopped to recognize each other for."
Angel Chi 
By Carmen Hom
Ever since she could remember, Angel Chi has been storytelling through words and melodies. She was born on the island of Taiwan but moved to the Midwest to study advertising and art at the University of Illinois at Urbana-Champaign. She loved the creative aspect of advertising but realized she cared less about the for-profit business side of numbers and money. She was copywriting for brands within a constrained sense of creative freedom, using words that never felt like hers. 
"I wanted to be writing for a cause, which is the most genuine kind of marketing," Chi said. After graduating, she packed her bags and traded the snowy winters of Illinois for the misty rain of Washington, ready for a change. She landed a job with Kin On, a nonprofit social services provider for Asian elders in Seattle. It was a perfect opportunity. 
In her free time, Chi practices storytelling in a different way — through songwriting. Instead of sharing someone else's story, she shares her own. On her YouTube channel is where Chi shares her originals (as well as covers and vlogs). She sings about her faith, relationships, love and dreams. She explains why she transcends her words into songs. 
"With words on paper, emotions come out differently as people interpret it differently," she said. "With music and songs, you'll hear my voice, or the heaviness in my sound. You'll hear the extra power in my voice. Or how I strummed the guitar louder in that part. Or that my voice shook in that lyric." Chi beams with excitement as she explains that this creativity is why she loves songwriting, and why people listen to music. They're memories as well, as songs record her exact feelings as part of the song-writing process. 
Adjusting to her own vulnerability as she shared these songs was hard at first. "Half of me was proud because this is my work," Chi shared. "But, the other half was scared because it was so personal, and I didn't know how people would react to my honesty." She saw how her vulnerability resonated with people she shared her songs with. The feedback she received was of love and appreciation, and people started to open up to her. Sharing her music, she realized, was powerful in connecting people. 
Chi also expresses herself through dance. She is quite talented too, as one of her most popular videos is a dance cover.  It's a different but necessary form of art for her and serves an alternate purpose than songwriting. Chi said, "Dance for me is when I just want to get away from my thoughts. It's a stress relief. It helps me let go, while making music helps put my thoughts into words." 
Since this fall, Chi has enrolled at the University of Washington, and is currently pursuing a Masters of Communication in Communities and Networks. This interdisciplinary program builds leaders from a diverse range of backgrounds, training its students to be change-makers and effective storytellers. This program led her to this fellowship with the Intentional Examiner, and she is extremely excited to be advocating for the queer Asian Pacific Islander community. 
Chi quoted advice she will follow from Jarret Finau, a previous-year fellow who covered the Tongan community. Jarret mentioned that one can go into a community with their cup full, or their cup empty. As someone who is not from this community, Chi knows there may be obstacles in relationship-building. She wants to be braver. She wants to have discourse and help start conversations that aren't widely covered in contemporary media. As a Christian, Angel knows that learning as much as she can from the LGBTQQIA community will be her baseline. "I want to learn more. I want to empty my cup, and let this community fill it."
Isabel Wang
By Sabreen Adbullah
A day in the life of Isabel Wang is full of curiosity, familiar places and new challenges to face. She dreams of becoming a globetrotter, to wake up in new environments that spark her interest and document her experience through articles to transport her readers. She is new to Seattle and has already found places that make her feel at home like the cozy tea house within the historic Panama Hotel. Here she tells me about her life up to this point.
Isabel Wang is 28 years old and grew up in Taiwan. To describe her in three words, she is outgoing, crazy and random. Isabel lives in a world where she steps out of her comfort zone and goes out of her way to meet new people. Some people may think she's crazy at how well she can connect with strangers. We sit across from each other at the tea house, and she is holding a cup filled with warm water and is beaming with happiness as she points out her secret skill. "When chatting with a stranger, within five minutes I can make a stranger share what is on their mind," she said. 
As for being random, Isabel said, for instance, "If I'm at work back in Taiwan I would randomly send messages to my sister to see if she'd want to check out a new spot like going to hidden alley coffee shops or a speakeasy. I like spending time with my sister to check out those new spaces." While in Seattle Isabel has been on many spontaneous adventures, conquered hiking trails with her friends and is always searching for new restaurants to try.
The Isabel that is known today is shaped by her past, and she describes her life to me in chapters, highlighting the moments within each part of her identity.
In Isabel's childhood, she said her mom is very strict in terms of having high standards for her school performance, her behavior — like the way she sits — and her overall etiquette. At that time she felt like her mom was harsh, but looking back she is thankful for the way her mom raised her and her sister."In chinese we have a saying that goes, 'the way you behave is the way your family teaches you,'" she said. 
In elementary school Isabel maintained straight A's throughout her early education. However, in junior high she attended a private school and had teachers who were not very encouraging. The way they taught didn't hold her interest. Isabel no longer was a straight A student which led to a lack confidence in her abilities and what she called a miserable school experience.
Transitioning to senior high was a turning point in her story. The senior high she attended was not high ranking and she admits to feeling ashamed when telling others about which school she attended  because in Taiwanese society, school rankings are valued as a status symbol. During this time, Isabel met her English teacher, Julie, who became a role model for her. Julie saw how talented Isabel was in learning languages. Julie encouraged Isabel to enter into competitions and take the English certification exam. At that point, with the encouragement from Julie, Isabel gradually found her confidence and pushed herself to tackle other subjects to proactively improve her rank in school.
Isabel began discussing the possibility of studying in the United States with her parents. Her parents, both teachers, had academic expectations. However, Isabel decided that this is the time for her to choose her own path. She prepared for the transfer exam for universities in Taipei, trusted her own instincts and, to her father's surprise, she got accepted to the National Taipei University of Technology. This moment was eye-opening for her, she made many friends, was away from home and became an exchange student in Beijing. Then she attended graduate school in Cheng Chi University where she obtained her Masters' degree.
Isabel entered into the workforce as an international news editor at the Central News Agency. Her tasks were to review international news articles. Her day-to-day life  at work consisted of eight hours of reviewing articles of various topics from the presidential election in the United States, to Brexit and trade wars.
Isabel admitted to being fearful of whether or not she would be able to make close friends in America, and she feared  culture shock. As she reflected, she realized the good friends she's been able to make in America and the connection she feels to international students. 
Now she is excited to start her journey in advocacy journalism through the International Examiner Fellowship program. She has experience in journalism and the media industry and knew she immediately that she wanted to sign up. Her previous work in journalism did not focus on advocacy so she's ready for this whole new experience. Her goal is to find community, a piece of home that she can revisit, within the Taiwan community that she will be covering. The International Examiner is one of the things that captured her interest and thorough her future articles, she hopes to capture yours.
Carmen Hom 
By Isabel Wang
22-year-old Carmen Hom, who is Chinese American, spent most of her life growing up in the suburb Castro Valley, California. Her paternal grandfather immigrated in the 1930s from Toisan, China, to San Francisco when he was 16 years old. He became the foundation of bringing everyone else in the family to the United States. A lot of the family members from her mother's side are still living in Hong Kong, to which she feels a strong connection. 
Family is Carmen's strongest support and she lives by her father's values of authenticity, generosity and honesty. Music plays a big part in Carmen's life. She used to take piano and violin lessons, which taught her discipline. She extended that passion to learning the ukulele and guitar, and this taught her to grow creatively. Her favorite song is Atomic Number by Neko Case. She also loves making music with people. 
Carmen came to Seattle for college at the University of Washington (UW) in 2015. Passionate about problem solving and working with people, Carmen chose to major in civil engineering and minor in urban planning. "Urban planning helped me bring the big picture of 'why', while I was learning the 'how' of civil engineering," she said. Carmen graduated this year and started working at a transportation consulting firm. 
About the Advocacy Journalism Fellowship Program, Carmen said, "I have always been interested in community advocacy work, and using the medium of writing articles was a really interesting change for me."
Carmen's focus in this eight-month long training with the IE is on the regional Asian Indian American community. The journey of becoming one of this year's five community advocacy fellows all started from an email Carmen got from her faculty advisor at college. It was about UW's Grand Challenges Impact Lab (GCIL) program. The GCIL is a quarter-long study abroad program in Bangalore, India, that empowers students to address problems such as food security, clean water, and climate change. 
Carmen was accepted to the program, and she struggled a lot about whether it was the right thing to do. She was a senior, and many of her classmates were already landing jobs. She chose to trust her inner voice eventually, and on January 3, 2019, Carmen found herself in Bangalore. After returning to Seattle in March, she still felt drawn to India. She connected with many people. "I am still processing everything that happened in India. I was thinking about what would happen if I did not go?" Carmen said. "Coming back to Seattle is a lot harder than going to India."
Back in India, Carmen and her teammates were paired with Association for Promoting Social Action (APSA), a child-centered and rights-based non-governmental organization. One of APSA's programs is called the Dream School. The students come from tough backgrounds from underprivileged homes in Bangalore. This school aims to reincorporate them into public schools. 
Carmen's senior year capstone team project was to work with APSA to come up with a social enterprise idea. Their idea was the mobile learning center (MLC). MLC was a van that visited different schools, mostly governmental and nonprofit schools, which had a teacher and an industrial professional on board. Carmen says, "the goal of MLC is to inform students about the variety of available career options through hands on interactive learning."
When the trip came to an end, Carmen felt guilty leaving the project they had been working so hard on for 10 weeks. Even now, eight months after returning, when people ask about her trip, the emotional feelings still come back to her. "I feel so grateful for this opportunity, and I am still processing my experience," she said.
Throughout the IE fellowship, Carmen will be covering the Indian Asian American community in the Puget Sound region, with the goal of covering and finding stories from all the different regions of India. Even though Carmen does not have connections in every region, she is enthusiastic about connecting with the Indian community and discovering their stories. "Like my mindset in India, I am eager to take any opportunity and possibility – to amplify underrepresented voices, to advocate, and to learn."