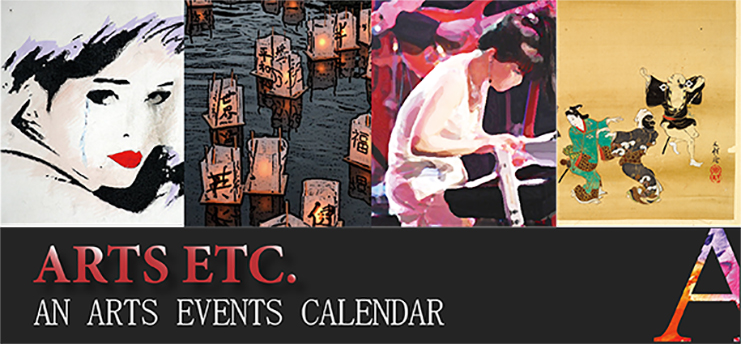 Visual Arts
"Akio Takamori:Time" is a retrospective of the late artist's work in Seattle with special focus on his time and work on Vashon Island from 1988 to 1994. On view May 6 –29,2022.Hours are Wed. – Sun. from noon to 5pm. Curated by his wife, Vicky Takamori, who writes "When choosing 'Time' for the exhibition title, I wanted a word that would pin point Akio's time on Vashon and more broadly his time as a ceramic artist. Moving to Vashon in 1988 and setting up his studio and building his salt kiln marked the beginning of a very prolific period for him. He is best known for his 'envelope vessels' made from three slabs of clay forming the front, back and bottom of the piece. The artist moved easily between the three-dimensional clay surface and his works on paper. It was his touch of the brush loaded with ink or glaze, on clay or paper, that made visible his remarkable brushwork and drawing. His standing figure series were worked from memories of growing up in Postwar Japan and represented the ordinary person. His latter work revealed torsos with male heads and female torsos. These fully glazed figures in poses of "Apology/Remorse" leaves the viewer thinking how can we be moved to express a true apology and feel true remorse in modern times." On Saturday, May 7 at 2pm, there will be a roundtable discussion on his work entitled "Bringing Life to Clay" with Vicky Takamori, Northwest ceramic artist and friend, Patti Warashina and Northwest art historian Barbara Johns in Kay Hall. Information and tickets for this talk at https://vashoncenterforthearts.org/event-remembering-akio-takamori-with-barbara-johns/. Co-hosted by Vashon Center for the Arts /Vashon Heritage Museum and Mukai Farm & Garden. 19600 Vashon Highway SW on Vashon Island. 206-259-3002 or [email protected]. In addition, "almost life size" 2-D replicas of Akio's work that depict his life growing up in Japan will be on display in Mukai's Garden during the month of May. A special Mother's Day event to celebrate Akio Takamori includes the following activities on Sunday May 8th from 1 – 4pm.  "Come Play with Clay!" – Visitors can throw and cast clay demos with Vashon Studio Pear Pottery. There will be an "Open House Food Demonstration" where you can watch Japanese food such as onigiri and miso soup being prepared. Also on display will be an "Open House Kokeshi Doll Display", part of Kate Endle's private collection of over 500 dolls.  Mukai Farm & Garden is located at 18017 – 107th Ave. SW on Vashon Island. For other events planned for May go to https://mukaifarmandgarenorg/upcoming/events/ and https://vashonheritagemuseum.org/event/vashon-potters-in-the-1970s-and-80s/?event_date=2022-04-14.
"Dimensional Resonance" is the title of a show of new work by Vashon Island artist William Song on view from May 5 – June 25, 2022. These oil paintings explore the vibrative capacities of color, light and depth to open multi-dimensional experiences beyond the conscious mind. Grounded in research about the ability of visual information to effect change in the mind and body, these works create energetic portals attuned to express connection, contemplation, spontaneity and freedom. The artist will be present on First Thursdays from 5 – 8pm on May 3 and June 2, 2022. At ArtXchange Gallery in Seattle's Pioneer Square. 512 1st Ave. S. 206-839-0377 or try [email protected]. 
ARTS at King Street Station hosts two exhibitions. "Izanami and Yomi" by Hanako O'Leary features a series of ceramic sculptures influenced by prehistoric fertility icons, Noh theatre masks, and samurai armor and a large-scale fiber installation of the underworld. The other exhibit is entitled "Her Body and After Boucher" by Molly Vaughan which features paintings, drawings, lithographs and textiles based on the works of 18th-century French painter Francois Boucher and a series of Vaughan's self-portraits. On  view May 5 – July 7, 2022. Free and open Tuesday – Saturday from 10 am – 6pm. Open until 8pm on First Thursdays. 303 South Jackson St. on the top floor. Learn more at (/arts/experience/galleries/arts-at-king-street-station-gallery/2022-hanako-and-molly).
"Moon Song", an elegant abstract painting by Northwest artist Frank Okada is included in a group show on view through May 14, 2022 entitled "Select Works from Local Collections". Greg Kucera Gallery. 212 Third Avenue South in Seattle.
206-624-0770 or go to www.gregkucera.com.
"Americans Incarcerated: A Family Story of Social Justice" is an evolving collaboration between Jan and Chris Hopkins to memorialize the eviction of Japanese Americans during WWII. The visual narrative combines Jan's figurative sculptures and mixed media vignettes with Chris's two-dimensional paintings, block prints and charcoal drawings. The exhibition coincides with the 80th anniversary of the Japanese American Exclusion from Bainbridge Island on March 30, 2022. This exhibition is part of the museum's "Executive Order 9066 at Eighty" program at Bainbridge Island Museum of Art. Also on view is "Boundless", a group show where you can explore the world of artists books and a group show for "Book/Print Artist/Scholar of Color Collective." All on view now through June 12, 2022.BIMA is located at 550 Winslow Way E. just as you get off the ferry dock.206-842-4451 or try biartmuseum.org.
The Jack Straw Cultural Center presents "Remembrance: Magma" by Chanee Choi.   Please visit by appointment by emailing [email protected]  or call 206-634-0919. This installation incorporates modern technology, cutting edge research on the aging brain, East Asian crafting aesthetics, and Korean shamanic traditions as it examines the nature of the brain as a sensor that desires data even as it slowly fails. The work explores the poetic and painful processes of memory degeneration. 
The artist will give a talk about the work on Friday, June 3 at 7pm (PT). Register to join via zoom or email to attend in person. On view through  June 17, 2022. Jack Straw artist Etsuko Ichikawa has launched her new podcast "Traveling Clouds." The first episode is about the goddess of volcanoes and fire, the creator of the Hawaiian Islands. Learn more at anchor.fm/etsuko-inchikawa9. 4261 Roosevelt Way NE in Seattle. 206-634-0919.
Town Hall Seattle & Gage Academy of Art present "A Feminist Perspective in Carved Wood", the title of an interview/conversation with noted local Pakistani sculptor Humaira Abid by Gary Faigin. Set for Tuesday, May 10, 2022 at 7:30pm (PT). In-person and  virtual. 1119 8th Ave. 206-452-4255 or go to townhallseattle.org. 
Local sculptor June Sekiguchi has closed 2021 with a flurry of activities including public art projects and future exhibitions. She completed a public art commission at the Bill and Hillary Clinton National Airport in her home state of Arkansas in Little Rock. Entitled "Tales of the Land: A Metaphorical Topography", it follows the blue lit Arkansas River as it weaves its way across the land. Closer to the Northwest, she completed an installation entitled "Glacial Crystals" at Glacier Middle School in Buckley. Commissioned through the Washington State Arts Commission, the sculptures reference the glaciers on Mt. Tahoma and the molecular structure of ice as well as a compilation of Coast Salish vocabulary of shapes in honor of the Puyallup and Muckleshoot Indian tribes native to the region.  Sekiguchi is also working at a work –in- progress which is a collaboration with Jonathan Clarren at Tapestry through art consultant Bill Gaylord. The location is an outdoor café at the site of the Curtain Manufacturing Building at 12th & Yesler in Seattle. The design excavates the 4 cultures inhabiting the land from the Indigenous Duwamish, Jewish, Japanese, and African Americans in cultural sedimentary layers. Sekiguchi is represented locally by ArtXchange Gallery of Seattle.
Pacific Northwest Quilt & Fiber Arts Museum in La Connor,WA. presents an online workshop on "Saeksilnubi" which is a Korean quilting technique that uses mulberry paper twine as a batting. Instructor is Young Min Lee. On June 1 & 2,2022 from10am – 1pm (PDT) via Zoom. Currently on view at the museum itself through June 26, 2022 is "The Quilt Road: Contemporary Korean Quilts", a group show curated by Misik Kim and Patti King.703 South Second St. in La Connor.  Try qfamuseum.org for details or call 360-466-4288.
Seattle Art Museum's downtown location has the following. ""Folding Into Shape – Japanese Design and Crafts" is on view through September 25, 2022. Creating three-dimensional objects by folding, layering and weaving two dimensional materials is a core concept in Japanese design and crafts.  Ranging from textiles and paintings to ceramics and bamboo baskets, this exhibit serves up various examples from the permanent collection and private holdings. Also on view is "Pure Amusements: Wealth, Leisure, And Culture in Late Imperial China." Another ongoing show is "Northwest Modernism: Four Japanese Americans" which takes a look at the work of Kenjiro Nomura, Kamekichi Tokita, Paul Horiuchi and George Tsutakawa. Seattle Asian Art Museum has the following..  SAM recently created a new position for a South Asian art curator and the first show on that theme opens on January 14, 2022 and it is entitled "Embodied: South Asian Art Across Time." "Boundless: Stories of Asian Art" is an ongoing group show re-imagining of items from the museum's permanent collection of Asian art. "Be/longing: Contemporary Asian Art" is an ongoing show that showcases current trends in contemporary Asian art. In the Fuller Garden Court you will find Kenzan Tsutakawa Chinn's permanent installation "Gather." Tsutakawa Chinn is a Seattle-raised, New York-based LED light installation artist. Tickets released every Thursday at 10am. Tickets must be obtained in advance. Capacity is limited. Seattle Art Museum is downtown at 1300 first Ave. 206-654-3100 or try seattleartmuseum.org.
The Wing Luke Asian Museum reopens on March 5, 2021. Hours are Fridays through Sundays from 10am – 5pm. Reserving tickets online prior to visit is highly encouraged as it is operating at limited capacity.  Just opened is "We Are Changing the Tide: Community Power for Environmental Justice". This exhibit looks at BIPOC communities from the Quinault Nation fighting climate change to Duwamish River stewardship to the threat of rising seas on Pacific Island communities to Native Hawaiians opposing military installations and Beacon Hill neighbors fighting airplane noise and pollution. Ongoing exhibits include the following – "Community Spread: How We Faced a Pandemic", "Woven Together: Stories of Burma/Myanmar", "Where Beauty Lies" looks at how Asian Americans look at themselves and measure beauty,"A Dragon Lies Here" is the latest phase of the Bruce Lee exhibit, "The Heart of Our Journey" is a permanent exhibit dedicated to the Asian Pacific American experience, "I Am Filipino" looks at the story of Filipino Americans", "Hometown Desi" covers the local South Asian experience and "Cambodian Cultural Museum and Killing Fields Memorial" looks at the Cambodian America  experience and the impact of the Killing fields on that country's history. There are virtual tours of the museum on weekday mornings. Pre-booking available for private groups. Contact the museum to sign up.  Live virtual tours of the Freeman Hotel on Thursdays at 5pm PDT. Check out what's in the gift shop with the Museum's online marketplace. The monthly storytime programs can be watched at www.digitalwingluke.org/programs.
KOBO, a unique shop of arts and crafts from Japan and items made by Northwest artists has two shops in Seattle on Capitol Hill and in the Chinatown/ID/Japantown community downtown.  Masks are required and you must use the provided hand sanitizer upon entering.  30 minute shopping sessions by appointment only at the KOBO on Capitol Hill will soon be made available through an online booking system. Time slots will be limited to keep everyone safe, plus more protective protocols in place to meet safety guidelines. Shipping and curbside pickup is still available by scheduling a Pickup Time at Checkout. They have a new instagram shopping account @koboseattleshop or try their website at  koboseattle.com. Current gallery exhibit features the work of ceramic artist Robin Hominiuk. KOBO at Higo hours are Wed. – Sat. from 11am – 5pm. The Capitol Hill store is at 814 E. Roy St. and their hours are Tues. – Sat. from 11am to 5pm.  KOBO at Higo is at 604 South Jackson St. in the CID. 
Bellevue Arts Museum has the following – An ongoing collaborative exhibition of innovative glass works by Terri Grant & Purnima Patel entitled "Trace" is on view in the museum.  Also on view until April 24, 2022 is "BAM Biennial – 2021 Architecture and Urban Design", a group show which has work by Satpreet Kahlon, Jonathan Teng, Nina Vichayapal and many others.  Kahlon also has a solo exhibit here set for 2023. 510 Bellevue Way NE in Bellevue, WA. 425-519-0770 or  try bellevuearts.org.
The Pacific Bonsai Museum has the following – "Works In Our Permanent Collection" includes 50 works of bonsai artistry selected from our permanent collection for seasonal display with some autumnal beauties.  2515 South 336th St. in Federal Way, WA. Admission is by donation. Hours are Tuesday through Saturday from 10am – 4pm. 253-353-7345 or email [email protected].
"Remembrance – The Legacy of Executive Order 9066 in Washington State" is a permanent exhibit on the third floor of the Washington State Historical Society. Visitors will experience history through photos, art, objects, letters and film. A significant part  of this exhibit was sourced by working with individuals and families who were directly impacted including survivors and their descendants. Coming July 1 – September 11, 2022 is "Art of the Aloha Shirt: Keoni of Hawaii, 1938-1951". 1911 Pacific Avenue in Tacoma. 1-888-238-4373.
Tacoma Art Museum re-opens April 10th, 2021. "Painting Deconstructed: Selections from the Northwest Collection" includes work by Ed Aulerich-Sugai, Tram Bui, Donnabelle Casis, Paul Horiuchi, Fumiko Kimura, Roy Kiyooka, John Matsudaira, Mark Takamichi Miller, Kenjiro Nomura, Frank Okada, Joseph Park, Roger Shimomura, Maki Tamura, Kamekichi Tokita, George Tsutakawa, Thuy-Van Vu and many others. On view for an extended time.  1701 Pacific Avenue. 253-272-4258 or go to [email protected].
The Outdoor Sculpture Collection on the campus of Western Washington University in Bellingham is open and accessible to everyone. This is an outdoor collection of major sculptures from the late 20th century to the present and includes work by Do Ho Suh, Sarah Sze and Isamu Noguchi among others. Get a map from the information booth and explore the campus collection for yourself. Call 360-650-3900.
The Jordan Schnitzer Museum of Art at WSU  is a new art space for Eastern Washington. Inaugural shows include the following – The museum plans a retrospective exhibition for Eastern Washington artist Keiko Hara for 2022. "Keiko Hara: The Poetics of Space, Four Decades of Paintings" is set for May 2022 – December 2022.  There are a number of activities in which the staff will give tours of the new space. If you are interested, try https:/museum.wsu.edu/about/meet-the-staff. 1535 Wilson Road on the Washington State University campus in Pullman. 509-335-1910 or try [email protected].
The Museum of Vancouver has "A Seat at the Table: Chinese Immigration and British Columbia" which highlights the importance of food and restaurant culture in the Chinese-Canadian immigrant experience. Situated in Vanier Park at 1100 Chestnut St. in Vancouver, BC, Canada. 604-736-4431 or try museumofvancouver.ca.
The Chinese Cultural Centre Museum at 555 Columbia St. in Vancouver B.C. has an ongoing exhibit entitled "Generation to Generation – History of Chinese Canadians in British Columbia". 604-658-8880 or go to cccvan.com.
The oldest building in Vancouver BC's Chinatown will become a Chinese Canadian museum thanks to a grant from the Provincial government and a donation from real estate marketer Bob Rennie. The Wing Sang Building was built in 1889. The museum is expected to open in 2023 and will feature space for exhibits, programs, events and learning areas for students.
 "Broken Promises" is a 7 year multi-disciplinary, multi-institutional, community engaged project that explores the dispossession of Japanese Canadians in the 1940s. It illuminates the loss of home and the struggle for justice of one racially marginalized community. On view from May 7 – June 26 is a group show entitled "Japanese Design Today". This exhibit showcases Japanese design in ten themes. Also on view is an ongoing exhibit on "TAIKEN: Japanese Canadians Since 1877". Opening on October 23, 2021 is "SAFE/Home" is a collaboration between Kellen Hatanaka and Alexa Hatanaka. Through the lens of the historic Vancouver Asahi baseball team, these artists explore issues of race, xenophobia, representation and implicit bias that are relevant in both sport and society today. Nikkei National Museum & Cultural Centre in Burnaby at 6688  Southoaks Crescent. 604-777-7000 or try nikkeiplace.org.
"Henry Shimizu's Paintings of New Denver Internment" carries the voices of three generations in this exhibition that provides insight into the intergenerational impacts of the forced uprooting and internment of Japanese Canadians during WWII. Through June 18, 2022.  UVic Legacy Art Galleries at 630 Yates St. in downtown Victoria. 250-721-6562 or go to uvic.ca/legacygalleries/.
PoMoArts presents a group show entitled "Vancouver Korean Artist Collective: RE: Through The Years" on view through May 5, 2022. 2425 St. Johns St. Port Moody, Canada. 604-931-2008 or go to pomoarts.ca.
The Kamloops Art Gallery presents "Here Elsewhere Other Hauntings", the first retrospective dedicated to the work of Jin-me Yoon, a Korean Canadian living in British Columbia. Includes photographs and video work.  Through July 2, 2022. 101-465 Victoria St. in Kamloops, 
The Jordan Schnitzer Museum on the University of Oregon campus in Eugene has the following – "On Earth:  A Fragile Existence" is a group show culled from JSMA's permanent collection that reflect a multi-layered understanding of humanity's role in our shared ecology with the non-human, or more-than-human, world. On view through September 18, 2022."Korean Ceramic Culture: Legacy of Earth & Fire" on view through May 8, 2022.  "Myriad Treasures – Celebrating the Reinstallation of the Soreng Gallery of Chinese Art" on view through June 30, 2022.  Upcoming exhibition on the work of the late Bay Area artist Hung Liu entitled "Remember This: Hung Liu at Trillium" is on view through August 28, 2022. The renowned California artist explores portraits, landscapes and still-lifes that reflect upon history, memory, tradition, migration and social justice. 1430 Johnson Lane in Eugene, Oregon. 541-346-3027.
Japanese American Museum of Oregon is now open in a new space.  Current exhibits include the following –   "Na Omi Shintani: Dream Refuge for Children Imprisoned". This Bay Area artist builds a refuge for imprisoned children, whether they be Japanese Americans in WWII concentration camps, American Indian boarding school children or Central American children imprisoned and separated from their families. This show will be on view from April – September of 2022. "Resilence – A Sansei Sense of Legacy" is a group show of eight artists whose work reflects upon the effect of Executive Order 9066 and how it resonated from generation to generation. This group show will be on view from October 1 – December 22, 2022. Artists include Kristine Aono, Reiki Fuji, Wendy Maruyama, Lydia Nakashima Degarrod, Tom Nakashima, Roger Shimomura, Judy Shintani and Jerry Takigawa. The show was co-curated by Jerry Takigawa and Gail Enns. Several online exhibits on the history of Japanese Americans in Oregon can also be viewed. 411 NW Flanders. 503-224-1458 or email [email protected].
Portland Chinatown Museum has the following –Portland installation artist Roberta Wong has a window installation in memory of Vincent Chin, the Chinese American man killed by two Detroit workers entitled "Vincent".  Opening April 2 and remaining on view through September 10, 2022 will be a career retrospective of set designs for theatre and the performing arts by Northwest set designer Carey Wong. Wong had a hand in designing the interior of the museum itself. Portland Chinatown Museum is located at 127 N.W. Third Ave. 503-224-0008 or email [email protected].
The Asian Art Museum, San Francisco has the following currently on view.  "Team Lab: Sketch Ocean." "Zheng Chongbin: I Look For The Sky." "After Hope: Vidoes of Resistance."  "Afruz Amighi: My House, My Tomb." Site-specific installations – "Momento: Jayashree Chakravarty and Lam Tung Pang." Outside murals by Channel Miller and Jennifer K.Wofford are visible from Hyde St. Opening December 17, 2021 is "Weaving Stories – Indonesia, The Philippines and Malaysia". "Seeing Gender" opens January 21, 2022. And coming in the Summer of 2022 is the first major museum retrospective for Bay Area iconic performance artist and visual artist Carlos Villa, a longtime noted instructor at San Francisco Art Institute. The show is entitled "Carlos Villa: Worlds in Collusion". 200 Larkin St.  San Francisco, CA. 415-581-3500.
The Berkeley Art Museum/PFA has the following.  "Spiritual Mountains: The Art of Wesley Tongson" features eleven paintings by this late Hong Kong artist whose work draws from traditional Chinese paintings and techniques and processes. Shown with historic Chinese brush paintings from the museum's own collection. On view through June 14, 2022. 155 Center St. Berkeley, CA 510-642-0808 or go to [email protected].
The San Jose Museum of Art has the following.  A massive installation entitled "Factory of the Sun" by European artist Hito Steyerl  is on view through September 25, 2022. It tells the surreal story of workers whose forced moves in a motion capture studio are turned into artificial sunlight.  110 South Market St. in San Jose, CA. 408-271-6840. 
 "Guo Pei: Couture Fantasy" will celebrate the designs of Guo Pei hailed as China's first couturier and includes more than 80 works from the past two decades highlighting her most important collections shown on Beijing and Paris runways. The exhibition will be on view through September 5, 2022 at The Palace of Legion of Honor in San Francisco. The show was organized by Jill D'Alessandro, curator in charge of  costume and textile arts at the Fine Arts Museums of San Francisco. 100 – 34th Ave. 415-750-3600 or try https://legionofhonor.famsf.org.
"Hiyao Miyazaki" is a look into the animation creations of this master filmmaker. This exhibition continues on view at the Academy Museum of Motion Pictures through June 5, 2022. 6067 Wilshire Blvd. in Los Angeles, California.
Japan House Los Angeles has the following – "The Art of The Ramen Bowl" on view from March 18 – July 5, 2022. This exhibit comes in three sections. 1. Introduction to Ramen, its History and Culture'. 2. "Designer Ramen Bowls" in which you can see how various artists have put their own spin on the ramen bowl. 3. "The Cermaic Valley of Mino" where most ramen bowls in Japan are made.  In the Hollywood & Highland Building on Level 2 & 5 on 6806 Hollywood Blvd. in Los Angeles. 1-800-516-0565 or try  japanhousela.com.
The Japanese American National Museum (JANM) has the following – Ongoing is "Common Ground – The Heart of Community" which features a WWII Japanese internment camp building.  Ongoing is "The Interactive Story File of Lawson Ichiro Sakai", an oral history project in which visitors can ask Japanese American elder Sakai any questions they want about his life and past history such as the bombing of Pearl Harbor, the Japanese internment camps, his service as a soldier in WWII. Opening on February 26, 2022 is "Sutra And Bible-Faith and the Japanese American World War II Incarceration". The exhibit examines the role that religion played in saving the exiled Japanese American community from despair during the war years. 101 N. Central Ave. in Los Angeles, CA. 213-625-0414.
The USC Pacific Asia Museum in Pasadena, CA has the following –   "Crossroads – Exploring the Silk Road" opens October 22, 2021. This new permanent exhibit tells the story of centuries of cultural exchange stimulated by the movement of travelers and goods along the ancient trade route. In the fall of 2021, a group show entitled "Intervention: Perspectives For a New PAM" will be shown. "Global Asia's: Contemporary Asian And Asian American Art from the Collections of Jordan D. Schnitzer & the Jordan Schnitzer Family Foundation" comes to the museum from March – June, 2023. 2680 N. Los Robles Ave.  in Pasadena, CA.  626-787-2680  or [email protected].
The Dallas Museum of Art presents "Slipzone: A New Look at Post-War Abstraction in the Americas and East Asia" on view through July 10, 2022. Also showing is "The Keir Collection of Islamic Art" through December 31, 2022. 1717 North Harwood St.  214-922-1200.
The Museum of Fine Arts, Houston has  "Shahzia Sikander: Extraordinary Realities" on view through June 5, 2022. 1001 Bissonnet St. Houston, Texas.
The Museum of Fine Arts, Boston has the following –  "Conservation in Action: Japanese Buddhist Sculpture in a New Light" on view through July 3, 2022. 465 Huntington Ave. Boston, MA. 617-267-9300 or go to mfa.org.
The Peabody Essex Museum in Salem, MA has the following ongoing exhibits – "South Asian Art", "Double Happiness Celebration in Chinese Art", "Japanese Art", "Japanomania! Japanese Art Goes Global" and finally "Anila Quayyum Agha: All the Flowers Are For Me". This Pakistani American artist creates precise, stylized floral forms to make a sculptural chamber of light and shadow. Her effort creates a sense of how women can reclaim and safely open up private space to invite others. 161 Essex St. in Salem, MA 816-745-4876 or go to pem.org.
The Minneapolis Institute of Art has the following – "Amano Kazumi: Prints from the Kimm-Gruffernan Collection is on view through May 29, 2022. This Japanese printmaker was a disciple of the noted folk-art inspired Shiko Munakata but changed his style to favor abstract shapes and bright colors later in his career.  2400 Third Ave. S. Minneapolis, MN 888-642-2787.
The Walker Art Center has the following –  A sound & video installation  by Twin-Cities-based artist Shen Xin  through July 2, 2022.  "Paul Chan: Breathers" on view from July 27, 2022 – April 22, 2023. And a Pacita Abid retrospective planned for sometime in 2023. 725 Vineland Place, Minneapolis, MN. 612-375-7600 or try [email protected].
The Art Institute of Chicago has the following – "The Golden Age of Kabuki Prints" is a show in two installments.  The second installment runs from April 16 – June 26, 2022.  .111 South Michigan Ave./159 E.  Monroe. Chicago, ILL. 312-443-3600. 
The Cleveland Art Museum has the following on view – "Art of the Islamic World" comes from a period of great cultural and geographic expansion with works from Spain, North Africa, the Middle East and Central Asia, on view through May 31, 2022. Opening February 11, 2022 is "Martial Art of India" on view through August 8, 2022. 11150 East Blvd. Cleveland, Ohio. 261 – 421- 7350 or go to https://www.clevelandart.org.
The Metropolitan Museum of Art in New York City has the following –   "Masters and Masterpieces: Chinese Art from the Irving Collection" through June 5, 2022.  "Companions in Solitude- Reclusion and Communion in Chinese Art" through August 14, 2022. "Shell and Resin: Korean Mother-of-Pearl and Lacquer" through July 5, 2022. "Bodhisattvas of Wisdom: Compassion & Power" through October 30, 2022. "Celebrating the Year of the Tiger" through January 17, 2023. 1000 Fifth Ave.  212-535-7710. Go to https://www.metmuseum.org.
Asia Society Museum has the following –  "Rebel, Jester, Mystic, Poet: Contemporary Persians – The Mohammed Afkhami Collection" includes works by more than twenty artists from Iran and its diaspora. "Video Spotlight: Rahraw Omarzad". "Video Spotlight: Araya Rasdjarmrearnsook". All three shows on  view through May 8, 2022. 725 Park Ave. in New York City.212-327-9721 or try www.asiasociety.org.
Ippodo Gallery has the following – "Bring Forest Bathing To The Home" is an exhibition of charis handcrafted from wood by Toshio Tokunaga on view from April 21 – May 26, 2022. 32 E. 67th St., 3rd Floor. New York City. +1-(212) 967-4899  or [email protected]. 
The Rubin Museum of Art announces the 2022 exhibition "Healing Practices: Stories From Himalayan Americans" which highlights the diverse ways that Tibetan Buddhist artworks and practices have served as roadmaps to well-being. The exhibition juxtaposes objects from the museum's collection with stories from Himalayan Americans, revealing the many ways these living traditions are transformed and adopted for today's world. On view through  January 16, 2023. This exhibition was developed in collaboration with a Himalayan American and Asian American Community Advisory Group which includes New York tristate area and DC artists, medical professionals, spiritual leaders, activists, educators and art therapists interested in the intersection between art, healing, and activism. A new podcast premieres on June 8, 2021 entitled "Awaken" hosted by musician/composer Laurie Anderson. It features stories of transformation by Aparna Nancheria, Alok Vaid-Menon, Tara Branch and more.  Get the podcast on RubinMuseum.org/awakenPOD and other major podcast platforms. Mandala Lab" is the Museum's new interactive space for social, emotional and ethical healing. Designed by Peterson Rich Office, it invites visitors to participate in five unique experiences inspired by a Tibetan Buddhist mandala. Through October 1, 2031.  "Gateway to Himalayan Art" remains on view through June 5, 2023. "Journey Through Himalayan Art" remains on view through January 8, 2024."150 West 17th St. in New York City. 212-620-5000 or go to rubinmuseum.org.
The Noguchi Museum has the following – "No Monument: In The Wake of The Japanese American Incarceration" is a group show that looks at how Japanese American artists have represented and remembered the experience through experimentation with photography and sculpture. On  view through May 15, 2022. "Noguchi's Useless Architecture" is a show inspired by his visits to Indian astronomical devices.On view through May 8, 2022.  There are also various video programs that deal with Noguchi's history and life that you can view.  9-01,33rd Rd.  Long Island, New York. 718-204-7088.
The Japan Society has the following – "Kazuko Miyamoto" is the first solo survey of this artist's work in New York. It showcases the artist's contributions to the development of Minimalism and her sustained interest in the body through evocative conceptual experiments and investigations in performance and textiles. On view  April 29 – July 10, 2022. 333 East 47th St. New York,New York. 212-263-1258.
Wonju Seo is a contemporary artist who takes the aesthetics, forms and techniques of bojagi (Korean wrapping cloths) and reconfigures them as an abstract textile art for a global audience. See her work in "Travelogue", an exhibit on view from now through May 27, 2022.  At the Korea Society located at 350 Madison on the 24th floor. 212-759-7525.  Go to Koreasociety.org for details.
The Chinese American Museum has opened in Washington DC. It's the only museum in the nation's capitol dedicated to the Chinese American story – its history, culture and voice.  Currently closed because of COVID. The museum had an exhibit tour of their exhibition "Golden Threads – Chinese Opera in America" which is now available on youtube for viewing. Go to www.chineseamericanmuseum.org  for details. 1218 – 16th St. NW. 202-838-3180 or chineseamericanmuseum.org.
The National Museum of Asian Art – Sackler/Freer Gallery has the following – Ongoing shows include "Engaging The Senses – Arts of the Islamic World", "Body Image – Arts of the Indian Subcontinent". The Tibetan Buddhist Shrine Room opens March 5, 2022. "Underdogs and Antiheroes: Japanese prints from the Moskowitz Collection" runs from through January 29, 2023. "Revealing Krishna: Journey to Cambodia's Sacred Mountain" goes from April 30 – September 17. 2022. "A Splendid Land: Paintings from Royal Udaipur" runs from November 19 – May 14. 2023. "Mind Over Matter: Zen in Medieval Japan – Calligraphic Paintings from the Museum's Collection" on view February 26 – July 24, 2022. Freer Gallery of Art,  Smithsonian Institution, Washington, DC. Jefferson Drive at 12th St. SW. Try asia.si.edu for details.
The New Orleans Museum of Art has the following – "The Pursuit of Salvation: Jain Art from India" through May 15, 2022. The Jain faith of India is older than Buddhism yet is little known outside of India. This exhibit presents sculpture, ink and watercolor drawings and manuscripts that open a window to this fascinating religion.  "Buddha and Shiva, Lotus and Dragon: Masterworks From The Mr. and Mrs. John D. Rockefeller 3rd Collection at Asia Society" on view through May 31, 2022. One Collins C. Diboll Circle, City Park in New Orleans, Louisiana. 504-658-4100.
The Tate Modern has the following on view – On view, is a show entitled "Carving & Printing" by Singapore-born, London-based artist Kim Lim who displays both his sculpture and prints and the viewer can see how they are interrelated. The Traveling exhibition entitled "Surrealism Beyond Borders" will be on view through August 29, 2022 at the Tate Modern and will feature work by Japanese artist Koga Harue.   The Tate St. Ives branch museum will also give Thao Nguyen Pham her first UK museum exhibition on view until May 2, 2022. It will include video, paintings, and mixed media works. Go to tate.org.uk for details on all these.
"Yayoi Kusama: A Retrospective" continues on its world tour with stops in Berlin and Tel Aviv. April 23 – August, 2022. Gropius Bau in  Berlin. Niederkirchner Stra Be7,10963 Berlin. Tel Aviv Museum of Art from November 2 – April 23, 2022. The Golda Meier Cultural &  Art Center, sderot sha'ul HaMelech Blvd., Tel Aviv-Yafo, Israel. +972-3-6077020.
The first major retrospective of artist Lee Ufan in Tokyo is set to be on view through November 7, 2022 at the National Art Center, Tokyo. This exhibit will then travel on to Hyogo Prefectural Museum of Art where it will be on view from December 2022 – February, 2023.   The National Art Center, Tokyo is at   7-22-2 Roppongi Minato-Ku  Tokyo 106-8558. For details, go to https://www.annohideakiten.jp/.
Museum of Contemporary Art, Tokyo  has the following – Yoshizaka Takamasa-Panorama World: from life-size to the earth", "The Art of Special Effects – Production Designer Yasuyuki "TAIKO" Inoue. MOT Collection: Garden of Light/Continuing Whispers".  "Tokyo Contemporary Art Award 2020-2022". All shows through June 19, 2022. 4-1-1 Miyoshi,  Koto Ku, Tokyo, Japan. +81-50-5541-8600(Hello Dial).
At the Mori Arts Center is "Chim Pom Happy Spring" which celebrates the work of Japan's most radical artist collective in their largest retrospective to date. On view  until May 29, 2022. In Tokyo, Minato City, Roppongi, 6 Chome-10-1, Roppongi Hills, Japan. +8150-5541-8600.
"Notes From a City Unknown" is an exhibition of  drawings, prints and a sculptural installation by Seher Shah. On view through May 29, 2022 at Nature Morte Dhan Mill, Chhatarpur Hills, New Delhi. For details, go to www.naturemorte.com.
Japanese historian Meher McArthur  has curated a touring group exhibit entitled "Washi Transformed: New Expressions In Japanese Paper" which features the work of nine contemporary Japanese artists which include Hina Aoyama, Eriko Horiki, Kyoko Ibe, Yoshio Ikezaki, Kakuko Ishii, Yuko Kimura, Yuko Nishimura, Takaaki Tanaka, and Ayomi Yoshida. The exhibit tours over 6 cities across the United States beginning in October of 2021.The lone West Coast date thus far is at Mingei International Museum in San Diego, CA. October 13, 2023 – January 7, 2024. Please contact [email protected] for more information. 
Performing Arts
Pianist/composer Hwaen Ch'uqi performs with Brandon Vance on violin, Pamela Liu on viola, Erika Pierson on cello and Anna Doak on bass in a concert that includes Ralph Vaughn Williams's "Quintet in C minor for Piano & Strings and the world premiere of "Elegie-Berceuse", a composition by Hwaen Ch'uqi. On Saturday, May 7 at 6pm at Cascadia Art Museum in Edmonds. $12 for members and $18 for non-members. For tickets and information, go to https://www.cascadiaartmuseum.org/music-in-themuseum/. 190 Sunset Avenue S. in Edmonds.
The Washington State Historical Society, writer/public historian Tamiko Nimura and Tacoma Arts Live team up to host a free program commemorating the 80th anniversary of the forced eviction of Japanese and Japanese American people living in Tacoma  entitled "Languages of Memory: A South Sound Japanese American Day of Remembrance." Set for Tuesday, May 17, 2022 from 6 – 8:30pm at Washington State History Museum. The program has a screening of a play "Nihonjin Face" by Janet Hayakawa and Tere Martinez from Tacoma Arts Live followed by literary readings and performances, a walk through the museum's REMEMBRANCE gallery and a procession to Union Station – the departure point for the Japanese community in 1942.1911 Pacific Ave. in Tacoma. Go to www.WashingtonHistory.org/events. For details on this event, go to https://www.washingtonhistory.org/event/languages-of-memory/.
Seattle Sound Theatre present Patrick Hamilton's play "Gaslight (Angel Street)" in which a husband strives to drive his wife insane in order to commit theft. The play includes Kathy Hsieh, Aimee Chou and Hisam Goneli and is directed by Teresa Thuman. On stage now through May 14,2022. 12th Avenue Arts at 1620 – 12thAve.206-880-3947 or [email protected].
Playwright Leah Nanano Winkler has been getting a lot of exposure in the Northwest as of late. Tacoma's Dukesbay Theatre just concluded their run of her play, "God Said This" and now Seattle's Intiman Theatre presents the Northwest premiere of "Two Mile Hollow", a comedy about a very white family with very white problems. The switch is that the ensemble is comprised of an all Asian Pacific American Islander cast. With Ray Tagavilla, M. Keala Milles, Jr.,Naho Shioya and Annie Yim.  It is directed by  Jesse Jou. Runs through May 14 at Broadway Performance Hall. For details, try [email protected].
In "Uncomfortable Subjects", musician/composer/conductor Samantha Boshnack expands her instrumental explorations into lyrical and conversational territories. She brings together conceptual artist/writer/community builder Natasha Marin and poet/Jack Straw writer Jane Wong to engage in two and three-way correspondences dealing with "Uncomfortable Subjects". These live remarks by the poets merge with vocals from Johnaye Kendrick and a supergroup chamber orchestra composed of Seattle's best players from jazz, alt-pop, new music and classical projects. Set for Saturday, May 14, 2022 at 8pm. Chapel Performance Space at Good Shepherd Center in Wallingford at 4649 Sunnyside Ave. N., 4th floor in Seattle. Donations range from $5 – $20 at the door or in advance. Go to [email protected] for details.
Earshot Jazz and Town Hall Seattle bring Naya Baaz to town in-person and live streaming. This duo includes guitarist Rez Abbasi and sitarist Joh Feinberg in a program of South Asian inspired improvised music. On Friday, May 20, 2022 at 7:30 pm (PT). 1119 8th Ave. 206-452-4255 or try townhallseattle.org and call Earshot Jazz at 206-547-6763.
DME & Vernier Entertainment present "Excuse Me, Brother!, standup comedy by Aakash Gupta on Sunday, May 29, 2022 at 6pm. In-Person only, no live stream. First time in the U.S. This event will be presented in Hindi. Town Hall Seattle in The Great Hall at 1119 Eighth Ave. (enter on Eighth Ave.). Go to townhallseattle.org for details. 
Mukai Farm & Garden on Vashon Island has the following events – "We Won't Forget" is the "Day of Exile 80 Anniversary Event" which honors the families from Vashon who were forcibly removed by Executive Order 9066 set for Sunday, May 15, 2022 at 1pm.  "Agriculture Day At Mukai" celebrates Vashon's rich agrarian heritage on Sunday, May 22, 2022 from 11am – 3pm. Speakers at noon include Bruce Haulman, Forest Garden Farm, Matsuda Farm and Northbourne Farm. Other events include historical Japanese farm information on display, Marshall strawberries and Asian vegetables for sale, meet and greet with local farmers and a tractor show. 18017 – 107th Ave. SW. For more information on these events, go to mukaifarmandgarden.org.
The 6th Annual Lunar New Year Dragon Dance Parade & Celebration takes place on Saturday, May 7, 2022 in Portland's Chinatown. At 10 – 11am at NW Third and Davis St., the event kicks off with lion dancers, performances and the emergence of the dragon. From 11am – 1pm, the parade around Old Town Chinatown and the plucking of the greens at select locations. It then proceeds up SW Third Ave and up towards SW Jefferson and Park St. From 1 – 1:30pm, the parade ends at OHS outdoor plaza.
"The Fragmented Flow Festival" highlights new work by PNW artists from around the region from June 16 – 26, 2022. Join Degenerate Art Ensemble (Crow Nishimura & Joshua Kohl), Allie Hankins from Portland, Vanessa Goodman from Vancouver BC and Gender Tender from Seattle. DAE's piece explores three childhood fairy tales through music, movement theatre, and dance with mesmerizing costumes. Tickets start at $18. Go to [email protected] for details.
Bob Antolin's Comfort Food Band holds down a Wed. night spot at Rumba Notes Lounge at 5041 Rainier Ave. S. #108. 206-420-2192. The band is also part of a concert series presented by Urgent Africa entitled "Sounds From Around The World" and play a set at 2pm on May 7, 2022 at Roxhill Park at 2850 W. Roxbury in Seattle. Sponsored by Seattle Parks & Recreation. Bob Antolin also does a program entitled "Solo Excursions" on sax, flute and guitar on Saturday nights from 6 – 9pm at Kezira Café. 5100 Rainier Ave. S.206-588-1024 or try keziracafe.com.
Spokane celebrates Asian Native Hawaiian Pacific Islander Heritage Day on May 14, 2022 from 1 – 8pm at Spokane's Riverfront Park. Includes live performances by Ukestra-Spokane, NW Hula, Samoan fire-knife dancers, historical exhibits, cultural demonstrations, food and luau. For advance food and seats, go to [email protected] or call 509-928-9664.Also on Facebook at SpokaneUnitedWeStand.org.
Seayoung Yim, Seattle playwright and educator has won the 2022 Yale Drama Series Prize for her play "Jar of Fat", described by the prize committee as an "irrevernt and vicious satire on beauty standards." The play follows two sisters as their close bond is threatened under the pressure of their community and fretful parents, who will spare no effort to get them tinier.
Seattle Opera has announced the line-up for their upcoming season. Some highlights include the following –  Andrew Stenson has the role of Shepherd/Sailor in "Tristan & Isolde" set for October 15,21,23,26 & 29, 2022. Yonghoon Lee has the starring role as Samson in the Seattle Opera production of "Samson & Delilah" set for January 20 & 22, 2023. The world premiere of an adaptation of Afghani author Khaled Hosseini's award-winning novel "A Thousand Splendid Suns" takes place Feb. 25 & 26, March 3,5,8 & 11, 2023. Directed by Afghan filmmaker Roya Sadat. Rame Lahaj and Duke Kim share the role of Alfredo in "La Traviata" set for May 6,7,10,13,14 & 19, 2023. Samoan tenor Amitai Pati makes his Seattle Opera  debut as Nemorino in "L'elisir d'amore" set for August 5 – 20, 2023. Seattle Opera perfroms out of McCaw Hall at 321 Mercer St. 206-389-7676 or try [email protected].
Pork Filled Productions present announce their new season. Some productions to look forward to in the upcoming season include – "Slow Cooker Unleased! PNW Lore" set for Feb. or March, 2022. Alive workshop presentation of 3 new works by local BIPOC artists. Co-produced with Café Nordo in Nordo's Knife Room. "Miku And The Gods" by Julia Izumi from June 16 – July 3rd, 2022. This is a co-presentation with ArtsWest developed in Unleashed 2020. "She Devil Of The China Seas" by Roger Tang set for July 2022. A full live production at Theatre Off Jackson, developed in Unleashed 2017. "PFP's First Devised Show  – 2022 Cohort Auditions". Follow us for auditions announcement, the cohort will devise a full production for 2023. For more details, email [email protected]. 
 Town Hall Seattle has also announced their 2021/22 "Global Rhythms Series". Of particular interest to our readers are the following –Ak Dan Guang Chil serves up dynamic Korean shamanic folk-pop music on Friday, June 17, 2022 at 7:30pm (PST).  1119 8th Avenue. 206-504-2857. To get tickets and find out the complete schedule, go to townhallseattle.org.
 "Create Your Own Series", choose any 5 concerts and save on Seattle Symphony's upcoming "live-in-person" 2021-22 season. Some highlights include the following – Musicians of the Seattle Symphony perform "Wynton Marsalis: A Fiddler's Tale Suite" as well as Portland-based composer Kenji Bunch's "String Circle" and Anton Arensky's "String Quartet No. 2" on May 3, 2022. In related news, a recent hire at Seattle Symphony is viola player Olivia Chew.  She was most recently a member of the Rochester Philharmonic Orchestra for six seasons. 206-215-4747 or go to seattlesymphony.org. 
 "When We Wake" is the apt title of Arts West's new 2021-22 season with six new stories and six Seattle premieres. Coming later in the season is "Miku, and the gods" which is another world premiere by Julia Izumi. An epic adventure that braids friendship, death, memory, time, rhythm and power in the story of a group of gods whom must journey to the underworld and back. Runs June 16 – July 3, 2022. Go to artswest.org for more details.
UW School of Drama has announced their 2021-2022 public season. Among their selections, they will produce Christopher Chen's "Passage" May 19 – 29, 2022. Adrienne Mackey will direct. 206-543 -5140.
Freehold Theatre Lab/Studio now located in the CID continues their classes in various aspects of the theatre both virtual and in-person.   For a list of current classes, go to freeholdtheatre.org for details or call 206-595-1927.
Go to Nonsequiter's website to listen to free links by local musicians performing original music at waywardmusic.org.  Carol J. Levin on electric harp engages in a series of "Duo Improvisations" with Susie Kozawa who plays various sound objects. Jackie An performs music for violin and electronics. Sovan is an ambient music duo featuring songwriter Tomo Nakayama and film composer Jeramy Koepping. Classically trained pianist and designer Tiffany Lin plays a piano program of originals in this series. Local sound artist Susie Kozawa has a piece she did invoking the space at the Chapel. Percussionist/composer Paul Kikuchi explores new music. Choreographer/dancer/singer Haruko Crow Nishimura performs a new vocal piece. Other performers include Leanna Keith, Nordra, Ahmed Yousefbeigi, Mother Tongue with Angelina Baldoz, trumpeter Cuong Vu and drummer Ted Poor, the wife/husband classical duo of Melia Watras and Michael Jinsoo Lim, Joshua Limanjaya Lim, Rahikka & James Lee, Kaoru Suzuki and Chris Icasiano with more to follow. The Chapel Performance Space at Good Shepherd Center has re-opened and is now booking again various kinds of adventurous/experimental music. Go to waywardmusic.org for details.
Taiwan soprano Karen Chia-Ling portrays the lead role in the world premiere production of the opera "Dream of the Red Chamber" set for June 14 – July 3, 2022 at San Francisco Opera. It's a revival of the Chinese opera by composer Bright Sheng and playwright David Henry Hwang adapted from one of the classics of Chinese literature. In related news, catch "From Page to the Opera Stage: Dream of the Red Chamber", an online conversation via zoom with designer Tim Yip and Asian Art Museum CEO Jay Xu as they discuss the artistic inspiration behind Yip's sets and costumes for "Dream of the Red Chamber." Set for Friday, May 20, 2022 at 1pm. Free and open to the public but registration is required. Go to https://calendar.asianart.org/event/from-page-to-the-opera-stage-dream-of-the-red-chamber to register. For information on the production, go to http://sfopera.com/on-stage/dream-of-the-red-chamber/.
City Opera Vancouver has the world premiere of a new opera entitled "Chinatown" with the libretto by Madeleine Thien and music by Alice Ping Yee and the Hoisan translation by Paul Yee. It's a story of family and neighborhood, racism and resistance and history and tomorrow. It will run from September 13 – 17, 2022. For a sneak peek, go to cityoperavancouver.com.
The Chinese Garden at the Huntington Library, Art Museum and Botanical Gardens in Los Angeles in collaboration with L.A. Opera will premiere a new outdoor performance area known as the "Terrace of Shared Delights" with a production of a modern opera entitled "On Gold Mountain". The opera is based on author Lisa See's book about her California family's (on the Chinese side) immigrant experience. This production was originally commissioned in the late 90s as part of L.A. Opera's "Voices of California" series. Directed by Jennifer Chang with a score by Nathan Wong and libretto by Lisa See, it premiered back in 2000 at the Aratani Theatre. The staging at the Huntington runs from May 5 – 15, 2022. For details, go to Huntington.org/on-gold-mountain.
Film & Media
Kate Tsang's "Marvelous and The Black Hole" screens at Grand Illusion Cinema from May 7 – 11, 2022. A teenage delinquent befriends a surly magician who helps her navigate her inner demons and dysfunctional family with sleight of hand magic. 1403 NE 50th St. [email protected].
May 2 – 15, 2022  the SEAxSEA Film & Literature Festival takes place. Filmmakers from the region and its diasporas are creating and sharing their own ways of looking back at themselves and at Southeast Asia. Includes over 30 short films from Singapore, Thailand, Myanmar, Indonesia, the Philippines, Cambodia, Malaysia, Australia and the U.S. Includes two literary panels (registration required). "Southeast Asia between Art and Anthropology" on May 5, 2022 at 5pm (PDT) and "How Southeast Asia Imagines Itself in Creative Practice" on May 13, 2022 at 5pm (PDT). Go to jsis.washington.edu or try [email protected] for details.
Catch Asian American, Native Hawaiian and Pacific Islander public television programs during APA Heritage Month on PBS. Go to http://caamedia.org/blog/2022/04/28/asian-american-native-hawaiian-and-pacific-islander-public-television-watch-guide-for-may/ for details.
"Honor Thy Mother, The Untold Story of Aboriginal Women and Their Indipino Children" is a documentary film about immigrants on Bainbridge Island. The film screens with a Q&A with director  Lucy Ostrander. Sunday, May 8 at 3pm. Entry included with museum admission. Washington State History Museum at 1911 Pacific Ave. in Tacoma. Go to washingtonhistory.org for details.
Filmmaker Yayoi Winfrey's documentary series entitled "War Brides of Japan" can be access now on Gumroad. Below are the links for each program.  https://watermelonsushi.gumroad.com/1/HERSTORY
https://watermelonsushi.gumroad.com/1/theBRIDES
https://watermelonsushi.gumroad.com/1/theKIDS
https://watermelonsushi.gumroad.com/1/theCULTURE
https://watermelonsushi.gumroad.com/1/BUDDHISTFRIENDSFOREVER
The WORLD Channel on KCTS honors Asian American & Pacific Islander Heritage Month with documentaries and special events. Go to https://worldchannel.org/press/press_release.
MUBI presents the following – Stephen Chow & Derek Kwok's 2013 "Journey to the West:Conquering the Demons" has Chow, one of Hong Kong's biggest stars turning a Chinese folktale into a fantastical action spectacular. Kinji Fukasaku's 2000 film "Battle Royale" put a new spin on "Lord of the Flies" and was a precursor to the "Squid Game" series. This horror film of Japanese youth in a game of elimination on an island brings the horror back. Ann Hui's WWII-era film "Love After Love" stars Sandra Ma and Eddie Peng in a a story of a love triangle in the upper echelon in pre-WWII era Hong Kong. With cinematography by Christopher Doyle and soundtrack by Ryuichi Sakamoto. Nobuhiro Suwa's 2001 film "H Story" is a re-staging of the classic French film, "Hiroshima Mon Amour". "The Power of Kangmon Province" was the second film by South Korean director Hong Sang-Soo. It tells the the story of a man and woman who decide to end their affair. Takashi Miike's 2015 film, "Yakuza Apocalypse: The Great War of the Underworld" pits vampires vrs. gangsters in a wild fight to the death. Le Biao's 2021 film "Taste" takes us to the slums of Ho Chi Minh City and through hypnotic bodily gestures and earthly rituals of food desperation we see a wordless tenderness that transcends language barriers. "The Woman Who Ran" is prolific Korean director Hong Sang-soo's 2020 film about small talk in a feminine world where men don't seem to fit in. Cited as one of the best films released that year. Lee Myung-se's 2000 cops and gangster's film "No Where to Hide" lets you follow a cop in his grinding pursuit of a mobster as the director deftly moves you through a barrage of genres and styles that keep the viewer from getting too comfortable or bored. "Parched", a  2015 film by Leena Yadan that looks at the rich and complex fates of rural women in India and their urge to survive against all odds.
Film Movement brings back the following films for rent or sale on dvd/blueray. Ang Lee's "Pushing Hands" due out May 10, 2022 is an early film by this director about a tai chi master's adjustment to life in the West. King Hu's "Raining in the Mountain" is a martial arts classic about the search for and protection of a secret scroll. Koji Fukuda's "A Girl Missing" is a tense portrait of a woman's eventual breakdown. James Payne's "Far Western" is a documentary on the country and western music influence in post-war Japan. For details on these films, email [email protected].
The Written & Spoken Arts
Join Town Hall Seattle in a live stream only reading by authors Don Lee and Rob Arnold as they spin tales of heartbreak, identity and belonging. In his new book of short stories entitled "Partition", Lee explores Asian American identity and the estrangement, alienation and longing for connection that can come with it. Rob Arnold is a Chamorro poet who is currently interim executive director of Hugo House. His is widely published and has received support from the Jack Straw Cultural Center and Artist Trust. This reading is on May 4, 2022 at 6pm (PT). In-person and streaming is a discussion entitled "Discontents of Liberalism" with writer Francis Fukuyama interviewed by Seattle author Eric Liu. On Thursday, May 12, 2022 at 7:30pm (PT). On May 14, Town Hall Seattle and UW Engage Science present a discussion with April Lo, Doris Dai and Lance De Konnick at 7:30pm (PT). In-person and virtual. Town Hall Seattle and Wing Luke Asian Museum present Seattle writer Peter Bacho in conversation with fellow writer/poet/playwright Robert Flor on "Mostly True Stories of Filipino Seattle." They will talk about Bacho's latest book "Uncle Rico's Encore Encore: Mostly True Stories of Filipino Seattle" (UW Press). This event is in-person and streaming on Wed., May 18, 2022 at 7:30pm (PT). Seattle Town Hall Seattle at 1119 8th Ave. 206-504-2857 or try [email protected].
Hugo House, a Seattle-based literary center that offers readings and writing classes offers a full slate of Fall & Winter writing classes for all levels. Some classes are in person or on a learning platform or via ZOOM. Go to hugohouse.org for complete details. On May 20, 2022 at 7pm (PDT), the 2022 Hugo Literary Series offers the theme of "The Time Tripper" as a 'prompt" for newly created work by writers such as Vet Thanh Nguyen, Gabrielle Calvocoressi and Stacy D. Flood who all appear in person. This live/in-person event at Hugo House at 1634 – 11th Ave. in Seattle's Capitol Hill neighborhood. For tickets, go to https://hugohouse.org/events/hugo-literary-series-the-time-trapper/.
STG and AEG present young poet sensation Rupi Kaur on her world tour to the Paramount.  Set for May 25 at 8pm (PDT).  Her books have brought more young people to poetry in many ways. She will probably read from her three best-selling collections of poetry as well as new poems. Elliott Bay will be selling books with signed bookplates. The Paramount is at 911 Pine St. in downtown Seattle. For tickets/information, go to https://www.ticketmaster.com/event/0f005B76BDBC2C6D?brand=paramountseattle.
Elliott Bay Book Company has a full slate of events in their virtual reading series. Here are a few. On Wed. May 11, 2022 at 6pm (PDT), Japanese novelist and translator Masatsugo Ono makes a live return to Seattle to read from his novel "At the Edge of the Woods" (Two Lines) as translated by Juliet Winters Carpenter. The book tells the story of a family navigating their unsteady future. To register, try https://www.eventbrite.com/e/masatsugu-ono-at-the-edge-of-the-woods-book-event-tickets-318517052077.  Novelist Nghi Vo appears in a Zoom webinar on behalf of her latest novel entitled "Siren Queen", in which she turns Hollywood into a sexy and terrifying fairyland. She will be joined by novelist Chloe Gong, author of "These Violent Delights" and "Our Violent Ends". Set for May 12 at 6pm (PDT). Registration/information at https://www.eventbrite.com/e/nghi-vo-siren-queen-book-event-tickets-318518747147.  The bookstore joins with Seattle Public Central Library with Hedgebrook and Friends of Little Saigon in sponsoring a talk with Seattle journalist Putsata Reang about her new book "Ma and Me: A Memoir" (MCD/Farrar, Straus & Giroux) on May 16, 2022 at 7pm (PT). She will talk with fellow author Susan Lieu about growing up as a Cambodian immigrant and her relationship with her mother as she comes to know herself as being queer and what it means within her family and for her life.  This live/in-person program which is also streaming is set for the Library at 1000 Fourth Ave. Registration and information at https://www.eventbrite.com/e/putsata-reang-and-susan-lieu-discuss-ma-and-me-a-memoir-tickets-317061277817?aff=ebdsoporgprofile.  Set for Tuesday, May 17, 2022 at 7pm (PDT) live and streaming is another co-sponsored event by EBCC and Seattle Public Central Library. Former Stranger writer and EBBC worker Angel Garbes who penned "Like A Mother" returns with a new book entitled "Essential Labor: Mothering as Social Change" (Harper Wave) in which she tackles the social, cultural political, economic and personal ramifications of motherhood.  She will engage in conversation with Melissa Miranda, chef/owner of local celebrated Filipina restaurant Musang. 1000 Fourth Avenue. On Monday, May 23, 2022 at 6pm (PDT), Tsering Yangzom Lama appears in-person on behalf of her first novel "We Measure the Earth With our Bodies." This story tells the story of a Tibetan family living through exile, loss, longing and sorrow.  Registration at https://www.eventbrite.com/e/tsering-yangzom-lama-we-measure-the-earth-with-our-bodies-book-event-tickets-318543701787. For making reservations to the virtual events, go to elliottbaybook.com and click on the "events" page or call 206-624-6600 or toll-free at 1-800-962-5311.  Most events are virtual and accessed through eventbrite.com. The bookstore remains open. 1521 – 10th Ave. 206-624-6600.
Third Place Books has the following –Third Place Books in collaboration with da shop in Honolulu present a virtual reading with Japanese novelist Mieko Kawakami who will discuss her latest novel "All the Lovers in the Night" with fellow novelist Katie Kitamura on Wed., May 4, 2022 at 5:30pm (PT). A freelance copy editor in her 30s vows to change her hermetic life but as changes occurs, painful episodes from her past begin to surface. Translated from the Japanese by Sam Bett & David Boyd. Broadcast live on Third Place Books zoom webinar platform. Access is free with purchase of the featured book through eventbrite. Try thirdplacebook.com for details.
King County Library System has the following literary events –graphic novel, "Huda F Are You?" and how she created it. Online only on May10,  2022 at 5pm (PT). On May 11, 2022 at 7:30pm (PT), join a discussion with Malaka Gharib, author of the graphic novel "I Was Their American Dream" A Graphic Memoir", the story of a growing up in an Egyptian/Filipino American family. Registration required. For details on the events, try kcls.bibliocommons.com.
This year's 2022 Writers Program Reading Series by Jack Straw Foundation and guest curated by Michael Schmeltzer presents readings from their selected writers on May 6 at 7pm, May 13 at 7pm and May 20 at 7pm. These are all live-streamed  and in-person readings.  Email [email protected] to attend in person or stream via Jack Straw Cultural Center on Facebook or YouTube. Visit jackstraw.org for more events, curator and writers' bios, and to listen to SoundPages, our Writers Program podcast. Admission to each reading is a $10 donation and comes with a gift of the 2022 :Jack Straw Writers Anthology" which is also available for purchase at Open Books: A Poem Emporium in Pioneer Square. Jack Straw is located at 4261 Roosevelt Way NE in Seattle's University District. 206-634-0919 or www.jackstraw.org.
 "Road Work: Street Photography from the 70s & 80s" is a new book by Chinese American photographer Greg Soone. The book is a tour through New York City, the Bay Area, Vancouver and Paris with particular emphasis on the Chinese immigrant and African American communities. The author will present his photos on the big screen with context and reflections from the photographer as part of the Powell Street Festival Society. Tickets available via eventbrite. Books will be available at the event. On Sunday, May 29, 2022 at 2pm (PT). At The Cinematheque at 1131 Howe St. in Vancouver, BC. Doors open at 1:30pm. Go to powellstreetfestival.com for details.
Humanities Washington has announced their 2021 – 2023 Speakers Bureau Roster with presentations ranging from the personal to the global. Public presentations are free and will start July 1, 2021. Some speakers include the following – Under "Arts & Literature", Deepti Agrawal will speak on "The Ancient Art Of Madhubani Painting." Under "History", Julie Pham speaks on "Hidden Histories: The South Vietnamese Side of the Vietnam War." Under "Life & Culture", Lori Tsugawa Whaley talks about "The Samurai Code: How Bushido Changes Lives". Under "Race & Identity", Michelie Liu talks about "Laughing Matters: Asian Americans, Comedy And Inclusion"  and Rals Bhulyan speaks about being shot by a White supremacist in "One Second of Hate: A Story of Forgiveness" and how he learned to forgive. To reserve an online virtual program, contact [email protected]. For more information, try [email protected].
The President's Diversity Advisory Community Council at the University of Oregon present "A Visit With Ron Chew" set for May 12, 2022. Chew gives a Keynote Address in the Jordan Schnitzer Museum of Art's Ford Lecture Hall at 10am. The PDACC Spring Luncheon includes a workshop with Ron Chew and Business Meeting for members & invited guests only from 12 – 2:30pm. A reception & Book Signing for Chew's memoir "My Unforgotten Seattle" concludes the day from 3 – 4:30pm at the Multicultural Center. Hosted by MCC and ADPI Strategies Group. Space is limited so please RSVP by May 6 at https://oregon.qualtrics.com/jfe/form/SV_eaMvaZmS2ggTaKi. An additional event taking place earlier on May 11, 2022 at 5pm is "Remember This: Hung Liu at Trillium" which is a guided tour of this exhibition of this noted Bay Area figurative artist at the Jordan Schnitzer Museum of Art.
EAST WIND BOOKS in Berkeley, California remains one of the most comprehensive bookstores in the country for Asian American and Asian titles. They are sponsoring the following free virtual events.   Meet-And-Greet & Author signing with Kenneth Tan as part of the May 7, 2022 Bay Area Book Festival. Tan is the author and co-illustrator of "Crescenciana", the life story of his Filipino grandmother.  On Tuesday, May 17, 2022 at 6:30pm (PT), catch a talk by Dr. Jenny T. Wang about her book entitled "Permission To Come Home: Reclaiming Mental Health of Asian Americans" at the bookstore. Hosted by UC Berkeley AAPI Health Research Group. RSVP at [email protected]. Author Jeffrey Gee Chin will talk about his book, "A Rebel's Outcry: Biography of Issei Civil rights Leader Sei Fujii" in person at the bookstore and also as a youtube live stream. He will be joined by Academy Award winner Chris Tashima and Dr. Harvey Dong.  On May 20, 2022 at 4pm (PT). On Friday, June 10 at 12pm (PST)/ 3pm (EST), Peter Bacho, author of "Uncle Rico's Encore: Mostly True Stories of Filipino Seattle" will be in conversation with friend and scholar/activist Juanita Tamayo Lott. This is a zoom only event. On Wed., June 22, 2022 at 4pm (PST), catch Indonesian American author, illustrator and activist live at the bookstore as he reads from his book "My Night in the Planetarium" accompanied by live Indonesian music from a trio ensemble from the Gamelan Sekar Kaya. This is a story time event for kids, ages 6 – 9 years old and families To get more details on these events, email [email protected] or go to asiabookcenter.com.
"Immigration Stories of Asian American Women: Here Is Happiness" enlists storytellers Alton Chung, Elanor Clement Glass and Janet Liu to bring to life  the diverse immigrant experiences of Asian American women. Hear stories of an early 20th-century Japanese mail-order bride, a Filipina World War 1 bride, and a young girl leaving her family home in Taiwan in the 1960s.  Online via Zoom on May15, at 3pm (PST). Free but registration required. https://buy.acmeticketing.com/events/474/detail/6209801de3864572a7ab69ca?date=2022-05-15T00:00:00-0800&_ga=2.176314594.699345105.1651340585-1651340585.
Author/playwright and musician Alvin Eng does a two-part book launch for his new memoir "Our Laundry, Our Town-My Chinese American Life from Flushing to the Downtown Stage and Beyond"(Fordham University Press). There is a virtual book launch reading and talk on May 20 at 5:30pm (EST) on AAARI/CUNY's online Friday Lecture Series. On May 20, 2022 he does an in-person book launch at 7pm (EST) at City Lore Gallery at 56 East 1st St. in the East Village, New York City.
The University of Washington Press is seeking writers working on a manuscript or new book proposal. UW Press editors are eager to connect with current and prospective authors about new projects and book proposals. Contact them via email of set up a meeting by phone or Zoom. Executive Editor is Lorri Hagman at [email protected].
Below is a partial list of new books by or about Asian Americans and new titles on Asia. If you are interested in reviewing any of them, please let us know –
"Stranger In The Shogun's City" (Scribner) by Amy Stanley. The author assumes the role of historian as detective and historian as storyteller as she weaves a story of a woman's life from archives and opens the window to an isolated Japan on the eve of opening its doors to the world.
"Piece by Piece – The Story of Nisrin's Hijab" (Amulet) by Priya Huq. This graphic novel tells the powerful story of a Bangladeshi American girl in Oregon who is the victim of a hate crime while wearing a traditional costume and head scarf and how she recovers from that trauma by finding her own identity. The exploration of one girl's search for her  own truth and claiming one's place in the world.
"The Cartographers" (Morrow) by Peng Shepherd. The story of when a family of cartographers – father and daughter fall out over a disagreement and the father is found dead. His daughter discovers a hidden map in his desk and embarks on a dangerous journey to reveal a dark family secret and the true power of maps as she races to reveal the killer.
"Stories Of Japanese Tea – The Regions, The Growers, And The Craft" (Princeton Architectural Press) by Zach Mangan. The author, a respected tea purveyor himself, takes readers behind the scenes in Japan to reveal how tea is grown and made and the tea growers and regions who bring this heady brew to our cups. And also how the tradition of tea influences cuisine, art and health.
"Beating Heart Baby" (Flatiron) by Lio Min is a tender friends-to-enemies-to lovers story with AAPI leads, celebrates first love, second chances, indie rock and transitions in life of many kinds. An anime-influenced queer coming-of-age love  story not without complications and challenges.
Don Lee burst upon the literary scene with "Yellow", a debut book of finely crafted short stories on Asian American identity. Twenty-one years later, his new book "The Partition" (Akashic) explores similar ground but digs even deeper. Spanning decades and cities around the world, these characters come from the arts, academia and media. We find characters searching for answers to universal questions – where do I belong?, how can I find love?, what defines an authentic self? A master storyteller at the top of his game delivers the goods.
"COSPLAY – The Fictional Mode of Existence" (Minnesota) by Frenchy Lunning. Flourishing far beyond its Japanese roots, cosplay has become an international phenomenon with fervid fans who gather at enormous, worldwide conventions annually. Lunning offers an intimate, sensational tour through cosplay's past and present, as well as its global lure.
"Scatterted All Over The Earth" (New Directions) by Yoko Tawada as translated by Margaret Mitsutani. In this novel, the world's climate disaster and its attendant refugee crisis are viewed through the loving twin lenses of friendship and linguistic ingenuity. In the not-too-distant future, Japan as a country has vanished. Hiroko, a former citizen and climate refugee  teaches immigrant children in Denmark. As she searches for anyone who  an still speak her native tongue, she makes new friends through her travels.
"Inconvenient Daughter" (Akashic) by Lauren J. Sharkey is a novel about a Korean adoptee who runs away from home with burning questions about her identity. It's only when she dives deeper into the world of casual encounters with strangers, does she discover what she's really looking for. With a fresh voice and wit, the author dispels the myths surrounding transracial adoption, the ties that bind and what it means to belong.
 "Troubling the Water – A Dying Lake and a Vanishing World in Cambodia" (Potomac Books – University of Nebraska Press) by Abby Seiff. A eulogy to Cambodia's once magnificent Tonle Sap Lake and the water culture of Cambodia and how it was destroyed by global warming, a dam and the greed of people.
"Winter Love" (McNally Editions) by Han Suyin. This short novel by the author of "Love is a Many Splendored Thing" recalls a love affair between two women at the end of WWII in war-torn London.
"Woman Running in The Mountains" (NYRB) by Yuko Tsushima with an introduction by Lauren Groff as translated by Geraldine Harcourt. A young single mother seeks refuge in the company of other women, then ventures beyond the city into the countryside towards a mountain that captures her imagination and desire for a wilder freedom.
"Racist Love – Asian Abstraction and the Pleasures of Fantasy" (Duke) by Leslie Bow. The author traces the ways in which Asian Americans become objects of anxiety and desire. Conceptualizing these feelings as "racist love", she explores how race is abstracted and then projected onto Asianized objects.
"Wingbearer" (Quill Tree Books) is a graphic novel by Marjorie Liu and illustrated by Teny Issakhanian. Zuli is a girl raised by mystical bird spirits high among the branches of the Great Tree. But when a sinister force threatens the life-giving magic of the tree, Zuli must venture out with her guardian owl into the world to solve this problem and come face-to-face with unimagined foes and her own true identity.
"Come Over Come Over" (Drawn & Quarterly) by Lynda Barry. This zany comic book artist gives voice to sisters Maybonne and Marlys in a series of colorfully drawn stories or as Maybonne exudes on the back cover of this book, "It's mainly about how life can magically turn cruddy and then turn beautiful and then back to cruddy again, then it just keeps on evolutionizing you."
"Return Flight" (Milkweed Editions) by Jennifer Huang won the Spahr Prize for Poetry. This book is an intimate exploration of lineage – asking what we inherit from ancestors, lovers and things we hold sacred – as well as a vivid project of both pain and pleasure.
"Fish Swimming In Dappled Sunlight" (Bitter Lemon) by Riku Onda as translated by Alison Watts. Set in Tokyo over the course of one night, a couple meets for one last time before breaking up. Their relationship broken down by the death of their guide on a mountain trek, each believes the other to be a murderer.
"Tradition And Triumph – Japanese Women artists From the John Fong and Colin Johnstone Collection" (Denver Art Museum in association with UW Press). This exhibition catalog showcases art created by Japanese women from the 1600s through the 1900s. Ranging from works on silk and paper to ceramics, the art of important women artists is represented along with pieces by male artists who mentored them.
"Talk To My Back" (Drawn & Quarterly) by Yamada Murasaki. A watershed work of literary manga shimmering with vulnerability, this graphic comic explores the fraying of Japan's suburban middle-class dreams through a woman's relationship with her two daughters as they mature and assert their independence, and with her husband who is rarely home but expects his wife to fulfill his every need. Originally serialized in a Japanese magazine, this book poignantly depicts the relationship between family, domestic inequality, and personal freedom, and occupies a sacred place in the history of women's cartooning in Japan.
"Violets" (Feminist Press) by Kyung-Sook Shin as translated by Anton Hur. A neglected young woman following a violent childhood rejection, finds herself working in a flower shop where she encounters a curious cast of characters. Set amid the frenzied modernization of late twentieth-century South Korea.
"All the Flowers Kneeling"(Penguin) by Paul Tran. Visceral and astonishing, this debut book of poetry investigates intergenerational trauma, sexual violence, and US imperialism in order to radically alter our understanding of freedom, power and control.
"Peasprout Chen – Battle of Champions" (Henry Holt) by Henry Lien. Now in her second year at Pearl Famous Academy of Skate and Sword, Peasprout Chen tries to reclaim her place as champion of wu liu, the deadly and beautiful sport of martial arts figure skating. But Peasprout faces a surprising threat. As Peasprout guides her mission to save a kingdom, she must learn what it truly means to be a leader.
"Vulgar Beauty – Acting Chinese in the Global Sensorium" (Duke) by Mila Zuo. In this book, Zuo offers a new theorization of cinematic feminine beauty by showing how mediated encounters with Chinese film and popular culture start to produce a feeling of Chineseness.
"Peter Lee's Notes From The Field" (Tundra) by Angela Ahn. An eleven-year old boy wants to become a paleontologist but his summer falls apart when his real-life dinosaur expedition turns out to be a bust. Even worse, his grandmother is sick and no one wants to tell him about it. 
"Disorientation" (Penguin Press) by Elaine Hsieh Chou tells the unforgettable story of a Chinese American grad student trying to finish a dissertation on a late canonical Chinese poet and be done with the cultural thing. A curious note in the archives leads to an explosive discovery that sets off a rollercoaster of mishaps and mis-adventures. A blistering send-up  of privilege and power in America.
"All About Vietnam – Projects & Activities for kids" (Tuttle) by Phuoc Thi Minh Tran as illustrated by Dong Nguyen & Hop Thi Nguyen, In this lavishly detailed picture book, children will get an inside look at Vietnam's vibrant culture, while learning through fun, hands-on games, songs, and activities. This multicultural children's book is a great fit for story time at home or in a classroom.
"Climate Lyricism" (Duke) by Min Hyoung Song looks at how climate change affects the work of American authors as varied as Frank O'Hara, Tonny Pico, Sholmaz Sharif, Kazuo Ishigoro and others. This is a powerfully argued case for literature and poetry as a way of cultivating sustained attention to climate change in this tumultuous time.
"Birds of Paradise Lost" (Red Hen Press) by Andrew Lam is a collection of short stories that looks at what happened to the "Boat People" who escaped after the fall of Saigon.
"My Mechanical Romance" (Holiday House) by Alexene Farol Follmuth. When Bel accidentally reveals her talent for engineering, she finds herself a loner in her school's legendary robotics club. Fortunately, Mateo who is captain of the club recognizes Bel as a potential asset. As competition heats up for national competition, the two form a closer relationship. This YA novel explores the challenges girls of color face in STEM and the vulnerability of first love with wit and honesty.
"Eighteen Vats of Water" (Creston) by Ji-Li Jiang as illustrated by Nadia Hsieh.  The award-winning author of "Red Scarf Girl" returns with another story of Chinese culture and history. Xian has always wanted to be a great calligrapher like his father. As he studies, Xian learns how much work and creativity go into what look like effortless strokes. Based on actual history, this book is about creativity, learning to see, and determination, as well as the importance of family traditions.
"Love Decoded" (Razorbill) by Jennifer Yen. A young adult novel about a teenage girl creates a friend-making app to earn a shot to represent her school and the chance at a prestigious tech internship. Trouble is, the app becomes a major scandal and ends up hurting her friends. How can she salvage her friendships?
"When I'm Gone, Look For Me In The East" (Pantheon) by Quan Barry. From the acclaimed author of "We Ride Upon Sticks" comes her new novel that moves across a windswept Mongolia, as estranged twin brothers make a journey of duty, conflict, and renewed understanding. Are our lives our own, or do we belong to something larger? This novel is an examination of our individual struggle to retain our convictions and discover meaning in a fast-changing world, as well as a meditation on accepting simply what is.
"Tokyo Dreaming" (Flatiron Books) by Emiko Jean is a sequel to the bestseller "Tokyo Ever After". When Japanese American teenager Izumi Tanaka learns that her father was the Crown Prince of Japan, she goes to Tokyo to finally find a place she belongs. When it appears that she will have a royal wedding and marry her bodyguard turned boyfriend, things turn awry.  Her parents are breaking up, the Imperial Household Council refuses to approve the marriage and her boyfriend makes a shocking decision about their relationship. Will Izumi pull it all together 
"The Verifiers" (Vintage) is a novel by Jane Pek. Claudia Lin is an amateur sleuth who verifies people's online lives and lies for a dating detective agency in New York. Things go smoothly until a client with an unusual request goes missing. She breaks protocol to investigate—and uncovers a maelstrom of personal and corporate deceit. Part literary mystery and part family story, this novel offers an incisive examination of how technology shapes our choices, and the nature of romantic love in the digital age.
"Set On You" (Berkley) by Amy Lea is a romance novel that follows the life of a fitness instructor who after a recent break-up takes solace in the gym, her place of power and positivity. That calm turns competitive when a firefighter enters the gym and the two begin to spar.
"Red Thread Of Fate" (Berkley) by Lyn Liao Butler is a story of loss and recovery and a powerful message about the ties of family. After the tragic death of her husband and cousin on the eve of their adoption of a son from China, things get complicated. Tam Kwan finds herself a widow and sudden mother. She is named the guardian of the cousin's five- year-old daughter without her knowledge. Now, Tam must decide if she will complete the adoption on her own and bring home the son waiting for her in a Chinese orphanage.
"Sunday Funday in Koreatown" (Holiday House) written and illustrated by Aram Kim. Yoomi has big plans for her day – make kimbap for breakfast, wear her favorite shirt, get her favorite books from the library and visit Grandma with her dad. But nothing goes right. This charming picture book shows how even when things don't turn out the way you want to, the day can be rewarding. This is a story of resilience, family, and Korean culture.
"Search History" (Coffee House Press) is a novel by Eugene Lim. Frank is dead—or is he? While eavesdropping on two women discussing a dog-sitting gig over lunch, a bereft friend comes to a shocking realization: Frank has been reincarnated as a dog! This epiphany launches a series of adventures—interlaced with digressions about AI-generated fiction, virtual reality, Asian American identity in the arts, and lost parents—as an unlikely cast of accomplices and enemies pursues the mysterious canine.
"A Magic Steeped In Poison" (Feiwei & Friends) by Judy I. Lin. When Ning realizes it was she who unknowingly brewed the poison tea that killed her mother and now threatens to take away her sister too, she is beside herself. But she takes on the challenge to find the kingdom's true masters of the magical art of tea-making for the princess will grant a favor to the winner. A favor she hopes will save her sister.
"The Trees  Witness  Everything" (Copper Canyon Press) by Victoria Chang. This latest book of poetry by Chang balances the Japanese traditional from of tankas to grab at the core of the world. Largely insipid by the poet W.S. Merwin, she explores the self and how it abuts nature, often running through that boundary entirely.
"Art & Trousers – Tradition & Modernity in Contemporary Asian Art" (Artasiapacific) by David Elliott. An anthology of writings by cultural historian  Elliott that offers a panoramic view of contemporary art across Asia. The book focuses on the impacts of invention, exchange, colonization, politics, social development and gender and moves between regional analysis, portraits of artists and a metaphorical history of trousers.
"Cadenzas" (Redbat Books) by Alex Kuo. This is a unique, double-sided work of fiction that narrates a conversation between music and languge, with walkins by Dorothy Parker, Dante, Edith Sitwell, J.S. Bach, Qiu Jin, Dmitri Shostakovich and June Jordan. It is Alex Kuo's accumulation of more than eighty years of living, listening, and writing on several continents and breathing in the cadences of several languages, including three Chinese dialects.
 "Loveboat Reunion" (Harper Teen) by Abigail Hing Wen. A couple teenagers emerge from a tumultuous past in which hearts were broken and revenge was plotted but all is forgiven as they become friends Determined to forge a future, Sophia has college plans and Xavier plays the waiting game, hoping to dodge his overbearing father long enough to collect his trust fund when he turns eighteen. But obstacles are in their way, can they succeed together or are they destined to combust?  Find out in this young adult romance novel.
 "My Annihilation" (Soho Crime) is the forthcoming novel by Fuminori Nakamura as translated by Sam Bett.  This Japanese master of literary noir interrogates the unspeakable thoughts all humans share but only monsters act on, revealing with disturbing honesty the psyche of a killer.  What follows is an intricately layered revenge story that dissects the framework of identity and memory to answer the question "What makes someone a killer?" To be published in January, 2022.
 "Two at the Top: A Shared Dream of Everest" (Groundwood) by Uma Krishnaswami as illustrated by Christopher Corr. In this colorfully illustrated picture book, the author lets the Nepalese Sherpa Tenzing Norgay and mountain climber Edmund Hillary both tell their story as they ascend Mt. Everest.
 "Sunny Song Will Never Be Famous" (Sourcebooks) by Suzanne Paek. A comedic YA novel about a Korean American teenager cyber star whose addiction to social media has taken over her life. She is hauled off to a social media detox camp in the Midwest where she is forced to confront herself.
"Back To Japan – The Life and Art of Master Kimono Painter, Kunihiko Moriguchi" (Other Press) by Marc Pettijean and translated from the French by Adriana Hunter. This book describes the life and art of a master Kimono painter and Living National Treasure whose influences ranged from the Paris art scene of the1960s to the Japanese world of tradition where he began to contemporize the craft of yuzen (resist dyeing) through his innovative use of abstraction in patterns.
"The Village Of Eight Graves" (Pushkin Vertigo) by Seishi Yokomizo as translated by Bryan Karenyk. A mountain village called "Eight Graves" takes its name from a centuries-old massacre. When a young man arrives from the city to claim a mysterious inheritance and death follows in his wake, the villagers suspicions fall upon the newcomer. The young man must rely on the help of detective Kosuke Kindaichi to uncover the murderer and save his own reputation before the villagers take justice into their own hands.
"Brother's Keeper" (Holiday House) by Julie Lee. Its 1950 in North Korea and everything is restricted. A family prepares to flee but war breaks out. Only the twelve year old daughter and her mother's eight-year old son can make it out to escape to the South.  They face insurmountable obstacles as they begin this journey.
"The Dreamweavers" (Holiday House) by  G. Z. Schmidt. As Mid-Autumn Festival approaches, 12 year olds Mei and Yun Wu are excited as the Emperor of China's son comes to their village to sample their grandfather's incredible moon cakes. But when disaster strikes that night, these kids are left to their own devices on how to rescue their grandfather and village from a terrible fate. A middle-age novel  for youngsters.
"Seeing Ghosts" (Grand Central) is a memoir by Kat Chow. With a voice that is both wry and heartfelt, the author weaves together what is part ghost story and part excavation of a family's history of loss, spanning three generations as they emigrate from China and Hong Kong to Cuba and America. This personal story wrestles with what we each impart to future generations and what we owe our ancestors.
 "The Wishing Tree" (Harper) by Meika Hashimoto and illustrated by Xindi Yan. This picture book tries to depict the spirit of giving and the spirit of xmas in a young child and how it lights up a whole town.
 "The Grandmaster's Daughter" (Green Willow) by Dan-ah Kim. In a small quiet village sits a martial arts school where the daughter of the grandmaster must teach as well as learn from every daily task. Colorful illustrations enhance this picture book.
"Thank You, Mr. Nixon – Stories" (Knopf) by Gish Jen. In her first collection of stories in years, Jen takes measure of the fifty years since the opening of China and its unexpected effects on the lives of ordinary people.
 "How We Fall Apart" (Bloomsbury) by Katie Zhao. A young adult  thriller about students at an elite prep school who are forced to confront their secrets when they discover their ex-best friend dead.
 "Love and Reparation – A Theatrical Response To  The Section 377 Litigation In India" (Seagull Books) by Danish Sheikh. On 6 September 2018, a decades-long battle to decriminalize queer intimacy in India came to an end. The Supreme Court of India ruled that Section 377, the colonial anti-sodomy law, violated the country's constitution. 'LGBT persons,' the Court said, 'deserve to live a life unshackled from the shadow of being "unapprehended felons".' But how definitive was this end? The playwright navigates these questions with a deft interweaving of the legal, the personal, and the poetic in these two plays.
"It All Comes Back To You" (Quill Tree) by Farah Naz Rishi. For fans of "Pride & Prejudice" comes an enemies-to-lovers rom com about first love and second chances by this Pakistani American YA novelist.
 "Rouge Street – Three Novellas" (Metropolitan Books) by Shuang Xuetao and translated by Jeremy Tiang. With an introduction  by Chinese Canadian novelist Madeleine Thien. An inventor dreams of escaping his drab surroundings in a flying machine. A criminal, trapped beneath a frozen lake, fights a giant fish. A strange girl pledges to ignite a field of sorghum stalks. These are the characters that populate the world of this writer who evokes the voice of people from China's frigid northeast in Shenyang, China. A gritty region once an industrial hub but now weighed down by unemployment, poverty, alchoholism, domestic violence, divorce and suicide.
"Win Me Something" (Tin House),  a novel by Kyle Lucia Wu. Willa Chen has never quite fit in. Growing up as a biracial Chinese American girl in Jersey and too Asian to fit in at a mostly white school but too white to speak to the few Asian kids around, she grew up feeling mostly outside. This coming-of-age debut is about the irreparable fissures between people, and a young woman who asks what it really means to belong, and how she might begin to define her own life.
"Word Travelers And The Taj Mahal Mystery" (Sourcebooks) by Raj Haldar and illustrated by Neha Rawat. Best friends Eddies and MJ are going to play outside, create an obstacle course for MJ's newts, watch their favorite movies and then travel to India to solve a mystery and save a kingdom.
 "Touring The Land of The Dead" (Europa Editons) by Maki Kashimada as translated by Haydin Trowell. This book consists of two novellas that concern memory, loss and love. The title story invokes a woman who takes her chronically ill husband to a spa, the site of a former luxury hotel that her grandfather had taken her mother to when she was small. "Ninety-Nine Kisses" portrays the lives of four unmarried sisters in a close-knit neighborhood of Tokyo. Inspired by Tanizaki's "The Makioka Sisters".
 "Longing and Other Stories" (Columbia University Press) by Jun'ichiro Tanizaki.  Tanizaki is one of the most eminent Japanese writers of the twentieth century and known for his investigations of family dynamics, eroticism, and cultural identity. He is acclaimed for postwar novels such as "The Makioka Sisters" and "The Key". This book presents three early stories of family life from the first decade of the author's career. Translated by Anthony H. Chambers and Paul McCarthy.
"Pillar of Books – The Moon Country Korean Poetry Series" (Black Ocean) by Moon Bo Young as translated by Hedgie Choi. Still in her early 30's, Young is part of a younger generation of poets in South Korea. As Kim Na-Young, judge of the Kim Soo-Young Prize awarded to this volume said, "The work of witnessing and representing life is so easily marred and thwarted by the anxieties and loneliness present in each of our lives, and yet, this poet looks squarely at the world, presenting the truth in it with such solidity and composure that I can't help but root for her and the new language she discovers in the process." 
"Winter Phoenix – Testimonies In Verse" (Deep Vellum) by Sophia Terazawa.  A book of testimonies in verse, this book is a collection of poems written loosely after the form of an international war crimes tribunal. The poet, daughter of a Vietnamese refugee, navigates the epigenetics of trauma passed down, and across, the archives of war, dislocation and witness, as she repeatedly asks, "Why did you just stand there and say nothing?"
 "The One Thing You'd Save" (Clarion) by Linda Sue Park and illustrated by Robert Sae-Heng.  In this book, a Newbery medalist poses a provocative question about what matters most. Students talk, argue and stand by their choices as they discover unexpected facets of one another—and of themselves. With insight and humor, Park captures the voices of an inclusive classroom in verse inspired by the Korean poetry form sijo.
"The Wandering Earth" (Tor) by Cixin Liu. A collection of ten stories that form an ode to earth, its pasts and its futures. Liu's stories show humanity's attempts to reason, navigate and survive in a desolate cosmos.
"Murakami T – The T-Shirts I Love" (Knopf) by Haruki Murakami. Photographs of Murakami's T-shirt collection are paired with short, frank essays that include his musings on the joy of drinking Guinness in local Irish pubs, the pleasure of eating a burger upon arrival in the United States and Hawaiian surf culture in the 1980s.
In "Gamma  Draconis" (Titan Comics), acclaimed artist Eldo Yoshimizu teams up with writer Benoist Simmat to create a dazzling crime tale of a Japanese heroine who takes on a sinister crime organization.
The Gleaner Song – Selected Poems" (Deep Vellum) by Song Lin as translated by Dong Li. Song Lin is one of China's most innovative poets. When the Tianamen protest exploded in Beijing, Song led student demonstrations in Shanghai for which he was imprisoned for almost a year. Leaving China, this selection of poems spans four decades of exploration with a focus on poems written in France, Singapore and Argentina and more recently, his return to China.
"The Thief" (Soho Crime) by Fuminori Nakamura as translated from the Japanese by Satoko Izumo and Stephen Coates. A seasoned pickpocket weaves in and out of Tokyo crowd undetected. But when he is offered an easy job robbing the safe of a prominent politician, it's a job he can't refuse. Later the man is found brutally murdered after the robbery and the there is caught in a tangle he might not be able to so easily escape. 
"Leilong the Library Bus" (Gecko Press) by Julia Liu and illustrated by Bei Lynn. This award-winning book from Taiwan translated by Helen Wang tells the charming tale of a dinosaur who loves books and story time. Unfortunately his huge size causes problems when he tries to enter the library with the kids. How the problem is solved and how the dinosaur becomes an ambassador of library books is cleverly and humorously resolved in this picture book that parents will enjoy reading to their kids.
 "Wombat" (Candlewick) by Christopher Cheng and illustrated by Liz Duthie. This picture book teaches kids about the wombat, Australia's "bulldozer of the bush."
 "Fiona And Jane" (Viking) by Jean Chen Ho. Friendship, love, loyalty and betrayal all play out in this bond of friendship between two young Taiwanese American women as they advance together through life over two decades. The author peels back the layers of female friendship as these characters come to terms with themselves and each other.
"The Wedding Party" (Amazon Crossing) by Liu Xinwu and translated by Jeremy Tiang. A wedding party is planned in a Beijing courtyard. Set at a pivotal point after the turmoil of the Cultural Revolution, Xinwu's tale weaves together a rich tapestry of characters, intertwined lives, and stories within stories. A touching, hilarious portrait  of life in this crowded city.
"The Secret Listener – An Ingenue In Mao's Court" (Oxford)  by Yuan-Tsung Chen tells the fascinating tale of an extraordinary life in a tumultuous China from the 1920s to the 1970s. It's a vivid, compelling portrait of life, conflict and love among the elite and downtrodden circles in the Republican and Communist eras.
Newbery Medal winner Erin Entrada Kelly makes her middle-age level debut which she illustrates herself with "Maybe Maybe Marisol Rainey" (HarperCollins). It's a story about friendship and being brave when you feel shy or shaky.
 "Bodhi Sees the World – Thailand" (bala kids) is written and illustrated by Marisa Aragon Ware. A young girl finds herself in a foreign city, exploring the streets of Bangkok where she begins to experience the world through a new culture.
"The School For Good Mothers" (Simon & Schuster) is a novel by Jessamine Chan. A taut thriller of a story about a mother who struggles to get her daughter back under the punishing scrutiny and judgment aimed at mothers everywhere – especially against those who aren't wealthy or white.
"Navigating With (Out) Instruments – Poetry – Micro Essays – Notes To Self" (The Accomplices) by Traci Kato-Kiriyama. Noted poet Mitsuye Yamada says of this book, "Traci Kato-Kiriyama demonstrates a deeply affecting understanding of her forebearers' life experiences during the years of searing racism in early Twetieth Century America. Do not race through this work like an ordinary book because this book, its typography and its contents, are far from ordinary."
"Dragon Legend – The Dragon Realm Series, Book 2"  (Sterling) by Katie & Kevin Tsang. When a friend is kidnapped and taken through a time portal, Billy Chan and his friends must travel through time on their dragons to save him in this middle-grade level adventure novel.
 "Scars of War – The Politics of Paternity  and Responsibility for the Amerasians of Vietnam" (University of Nebraska Press) by Sabrina Thomas. This book explores ideas of race, nation, and gender in the aftermath of war. Thomas exposes the contradictory approach of policymakers unable to reconcile Amerasian biracialism with the U.S. Code. As they created an inclusionary discourse deeming Amerasians worthy of American action, guidance, and humanitarian aid, federal policymakers simultaneously initiated exclusionary policies that designated these people unfit for American citizenship. 
"Basho's Haiku Journeys" (Stone Bridge Press) by Freeman Ng as illustrated by Cassandra Rockwood Ghanem. This picture book for kids tells the story of this famous Japanese haiku poet who went from a life of success and comfort in the city to a journey of wandering up and down Japan seeking the moment and writing poems to illuminate that reality. 
 "India Mahdavi" (Chronicle) is the first monograph on this world-renowned, award-winning Iranian interior designer. Along with her design projects, the book highlights her custom furniture, lighting, accessories and brand collaborations in a visually stunning design that sets off the work.
"Of Arcs And Circles – Insights from Japan on Gardens, Nature and Art" (Stone Bridge Press) by Marc Peter Keane. From his vantage point as a garden designer and writer based in Kyoto, the author examines the world around him an delivers insights on the Japanese garden, the meaning of art and other fascinating topics.
"Happy Diwali" (Henry Holt) by Sanyukta Mathur and Courtney Pippin-Mathur. Pippin-Mathur also did the illustrations This radiant picture book celebrates Diwali, the Hindu festival of lights.
"Borderless – A Memoir Of A  Young Revolutionary In The 21st Century" (Wake Up Press) by Gary Pak. A fifteen-year-old revolutionary of mixed  ethnicities, narrates this story of promise and opportunity in a post-captitalist/post-imperialist country formerly part of the USA. Join this teenager and his sister on a journey through a city devastated by earthquakes and breed, but during a time when a new world of sharing and equality is being built from the ashes of the old.
"Ready for the Spotlight" (Candlewick) written and illustrated by Jaime Kim. This picture book demonstrates the sometimes competitive but always loving relationship between two sisters who shine in different ways. Little sister trains hard to be a ballerina but is always overshadowed by her big sister who gets the leading role.
 "Roxy The Unisaurus Rex presents Oh NO! The Talent Show" (Feiwel & Friends) by Eva Chen and illustrated by Matthew Rivera.  The annual talent show is coming. Many dinosaurs have brilliant skills to show off but Dexter feels like he has no talent at all. With encouragement from Roxy, he learns being a good friend could be the most important talent of all.
 "Where Is Bena Bear?" (Henry Holt)  written and  illustrated by Mike Curato. Tiny is having a party but the bear is nowhere to be found. Searching for Bina, Tiny realizes something is wrong and sets out to make it right. A humorous picture book about friendship, understanding and embracing our loved ones  just as they are (even if they are painfully shy).
"American Home" (Autumn House Press) by Sean Cho A. won the 2020 Autumn House Chapbook Prize. The poems reflect a keen eye on everyday occurrences and how these small events shape us as individuals.
 "Genghis Chan on Drums" (Omnidawn),  poems by John Yau. This noted arts writer and poet returns in his latest book to his alter-ego of Genghis Chan and lacerates with acerbic humor and wit the  topics of the day, clichés about being Chinese, the language of philosophers and the residue of racism and popular culture.
"Usha and the Big Digger" (Charlesbridge) by Amitha Jagannath Knight and illustrated by Sandhya Prabhat. Part of the "storytelling Math" series in which books depict children using math as they play, build, and discover the world around them. When two kids look up at the seven stars in the sky, they see different things. One sees the Big Dipper and another sees the Big Digger and a cousin sees the Big Kite. What exactly is going on?
"The Way Spring Arrives And Other Stories"(Tor Dot Com) Edited by Yu Chen and Regina Kanyu Wang. From an award-winning team of authors, editors, translators comes a groundbreaking short story collection that explores the expanse of Chinese science fiction and fantasy. Set for March 2022 publication.
"Anzu The Great Kaiju" (Roaring Brook Press) written and illustrated by Benson Shum. All great Kaiju are born with a superpower to strike fear into the heart of their city but Anzu is different. Instead of mayhem, he likes mayflowers. Instead of striking fear, he prefers to be sincere. Can Anzu find a way to make his family proud and still stay true to himself. From this Disney illustrator comes this heartwarming book about making your own way and the unexpected power of gentleness.
"Idol Gossip" (Walker) by Alexander Leigh Young. A Korean American girl from San Francisco goes from singing lessons to a K-pop boot camp when she and her mom move to Seoul. This debut YA novel is all about dreaming big but staying true to your own values.
 "Brown Boy Nowhere" (Skyscape) by Sheeryl Lim. When a 16 year old Filipino American boy is uprooted from his San Diego home to the middle of nowhere just as he plans to enter a big skateboarding competition, he can't help but think that "life sucks". And now he's the only Asian in an all-white school. But being an outcast has its rewards when he bands together with the rest of his high school outsiders.
"Imagine A Death" (Texas Review Press) by Janice Lee. This novel is a depiction of the ways our pasts envelope us as the author illuminates the depths of grief of three characters as they survive the death of loved ones and look for ways to carry on.
 "Remembering Our Intimacies – Modelo, Aloha Aina, and Ea" (University of Minnesota Press) by Jamaica Healimeleikalani Osorio. Hawaiian "aloha 'aina" is often described in Western political terms as nationalism, nationhood, or even patriotism. In this book, the author focuses on the personal and embodied articulations of aloha aina to detangle it from the effects of colonialism and occupation.
"Faraway" (Columbia University Press) by Taiwanese novelist Lo Yi-Chin and translated by Jeremy Tiang. A Taiwanese man finds himself stranded in mainland China while attempting to bring his comatose father home. He finds himself locked into a protracted struggle with byzantine hospital regulations while dealing with relatives he barely knows. A book that examines  the rift between Taiwan and China on the most personal of levels.
"Manifest Technique – Hip Hop, Empire, and Visionary Filipino American Culture" (University of Illinois) by Mark R. Villegas. Filipino Americans have been innovators and collaborators in hip hop since the culture's early days. But despite some success, the genre's significance in Filipino American communities is often overlooked. The author takes into consideration the coast-to-coast hip hop scene to reveal how Filipino Americans have used music, dance, and visual art to create their worlds.
"Enforced Rustification In The Chinese Cultural Revolution" (Texas Review Press) by Jianqing Zheng sounds like an academic study when it actually is a poetic retelling of the author's experience working in the countryside as a young student. It's told in poems full of humor, wit and poignancy.
"This Jade World" (University of Nebraska Press) by Ira Sukrungruang , Thai American poet and writer, chronicles a year of mishap, exploration, experimentation, self-discovery, and eventually, healing. It questions the very nature of love and heartbreak, uncovering the vulnerability of being human.
"Personal Attention Roleplay" (Metonymy Press) – Stories by Helen Chau Bradley. A young gymnast crushes on an older, more talented teammate while contending with an overworked mother. A  newly-queer twenty-something juggles two intimate relationships. A codependent listicle writer becomes obsessed with a Japanese ASMR channel. A queer metal band's summer tour unravels in the summer heat. These tales offer portrayals of awkward interactions and isolations of a generation, community and culture.
"Pure Invention – How Japan Made The Modern World" (Crown) by Matt Alt. Japan is the forge of the world's fantasies: karaoke and the Walkman, manga and anime, Pac-Man, online imageboards and emojis. But in this book,  a Japan media reporter proves in his investigation, these novelties did more than entertain, they paved the way for our perplexing modern lives.
 "ABC Of Feelings"(Philomel) written and illustrated by Bonnie Lui. This picture book is a journey through the alphabet that shows kids it's perfectly okay to feel many different things, sometimes all at once. The perfect read-aloud for little ones  learning all about feelings and their ABC's.
"Beasts Of A Little Land" (Ecco) is a novel by Juhea Kim. It is an epic story of love, war, and redemption set again the backdrop of the Korean independence movement. From the perfumed chambers of a courtesan school in Pyongyang to the glamorous cafes of a modernizing Seoul and the boreal forests of Manchuria, where battles rage, Juhea Kim's unforgettable characters forge their own destinies as they wager their nation's.
First published in 1937, Genzaburo Yoshino's "How Do You Live?" (Algonquin) has long been acknowledged in Japan as a crossover classic for young readers and a favorite of Academy Award-winning anime director Hayao Miyazaki who will base his final film on the book. With a foreword by Neil Gaiman and translated by Bruno Navasky, the story involves a young boy who loses his father at the age of fifteen and the journal entries he receives from his uncle about life's big questions.
"Goodbye, again – essays, reflections, and illustrations" (Harper Perennial) by Jonny Sun. The author of "everyone's a aliebn when ur a aliebn too" returns with this offering of meditative essays, short humor pieces and memorable one-liners covering topics such as loneliness and burnout, advice on caring for dying houseplants, and a recipe for scrambled eggs that might make you cry.
"Faultlines" (Custom House) by Emily Itani. A bittersweet love story of a bored Japanese housewife in a dilemma who  must make choices and a piercing portrait of female identity.
"Outside Voices, Please" (Cleveland University Press) is a new book of poetry by Valerie Hsiung due out October 5, 2021. "Hsiung orchestrates a symphony of voices, past, present, and prescient: time (and with it, history) compresses and expands, yielding long poetry sequences reminiscent of Myung Mi Kim's sonic terrains and C.D. Wright's documentary poetics." – Diana Khoi Nguyen
"Heaven" (Europa Editions) by Mieko Kawakmi. From the best-selling author of "Breasts And Eggs", a striking exploration of working women's daily lives in Japan comes a new story of the experience of a teenage boy who is tormented by his schoolmates. It explores the meaning and experience of violence and the consolations of friendship. Translated from the Japanese by Sam Bett and David Boyd.
 "Alma Presses Play" (Make Me A World) by Tina Cane. Alma is a half-Chinese and half-Jewish teenage girl going through changes with her Walkman on most of the time. Friends move away, love comes and goes and her parents divorce. In this world of confusing beginnings, middles, and endings, is Alma ready to press play on the soundtrack of her life?
 "Japanese Dress in Detail (Thames & Hudson/Victoria & Albert Museum) by Josephine Rout is the catalog for an exhibition held in Britain in 2020. It brings together more than 100 items of clothing and reveals the intricacies of Japanese dress from the 18th century to the present and includes garments for women, men and children. The details have been selected for their exquisite beauty and craftsmanship and for how much they impart about the wearer's identity. 
A Way of Looking" (Silverfish Review Press) by Jianqing Zheng. Winner of the 2019  Gerald Cable Book Award.  Zheng, shaped by the Cultural Revolution in China somehow ended up in Mississippi and fell in love with the blues and in this book, he takes the haiga Japanese literary form (one prose journal entry followed by the echo of a haiku poem to end it) and plants it in the deep south.  autumn night/a freight train chugging/across the Yazoo.
 "XOXO" (Harper Teen) by Axie Oh. A teenage romance that blossoms in L.A. and re-ignites in Seoul. A Korean American girl meets a Korean guy on his last day in the city of angels and sparks fly. But she forgets about him when he flies off to Seoul. But when the girl and her mother fly to Seoul to take care of an ailing grandmother, guess who she discovers is in her class. But he is not an ordinary guy, he's in one of the most popular K-pop bands in the land. And in K-pop, dating is strictly forbidden. Read the book if you want to find out how this complex relationship turns out.
"Head – Hoard" (University of Chicago Press) by Atsuro Riley. Winner of the Alice Fay di Castagnola Award from the Poetry Society of America, juror Julie Carr had this to say about Riley's new book – "A landscape charged with the bright light of discernment, where emotions are stirred by rhythmic torsion and sonic density."
 "Amira's Picture Day" (Holiday House) by Reem Faruqi and illustrated by Fahmida Azim. A joyful and sensitive look at the Muslim holiday of Eid as seen through the eyes of a young girl who loves to celebrate but feels conflicted because her school class photo shoot happens the same day.
"Colorful" (Counterpoint) by Eto Mori. Translated from the Japanese by Jocelyne Allen. This popular novel in Japan finally finds its way to the U.S. in this English translation.  A young adult tale of death, mental health and what it means to truly live. When a formless soul is given a second chance to return to earth and inhabit the body of a fourteen-year-old boy who has just committed suicide, things get complicated.
Now it's becoming more common for foreign players to break into U.S. professional baseball but "MASHI – The Unfulfilled Baseball Dreams Of Masunori Murakami, The First Japanese Major Leaguer" (Nebraska) by Robert K. Fitts takes us back to 1964 and tells the story of Japan's first major leaguer in America. A baseball  pioneer's tale.
"The Alpactory – Ready, Pack, Go!" (Harper) written and illustrated (charmingly, I might add) by Ruth Chan. Most kids when embarking on a trip have trouble deciding what and how to pack. Let an alpaca with unusual packing skills be your guide as you contemplate your next journey.  
"In The Watchful City" (Tor Dot Com)  by S. Qiouyi Lu. Anima is an extrasensory human with the task of surveilling and protecting the city. But what happens when a mysterious outsider enters this world with curiosities from around the world? A multifaceted story  of borders, power, diaspora and transformation.
"City of Illusion" (Viking Graphic) is the graphic novel follow-up to Victoria Ying's "City of Secrets". In this sequel our child heroes Hannah and Ever live with the Morgan family in peace until Mr. Morgan is kidnapped. The kids get in a spat with street magicians but the two must learn to work together if the mystery of the missing is ever solved.
"Silent Parade – A Detective Galileo Novel" (Minotaur) by  Keigo Higashino. Detective Galileo, the author's best-loved character from "The Devotion of Suspect X" returns in a complex and challenging mystery – several murders, decades apart, with no solid evidence. DCI Kusanagi turns once again to his college friend, Physics professor and occasional police consultant Manbu Yukawa, known as Detective Galileo, to help solve the string of impossible to prove murders.
 "The Rice in the Pot Goes Round and Round" (Orchard) by Wendy Wan-Long Shang and illustrated by Lorian Tu.  A clever twist on "The Wheels on the Bus" in which  the eating of Chinese food is celebrated with love and laughter within a multi-generational family.
Ghost Food (One World) by Pik-Shuen Fung. A sparely written novel about a first generation of immigrants in Canada whose father decides to stay in Hong Kong earning him the title of "astronaut" father. With a lonely mother and ill father, a daughter struggles to understand her family history revealing threads of matrilineal history and the inheritance of stories and silences.
 "Intimacies" (Riverhead) by Katie Kitamura. An American woman newly relocated to The Hague works as an interpreter at a war crimes tribunal. Interpreting for a notorious former president accused of crimes against humanity, and entangled in a complicated love affair with a married man, she wrestles with mounting professional and personal dramas.
 "On The Ho Chi Minh Trail  –The Blood Road, The Women Who  Defended It, The Legacy"(ASIALINK, London) by Sherry Buchanan. Buchanan reveals the stories of the women who defended the Trail against the sustained American bombing campaign – the most ferocious in modern warfare – and of the artists who drew them. She focuses on what life was really like for the women and men under fire, bringing a unique perspective to the history of the Vietnam War.
"Not Here to Be Liked" (Katherine Tegen Books) by Michelle Quach. This young adult novel is about a high school girl Eliza Quan who sees herself as the perfect candidate to be editor of her school paper until an ex-jock white male candidate appears and threatens her ambitions. To thwart his challenge, she writes a viral essay inspiring a feminist movement. But what happens when she starts to like the guy?
"Anne's Cradle – The Life & Works of Hanako Muraoka" (Nimbus) by Eri  Muraoka as translated by Cathy Hirano. Hanako Muraoka  is revered in Japan for her  translation of L. M Montgomery's children's classic, "Anne of Green Gables." Because of her translation the book had a massive and enduring popularity in that country. This bestselling biography of Muraoka written by her granddaughter, traces the complex and captivating story of a woman who risked her freedom and devoted her life to bringing quality children's literature to the people during a period of tumultuous change in Japan.
 "Second Sister" (Black Cat) by Chan Ho-Kei. When a schoolgirl commits suicide by leaping from the twenty-second floor, her older sister refuses to believe it. What follows is a cat-and-mouse game through the streets of Hong Kong as big sister hunts for the truth about the murder and the murderer.
 "Faraway Places" (Diode Editions) by Teow Lim Goh. The poems in this book reside in the spaces between the wild and the tamed, from orchid gardens and immense seas to caged birds and high alpine landscapes. It resists narrative and instead inhabits the residues of experience. It may be a private dictionary.
 "Jenny Mei Is Sad" (Little, Brown and Company) written and illustrated by Tracey Subisak. This book introduces young readers to the complexity of sadness and shows them that the best way to be a good friend – especially to someone sad – is by being there for the fun, the not-fun, and everything in between. Charmingly illustrated.
"Vessel – A Memoir" (HarperVia) by Cai Chongda. This tender collection of personal essays by the Editorial Director of GQ China spotlights the family, friends and neighbors of his small town who helped shape him as he struggled to understand himself and what the future might bring as a young boy from simple means.
 "A Way of Looking" (Silver Fish Review Press) by Jianqing Zheng. Half prose, half verse, this book is a heartfelt account of exile and homecoming. Uprooted from Chinese soil after the Cultural Revolution, this immigrant found new roots in the rich dark soil of the Mississippi delta and the home of the blues. Winner of the 2019  Gerald Cable Book Award.
Best-selling young adult author David Yoon ("Frankly in Love") has switched genres with his new adult novel entitled "Version Zero" (Putnam). A data whiz at a social media company sees the dark side of big tech and starts asking questions about the data they collect.  He finds himself fired and blackballed across Silicon Valley.
 "Singing Emptiness – Kumar Gandharva Performs The Poetry Of Kabir" (Seagull) by Linda Hess. In this book, two men, five centuries apart, make contact with each other through poetry, music and performance. A great twentieth-century Hindustani classical vocalist takes up the challenge of singing the songs of Kabir, the great fifteenth century poet.
"Boys I Know" (Peachtree Teen Books) by Anna Gracia. A high school senior navigates messy boys and messier relationships in this bitingly funny and much-needed look into the overlap of Asian American identity and teen sexuality. June Chu is leaving high school to face an unknown world, battling her mother's expectations and the drama of relationships and unsure on how she should work her path through it all.
"Glyph – graphic poetry + trans. sensory" (Tupelo) by Naoko Fujimoto. The poet finds a new way to connect word and image. Inspired by Emaki (Japanese picture scroll). The poet/artist uses bright colors and designs to bring the words of each poem to the reader in novel ways and  from different directions. Or as Gabrielle Bates states, "I was wondering around the house of poetry and this book showed me to a door I didn't know existed."
"Lurkers" (Soho) by Sandi Tan. The author peoples her corner of surburban Los Angeles with two Korean American sisters rocked by suicide and a cast of characters like a creepy drama teacher, a gay horror novelist and a white hippie mom and her adopted Vietnamese daughter. Add drama and stir with a deft pen for optimum results.
"The Many Meanings of Meilan" (Kokila) by Andrea Wang. Meilan's world is made up of a few key ingredients: her family's beloved matriarch, the bakery the family owns and a run in Boston's Chinatown; and her favorite Chinese fairy tales. But things change after her grandmother dies putting the family on the road in search of home. This young adult novel is an exploration of all the things it's possible to grieve, the injustices large and small that make us rage, and the peace that's unlocked when we learn to find home within ourselves.
A God at the Door" (Copper Canyon) by Tishani Doshi. Doshi is an award-winning  writer and dancer of Welsh-Gujarati descent. She has published seven books of fiction and poetry. This new volume of poems calls on the extraordinary minutiae of nature and humanity to redefine belonging and unveil injustice.
"Finding My Voice" (Soho) is a reprint of a classic young adult novel by Marie Myong-Ok Lee. It is a timeless coming-of-age story of a Korean American teenage girl who attends an all-white high school in Minnesota. She struggles to fit in while being different. When she falls for a popular white football player. Can this relationship withstand the bigotry of a small town and her family's disapproval?
 "Tokyo Ever After"(Flatiron) by Emiko Jean. It's hard growing up Japanese American in a small, mostly-white Northern California town with a single mom. But when Izumi or "Izzy" as she's known discovers her missing dad is the crown prince of Japan, things become surreal. Traveling to Japan to find her dad, her life is turned upside down. Not American enough in the States, not Japanese enough in Japan. Will Izumi ever land on her feet?
"The Bombay Prince" (Soho) by Sujata Massey. This popular mystery writer's latest book is a Perveen Mistry series volume. Bombay's fist female lawyer tries to bring justice to the family of a murdered female Parsi student just as the city streets erupt into riots protesting British rule. Set in 1920s Bombay.
"Angel & Hannah – A Novel in Verse"  (One World) by Ishle Yi Park.The electricity of first love in the heart  of New York's neighborhoods.  When a Korean American girl from Queens meets a Puerto Rican American boy from Brooklyn at a  quincecanera, sparks fly and so does family opposition and cultural complexity. This former poet laureate of Queens uses bursts of  language and imagery in sonnet and song form to bring alive the glow of first love.
"Swimming Back To Trout River" (Simon & Schuster) by Linda Rui Feng. It's 1986 and a ten-year-old girl lives in a small Chinese village with her grandparents. Her parents left for the opportunities in America years ago. Now her father promises to pick her up and take her to America by her 12th birthday. The little girl is determined to stay. And what she doesn't know is that her parents are estranged, burdened by demons from their past. Can one family, with an ocean between them, start anew without losing themselves –or each other? Jean Kwok calls this novel, "A beautifully written, poignant exploration of family, art, culture, immigration, and most of all, love."
 "Body Facts" (Diode Editions) by Jody Kim. These poems tell the story of a voice that is Korean, American, woman and body. It weaves together Korean history and aesthetics, the speaker's childhood and family stories, US foreign policy with North Korea, and the things we do and shouldn't do to our bodies.
"Made In Korea" (Simon & Schuster) by Sarah Suk. A "rom-com" novel debut depicts two entrepreneurial teens who butt heads – and maybe fall in love- while running competing Korean beauty businesses at their high school.
"At The End Of The Matinee" (Amazon Crossing) by Keiichiro Hirano as translated by Juliet Winters Carpenter. Billed as a love story and psychological thriller, this novel traces the years long relationship between a concert guitarist and a journalist and examines whether the relationship will endure and perhaps blossom into something deeper.
 "Finding Junie Kim" (Harper) by Ellen Oh. A young adult novel about a Korean American girl who tries to fit in at school by not sticking out. But when racist graffiti appears at her middle school, she must make a decision. When a teacher assigns an oral history project, Junie decides to interview her grandparents about the Korean war and her world changes.
 "Never Have I Ever" (Small Beer Press) by Isabel Yap is a collection of powerful short stories of speculative fiction/fantasy that  explores themes ranging from monstrousness, shared trauma, systemic violence, friendship and the ambiguity of love.
"A Pho Love Story" (Simon & Schuster) by Loan Le is a romantic YA rom-com in which two Vietnamese American teens must navigate their new  found love amid their family's age-old feud about their competing pho restaurants.
"If I Were A Tree" (Lee & Low)  by Andrea Zimmerman as imaginatively illustrated by local artist Jin Jing Tsong. This picture book traces two siblings journey into the woods and how they use the five senses to explore the natural world. Tsong's kaleidoscopic art makes the wooded world come to life and illuminates the author's poetic ode to trees.
"When Father Comes Home" (Orchard) is written and illustrated by Sarah Jung. June's father is like a goose: he flies away for long periods of time so when he comes home, it's a special occasion. This picture book turns the story of migrant fathers who work abroad in hopes of widening the field of opportunity for their children into a heart-warming, reflective tale.
"The Intimacies of Conflict – Cultural Memory and The Korean War" (NYU) by Daniel Y. Kim. The author delves into novels, films and photos to reconstruct memories of war and what it means to Koreans, Asian Americans and people of color
"The Tangle Root Palace" (Tachyon) by Marjorie Liu ("Monstress"} is her debut collection of dark, lush and spellbinding fantasy fiction. It's full of thorny tales of love, revenge and new beginnings.
 "Pop Song – Adventures in Art and Intimacy" (Catapult) by Larissa Pham. This is a memoir that plumbs the well of culture for clues and patterns about love and loss from paintings to travel, and sex and drugs before the author turns the gaze upon herself.
 "Tell Me Who You Are: Sharing Our Stories of Race, Culture, And Identity" (Penguin Random House) by Winona Guo and Priya Vulchi. Two 17 year old girls (a Chinese American and an Indian American) take a year off after high school and travel the country asking Americans how race has impacted their lives. Out of 500 stories, they edited it down to 115 for this anthology.
Inspired by the Peabody Award-winning podcast, "The Unexplainable Disappearance of Mars Patel" (Walker) by Sheila Chari is a young adult thriller. As kids are disappearing one by one from a middle school and their parents don't seem to care, Mars Patel and his crew go on a desperate search for answers.
"Mapping Abundance For  a Planetary Future- Kanaka Maoli and Critical Settler Cartographies in Hawai'i" (Duke) by Candance Fujikane. Fujikane criticizes settler colonial cartographies that diminish life and instead highlights the all encompassing voices of Hawaiian communities and their perspective of abundant healing and protection for the land.
"All You Knead Is Love" (FSG)by Tanya Guerrero. When a 12 year old girl must leave her mother to live with her grandmother in Barcelona, she feels estranged. But then she grows to love that city that her mother once called home. She connects with her Spanish roots, becomes close with her Filipino grandmother and discovers a passion and talent for baking bread. When her favorite bakery is in trouble, she learns what she can do to help.
"Folklorn: A Novel" (Erewhon) by Angela Mi Young tackles complex issues about mythology, science, generational trauma and identity. It follows a Korean American physicist in the Antarctic who must return to her childhood home in California to deal with mental illness that runs through her family. It explores the myths we inherit and those we fashion for ourselves.
International bestseller "Kim Jiyong, Born 1982" (Liveright) by Cho Nam-Joo as translated by Jamie Chang is now available in a paperback edition. It follows one Korean millennial "everywoman" as she descends into a psychic deterioration in the face of a rigid misogyny. A rallying cry of feminism and gender that resonated  with women all over Korea.
 "I Am A Bird" (Candlewick) by Hope Lim as illustrated by Hyewon Yum. When a little girl goes on her morning bike ride with her dad, she imitates the sounds of birds. But when she sees a strange woman with a stern demeanor and a mysterious bag, she becomes frightened. A children's book that encourages readers to embrace over similarities rather then letting our differences divide us.
"Planet Omar Incredible Rescue Mission" (Putnam) by Zanib Mian as illustrated by Nasaya Mafaridik. Omar is excited about his first trip to Pakistan but then tragedy strikes. His favorite teacher goes missing. Could his teacher been abducted by aliens? Omar investigates. Will creative thinking and a galactic spirit of adventure help solve this young adult mystery?
 "Much Ado About Baseball" (Yellow Jacket/Little Bee) by Rajani LaRocca. When Trish finds herself on the same summer baseball team as Ben, her math competition rival, two people must set aside their animosity and join together to help their team win. Will solving a math puzzle help the team succeed? Trish and Ben think so.
 "The Unicorn Rescue Society – The Secret of the Himalayas (Dutton) by Adam Gidwitz & Hena Khan is a continuation of the New york Times bestselling young adult series about the juvenile members of this group who travel to the rugged mountains of Pakistan to rescue a unicorn.
 "The Elephant Doctor of India" (Chicago Review Press) by Janie Chodosh. When a young elephant touching a sagging electric line in Assam, India gets stuck in the mud, there  is only one person to call – Dr. Sarma, the elephant doctor. Chodosh spends time with the doctor and reveals to young readers what this unique veterinarian does for the elephants he encounters.
 "Kudo Kids – The Mystery in Manhattan" (Razorbill) by Maia and Alex Shibutani. This brother & sister Olympic ice skating pair have turned their hands at writing young adult novels. The Kudo Kids come to New York to see the sights but when a dress from their fashion designer auntie's collection goes missing, they end up in a chase around the city to nab the culprit.
"From Little Tokyo With Love" (Viking) by Sarah Kuhn. Rika is an adopted bi-racial girl with formidable judo skills and a fiery temper. When she hears rumors in her neighborhood that her real mother is not only alive but a Hollywood movie star, she goes on a quest to find her. Accompanied by actor friend Hank, she must make some big decisions that could change the direction in her own life.
"Dial A for Aunties" (Berkley) by Jesse Q. Sutanto. In this rom-com/murder mystery mash-up of mistaken identity and sisterhood, a wedding photographer enlists the aid of her mother and her sisters in hiding the dead body of her blind date while attempting to pull off an opulent wedding for a billionaire client.
 "Renegade Flight" (Razorbill) by Andrea Tang. In this YA fantasy adventure, a young pilot-in-training is grounded when found cheating on an entrance exam. Eager to re-join, she competes in a combat tournament to regain entry only to find she must battle a strangely attractive nemesis.
"Daddy's Love For Me" (Mascot) by Sarah and JoAnn Jung as illustrated by Chiara Civati. A daughter feels resentment towards her overworked dad when he has no time to spend with her and show his love. When she overhears a conversation between her parents, she realizes how wrong she was.
"Counting Down With You" (Inkyard) by Tashie Bhuiyan. A reserved Bangladeshi teenage girl looks forward to a restful break when her demanding parents go abroad. Instead, she is roped into tutoring the school's resident bad boy and then talked into a fake-dating façade. But then her life changes as the days go by and the two get to know each other.
 "Nina Soni, Sister Fixer" (Peachtree)  by Kashmira Sheth as illustrated by Jenn Kocsmiersky. This continuing series on the adventures of a young Indian American girl who looks for a new project while at the same time getting aggravated by her little sister's behavior. Maybe there is a way to solve both issues at the same time?
 "Fatima's Great Outdoors" (Kokila) by Ambreen Tariq as illustrated by Stevie Lewis. This picture book is a celebration of an immigrant family's first outdoor camping trip and how it brings them all together for once inside one big tent under a canopy of stars.
 "Queen of Ice" (Duckbill) by Devika Rangachari. This young adult historic novel delves into the turbulent history of tenth-century Kashmir and Didda, princess of Lohara who learns how to hold her own in a court ridden with factions and conspiracies.
 "All of Me" (HarperCollins) by Venita Coelho. What happens to a child locked into a basement so long that he develops a personality fracturing into many characters that become his family?
 "Foreign Bodies" (Norton) by Kimiko Hahn. Inspired by her encounter with the Jackson Collection of ingested curiosities at the Mutter Museum, this poet investigates the grip that seemingly insignificant objects have on our lives.
"Black Water Sister" (ACE) by Zen Cho. A modern fantasy  tale of ghosts, gods and the eternal bonds of family ties in the setting of modern-day Malaysia. A young woman returns to Penang and reunites with her extended family while at the sa
 "Leave Society" (Vintage) is Tao Lin's first work of fiction since 2013. It follows a thirty-year-old novelist living part-time with his parents in Taiwan and part-time in New York who grows increasingly alienated from friends and community back in the U.S. As he rotates between places, the novel chronicles his growth as son, writer and misfit. 
"The Henna Wars" (Page Street Kids) by Adiba Jaigirdar. This romcom about two teen girls with rival henna businesses who find despite their competition, they have to come to terms with a realization of the affection they have for each other.
"In the Watchful City" (TorDotCom) by S. Qiouy Lu. An unforgettable futuristic tale in a secondary world that feels familiar in essence, and that centers trans, nonbinary, queer, mentally ill and Chinese-coded identities. It asks the eternal question, "What good is a city if it can't protect its people?"
"Clues to the Universe" (Quill Tree) is the Young Adult debut novel by Chrsitina Li. What do an aspiring young rocket scientist reeling from her father's death and an artistic boy who loves superheroes and comic books have in common? When the two become science class partners, they embark on an adventure and discover themselves while banding together to confront bullying, grief and their own differences.
 "Love Without A Storm" (Blood Axe Books) by Arundhathi Subramaniam is filled with poems that celebrate an expanding kinship: of passion and friendship, mythic quest and modern day longing, in a world animated by dialogue and dissent, delirium and silence. 
"Heiress Apparently" (Abrams) by Diana Ma is the first book in an epic, romantic young adult series following the fictionalized descendants of the only officially recognized regent of China. When a young Chinese American woman from Illinois embarks on an acting career in Los Angeles having abandoned plans for college – things turn strange. When she gets a role in "M. Butterfly" shooting in Beijing, she uncovers a royal Chinese legacy in her family her parents would rather she never knew.
"Catcalling" (Open Letter) is a book of poems by Lee Soho. This poet is part of the new wave of innovative feminist and queer poetry appearing in South Korea today.
 "Terminal Boredom – Stories" (Verso) by Izumi Suzuki. This book of short stories introduces readers to a cult figure in Japanese literature who takes a unique slant on science fiction and concerns about technology, gender and imperialism.
"Forty Two Greens – Poems of Chonggi Mah" (Forsythia) as translated by Youngshil Cho. Winner of the Korean Literary Award, this poet's search for the infinite in nature illuminates moments of beauty in the subconscious.
 "Beyond Line: The Art of Korean Writing" (LACMA/Prestel) by Stephen Little and Virginia Moon is the exhibition catalog for a major show that illuminates the restrained beauty strength and flexibility of Korean calligraphy. It is the first exhibition held outside Asia to focus on the history of writing and calligraphy in Korea.
"A Sky Beyond The Storm" (Razorbill) is the finale to the popular "Ember in the Ashes" series by Sabaa Tahir. This fantasy series finds the soul catcher must look beyond the borders of his land and take on a mission that could save or destroy – all that he holds dear.
"The Surprising Power of a Dumpling" (Scholastic) by Wai Chin. A teenage girl balances looking after her siblings, working in her dad's restaurant and taking care of a mother suffering from a debilitating mental illness. A deep true-to-life  exploration through the complex crevices of culture, mental illness and family.
 "The Phone Booth at the Edge of the World" (Overlook) by Laura Imai Messina. A Japanese woman loses her mother and daughter in the tsunami. When she hears of a phone booth where people come to speak to departed loved ones, she makes a pilgrimage there only to find her grief won't allow her to pick up the phone. A novel based on a true story.
 "Ten – A Soccer Story" (Houghton Mifflin Harcourt) by Shamini Flint. A good half-Indian girl in  1980's Malaysia isn't supposed to play a "boys" sport but Maya is all game as she achieves her goals while placating a bossy Indian grandmother and holding together a mixed race family on the verge of drifting apart. A young adult novel  that will inspire.
 "The Secret Talker" (HarperVia), a novel by Geling Yan as translated by Jeremy Tiang. Hongmei and Glen seem to have the perfect idyll life in the Bay Area even though their marriage is falling apart. When a secret admirer contacts Hongwei on the internet, his flirting turns into an obsession. 
"The Collected Poems of Chika Sagawa" (Modern Library) won the Pen Award for "Poetry in Translation" for translator/poet Sawako Nakayasu. Now it's brought back in print in the new Modern Library Torchbearers Series that highlights women who wrote on their own terms, with  boldness,  creativity and a spirit of resistance. Sagawa was a turn-of-the-century daringly experimental voice in Tokyo's avant-garde poetry scene. Her life was cut short by cancer at the age of 24 but the words she left behind linger on.
"CURB" (Nightboat) is a new collection of poems by Divya Victor. This book documents how immigrants and Americans both, navigate the liminal sites of everyday living, ripped by violence and paved over with possibilities of belonging.
 "Séance Tea Party" (RH Graphic) by Reimena Yee. A lonely girl meets a ghost who haunts her home and finds a new friend. But what happens as the girl grows older and the ghost stays the same age?
 "Nina Soni, Master of The Garden" (Peachtree) by Kashmira Sheth and illustrated by Jenn Kocsmiersky. This young adult series about an Indian American fourth grader finds her working on a   garden project with her siblings supervised by their landscape architect mom. What they hadn't counted on was the unpredictability of mother  nature. Can Nina Soni help this garden survive?
Mindy Kim, Class President" (Aladdin) by Lyla Lee is part of a series of books on the adventures of a teenage Korean American girl. In this story, she decides to run for class president but first she must overcome her fear of public speaking.
"The Truffle Eye" (Zephyr) by Vann Nguyen is the debut collection of poems by this Vietnamese-Israeli poet as translated by Adriana X. Jacobs. In it she tackles questions of identity and cultural legacy from points of emotion and shock.
"Flowering Tales – Women Exorcising History in Heian Japan" (Columbia University Press) by Takeshi Watanabe. This is the first extensive study of this historical Japanese tale. It unravels 150 years of happenings in Heian era society penned by female writers.
"Pippa Park Raises Her Game" (Fabled Films Press) by Erin Yun. This loose reimaging of "Great Expectations" follows a young Korean American girl learning to navigate her new life at an elite private school in this young adult novel.
 "Some Girls Walk Into The Country They Are From" (Wave) is a new book by Sawako Nakayasu, an artist working with language, and translation – separately and in various combinations. She, alone is responsible for introducing a wide variety of modern Japanese poets  to English readers throughout the years with her fresh and skillful translations. This new volume is a multilingual work of both original and translated poetry.
 "A Taste for Love" (Razorbill) by Jennifer Yen. When a rebellious teenage girl agrees to help her mom's bakery stage a junior competition, she soon realizes it's a setup. All of the contestants are young Asian American men her mom has handpicked for her to date. What can she do?
"That Was Now, This Is Then" (Greywolf Press) is the first new collection from Paris Review Editor Vijay Seshadri since his 2014 Pulitzer Prizewinning book, "3 Sections." Rosanna Warren says of this new book, "These are poems of lacerating self-awareness and stoic compassion. It is a book we need, right now."
"Midsummer's Mayhem" (Yellow Jacket) by Rajani LaRocca. When her dad , a renowed food writer loses his sense of taste, it puts a damper on this eleven-year old girl's dream of becoming a baker and winning a cooking contest. When she meets a boy in the forest, he teaches her about new natural ingredients. Will the everyday magic of baking give her the courage she needs to save her father?
"Every Reason We Shouldn't" (Tor Teen) by Sara Fujimura. When a teenage girl's Olympic figure skater dreams fade, she meets a young man at her family's rink who's driven to get to the Olympics in speed skating. As a rivalry develops, so does a romance.
"My Name Will Grow Wide Like A Tree" (Greywolf) by Yi Lei and translated from the Chinese by Changtai Bi and Tracy K. Smith. Yiyun Li says of this book, "Yi Lei, one of China's most original and independent poets, documents not only Chinese history in the past four decades, but also more importantly a woman's private history of rebellion and residence."
"Disappear Doppelganger Disappear" (Little A) is by the author of "The Hundred-Year Flood", Matthew Salesses. Laura Van den Berg writes "How to live in a world that refuses to see you? Matt Kim's intoxicating battle with his mysterious doppelganger moves him deeper and deeper into the vast and urgent sea of this question – and towards a possible answer. Inventive and profound, mordantly hilarious and wildly moving."
"The Boys in the Back Row" (Levine Querido) by Mike Jung. When band geeks, comic nerds and best friends Eric and Matt tire of being bullied by racist comments and being called "gay", they hatch a plan to meet a famous comic book artist during regional marching competition but an enemy has other ideas.
"The Girl Who Stole an Elephant" (Peachtree)  by Nizrana Farook. Deep adventures in the Sri Lankan jungle await young readers as a nobleman's rebellious daughter steals the queen's jewelry and makes her escape on the king's elephant. How will things turn out in the end?
"Pink Mountain on Locust Island" (Coffee House) by Jamie Marina Lau. In her debut novel, shortlisted for Australia's prestigious Stella Prize, old hazy vignettes conjure a multi-faceted world of philosophical angst and lackadaisical violence. A teenage girl drifts through a monotonous existence in a Chinatown apartment until her dad and boyfriend plot a dubious enterprise that requires her involvement.
 "Sachiko" (Columbia University Press) by Endo Shusaku as translated by Van C. Gessel. This novel tells the story of two young Japanese Christians in Nagasaki trying to find love in the painful war-time years between 1930 and 1945.
"Kimono Culture – The Beauty of Chiso" (Worchester Art Museum) by Vivian Li and Christine D. Starkman tells the story of a Kyoto-based designer that is one of the oldest and most prestigious kimono makers in Japan today.
"Bestiary" (One World) by K-Ming Chang. This debut novel brings myth to life, revealing layer by layer origin stories of what becomes of women and girls who carry the spirits of beasts within.
"Land of Big Numbers" (Mariner) by Te-Ping Chen. This debut story collection depicts the diverse people of China, their government and how it has tumbled into the present. The author is a reporter for the Wall Street Journal.
 "Everything I Thought I Knew" (Candlewick) by Shannon Takaoka. A teenage girl wonders if she's inherited more than just a heart from her donor when odd things begin to happen. As she searches for answers, what she learns will lead her to question everything she assumed she knew.
 "Goat Days" (Seagull Books) by Benyamin as translated by Joseph Koyippally. A poor young man in Southern India dreams of getting a job in a Persian Gulf country so he can earn enough money to send to his family back home. When his wish becomes reality, things don't turn out as planned and he is locked into a slave-like existence herding goats in the desert. Circumstances force him to conceive of a hazardous scheme  to escape his life of loneliness and alienation. But will it be enough?
"Last Tang Standing" (Putnam) by Lauren Ho. "Crazy Rich Asians" meets "Bridget Jones" in this funny debut novel about the pursuit of happiness, surviving one's thirties intact and opening one's self up to love.
"AN I NOVEL" (Columbia) by Minae Mizumura as translated by Juliet Winters Carpenter. This novel focuses on a single day of a Japanese expatriate in America as she reflects on her life in this country and why she wants to return to Japan to become a writer and write again in Japanese.
"My First Book of Haiku Poems – A Picture, A Poem And A Dream – Classic Poems by Japanese Haiku Masters" (Tuttle) by Esperanza Ramirez-Christensen and illustrated by Tracy Gallup. Classic Japanese haiku imaginatively illustrated with bilingual English and Japanese text. Each poem comes with questions for the young reader to think about.
"Sacrificial Metal" (Conduit Books & Ephemera) by Esther Lee. It won the Minds on Fire Open Book Prize. Sean Dorsey writes that the book "dances with astute curiosity and deep tenderness across the shifting grounds of grief, touch, bearing witness, memory, and our obstinate human instinct for future planning. With great compassion, Lee's poems remind us that everything human eventually unravels…"
 "Forbidden Memory – Tibet During the Cultural Revolution" (Potomac)  by Tsering Dorje. Edited by Robert Barnett and translated by Susan T. Chen. The author uses eyewitness accounts with expert analysis to tell the story of how Tibet was shaken by foreign invasion and cultural obliteration. This book is a long-overdue reckoning of China's role in Tibet's tragic past.
 "Paper Bells" (The Song Cave) by Phan Nhien Hao and translated by Hai-Dang Phan is a new volume of poems by a poet shaped by the Vietnam War, forced to re-start a life as a teenager in the U.S. His poems bear witness to a delicate balance between two countries and cultures.
 "So This Is Love: a Twisted Tale" (Disney) by Elizabeth Lim. A young  adult re-telling of the Cinderella story. In this one, Cinderella leaves the house where she works and gets a job as the palace seamstress. Here she becomes witness to a grand conspiracy to overthrow the king. Can she find a way to save the kingdom?
"From Maybe To Forever – An Adoption Story" (Creston) by M. L. Gold and N. V. Fong as illustrated by Jess Hong. Told from a big sister's point of view, this picture book makes the complicated adoption process clear for the youngest readers and the colorful art show
 "Butterfly Sleep" (Tupelo) by Kim Kyung Ju as translated by Jake Levine is a historical drama based in the early Joson Dynasty. With a mixture of magic realism and dark humor, he tells an existentialist allegory of Korean's rapid development. This play is a modern fable of a rapidly changing country that must confront its ghosts.
"Lion Boys and Fan Girls" (Epigram) by Pauline Loh looks at teenage boys who make a pledge to ban dating and focus on lion dancing. But they must contend with unusual girls and cyberbullying. The rich culture of Singapore and the fascinating history of lion dance make this a compelling young adult read.
"Eat A Bowl of Tea" (UW) by Louis Chu is a classic influential novel that captured the tone and sensibility of everyday life in an American Chinatown. This new edition comes with a foreword by Fae Myenne Ng and an introduction by Jeffrey Paul Chan.
Set in a New England town where accusations led to the Salem witch trials, Quan Berry's novel "We Ride Upon Sticks" (Pantheon) looks at a 1980's girls field hockey team who flaunt society's notions of femininity in order to find their true selves and lasting friendship.
"People From My Neighborhood – Stories" (Soft Skull) by Hiromi Kawakami and translated by Ted Goossen. From the author of the internationally bestselling "Strange Weather in Tokyo", this new book is a collection of interlinking stories that masterfully blend the mundane and the mythical. In these people's lives, details of the local and everyday slip into accounts of duels, prophetic dreams, revolutions and visitations from ghosts and gods. Here is a universe ruled by mystery and transformation.
"A Bond Undone" (St. Martin's Griffin) by Jin Yong is the second volume of "Legends of The Condor Heroes", one of Asia's most popular martial arts novels. Translated by Gigi Chang.
 "Taiwan In Dynamic Transition – Nation Building And Democratization" (UW)  edited by Ryan Dunch and Ashley Esarey. This book provides an up-to-date assessment of contemporary Taiwan highlighting that country's emergent nationhood and its significance for world politics.
 "The Journey of Liu Xiabao – From Dark Horse to Nobel Laureate" (Potomac) edited by Joanne Leedom-Ackerman with Yu Zhang, Jie Li and Tienchi Martin-Liao. Liu Xiabao was more than a dissident poet and this collection of essays capture the intellectual and activist spirit of this late literary critic and democracy icon.
"Harris Bin Potter And The  Stoned Philosopher" (Epigram) by Suffian Hakim. This young Singapore-based writer's parody of Harry Potter bases the story in Malaysia and seasons it with local and pop cultural references.
"Mindy Kim and the Lunar New Year Parade" (Aladdin) by Lyla Lee and illustrated by Dung Ho. Mindy is excited to go to the annual lunar new year parade but things don't go as planned. Can she still find a way to celebrate?
 "From Maybe To Forever – An Adoption Story" (Creston) by M.L. Gold and N.V. Fong and illustrated by Jess Hong. Told from the view of an eager older sister, this is an endearing story about adoption from an often-neglected point of view.
 "Grievance is Their Sword, Subterfuge Is Their Shield" (OkeyDokeySmokeyPokey Publishing) in the words of former IE staff person Thomas R. Brierly is "an intersectional persuasion to elucidate and educate on matters of race, violence, white supremacy and the United States' adherence to brutal capitalism…". Go to vvovnn.bigcartel.com to order.
News & Information
The Youth Poet Laureate honors young writers committed to civic and community engagement. If you would like to apply, deadline is April 25, 2022. Go to https:/lectures.org/youth-programs/youth-poet-laureate/.
The Seattle Public Library offers free tickets to visit Puget Sound museums. Visit www.spl.org/museumpass for details. Also available for loans is the Discover Pass which provides access to more than 100 state parks and other recreational amenities. Go to www.spl.org/outdoorrecreation.
Art in Odd Places is an annual visual and public arts festival in New York City Sept. 23 – 25, 2022. AiOP issues a public call for the inclusion of more Asian artists in the festival. Deadline is May 1, 2022. For details, go to https://artinoddplaces.org
Interested in learning a traditional trade, craft or skill? The Center for Washington Cultural Traditions is now accepting applications for its 2022-2023 Washington State Heritage Arts Apprenticeship Program. The Heritage Arts  Apprenticeship will be chosen by Humanities Washington. These teams of artists and craftspeople chosen by the Center for Washington Cultural Traditions will help preserve traditional skills for our future. Through the program, a skilled and 
experienced master artist will mentor an apprentice in a one-on-one program throughout the year. Deadline is May 2, 2022. For details email [email protected] or call 206-682-1770×107.
The University of Washington Press issues a call for writers working on a manuscript or new book proposal. The editors at this local press want to connect with current and prospective authors about new projects and book proposals. They invite writers to contact them by email to set up a meeting by phone or zoom. If interested, contact Executive Editor Lorri Hagman at [email protected].
The Readings & Workshops program at Poets & Writers has funds to provide mini-grants to pay poets, fiction writers and creative non-fiction writers to give readings throughout King County between now and June 30, 2022. Deadline is six weeks prior to any event. Email [email protected] for more information.