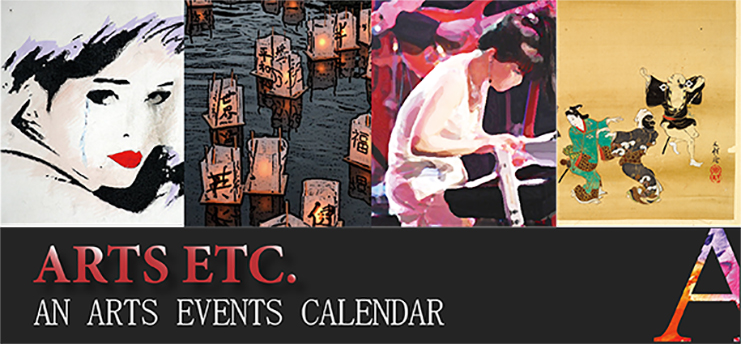 Visual Arts
Local artist Juliet Shen leads an online art-making session for adults based on her personal videos of flowing water from Northwest rivers and shorelines. Register now to receive instructions on supplies to have on hand. Set for Thursday, June 11, 2020 at 6:30pm online. Go to [email protected]. "Gather With Kenzan Tsutakawa Chinn" is the title of a virtual art talk with the lighting artist. He will talk about "Gather", his commissioned site-specific light installation now in the Garden Court of Seattle Asian Art Museum. Go to [email protected]. The April speaking appearance by Silk Road art specialist Judith Lerner has been re-scheduled for next year. An article by SAM curators entitled "An Asian Art Museum Transformed" appears in a recent issue of Orientations magazine. The fall Saturday University Lecture Series will focus on color in Asian art and will take place either at the Asian Art Museum or online depending on the situation re: Covid 19.
In "32 Aspects of Life" by Lauren Iida, the artist playfully reinterprets Japanese artist Yoshitoshi's 1888 series. Blending hand-cut paper with mixed media, Iida presents a series of portraits drawn from her daily life as a Japanese American living in Cambodia. In the north side gallery, Iida's work is complemented by a diverse group of artwork by contemporary Cambodian artists working with artist cooperative Open Studio and artist collective, Roncheik Pram. Online preview and viewing May 7 – June 20, 2020. Artxchange Gallery at 512  1st Ave. South. 206-839-0377 or email [email protected].
The Seattle Art Museum has cancelled a previously planned major traveling exhibition for this summer entitled "The Allure of Matter: Material Art From China." Instead the current shows on John Akomfrah and Georgia O'Keeffe will be extended through Sept. 7, 2020 when the museum re-opens.
The "Mezzotint Invitational" is a group show of artists working within that print media dominated by artists from Asia. Includes work by Waai Chirachaisakul, Koji Ikuta, Chin-Sheng Lee and Peter M. Jogo. View online at davidsongalleries.com now through May 30, 2020. The gallery's "Monoprint & Monotype Invitational" follows in June/July, 2020. 313 Occidental Ave. S. in Seattle. 206-624-7684 or go to www.davidsongalleries.com.
Kobo Seattle features a new virtual art space showcasing tiny Buddha-like sculptures by Seattle artist Tomoko Suzuki and an online store with free shipping on gift kits. A recent acquisition are monthly shipments of handmade Japanese face masks in various colors and beautiful designs. They have a new instagram shopping account @koboseattleshop or try their website at  koboseattle.com.
The Contemporary Northwest Print Show Invitational has a deadline of May 25, 2020. Go to seattleprintarts.org for information or try [email protected].

Google Arts and Culture has partnered with cultural organizations around the world to host virtual tours of museums and world sites.
Performing Arts
Even though the Wayward Music Series at Chapel Performance Space is currently closed, go to nonsequiter's website to listen to free links by local musicians performing original music at wayward music.org or try gscchapel.com.. Also listed are live streaming of local concerts by contemporary musicians that you can rent.
Seattle Theatre Group partners with SAMA: Seattle Sacred Music and Art, a new organization that is focused on bringing Global Sacred Music and Art to the Northwest.  Future concerts will highlight the following genres and artists – Sacred music traditions of Sufi traditions from the Middle East and North America, Court music of Korea, Gnawa traditions of Morocco, Griot styles of West Africa, Sephardic and Ashkenazi Hebrew traditions, U.S. Gospel,  Greek, and Byzantine choral works and Gamelan traditions of Indonesia.  For more information, go to seattlesacredmusic.com.

New York-based jazz composer, arranger and orchestrator Miho Hazama's latest album "Dancer in Nowhere" was nominated for a Grammy award. Go to slate.com to hear an interview with her about her music.

The Bay Area performing arts couple of Brenda Wong Aoki and Mark Izu are offering free activities online such as story time for kids, "sho meditations" and weekly performances by their friends. Go to www.firstvoice.org for details.

The Washington Post called Thao & The Get Down Stay Down's "Phenom" the first great zoom music video. The band started in Falls Church, Virginia where original band members Thao Nguyen and Willis Thompson first met. They now call the Bay Area their home. They are scheduled to play the Neptune in Seattle on June 19, 2020. To see the zoom music video, go to https//www.youtube.com/watch:v=DGwQZrDNL08.

Three Avery Fisher Career Grants were awarded to violinist Stella Chen, Cellist Zlatomir Fong and baroque violinist Rachell Ellen Wong. Avery Fisher Career Grants are designed to give professional assistance and recognition to talented instrumentalists.

Thai Thanh was considered one of the most iconic singers of Western-influenced popular music in Vietnam. She died in March, 2020. She was a member of her family-based band Thang Long considered one of the first widely known music groups in Vietnam in the 20th century. She gained prestige during the Vietnam War and was famous for performing songs by composers of the day, especially by her brother-in-law Pham Duy. After 1975, she was banned from performing publicly due to her refusal to cooperate  with the communist regime. In 1985, she emigrated and became part of the Vietnamese musical diaspora in Orange County. Thai Thanh's voice combined Tokinese folk music, French pop and Western opera and influenced many younger Vietnamese singers.

Jazz fusion guitarist and guitar synth inventor Rao Kawasaki has died at the age of 73. Born in 1947 to a diplomat father and multi-lingual mother, he will be remembered for his contribution to jazz fusion techniques and his pioneering work in the field where music meets technology. He re-located to New York City in 1973 where he became a regular in that city's jazz "loft" scene playing with the likes of Gil Evans, Elvin Jones,  Chico Hamilton and Joanne Brakeen. For the last twenty years, he has lived in Estonia where he had a jazz fusion band. As recently as 2019 he released a live album with his group Level 8.

PBS New York has 5 shows for viewing online through May 27, 2020 at https://www.pbs.org/wnet/gperf/blog/streaming-now-from-broadway-to-now-hear-this/.
Film & Media
Andrew Ahn's ("Spa Night") latest film "Driveways" tells the story of the unlikely friendship between a shy Korean American boy and a reclusive elderly white neighbor. It marks one of the last screen appearances by the distinguished actor Brian Dennehy. Lucas Jaye plays the boy and Hong Chau portrays his mother. Now screening virtually at SIFF Cinema. Go to siff.net for details.
"Lucky Grandma" as directed by Sasie Sealy that premiered at a New York's Tribeca Film Festival is now available for live streaming at Grand Illusion Cinema. It tells the story of a feisty Chinatown widow who when gambling at a casino incurs the wrath of local gangsters. Screening virtually for rent May 22 – June 4, 2020. Go to grandillusioncinema.org.
Rosalind Chao stars in Nancy Kelly's " Thousand Pieces of Gold" based on the novel by Ruthanne Lum McCunn about a Chinese woman sold into slavery during California's Gold Rush era who becomes the wife of a 49er and emerges as a historic legend. Now streaming at Northwest Film Forum through May 31, 2020. 
Town Hall Seattle has digital programming of upcoming events on their live stream page. They also have a media library of hundreds of video and audio free to enjoy. Go to townhallseattle.org for details.

Most local theaters are doing virtual screening via the internet where you can rent new films and see them at home. Go to the websites for Northwest Film Forum, Grand Illusion Cinema, Siff Uptown, AMC theatre chains and others.
For fans of Japanese swordfighting epics, consider a screening of "Shogun Assassin" on Sunday, May 24 at 6:15pm at 36cinema.com. With live commentary from Dan Halsted, head programmer at Hollywood theatre and RZA, acclaimed rapper, producer, director and co-founder of 36 Chambers. Go to [email protected]. Part of the ticket sales go to support Seattle Siff.

"Tiger Tail" is writer/director Alan Yang's ("Master of None") latest film that tells the story of a Taiwanese immigrant who leaves behind his girlfriend to achieve his American dream. Stars Tzi Ma, Christine Ko and Hong-Chi Lee. Now streaming on Netflix. 
Tracie Tsui is part of the cast in a new 63-minute film by Canadian director Mostata Keshvari that couldn't be more current. Entitled "Carona", the film looks at what happens when seven people are trapped in an elevator and begin to realize that one of them has Cover-19. The director spent two weeks on the script and it took 10 days to create. Keshvari had planned to submit the film to festivals which is an impossibility now. Streaming seems to be the best option. 

 In "Stray Dolls" directed by Sonejuhi Sinha, actress Geetanjali Thapa plays an undocumented Indian immigrant trapped in upstate New York hoping for a better life. 
The Smithsonian Asian Pacific American Center has put out a "self-care package" of poems, short films and other media and they will be adding to it periodically. Go to https://smithsonianpa.org/care/.

PBS has many digital-only shorts produced for its website Art 21 including work by Ai Weiwei. Go to art21.org for details.

Prolific Japanese filmmaker Nobuhiko Obayashi has died at 82 on April 10, 2020. His last film "Labyrinth of Cinema", an homage to filmmaking was showcased at last year's Tokyo Film Festival. He was known for his pacifist message as well as fairy-tale like imagery. His most popular film "House' (1977) was a horror comedy about youngsters who stumble into a haunted house. He is survived  by his wife Kyoko; an actress and film producer and his daughter Chigumi Obayashi, an actress. 
"War Brides of Japan – A docu*memory" is a series of five short films on the subject  by Yayoi Winfrey is now available on vimeo. Go to www.warbridgesofjapan.com.

The Written & Spoken Arts
Jackstraw Cultural Center presents their Jackstraw Reading Series on Fridays in June which will feature the 2020 Jack Straw Writing Fellows. Streaming live on Facebook and hosted by 2020 Writers Program Curator Anastacia-Renee.  June 5 at 7pm will have Maisha Banks Manson, Elaina Ellis, Wryly T. McCutchen and Ebo Barton. June 12 at 7pm will have Michelle Goodman, Ching-In Chen, Rob Arnold, and Helen K. Thomas. June 19 at 7pm will have Jeffrey Lee Cheatham II, Arianne True, Jose Trejo-Maya and Troy Osaki. Each reading video will be available afterward on Facebook and YouTube. Free. A book of writing by these writers is available for purchase through Open Books.  Go to jackstraw.org.
Local author Lori Tsugawa Whaley reads from "Let The Samurai Be Your Guide" (Tuttle) on Thursday, May 28 at 7pm EDT/4pm PDT. For details, try https://talkshop.live/channels/tuttlepublishing.
Townhall Seattle has live streams of the following. Local poet/curator Shin Yu Pai talks with Arabic language and literary scholar Michael Cooperson about his translation of an Iraqi classic entitled "Fifty Rogues Tales Translated Fifty Ways". On Monday, May 25, 2020 at 1pm. Porochista Khakpour talks with Fatemeh Fakhraie in a live stream on "Brown Album – Essays on Exile and Identity" on May 26, 2020. Saru Jayaram talks to Ross Reynolds about "Bite Back: People Taking on Corporate Food and Winning" on May 28, 2020. Go to townhallseattle.org for details.
Poets & Writers has a mini-grant program to support virtual live literary events. A sponsoring organization must apply on behalf of the writer at pw.smartsimple.com. Applications from California, Tucson, Seattle and Houston can apply four weeks in advance of the event date. Checks will be directly mailed to the writer about two weeks after the event.
Two reading events connected to the book on Seattle's local Kubota Gardens entitled "Spirited Stone: Lessons From Kubota's Gardens" (Chin Music Press) have been re-scheduled. A reading with local poet-laureate's Samuel Green, Shin Yu Pai, Claudia Castro Luna and former Oregon poet-laureate Lawson Inada has been re-scheduled for September, 2020 at the Wing. A Seattle Public Library event at the Microsoft Auditorium  downtown with  Jamie Ford, Charles  Johnson, Mayumi Tsutakawa, Anna Tamura and Anastasia Rene has been re-scheduled for July 23, 2020..

Red Hen Press has a virtual book tour featuring readings and conversations with their authors on wednesdays April through June, 2020. Aimee Liu appears on May 20th at 4pm PDT. Live streamed on www.redhen.org.

Yoko Ogawa's "The Memory Police" as translated by Stephen Snyder, a finalist for last year's National Book Award for "Translated Literature" is also nominated for this year's Booker International Prize. The award is given to the best book translated into English and published in England or Ireland. The novel tells the story of an island where an authoritarian government makes the population destroy entire categories of things and forget they ever existed.
Yu Lihua, whose portraits of Chinese students and intellectuals abroad dealing with displacement and identity crisis, died April 30 with health issues related to Covid 19. She produced more than two dozen novels and short story collections in Chinese which gave voice to  those who left China for a better life but remained nostalgic for their homeland.  Although she tried to publish and write in English, she found that American publishers were fixated on a pattern of oriental exoticism that ranged from bound feet to opium addiction. She is quoted as having said, "I didn't want to write those things, I wanted to write about the struggle of Chinese immigrants in American society.

Art News/Opportunities
Artist Trust has  an COVID-19 Artist Relief Fund for Washington State artists needing aid. Go to artist trust.org for details.

4Culture has a Cultural Relief Fund available now through May 15, 2020. Go to 4culture.org for details.

Humanities Washington provides relief grants for humanities organizations through May 31, 2020. Go to humanities.org.