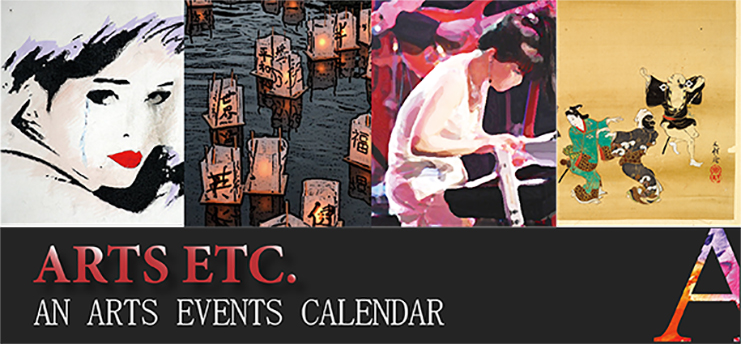 Visual Arts
In "32 Aspects of Life" by Lauren Iida, the artist playfully reinterprets Japanese artist Yoshitoshi's 1888 series. Blending hand-cut paper with mixed media, Iida presents a series of portraits drawn from her daily life as a Japanese American living in Cambodia. In the north side gallery, Iida's work is complemented by a diverse group of artwork by contemporary Cambodian artists working with artist cooperative Open Studio and artist collective, Roncheik Pram. Online preview and viewing May 7 – June 20, 2020. Artxchange Gallery at 512  1st Ave. South. 206-839-0377 or email [email protected].

The Seattle Art Museum has cancelled a previously planned major traveling exhibition for this summer entitled "The Allure of Matter: Material Art From China." Instead the current shows on John Akomfrah and Georgia O'Keeffe will be extended through Sept. 7, 2020 when the museum re-opens.

The "Mezzotint Invitational" is a group show of artists working within that print media dominated by artists from Asia. Includes work by Waai Chirachaisakul, Koji Ikuta, Chin-Sheng Lee and Peter M. Jogo. View online at davidsongalleries.com now through May 30, 2020. The gallery's "Monoprint & Monotype Invitational" follows in June/July, 2020. 313 Occidental Ave. S. in Seattle. 206-624-7684 or go to www.davidsongalleries.com.

 Kobo Seattle features a new virtual art space showcasing landscape miniatures by Rob Vetter and an online store with free shipping on gift kits. They have a new instagram shopping account @koboseattleshop or try their website at  koboseattle.com.

 Google Arts and Culture has partnered with cultural organizations around the world to host virtual tours of museums and world sites.
Performing Arts
Even though the Wayward Music Series at Chapel Performance Space is currently closed, go to nonsequiter's website to listen to free links by local musicians performing original music at wayward music.org or try gscchapel.com.. Also listed are live streaming of local concerts by contemporary musicians that you can rent.

 Seattle Symphony shares broadcasts each week online. Go to seattle symphony.org/live. Available on the Symphony's youtube and facebook pages.

 New York-based jazz composer, arranger and orchestrator Miho Hazama's latest album "Dancer in Nowhere" was nominated for a Grammy award. Go to slate.com to hear an interview with her about her music.

 The Bay Area performing arts couple of Brenda Wong Aoki and Mark Izu are offering free activities online such as story time for kids, "sho meditations" and weekly performances by their friends. Go to www.firstvoice.org for details.

The Washington Post called Thao & The Get Down Stay Down's "Phenom" the first great zoom music video. The band started in Falls Church, Virginia where original band members Thao Nguyen and Willis Thompson first met. They now call the Bay Area their home. They are scheduled to play the Neptune in Seattle on June 19, 2020. To see the zoom music video, go to https//www.youtube.com/watch:v=DGwQZrDNL08.

Three Avery Fisher Career Grants were awarded to violinist Stella Chen, Cellist Zlatomir Fong and baroque violinist Rachell Ellen Wong. Avery Fisher Career Grants are designed to give professional assistance and recognition to talented instrumentalists.

Thai Thanh was considered one of the most iconic singers of Western-influenced popular music in Vietnam. She died in March, 2020. She was a member of her family-based band Thang Long considered one of the first widely known music groups in Vietnam in the 20th century. She gained prestige during the Vietnam War and was famous for performing songs by composers of the day, especially by her brother-in-law Pham Duy. After 1975, she was banned from performing publicly due to her refusal to cooperate  with the communist regime. In 1985, she emigrated and became part of the Vietnamese musical diaspora in Orange County. Thai Thanh's voice combined Tokinese folk music, French pop and Western opera and influenced many younger Vietnamese singers.

Jazz fusion guitarist and guitar synth inventor Rao Kawasaki has died at the age of 73. Born in 1947 to a diplomat father and multi-lingual mother, he will be remembered for his contribution to jazz fusion techniques and his pioneering work in the field where music meets technology. He re-located to New York City in 1973 where he became a regular in that city's jazz "loft" scene playing with the likes of Gil Evans, Elvin Jones,  Chico Hamilton and Joanne Brakeen. For the last twenty years, he has lived in Estonia where he had a jazz fusion band. As recently as 2019 he released a live album with his group Level 8.

Silver Kite Community Arts partners with the King County Library System and Seattle Public Library to offer free registration to online intergenerational daily arts workshops through May 20, 2020. In Seattle, visit the Seattle Public Library access webpage on the Silver Kite website. The password is spl2020. If you are in the greater King County area, please visit the King County Library System website. Go to silver kite.us for more details or call 360-218-4884 or email them at [email protected].
PBS New York has 5 shows for viewing online through May 27, 2020 at https://www.pbs.org/wnet/gperf/blog/streaming-now-from-broadway-to-now-hear-this/.
Film & Media
Town Hall Seattle has digital programming of upcoming events on their live stream page. They also have a media library of hundreds of video and audio free to enjoy. Go to townhallseattle.org for details.

The PBS documentary series "Asian Americans" will air May 11 & 12, 2020 at 8pm Pacific Time (check your local PBS listings). It's a five hour film series told through intimate, personal stories. The series will cast a new lens on U.S. history and the on going role that Asian Americans have played. The series producer is Academy Award nominated series producer Renee Tajima Pena ("Who Killed vincent Chin?"). Go to pbs.org for details.

Most local theaters are doing virtual screening via the internet where you can rent new films and see them at home. Go to the websites for Northwest Film Forum, Grand Illusion Cinema, Siff Uptown, AMC theatre chains and others.

"Sound! Euphonium The Movie – Our Promise: a Brand New Day" is the continuing saga of the popular series adapted from a popular manga series by Kyoto Animation as directed by Tatsuya Ishihara. Virtual screening available April 24 – 30, 2020 in both Japanese with subtitles and English dubbed versions. A sophomore in a Japanese high school      juggles mentoring both the concert band and her new role as respected upper classperson to her younger charges. To rent this film and see it via virtual screening, go to grandillusion.org.

"Tiger Tail" is writer/director Alan Yang's ("Master of None") latest film that tells the story of a Taiwanese immigrant who leaves behind his girlfriend to achieve his American dream. Stars Tzi Ma, Christine Ko and Hong-Chi Lee. Now streaming on Netflix. 

Tracie Tsui is part of the cast in a new 63-minute film by Canadian director Mostata Keshvari that couldn't be more current. Entitled "Carona", the film looks at what happens when seven people are trapped in an elevator and begin to realize that one of them has Cover-19. The director spent two weeks on the script and it took 10 days to create. Keshvari had planned to submit the film to festivals which is an impossibility now. Streaming seems to be the best option. 

In "Stray Dolls" directed by Sonejuhi Sinha, actress Geetanjali Thapa plays an undocumented Indian immigrant trapped in upstate New York hoping for a better life. 
The Smithsonian Asian Pacific American Center has put out a "self-care package" of poems, short films and other media and they will be adding to it periodically. Go to https://smithsonianpa.org/care/.

PBS has many digital-only shorts produced for its website Art 21 including work by Ai Weiwei. Go to art21.org for details.

Prolific Japanese filmmaker Nobuhiko Obayashi has died at 82 on April 10, 2020. His last film "Labyrinth of Cinema", an homage to filmmaking was showcased at last year's Tokyo Film Festival. He was known for his pacifist message as well as fairy-tale like imagery. His most popular film "House' (1977) was a horror comedy about youngsters who stumble into a haunted house. He is survived by his wife Kyoko; an actress and film producer and his daughter Chigumi Obayashi, an actress. 

The Written & Spoken  Arts
April is National Poetry Month. Celebrate by listening to a wealth of youth poetry by local elementary, middle and high school poets. Go to jackstraw.org.
Seattle Arts & Lectures has announced the re-scheduling of some of their literary readings. Tacoma-based poet Rick Barot will talk about his new book of poetry with fellow poet Jane Wong on Friday, May 15 at 7pm at Hugo House's Lapis Theatre.  1634 – 11th Ave. 206-322-7030.

Min Jin Lee will talk about her award-winning novel "Pachinko" that covers the lives of Korean immigrants in Japan on June 15 at 7:30pm at Benaroya Hall's S. Mark Taper Auditorium downtown. Go to [email protected] for details.

Two reading events connected to the book on Seattle's local Kubota Gardens entitled "Spirited Stone: Lessons From Kubota's Gardens" (Chin Music Press) have been re-scheduled. A reading with local poet-laureate's Samuel Green, Shin Yu Pai, Claudia Castro Luna and former Oregon poet-laureate Lawson Inada has been re-schduled for September, 2020 at the Wing. A Seattle Public Library event at the Microsoft Auditorium  downtown with  Jamie Ford, Charles  Johnson, Mayumi Tsutakawa, Anna Tamura and Anastasia Rene has been re-scheduled for July 23, 2020.

Mukai Farm & Garden on Vashon Island has launched an April Haiku Festival and Contest. You can enter your 17 syllable insights in different categories for kids, young adults and adults. Enter by April 30, 2020. Winners will be notified by May 10, 2020. Go to mukaifarmandgarden.org for details.

Red Hen Press has a virtual book tour featuring readings and conversations with their authors on wednesdays April through June, 2020. Aimee Liu appears on May 20th at 4pm PDT. Live streamed on www.redhen.org.

Yoko Ogawa's "The Memory Police" as translated by Stephen Snyder, a finalist for last year's National Book Award for "Translated Literature" is also nominated for this year's Booker International Prize. The award is given to the best book translated into English and published in England or Ireland. The novel tells the story of an island where an authoritarian government makes the population destroy entire categories of things and forget they ever existed.
Art News/Opportunities

Artist Trust has  an COVID-19 Artist Relief Fund for Washington State artists needing aid. Go to artist trust.org for details.

4Culture has a Cultural Relief Fund available now through May 15, 2020. Go to 4culture.org for details.

Humanities Washington provides relief grants for humanities organizations through May 31, 2020. Go to humanities.org.