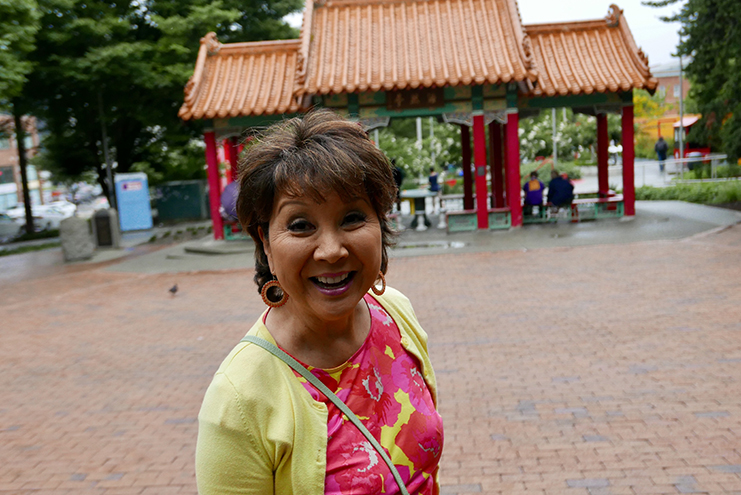 After 36 years at KING TV, news anchor Lori Matsukawa has retired and she will be missed by viewers, friends and members of the Asian Pacific American community.
"Pretty amazing life. Television and being involved in the community. Both worlds together. I was lucky," Matsukawa said. She plans to stay busy traveling and trying to improve her golf game. "I'm a terrible golfer. Now I have more time to practice and improve my score," she said.
On September 26, she'll be honored with the International Examiner's Community Voice Awards. "I was so thrilled to be included in the Community Voice Awards. I'm honored to be with such an impressive group," she said.
Matsukawa has held every anchor position and time slot and to accommodate the demands of live television news. She started at KING in 1983 doing the "Top Story" news program at 6:30 AM on the weekends. Then came the 2:30 AM wake up each morning, getting to the television station for your 3:30 start, then going on air at 6:00 PM. There was the snow storm one winter morning. "It was a big snow. I chained up the car in the dark. It was snowing, and I was driving to work while pregnant," Matsukawa said.
Son Alex was born in 1987 and is now 32. He is the only child of Matsukawa and longtime husband Larry Blackstock. She met Blackstock, operations manager at KOMO, during her short stay at KOMO from 1980 to 1983.
Matsukawa was raised in Hawaii. She ended up in California and in 1974, won the Miss Teenage America Pageant. "I never entered a pageant before. I won $10,000 for college," she said.
Early in her tenure at KING, Matsukawa was offered a job as a network correspondent in Los Angeles. "I wanted to travel the world to places like Tokyo and Moscow. I wanted to report from all over the world," Matsukawa said.
She turned down the offer to stay in Seattle. At KING, Matsukawa's traveling aspirations became reality.
When then Washington State Governor Gary Locke visited China, Matsukawa was assigned to the story. She has been to Tokyo, two Winter Olympics, followed the Seattle Mariners for the American League Championship Series and was sent to cover the 1992 earthquake in Nicaragua.
As a Japanese American and a person of color on television, Matsukawa has served as a role model. Especially to the local Asian Pacific American community.
"I feel part of my responsibility is to know the community, especially communities of color," she said. "In 1983 there was a growing awareness of inequality. Voices needed to be heard."
She has served on the Board of Directors of Asian Counseling and Referral Service, Japanese American Citizens League and Asian American Journalist Association (AAJA). She helped start AAJA's Seattle Chapter. Only the third chapter of the organization at the time.
Her demanding work schedule caused her to cut back on community work. "I had meetings at night but I was working the night shift. Events happened at night during the middle of work," she said.
"I spent 36 years at KING. I was really glad I was here to be a role model for many young aspiring journalists of color. It was good for youth of color to see me (as an Asian)," Matsukawa said.
Matsukawa has seen the technology of television news change during her long career. She began her career as a producer and anchor at a small station in Redding, California in 1978. She was the camera person for her own stories. "I shot silent color film on a hand cranked Bolex (16mm film) camera with no light meter," she recalls.
Cell phones were not invented yet in 1978. If she had to call the TV station, she used a pay phone. This means having a lot of quarters with you or no phone call. Then came the first" shoe box" size cell phones Matsukawa remembers in the news car.
Now we are in the digital age. "You have to write faster. Everything is speeded up. You still had to be accurate and precise and meet the deadline," Matsukawa said.
"I've had a pretty amazing life. Television and being involved in the community. Both worlds together. I was lucky," Matsukawa said.
So many people have helped Matsukawa during her career. "I can't pay them all back. I will pay forward," she said. She plans to give back through the AAJA Scholarship Awards to help aspiring journalists start their careers.