(This article was originally published in the South Seattle Emerald on September 26, 2022, and has been republished under an agreement.) 
As the sun set over Elliott Bay, the pink and purple lights of the Seattle Art Museum's Paccar Pavilion at the Olympic Sculpture Park began lighting the stage for the seventh annual Legendary Children event, Seattle's summer-ending party celebrating the queer, transgender, Black, Indigenous, People of Color (QTBIPOC) Ballroom Scene. With the event's first return since the pandemic began, the crowd was eager and engaged as artists of all ages took the stage.
Co-hosted by emcee Aleksa Manila, CarLarans, and Goddess Briq House, the event space filled quickly with a swaying audience who showed their support vocally and monetarily with folded bills raining on the stage as the artists were tipped. Public Health — Seattle & King County was also at the event giving out free COVID-19 boosters and monkeypox vaccines.
The Emerald spoke to two performers about what the event meant to them and what advice they had to pass on to younger artists.
Hot Pink Shade is an artist in the Ballroom community who feels empowered to help celebrate other Artists of Color at Legendary Children, "but at the same time, I can also sit back and celebrate my art, my hard work, what I've done to earn the status of being a legend. It's about coming together and being a family."
When asked about their advice to young artists, they responded, "Follow your dreams, follow your heart. Don't compromise who you are to be somebody else. There will always be a cookie cutter. Stand out, do you, be you."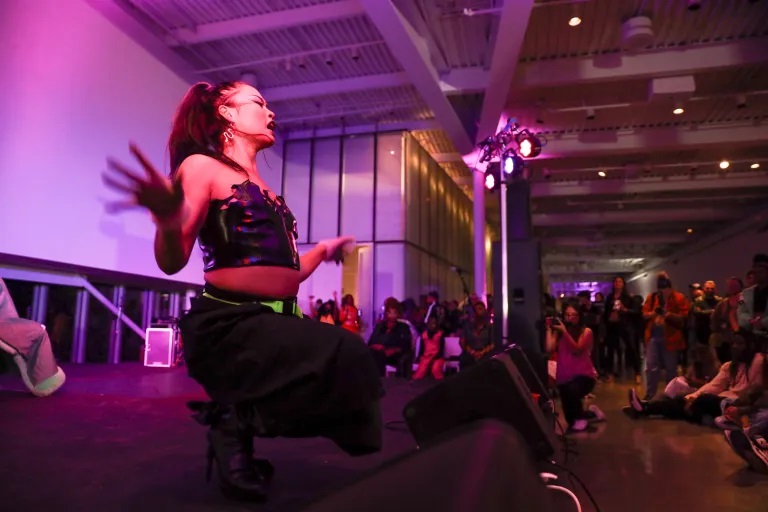 Mooncakes 007 has been with the SeaTac Ballroom community since its inception and feels this night is special. "A lot of the Ballroom kids [don't] know we have a Ballroom scene out here, get to perform, and collect a check, but also, it's a way to give us a little visibility. Hopefully, Black and Brown people who come to this event know that there's a Ballroom scene here if they do want to be a part of it, and they do want to engage with that. If not, then I hope that they know it's happening and it's going well and flourishing the best we can."
When it comes to advice for burgeoning artists, Mooncakes 007 says, "Stay genuine to yourself. That means hold your boundaries. You don't have to be an asshole. But maintain those boundaries and know where you stand and what you stand for, and continue to work towards those goals. Remember, at the end of the day, no matter how successful and rich and elevated you become, there was always a community that was there to support you before you were any of that. So make sure you're always giving back to it. Make sure you're always honoring it the best you can."