The Seattle Asian Art Museum is closed until 2021, but Kenzan Tsutakawa-Chinn's light installation Gather still hangs in the Fuller Garden Court. Kenzan Tsutakawa-Chinn, light artist based in New York and Seattle, grew up in Central and SE Seattle. He also spent a lot of time in the CID because his father had a business there. And this autumn, Tsutakawa-Chinn  returned to Seattle, from his current New York residence, for a brief visit to the business headquarters of the firm he founded in 2007: Studio 1Thousand. 
For Tsutakawa-Chinn, running his business is a family affair. "The bicoastal office is really just a function of necessity," he said. "With my father as my business manager, I don't expect him to leave Seattle, so this is just the way we work."
Studio 1Thousand developed out of parental support and the attention that Tsutakawa-Chinn received for his student projects. "I don't recommend trying to become a design entrepreneur directly after school ends," he said.  "I've taken a variety of jobs to support myself while I do this work." 
Tsutakawa-Chinn's path to LED light art started in high school, where he studied photography. "I believe photography is a foundation of visual arts just as learning the piano seems to be a foundation for musicians," he said. "At its most basic, fine art photography is a great way to learn image composition." 
His journey toward LED light art continued when he explored night-time landscape photography, which required artificial light sources. "In graduate school, at the Pratt Institute in Brooklyn, I was inspired to use LEDs in a variety of studio projects," Tsutakawa-Chinn said. "Early on, I was interested in the technicality of the process, and since I was in the Industrial Design program, not the fine art program, I was taught and encouraged to develop products, not art." 
But Tsutakawa-Chinn's artistic roots kept pulling at him. "I realized that I was not interested in products, but more in custom work," he said. 
Finding the right collaborators has been key to building his career and Studio 1Thousand. "I have been lucky enough to work with one engineering and fabrication team, who have taught me a lot about low voltage electrical engineering," Tsutakawa-Chinn said. "But designing and fabricating LED assemblies is a complex and mature process, more directly related to designing electronics, and it's not really the same creativity as fine art. For that reason, I leave them to do that work, while I work on concepting and selling the art." 
In addition to design, communication fills a large amount of Tsutakawa-Chinn's day. "There is a lot of client education, and there is a lot of product development time, which is, in some sense, education," he said. "We spend a lot of time with our clients, explaining to and reassuring them that something which looks so complex is actually pretty simple."  
Each project is unique because each is location-bound. "The process of design is kind of the secret sauce," Tsutakawa-Chinn said. "It's really the combination of creative, historic and technical aspects, as well as what a specific site seems to be asking for." 
Every design must consider both science and the supply chain. "For SAAM, they had a series of technical requirements which needed to be met first," Tsutakawa-Chinn said. "From there, I examined the clearstory and skylight as a major component of the architectural space."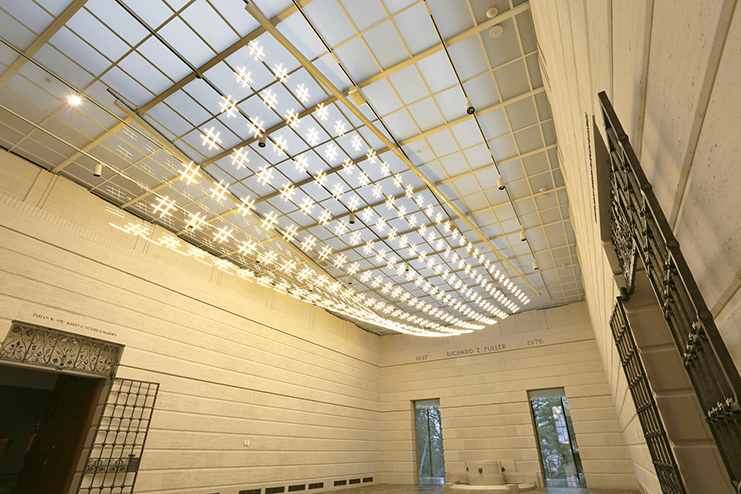 Next came the brain-storming.  "At this time, I began to imagine different technical ideas that I had been discussing with my team," he said. "They spend a lot of time with LED factories in China, so they have a good idea of what is possible from the perspective of market availability." 
Tsutakawa-Chinn finds himself learning constantly. "LEDs continue to evolve, so we must be up to date on that knowledge," he said. "It's especially critical for my work, because our constructions are built with raw components, not pre-made systems." 
And the construction process is as important as the appearance of the finished artwork. "Ease of installation is a critical part of the design process," Tsutakawa-Chinn said. "It's a give-and-take, as my design team are electrical engineers, not construction people. I often ask many questions, trying to confirm that their plan for installation actually works." 
Tsutakawa-Chinn's work continues despite the ongoing pandemic and limitations on large gatherings. "Our projects are long-term, and take time to design and fabricate," he said. "Beyond the concerns that worry us all, Studio 1Thousand has not had any specific challenges due to Covid."
And certain appreciation for his work continues during the shutdown. In September, Gather won a 2020 AL Light Design award for Outstanding Achievement, despite the absence of an audience. "I hope this will slingshot attendance when restrictions are lifted," Tsutakawa-Chinn said.
For more photos, see his Instagram @studio1thousand.