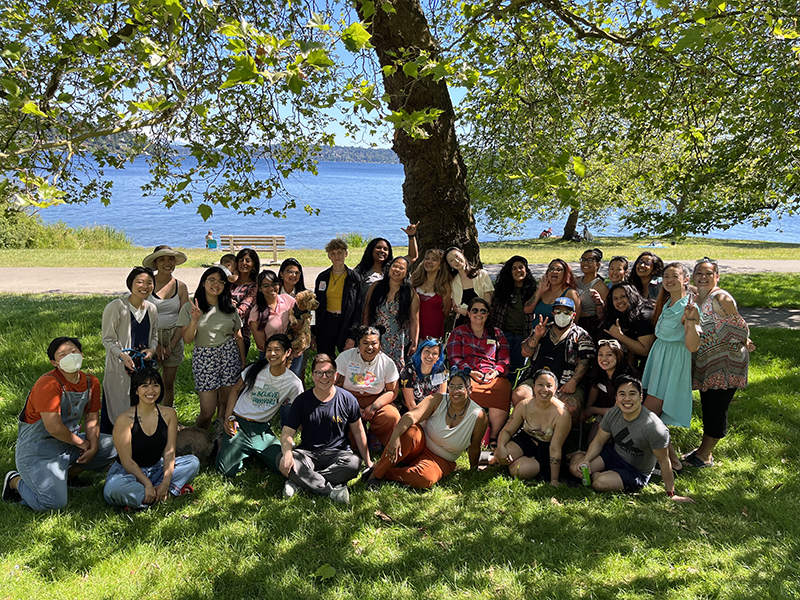 By Priya Rai, Executive Co-Director of API Chaya
What does it mean to be a survivor, working at an organization full of survivors, navigating the current state of the world? At API Chaya, survivors are not just the people that we serve–it is also who we are. We know that those closest to the problem are closest to the solution, which is why API Chaya is made up of and led by survivors. Complexities of survivorship and navigating conditions of violence are not only the work we do as an organization, but it is the work we must do for our staff, and for ourselves. As we are accompanying survivors to court, listening to their stories, holding space for their healing, we must also do the same for ourselves. There are no start and stops, no easy ways to "turn off". 
The work is deeply personal, and our personal lives mirror much of the work. During the day an advocate might be working with a survivor who called our helpline, in the evening a friend is sleeping at their house for a few nights to get away from an abusive partner. We might face flashbacks to our own experiences. We might have trouble regulating, sleeping, being calm in conflict, in our fight/flight/freeze/appease reaction. That is the nature of trauma. Given these realities, what does it mean to be both a survivor and a leader, working in the movement to end gender-based violence everyday?
In 2020, I moved into my fifth position at API Chaya, this time as Co-Director alongside Kalayo Pestano. I have been an intern, an advocate, the Queer Network Program Coordinator, the Community Solutions Organizer, and now am in executive leadership. It is hard to express how meaningful this journey has been to me, as someone who first came into contact with API Chaya while in the middle of an abusive relationship. I cannot imagine getting through that time and experience without the love from staff: listening without judgment; reminding me every single day that I had agency and choice; that I had a place where I belong; and honoring the many months it took me to leave that person. It was with API Chaya, and through the healing and organizing programs, that I was able to find my way back to safety and to feel a sense of dignity. And with that feeling of dignity came choice: a choice between reaction and response, a choice in being in my own power.
I've seen over and over the role API Chaya can play in being with survivors from crisis, to reconnecting with resilience, to finding ways to embody joy, and to creating the lives they want. API Chaya is a place where our people can get support, learn to intervene in crisis and harm, and find belonging. I've committed much of my healing journey, my organizing energy, and my life to API Chaya. API Chaya is my political home; it shaped me into the leader I am today, as it has shaped so many others. I come from a long legacy of survivors coming together in living rooms, over shared meals, to address the generational violence and trauma that permeates our communities. Today, API Chaya continues that legacy of by and for survivor leadership; Over 80% of staff are survivors, and more than half of the staff and board first came to the organization as clients or volunteers. When I consider the survivors that make API Chaya possible, and what beauty so many have made from their pain, I know there is hope. And I know that is what real leadership looks like.
This is tender, quiet work. Holding people in their most vulnerable moments, talking about their histories of harm and abuse experienced and caused, often in the times they do not want to be seen. But it is in this work that we can find belonging in the small transformative moments that show us the new world we are building. That show us the change we are making now by choosing each other. Choosing to show up. Choosing to say, "I believe you. I am here for you." Knowing that together, we can forge something new. For more than 10 years, API Chaya has been the home that gives me that hope. We invite you to join us in being part of this vision, and in building a world that we deserve. One that is more just and more loving, and makes space for all the beautiful complications of what it means to survive. As Arundhati Roy says, 'Another world is not only possible, she is on her way. On a quiet day, I can hear her breathing.'"