On a sunny May 11th in Highline College's Building 8, the Cambodian American Community Council of Washington (known as CACCW) and various community members commemorated the success of local Khmer (Cambodian) youth and adults in reaching educational milestones, from attaining high school degrees to post-bachelor's degrees.
Throughout the event, the audience of over 50 graduating students, their families and community members listened intently as prominent community members, Silong Chhun and Bunthay Cheam, and student speakers Tiya Proctor-Floyd and John Son, spoke of the sacrifices the students and their families made, where they had to sacrifice time to learn about their culture and support their community to pursue a higher education. Graduates, their families and the Khmer community as a whole face challenging trials as they question their identity and stand up for themselves and each other.
Yet the speakers told of a bright future that they hope to create. "Remember to appreciate and love one another, because the promise of tomorrow cannot be built on hatred," said Son. "When it comes to our culture, remember you are both a student and a teacher, so help each other learn and grow together."
On that note, graduating students began their walk onto the stage to receive a lei and a piece of art inspired by the legend Moni Mekhala Ream Eyso, a legend where a teacher's challenge led to his students creating lightning, thunder and rain.
This celebration, known as the CACCW Cambodian Graduation Celebration, was part of an annual event series that started in 2017 under the leadership of Bopha Cheng and Laura Vong on CACCW's Education Committee. The event had seen much change since then, from fine-tuning the line-up of speakers to getting more involvement from the graduating students. However, the most important change was the growth in graduating students.
Since 2017's event with 14 Khmer graduating students, the graduation celebration has grown to 23 Khmer graduating students, graduating at all levels from high school to master's degree and professional degree holders.
"The reason why we hold this event is to celebrate student success in our community, remind our community to support students, to stand for students and the reason behind that is for many Southeast Asian populations and in particular, Cambodian Americans, there is an opportunity gap facing them, not even just at higher education but even at high school," said Nida Ouch, one of the co-chairs for this year's event. That opportunity gap can be seen with data on educational attainment from the U.S Census American Community Survey.
As of 2015, an estimated 17% of all Cambodians within Washington state have obtained a bachelor's degree or higher while on a national scale, 14.8% of all Cambodians in the U.S. have obtained a bachelor's degree and 4.4% have obtained a graduate or professional degree. Compared to the overall Asian population, whose attainment of a bachelor's degree or higher in Washington state is estimated to be 47% and 51% nationally, one can see the huge education gap the Khmer community faces. In fact, many Khmer students faced many struggles to succeed in education. Students had to balance their studies with helping their family, learning about their culture when there are few sources of knowledge on Khmer culture, and learning how to speak Khmer so they can communicate with not just community members but also the older generations of their own family among many other interests. Unfortunately, they may end up sacrificing something important to succeed in whatever area they want. Yet, Khmer students have continued to improve and succeed.
The rates of Cambodians pursuing degrees in higher education have increased since 2015. As of 2017, the estimated percentage of Cambodian people who have received bachelor's degree in the United States has remained steady at 14.4% while those who have received a graduate or professional degree had increased to 5.8%, thanks in part to organizations like the CACCW.
Consisting of over a dozen Khmer organizations, the CACCW began its work in the community in 2015. Soon after CACCW was formed, they established an education committee.
"The point of this committee is so that we can focus on education within the Khmer community here in Washington and really focus on what resources we need, what we want to work on, what we want to emphasize and celebrate," said Vong. "We really wanted to make this graduation celebration for our graduates because there are things like this in other minority communities but there hasn't been anything like this for specifically Khmer people."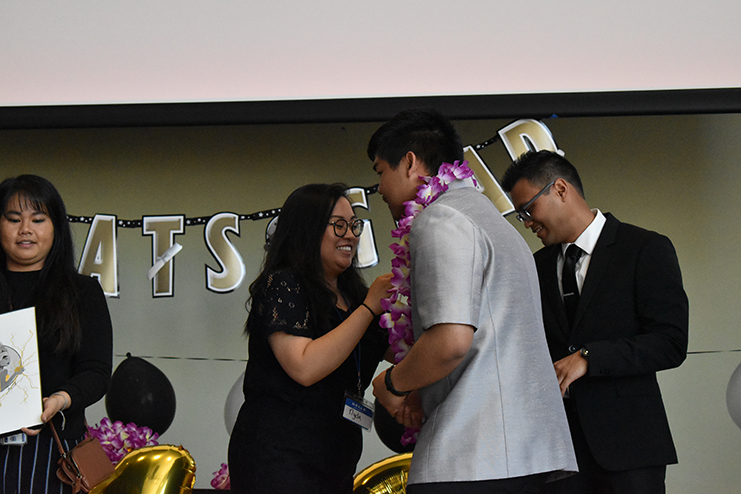 Along with putting on the CACCW Cambodian Graduation Celebration, the education committee under maintained a mentorship program to help students connect with people in the students' field of interest and assist them in other parts of life like applying for college or scholarships.
And the Khmer community beyond CACCW also played a major part in making this celebration a reality. From promoting the event on social media for graduating Khmer students and community members to participating in setting up the venue, the Khmer community showed their interest in supporting the next generation.
"Our community has been so supportive of this event… It has been amazing uniting different community groups, our neighbors at home that just want to support their community and they don't know how but they do know that have friends as a part of these groups," said Ouch.
With a myriad of support from organizations like CACCW and community members, the Khmer community has shown their will to grow and support each other. "Beyond the celebration of recent graduates, the closure to the school year and people moving onto a new part of their life, what's really going on here is the elders, children, people our age, people a little younger, people a little older, all sorts of ages, people with different perspectives, it's all just a bunch of Khmer people uniting, communing and living off each other's energy. There's a slight beauty to it and it's hard to put into words but once you're there, you can just feel it and it's very subtle," said Son.