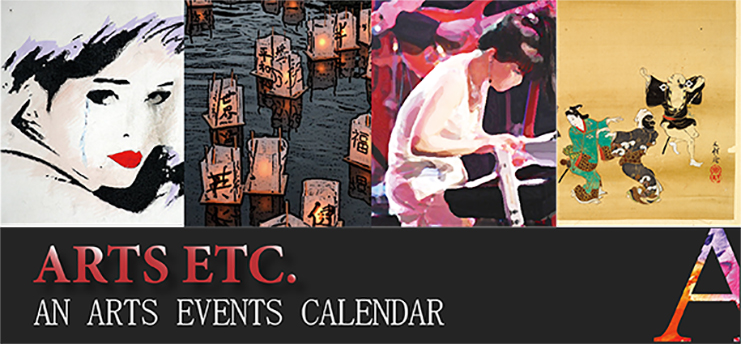 Visual Arts
Hiroshi Yamano has a show of new work entitled "Byobu" in which his works of glass depicting birds and flowers will be displayed in front of miniature screen paintings. Yamano chairs the glass program at Osaka University. June 6 – 29 at Traver Gallery in Seattle. 110 Union St. #200. 206-587-6501.
"The Magic Brush" is a show by Master Hong-Duan Yang. He is a practitioner of Chinese painting and calligraphy and consultant to the Senior Professor Association of Chinese Calligraphy And Painting at Beijing University. The show is on view from June 9 – July 21, 2019. There will be a public reception on Sunday, June 9 from 1 – 5pm. An introduction ceremony takes place at 2pm followed by a brush demonstration by Master Yang. Live erhu music and light refreshments will follow. Free. Magnuson Park Gallery SPACE at 7448 63rd  Ave. N.E. in Seattle. Go to www.spaceatmagnuson.org for details.
Local artist Amy Nikaitani recently passed away at the age of 95. She will be remembered for her artwork that chronicled the changing landscape of the Chinatown/International District/Japantown corridor, a neighborhood in which she was born and grew up in until her family moved to Kent. In her later years she returned to live in the neighborhood and continued to work on her art and chronicle the streets of the area. Her work served as a visual living map of the history and architecture of our blocks, capturing familiar sites and eras of the past whether it was the old Uwajimaya store, the Kokusai Theater or Sagamiya Confectionary. A few years ago I had the pleasure of being in a group exhibition at the Wing with Amy that was centered around the theme of artists who lived and/or worked in the CID. And in my many years working at Uwajimaya in the produce department I remember passing her pen and ink drawings of the various eras of Uwajimaya stores along the wall of the upstairs office every day. And gazing down the cozy aisles of KOBO at Higo, I always saw her line drawings of nudes pulsating with energy that she gathered from monthly live drawing sessions that she attended regularly. Hers is a voice in the community that will be missed.
"Quiet Hour: The Photography of Yukio Morinaga (1888 – 1968)" is the first solo exhibition by Seattle photographer Yukio Morinaga. He was an important member of the Seattle Camera Club, a group started by Dr. Kyo Koike which consisted of mostly Japanese members that specialized in the school of Pictorialism. In the 1920's, his work won prizes in many national and international competitions. There was a silken, poetic sensibility in his work that captured the mood of the streets in early turn-of-the-century Seattle. On view from July 11 – October 13, 2019. Opening reception for members and guests on Wed., July 10 from 5 – 8pm. Cascadia Museum in Edmonds, WA. 190 Sunset Ave.  425-336-4809.
Tacoma artist Fumiko Kimura is co-founder of the Puget Sound Sumi Artists. Her watercolors, sumi art and mixed media collages will be on view in a show at Asian Pacific Cultural Center's art gallery through the month of June, 2019 in Tacoma. 253-383-3900 or try www.apcc96.org.
Seattle artist Tara Tamaribuchi presents two installations from her Camouflage Net Project. The work made of camouflage netting and kimono fabric was inspired by the history of Japanese Americans who made camouflage nets for the U.S. army as prison labor during WWII while they, themselves were imprisoned in concentration camps. One installation will be at the Northwest African American Museum in Seattle  through August 28, 2019. It is part of a group exhibition with several Pratt Fine Arts Center scholarship recipients entitled "Edwin T. Pratt: A Living Legacy" in honor of the life and spirit of the late Seattle-area civil rights leader, Edwin T. Pratt. The installation has a sound element featuring the oral histories of Japanese American internment camp survivors who made the nets and that of Dennis Baumbauer who was taken from an orphanage and imprisoned at Manzanar for being half-Japanese. 2300 S. Massachusetts St. 206-518-6000 or go to naamnw.org. The second installation is at the Pantages Theater in the storefront windows on 9th and Commerce in Tacoma through July 15, 2019 and is presented by Spaceworks Tacoma and funded in part by Densho and ArtsFund. This piece has a video that blends photos of incarcerated Japanese Americans with photos of asylum seekers at the U.S. southern border and Japanese Americans making camouflage nets with imagery of contemporary prison labor. For details on the work, go to www.tamaratamaribuci.com.
Washington artist Yoshiko Yamamoto's work is included in a group show entitled "West Coast Woodcut: Contemporary Relief Prints by Regional Artists" on view from July 13 – Nov. 15, 2019. Opening reception on July 13 includes a gallery tour at 3:30pm with an artist's reception at 5pm. Maryhill Museum at 35 Maryhill Museum Dr. in Goldendale, WA. 509-773-3733.
Though known primarily for his ceramic sculpture, the late Seattle artist Akio Takamori also did paintings and prints as well and the flowing energy of this lively brushwork eventually found their way into his figurative ceramics. "Akio Takamori" To Be Human" pair his early sculptures with related prints. On view through June 8, 2019.  James Harris Gallery. Open Wed. – Sat. 604 Second Ave. 206-903-6220 or try jamesharrisgallery.com.
Hedreen Gallery – Lee Center for the Arts on the Seattle University campus off Capitol Hill has the following –Veteran Northwest artist Romsom Bustillo draws upon his island upbringing steeped in a colonial/native history and iconography. The final result in patterns and mark-making on paper are images that stay rooted in the memory. Opens May 21, 2019. Wed. – Fri. from 1 – 6pm. 901 12th Ave. 206-296-2244.
At KOBO at Higo in the CID, a new arrival of prints and sculptural figures of Bodhisattvas by Tomoko Suzuki have just arrived. And for one week only, a curated collection of vintage Japanese textiles from the collection of the late Bay Area-based Hella Berg who was a fashion designer in her youth will be on sale. During summer she would go to Japan and rummage through Japanese outdoor flea markets for scraps of textiles and old tansu. This choice collection of classic cloth is now available for you to re-purpose and turn into something new. June 1 – 9, 2019. Open daily at 604 South Jackson St. 206-381-3000 or [email protected].
Tacoma-based sculptor June Sekiguchi visited Laos a few years ago and it left a deep impression. So deep that she hopes to summon the powerful flow of the muddy Mekong River within the gallery walls providing visitors with a bridge to cross it as well. Set for the month of Oct., 2019. ArtXchange Gallery at 512 First Ave. S, 206-839-0327 or [email protected].
L.A.-based Ahree Lee is a multi-media artist working in video, photography, sound and interactive installations. She has a video installation entitled "Permutations"  currently on view in front of the Bill & Melinda Gates Foundation campus at 500 Fifth Ave. N. on view from 7am – 10pm. This is part of Storefront Media Gallery sponsored by 4Culture. 206-263-1588 for details.
"Nisei Trilogy" is a collaboration between artist Roger Shimomura and poet Lawrence Matsuda, both of whom were imprisoned at Minidoka during WWII. The installation reveals the Nisei experience of the bombing of Pearl Harbor, life in the internment camps and the return home to hostile American communities. This set of limited edition prints will be given to Mjukai Farm & Garden where it will be permanently installed. 18017 – 107th Ave. SW in Vashon, WA. [email protected].
"Yahaw – Together We Lift The Sky" is a year-long indigenous community-based project culminating in the inaugural exhibition at Seattle Office of Arts & Culture's ARTS at King Street Station.  "Yahaw" will feature the work of 200+ Indigenous creative artists at over 20 sites across Seattle and beyond. Curated by Tracy Rector, Asia Tail and Satpreet Kahlon. Learn more at Yehawshow.com. On view through August 3, 2019.
A  JCCCW Exhibition entitled "Genji Mihara: An Issei Pioneer" is  ongoing. Mihara was an Issei first-generation Japanese immigrant leader who helped to build Japanese culture and community in Seattle. Open M – F from 10am – 5pm. Japanese Cultural and Community Center of Washington is at 1414 S. Weller St. Free. For details, go jcccw.org.
Asia Pacific Cultural Center has a show every month of a local Asian American artist every month in their gallery.4851 South Tacoma Way in Tacoma. 253-383-3900  or asiapacificculturalcenter.org.
Seattle Art Museum has the following –Opening at the John McCone Gallery on the 3rd floor on March 16, 2019  is "The Gentleman Warrior: Art of the Samurai" which features two complete sets of samurai armor, screen paintings and a print of the legendary battle between the Tara and Minamoto clans. The "SAM Talks" series features a talk on "Victorian Radicals" with Tim Barringer & Chiyo Ishikawa at the Museum at 7pm. Free with RSVP. The talk is one of the program activities connected to SAM's current exhibition "Victorian Radicals – From The Pre-Raphaelites To The Arts + Crafts Movement" on view through Sept. 8, 2019. On the third floor of SAM, tea ceremony demonstrations continue on Third Thursdays at 5:30pm and Third Sundaysat 2:30pm. Free with admission. Tea ceremonies do not occur in August. Go to visitsam.org/performs for details. Seattle Art Museum is located at 1300 First Ave.  206-654-3210  or try www.seattleartmuseum.org.
Henry Art Gallery has the following -"Recto/Verso" features art by New York-based artist Carrie Yamaoka from July 13 – Oct. 2019. It brings together work from the early 1990's to the present highlighting recurring themes of (in)visibility and perception. Early work is text-based explorations using chemically altered photographs. Also ongoing work made with reflective mylar and resin. Recent work straddles the media of painting, drawing and sculpture. Yamaoka is a founding member of the queer art collective known as fierce pussy. Located on the UW Seattle campus at 15th Ave. NE + NE 4lst Street. 206-543-2280  or try henryart.org.
"The Silk Road of Uzbekistan – An Ancient Trade Link Between China And The Western World" is the title o a talk by photographer & world traveler Barry Broman. His presentation will focus on three important ancient cities in this area of early world trade. Joining Broman will be Dr. David Paley who will share samples of his antique, selected Uzbek textile treasures. August 4, 2019 at 2:30pm. Presented by Friends of Asian Art Association at Skyline Retirement Center. 725 Ninth Ave. on Capitol Hill. Pre-registrationfor tickets at http//friendsofasianart.org/eventflyer4.html or buy at the door.
The Museum of History & Industry has announced that "Beyond Bollywood: Indian Americans Shape The Nation", an exhibit created by the Smithsonian Asian Pacific American Center and the Smithsonian Institution Traveling Exhibition Service will be coming to the museum from Nov. 2019 – Jan. of 2020.
Pacific Bonsai Museum shakes up this Japanese tradition with LAB (Living Art of Bonsai), an experimental collaborative for bonsai innovation This project is a re-sequencing in the order of influence between the bonsai artist, ceramicist and stand maker. The project kicks off in 2018 and continues through 2020. A video trailer from a film about this new process can be viewed at http://www.bonsaimirai.com. Other shows include "Gnarly", a tribute to "bonsai renegade" Dan Robinson who helped create the Northwest bonsai scene with his innovative designs. Also on view will be "Living Art of Bonsai: Principles of Design" which emphasizes key elements of the art form. Both shows on view May 11 – Sept. 29, 2019. For more information, go to http://www.pacificbonsaimuseum.org. The Pacific Bonsai Museum is at 2515 S. 336th St. in Federal Way, WA. 206-612-0026 for information.
Portland Art Museum has the following –  "Dramatic Impressions – Japanese Actor Prints" is a group show of woodblock prints of actors on the kabuki stage on view through Oct. 13, 2019. "APEX: Steven Young Lee" showcases this contemporary ceramic artist who takes inspiration from the museum's Korean collection and reconsiders these objects with a contemporary twist. Lee is based in Helena, MT. On view  through August 11, 2019. 1219 S.W. Park Ave. 503-226-2811 or try [email protected].
Bellevue Arts Museum previously had a retrospective for the late N.W. jewelry artist Ron Ho. They follow it up with "Ron Ho: A Jeweler's Tale" which looks more closely at his inspirations and how his Chinese roots and world cultures influenced and fed into his own work. With a reconstruction of his studio and the screening of a new documentary entitled "Ron Ho: Becoming Chinese, A Jeweler's Tale". On view  through Sept. 15, 2019. 510 Bellevue Way. 425-519-0770 or go to bellevuearts.org.
KOBO  at Higo at 604 South Jackson features many small arts & crafts/textile shows and activities inspired by Asia or work by Asian American artists. There is another branch of KOBO on Capitol Hill at 814 E. Roy St. 206-726-0704.
New and recent shows /activities at the The Wing   include the following – "Excluded, Inside the Lines" is on view through Feb. 23, 2020. It uncovers the history of redlining and the impact on minority communities. "A Dragon Lives Here", part 4 of the ongoing Bruce Lee exhibition series is ongoing.  This concluding part hones in on Bruce Lee's Seattle roots and how this region played a key role in shaping Lee and his groundbreaking career. "I Am Filipino" exhibit is ongoing.      Toddler Story Time set for Thursdays at 11am always has events centered around a kid's book and an art activity afterwards.   A new addition to The Wing's daily Historic Hotel Tour is "APT 507" which is the story of Au Shee, one Chinese immigrant woman who helped build Seattle's Chinatown. Her living room is interactive with objects meant to be felt, opened  and experienced.   "Worlds Beyond Here: The Expanding Universe of APA Science Fiction" is a show that remains on view through Sept. 15, 2019. From onscreen actors to behind-the-scenes writers, creators, artists and animators, learn about the impact Asian Pacific Americans have had and continue to have in science fiction. A mix of literary and pop culture works helps viewers to see how science fiction reflects the times they were written in. It addresses issues related to identity, immigration and race, technology, morality and the human condition. Curated by Mikala Woodward. Includes work by Tamiko Thiel, Simon Kono, June Sekigiuchi, Stasia Burrington, relics from George Takei's Sulu character on Star Trek, clips & stills from the film, Arrival" based on Bellevue writer Ted Chiang's story and much more. A group show tentatively titled "Open Housing" shows how community members across the Central Area, Chinatown-ID and Southeast Seattle gather to explore how racial restrictions on where people could live shaped the Seattle we know today and set a vision for those neighborhoods for the next 50 years. Through Feb. 16, 2020 in the New Dialogues Initiative area. Carina del Rosario curates an exhibit entitled "Wide Angle/Close up: A Self Portrait of the Asian Pacific Islander American Community" from May 10, 2019 – April 19, 2020. Includes photography, video, and photo-based installations by photojournalists that document the community from the inside out. Set for the George Tsutakawa Gallery. "Chinatown in the 1970s" recreates Seattle's Chinatown in the 1970's and explores the values and customs that continue to shape the neighborhood today. July 20, 2019 – Jan. 5, 2020 in the KidPLACE Gallery. The Museum is located at 719  South King St. (206) 623-5124 or  visit www.wingluke.org. Closed Mondays. Tuesday – Sunday from 10am – 5pm. First Thursday of each month is free from 10am – 8pm. Third Saturday of each month is free from 10am – 8pm.
Poet Jane Wong, currently teaching at Western University enters a new realm with a debut exhibition centered on family entitled "After Preparing the Altar, the Ghosts Feast Feverishly" at Seattle's Frye Art Museum. Wong explores the themes of hunger and waste and their meaning for immigrant families. Expect altars, sculpture poems and texts that evoke a New Jersey childhood in the Chinese restaurant her parents ran. If she can do with images what she does with words, this show will be sure to haunt. "What is love if not knotted in garlic?" is the title of a free food & poetry workshop with Jane Wong set for Sat., June 29 from noon – 3pm. Free but please RSVP. Held in the Museum's art studio.On view through Sept. 1, 2019. 704 Terry. 206-622-9250 or go to fryemuseum.org.
"Key to the Collection" is a group show that opened Dec. 22, 2018 and it lets TAM show off some of the treasured gifts from their collection including their legacy of Japanese woodblock prints and various other items. Familiar Faces & New Voices: Surveying Northwest Art"  stays on view through the summer of 2019. This group show is a chronological walk through of Northwest art history, illustrated with the works of noted artists from each time period as well as lesser-known but just as important figures. Different works will be displayed throughout the run of this show. Includes the work of Patti Warashina, Roger Shimomura, Joseph Park, Alan Lau (full disclosure, that's me)  and many others. Tacoma Art Museum at 1701 Pacific Ave. 253-272-4258 or email [email protected] or go to www.TacomaArtMuseum.org.
"A Thousand Words' Worth: Washington Authors Tell Northwest Stories Through Historic Artifacts" is a group exhibition in which the Washington State Historical Society asked Northwest writers to pick out a few historic artifacts to tell stories with. The end result is like pulling books off a shelf and reading about the stories they tell. Washington authors Shawn Wong, Jamie Ford, John Okada and Frank Abe are included. On view through August  24, 2019. 1911 Pacific Ave. in Tacoma. 1-888-BE-THERE. For details, go to www.washingtonhistory.org/1000words.
Early tickets are now available for sale for the fifth edition of the Seattle Art Fair set for August 1 – 4, 2019 as presented by AIG. Prices will increase starting July 18, 2019.Held annually at Century Link Field Event Center. Go to seattleartfair.com for details.
"Land of Joy And Sorrow: Japanese Pioneers of the Yakima Valley" is an ongoing exhibit that traces the story of the Japanese families who settled in the Yakima valley. Yakima Valley Museum at 2105 Tieton Dr. in Yakima, WA. 509-248-0747.
Oregon Nikkei Legacy Center presents the following – "Oregon Nikkei: Reflections of an American Community – ongoing. "Allie Takahashi: Fabric & Skin" through July 3, 2019. This Oakland, California artist and tattooer combines collage, painting and installation with the visual language of Japanese woodblock prints to evoke the dynamics of intergenerational trauma and healing within the context of Japanese American experiences. From July 18 – Sept. 22, 2019 will be a museum exhibit that covers Portland Taiko's 25 year history in the region entitled "Portland Taiko 25th Anniversary Exhibition". Beginning this year, visitors can see artifacts of the collection up close as the stacks will be open to see as the staff does filing. 121 NW Second Ave. in  Portland. 503-224-1458 or go to www.oregonnikkeir.org.
The Portland Japanese Garden has the following –Opening June 8, 2019 and on view through July 21, 2019 will be "Forest of Dreams: Ainu And Native American Woodcarving". 611 SW Kingston Ave. in Portland, Oregon. 503-223-1321 or go to japanesegarden.org.
The Jordan Schnitzer Museum of Art located on the campus of the University of Oregon in Eugene has the following – "Graceful Fortitude: The Spirit of Korean Women" is on view through August 4, 2019. It includes art created by, for and/or about Korean women in all media from the twelfth to the twenty-first century. "Reflections of the Cosmic Web: Intricate Patterns in Daoist Art" remains on view through June 17, 2019. "Vibrance and Serenity: Art of Japanese No Traditional Theatre is on view through July 7, 2019. It covers the history and performance of No theatre using selected prints by Tsukioka Kogyo (1869 – 1927). Upcoming exhibits include the following –  "Evocative Shadows: Art of the Japanese Mezzotint" is on view from July 27, 2019 – August 30, 2020. This show celebrates the history of this genre which produces a broad tonal range of deep blacks through bright whites. "Kwang Young Chun: Aggregations" from August 24, 2019 – June 28, 2020. This South Korean artist combines hundreds of paper-wrapped parcels to create sculptural compositions that resemble crystal formations, asteroids of the surface of the moon.1430 Johnson Lane in Eugene, Oregon. 541-346-3027.
Vancouver Art Gallery has the following – On view through Sept. 2, 2019 is "Moving Still: Performative Photography in India" which explores the themes of migration, gender, religion and national identity through the lens of performative photography. Curated by Diana Freundi and Gayatri Sinha. 750 Hornby St. Vancouver BC Canada. 604-662-4719.
Nikkei National Museum presents the following – The museum  has numerous online exhibits as well as offsite exhibits. Ongoing on Level 2 is an ongoing exhibit entitled "Japanese Canadians Since 1877." The main exhibition space  is currently under construction and re-open in the near future. Check their website for details. The Nikkei National Museum is at 6688 Southoaks  Crescent in Burnaby. 604-777-7000 or go to nikkeiplace.org.
Chinese Cultural Centre Museum has the ongoing exhibit "Generation to Generation – History of Chinese Canadians in British Columbia." 555 Columbia St. Vancouver, BC. 604-658-8880.  Admission by  donation.
An ongoing exhibit entitled "Call for Justice: Fighting for Japanese Canadian Redress (1977-1988)" is on view at Nanaimo Museum at 100 Museum Way in Nanaimo, Canada. 250-753-1821 or go to nanaimomuseum.ca.
Art Gallery of Greater Victoria has two shows and a video installation related to Japan. "Fiona Tan: Ascent" has the international artist presenting a montage film and accompanying photo installation that studies the significance of Mt. Fuji in Japanese visual culture. Opening March 9 is "Quiet Nature: The Woodblock Prints of Walter J. Phillips. This exhibit considers the influence of Japanese printmakers on the artist and his important role in popularizing the Japanese woodcut tradition in Canada. "Landscapes of Edo: Ukiyo-e Prints from the AGGV Collection" showcases key works from the museum's extensive collection of Japanese prints. Opening July 5 and on view through Sept. 15, 2019 is "Imagining Fusang: Exploring Chinese and Indigenous Encounters", a group show where artists explore and speculate upon early encounters and interactions between indigenous peoples and Chinese communities that settled on Vancouver Island. Curated by Haema Sivanesan.1040 Moss St. in Victoria, BC. 250-384-4171 or go to aggv.ca.
"We Were Always Here: Japanese American Post-War Pioneers of Art" is a group show currently on view at Heather James Fine Art in San Francisco through July 15, 2019. It includes work by Ruth Asawa, Isamu Noguchi and Kay Sekimachi in dialogue with Yayoi Kusama, Masami Teraoka who chose the U.S. as their home for some time. Also on view are paintings by Tadasky Kuwayama, George Miyasaki, Sadamasa Motonaga, Masako Takahashi, Kikuo Saito, Kumi Sugai, Teruko Yokoi and others. The show also includes sculpture by Nakatomi Hajime, Ueno Masao, George Nakashima, Honda Syoryu, Nakamura Tomonori and others. 49 Geary St on the 5th floor in #511. 415-872-9495.
Asian Art Museum, San Francisco has the following "Changing And Unchanging Things: Noguchi And Hasegawa in Postwar Japan" on view Sept. 27, 2019 – Dec. 18, 2019. This looks at a pivotal moment for both artists. Noguchi was returning to Japan after many years and Hasegawa had spent many years away in Europe. Together they discussed the many possibilities of combining Japanese tradition with outside influences they had had discovered on their travels. Noguchi would go on to design major permanent sculptural installations around the world and Hasegawa would become a strong influence on America's zen-inspired "Beat Movement." 200 Larkin St. 415-581-3500.
Berkeley Art Museum has the following – The work of Heesoo Kwon and Connie Zheng is included in a group show, "The 19th Annual University of California Berkeley Master of Fine Arts Graduate Exhibition" through June 16, 2019. "Divine Women, Divine Wisdom" is on view June 26, 2019 – Jan. 12, 2020. It features art from South Asia and the Himalayan region that celebrates the wisdom, power and compassion of women within the context of Hindu and Buddhist traditions. "Meditation in Motion: Zen Calligraphy from the Stuart Katz Collection" on view July 17 – Oct. 20, 2019. Important works by Chinese Obaku monks who immigrated to Japan and the work of Japanese monks who expanded on their examples.155 Center St. in Berkeley, CA. 510-642-0808 or go to [email protected].
The Museum of Craft And Design present "Wanxin Zhang – The Long Journey" on view through July 14, 2019. The artist spent his formative years in China under Mao's regime. After moving to California in the early 1990's he became inspired by the work of Voulkos, Arneson and De Staebler. This exhibition is a survey of his ceramic sculpture from 2006 to 2017 in which California Funk meets the Chinese historical monumental clay figure tradition. Presented in partnership with the Catherine Clark Gallery with an exhibition catalog.  2569 Third St. in San Francisco. 415-773-0303 or try [email protected].
LACMA or Los Angeles County Museum of Art  has "The Jeweled Isle: Art from Sri Lanka" through June 23, 2019. This is the first comprehensive survey of Sri Lankan art organized by an American museum. 5905 Wilshire Blvd. 323-857-6010.
The Japanese American National Museum has the following shows  – "Common Ground: The Heart of Community." This overview exhibit of Japanese American history is ongoing. Opening May 25 and going on through Oct. 20, 2019 is "At First Light: The Dawning of Asian Pacific America". This multi-media exhibition celebrates and explores the emergence of a politically defined Asian Pacific American consciousness and identity. It draws on the archives of Visual Communications and the museum itself. 100 N. Central Ave. in Los Angeles. 213-625-0414 or go to http://www.janm.org.
Japanese sculptor Miho Dohi recently had her first West Coast show at Nonaka-Hill Gallery in Los Angeles. She takes basic materials such as fabric, yarn, paper-mache, wood, brass, copper and wire to form new components into an assembled sculpture while constantly changing direction of each new object's center of gravity in presentation. The gallery is located at 720 N.  Highland Ave. 323-450-9409  or try nonaka-hill.com.
"Chiura Obata: An American Modern" is the first retrospective of this noted Bay area artist whose work reflected the glories of the American landscape from the Grand Canyon to Yosemite. His influence could also be felt at UC Berkeley where he had a distinguished teaching career. He also helped found art schools in internment camps during WWII.  Curated by ShiPu Wang with a catalogue. The exhibition travels to the following sites. June 23 – Sept. 29, 2019 at Crocker Art Museum in Sacramento.
The Freer/Sackler Gallery on the Smithsonian Mall shows you how religion and art mix in "Encountering the Buddha: Art and Practice Across Asia through Nov. 29, 2020. 202-633-1000 or go to FreerSackler.si.edu for details.
The blue dress that Constance Wu wears in the film "Crazy Rich Asians" designed by Marchesa will be donated to and displayed in the Smirthsonian's National Museum of American History in Washington D.C.
The Metropolitan Museum of Art has the following – "Seeing the Divine: Pahari Paintings of North India" through July 21, 2019.   Through Oct. 27, 2019 is  a major sculpture exhibition from  the 18th & 19th century era in the Pacific Islands entitled "Atea: Nature And Divinity In Polynesia." "Celebrating the Year of the Pig" through July 28, 2019. "Essential Korea" through Sept. 22, 2019. "Streams and Mountains Without End: Landscape Traditions of China" through August 4, 2019. "The Tale of Genji – A Japanese Classic Illuminated" through June 16, 2019. "Children to Immortals: Figural Representation in Chinese Art" through Feb. 23, 2020. 1000 Fifth Ave. New York, New York. Go to metmuseum.org for details.
The Rubin Museum of Art has the following shows – "Faith And Empire: Art And Politics in Tibetan Buddhism" gets a full survey including offerings from the museum's own collection and objects from the Musee Guimet in Paris, the Cleveland Museum of Art and other institutions. On view through July 15, 2019.  "The Power of Intention- Reinventing the (Prayer) Wheel" brings together select examples of traditional and contemporary art to illuminate the relationship between our intentions, commitments and actions. On view  through Oct. 14, 2019. "The Wheel of Intentions" is an interactive installation on view through Jan. 6, 2020. 150 W. 17th St.  New York, New York. 212-620-5000×344 or go to rubinmuseum.org.
The Japan Society has the following – "Radicalism in the Wilderness: Japanese Artists in the Global 1960's" is a look at the radical experiments of artists from 1960s Japan little known in the U.S. such as Yutaka Matsuzawa, The Play and GUN art collectives. On view through June 9, 2019. 333 East 47th St.  212-263-1258.
The Museum of Chinese in America has the following –"With a Single Step: Stories in The Making of America" chronicles the history of the museum through Dec. 31, 2020. From May 2 – Sept. 15, 2019 is "The Moon Represents My Heart: Music And Belonging" which explores the tradition of music in Chinese communities. 215 Centre St. New York, NY. 855-955-MOCA or go to mocanyc.org.
The Asia Society Museum in New York presents the following – "M. F.  Husain: Art And the Nation" focuses on the artist's mural-sized painting created for Indira Gandhi's Congress Party rally in 1975. On view through August 4, 2019. "Reza Arameshi: 12 Noon, Monday 5 August, 1963" is a show in which the artist Reza Aramesh examines the power balance between the captor and and captive and the aestheticization of violence in media coverage of wartime atrocities. On view through June 9, 2019. "Masterpieces from the Asia Society Museum Collection" is a group show on view through August, 2019.To find out more, go to AsiaSociety.org/NY. 725 Park Ave. New York City, New York. 212-327-9721 or go to www.asiasociety.org for more details.
The Noguchi Museum has the following – "Rotating Objects" by Gabriel Orozco in which the artist takes Japanese objects and embellishes them in his own style on view through August, 2019. "Changing And Unchanging Things" Noguchi & Hasegawa in Postwar Japan" featuring this historic meeting in post WWII Japan between two artists influenced by Japanese tradition and Western modernism  and how to create a new fusion of both. May 1 – July 14, 2019.  9 – 01 33rd Rd, Long Island City, NY. 718-204-7088.
China Institute Gallery presents "Art of the Mountain: Through the Chinese Photographer's Lens" on view through August 28, 2019. Located at 100 Washington St. (visitor entrance is at 40 Rector St . on the 2nd floor) in New York. 212-744-8181 or go to www.chinainstitute.org.
Tallur L. N. is an Indian sculptor who combines Indian craft traditions and novel sculptural techniques to infuse ancient iconography with contemporary meanings. "Multiplicity"  is a show that has around thirty works in a variety of mediums, from carved stone and wood to cast bronze and concrete to found objects. May 5, 2019 – Jan. 5, 2020. Grounds for Sculpture at 80 Sculptors Way  in Hamilton, New Jersey.609-586-0616 or info@grounds for sculpture.org.
"Forward Press: 21st Century Printmaking" is a group show of printmakers who break rules in printmaking to immerse and overwhelm the viewer with large scale installations. Curated by Susan Goldman, the artists use 3D, printed fabric, inkjet printing, laser-cut technology, video and whatever works to get their art across. The work of Sangi Yoo entitled "Dazzle Dazzle" does just that with incised forms and shadow play to evoke the suburbia of her Korean childhood and her current home in Texas. On view at American University Museum at  the Katzen Arts Center, 4400 Massachusetts Ave. NW in Washington  D.C. through August 11, 2019. Free. Go to American.edu/museum for details.
"The Life of Animals in Japanese Art" is a group show on view through August 19, 2019 at the National Gallery of Art . It covers 17 centuries, a wide variety of media drawn from Japanese and American public and private collections and seven items are deemed Important Cultural Properties by the Japanese government. The exhibition is complimented with a series of lectures, gallery talks and programs during the run of the show. On Constitution Avenue NW on the National Mall. 1-202-737-4215 or  try nga.gov.
Museum of Fine Arts Boston has the following – "Conservation in Action – Japanese Buddhist Sculpture in a New Light" on view through June 30, 2020. 9300 Avenue of the Arts. 465 Huntington Ave. Go to mfa.org or call 617-267-9300.
The Peabody Essex Museum has the following – "Wild Designs" is a group show that features artists and innovators who look to nature and living systems for new ideas and creative solutions to human problems. On view through August 4, 2019. "Japanomania! Japanese Art Goes Global" through Jan. 3, 2021.  "Mega City: India's Culture of the Streets" on view through June 28, 2020. "Double Happiness: Celebration in Chinese Art" through Jan. 3, 2020. Opening June 22, 2019 and remaining on view through Jan. 19, 2020 is Kimsooja's "Archive of Mind." This is a participatory installation with visitor assistance that builds over the course of the exhibit. Museum visitors are encouraged to sit at the space and form a fall of clay with their own hands. Thousands of clay spheres will be generated through small individual gestures that reveal the emotional traces of their makers and cumulatively generate a complex array of texture, scale and tone.  Opening June 1, 2019 and remaining on view through May 17, 2020 is "A Lasting Memento: John Thomson's Photographs Along the River Min". Scotsman John Thomson is considered to be one of the first photographers to document East and South Asia. This exhibit takes us back to an earlier time. It features more than 40 landscapes, city views and portrait studies. The show is complemented by a selection of photographs by contemporary artist Luo Dan who was inspired by Thomson to undertake his own journey in Southwestern China in 2010. 161 Essex St. in Salem, Massachusetts. 816745-4876 or go to pem.org.
"Shinto: Discovery of the Divine in Japanese Art" is on view in two parts at the Cleveland Museum of Art. The second part is on view now through June 30, 2019. The exhibit was a 13 year labor of love to organize. It's a panoramic view of a religious tradition central to Japanese culture, history and identity.  More than a dozen Important Cultural Properties are on loan from Japan with more than 100 objects spanning nine centuries encompassing garments, calligraphy, paintings on scrolls and folding screens, masks, sculptures, decorative objects and portable shrines from some of the best collections in America and Japan. Because the objects shown are light-sensitive and of fragile quality, the show's contents had to be rotated in two parts. The show will only be shown in Cleveland before the objects on loan are returned. 11150 East Blvd. 216-421-7340 or try clevelandart.org.
"Empresses of China's Forbidden City", the first major international exhibition to explore the role of empresses in  China's Qing Dynasty (1644-1912). Includes many works never seen before in the U.S. Freer/Sackler Gallery at the Smithsonian Mall in Washington D.C. Through June 23, 2019.
A show of prints by the late Seattle artist Munio Makuuchi is set from August – December, 2019. Art historian Margo Machida will write the catalog essay. 20 Elm St at Bedford Terrace in Northhampton, MA. 413-585-2760 or go to [email protected].
The Minneapolis Institute of Art has the following – "Without Boundaries: Fiber Sculpture & Paintings by Women Artists" featuring work by Yayoi Kusama through July 21, 2019. "Emblems of a Prosperous Life: Women's Robes of Late Imperial China (1700s-1800s) through June 30, 2019. Minneapolis  Institute of Art. 2400 Third Ave. S. Call toll free at 888-642-2787.
"Being Japanese Canadian: reflections on a broken world" is a group show that focuses on the internment camp experience during WWII for Japanese Canadians. Includes the work of Lillian Michiko Blakey, David L. Hayashida, Emma Nishimura, Steven Nunoda, Laura Shintai, Norman Takeukchi. Marjene Matsunaga Turnbull and Yvonne Wakabayashi. On view through August 5, 2019. "Gods in Any House: Chinese New Year with Ancestor Portraits and Deity Prints" is also on view though Sept. 29, 2019.  Royal Ontario Museum at 100 Queens Park in Toronto, Ontario, Canada. Go to rom.on.ca for details.
The work of beloved Japanese manga artist Urasawa Naoki is highlighted in a show entitled "This is Manga – The Art of Urasawa Naoki" now on view through July 28, 2019 at Japan House in London. Contains more than 400 original drawings and storyboards by the artist. 101-111 Kensington High St. 44-20-3972-7100 or try [email protected].
Indonesian-born, Amsterdam-based filmmaker Fiona Tan mixes found and original footage in her work to blue categories. Here, she uses color advertising footage from Agfa to explore notions of authenticity and normalcy in West Germany. May 4 – August 11, 2019.  Museum Ludwig in Cologne, Germany. Heinrich-Boll-Platz, 50067 Koln, Germany. +49 221-221-26165 or [email protected].
"Peekaboo" is the playful title of a show that details the career of artist Tomoo Gokita comprised of figurative and abstract pieces, an installation and a series devoted to wrestling and music. Through June 24, 2019. Tokyo Opera City Art Gallery has the following shows. 3-20-2 Nishi-Shinjuku, Shinjuku-ku, Tokyo,Japan. +81- (0) 3-5353-0756.
National  Museum of Modern Art, Tokyo has a show of works from their collection on view until Oct. 20, 2019. The show features currents in Japanese modern and contemporary art from the beginning of the 20th century to the present. 1-1 Kitanomaru-koen, Chiyoda-ku, Tokyo, Japan. +81 3-5777-8600.
The Mori Art Museum has the following – Coming up is the highly anticipated exhibition for Berlin-based installation artist Shiota Chiharu entitled "Shiota Chiharu: The Soul Trembles" which is on view June 20 – Oct. 27, 2019. A show tentatively entitled "The Future And Arts" is set for Nov. 19, 2019 – March 29, 2020. T106-6108, Tokyo, Minato City, Roppongi, 6 Chome – 10-1 Japan. +81  3-5777-8600.
"teamLab*Borderless" houses works by this hi-tech art group in the Mori Building Digital Art Museum. With computer-graphic projections of animals, plants and objects from nature to  light sculptures and a forest of lamps. On view indefinitely. Aomi Station, Odaiba, Tokyo, Japan. 03-6406-3949.
"Abstraction: Aspects of Contemporary Art" is on view through August 4, 2019. Looks at examples of abstract art that have emerged from the West since the 1980s. The Museum of Contemporary Art, Osaka. 4-2-55 Nakanoshima, Kita-ku, Osaka,  Japan.
Noted American architect I. M. Pei recently passed away at the age of 102. Pei was born in Suzhou, China and raised in Hong Kong and Shanghai. An early fascination with Hollywood movies led him to consider applying to American colleges. He started at the University of Pennsylvania, eventually transferring and graduating from MIT. Studying architecture, he was inspired by Le Corbusier and Frank Lloyd Wright. He later became a professor at Harvard and started with the firm of Webb and Knapp. In the 50s and '60s, he made his mark with his own projects and gained recognition when Jacqueline Kennedy selected him to design the John F. Kennedy Library. He designed a new building for the National Gallery of Art, a renovation of The Louvre, the Rock and Roll Hall of Fame, Doha's Museum of Islamic Art and the Suzhou Museum near his birthplace. He was the first foreign architect to work on the Louvre and although his ideas were initially opposed, time has shown that positive recognition ruled in his favor. He was noted for his versatility and use of materials. He received many awards in his lifetime including the Pritzker Prize, the highest honor of the architectural world. He would  go on to use the prize money to set up a fund to help Chinese architects working in the U.S. My own personal favorite design of his is the Miho Museum set in the hills west of Kyoto, Japan. Pei called the project his "Shangri-La", a reference to a Chinese folktale of a peach orchard in full bloom that led to a small cave that led to an enchanted land. The entryway here is a tunnel drilled through a mountain that gives the viewer pause and expectation as to what lies ahead. Though some of his designs were innovative, he never sought that as a goal. "Stylistic originality is not my purpose, I want to find the originality in the time, the place and the problem."
Seattle fashion designer Luly Yang is featured in a story entitled "Our Style" by Hannelore Suderman about the current show on Seattle fashion at MOHAI. In the June 2019 issue of Columns – The University of Washington Alumni Magazine.
Performing Arts
Singer/songwriter/violinist Kishi Bashi (Kaoru Ishibashi) will premiere his new recording "Omoiyari" on Sun., June 16 at 7pm. It features songs about the internment of Americans of Japanese ancestry during WW II. An accompanying documentary "Omoiyari: A Songfilm by Kishi Bashi" will follow next year (Go to omoiyarisongfilm.com for details). At Seattle's Washington Hall at 153 – 14th Ave. 206-853-2365.
STG presents their 21st annual version of "Dance This!", a celebration of world cultures through the universal language of dance. This year's program includes performances by Massive Monkeys, the Prashanthi Chitre Institute of Performing Arts and United Pacific Islander Impact. July 12 at 7:30pm. The Moore Theatre at 1932 2nd ave. 1-800-982-2787 or go to stgpresents.org.
The Gardner Center for Asian Art and Ideas' annual outdoor World Music Series features free world music at the Volunteer Amphitheater by the Asian Art Museum in Volunteer Park. The BKO Quintet mix contemporary music of Mali with rural and the  Mandinka griot oral storytelling tradition of the Bambara people on July 12. Ganesh Rajagopalan is one of India's best violinists who crosses boundaries in jazz, folk, blues and Hindustani music and he performs July 19. Emi Meyer was born in Kyoto to a Japanese mother and American father but raised in Seattle. This singer/songwriter shares her songs that blend jazz, soul and pop on July 26. All concerts are free and begin at 7pm in the park. Go to visitsam.org/gardnercenter for details.
Future Seattle Opera productions include the following – "Rigoletto – The Cost of Corruption" August 10, 11, 14, 17, 18, 23,24, 25 & 28, 2019. Yongzhao Yu makes his Seattle Opera debut as the Duke of Mantua. "Charlie Parker's Yardbird – The Man Behind A Legend" with music by Daniel Schnyder and libretto by Bridgette A. Wimberly. Plays Feb. 22, 23, 26, 29 AND March 1, 4, 6 & 7, 2020. Kelly Kuo will make his Seattle Opera debut as conductor for the orchestra for this production.
In the fall, Seattle Symphony begins a new season under new conductor Thomas Dausgaard. Some highlights include the following – Dynamic classical pianist Lang  Lang returns from a previous injury to perform a program of Sibelius, Beethoven and Mozart on Wed., Oct. 9 at 7:30pm. Masaaki Suzuki conducts Seattle Symphony in a concert of the "Mozart Requiem" on Oct. 17, 19 & 20, 2019. The program also includes Takemitsu's "Requiem for String Orchestra". Beatrice Rana is the concert pianist on a performance of "Schumann Piano Concerto"  on Oct. 24 & 26, 2019. Byron Schenkman & Friends presents international competition winner and Seattle native Rachell Ellen Wong in concert with Byron Schenkman in a program of "Brahms, Dvorak and Still" on Oct. 27. 2019. Lawrence Loh conducts Seattle Symphony in a program entitled "The Movie Music of John Williams" on Nov. 8, 9 & 10, 2019 as part of the "Pops Series".  Moving on to 2020, the annual "Celebrate Asia" concert has Tianyi Lu conducting and Gaurav Mazumdav on sitar and Conrad Tao on piano in a program of compositions by Huang Ruo, Reen Esmail, Conrao Tao and Gershwin. Eun Sun Kim conducts the orchestra with Elisa Barston on violin in Tchaikovsky's "Symphony No. 8" on March 12 & 14 with a special "Tchaikovsy Untuxed" concert on March 13. Pianist Aimi Kobayashi participates in "Bach Fest 1" on May 21 with conductor Ryan Bancroft and fellow pianist Alexandra Dovgan. All concerts at Benaroya  Hall in downtown Seattle. 200 University St. Go to seattlesymphony.org for details or call 206-215-4747.
ArtsWest concludes their current season with Justin Huertas's musical, "The Last World Octopus Wrestling Champion" which premieres June 20 – July 28, 2019. ArtsWest has also announced their new 2019/2020 season entitled "Agents of Change" which looks at revolutions and the people who participate in them. The prolific and talented playwright/director/actress Sara Porkalob returns with a new play and a world premiere for the new season. "Alex and Alix" looks at the unseen forces that shape the way we remember love and a moving meditation on memory, trauma and healing. Two women in love  and one name. Set for April 30 – May 24, 2020. Learn more details about the entire new season at artswest.org. ArtsWest is located in West Seattle at 4711 California Ave. SW.
Canadian playwright Ins Choi's award-winning family comedy "Kim's Convenience" (CBS television adaption was recently added to Netflix) comes to Taproot Theatre's 2019 season titled "Family Ties". On Stage May 15 – June 22, 2019 as co-directed by Scott Nolte and David Hsieh. A Korean Canadian family learns to live with their own faults, get along and forge ahead in this heartwarming comedy about the foibles and blessings of family. Go to taproottheatre.org for tickets. 204 N. 85th St, in Seattle's Greenwood neighborhood. 206-781-9705.
The Forum at Town Hall presents Anna Fifield in a talk entitled "Understanding Kim Jong Un." To understand North Korea and its significance in our modern political landscape, Fifield contends that we must understand the man who leads it. On Sunday, June 16 at 7:30pm. 1119 8th Ave. 206-652-4255.
Seattle-based Japanese singer/songwriter Kuniko Matsumura has a concert set for Sat., Sept. 7 at 12:30pm. $20 tickets. At the Chapel on the fourth floor of the Good Shepherd Center located at 4649 Sunnyside Ave. N. For tickets go to https://www.brownpapertickets.com/event/4109410. For more information, go to https://kunikoafternoon.godaddysites.com.
Seattle Contemporary Dance Company, Whim W'him's new season will include "Choreographic Shindig V", this 5th annual series kicks off the company's new Season X. It includes the choreography of New York-based choreographer Yoshito Sakuraba as well as the work of Kyra Jean Green and Joshua Manculich.  Sept. 13 – 15 & 18 – 21 at 8pm.  Erickson Theatre Off Broadway. 707-350-9446 or go to whimwhim.org/season.
Closing Café Nordo's present season will be "7th & Jackson" written by the multi-talented Sara Porkalob and set for July, 2019. Three Seattle friends haunt the speakeasys listening to jazz before WW II and share a dream to open a night club of their own. When the bombing of Pearl Harbor and rising WWII tensions tear apart homes, the friends separate but never lose sight of their dreams. Café Nordo is at 109 South Main. Go to www.cafenordo.com to find out more about their new season and how you can get tickets.
The Seattle International Dance Festival brings the best in dance from around the world and across the region. It takes place June 7 – 22, 2019 at various venues in the Puget Sound area. Includes many dance companies such as ARC Dance Co. led by Marie Chong, Alex Ung/The Guild Dance Co., Ka-Nei-See and many others. 888-377-4510 or try [email protected].
The Asia Pacific Cultural Center in Tacoma sponsors numerous events to highlight the diversity of Asian Pacific American culture. A "Polynesian Luau" is set for August 17 at 3pm. Includes cultural dances, live music,, island cuisine, cultural booths and a special performance by fire dancer Kapte'o-Tafiti. On Sept. 21 from 11am – 5pm, the "Chu Seck Korean Festival" takes place with Korean performing art, cultural activities and food booths.   The Center also has  "Taste of Asia: A Cooking Series" in which participants are encouraged to learn, cook and taste. All classes are monthly from 11am – noon. The schedule is as follows – July 6 is India, August 3 is Indonesia, Sept. 7 is Burma, Oct. 6 is Japan, Nov. 2nd is the Marshall Islands and Dec. 7 is Samoa. APCC is at 4851 South Tacoma Way in Tacoma. 253-383-3900 or go to apcc96.org.
Lauren Yee's "Cambodian Rock Band" with songs by Dengue Fever as directed by Chay Yew will be performed March 6 – Oct. 27, 2019 at the Thomas Theatre as part of the Oregon Shakespeare Festival. This musical play tells the story of a young woman trying to piece together her family history thirty years after her father  fled Cambodia. 15 South Pioneer St. in Ashland, Oregon. 1-800-219-8161.
ARC Dance Company as directed by choreographer Marie Chong celebrates their 20th anniversary with concerts planned in August of 2019. But first if you've ever had the urge to see how a dance company prepares and works on a concert, you're in luck. In preparation for the August concerts, ARC presents a "Sneak Peek Rehearsal" on Sat., July 20 and Sat., July 27 both at 5pm for visitors to get a look on what they are working on. At the ARC Dance space located at 9250 – 14th Ave. N.W. Go to http://arcdance.org/contact/ for details. "ARC at 20: A Twentieth Anniversary Retrospective Performance" takes place on August 10 & 11 at Bagley Wright Theatre in Seattle Center. Includes choreography by Wen Wei Wang, Edward Liang, Wade Madsen, Marie Chong (ARC founder/director) and many others. A two  day retrospective festival of the best and boldest work the company has to offer. 155 Mercer St. Go to arcdance.org for details and to Brownpapertickets.com to order online.
On the Boards has announced twelve artists/companies selected for the 2019 NW New Works Festival set for June 12 – 16, 2019. Among the names are Dakota Camacho, a rapper/hip hop dancer/performance artist, choreographer/dancer Imana Gunawan, flautist/taiko player Leanna Keith and dancer/choreographer Naomi Macalalad Bragin. Congratulations to all!
The Asian Pacific Cultural Center presents "Stars of the East" which highlights performing arts from Korea, China and Japan. On Sat., June 15 at 7pm. At the Federal Way Performing Arts and Event Center. 31510 Pete von Reichbauer Way S. in Federal Way. 253-835-7010 or go to www.fwpaec.org.
Coeurage Theatre Company is L.A.'s Pay What You Want theatre company. They opened their 10th anniversary season with "Samsara" by Laureen Yee and directed by Rebecca Wear. The play is about a young American couple who are having a baby via a surrogate in India. The husband reluctantly goes to India to meet Suraiya, their young and less than enthused surrogate. As the three await the upcoming birth, tensions rise.  At the Met Theatre in May, 2019. 1089 N. Oxford. 323-944-2165 or go to www.coeurage.org/buytickets.
Playwright David Henry Hwang and composer Huang Rao have transformed Hwang's play "M. Butterfly" into an opera. The World Premiere takes place at Santa Fe Opera. Directed by James Robinson. Cast includes David Bizic, Kangmin Justin Kim, Herya Hyesang Park, Kevin Burdette and Joshua Dennis. Musical Conductor is Xian Zhang. Performances on August  1, 5, 14, 19 & 26, 2019. 1-800-280-4654 or go to santafeopera.org.
Qui Nguyen, award-winning playwright of "Vietgone" has a new play entitled "Poor Yella Rednecks." It recently played the South Coast Repertory's Pacific Playwrights Festival and is part of a five-play series of his family's journey to America and their settling down in El Dorado, Arkansaw and the struggle to survive amid the crisis of cultural assimilation. It plays in 2020 at Manhattan Theatre Club and the Oregon Shakespeare Festival.
Opera star Ying Fang is profiled in the series "What It Takes To Light Up The Stage – The New York Issue" which was a recent special feature in the New York Times.
UW graduate Marc delaCruz made history in January, 2019 when he took to the stage to perform the title role in "Hamilton: An American Musical" as an understudy. He became the first Filipino and the first Asian American to play that lead role in this popular musical. The actor who was born in Hawai'i is of Filipino-Japanese descent. He is featured in the June 2019 issue of Columns – The University of Washington Alumni Magazine.
Hong Kong singer/songwriter Anthony Wong's song about the Tianamen Square massacre entitled "Is It A Crime" done with Tats Lau Yee-Tat questions what constitutes a crime in China. Together the two are known as Tat Ming Pair. They've been questioning government policy with their mix of danceable rhythms and pointed social observations since 1986. The song has topped Hong Kong's iTunes chart. The group is banned in China and commercial sponsorships and endorsements have all but dried up due to government pressure.
Nikki Chooi, the Canadian violinist who shared concertmaster duties at the MET in 2016-17 has been appointed concertmaster at the Buffalo Philharmonic.
Film & Media
"Gum Saan to Golden Spike" was a completely UW student produced short film on the story of a Chinese American family and their role in the building of the transcontinental railroad. A miracle project that was made on a $5000 shoestring budget, it screened at the UW Ethnic Cultural Center to a positive response. Plans are for more screenings in the future.
Northwest Film Forum has the following – "Asako I & II" is Ryusuke Hamaguchi's  Palme d'Or-nominated romantic drama about a second chance at love. When Asako's first love suddenly disappears, she gets a second chance when she meets his perfect double. But is love something that's too good to be true? Screens June 8 & 9 at  4:30pm  & 7:30pm. June 10 & 11 at 4pm. June 12 & 13 at 8pm. "Blowin' Up" is a documentary film by Stephanie Wang-Breal that looks at an experimental court in Queens that focuses on advocating for rather than bringing to trial, women brought in on prostitution – human trafficking-related charges, encouraging them to exit "the life." Screens July 19 at 8pm and July 20 & 21  at 4:30pm and 7:30pm. Northwest  Film Forum at 1515 – 12th Ave.  206-329-2629.
The Grand Illusion Cinema has the following –"Made in Abyss: Journey's Dawn" is based on the acclaimed manga by Akihito Tsukushi. It tells the tale of a young girl's ascent into a mysterious abyss and the search for her missing mother with a young boy robot guide. Animation by Kinema Citrus and artwork direction by Osamu Masuyama who worked on "Howl's Moving Castle", "Ponyo" and "Spirited Away" for Studio Ghibli. Directed by Kojima Masayuki. June 8 at 2:30pm (subtitled) & June 9 at 2:30pm (dubbed in English). The adventures continue with "Made in Abyss: Wandering Twilight" as our heroine dives deeper to the bottom of the abyss to  uncover more secrets of her origins. Screens June 24 at 6:30pm (subtitled) & June 26 at 6:30pm (dubbed in English). Opening July 6, 2019 is "Funan", a new animated film by Dennis Do that tells the story of a family in Cambodia who are torn apart by the forced migrations of the 1970's ordered by the Khmer Rogue. It focuses on the parents and their efforts to get free and find their son. Do is Cambodian but was born and raised in France. 1403 NE 50th St. in the University District. 206-523-3935 or email [email protected].
"Funan", Dennis Do's animated film of a mother and father who lose their son during the forced migrations ordered by the Khmer Rogue and their efforts to find him will open on July 2 at the Grand Theatre in Tacoma. 606 Fawcett Ave. 253-593-4474.
The annual Seattle International Film Festival is set from May 16 – June 9, 2019. Here is a brief run-down of the films from Asia and Pacific Islands as well as films with Asian Americans. "Driveways" by Korean American director Andrew Ahn ("Spa Night") serves up a bittersweet drama of a sensitive Asian American boy who becomes friends with a reclusive white retiree next door. June 7 at SIFF Uptown at 7pm and June 8 at SIFF Uptown at 12:30pm. Director Ahn will attend the June 8 screening. "Go Back To China" is a film from China by Emily Ting. A spoiled Chinese woman living it up in the U.S. on her father's dime gets a rude awakening when he cuts her off and makes her work in the family toy factory back in China. Screens on  June 5 at 6pm at SIFF Uptown and again on June 6 at 4pm at SIFF Uptown. "House of Hummingbirds" is a film by South Korean director Bora Kim. It is the story of a 14 year old girl who struggles with social pressure, her sexuality and an indifferent family in the summer of 1994. A sympathetic teacher  tries to help. On June 7 at SIFF Uptown at 8:30pm & on June 8 at SIFF Uptown at 11:30am. "House of My Fathers" is a Sri Lankan film by Suba Sivakumaran. It is a magical-realist fable inspired by the real-life conflict between the Sinhalese and Tamils. A man and woman form opposing communities meet to remove the curse that afflicts both sides. June 6 at 9:30pm at AMC Pacific Place. "Long Time No Sea" is a film by Heather Tsui from Taiwan. This box-office smash in Taiwan is a tale of a Tao indigenous boy yearning to see his father again and a rookie teacher who helps train him for a dance competition.  June 6 at 7pm at AMC Pacific Place and June 8 at 4pm at AMC Pacific Place. Two actors from the film will attend both Pacific Place screenings for a Q. & A. "Stray Dolls" is an American film by Sonejuhi Sinha about a South Asian immigrant woman who takes a job at a seedy hotel that pulls her into a world of crime that begins to spiral out of control. June 5 at 8:30pm at SIFF Uptown and June 7 at 1pm at SIFF Uptown. "Ten Years Thailand" is a Hong Kong film that has four Thai filmmakers look to the future and imagine their country a decade from now in visions surreal, satirical and dystopian.  June 5 at 9:30pm at SIFF Egyptian. "The Legend of the Stardust Brothers" from Japan by Macoto Tezuka. This lost gem of 1980s cinema is a send-up of rock stardom that mashes up "Rocky Horror Show" with "A Hard Day's Night". This is a cult classic by the son of the godfather of manga.  June 6 at 9:30pm at SIFF Uptown. "The Farewell" is an American film by Lulu Wang. It is the "Closing Night Gala" program of SIFF 2019. It is a star vehicle for Awkwafina who plays a woman returning to China to celebrate a birthday for her terminally ill grandma who doesn't know she is dying. June 9 at 6pm at SIFF Egyptian with the director in attendance. The Festival's closing night party follows afterwards at MOHAI. "Watch List (Maria)" by Ben Rekhi from the Philippines. It is a crime thriller about a widowed mother who enters Manila's dark underworld to find out who murdered her husband. June 7 at 8:45 pm at AMC Pacific Place and June 8 at 3pm at SIFF Uptown. British South Asian actor Himesh Patel stars in Danny Boyle's ("Slumdog Millionaire") UK film, "Yesterday". It is a rock 'n' roll comedy about a struggling singer/songwriter who leaps to fame by being the only one in the world who still remembers Beatles' songs. Will he cash in at the risk of losing his loyal girlfriend? This is the New American Cinema Closing Night Film on June 9 at 6pm at SIFF Uptown with a closing night party at MOHAI to follow.  Go to siff.net for complete details about the festival.
Director Lulu Wang won a 2019 Vanguard Award from the Sundance Institute for her film "The Farewell" about a U.S. raised Chinese girl who returns to China to see the family matriarch who is dying but doesn't know it. The family instead gets together under the ruse of a wedding celebration. The Vanguard Award  honors "an emerging artist who embodies visionary storytelling and engages audiences in fresh and exciting ways." The film  which stars Awkwafina closed the 2019 Seattle International Film Festival and will open across the country in theatres on July 12, 2019 by A24.
Zhang Yimou's latest film may never be seen in its uncensored entirety if Chinese government censors have their way. Entitled "One Second", the film is set in a period of social upheaval in 1960s-era China. It's both a historical drama of the Cultural Revolution and the director's love letter to cinema. Set to preview at the Berlin Film Festival, Chinese authorities pulled it at the last minute citing a "technical problem." With the 70th anniversary of the founding of the People's Republic of China in October, some speculate that a film about a tumultuous period in Chinese history is something the government doesn't want screened abroad. If Zhang's film won any international awards or received recognition, it would draw unwanted attention to one of the darkest periods in the regime's reign. The film is expected to screen in China in a revised version once the director makes all the cuts the government has requested.
An award-winning Indonesian film about a male dancer exploring his sexuality entitled "Memories of My Body" by Garin Nugroho is facing a backlash from religious groups in this Southeast Asian country. A petition  that expresses concern that this "LGBT" film will make the younger generation imitate the "deviant sexual acts and blasphemy" in the film calls for the film to be banned. The director has also received death threats.
Noted Japanese actress Machiko Kyo has died at 95. She came to the attention of the West in her role as the sexually assaulted wife of a murdered samurai in Akira Kurosawa's "Rashomon" which won the Golden Lion Award at Venice. Other early roles she starred in were in Kenji Mizoguchi's "Ugetsu" and Teinosuke Kinogasa's "Gate of Hell." She also starred in the Hollywood film "The Tea House of the August Moon" with Marlon Brando. She continued to work in Japan with Yasujiro Ozu in "Floating Weeds", Kon Ichikawa in "Odd Obsession" and Hiroshi Teshigahara in "The Face of Another".  After a final stage role in a 2006 woman-centered version of Chushingura, she retired.
Legendary Indian filmmaker Mrinal Sen died recently at the age of 95. He won India's national awards for best film and director for "Bhuvan Shome" in 1969. He was considered of one of the three Indian directors from Bengal along with his contemporaries Satyajit Ray and Ritwik Ghatak to put Indian cinema on the world map. His Calcutta Trilogy series of films was highly regarded. In 1981 he won three awards at the Berlin Film Festival for "Akaler Sandhane." His last film was 2002's "Aamaar Bhuvan" which won "best director" and "best actress" for Nandita Das at Cairo.
The Written & Spoken Arts
The University Book Store has the following events – Sujata Massey reads from her latest mystery novel "The Satapur Moonstone" (Soho Crime) about a female Indian lawyer caught in a case of royal court intrigue and the British Raj government in 1920's India. On Wed., June 5, 2019 at 7pm. In the Mill Creek branch at 15311 Main St. located in Mill Creek Town Center. 425-385-3530. Ted Chiang, acclaimed author fo "Stories of Your Life and Others", the basis for the Academy Award-nominated film "Arrival" reads from a new collection of his new, rare and classic uncollected work entitled "Exhalation" (Knopf) on Thurs., June 20, 2019 at 7pm at the University District store. 4326 University Way NE. 206-634-3400.
UW student Maya Sullivan grew up in Redmond with an American father and a Japanese mother. Because of her bi-racial background, she never felt fully accepted by either culture. But working in international relations in the Task Force Project, part of the UW  Jackson School of International Studies helped her understanding of other people and fostered her desire to create community. Her experience is included in an article entitled  "Policy in Action" by Meg Cressey in the June 2019 issue of "Columns – The University of Washington Alumni Magazine."
The Poetry in Translation series curated in partnership with Claudia Castro Luna, Washington State Poet Laureate brings you a "Ramadan Feast" of words and song. On Wed., June 5, 2019 at 6:30pm. This evening showcases the literary traditions of Seattle's immigrant and native communities by sharing these groups' poetry and song in their original languages and in equivalent English translation. Live multilingual readings alongside video poem screenings.  No one will be turned away for lack of funds and students are free.  1515 – 12th Ave. at Northwest Film Forum on Capitol Hill. 206-329-2629 or try nwfilmforum.org.
Elliott Bay Book Company continues to sponsor readings in their Capitol Hill bookstore as well as co-producing events all over the city. Below you will find a partial listing of some of their events. Events are at the bookstore unless otherwise noted. On June 6,2019 at 7pm, writer Siddharth Dube will talk with Sonora Jha at Elliott Bay about his book entitled "An Infinite Sentence – A Personal History of Outlawed Love And Sex" (Simon & Schuster). It is a revelatory memoir about sex, oppression and the universal struggle for justice. Coming of age in the early days of the AIDS crisis, Dube was on the frontlines in this personal and political journey. June 9 at 3pm, come celebrate the paperback release of "Like A Mother – A Feminist Journey Through the Science and Culture of Pregnancy" (Harper) with popular Seattle author Angela Garbes at the bookstore. This first-time mother takes a compelling look at the physiology, biology and psychology of pregnancy dispelling myths along the way. On June 15 at 7pm, Thomas Hitoshi Pruiksma reads at Elliott Bay from his book of poetry entitled "The Safety of Edges" (Marrowstone Press). This Vashon Island poet sees the edge of anything as  both a limit and a possibility, an encounter either safe or risky and an opportunity to test the space between darkness and light. June 20 at 7pm will be the much anticipated fiction debut of award-winning poet Ocean Vuong.  He'll talk about the book with local writer/community activist Jess Boyd at Seattle Public Central Library. Entitled "On Earth We're  Briefly Gorgeous" (Penguin). The book is a letter from a son to a mother who cannot read. A paean to the conflicted yet undeniable love between a single mother and her son and an honest exploration of race, class and masculinity. Co-sponsored with the library, Elliott Bay and the Vietnamese Friendship Association. 1000 Fourth Ave. or go to www.spl.org.   June 23 at 6pm, Shalini Shankar will be at the store to talk about "Beeline" (Basic/Hachette). In it, this anthropologist uses spelling bees as a lens to examine the unique and diverse traits of Gen Z and why they are destined for success. On June 28 at 7pm, Seattle writer Loreen Lee will be at Elliott Bay to read from "The Lava Never Sleeps – A Honolulu Memoir" (Aquarius/Willow). In it, Lee lays bare her struggle growing up in a traditional Chinese family in Honolulu in the 1950s and 60s. This was the Grand Prize Winner of Willow Books Literature. 1521 Tenth Ave. on Capitol Hill. 206-624-6600 or go to www.elliottbaybook.com
Hugo House, that venerated Northwest center for writers and poets re-opens in brand-new digs with expanded space but in the same location. Catch their readings and celebrate their new space. Writers Arlene Naganawa and J.P. Kemick help students explore the urban environment as writers. August 5 – 9, 2019 for grades 6 – 8 as part of the Scribes Summer Writing Camps For Teens in one and two week sessions available between July 8 – August 16, 2019 at Hugo House. Email [email protected] or call 206-322-7030 if you are interested in this class. Also with the opening of the new Hugo House, the writing center rolls out a new series of classes/workshops with a varied number of subjects taught by a talented group of writers like Nisi Shawl, Sonora Jha, R. O. Kwon, Anne Liu Kellor, Michelle Penaloza, Richard Chiem, Diana Xin, Anglela Garbes, Lora Shinn, Aimee Bhausar and Shankar Narayan.   1634 – 11th Ave. 206-453-1937. Go to hugohouse.org to find out more.
For the last few years Seattle poet Alan Chong Lau (full disclosure, that's me) has been collaborating with Tucson, AZ. photographer/poet John Levy.  Lau responds to images sent to him by Levy every month. Now that collaboration is available for viewing/reading in the online literary magazine edited by John Martone entitled Otata. If you go to https://otatablog.wordpress.com/author/johnpmartone/ you will see it. There will be three issues of this collaboration. The first two are now online available for viewing. One special issue is on Japan.
Below is a partial list of new books by or about Asian Americans and new titles on Asia. If you are interested in reviewing any of them, please let us know –
"Ghosts Of Gold Mountain: The Epic Story of the Chinese Who Built the Transcontinental Raildroad" (Houghton Mifflin Harcourt) by award-winning scholar and Stanford University professor Gordon Chang. It is a ground-breaking account that draws on unprecedented research to recover the Chinese railroad workers' stories and celebrate their role in remaking America.
In "Dream of the Water Children – Memory And Mourning in the Black Pacific" (2Leaf Press) by Fredrick D. Kakinami Cloyd, this former Seattle resident makes his publishing debut in a compelling memoir about a son of an African American father and a Japanese mother who spent a lifetime being looked upon with curiosity and suspicion by both sides of his ancestry.
"A Big Mooncake for Little Star" (Little Brown) by Grace Lin. In an imaginative picture book, the author uses the eating of a mooncake to symbolize the many phases of the moon.
"Hide With Me" (Razorbill) by Sorboni Banerjee is a young adult novel that crafts a story about the unbreakable bonds of friendship, the power of first love and the courage to fight for a brighter future. What happens when a Texas farmer finds a girl broken and bleeding?
"Inhabitation" (Counterpoint) is a novel by Teru Miyamoto as translated by Roger K. Thomas. This is the story of a living lizard nailed to a pillar and a young man bound by a family's misfortune. Their relationship poses questions about life, death and karma.
"Frankly in Love" (Putnam) by David Yoon is a young adult novel about a second generation Korean American boy who falls in love for the first time only to realize he doesn't meet his traditional parents' expectations and wonders what he can do about it. A best friend lends a hand.
"The Ten Lives of Nishino" (Europa Editions) by Hiromi Kawakami as translated by Allison Markin Powell. Ten women tell their stories about distinct and common desires and the seductive charm of an unfathomable man who drifted so naturally into their lives.
For over 40 years Bamboo Ridge has showcased Hawai'i's literary and artistic talents in both issues of their magazine and in books of poetry and prose by local authors. The latest issue of Bamboo Ridge – Journal of Hawai'i Literature And Arts" is celebrating their 40th anniversary. Guest-edited by Gail N. Harada and Lisa Linn Kanae, this chunky edition features work by over 50 island writers and a profile of artist Noe Tanigawa.
"A Place To Belong" (Antheneum) by Cynthia Kadohata tells another story that originates out of the forced imprisonment of Japanese (many of them American citizens) on the West Coast during WWII. A disillusioned family gives up their citizenship after the war to move to a city in Japan for a fresh start, unaware of the devastation caused by the atomic bomb.
"The Year of Blue Water" (Yale Series of Younger Poets) by  Yanyi with a foreword by Carl Phillips. This Chinese American poet is the 113th recipient of this series. It weaves experiences of immigration, racism, mental wellness and gender from a queer and trans perspective.
"The Tiger Prince" (NYRB) by Chen Jiang Hong. A Chinese folktale of a baby raised by a tigress inspires this picture book story translated by Alyson Waters. When hunters kill her cubs, a tigress wrecks havoc in nearby villages until a little boy intervenes.
"Plum Rain" (Soho) by Andromeda Romano-Lax is a futuristic novel about an old Japanese woman, her Filipina nurse and the robot who comes between them.
Children's author/illustrator Grace Lin seamlessly weaves a child's love of a bouncy bed with the sighting of a first snowfall in "A Big Bed for Little Snow" (Little Brown).
"Once and Forever – The Tales of Kenji Miyazawa" (NYRB) translated by John Bester. One of Japan's most beloved writers, Miyazawa's poetry and stories enchant and enthrall with tales of the deep north, introducing readers to a natural world both cruel and magical.
Simon Tam's dance rock band is The Slants. But when he sought to trademark the name, it went to the courts opening up issues of race, culture and free speech. "Slanted – How An Asian American Troublemaker Took On The Supreme Court" (Troublemaker Press) tells the story.
"Un//Martyred=(Self-) Vanishing Presences in Vietnamese Poetry" (Roof) by Nha Thuyen is a collection of essays by this Hanoi-based poet and critic that offers a cartography of the writing communities that have lived (and died) along the margins of Vietnam's literary landscape since the late 1980's.
"Pie in the Sky" (Henry Holt) by Remy Lai. An amusing debut illustrated novel of a young immigrant who feels lost but through brotherhood, friendship and baking experiments, finds his way home.
"On Earth We're Briefly Gorgeous" (Penguin) is the fictional debut of award-winning poet Ocean Vuong. It is about the relationship between a son and his mother who may not know how to read, an ode to loss and struggle and what it can mean being a Vietnamese American.
"Your House Will Pay" (Ecco) by Steph Cha is a novel that looks at a history of Los Angeles after Rodney King and how it impacted and shaped her city. She deals with issues of how crime, violence and injustice permeates communities and families.
"Professor Chandra Follows His Bliss" (Dial) by Rajeev Balasubramanyam is a novel of an internationally known economist who after a serious accident finds his life at a crossroads.
"Art And Engagement in Early Postwar Japan" (Cornell University Press) by  UW professor Justin Jesty uses archival work to re-examine the relationship between art and politics in a new era in Japanese history after WWII.
In "Have You Been Feeling Blues These Days"" (Noemi Press), the poet Kim Eon Hee takes no prisoners and writes compellingly against the grain of neo-colonialist, neo-liberal K-culture. Translated by Sung Gi Kim & Eunsong Kim.
"Instantly Indian Cookbook – Modern Classic Recipes For The Instant Pot" (Knopf) is the latest by the godmother of Indian cookbook writers, Madhur Jaffrey. In it, she tries to make cooking Indian food in your home easier via the use of the Instant Pot. Runs the gamut with recipes, side dishes, spices, special ingredients and handy tips.
"The Safety of Edges" (Marrowstone Press) by Thomas Hitoshi Pruiksma uses poetry to ponder liminal times and spaces, tracing between now and then and there, childhood and the grown poet.
"Let's Scare Bear" (Holiday House) by Yuko Katakawa is a children's picture book based on "Scary Manju", a Japanese Rakugo tale. When the rest of the animals try to scare Bear, they throw manju cakes at him not knowing that Bear secretly loves them. A fun and silly book that opens conversations about  bullying and teasing. With delightful artwork  by Katakawa.
"If I Had Two Lives"(Europa Editions) by Abbigail N. Rosewood. An engrossing tale of a Vietnamese woman without a country and the double life of an immigrant who must return to the place she fled to confront her memories.
"Gondra's Treasure" (Clarion) by Linda Sue Park as illustrated by Jennifer Black Reinhardt tells the story of a little dragon that explores the richness of a child's dual heritage and may inspire discussions in multiracial families.
"Leaving Our Shadows Behind Us" (Bamboo Ridge Press) by Elmer Omar Bascos Pizo depicts the poet's life experiences from an abusive childhood in the Philippines through the trials of an overseas Filipino worker in the Middle East and finally as a hard-working immigrant in 21st century Hawai'i.
"Obits" (Coach House Press) by Tess Liem. A book where the poet tries and fails to write obituaries for those whose memorials are missing, those who are represented only by statistics. But the answers are an attempt to center vulnerability and to grapple with issues of trauma, depression and the experience of being a mixed-race queer woman.
"The Happiest Tree – A Story of Growing Up" (Feiwel and Friends) written and illustrated by Hyeon-Ju Lee.  The book follows the emotional memories of a ginko tree outside an apartment as it encounters residents on every floor as it grows. As the tree ages, things change and yet stay the same.
"I Will Teach You To Be Rich" (Workman)  by Ramit Sethi is a no frills, no nonsense, updated second edition of his NY Times best-seller for a new generation where the ability to control  your money is even more crucially important.
"Indian (-ish) – Recipes And Antics From A Modern American Family" (HMH) by Priya Krishna with Ritu Krishna. A great starter book for anyone  who has wondered how to make basic Indian food in an American kitchen.
"Original Prin" (Biblioasis) by Randy Boyagoda is a comic novel that paints a portrait of a modern family and faith in today's uncertain times. Skewers campus  corruption, infidelity, politics and religion along the way.
"Beyond Guilt Trips – Mindful Travel In An Unequal World" (Between the Lines) by Anu Taranath. This UW professor tells stories to help us realize who we are, providing tools for us to navigate discomfort and uncertainty as we travel. She helps us be mindful and present as we move through the world.
"Diary of a Murderer And Other Stories" (Mariner) by Young-ha Kim and translated by Kyrs Lee. A novel of a life lived along the margins in South Korea by discarded youth in today's confusing society.
"The Best of Aloha Shorts" (Bamboo Ridge) edited by Sammie Choy, Craig Howes and Phyllis S.K. Look is co-produced by Bamboo Ridge and Hawai'i Public Radio and culled from the radio program that celebrates local literature featuring some of the Island's finest writers, actors and musicians.
"Sushi Master – An Expert Guide To Sourcing, Making and Enjoying Sushi at Home" (Quarry) by Nick Sakagami. Introduces the basics of sushi to the beginner including tools, techniques, and etiquette so you can prepare it at home.
A new historical novel "Repentance" by Andrew Lam based on the Japanese American 442nd regimental combat team will be published on May 1, 2019. When a world famous surgeon gets a call from the US government about his father's role in a WWII military campaign in France, he sets off on a quest for the truth and to search for secrets and sacrifice. Go to www.AndrewLamMD.com for details.
"Wanxin Zhang – The Long Journey" (Museum of Craft & Design) is an exhibition catalog for a show by this Chinese ceramic artist at the Museum of Craft & Design in San Francisco. It is his first solo show in San Francisco. His work carries the iconography of terracotta warriors to the contemporary funk of Robert Arneson and Peter Voulkos.
"The Chinese And the  Iron Road – Building The Transcontinental Railroad" (Stanford) edited by Gordon H. Chang  and Shelly Fisher Fishkin. This landmark volume of essays sheds new light on the Chinese railroad workers and their enduring importance. Although they made up 90 percent of the work force on the Western portion of the line, their work remains largely invisible and little understood. This book goes a long way to addressing that shortcoming.
"Ambedkar – India's Crusader for Human Rights" (Campfire) by Kieron Moore and Illustrated by Sachin Nagar. Due out August 6, 2019. This is part of the Campfire Graphic Novels Heroes Series. It tells the story of a man who was an untiring crusader for human rights for the oppressed untouchables of India. That fight goes on to this day.
"Ghost Work – How to Stop Silicon Valley from Building a New Global  Underclass" (HMH) by Drs. Mary L. Gray and Siddharth Suri. The writers look at tech's on-demand laborers in the U.S. and India who earn minimal wage by sorting and annotated x-rated content, decoding pizza orders, designing ad campaigns, and more to keep the web functioning. The authors argue that their labor should not be hidden by APIs but must be rewarded and recognized with higher wages and health coverage.
"Become America – Civic Sermons On Love, Responsibility, and Democracy" (Sasquatch) by Eric Liu. This book details in talks given by a popular advocate for active citizenship how to re-humanize our politics and get involved as citizens on a grass roots level.
"The Joy Luck Club" (Penguin) is a special 30th anniversary edition of the popular novel about relationships among women in a Chinese American family with a new preface by the author.
"Ink Knows No Borders – Poems of the Immigrant And Refugee Experience" (Triangle Square) edited by Patrice Vecchione and Alyssa Raymond. This collection for young adults brings together some of the most compelling and vibrant voices today reflecting the experience of teen immigrants and refugees. Includes poems by Samira Ahmed, Chen Chen, Jeff Tagami, Ada Limon, Bao Phi, Javier Zamora and many others.
P Is For Pterodactyl: The Worst Alphabet Book Ever" (Sourcebooks) by Raj Haldaar & Chris Carpenter and illustrated by Maria Tina Beddia. This picture book tackles words in the English language book that don't always make logical sense, poking fun at the most mischievous words in English and demonstrating how to pronounce them.
"The Memory Police" (Pantheon) by Yoko Ogawa as translated by Stephen Snyder. Due out August 2019, this is a haunting Orwellian novel about the terrors of state surveillance by the acclaimed Japanese author of "The Housekeeper and the Professor".
With "The Candle And The Flame" (Scholastic) by Nafiza Azad, we enter another world and another time. Based on Islamic mythology and Arabic folklore, the author evokes a city on the silk road and a young woman who must be quick on her feet and alert to her senses as she navigates political intrigue and the dangers of a magical battlefield to survive. A young adult fantasy novel. The author born in Fuji is an Indo-Fijian Muslim Canadian.
"Autumn Light – Season of Fire And Farewells (Knopf) by Pico Iyer. A memoir  on Japan where the author has lived for years and how the death of his father-in-law triggers thoughts on love and dying.
"The Kinship of Secrets" (HMH) by Eugenia Kim. This novel looks at the relationship between sisters, one in the U.S. and the other in South Korea – and the war that kept them apart.
"Flowers of Mold" (Open Letter) by Ha Seong-Nan as translated from the Korean by Janet Hong. This book of short stories explores the lives of mis-fits – those ordinary individuals who have found themselves left behind by an increasingly urbanized and fragmented world.
"Girl Under A Red Moon – Growing Up During China's CulturalRevolution" (Scholastic). A young adult novel by Da Chen about the daughter of a family who are shunned because they were former landowners. With choices between family and nation as well as safety and justice, this young woman must navigate her passage during a tumultuous cultural movement.
"The Third Pillar – How Markets And The State Leave The Community Behind" (Penguin Press) by Raghuram Rajan. This economic thinker analyzes capitalist democracies, why they succeeded in the past and why they are breaking down today and failing its citizenry.
"HI, Konnichiwa" (Kodansha) by Yayoi Kusama is a pocket-sized full color book of this internationally known artist's drawings, paintings and eye-boggling colors and dots with a few minimal quotes from the artist's philosophy/thoughts in between pages of her artwork.
"Ojiichan's Gift" (Kids Can Press) by Chieri Uegaki and illustrated by Genevieve Simms. A picture book about a grandfather's garden in Japan and how an American granddaughter learns to tend the garden on her summer visits until everything changes. A story of facing change and  the bond of love.
"The Beast Player" (Henry Holt) by Nahoto Uehashi as translated by Cathy Hirano is a young adult fantasy novel about a girl who has a special power to communicate with magical beasts and the kingdom at war that only she can save.
"Changing And Unchanging Things: Noguchi And Hasegawa in Post War Japan" (UC Press) edited by Dakin Hart and Mark Dean Johnson. When the artist Isamu Noguchi returns to Japan for the first time in 20 years, it is 1950. A key figure for Noguchi during this period was fellow artist Saburo Hasegawa who had lived abroad in Paris in the 1930's and later influenced the American "Beats" about Japanese culture. Together the two artists explore traditional Japanese culture and how it can strike a balance between tradition and Western modernity. The exhibition catalog for a show upcoming at the Asian Art Museum in San Francisco.
"My Fate According to the Butterfly" (Scholastic) by Gail D. Villanueva. In this young adult novel, a girl in the Philippines must solve the bad omen of a black butterfly and somehow bring her sister and estranged father back together in time for her birthday.
"The White Book" (Hogarth) by Han Kang as translated from the Korean by Deborah Smith. A young writer on a writer's residency in Europe grapples with the tragedy of her sister's death and meditates on what the color white means to her culturally and personally.
"My City" (Prestel) by Joanne Liu. This picture book is filled with abstract shapes and joyful colors. It traces the journey of a boy discovering the sights of his city as he walks to a mailbox.
"Sacred Cesilum Ground And Isa's Deluge" (Columbia University). Two novellas of Japan's 3/11 disaster by Kimura Yusuke as translated by Doug Slaymaker. The author explores both human and animal life in Japan after the natural and nuclear disasters of March 11, 2011 and finds them both defiant and awake.
"Uneven Moments – Reflections on Japan's Modern History" (Columbia) by Harry Harootunian. A book of essays on Japn's intellectual and cultural history that opens a window on the precarious process of that country's metamorphosis  into a modern society.
"The Lava Never Sleeps – A Honolulu Memoir" (Willow Books) by Loreen Lilyn Lee. This Seattle writer details her struggle growing up in a traditional chinese family in Hawai'i during the 50's and 60's and how the land and culture informed and defined what she became.
"Ruth Asawa – Life's Work" (Pulitzer Foundation) edited by Tamara H. Schenkenberg with Essays by Aruna D'Souza, Helen Molesworth and Tamara H. Schenkenberg is the exhibition catalog for one of the first major exhibitions of the work of this major Bay Area artist and educator outside the West Coast since 2006.
"Arid Dreams – Stories" (Feminist Press) by Duanwad Pimwana as translated by Mui Poopoksakul (due out in April 2019) renders her home country in all its complexity as her characters brimming with desire and disenchantment come alive in these pages. One of the first books by a Thai woman to be published in English internationally.
"Doing Justice – A Prosecutor's Thoughts on Crime, Punishment and The Rule of Law" (Knopf) by Preet Bharara. After a long career as a prosecutor, the author lays out a path toward reaching truth and justice in our everyday lives using by example captivating tales of true crime.
"China Dream" (Counterpoint) by Mia Jian. This novel set for May 2019 release by this Chinese writer-in-exile is a satire that takes the reader through the horrors and absurdities of totalitarian power as it is epitomized today by the current Chinese government.
"River of Fire" (New Directions) by Qurratulain Hyder transcreated by the author from her Urdu original. Considered the imost important novel of twentieth-century Urdu fiction. This writer conjures up a country's memory, forming a rich tapestry of history, human emotions and redefining Indian identity.
"The Little Book of Life Hacks: How To Make Your Life Happier, Healthier And More Beautiful" (St. Martin's) by Yumi Sakugawa. This author, illustrator and comic book artist uses all those skills to craft a book that will guide your personal life from the inside out, step by step. Common sense tips profusely illustrated in a charming comic book style.
"Descendant of The Crane" (Albert Whitman) is inspired by a Chinese fantasy and is a novel of a princess whose father is murdered and the things she must do to bring the killer to justice.
"The Body Papers – A Memoir" (Restless) by Grace Talusan. Winner of the Restless Books Prize for New Immigrant Writing, this book powerfully explores the author's experiences with sexual abuse, depression, cancer and life as a Filipino immigrant.
"My Old Faithful" (University of Massachusetts) by Yang Huang won the Juniper Prize for fiction. Ten interconnected short stories that move from China to the U.S. during a thirty-year period paint a nuanced portrait of family life affected by social and economical change.
Seattle author Lori Tsugawa Whaley's "The Courage of Samurai: Seven Sword Sharp Principles for Success" was an inspirational on-line bestseller derived from the principles of "bushido", the Japanese warrior code of behavior in 2016. These principles helped the author recover from major injuries and pain. Now it will be re-released in a new edition with Tuttle Publishing in 2019 sporting a new title and cover.
"Zhi Lin – In Search of the Lost History of Chinese migrants and the Transcontinental Railroad" (Tacoma Art Museum) is part of the museum's Northwest Perspective Series and served as the exhibition catalog. Lin's art follows and documents the ghosts of Chinese railroad workers that laid the tracks to untie this country. With essays by Rock Hushka, Shawn Wong and Shelley Fisher Fishkin.
"The Shape of a Life – One mathematician's Search For The Universe's Human Geometry" (Yale) by Shing-Tung Yau and Steve Nadis. An accomplished mathematician chronicles his life as a youngster leading a Hong Kong gang to his introduction to learning and the thrill of humankind's spirit of discovery.
"In A Day's Work – The Fight to End Sexual Violence Against America's Most Vulnerable Workers (The New Press) by Bernice Yeung. The author examines the case of sexual harassment against some of America's most low-paid women who perform vital jobs that keep our economy intact yet are afforded little protection in the workplace.
"Sakura Obsession – The Incredible Story of The Plant Hunter Who Saved Japan's Cherry Blossoms" (Knopf) by Naoko Abe. When a British man visits Japan, he falls in love with its cherry trees and brought back hundreds of cuttings with him to England. When the cherry trees in Japan declined, he brought back cuttings from England and re-ignited the growth of cherry trees in Japan and around the world.
"Writing Human Rights – The Political Imaginaries of Writers of Color" (Minnesota) by XCrystal Parikh. The author shows how the literature by writers of color have always been preoccupied with human rights and why.
"Chinatown Opera Theaer in North America" (Illinois) by Nancy Yunhwa Rao. The author documents a unique magical and theatrical genre in North American history and makes it come alive in a backstage of performers, performances and repertoire.
"My Footprints" (Capstone) by Minnesota poet Bao Phi explores how themes of struggle, perseverance and family encourage the healing powers of a child's imagination. Powerfully illustrated by Basia Tran.
"People Like Us – The New Wave of Candidates Knocking at Democracy's Door" (The New Press) by Sayu Bhojwan looks at how immigrant Americans are changing the political landscape, promoting reform and providing a voice for our multi-racial country.
"The New Silk Roads – The Present And Future of The World" (Knopf) by Peter Fran Kopan. An examination of how China's commercial and political power is changing the way the world works.
"The End of the Moment We Had" (Pushkin) by Toshiki Okada as translated by Sam Malissa. Two short stories look at characters bound by a generational hunger for human connection and reveals an unsettlingly honest voice in contemporary Japanese fiction.
"Beijing Payback" (Ecco) by Daniel Nieh is a fast-paced revenge thriller. When his father is murdered, a son discovers his criminal past and returns to Beijing to enact revenge.
"Ruth Asawa" (David Zwirner) is a major catalog of an exhibition held at David Zwirner Gallery in New York with essays by Tiffany Bell and Robert Storr on this major American sculptor/educator based in the Bay Area. It covers her drawings, paintings and the noteworthy wire sculptural work as well as her career in children's art education.
"The Twice-Born – Life and Death On The Ganges" (F S & G) by Aatish Taseer. The son of a Sikh journalist and an assassinated Pakistani politician, the author uses his return to the city of Benares as a way to grapple with the questions of identity and belonging.
"The Tenth Muse" (Ecco) by Catherine Cheng looks at the life of a female mathematician and a life caught up in stories of legacy, identity and the ways the mind can set us free.
"Nightingale" (Copper Canyon) by Paisley Rekdal is a poetry of transformation. By re-writing myths central to Ovid's "Metamorphoses" she contemporizes the tropes of violence, dismemberment, silence and fragmentation.
'Vietnamese Food Any Day"  (Ten Speed Press) by Andrea Nguyen. This popular cookbook author shows you how to use easy-to-find ingredients to create true Vietnamese flavors at home – fast.
"Coloratura" (Oklahoma) by Li Er as translated by Jeremy Tiang marks the first time this prominent Chinese writer has been available in English. It looks at a mysterious character  during the Chinese civil war whose story is told by three narrators and a chorus of witnesses. It this man a hero, a nationalist or communist, a spy, a poet or a scholar or perhaps all of the above?
"The Beautiful" (Putnam) by Renee Ahdieh puts a teenage girl from Paris in 1872 New Orleans. This fantasy novel exudes atmosphere and history in equal measure. When a murder occurs in the underworld, our heroine must be leery of romance and the threat of a murderer on her trail. Set for October, 2019 release.
"Japanese Cooking With Manga" (Tuttle) by The Gourmand Gohan Team is a manga-style cook book of Japanese recipes both traditional and experimental as concocted by  a trio of foodies in Spain.
"Sea Sirens – A Trot & Cap'n Bill Adventure" (Viking) written by Amy Chu and illustrated by Janet K. Lee. It is the first in a new graphic novel adventure series drawing inspiration from classic Vietnamese folktales and L. Frank Baum's "The Sea Fairies". When a girl and her cat fall into an underwater kingdom, they are caught up in a battle between mermaids and the serpent king.
"Night of Power" (Viking Canada) by Anar Ali looks at a wealthy South Indian family who lose everything when they are forced to flee Uganda under the Idi Amin regime. Resettled in Canada, the strain of trauma haunts them as they grapple with the weight of unrealized dreams and desires.
"Laura Dean Keeps Breaking Up With Me" (First Second) by Mariko Tamaki and Rosemary Valero O'Connell. A sweet and spirited graphic novel about young love and what happens when we ditch the toxic relationships we crave and embrace the healthy ones we need.
"Somewhere Only We Know" (FS&G) by Maurene Goo. The latest  young adult novel by this wildly popular author. What happens when a teenage cub reporter for a tabloid bumps into a female K-pop singer about to break big. A sparkling romance  about taking a chance on love.
"The Bells of Old Tokyo – Meditations On Time And A City" (Picador) by Anna Sherman scheduled for August 2019 release. The author in her search for the great bells that once kept the hours in the shogun's city leads us on a tour of history and the voices of its people.
"Stargazing" (First Second) by Jen Wang scheduled for September 2019 release. This graphic novel details the unlikely friendship of two girls who are  two personality opposites and how it grows and what happens when tragedy strikes.
"Seattle Style – Fashion/Function" (UW) by Clara Berg with  a foreward by Luly Wang. Billed as the most significant work yet compiled on the dress and clothing history of the Seattle area. It is the exhibition catalog for an exhibition currently at MOHAI through October, 2019.
"Girl Gone Viral" (Viking) by Arvin Ahmadi. A teenage girl who is an expert coder must use all her wit and skill to trace the disappearance of her father on her tenth birthday.
"Camp Tiger" (Putnam) by Susan Choi with illustrations by John Rocco. Acclaimed adult novelist and Pulitzer-prize finalist Susan Choi makes her kids' picture book debut with a story about a boy who meets a tiger when his family goes camping and how his life is changed. A tender, moving ode to  childhood and the pangs of growing up.
Shaun Tan, the bestselling author of "The Arrival" returns with "Cicada" (Arthur A. Levine), a satiric comment on work and the nameless office worker who toils 9 – 5pm without recognition or appreciation. With minimal text, the amazingly evocative artwork says it all.
"Great Job, Dad!" (Tundra) and "Great Job, Mom!" (Tundra) are both by Holman Wang. The author using props and models he photographed to create charming picture books that honor the multiple roles parents  play in the lives of their children.
"Song of the Crimson Flower" (Philomel) by Julie C. Dao set for November, 2019 release. This is a fantastical young adult tale of darkness and love and how some magical bonds are stronger than either.
"Secrets from My Vietnamese Kitchen – Simple Recipes from My Many Mothers" (Appetite-Penguin Random House Canada) by Kim Thuy. Translated from the French by Sheila Fischman with recipes translated by Marie Asselin. A warm introduction to a vibrant  cuisine by bestselling novelist and former restaurant owner Kim Thuy. It combines the author's storytelling style with simple dishes culled from all the mother figures in her life.
"Wicked Fox" (Putnam) by Kat Cho set for June 2019 release. This is a fantasy-romance retelling of the Korean legend of the Gumiho. What happens when a nine-tailed fox in the guise of a girl who devours the energy of men to survive saves a boy who knows her secret?
"Building Tradition – Pan-Asian Seattle And Life in the Residential Hotels" (Chin Music) by Marie Rose Wong, PhD. A book about Seattle's Chinatown-International District where the intermingling of Asian immigrants was a response to both discriminatory   policies and the brick-and-mortar architecture of single-room occupancy (SRO).
"The Downstairs Girl" (Putnam) by Stacey Lee. A Chinese American  teenager who works as a maid for one of the wealthiest men in Atlanta moonlights under a pseudonym as an advice columnist for the genteel Southern lady. But when she uses the power of the pen to address society's ills, she is ambushed by the backlash from readers.
"The House Of The Pain Of Others – Chronicle of a Small Genocide" (Graywolf) by Julian Herbert as translated by Christina Sweeney. Early in the twentieth century, some three hundred Chinese immigrants were massacred in the newly founded city of Torreon, Mexico. It is considered the largest slaughter of Chinese people in the history of the Americas. The deed was followed by denial  or empty statements of regret. More than a  century later, a Mexican writer digs deep into history to discover what happened and why.
"Patron Saints of Nothing" (Kokila) by Randy Ribay. A young adult coming-of-age story about grief, guilt and the power found in looking at all parts of ourselves. A Filipino American teenager returns to the Philippines  when he finds out his cousin was murdered as part of President Duerte's "War on Drugs" but no one wants to talk about it.
Art News/Opportunities
The Canada Post has issued a new domestic stamp honoring The Vancouver Asahi baseball team. Formed in 1914 when racism was at its height, they won multiple amateur championships and were one of the most dominant and popular amateur teams. They were known for outwitting opponents with their style of play known as "brainball", a unique combination of bunt hits and aggressive base running. The team was disbanded on the eve of WWII when over 20,000 people of Japanese ancestry (many of them Canadian citizens) were imprisoned.