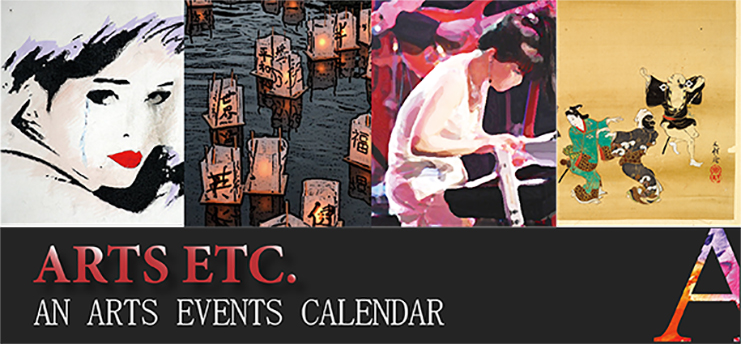 Visual Arts
Seattle Art Museum's "Asia Talks" series presents a talk with Laila Kazmi, Kazbar Media and Pakistani-born, internationally known artist Shahzia Sikandar that includes South Asian, American, feminist and Muslim perspectives. This virtual talk is set for July2, 2020 at 5:30pm. The April speaking appearance by Silk Road art specialist Judith Lerner has been re-scheduled for next year. An article by SAM curators entitled "An Asian Art Museum Transformed" appears in a recent issue of Orientations magazine. The fall Saturday University Lecture Series will focus on color in Asian art and will take place either at the Asian Art Museum or online depending on the situation re: Covid 19. Go to [email protected] for more.
In "32 Aspects of Life" by Lauren Iida, the artist playfully reinterprets Japanese artist Yoshitoshi's 1888 series. Blending hand-cut paper with mixed media, Iida presents a series of portraits drawn from her daily life as a Japanese American living in Cambodia. In the north side gallery, Iida's work is complemented by a diverse group of artwork by contemporary Cambodian artists working with artist cooperative Open Studio and artist collective, Roncheik Pram. Online preview and viewing May 7 – June 20, 2020. Artxchange Gallery at 512 1st Ave. South. 206-839-0377 or email [email protected].
The Seattle Art Museum has cancelled a previously planned major traveling exhibition for this summer entitled "The Allure of Matter: Material Art From China." Instead the current shows on John Akomfrah and Georgia O'Keeffe will be extended through Sept. 7, 2020 when the museum re-opens.
The "Mezzotint Invitational" is a group show of artists working within that print media dominated by artists from Asia. Includes work by Atsuo Sakazume, Hiroko Yamada, Katsunori Hamanishi, Mikio Watanabe, Tomiyuki Sakuta and others. View online at davidsongalleries.com now through June, 2020. 313 Occidental Ave. S. in Seattle. 206-624-7684 or go to www.davidsongalleries.com.
Kobo Seattle features a new virtual art space showcasing woodcut and linocut prints by Yoshi Nakagawa and an online store with free shipping on gift kits. A recent acquisition are monthly shipments of handmade Japanese face masks in various colors and beautiful designs. They have a new instagram shopping account @koboseattleshop or try their website at koboseattle.com.
The Asian Art Museum of San Francisco houses a major Asian art collection of Avery Brundage, an industrialist and former president of the International Olympic Committee. It was Brundage who expelled U.S. Olympic runners Tommie Smith and John Carlos after they gave the black power salute during their Olympic medal ceremony. But Brundage was also dogged by earlier accusations that he was a Nazi sympathizer and a racist. After the museum posted a message about Black Lives Matter, a local Bay Area artist, Chiraag Bhakta posted an instagram with a selfie in front of a bust of Brundage at the museum's entrance calling attention to the collector's shady past. The museum director Jay Xu (formerly SAM's Chinese art curator) announced that the bust of Brundage prominently displayed it its foyer will be taken down. Asian American artist Scott Tsuchitani has also criticized the museum in the past for presenting Asian Art from a mostly white perspective. Xu said "We must contend with the very history of how our museum came to be" and that Brundage "espoused racist and anti-Semitic" views" and that the museum is struggling to respond to "a society structured around white supremacy." Excerpted from The New York Times.
New York City's Terminal B at La Guardia Airport opened recently with four large, new art installations from artists around the world. Three of the four works are accessible without a boarding pass. The New York-based installation artist Sarah Sze's piece is titled after a line in an Emily Dickinson poem "Shorter Than The Day" and functions like a time keeper. A vast matrix of metal rods create a monumental globe floating above the baggage claim. At the center are more than 900 photographs of the sky in New York taken over the course of a day from dawn to dusk.
Ruth Asawa, the pioneer Japanese American artist from the Bay Area is honored by the U.S. Postal Service. On August 13, 2020, they will issue a set of 10 different stamps with photographs of her striking wire sculptures.
Google Arts and Culture has partnered with cultural organizations around the world to host virtual tours of museums and world sites.
Performing Arts
Music of Remembrance online features compelling music inspired by Japanese and the Japanese American experience. From June 22 – June 28, MOR will stream composer Christophe Chagnard's "Gaman". This work by the French-born American composer focuses on the experience of people in the United States forced into into incarceration camps during WWII because of their Japanese ancestry. The words of poet Suma Yagi, the images of Roger Shimomura and the journal entries and art work of Kamekichi Tokita and Takiuchi Fujii are incorporated into the work. From August 3 through August 9, dates which mark the tragic consequences of the U.S. atomic bombing of Hiroshima and Nagasaki, MOR will stream works that make eloquent pleas about the urgency of preventing nuclear war. Japanese American composer Shinji Eshima's "August 6th" is a haunting elegy for those terrifying events. The program also includes two works that MOR commissioned from Japanese composer/musician Ryuichi Sakamoto. "Snow Falls" is a musical score for the haunting poem by Kiyoko Nagase with an English translation by Empress Michiko. The program also includes the piece entitled "Passage" which Sakamoto wrote about the plight of a refugee seeking to escape violence in his own land in the Middle East. These programs will be available for viewing by clicking on to the "Weekly Feature" button on the home page of MOR's website www.musicofremembrance.org. Music of Remembrance was established in 1998 with a mission of remembering the Holocaust with music that matters for today.
Even though the Wayward Music Series at Chapel Performance Space is currently closed, go to nonsequiter's website to listen to free links by local musicians performing original music at wayward music.org or try gscchapel.com.. Also listed are live streaming of local concerts by contemporary musicians that you can rent.
Seattle Theatre Group partners with SAMA: Seattle Sacred Music and Art, a new organization that is focused on bringing Global Sacred Music and Art to the Northwest. Future concerts will highlight the following genres and artists – Sacred music traditions of Sufi traditions from the Middle East and North America, Court music of Korea, Gnawa traditions of Morocco, Griot styles of West Africa, Sephardic and Ashkenazi Hebrew traditions, U.S. Gospel, Greek, and Byzantine choral works and Gamelan traditions of Indonesia. For more information, go to seattlesacredmusic.com.
The Bay Area performing arts couple of Brenda Wong Aoki and Mark Izu are offering free activities online such as story time for kids, "sho meditations" and weekly performances by their friends. Go to www.firstvoice.org for details.
Britain has its first music director of Black, Asian or minority ethnic extraction. Alpesh Chauhan has been named chief of the Birmingham Opera Company. He is also principal conductor at Parma in Italy as well.
Film & Media
KBCS radio station's News and Public Affairs Director, Yuko Kodama is being let go on June 30, 2020 and her contract will not be renewed. Justification for this move was cited as budget constraints. Bellevue College Foundation and the Bellevue College Board of Trustees own the station. There is a petition to request that KBCS management work together to reverse this decision as Kodama produces vital stories that focuses on the station's commitment to social justice. This decision comes directly on the heels of increasing public scrutiny of Bellevue College's claims for diversity, equity and inclusion especially after the recent incident in which artist Erin Shigaki's "Never Again is Now" installation was defaced forcing a Bellevue College President and Vice President to resign. Go to https://www.change.org/p/kbcs-bellevue-college-foundation-bellevue-college-board-of-trustees-keep-kbcs-news-director-yuko-kodama-on-staff for details of this petition.
"Bruce Lee: Art Of The Warrior" is an art project in which ESPN's Elaine Teng asked eight Asian and Asian American artists to capture the spirit of the Chinese martial arts icon. It was done to coincide with a recent 30 for 30 biographical documentary film on Lee by Bao Nguyen entitled "Be Water." To view these graphic tributes, go to https://www.espn.com/espn/feature/story/_id/29092759/bruce-lee-asian-asian-american-artists-reimagine-icon. It includes work by Marcos Chin, Jiaqi Wang, Kayan Kwok, Anita Yan Wong, Nien-ken Alec Lu, Nicole Xu, Amy Ning and Ying Wei.
Screening virtually from June 5 – July 6, 2020 is a film by Hong Sang Soo entitled "Yourself and Yours" which is a comedy about relationships and mistaken identity by this noted South Korean director. In "Hill of Freedom" also by Hong Sang Soo, a woman returns from the mountains to Seoul and finds a packet of letters left by a Japanese boyfriend. Screens June 17 – July 10. Go to nwfilmforum.org or call 206-329-2629.
"House of Hummingbird" by Kim Bora looks at 1994 Seoul on the cusp of modernization and the changes in a young girl's life as she struggles with social pressure and her sexuality, finding kinship with a concerned teacher. Opens for a virtual screening on June 26, 2020. Go to siff.net for details.
Foundry Communications has two new films set for virtual screenings. "A Regular Woman" directed by Sherry Horman looks at an incident from the news. It tells the story of a free-spirited young woman living with an ultra-conservative Turkish Muslim family in Berlin. After escaping a forced marriage with her abusive cousin, she embraces a westernized lifestyle while caring for her child. To end this shame, the family sends the woman's younger brother on the mission of an "honor" killing. Virtual screening begins on June 26, 2020. "Widow of Silence" by Mohammd Reza Jahanpanah looks at the plight of a Kashmiri woman who attempts to get her missing husband's death certificate issued while a bureaucratic nightmare tangles her family's future and her own existence. A virtual screening begins on July 10, 2020.
Steve Alpert, a Japanese-speaking American was the "resident foreigner" in the offices of Studio Ghibli and its parent company Tokuma Shoten. He played a central role in promoting Hiyao Miyazaki's films in international markets. His memoir entitled "Sharing a House with the Never-Ending Man: 15 Years at Studio Ghibli" has just been published by Stone Bridge Press.
Town Hall Seattle has digital programming of upcoming events on their live stream page. They also have a media library of hundreds of video and audio free to enjoy. Go to townhallseattle.org for details.
Most local theaters are doing virtual screening via the internet where you can rent new films and see them at home. Go to the websites for Northwest Film Forum, Grand Illusion Cinema, Siff Uptown, AMC theatre chains and others.
The Smithsonian Asian Pacific American Center has put out a "self-care package" of poems, short films and other media and they will be adding to it periodically. Go to https://smithsonianpa.org/care/.
PBS has many digital-only shorts produced for its website Art 21 including work by Ai Weiwei. Go to art21.org for details.
The Written & Spoken Arts
Sandra Tsing Loh appears in conversation with Melanie Mayron about her new book entitled "The Mad Woman and the Roomba" (Norton). In it she chronicles the realities of a middle-aged woman in the twenty-first century. June 17 at 7:30pm. Try [email protected] for details.
The Summer 2020 issue of University of Washington has the following stories. A profile of Craig Heyamoto, head of  the UW stats crew for UW football and basketball. There is also a story of UW –trained ecologist Nalini Nadkarni whose path-breaking career in forestry became an inspiration for a new Explorer Barbie series, a collaboration between National Geographic and Mattel.
 Jackstraw Cultural Center presents their Jackstraw Reading Series on Fridays in June which will feature the 2020 Jack Straw Writing Fellows. Streaming live on Facebook and hosted by 2020 Writers Program Curator Anastacia-Renee.  An earlier reading with Maisha Banks Manson, Elaina Ellis, Wryly T. McCutchen and Ebo Barton is already online.  Remaining readings include the following – July 3 at 7pm will have Michelle Goodman, Ching-In Chen, Rob Arnold, and Helen K. Thomas. July 10 at 7pm will have Jeffrey Lee Cheatham II, Arianne True, Jose Trejo-Maya and Troy Osaki. Each reading video will be available afterward on Facebook and YouTube. Free. A book of writing by these writers is available for purchase through Open Books.  Go to jackstraw.org.
"Fight The Tower: Asian American Women Scholars' Resistance And Renewal in The Academy" (Rutgers University Press) is a collection of essays that looks at how Asian American women experience shockingly low rates of tenure and promotion because of the particular ways they are marginalized by the intersectionalities of race and gender. Contributors Kien-linh Caroline Valverde, Kaozong N. Mouvangsou, Wei Ming Dariotis, Wang Ping and Shannon Deloso discuss the issues in the book on June 25 at 11:59pm PST and Friday, June 26 at 3pm EST. Please RSVP by Thursday, June 25, 2020 at 11:59pm PST.  Go to www.fighthetower.com/events.
Two new graphic novels to look out for include the following. "Superman Smashes The Klan" (DC Graphic Novels for Young Adults) is by Gene Luen Yang ("American Born Chinese"). Yang takes a 1946 story of a drama that appeared in a popular radio serial ("The Adventures of Superman") entitled "The Clan of the Fiery Cross" which tells the story of a Chinese American family and their fight against violent bigots aided by Superman as they move to a white neighborhood in Metropolis. This first adaptation for comics is written by Yang and illustrated by a two-woman Japanese illustration team consisting of Chifuyu Sasaki and Naoko Kawano. Chinese Canadian artist Vivian Chong along with Georgia Webber in "Dancing After Ten: A Graphic Memoir" (Fantagraphics) tells the chilling tale of her own experience when she had a toxic reaction to an ibuprofen tablet given to her by a roommate. This one-in-a-million reaction known as Toxic Epidermal Necrolysis syndrome  caused her skin to peel off and left her in a coma for two months. During a brief period after an unsuccessful corneal transplant temporarily restored 20 percent of her vision, Chong hurried to draw raw images from memory of her experience. Webber worked with Chong's story to develop sketches to fit the storyline.
Prominent British novelist Kazuo Ishiguro releases his first book since he won the Nobel Prize for literature in 2017. Entitled "Klara and the Sun", it tells the story of an artificial being who longs to find a human owner. She is warned not to invest too much in the promises of humans. Ishiguro's UK publisher Faber said the book will be released in March of 2021. In 2005, the author's novel, "Niver Let Me Go" was shortlisted for the Booker Prize.
Poets & Writers has a mini-grant program to support virtual live literary events. A sponsoring organization must apply on behalf of the writer at pw.smartsimple.com. Applications from California, Tucson, Seattle and Houston can apply four weeks in advance of the event date. Checks will be directly mailed to the writer about two weeks after the event.
Two reading events connected to the book on Seattle's local Kubota Gardens entitled "Spirited Stone: Lessons From Kubota's Gardens" (Chin Music Press) have been re-scheduled. A reading with local poet-laureate's Samuel Green, Shin Yu Pai, Claudia Castro Luna and former Oregon poet-laureate Lawson Inada has been re-scheduled for September, 2020 at the Wing. A Seattle Public Library event at the Microsoft Auditorium  downtown with  Jamie Ford, Charles  Johnson, Mayumi Tsutakawa, Anna Tamura and Anastasia Rene has been re-scheduled for July 23, 2020..

Yu Lihua, whose portraits of Chinese students and intellectuals abroad dealing with displacement and identity crisis, died April 30 with health issues related to Covid 19. She produced more than two dozen novels and short story collections in Chinese which gave voice to  those who left China for a better life but remained nostalgic for their homeland.  Although she tried to publish and write in English, she found that American publishers were fixated on a pattern of oriental exoticism that ranged from bound feet to opium addiction. She is quoted as having said, "I didn't want to write those things, I wanted to write about the struggle of Chinese immigrants in American society.
Art News/Opportunities
Artist Trust has an COVID-19 Artist Relief Fund for Washington State artists needing aid. Go to artist trust.org for details.
4Culture has a Cultural Relief Fund available now through May 15, 2020. Go to 4culture.org for details.
Humanities Washington provides relief grants for humanities organizations through May 31, 2020. Go to humanities.org.