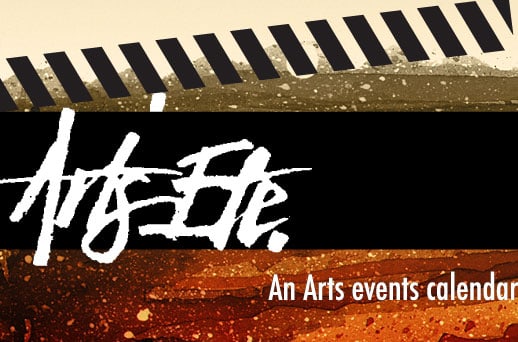 Visual Arts
From which we rise is a group exhibition curated by artist Satpreet Kahlon in which she requested seven artists to choose handmade craft made by their mother and create a piece of new fiber work in response. On view  through June 19 at The Alice. 6007 – 12th Ave. S. Open noon – 7 p.m.  on Saturdays or by appointment. Free. For details, go to thealicegallery.com.
It's a match made in culinary/art heaven. Artist/photographer/writer Dean Wong often hangs out at Tai Tung Restaurant in the CID. Now the restaurant has returned the favor with an ongoing presentation of his iconic photographs entitled "Made In Chinatown USA." Sit at the counter deep into your chow mein and looks at images of the neighborhood on the wall. 655 South King St. Ongoing.
Every Moment of a Book: Three Decades of Work by Julie Chen is a survey of her work that reveals her ability to play with relationships of image, text and the structure of what we think of as a book. On view through  June 30, 2017 in the Allen Library's Special Collections on the UW campus in Seattle. Curated by Sandra Kroupa, Book Arts and Rare Book curator for the University of Washington. 206-543-1929 or go to http://calendar.washington.edu/122339804/EXHIBITEveryMomentofaBook-ThreeDecadesofWorkbyJulieChen.
Community by Design: Main Streets in a Changing America is a new gallery exhibition presented by the Seattle Architecture Foundation at the Center for Architecture & Design. On view through  June 10. Seattle's Chinatown/ID is one of the community case studies featured in the show. It was chosen because it's one of the few neighborhoods across the country to persist and maintain its character, despite constant threats from everything such as highway construction to major public & private development projects. Much of that success is due to strong community engagement. 1010 Western Ave.
Davidson Galleries presents Contemporary Japanese Prints with work  from more than thirty emerging and established artists now living and working in Japan. Includes work by Kato Megumi, Sugimoto Akari, Mikami Keiko, Suzuki Tomoe, Imai Yosuke, Ikuta Koji and Kamuma Takao. On view  through July 1, 2017. Recent Woodcuts by Korean printmaker Lee Chul Soo comes in July. 313 Occidental Ave.  S. Open Tues. – Sun.  from 10am – 5:30pm. 206-624-7684 or go to www.davidsongalleries.com.
An upcoming  group show entitled Cuidado! – The Help at Greg Kucera Gallery June 1 – July 15, 2017 features work by Roger Shimomura and Lynne Yamamoto, among many others. The show highlights work by artists concerned with America's strained relationship to its domestic helpers on the home front and menial workers on the business front without whose help this country would not survive. 212 Third Ave. S. 206-624-0770 or go to www.gregkucera.com.
Seattle artist Jill Beppu has a show of drawings/paintings up until the end of June, 2017 at the UW Tower Building. Located on the main lobby level along the walls leading to the sky walk bridge. 4333 Brooklyn Ave. NE.
Puget Sound Sumi Artists Group Show Ink Studies on Basho's Pond remains on view through June 10, 2017. Local graphic designer Aldo Chan's exemplary, sensitive eye for detail and design has made a lot of things look good throughout the years in Seattle like newspapers such as ours, Seattle Times' Pacific Magazine and even exhibits at the Wing. But what some of you may not know is that all along he has done beautiful work as a ceramic artist as well. Now his exquisitely designed ceramics can be found for sale at KOBO. All the above activities take place at KOBO at Higo at 604 South Jackson. 206-381-3000 or [email protected]. There is another branch of KOBO on Capitol Hill at 814 E. Roy St. 206-726-0704.
The work of photographer Frank Asakichi Kunishige and painter Yasushi Tanaka is included in the group show entitled "Botanical Exuberance: Trees & Flowers in Northwest Art" at Cascadia Art Museum. On view through  June 25, 2017. 190 Sunset Ave.  in Edmonds, WA. 425-336-4809.
Singularity Now is a group show featuring the futuristic visions of super-intelligence that reveals itself to be omnipresent love as seen through the eyes of Jonathan Wakuda Fischer, Jazz Brown and Gabriel Marquez. New work that explores our relationship to nature and the ultimate truth that "All is one and one is all.  Show is on view until the end of June. Closed Mondays. All events are free and open to the public. Artxchange Gallery at 512 First Ave. S. in Pioneer Square. 206-839-0377 or  [email protected].
In December of last year, a painting depicting Gordon Hirabayashi's legacy by Roger Shimomura was installed at Hirabayashi Place. The piece faces the front lobby window and will greet visitors as they enter explaining his life and legacy. 442 South Main St. in downtown Seattle.
The Henry Art Gallery located on the campus of the University of Washington presents the following. The work of Ding Jin and Scott Tsukamaki is included in the UW 2017 MFA + MDes Thesis Exhibition which runs through June  25, 2017. On the Seattle  UW  campus. 206-543-2280 or go to henryart.org for details.
The PCNW 21st Juried Exhibition of photography as juried by Sandra Phillips former curator at SFMOMA is an annual group show of local photographers. On view  through June 11. Photographic Center  Northwest at 900 – 12th Ave. 206-720-7222 or go to pcnw.org.
Lingering Presence is a new series of portrait paintings by Kathy Liao on view through July 1. Liao's portraits go deep into the soul with vibrant color and disturbing truths about the human condition. This series catches anonymous poses of people in transit, starring at cellphones or Facebook pages and catches her grandmother behind the curtain of her memory loss. Prographica Gallery at 313 Occidental Ave.  S. 206-999-0849 or  go to prographicadrawings.com.
Seattle artist Paul Komada is a multi-media artist whose latest work features paintings layered with chroma-key technology and audio pieces which "preemptively memorialize" the Alaskan Way Viaduct before it meets the wrecking ball.    His show  entitled Monument in Memory: Abstract Alaskan Way is up from June 1 – 29 at Gallery 4Culture at 101 Prefontaine Pl. S. 206-296-7580 or go to 4culture.org. Open M – F.
Seattle artist Junko Yamamoto's delicious color-popping abstract paintings are in a solo show  of new work at Taste at SAM next to the Seattle Art Museum downtown through August 6 , 2017.   1300 First Ave. 206-903-5291 or go to www.tastesam.com.
New and recent shows /activities at the Wing include the following:
Out in the Open is the new YouthCAN group exhibition. From street writing to installations, students explored their neighborhoods and looked at ways art is able to influence the places you live. On view  through June at the Frank Fujii Youth Gallery. Teardrops that Wound: The Absurdity of War is a group show that looks at how art can deflate war's destructive weight by exposing its absurdity. Contemporary Asian Pacific American artists pull back the curtain and invite visitors to examine war from another angle. Curated by SuJ'n Chon. Opening Thursday, May 11 from 6 – 8pm. Year of Remembrance: Glimpses of a Forever Foreigner with poems by Lawrence Matsuda and art by Roger Shimomura is a small but potently meaningful show up until February 11, 2018 . We Are the Ocean: An Indigenous Response to Climate Change explores how indigenous communities are responding to the ways climate change is affecting waters and lives. Through Nov. 12, 2017. Opening March 3 from 6 – 8pm is Seeds of Change, Roots of Power: The Danny Woo Community Garden, an exhibit that celebrates this neighborhood resource which preserves culture, tradition and identity. Khmer American: Naga Sheds Its Skin. War has had a huge impact on Khmer culture and identity. Despite these challenges, the community continues to shape the US and Cambodia.  Tales of Tails: Animals in Children's Books is a recent show to open at the museum. Do You Know Bruce? is a major new show on the personal, intimate story of martial arts artist and film star Bruce Lee and the significance of Seattle in his life. The Wing is the only museum in the world, outside of Hong Kong, to present an exhibition about Bruce Lee's life. The Lee family has plans to eventually open a permanent museum on Bruce Lee's life and legacy in the Chinatown-ID neighborhood. A new installment of the Bruce Lee exhibit entitled Day in the Life of Bruce Lee: So You Know Bruce? opened on Sat., Oct. 1, 2016. The new installment explores what it took to become Bruce Lee.  It delves into his daily work habits, routines and strategies to his written & visual art, reading, and personal time spent with family and friends.  Toddler Story Time for Thursday. June 1 features Morning With Grandpa. All story time's start at 11am. May 20th's "Family Fun Day" on Sat. from 10 am – 5pm brings free admission with face painting, story time and art workshops for the entire family. On Tuesday, May 23 at 2pm, the Wing and the US Citizenship Field Office host a special ceremony where the public is invited to witness the swearing in of new U.S. citizens. Free although seating priority to the families of those being sworn in. A new addition to The Wing's daily Historic Hotel Tour is "APT 507" which is the story of Au Shee, one Chinese immigrant woman who helped build Seattle's Chinatown. Her living room is interactive with objects meant to be felt, opened and experienced.  Starting in 2017, The Wing offers four seasons of food tours where participants not only get a taste of a variety of food but also hear about the people and the stories behind the food. "The Rice Stuff" tours are on June 9, 16 & 23.To book a tour, go to wingluke.org/tours quickly as spots fill up fast. In other news, two week-long sessions of day camps for kids aged 6 – 12 will be offered. August 7 – 11 is Playtime: Games and Toys from Around the World and August 14 – 19 will be a storytelling session with world-renowed storytelling duo Eth-No-Tec. To sign up, go to wingluke.org/summercamp. If you have questions you can email [email protected]  or call 206-623-5124×116.  More activities for teens include these – "Second Life" explores sustainability through art by working with trash and making treasured art pieces. For ages 10 – 14.  "Finding Voices: Art Portfolios and More" is for teens ages 15 – 19. Learn how to create and polish up your art portfolios. Contact [email protected] for an application by July 2, 2017. The Museum is located at 719  South King St. (206) 623-5124 or  visit www.wingluke.org. Closed Mondays. Tuesday – Sunday from 10am – 5pm. First Thursday of each month is free from 10am – 8pm. Third Saturday of each month is free from 10am – 8pm.
"Voices of Nisei Veterans – Permanent Exhibition and Collections"  is composed of rare collections preserved by the Nisei Veterans Committee and tells the story of Japanese American veterans before, during and after WW II. Access is by pre-arranged tour only. For reservations or information, email [email protected] or [email protected]. Jointly sponsored by the NVC Memorial Hall and The Wing. 1212 South King St.
*"Infinity Mirrors" is a show by Japanese artist Yayoi Kusama spanning over five decades and one she is most known for. "Yayoi Kusama: Infinity Mirrors" will focus on her original series done in 1965 in which she displayed a vast expanse of red-spotted, white tubers in a room lined with mirrors, creating a jarring illusion of infinite space and move on throughout her whole career developing this concept. Opens June 30 and remains on view through Sept. 10, 2017. Tickets go on sale to the general public on May 30 at 10am following a SAM member pre-sale on May 15. Seattle Art Museum downtown at 1300 First Ave. 206-654-3100.
Local installation artist Satpreet Kahlon has been selected to exhibit as part of the 2017-2018 Gallery4Culture Season. From Nov. 2 – Dec. 7, 2017, she will show a series of labor-intensive sculptures and video installations the rise in demand for "handmade" objects and how the term actively erases the labor, oppression, and high societal cost of importing mass-produced goods bade by brown hands in developing nations. Deadline for the next round of selections for shows at 4Culture is Mon., Jan. 8, 2018.
Seattle Asian Art Museum in Volunteer Park is now closed for what is projected to be a renovation and extension that will take several years.
The exclusive West Coast premiere of "Terracotta Warriors of the First Emperor" comes to Pacific Science Center on view through Sept. 4, 2017. This one-of-a-kind exhibition is a joint project between PSC and The Franklin Institute in Philadelphia. It is limited to a two-city tour. These warriors tell the story of the First Emperor of China and the literal formation of the China that we know today. Also "Mysteries of China" is a new IMAX documentary film that tells the story of the warriors and how they were accidentally discovered by farmers digging  a well in 1974 in Xian. This film opens on March 10, 2017.  200 Second Ave. at Seattle Center. 206-443-2001.
Congratulations to local sculptor Humaira Abid who is the cover story for the May 2017 issue of CityArts. She is profiled by  Amanda Manitach within its pages. Abid is represented   locally by Artxchange Gallery . Go to www.cityartsonline.com/articles/great-detail to learn more. Her one-person show opens at Bellevue Arts Museum on Sept. 22, 2017.
The 2017 Neddy Artist Award finalists include UW graduate Tuan Nguyen in the Painting category and Che Sehyun, a Korean/indigenous artist in the Open Medium category. Sehyun was a previous 2016 Artist Trust Fellowship recipient as well.
"Familiar Faces & New Voices: Surveying Northwest Art" opens May 13, 2017 and stays on view through the summer of 2017. This group show is a chronological walk through of Northwest art history, illustrated with the works of noted artists from each time period as well as lesser-known but just as important figures. Different works will be displayed throughout the run of this show. Includes the work of Patti Warashina, Joseph Park, Alan Lau and many others. "In Search of the Lost History of Chinese Migrants and the Transcontinental Railroads" is the title of a new exhibition by UW Professor and internationally acclaimed artist Zhi Lin who looks at the thousands of Chinese men who came to California to work on the railroads and mine for gold. He travelled extensively to historic sites and painted at these locations to evoke the contributions of Chinese to the history of the American west. This multi-media work on view from June 27 – Feb. 4, 2018.  Writer/Professor Shawn Wong of the UW English department has contributed an essay to the exhibition catalog and will give a talk on Chinese Americans in the early West in August. Artist Zhi Lin will lead an historic walking tour at an historic Chinese American site in September. Stay tuned for details.Tacoma Art Museum at 1701 Pacific Ave. 253-272-4258 or email [email protected].
This year's Seattle Art Fair will take place August 3 – 6, 2017 at Century Link Field Event Center located at 1000 Occidental Ave. S.. It will showcase the region as well as bringing cutting-edge contemporary art to the region with a total of 84 exhibitors representing 26 cities from 9 countries including 50 galleries from the Pacific Rim. There will be large scale works by local and international artists and daily artist dialogues. The fair hopes to examine the many ways today's artists  engage with architecture and design, public space, and the histories and conditions of social activism. Go to http://seattleartfair.com/ for details.
Now on view through July 16, 2017 is "Yellow Terror: The Collections and Paintings of Roger Shimomura" which includes not only his artwork but his collections of memorabilia and objects depicting racial stereotypes of Asians and Asian Americans accumulated during the last 20 years. Oregon Nikkei Legacy Center at 121 NW Second Ave. in Portland. 503-224-1458 or go to www.oregonnikkei.org.
Portland Japanese Garden collaborates with architect Kengo Kuma on the launch of a major expansion opening April 2, 2017. The Cultural Village expansion provides additional space and will enhance its ability to immerse visitors in traditional Japanese arts and culture. Three new Japanese gardens will be added as part of this. The garden will host major art exhibitions this year with related lectures, demonstrations and activities. "KABUKI: A Revolution in Color and Design" looks at Japan's most flamboyant performance art through elaborate kimonos and is on view from July 29 – Sept. 3. "Mirrors of the Mind: The Noh Masks of Otsuki Koukun" is a display of hand-carved masks by a master artisan and elegant brocade costumes from the traditional silk looms of Orinasu-kan in Kyoto set for fall. Also in development is the International Institute for Japanese Garden Arts & Culture  which will offer classes in traditional garden arts such as tea ceremony and calligraphy. This opens to the public in 2018. For more information, go to japanesegarden.com.
The Art Gallery of Greater Victoria presents "Mirror With Memory", a photo history of the Japanese Canadian community mirrored through the creative lens of the Hayashi/Kitamura/Matsubuchi Photo Studio which operated in Cumberland BC from 1912 – 1942. The images of people in the community speak to the vital contributions of Japanese Canadians to British Columbia's social fabric. The exhibit is shown in a year which marks the 75th anniversary of the uprooting and exile of over 22,000 Japanese Canadians from the coast of this province. The exhibit is on view from June 17, 2017 to Sept. 4, 2017. "With wings like clouds hung from the sky" is an exhibit by Karen Tam on view from June 3, 2017 to Sept. 4, 2017. An artist named Lee Nam was a Chinese immigrant to British Columbia at the turn of the 20th century. He is known solely through the journals of noted Canadian painter Emily Carr. Montreal-based artist Karen Tam draws on archival research to speculate on the artistic influence and exchange between Carr and Nam. Tam re-imagines Lee Nam's painting studio in Victoria's Chinatown to evoke the presence of this unknown artist. 1040 Moss St. in Victoria, BC Canada. 1-250-384-4171.
On December 7, 1941 Japan bombed Pearl Harbor, launching America into war. In Canada, this action resulted in the confiscation of nearly 1,200 Japanese-Canadian owned fishing boats by Canadian officials on the British Columbia coast, which were eventually sold off to canneries and other non-Japanese fishermen. The exhibition entitled "The Lost Fleet" looks at the world of Japanese Canadian fishermen in BC and how deep-seated racism played a major part in the seizure, and sale, of Japanese Canadian property and the internment of an entire people. Curator Duncan MacLeod states   that "the history of Japanese Canadian fishermen is inextricably linked to the history of Vancouver. The city was a gateway in the Pacific for all immigrants looking to forge a brighter future for themselves." The exhibition will showcase a series of photographs as well as several models of Japanese Canadian built fishing vessels in its collection, made by model shipbuilder, Doug Allen.  These models replicate some of the fishing boats seized during the war that have  since been lost to history. On view  through March 25, 2018. Vancouver Maritime Museum at 1905 Ogden Avenue in Vanier Park in Vancouver, BC Canada. Open Tues. – Sat. from 10am – 5pm and Sundays from noon – 5pm. Also open late on Thursday nights until 8pm. Go to www.vancouvermaritimemuseum.com/exhibit/lost-fleet-exhibition for more details.
The UBC Museum of Anthropology presents the following –   On view until Oct. 9, 2017 is "Traces of Words: Art and Calligraphy from Asia", a survey of writing throughout Asia over a span of different time periods. Curated by Fuyubi Nakamura. 6393 NW Marine Dr.  in Vancouver BC. 604-822-5087 or  moa.ubc.ca.
Vancouver Art Gallery's new public artwork by Hong Kong artist Tsang Kin-Wah will be shown at two locations through Oct. 15, 2017. These large scale compositions transform English texts to form intricate floral and animal patterns. The words are from discriminatory language that appeared in Vancouver during the 1887 anti-Chinese riots, the mid-1980's immigration influx from Hong Kong and most recently, the heated exchanges around the foreign buyers and the local housing market. "Onsite/Offsite: Tsang Kin-Wah will be placed in the heart of downtown Vancouver at 1100 W. Georgia St. as well as on the Howe Street façade of the Gallery itself. Vancouver Art Gallery is  at 750 Hornby St. in Vancouver, BC Canada. 604-662-4719.
Asian Art Museum, San Francisco has the following – On view through June 25, 2017 is "Saints And Kings – Arts, Culture, And Legacy of the Sikhs." The Sikhs were one of the first South Asian immigrants to California, settling in the Marysville/Yuba City area so this exhibition dedicated to illuminating their culture is an important event. Opening June 23, 2017 is "Flower Power", a group show that uncovers the hidden meanings of flowers in Asian Art.  "The Sculptural Turn – Japanese Ceramics From  The Kempner And Stein Collection" remains on view through Nov. 26, 2017.  This group  show showcases the work of fourteen Japanese clay artists who studied in universities or came to ceramics after exploring other fields. This show is significant for showing work by artists who did not come from the traditional master/student relationship but also for featuring work by women in a field usually dominated by men. "A Journey Into The Great Unknown" is on view through Oct. 29, 2017 and includes a collaboration between two Pakistani American women. Visual artist Shahzia Sikander works with playwright Ayad Akhtar. Sikander's etchings compliment Akhtar's colophons that explore the theme of Mi'raj, the mystical night journey of the Prophet Mohammad. On going are two installations. In front of the museum is "Dragon Fortune" by Taiwanese artist Hung Yi which meshes together Taiwanese folk art, Japanese textile design and pop art kids cartoons. In the lobby is "Collected Letters" by Liu Jianhua, a cutting edge installation of porcelain letters and fragments of Chinese characters suspended in mid-air. 200 Larkin St. 415-581-3500.
"Noguchi's Playscapes" is an exhibition that gathers his designs for several playgrounds, stand-alone play structures and other works that, while serious in subject, employ playful elements to engage the viewer. July 15 – Nov. 26, 2017. San Francisco Museum of Modern Art (SFMOMA) at 151 Third St. Go to [email protected] or call 415-357-4000.
The San Francisco Museum of Modern art has established a new position, that of curator of contemporary art. Eungie Joo has been appointed to that post. Joo has previously worked as curator of education and public programs at the New Museum in New York where she partnered with other country's institutions to encourage a more global perspective in exhibitions. She has also curated the 2015 Sharjah Biennial in the United Arab Emirates and worked as artistic director of the 5th Anyang (Korean) Public Art Project. She is a graduate of Vassar and holds a doctorate from the Department of Ethnic Studies at UC Berkeley.
"Polished to Perfection: Japanese Cloisonne – From the Collection of Donald K. Gerber & Sueann E. Sherry" on view through Feb. 4, 2018. A  group show of "Chinese Snuff Bottles from Southern California Collectors" on view through Oct. 1, 2017. LACMA or Los Angeles County  Museum of Art. 5905 Wilshire Blvd. 323-857-6010.
Craft in America Center in Los Angeles has the following –   Through  July 1, 2017 is "Kazuki Takizawa: Catharsis Contained." This LA-based artist puts human emotions in the shimmering, fragile form of glass. Of his work, he says "The harmonization of the radically different, such as violence and meditation, spontaneity and meticulousness, and destruction and repair is found in the process, as well as the result of my work." Craft in America Center is at 1120 South Robertson Blvd. #301 in Los Angels. Go to 310-659-9022 or [email protected].
The San Diego Museum of Art has a new exhibition running through August 13, 2017 that showcases the work of important Japanese artists from the museum collection for the first time. "Modern Japan: Prints from the Taisho Era (1912 – 26) and Beyond" highlights Shinhanga (New Prints) and Sosaku Hanga (Creative Prints). These prints document the Japanese response to the political & cultural transformation during the 1900s-1960s, themes include modernity, scenic tranquility and Japanese romantic fantasy.1450 El Prado in Balboa Park. 619-232-7931.
The Japanese American National Museum has the following shows  – On view until August 20, 2017 will be "New Frontiers: The Many Worlds of George Takei" which looks at the life and career of Star Trek's Mr. Sulu. 100 N. Central Ave. 213-625-0414 or go to www.janm.org.
The Los Angeles County Museum of Art (LACMA) has the following exhibits – An installation entitled "Pause" by Abdulnasser Gharem until July 2, 2017. "Monsoon: Indian Paintings of the Rainy Season" until July 2, 2017. "Unexpected Light – Works by Young Il Ahn" which marks the first show given to a Korean American artist  here on view through July 22, 2017. "Chinese Ceramics from L.A. County" on view until July 22, 2017. 5905 Wilshire Blvd. 323-857-6000 or try [email protected].
A new Ai Weiwei project which includes a large-scale lego installation "TRACE"  originally  commissioned in 2014 for a project on Alcatraz Island includes 176 portraits of individuals the artist considers activists, prisoners of conscience or advocates of free speech and a 700-foot graphic work  entitled "The Plain Version of the Animal That Looks Like a Llama But Is Really An Alpaca."  Opens June 28 at the Hirschhorn in  Washington DC. The artist will give a public talk there on June 27. Free tickets online starting  June 19.
The Asia Society Museum in New York presents  "Lucid Dreams and Distant Visions: South Asian Art in The Diaspora"  which includes the work of nineteen contemporary artists who come from all over the world where ever South Asians have migrated to. All artists currently reside in the U.S. Opens June 27 and remains on view through August 6, 2017.725 Park Ave. New York City, New York. 212-327-9721 or go to www.asiasociety.org for more details.
"Age of Empires: Chinese Art of the Qin & Han Dynasties (221 B.C. – A.D. 220)" on view through July 16, 2017. This show examines the unprecedented role of art in creating a new and lasting cultural identity and China's relationship with the rest of the world. "An Artist of Her Time: Y. G. Srimati and the Indian Style" looks at the work of this early modern Indian artist. On view through  June 18, 2017. "Comme des Garcons – Art of the In-Between" looks at the work of Japanese fashion designer Rei Kawakubo with approximately 150 examples of her work from the 1980s to her more recent designs. Through Sept. 4, 2017.  Metropolitan  Museum of Art. 1000 Fifth Ave. in New York City. 1-800-662-3397 or go to www.metmuseum.org.
Anna Sui  became the first living American fashion designer to be the focus of a retrospective when an exhibition of her work opened in May at London's Fashion & Textile Museum. This Chinese American designer from Detroit came to the fore in the 1990's with her "grunge" collection. Her signature style always combines a clash of references from various eras, such as vintage, glamour and cutting edge. The exhibition remains on view through October, 2017.
"Descension" is the title of a new Anish Kapoor public installation that is a giant pool of continuously spiraling water. It was unveiled at Pier One on a narrow park along Brooklyn's East River edge. The pool of water spins in a vortex that looks like it collapses at its center and descends into the ground. Kapoor has called out for artists to engage with issues such as nationalism and the regime of Donald Trump. He has stated that this piece has an "obvious association with American politics. I toyed with the idea of the title 'Descension in America' to be more particular and to point harder at the current state of things, but I don't think I need to." Kapoor is one of Britan's most decorated artists and won the prestigious Tiurner Prize in 1991. Earlier this year, he formed a coalition called "Hands Off Our Revolution" which will stage contemporary art exhibitions to confront right wing populism. The installation will be up daily from 9am – 9pm until September 2017.
"Good Fences Make Good Neighbors" is the title of Chinese artist Ai Wei Wei's latest project which will build over 100 fences around New York City. Inspired by the international migration crisis and political turmoil facing the US government's policy on immigration. Commissioned by the Public Art Fund.
"Self-Interned, 1942" tells the story of American artist Isamu Noguchi who voluntarily went to Poston War Relocation Center where Japanese Americans were interned during WW II with the idea to improve conditions with art and design. He made small pieces of driftwood sculpture. His efforts came to naught and he petitioned to be released.  His time spent here however may have proven to be a catalyst for future work. On view through January 7, 2018. Noguchi Museum in New York. 718-204-7088 or go to www.noguchi.org for details.
To celebrate the 10th anniversary of The Benjamin Franklin Parkway, the city of Philadelphia plans a year long series of public art installation as activities. The celebration will include an outdoor installation by artist Cai Guo-Qiang Sept. 14 – Oct. 8. The artist plans to light up the Parkway with "Fireflies" which will consist of twenty-seven luminous kinetic sculptures in the form of free pedicabs that will move through the area. Participants can experience the Parkway by riding inside the sculptures as passengers. Qiang has previously done work in the city back in December of 2009 with his "Fallen Blossoms" explosion project at the Philadelphia Museum of Art and Fabric Workshop.
The Art Institute of Chicago presents the following.  "Zhang Peili: Record. Repeat" shows the work of a major Chinese artist tracing his practice from his earliest experiments with video in the late 1980s to new digital formats in the 2000s. On view through  July 9, 2017. "Batik Textiles of Java" explores the richly patterned wax-resist textiles known as batiks, their  flourishing in the Indonesian island of Java, and their inspirations and functions. On view through Sept. 17, 2017. "The Foundation of the Japanese Print Collection at the Art Institute of Chicago: Frank Lloyd Wright And the Prairie School" is comprised of Japanese prints purchased from Wright plus photos of the 1908 exhibition that Wright designed for the Art Institute and drawings by the Prairie School members. On view through  July 23, 2017.111 South Michigan Ave. 312-443-3600.
Kyocera Museum of Art in Kyoto, Japan presents a special exhibition entitled "Rin/Ten – Encounter of Fine Ceramics and Art" which features 20 new works from young ceramic artist Jumpei Ueda. On view through July 9, 2017. 6 Takeda Tobadono-cho, Fushimi-ku, Kyoto. Go to http://global.kyocera.com/company/crs/others/headquarter/index.html for details.
Performing Arts
SIS Productions presents the first ever "LAAFF Fest: Lotsa Asian American Fractured Fairytales Festival" in association with 18th & Union and Youth Theatre Northwest. This festival is a delightful collection of fun, family-friendly fairytales with a feminist flair. All the scripts were penned by Asian American women, directed by Asian American women  and feature almost 20 Asian American actors. The line-up includes the following. "Haenyeo" by Seayoung Yim & directed by Mimi Katano  depicts a young woman under pressure who meets an elderly woman who shows her a different path than what's traditional. "Not All Fairytales Have Happy Endings" by 13 year old Esther Strako shows a grandmother sharing her fractured versions of all the fairy tales we thought we already knew. "Another Monkey Tale" by Celeste Mari Williams & directed by Eliza Wu is inspired by Japanese folk tales and shows a modern woman enjoying some karmic retribution of her own. "We're With Her" written & directed by Kathy Hsieh shows little Cindy who gets a surprise visit from grandma who turns bedtime story-time into a different experience. "The Monsoon Girls" by Julie Hoang & directed by May Nguyen Lee. Inspired by a Vietnamese folktale, this tells the story of how Queen Mai's retirement spurs a sibling rivalry between the Goddess of the Seas and the Goddess of the Mountains. "The Blindman's Daughter" by Maggie Lee & directed by Maria Batayola involves a Korean American father who retells a tale of familial duty and sacrifice only to discover a new lesson for himself. Online tickets  available in advance or at the door. Youth ages 19 and under are only $5. For tickets for Seattle, go to https://web.ovationtix.com/trs/pr/974382. For Mercer Island tickets, go to http://laaff.bpt.me or call 1-800-838-3006. Performances at 18th & Union are on Sundays, June 18 & 25 at 5pm & 7pm. Performances at Youth Theatre Northwest are Saturdays, June 17 & 24 at 7:30pm, and Friday, June 23 at 7:30pm. 18th & Union is located at 18th and Union on Seattle's Capitol Hill. Youth Theatre Northwest is located at Mercer Island's Emmanuel Episcopal Church located at 4400 86th Ave. SE on Mercer Island. For more information, email [email protected].
Totem Star celebrates the release of the "Resistance Mixtape" (a collaboration with Youth Speaks Seattle) at its summer kickoff performance set for Friday, June 16 at 5:30pm at Youngstown Cultural Arts Center. This is event is free and is open to all ages. "Resistance Mixtape" features twenty-one original songs and poems recorded in Totem Star studio from Dec. 2013 – April 2017. Co-founders Daniel Pak and Thaddeus Turner took over the Youngstown Cultural Arts Center in the fall of 2013. Since 2010, Totem Star has empowered young recording artists through music production and performance to increase leadership, civic engagement, and community building. Go to www.totemstar.org for more information.
For a few years now, actress/playeright/performance artist Sara Porkalob has been cracking people up with her piece based on her eccentric family with a myriad of characters in "Dragon Lady." Now she presents her most comprehensive version ever in an Intiman Theatre production directed by Andrew Russell. This version is a musical with a live band. In it, Porkalob portrays multiple family members from three generations in a plot that includes gangsters, murders and hilarity. Set to be on stage at the Jones Playhouse at the University of Washington from Sept. 5 – Oct. 1, 2017. Go to http://www.intiman.org/dragon-lady/  or email [email protected] for details.
Japan Fair 2017 takes place July 8 &  9 at Meydenbauer Center in Bellevue. Experience tradition and modern Japanese arts & culture, explore more than 80 artists, musicians & business booths. Enjoy live music & performances. Engage in cultural workshops for all ages. Free admission and  free parking. 1100 NE 6th St. Go to www.japanfairus.org for details.
Actor Ben Gonio plays the lead role in ArtsWest's new production of "Sweeney Todd" on stage through July 1 in West Seattle.  4711 California Ave. SW. 206-938-0339 or go to artswest.com for details.
July marks the annual Japanese tradition of Bon Odori, an summer festival tradition. The biggest festival is the Seattle 2017 Seattle Bon Odori on Sat., July 15 from 4pm – 10pm and Sun., July 16 from 3pm – 8pm. Includes Japanese dancing, food and beer garden with live music, entertainment and more. Dance practice to get into the swing of things takes place on July 5, 6, 10 & 11 7:30pm – 9pm. 1427 South Main St. in Seattle at Seattle Buddhist Church.
The 7th Annual Samoa Cultural Day takes place on July 8 starting at 8am at Clover Park High Harry Lang Stadium. 253-383-3900 or go to apcc96.org for details.
Seattle Symphony and Conductor Ludovic Morlot have issued the schedule for their 2017-2018 season. Some highlights include the following – "Celebrate Asia" this time around is conducted by DaYe Lin with  sitar player Nishat Khan and Seattle erhu virtuoso Warren Chang. Kazuki Yamada will make a Seattle debut as guest conductor. A two-concert festival of Prokofiev features rising star pianists Nathan Lee, Charlie Albright and Conrad Tao with violinists Sophie Lee & William Hagen. Subscription packages available now and single tickets on sale August 5, 2017. Go to www.seattlesymphony.org for details.
Carey Wong does the scenic design for the musical comedy "Murder for Two", a collaboration between 5th Avenue Theatre and ACT. Runs through June 11 at ACT.  700 Union St. 206-292-7676 or go to www.acttheatre.org.
Tea ceremony demonstrations continue at Seattle Art Museum downtown on Third Thursdays at 5:30pm and Third Sundays at 2:30pm in the Japanese teahouse on the third floor of SAM. Free with admission. Go to visitsam.org/performs for details.
The fusion jazz pianist Keiko Matsui from Japan plays Jazz Alley with her trio on August 10 – 13. 7:30pm nightly. Get your tickets early as this marks her 30th anniversary as a recording artist.  2033 6th Ave. 206-441-9729 or go to jazzalley.com.
Local actress/performance artist/curator Sara Porkalob co-curates Intiman's "Barbecue", a play by Robert O'Hara about two families, one black and one white who must work together to convince family members into a rehabilitation program. June 1 – 25 at Langston Hughes Performing Arts Institute. 104 – 17th Ave. S. 206-684-4757 or go to www.langstonseattle.org.
Sara Porkalob will also star in "Howl's Moving Castle: A New Musical by Diana Wynne Jones" set for Book-It Repertory Theatre's 2017-2018 season set for Nov. 29 – Dec. 30, 2017. It will be adapted and directed by Myra Platt. Many will be familiar with Studio Ghibli's film adaptation of this story originally written by Jones.
"Persuasion" is a new musical based on Jane Austen's novel. Novelist, playwright and screenwriter Harold Taw wrote the book and Chris Jeffries supplied the music & lyrics. It had a staged reading at The 5th Avenue Theatre's Next Fest Festival of New Work and a workshop reading at Texas Musical Theatre Workshop. It will have its world premiere at Taproot Theatre July 12 – August 19. 204 N. 85th St. in Seattle. 206-781-9707.
Seattle Rep's Bagley Wright Theatre  will be transformed into a gigantic disco dance floor for the musical "Here Lies Love" by David Byrne and Fatboy Slim. Fresh from New York's Public Theater, the production tells the story of Imelda Marcos and her Filipino dictator husband Ferdinand Marcos and how they were toppled by a non-violent restoration of democracy in 1986. Directed by Alex Timbers and starring  Jaygee Macapugay as Imelda and Mark Bautista as Ferdinand Marcos. Conrad Ricamora and Melody Butiu are also in the cast.    Due to popular demand, the run has been extended to June 18, 2017.The theatre  is located at Seattle Center at the corner of Second Ave. and Mercer St. 206-443-2222 or go to seattlerep.org.
Crossroads Bellevue, the Eastside's live music venue presents free live performances every weekend. On the 2nd Saturday of every month at 5:30pm is 2nd Saturday Family Night with free kid-friendly music performances. On the 3rd Saturday of every month at 6:30pm is Northwest Folklife which presents diverse, family-friendly cultural arts performances. To see the schedule, go to crossroadsbellevue.com. 15600 NE 8th in Bellevue. 425-644-1111.
Book-It Repertory presents their adaptation of the novel "Welcome to Braggsville" by Geronimo Johnson  through July 2, 2017. When a southern good ol' boy at UC Berkeley lets it slip that he's going home, some of his classmates elect to tag along and decide to demonstrate their stereotypical assumptions of the racist South with mixed results. In the cast, Justin Huertas stars as a Malaysian student who wants to be "the next Lenny Bruce Lee, kung-fu comedian". 206-428-6319×19 or go to www.book-it.org.
Catch comedian Bobby Lee of "MAD TV"fame on June 8 – 10 at Parlor Live Bellevue. 700 Bellevue Way NE #300 in Bellevue. 206-602-1441.
Seattle International Dance Festival takes place June 19 – 24 at various venues around town. Performers come from around the country, around the world and from the Northwest. Some highlights include the following – Gu Jiani from Beijing blends ballet and Chinese classical dance in her original piece entitled "Right & Left" with an arresting mix of projection and light and asks the age-old question, "Why do we love and how do we stop it from destroying who we are?" Set for June 9 & 10 at Broadway Performance Hall at 8pm. 1625 Broadway on Capitol Hill.Indian choreographer Sudarshan Chakravorty and his Sapphire Dance Creation marks the first U.S. appearance of classical Indian Chhau dancers performing in a contemporary work. Set for June 23 & 24 at 8pm also at Broadway Performance Hall.  For tickets, call 1-888-377-4510. For information, call 206-552-0694. Go to the link www.seattleidf.org/ for more details.In tandem with the festival is the Seattle International Dance Festival Education:Summer Dance Program. The Threshold Institute for Dancers offers students a chance to learn with Seattle choreographers and the Advanced Master Classes will bring visiting international choreographers. For an application for a scholarship, email [email protected].
Local jazz musician/composer Bob Antolin has a newly released song on cdbaby entitled "The Trump Voodoo of 2017", a project he recorded with local area Moroccan musicians in response to our present administration. For details, go to http://www.cdbaby.com/cd/bobantolin.
Local classical Indian vocalist Srivani Jade has a new cd out entitled "Ballads of the Sand" with Pankaj Mishra and Ravi Albright. Available for purchase through CD Baby.
Playwright Laureen Yee has a Seattle World Premiere of her play "The Great Leap" set for March 23 – April 22, 2018 at Seattle Repertory Theatre. The company shares this world premiere with the Denver Center for the Performing Arts Theatre Company. The plot revolves around Beijing University basketball coach Wen Chang and Manford, a young rough-around-the edges basketball talent from San Francisco's Chinatown and how their worlds intersect. At the Leo K. Theatre. 155 Mercer St. Box Office # is 206-443-2222.
Francesco Lecce-Chong, Assistant Conductor of the Pittsburgh Symphony has been selected to become the new Chief Conductor of the Eugene Symphony in Oregon.
Reggie Lee, known for his role as Sergeant Drew Wu fro ABC's "Grimm" will return to the stage in the role of Sancho Panza in Portland Opera's production of "Man of La Mancha."
"Allegiance", the Broadway musical inspired by actor George Takei's childhood in internment camp during WWII will come to Los Angeles Feb. 21 – April 1, 2018 with previews from Feb. 21 – 25. East West Players and the Japanese American Cultural and Community Center will co-sponsor the production set for the JACCC's Aratani Theatre in Little Tokyo. No word yet on whether the production will include the original cast. For updates, visit East West Players website.
The Ojai Music Festival has been a destination for classical music, dance and opera since 1947. 2017 sees a new twist. Running in early June, 2017, the music director this time around is composer/jazz pianist Vjay Iyer. Participants this year included many of his associates and musical collaborators from that realm including Anthony Braxton, Jen Shyu and Tyshawn Soreiy to name but a few. Go to www.ojaifestival.org for details.
The Met (Metropolitan Museum of Art) in New York has announced highlights of their performing arts series for the coming year created to complement a full range of exhibitions held at all three New York locations. Choreographer Eiko Otake premieres three new pieces, one each at unexpected spaces at each location. Shanghai Peking Opera will perform the New York premiere of "Farewell My Concubine with "First Lady of Chinese Opera, Shi Yihong. Visual/sound artist Ryoji Ikeda creates "supercodex" which melds techno sound and multimedia art. Baritone Brian Vu is part of the cast that performs in a New York premiere of "Odyssey- A Youth Opera." Yotam Ottolenthi teams up with fellow chef/author Madhur Jaffrey for a "Feast of India" and Carnatic vocalist Abhishek Raghuray performs as part of the activities around the exhibition "Modernism on the Ganges: Raghubir Singh Photographs." "Immigration/Migration is a concert inspired by the immigrant experience and includes work by Chinese American composer Bright Sheng. The Aizuri Quartet will be the "2017-18 Quartet in Residence" performing at various venues. Members include Miho Saegusa, Ariana Kim, Ayane Kozasa and Karen Ouzounian. A concert celebrating "Thelonious Monk at 100" with a host of ethnic musicians interpreting or inspired by his work includes Min Xiao-Fen performing "Blue Pipa." For details, email  [email protected] or go to www.metmuseum.org/press/news/2017/metlivearts-2017-season.
Pianist Sara Davis Buechner recently performed a program of music that traced connections between French and Japanese music at Weill Recital Hall in New York. Of particular interest was a performance of Jacques Ibert's "Histoires" in which the pianist collaborated with mime dancer Yayoi Hirano who with spare movements and Noh-style masks enhanced the mood.
When Koma Otake stopped dancing due to a foot injury, his wife and partner Eiko started a solo career. Koma turned to painting to sustain his creative spirit. With surgery, Koma got his dancing legs back and he embarks on a solo career himself with "The Ghost Festival" at Danspace Project in New York. Besides the dance, it features his paintings as a backdrop. The piece pays homage to his teachers and the "aware kaze no bon" performed yearly to honor ancestral spirits near his hometown in Niigata. Excerpted from the New York Times.
Film & Media
The late Toshio Matsumoto was a Japanese avant-garde and experimental film director most well known for his feature-length work entitled "Funeral Parade of Roses" issued in 1969. A new 4k restoration of this classic look at the Tokyo night world of drag queen bars and divas screens June 15 – 18. In addition, eight of Matsumoto's short films will also be screened June 14 – 18. At Northwest Film Forum located at 1515 – 12th Ave. 206-329-2629.
Japanese director Hirokazu Kore-eda's latest film "After The Storm" which tells the story of a dead-beat dad trying to make amends to his family and son will get an extended run at SIFF Uptown shortly after its appearance at the annual SIFF Film Festival. He is completing production on his next film entitled "The Third Murder" which is his first foray into the suspense genre.
Seattle artist Etsuko Ichikawa will be co-curating with NWFF, a collection of short films by NOddln, a Tokyo-based filmmakers collective set for August 18, 2017.Northwest Film Forum at 1515 – 12th Ave. 206-829-7863.
Chinese writer/director Li Ruijun's "Walking Past The Future" has been selected to compete in the 2017 Cannes Film Festival. The film stars Yang Zishan who plays a young woman who tries to give her parents a better life after their retirement to their rural hometown in China's arid Northwest.
The BBC will adapt Vikram Seth's novel, "A Suitable Boy" set in post-colonial India into a lavish eight-part series with a script from Andrew Davies who has previously done "Pride and Prejudice" and "War and Peace." Filming starts later this year. It is the BBC's first period drama featuring an entirely non-white cast. The announcement follows a warning from Ofcom, the BBC's new regulator, that its television is too white and fails to appeal to viewers from ethnic minorities. Excerpted from The Telegraph News.
The Written Arts
Elliott Bay Book Company presents a series of readings and events. All are at the bookstore unless noted otherwise. June 7 at the bookstore, Lisa Ko reads from "The Leavers" (Algonquin), a debut novel about the disappearance of an undocumented Chinese immigrant and how her son left behind discovers the difficult choices she was forced to make. Northwest art historian Barbara Johns speaks about her new book "The Hope of Another Spring" (UW Press) on Takuichi Fujii, a Japanese American artist who documented his life in  the internment camps during WWII through his art and prose. Also on June 7 at 7pm at Folio: The Seattle Athenaeum located at 314 Marion St. $10 at the door and $5 for Folio members. Co-sponsored by UW Press. Go to www.folioseattle.org for more details. Finally the great Indian writer Arundhati Roy returns to Seattle with her first novel in 20 years entitled "Ministry of Utmost Happiness" (Knopf). June 27 at Town Hall Seattle. Advance tickets available now at the Elliott Bay website BoldTypeTickets.com.  Local fiction writer Richard Chien reads from "You Private Person" (Scrambler Books) as part of a reading with novelist Robert Lopez and local writer friends Samuel Ligor and Stacey Levine. Tues., July 27 at 7pm. Elliott Bay Book Company is at 1521 Tenth Ave. in Seattle's Capitol Hill neighborhood. 206-624-6600.
The Seattle poetry landmark bookstore Open Books continues to shine and prosper under new owner Billie Swift. Besides being one of the few bookstores in the country to stock poetry and nothing but poetry, they have a hot line-up of readings year around as well. UW Creative Writing Professor Pimone Triplett and East Coast poet Alessandra Lynch read together on June 9. On June 16, Seattle poet E. J. Koh reads from her stunning debut entitled "A Lesser Love" (her poetry appears in the May, 2017 issue of CityArts magazine) along with Bay Area poet Jacques J. Rancourt. Sept. 26 brings new-to-Seattle poet Ryo Yamaguchi who reads from "The Refusal of Suitors" (Noemi Press) and Mark Tardi from Poland where he reaches at the University of Lodz. He has translated contemporary Polish poetry. He is the author of "The Circus of Trust" and other books. All readings at  7pm. 2414 N. 45th St. in  Seattle's Wallingford neighborhood. 206-633-0811.
Northwest art historian Barbara Johns talks about her new book entitled "the Hope of Another Spring" (UW Press) which details the life of Northwest Japanese American artist Takuichi Fujii  in a WWII internment camp through his prose and art. June 8 at 7pm. Third Place Books in Lake Forrest Park. 17171 Bothell Way NE #A101. 206-366-3333.
Washington author Curtis Chen explores interplanetary intrigue in his new sci-fi novel "Kangaroo Too" (Thomas Dunne Books), his pulsing thriller follow-up to his popular bestseller, "Waypoint Kangaroo." He reads from his book and shares the bill with Jason Hough, author of the action-adventure sci-fi book entitled "Injection Burn" (Del Ray). 7pm. Thurs., June 29. Also highly anticipated is a visit by former food writer for "Lucky Peach", Rachel Khong  with her moving, funny novel entitled "Goodby Vitamin" (Henry Holt) in which a woman still raw from a broken relationship must return home to care for and contend with her father who is descending into memory loss. July 24 at 3pm. University Book Store. 1326 University Way NE. 206-634-3100 or go to ubookstore.com.
Hugo House has announced its temporary re-location during construction of its new building across from Cal Anderson Park. Beginning in mid-2016, Hugo House's public programs and offices will be based in a building owned by, and adjacent to, the Frye Art museum at Boren Avenue and Columbia Street on First Hill. Hugo House will operate a full schedule of readings, classes, book launches, workshops, teen programs, and more at the Frye while its new building is being constructed. Events will take place here and in the Frye's auditorium as well at the nearby Elliott Bay Book Company and Sorrento Hotel. Beginning May 21, 2016 classes continue at Hugo House's temporary home at 1021 Columbia near Frye Art Museum. By 2018, Hugo House will return to its original site and occupy a ground-floor space in a new six-story, mixed-use building. In related news, Hugo House has produced "The Writer's Welcome Kit", an exclusive e-course that combines guidance on the writing craft and resources to help the writer excel. Go to hugohouse.org for details. Hugo House now adds manuscript consultations to its long list for resources for writers.  There are currently five consultants for short fiction, novels, memoirs, essays, poetry, young adult and literary journalism and more to be added as the program continues. For details on this, go to hugohouse.org/manuscript-consultants. Hugo House plans "Scribes Summer Writing Camps for Teens" between July 10 – August 18 at MoPOP, Mohai and Henry Art Gallery. Instructors include Roberto Ascalon, Michelle Penaloza, Jane Wong and many others. To sign up or ask questions, email or call Jiuliann Petkov at [email protected] or call 206-322-7030. For general information, try 206-453-1937. Hugo House is at 1021 Columbia St. in Seattle.
The 4th Annual Lao Writers Summit takes place on June 23 & 24 starting at 9am. Highline Community College. 2400 S. 240th St. in Des Moines, WA.
Congratulations to Peter Ho Davies who won the Chautauqua Prize for his most recent book of stories about Chinese immigrants in America entitled "The Fortunes".
One finds it hard to keep up with the steady stream of new titles coming out even in the limited categories of works by or about Asian Americans and new titles on Asia but here's a recent sampling. Please contact me if anyone is interested in reviewing any of the below titles for the International Examiner. Thanks! –
"The Broken Country – On Trauma, A Crime, and the Continuing Legacy of Vietnam" (University of Georgia Press) by Seattle-raised author Paisley Rekdal looks at the consequences of the Vietnam War for Vietnamese, Americans and herself. A violent incident on the author's campus serves as a springboard for examining the long-term cultural and psychological effects of the war.
Indonesian writer Eka Kuriniawan who burst upon our shores with recent translations of "Beauty is a Wound" and "Man Tiger" is back with "Vengeance is Mine, All Others Pay Cash" (New Directions). The book is about a lower-class Javanese teenager obsessed by sex until he witnesses a savage rape that renders him impotent. The novel is peppered with fights, car chases and mysterious women.
"The Lines We Cross" (Scholastic Press) by Randa Abdel-Fattah is a young adult novel about a teenage boy who lives with anti-immigrant parents in Australia who must confront his own moral decisions when he befriends a muslim refugee girl from Afghanistan.
"Excavating The Filipino In me" (TinFish Press) is a new chapbook of poetry by noted editor, poet and writer Eileen R. Tabios.
"Christianity, Social Justice and the Japanese American Incarceration During WWII" (University of North Carolina Press) by Anne M. Blankenship is one of the very few studies that captures the voices of those Christians inside the camps and how they coped. The author concludes that this period of imprisonment introduced new social and legal approaches for Christians willing to challenge the constitutionality of government policies on race and civil rights.
"Moon Princess" (Chicken House) by Barbara Laban is a mystery-adventure novel set in China about a girl whose mother who has disappeared, and the invisible animal friends who help her follow the clues.
"Memoirs of a Polar Bear" (New Directions) by Yoko Tawada as translated by Susan Benofsky tells the story of three generations of talented writers and performers who happen to be polar bears. Originally from Japan, this author has lived in Germany since her twenties. She writes in both Japanese and German and is a recipient of the Akutagawa Prize.
In "Birds  Art  Life – A Year of Observation" (Scribner),  noted children's writer Kyo Maclear takes her sensitive writer's eye and focuses on a memoir of a time spent on long walks and careful observation of the winged creatures that share our world.
Vancouver,WA. Author Curtis Chen is back with his follow up to "Waypoint Kangaroo" entitled "Kangaroo Too" (Thomas Dunne Books), another unique outer space adventure filled with intrigue and the mysterious ways of people interacting with outer space.
"Ths Number Does Not Exist" (BOA Editions) by Mangalesh Dabral is the first translation from the Hindi by this noted Indian poet who opens a window on the disillusionments of post-independence India and its dislocated citizenry.
"Dove Alight" (Viking) by Karen Bao is the dramatic conclusion to "The Dove Chronicles". This book in the series involves a girl sage who must lead her friends in the war that encompasses sharply divided factions on Earth and the Moon.
"Zero Distance – New Poetry From China" (Tin Fish) as edited and translated by Liang Yujing is an exciting new anthology by a new generation of poets who grew up in the age of the internet.
"Inheritance From Mother" (Other) by Minae Mizumura explores the emotional complexities and contradictions that surround the aging and death of a parent. Winner of the Osaragi Jiro Award. Translated by Julie Winters Carpenter.
"The Ministry of Utmost Happiness" (Knopf) is the long-awaited new novel by Arundhati Roy who won the Booker Prize for her stunning debut, "The God of Small Things." This novel braids together richly complex lives that have been touched by love and loss.
"Mad Country" (Soho) by Samrat Upadhyay is a collection of short stories that reaffirms the writer's position as one of the most important chroniclers of globalization  and exile that we have today. Set in Nepal.
"Want" (Simon & Schuster) by Cindy Pon is a sci-fi thriller set in a near-future Taipei plagued by pollution.
"Kika Kila – How The Hawaiian Steel Guitar Changed The Sound of Modern Music" (University of North Carolina Press) by John W. Troutman is a definitive history of the Hawaiian steel guitar and its place in the broader history of American music.
"Eating Korea – Reports on a Culinary Renaissance" (An Anthony Bourdain Book) by Graham Holliday looks at the cuisine and how it is key to understanding a nation's changing culture.
"The Emperor's Riddle" (Aladdin) by Kat Zhang is a young adult novel. When Mia Chen's family trip to China turns into a mystery when her favorite aunt disappears, the girl and her brother look for clues amidst rumors of an ancient treasure.
"Chemistry" (Knopf) is the debut novel by Weike Wang. When a graduate student in chemistry finds herself overwhelmed by family and society's expectations, she leaves behind a promising future to find out what it is she really wants in life.
"The Way Home Looks Now" (Scholastic) by Wendy Wan-Long Shang is a story about family, loss, healing, friendship and the role baseball plays in all of it for a young boy.
"Pei Pei The Monkey King" (Tin Fish Press) by Hong Kong poet Wawa now living in Hawai'I as translated by Henry Wei Leung uses these impish creatures to comment on the ironies of the human condition.
"The Hope of Another Spring – Takuichi Fujii, Artist  And Wartime Witness" (UW Press) by Barbara Johns looks at the illustrated wartime diary of a Seattle Japanese American artist and how it opens another window into that troubled time of Japanese American internment and Northwest history.
"A Transpacific Poetics" (Litmus) by Lisa Samuels & Sawako Nakayasu due out in July, 2017 is a collection that mixes poetry and poetics, criss-crossing transpacific spaces to touch down in Hawai'I, Guam, the P.I., Chile, Australia, Korea, Aotaroa, Thailand, Japan and California. The poly-lingual works in this anthology conceive ocean as consequence, map, identity,  visibility, invisibility layered over by histories of colonization in the globalized present.
"The Way Home in the Night" (Kids Can Press) by  Akiko Miyakoshi is a spare yet evocative picture book that gives voice in words and images of the dark, quiet streets of a town as it goes to bed for the night. Bunnies supplant humans as figures in this charming, nocturnal ode to evening.
"The Constitution Today: Timeless Lessons for the Issues of Our Era" (Basic Books) by Akhil Reed Amar looks with fresh eyes on our country's document and its text, history and structure for grand themes relevant to American politics.
"Adrift At Sea – A Vietnamese Boy's Story of Survival" (Pajama Press) by Marsha Forchuk Skrypuch with Tuan Ho and art by Brian Deines paints in vivid detail and vibrant colors, one family's harrowing escape from Vietnam towards an uncertain future.
"Letters To Memory" (Coffee House Press) is award-winning novelist Karen Tei Yamashita's memoir of Japanese American internment during WWII and its repercussions for her family. Handwritten letters, pictures, and paintings bring the past to life. Due out September, 2017.
"The China Sketchbook (Seagull) by I. Allan Sealy is a facsimile edition filled with sketches and scribbles that give insight into the mind of a fine Indian writer as he rides the railroads of China.
Nick Joaquin is considered one of the greatest Filipino writers but he is little known outside his home country despite writing in English. Penguin Classics hopes to rectify that situation with the first-ever publication of his seminal works, "The Woman Who Had Two Navels And Tales Of The Tropical Gothic." With a foreword by PEN/Open Book Award-winning author Gina Apostal and an introduction by Vicente L. Rafael.
The Chicago Quarterly Review's latest volume is "The South Asian American Issue". It is collection of short stories, poems and essays with art work edited and curated by Moazzam Sheikh. With over 40 plus writers. Go to chicagoquarterlyreview.com for details.
"Wolves" (White Pine) by Jeon Sungtae as translated by Sora Kim-Russell is volume 23 in this publisher's impressive series entitled "Korean Voices." Many of these stories are centered on Mongolia which lies on the border between civilization and wilderness, the present and the past. Sungtae tells the stories of these people.
"Fever" (Seagull) by Samantha Basu as translated by Arunaua Sinha gets into the mind of a militant leftist revolutionary broken by torture who is eventually freed. That's when memories of his life begin to haunt him.
"This Is Just a Test" (Scholastic) by Wendy Wan-long Shang and Madelyn Rosenberg combines the talents of two skillful young adult authors to tell the story of a Chinese Jewish boy caught in the middle of cultures, friends and a 1980's "cold war."
"No One Can Pronounce My Name" (Picador) by Rakesh Satyal is an surprising story about immigrants and  outsiders trying to find their place in America and within their own families. It all takes place in a suburb outside of Cleveland.
"Gathering the Ashes" (Seagull) by Amritlal Nagare as translated by Mrinal Pande collects the missings experiences of ordinary people during India's First War of Independence from British Colonial rule in 1857.
"Harmless Like You" (Norton) marks the fictional debut of Rowan Hisayo Buchanan in a book about multiracial identity, motherhood, familial bonds and the struggle to be an artist.
"Rani Patel in Full Effect" (Cinco Puntos Press) by Sonia Patel is a young adult novel like no other. It tells the story of a teenage girl rapper in Hawai'i who weaves words out of heartbreak, sorrow and patriarchy to the beat of her own voice.
"The Little Exile" (Stonebridge Press) by Jeanette S. Arakawa looks at the tumult and trauma of displacement and the incarceration of Japanese Americans  during WWII through the unique perspective of a young girl's eyes.
"The Shanghai Intrigue" (Seagull) by Michael S. Koyama is a political thriller. When a Chinese American intelligence officer at the US Embassy in Beijing intercepts a complex coded message, the race is on to decipher their meaning.
"Moving Forward Sideways Like a Crab" (Akashic) by Shani Mootoo looks at how a young man travels to Trinidad to reconnect with a transgender parent, uncovering the complex realities of love and family. How does he reconcile the love he had for a mother to an elegant man now named Sydney?
"Spork" (Kids Can Press) by Kyo Maclear and Isabelle Arsenault is a whimsical celebration of diversity and hybrid identities told as a "multi-cutlery" tale for all those who have ever wondered abut their place in the world.
Henry Chang continues his New York Chinatown detective series in "Lucky" (Soho). When a Chinatown gang leader is shot and survives, a detective races to save his boyhood friend before his plan for exacting revenge on his perpetrators wracks havoc on the neighborhood.
Indonesian American activist/author/artist Innosanto Nagara has written and illustrated two interesting picture board books for children on Seven Stories Press that inspires them to get involved in issues and community. "A is for Activist"  encourages kids to participate in protesting what is unjust. "Counting on Community" encourages the little ones to learn meaningful change by doing positive things in the community in which they are part of.
"Selection Day" (Scribner) by Aravind Adiga looks at the youth leagues of cricket in Mumbai and finds a microcosm of India's explosive conflicts over class and religion. The author received the Booker Prize for his previous novel.
"Pandemic – Tracking Contagions, From Cholera to Ebola and Beyond" (FS&G) by Sonia Shah covers outbreaks of disease throughout recent history.
"Iron Moon – An Anthology of Chinese Migrant Worker Poetry" (White Pine) edited by Qin Xiao Yu and translated by Eleanor Goodman. This book takes the ferment of a new 21st century working class in China by incorporating issues like migration, globalization and rank-and-file resistance.
"Things That Happen and Other Poems" (Seagull) by Bhaskar Chakrabarti as translated by Arunava Sinha. This late poet-laureate of Calcutta writes with urban angst expressing the spirit of sadness and alienation in delicate metaphors wrapped in deceptively lucid language.
"After The Bloom" (Dundurn) by Leslie Shimotakahara is a debut novel by a Japanese Canadian about one family's struggle to face the darker side of its history and find some form of redemption. A mother and daughter fae the tension between two female generations working through the trauma of WWII Japanese internment and persecution.
It's 1970s Seoul and some people hope for change while others demand it. Yoojn Grace Wuertz's characters in her novel "Everything Belongs to Us" (Random House) navigate politics and romance in this dynamic era with some raising to the top, others sinking to the bottom but no one just standing still.
"New Expressions in Origami Art – Masterworks from 25 Leading Paper Artists" (Tuttle) by Meher McArthur shows the contemporary reach and imaginative vision of today's artists in once was a more traditional craft medium. Includes the work of Giang Dinh, Tomoko Fuse, Maomoiselle Maurice, Linda Tomoko Mihara, Jun Mitani, Yuko Nishimura, Hoang Tien Quyet, Jiangmei Wu and many others.
Han Yujoo makes a disturbing debut in "The Impossible Fairy Tale" (Graywolf Press) as she examines the world of children, the rich & spoiled,  the marginal and the violence that manifests itself in the widening gap of this disparity. Translated by Janet Hong.
"Community Garden For Lonely Girls" (Gramma) is Christine Shan Shan Hou's newest collection of poetry that depicts a journey that traverses imagined histories and various states of consciousness.
Lonely Planet, the famous travel guidebook publisher expands their imprint with their "Lonely Planet Food" series. They will examine each country's cuisine through the eyes of their creators "From the Source: Japan – Authentic Recipes From The People Who Know Them Best" by Tienlon Ho, Rebecca Milner and Ippo Nakahara with photographs by Junichi Miyazaki  goes from steaming soups and silky ramen noodles to fresh, hand-rolled sushi and visits Tokyo, Kyoto, Okinawa, Nagano and Osaka.
"Becoming Misako Kikuchi: The Story of a Japanese American Adoptee's Journey to Japan and Back to Find Her Family" by local author Lynn Hammonds has been published by Create Space Independent Publishing Platform.
Han Kang, author of the award-winning novel, "The Vegetarian" has a new novel also translated by Deborah Smith entitled "Human Acts" (Hogarth Books). She takes on South Korea's violent past by re-visting Gwangju, a city in which a revolt by protestors resulted in the brutal slaughter of protestors and bystanders alike by the then Korean President, General Chun Doo-huan.
"Leftover Women – The Resurgence of Gender Inequality in China" (Zed) by Leta Hong Fincher exposes the level of structural discrimination against women, and the broader damage this has caused Chinese society as a whole.
"The End of Imagination" (Haymarket) brings together the five of Arundhati Roy's acclaimed books of essays with a new introduction by the author. Essays  written with charm, wit and a powerful commitment to social justice.
"Music of the Ghosts" (Touchstone) by Vaddey Ratner tells the story of an adult Cambodian woman who lives in America and her return to the country she knew as a child refugee with a letter from a man who knew her father in a Khmer Rouge prison.
"Still Out of Place" (Bamboo Ridge), a book of poems by Christy Passion opens a window to blue-collar life in the Hawaiian Islands with unflinching honesty and pain and yes, a hard-won beauty.
"Tropical Renditions – Making Musical Scenes in Filipino America" (Duke) by Christine Bacareza Balance looks at the music and performing arts to reveal dimensions of Filipino American history and cultural expressions.
"Lotus" (Henry Holt) is the debut novel by Lijia Zhang and was inspired by the secret life of the author's grandmother and follows a young prostitute caught between past traditions and modern life in urban China.
"The Maids" (New Directions) by Junichiro Tanizaki as translated by Michael P. Cronin complements his classic novel, "The Makioka Sisters" but bears witness not to the masters of the house but instead gives voice to a chorus of servants.
Tara Books, children's book publisher from India is out once again with two beautifully designed volumes. "A Village Is a Busy Place" by Rohima Chitrakar & V. Geetha is a brilliantly colored book that unfolds like a vertical mural illuminating the mosaic wheel of life contained in a single village. "This Truck Has Got To Be Special" by Rana, Kulaudor, Namaz & Khan shows you how truck drivers in India turn their vehicles into artistic creations that light up the landscape along India's highways and byways.
"Sorry to Disrupt The Peace" (McSweeny's) by Patty Yumi Cottrell is the story of a single woman who learns of her adoptive brother's suicide and returns to her hometown to uncover the real reasons behind his death. Noted novelist Ed Lin calls it "a sort of Korean American noir, lean and wry and darkly compelling."
"I Believe In A Thing Called Love" (FSG) by Maurene Goo tracks a Korean American teenage girl who's a disaster in romance who comes up with the idea of using "K-Drama" as a map to true love with a boy she's got a crush on with mixed results.
"Men Without Women" (Knopf) is a new translation of short stories by Haruki Murakami by Ted Goossen and Philip Gabriel that looks at men who find themselves alone. Originally published in Japan in 2014, it should serve to placate American fans until his most recent novel gets translated into English.
"Step Up to the Plate, Maria Singh" (Lee & Low) by Uma Krishnaswami. A nine-year old girl wants to play softball for a girl's team but the year is 1945 in Yuba City, CA. and her dad is from India and her mom is from Mexico and discriminatory laws still rule the land. How does she find a way to step up to the plate?
"Devils in Daylight" (New Directions) by Junichiro Tanizaki as translated by J. Keith Vincent is an early work by a master storyteller. It is a tense, erotic thriller about two friends who  become deadly voyeur witnesses to murder.
"Sideways – A Memoir of a Misfit" (Diaspora Press) by Diana Morita Cole traces the life experience of her family imprisoned in Minidoka during WW II and how that experience even influenced the children who were born in imprisonment.
"The Malaysian Kitchen – 150 Recipes for Simple Home Cooking" (HMH) by Seattle author Christina Arokiasamy looks at Malaysian recipes adapted for the American kitchen.
"Resistance, Responsibility, Life: 50 Poems Now (Knopf) is a selection of new political poems by various poets selected and introduced by note poet/editor Amit Majmudar.
"The Best We Could Do" (Abrams Comicarts) bu Thi Bui is a graphic novel about the anguish of immigration and the lasting effects that displacement has on a child and her family.
"Blue Light Yokohama" (Minotaur) is a  crime novel by Nicolas Obregon that covers a quiet, troubled detective who tries to fight corruption in the gritty glitter of Tokyo with all odds against him.
"The Gourmet Club – A Sextet"  University of Michigan Press) by Tanizaki Jun'ichiro as translated by Anthony H. Chambers and Paul McCarthy charts this master storyteller through 45 years in an extraordinary career with stories that explore an array of human passions.
Akhil Sharma won the International Dublin Literary Award and the Folio Prize for his novel, "Family Life." Here, he returns with a collection of darkly comic short stories in "A Life Of Adventure And Delight" (Norton).
"Paper Wishes" (FSG) marks Lois Sepahban's literary debut. The book follows a ten year old  Japanese American girl from Bainbridge Island who must accompany her family to a prison camp in the California desert during WW II. Losing her dog, she takes refuge by drawing pictures of him to keep his memory alive and hoping for his return and her own family's return to a normal life.
"Swimming in Hong Kong" (Willow Springs) is a collection of short stories by Stephanie Han that cross borders and boundaries of Hong Kong and the U.S and looks at characters struggling with the politics of race, sex class, gender and culture.
"ME: A Novel"  (Akashic) by Tomoyuki Hoshino as translated by Charles De Wolf tells the unsettling story of a young man who suffers an identity crisis aafter getting tangled up in a telephone scam. With an afterword by esteemed Japanese writer Kenzaburo Oe.
"Queering Contemporary Asian American Art (UW Press) as edited by Laura Kina and Jan Christian Bernabe explores contemporary currents and experiences within the field, including issues of race, identity, queer bodies & forms, kinship & affect, and digital identities and performances. Includes artist interviews, art reproductions and critical essays.
"Dandelions" (New Directions) by the late Yasunari Kawabata and translated by Michael Emmerich is a fascinating discovery. It is the master Japanese  writer's last unfinished novel that charts the incommunicability of desire and the urge to hide.
"The Takedown" (Freeform Books) by Corrie Wang looks at a high-powered high school valedictorian who has everything going for her until a video supposedly showing her "doing it" with her English teacher shows up online. Time is running out as she races to track down this internet hacker and redeem her reputation in this cyber-thriller mystery.
"Everything Under the Heavens – How the Past Helps Shape China's Push for Global Power" (Knopf) is a new book by Howard French that looks unflinchingly at the issues facing China and its perception of today's world.
"Tokyo Boogie-Woogie – Japan's Pop Era and Its Discontents" (Harvard) by Hiromu Nagahara looks at the Japanese music industry and how it was a major force in creating popular consciousness between1920 – 1950. This book has been hailed as "a landmark of 20th century Japanese cultural history."
Bao Phi, spoken word artist is back with a new collection of poetry entitled "Thousand Star Hotel" (Coffee House Press) in which he writes honestly about his childhood and his own initiation into fatherhood and how a history of  trauma can be passed from generation to generation. This may keep readers occupied until he comes to your town with his own dynamic live performance.
In "Dear Cyborgs" (Farrar Straus & Giroux), Eugene Lim skillfully weaves together a friendship between two Asian American boys in the Midwest with an ongoing philosophical debate amongst a team of superheroes. An unorthodox novel with rich with mysteries, heroes and heartache.
Prolific graphic novelist/artist Gengorah Tagame tackles a new topic in "My Brother's Husband – Volume 1" (Pantheon). When a single Japanese dad is forced to confront his painful past, it opens a window on a largely still-closed Japanese gay culture: how it's been affected by the West, and how the next generation can change the preconceptions about it and prejudices against it.
"The Golden Legend" (Knopf) is the new novel by Nadeem Aslam set in contemporary Pakistan. It tells the story of a Muslim widow and her Christian neighbors whose community is consumed by violent religious intolerance.
"Unidentified Suburban Object" (Arthur A. Levine) by Mike Jung is a funny story about a Korean girl who always felt like an alien only to discover that…… This young adult novel throws enough curve balls to keep you guessing until the surprising end.
"GONE – A Girl, A Violin, A Life Unstrung (Crown) is a memoir by classical violin virtuoso Min Kym that tells the tale of how a stolen Stradivari filled her with grief but then freed her to re-discover the joy of music and the power of her own voice.
"Lonesome Lies Before Us" (Norton) by novelist Don Lee traces the career of an Asian American alternate-country musician whose career and romantic relationship is on the skids.
In "The Girl At The Baggage Claim – Explaining the East-West Culture Gap" (Knopf), noted novelist Gish Jen tackles the study of East-West differences in the idea of self and what this means for our art, education, geopolitics, and business.
"Kra!" (Omerta Publications) is a new chapbook of poems by San Francisco Jazz Poet Laureate Genny Lim with tributes to writers & artists like James Baldwin, Amiri Baraka, Fred Ho and those innocent citizens of the world who become victims of war and imperialism.
Northwest writer Jamie Ford, author of "Hotel on the Corner of Bitter and Sweet" returns with another novel set in Seattle.  "Love And Other Consolation Prizes" (Ballantine) recounts the true story of a half-Chinese orphan who is  auctioned off in a raffle at Seattle's World's Fair and how his life unfolds as he struggles to keep family secrets of the past from surfacing in his present adult life.
"The Crystal Ribbon" (Scholastic) by Celeste Lim. What's an eleven  year old girl in rural China to do when her poor family is forced to sell her as a bridge for a wealthy family? Mysterious forces help her forge a path to freedom and finding her way back to herself.
"When I Carried You in My Belly" (Running Press) by Thrity Umrigar and illustrated by Ziyue Chen is a book for mothers to share with their children.
"The Stakes of Exposure – Anxious Bodies in Postwar Japanese Art" (Minnesota) by Namiko Kunimoto focuses on four artists of Japanese postwar art and what their work meant in the anxiety and confusions surrounding Japan's new democracy as manifested in representations of gender and nationhood in modern art.
"Kingdom Come – A Fantasia"  (Talisman) by Timothy Liu. With wry humor and sexuality, this writer of ten books of poetry produces his epic fantasy.
"Amina's Voice" (Salaam Reads) by Hena Khan is a young adult novel of a Pakistani American girl who is devastated when her mosque is vandalized and wonders what she must give up to "fit in" with the "cool" girls in her class.
Post-Mao poet Bei Dao returns to Beijing after a long absence to find his beloved city totally changed. The shock of this experience released a floodgate of emotions and memories that culminated in  "City Gate, Open Up" (New Directions), a memoir of a family and their everyday life together.
News/Opportunities
The Wing in partnership with Manhattan Tenement Museum encourages community members to share their own experiences in "Your Story, Our Story", a digital story-telling exhibit. The focus for 2017 is to gather stories from civic life. Add your story today by visiting the website. For details, email [email protected].
Friends of Asian Art Association is an all-volunteer organization that connects its members and the community to educations, cultural and social events tied to Asia and its diverse art forms and culture. Enjoy year-round activities and meet new friends who share similar interests by becoming a member. All are welcome to the activities but members get special discounts and perks. Some upcoming program events include the following – FA3 Asian & Global Arts & Treasure Sale  May 27 at St. Mark's Cathedral's Bloedel Hall on Capitol Hill from 9:30am – 3pm. This event is free. Marilyn Rowlatka and Courtney Nevitt will talk about "Textiles of Gujurat" on June 11 at 1pm at Phinney Community Center.  September 27 brings "Explore India" with Shelly Krishnamurty, Ram Prasad and Nona Dhawan. On Sunday from 2 – 4pm at the Mountaineers Center in  Magnuson Park. October 19 from 1 – 3pm, Barry Broman will talk about "Up the Chindwin River to Nagaland" at the Phinney Center. Go to FriendsOfAsianArt.org or call (206) 522-5438 for details on all these events.
Go to 4Culture.org  to find out about funding and support for cultural work in King County.
Congratulations to Nelson Daquip, wine and spirits director at Seattle restaurant, Canlis. The restaurant received the James Beard Award for Outstanding Wine Program. Daquip who hails from Hawai'i started out at Alan Wong's on the island before coming to Seattle 15 years ago.
Sisters In Crime have announced that submissions are open for the fourth annual Eleanor Taylor Bland Crime Fiction Writers of Color Award which gives a $1,500 grant to an emerging writer of color who has not yet published a full-length work. Deadline is June 15, 2017. Guidelines are at www.sistersincrime.org.
The Asian American Monument Committee of New Mexico requests artists or artist teams to submit qualifications for designing a public art sculpture budgeted for $265,000 in honor of the landmark civil rights ruling from Territory versus Yee Shun which affirmed the competency of Chinese Americans to testify in court and have their testimony accepted. Deadline is June 2, 2017. Go to www.callforentry.org for details.
A Communities + Collections workshop entitled "Mapping Asian-Canadian Community Studies on Vancouver Island" was recently held on the island. The purpose of the project was "recovering and grappling with a difficult past" including Canada's mass displacement and dispossession of people on racial grounds during the 1940's alluding to treatment of Japanese Canadians during WWII. The objective of the workshop was to use maps as a community engagement tool to collect stories and prompt conversations about various communities in BC so project coordinators would then relate them to the history and experiences of Asian Canadians growing up on the island.
Fashion designer Anna Sui,  labor activist for domestic workers and the elderly, Ai-jen Poo and Barbara Hillary, explorer and cancer survivor all received honorary degrees from the New School at the university's 81st commencement exercises in May.
Longtime organizer Sung Yeon Choimorrow has been selected to serve as next Executuve Director of National Asian Pacific American Women's Forum. NAPAWF is the country's only national progressive organization dedicated to social justice and human rights for Asian American and Pacific Islander women and girls.