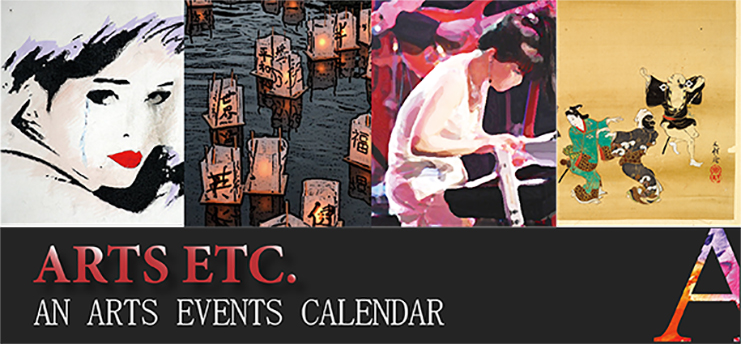 Due to the Covid 19 crisis, it is advisable that people check ahead with institutions before visiting by calling or going to their websites as government restrictions may apply or change at any time.

Visual Arts
Humaira Abid, the  local Pakistani artist who works with wood to shape  thoughtful works that deal with women's issues has a show of new work entitled "Sacred Games" scheduled for Greg Kucera Gallery from Sept. 3 – 26, 2020. 212 – 3rd Avenue S. 206-624-0770 or try [email protected].
The Northwest Art Alliance's "Best of the Northwest Art Show" will now be a virtual event this year due to the Covid 19 virus. It features over 40 of the area's finest artists and craftspeople. Takes place July 24 – 26, 2020 from 12am – 11:50pm daily. To view and shop, go to www.nwartalliance.org.
The Schack Art Center in Everett presents "American Graffiti", a one-of-a-kind comprehensive exposition of the Graffiti art genre with a rare public viewing of 85 spectacular originals from a local collection. Exhibit features commissioned works by artists in New York, Philadelphia, Chicago, San Francisco, Los Angeles, Oakland, Boston, Phoenix and Seattle. On view through  Sept. 5, 2020. 2021 Hoyt Ave. 425-259-5050 or try [email protected] or go to www.schack.org. In conjunction with the above exhibit, JAG Artworks in Everett will host a Local Graffiti Art show which features artists from all over the West coast. Also on view through Sept. 5, 2020. 2940 Colby Ave. 
The Henry Art Gallery at UW features an online presentation entitled "Eyes On The Collection: The Need To Play" curated by Fiona Dang, Curatorial Department Coordinator. The presentation highlights works from the museum's collection and explores the many connotations of the term "play". Go to henryart.org or details.
Seattle Art Museum's "Asia Talks" series (all virtual and online) continues with the following – Syrian American artist Helen Zughaib talks about her Syrian Migration Series inspired by Jacob Lawrence's Migration Series on Thursday, July 16 at 5:30pm.   Join Bay Area artist Chinese American Hung Liu as she talks about her current work and her earlier paintings created in China on Thursday, July 30 at 5:30pm.The April speaking appearance by Silk Road art specialist Judith Lerner has been re-scheduled for next year. An article by SAM curators entitled "An Asian Art Museum Transformed" appears in a recent issue of Orientations magazine. The fall Saturday University Lecture Series will focus on color in Asian art and will take place either at the Asian Art Museum or online depending on the situation re: Covid 19. Go to [email protected] for more.
"JoEllen Wang: #tarplife" features a combination of paintings and goods that explore contemporary nomadic living. On view through August 1, 2020. Gallery 110 at  110 3rd Ave. S. in  Seattle.  206-624-9336 or try gallery110.com.
Artist Hiroshi Sato has a show entitled "Flattening and Form" which includes realist painting and utilizes geometric design principles of the old masters. August 6 – 29, 2020. Harris Harvey Gallery at 1915 First Ave. in Seattle. 206-443-3315 or try.harrisharveygallery.com.
Deborah Kapoor has a show of new work entitled "Due Belle Voci" which includes sculpture made of encaustic and mixed media. It is an intimate portrait of a family seen through the artist's role as daughter, mother and caretaker.   On view  July 23 – August 22, 2020. Lauren Iida's "32 Aspects of Daily Life" also remains on view through August 22, 2020. Artxchange Gallery is at 512  1st Ave. South. 206-839-0377 or email [email protected].
The Seattle Art Museum has cancelled a previously planned major traveling exhibition for this summer entitled "The Allure of Matter: Material Art From China." Instead the current shows on John Akomfrah and Georgia O'Keeffe will be extended through Sept. 7, 2020 when the museum re-opens.

Davidson Galleries features work from their Spring Catalog 101 of print artists from around the world.  Included are prints by Chin Sheng Lee, Tetsuo Aoki, Asumi Hayashi, Keisuke Yamamoto, Sayuri Nishimura, Mio Asahi, Hiroshi Tago, Atsuo Sakazume, Koji Ikuta, Toko Shinoda and others. On view from July 3 – August 1, 2020. 313 Occidental Ave. S. in Seattle. 206-624-7684 or go to www.davidsongalleries.com.
 Kobo Seattle features a new virtual art space showcasing acrylic paintings by Kate Murray, stoneware ceramic pieces by Aaron Murray and an online store with free shipping on gift kits. A recent acquisition are monthly shipments of handmade Japanese face masks in various colors and beautiful designs. Although both KOBO locations  are still closed. Shopping by appointment only at the KOBO on Capitol Hill will soon be made available through an online booking system. Time slots will be limited to keep everyone safe, plus more protective protocols in place to meet safety guidelines. More information  to come. Shipping and curbside pickup is still available by scheduling a Pickup Time at Checkout. They have a new instagram shopping account @koboseattleshop or try their website at  koboseattle.com.
The San Juan Islands Museum of Art has work by Northwest sculptor June Sekiguchi entitled "The Pulse of Water" on view through August 17, 2020. Her large scale, immersive installations involve manipulating material that is pattern based, modular and site responsive. 540 Spring St. in Friday Harbor, WA Call 360-370-5050.
"Lily Ha: My Dance" is a retrospective show of paintings, gestural expressions of her subconscious emotions that refect her partiality for contemporary dance. Opening on August 1, 2020. Unitarian Church of Vancouver at 949  W. 49th Ave. in Vancouver  B.C. Canada. 604-261-7204.
The Outdoor Sculpture Collection on the campus of Western Washington University in Bellingham is open and accessible to everyone. This is an outdoor collection of major sculptures from the late 20th century to the present and includes work by Do Ho Suh, Sarah Sze and Isamu Noguchi among others. Get a map from the information booth and explore the campus collection for yourself. Call 360-650-3900.
The Chinese Cultural Centre Museum at 555 Columbia St. in Vancouver B.C. has an ongoing exhibit entitled "Generation to Generation – History of Chinese Canadians in British Columbia". 604-658-8880 or go to cccvan.com.
The Dr. Sun Yat Sen Classical Chinese Garen presents "Luminous Garden, the third installment of artist-in-residence Lam Wong. Done in collaboration with Glenn Lewis, it's an investigation of the concept of the garden as a sanctuary for spiritual growth. 578 Carrall St. in Vancouver B.C. 604-662-3207 or  go to vancouverchinesegarden.com.
The Asian Art Museum of San Francisco houses a major Asian art collection of Avery Brundage, an industrialist and former president of the International Olympic Committee. It was Brundage  who expelled U.S. Olympic runners Tommie Smith and John Carlos  after they gave the black power salute during their Olympic medal ceremony.  But Brundage was also dogged by earlier accusations that he was a Nazi sympathizer and a racist. After the museum posted a message about Black Lives Matter, a local Bay Area artist, Chiraag Bhakta posted an instagram with a selfie in front of a bust of Brundage at the museum's entrance calling attention to the collector's shady past. The museum director Jay Xu (formerly SAM's Chinese art curator) announced that the bust of Brundage prominently displayed it its foyer will be taken down. Asian American artist Scott Tsuchitani has also criticized the museum in the past for presenting Asian Art from a mostly white perspective. Xu said "We must contend with the very history of how our museum came to be" and that Brundage "espoused racist and anti-Semitic" views" and that the museum is struggling to respond to "a society structured around white supremacy." Excerpted from The New York Times.
New York City's Terminal B at La Guardia Airport opened recently with four large, new art installations from artists around the world. Three of the four works are accessible without a boarding pass. The New York-based installation artist Sarah Sze's piece is titled after a line in an Emily Dickinson poem "Shorter Than The Day" and functions like a time keeper. A vast matrix of metal rods create a monumental globe floating above the baggage claim. At the center are more than 900 photographs of the sky in New York taken over the course of a day from dawn to dusk.
Ruth Asawa, the pioneer Japanese American artist  from the Bay Area is honored by the U.S. Postal Service. On August 13, 2020, they will issue a set of 10 different stamps with photographs of her striking wire sculptures.
Wayne Ngan, one of Canada's premier artists and a Hornby Island resident died in June at the age of 83. Ngan's work in ceramics is widely celebrated but he also created sculpture and paintings as well. Born in China, Ngan immigrated to Canada in 1951, growing up in Richmond. He attended Vancouver School of Art, where he received the Marie E. Lambert Pottery Prize. He graduated with honours in 1963 and moved to Hornby Island later. Although he was  based on a small island, Ngan lectured and taught at schools in Canada and China, led workshops locally and abroad, and had his art showcased in exhibitions locally and internationally. Ngan played an important role in the development of art in British Columbia.
Google Arts and Culture has partnered with cultural organizations around the world to host virtual tours of museums and world sites.

Performing Arts
Jackstraw artist Mako recently released her new album of Okinawan folk music through the Jack Straw Artist Support Program. She performs live from Jack Straw on Sat., July 11 via Facebook Live. Listen at jackstraw.org or subscribe via itunes. You do not have to be a facebook member to watch. Free. Mako says "My aim for the project was to compile some of the music I grew up hearing and hoping to be able to share it with others. It was like creating a family portrait…I'm not a photographer or writer so my medium is to play sanshin."
Freehold Theatre Lab/Studio now located in the CID continues their classes in various aspects of the theatre both virtual and in-person. This 2020 summer's classes include "Voice: Clarity & Confidence with Meg McLynn, "New Play Lab: From Page to Performance" with Elizabeth Heffron, "Voice Over 2.0 Kira", "Solo Performance" with Matt Smith and "The Online Movement Lab" with Mik Kuhlman. Go to freeholdtheatre.org for details.
Music of Remembrance online features compelling music inspired by Japanese and the Japanese American experience. From August 3 through August 9, dates which mark the tragic consequences of the U.S. atomic bombing of Hiroshima and Nagasaki, MOR will stream works that make eloquent pleas about the urgency of preventing nuclear war. Japanese American composer Shinji Eshima's "August 6th" is a haunting elegy for those terrifying events. The program also includes two works that MOR commissioned from Japanese composer/musician Ryuichi Sakamoto. "Snow Falls" is a musical score for the haunting poem by Kiyoko Nagase with an English translation by Empress Michiko. The program also includes the piece entitled "Passage" which Sakamoto wrote about the plight of a refugee seeking to escape violence in his own land in the Middle East. These programs will be available for viewing by clicking on to the "Weekly Feature" button on the home page of MOR's website www.musicofremembrance.org. Music of Remembrance was established in 1998 with a mission of remembering the Holocaust with music that matters for today. 
 Even though the Wayward Music Series at Chapel Performance Space is currently closed, go to nonsequiter's website to listen to free links by local musicians performing original music at wayward music.org or try gscchapel.com.. Also listed are live streaming of local concerts by contemporary musicians that you can rent.
Activist Songbook is an ongoing performance project creating 53 new songs and raps to counteract hate and energize movements. Northwest-raised composer Byron Au Yong and lyricist Aaron Jefferis interview Asian American activists, immigrants and refugees, asking "What are the sounds your movement needs that do not yet exist? How can we work together to create these songs?" Activist Songbook will be composed of an "Illuminated Manuscript" that contains all 53 songs written over the course of the project. If you have questions, email [email protected]. To see samples, go to artidea.org and look for "activist songbook".

The Bay Area performing arts couple of Brenda Wong Aoki and Mark Izu are offering free activities online such as story time for kids, "sho meditations" and weekly performances by their friends. Go to www.firstvoice.org for details.
Film & Media
"We Are Little Zombies" by Makoto Nagahisa tells the tale of four young orphans left alone who salvage a gaming console, an old electric bass and a charred wok from their former homes and start a band out of the ashes of their former lives. July 10 – 23 available for virtual screening presented by the Grand Illusion Cinema. Try [email protected].
Screening virtually through July 31, 2020 is a documentary film by Cheryl Haines  entitled "Ai Weiwei: Yours Truly" which follows the renowned Chinese artist as he creates an immersive installation on political prisoners within the confines of Alcatraz from a distance. Go to  nwfilmforum.org or call 206-329-2629.
"A Thousand Cuts" is a documentary film by Ramona S. Diaz that presents a portrait of Filipino journalist Maria Ressa, co-founder of popular online news outlet Rappler and a journalistic thorn in President Rodrigo Duarte's side. Opens for a virtual screening on August 7, 2020 presented by SIFF. Will  also aire on "Frontline" on PBS in the future. This film was named the best international feature and won the top prize at New Zealand's Doc Edge Festival.  Go to siff.net for details.
Foundry Communications has a new film entitled "A Girl Missing" by Koji Fukuda. His previous effort "Harmonium" nabbed a jury prize at Cannes. This latest film has "Harmonium" actress  Mariko Tsutsui in a slow-burn crime thriller about the secrets shared between a home-care nurse and the member of a family. A virtual screening begins on July 31, 2020.
Taky Kimura, Bruce Lee's Seattle friend and senior-most instructor of his local dojo is the subject of a new short film by Indie Genius Media (Jamil Suleman & Aaron Jacob) entitled "Taky Kimura: The Heart of the Dragon."
Steve Alpert, a Japanese-speaking American was the "resident foreigner" in the offices of Studio Ghibli and its parent company Tokuma Shoten. He played a central role in promoting Hiyao Miyazaki's films in international markets. His memoir entitled "Sharing a House with the Never-Ending Man: 15 Years at Studio Ghibli" has just been published by Stone Bridge Press.
Town Hall Seattle has digital programming of upcoming events on their live stream page. They also have a media library of hundreds of video and audio free to enjoy. Go to townhallseattle.org for details.

Most local theaters are doing virtual screening via the internet where you can rent new films and see them at home. Go to the websites for Northwest Film Forum, Grand Illusion Cinema, Siff Uptown, AMC theatre chains and others.
The Smithsonian Asian Pacific American Center has put out a "self-care package" of poems, short films and other media and they will be adding to it periodically. Go to https://smithsonianpa.org/care/.

PBS has many digital-only shorts produced for its website Art 21 including work by Ai Weiwei. Go to art21.org for details.

The Written & Spoken Arts
Two new graphic novels to look out for include the following. "Superman Smashes The Klan" (DC Graphic Novels for Young Adults) is by Gene Luen Yang ("American Born Chinese"). Yang takes a 1946 story of a drama that appeared in a popular radio serial ("The Adventures of Superman") entitled "The Clan of the Fiery Cross" which tells the story of a Chinese American family and their fight against violent bigots aided by Superman as they move to a white neighborhood in Metropolis. This first adaptation for comics is written by Yang and illustrated by a two-woman Japanese illustration team consisting of Chifuyu Sasaki and Naoko Kawano. Chinese Canadian artist Vivian Chong along with Georgia Webber in "Dancing After Ten: A Graphic Memoir" (Fantagraphics) tells the chilling tale of her own experience when she had a toxic reaction to an ibuprofen tablet given to her by a roommate. This one-in-a-million reaction known as Toxic Epidermal Necrolysis syndrome  caused her skin to peel off and left her in a coma for two months. During a brief period after an unsuccessful corneal transplant temporarily restored 20 percent of her vision, Chong hurried to draw raw images from memory of her experience. Webber worked with Chong's story to develop sketches to fit the storyline.
Prominent British novelist Kazuo Ishiguro releases his first book since he won the Nobel Prize for literature in 2017. Entitled "Klara and the Sun", it tells the story of an artificial being who longs to find a human owner. She is warned not to invest too much in the promises of humans. Ishiguro's UK publisher Faber said the book will be released in March of 2021. In 2005, the author's novel, "Niver Let Me Go" was shortlisted for the Booker Prize.
Two reading events connected to the book on Seattle's local Kubota Gardens entitled "Spirited Stone: Lessons From Kubota's Gardens" (Chin Music Press) have been re-scheduled. A reading with local poet-laureate's Samuel Green, Shin Yu Pai, Claudia Castro Luna and former Oregon poet-laureate Lawson Inada has been re-scheduled for September, 2020 at the Wing. A Seattle Public Library event at the Microsoft Auditorium  downtown with  Jamie Ford, Charles  Johnson, Mayumi Tsutakawa, Anna Tamura and Anastasia Rene has been re-scheduled for July 23, 2020.
"Korean Art From 1953" (Phaidon) edited by Yeon Shim Chung, Sunjong Kim, Kimberly Chung and Keith B. Wagner gives people in the West one of the first nuanced and more comprehensive looks at art from the Korean peninsula while touching on North Korea and Korean American artists as well.
"The Hole" (New Directions) by Hiroko Oyamada as translated by David Boyd is a novel that has drawn compariosns to Lewis Carroll, David Lynch and the anime, "My Neighbor Totoro". Winner of numerous literary prizes when it was first published in Japan. The book tells the story of a Japanese housewife who tries to adjust to her husband's transfer to the countryside. One day while running an errand, she comes across a strange creature and follows it to a river embankment only to fall into a hole. The mysteries of this rural landscape leads her to question her role in the world, and eventually her own sanity.
"Pizza Girl" (Doubleday) is the debut novel by Jean Kyoung Frazier. It tells the story of a teenage girl who is pregnant working as a pizza delivery girl in suburban Los Angeles. She becomes obsessed with one of her customers, a stay-at-home mother new to the neighborhood.
Epigram Books is a Singapore-based press that publishes books by Southeast Asian writers that many in the West have little knowledge of. Their new titles include the following. Erni Salleh is a Singaporean writer with a debut novel entitled "The Java Enigma", a finalist for the Epigram Books Fiction Prize 2020. Other finalists for this coveted prize with books coming out include these. Joshua Kam who won the prize is from Malaysia and his "How the Man in Green Saved Pahans, and Possibly the World" is about two people who meet figures from folklore as they collectively try to save the world. Kathrina Mohd Daud is a specialist in the literature of her native Brunei. Her novel is entitled "The Fisherman King." Sunisa Manning was born and raised in Bangkok by Thai and American parents. "A Good True Thai" is about a group of friends who get embroiled in Thailand's political struggles in the 1970s and  is her first novel. "Mr. Tino" is a graphic novel about a senior citizen who gains superpowers. It is by Russell Molina and Ian Sta. Maria. Molina is an acclaimed Filipino children's book author and graphic novelist. Maria is an author and artist who lives in Denmark. Alex Au is a human rights activist based in Singapore. His "Rational Conversations: The Trouble with Foreign Workers" explores the attitudes we have for cheap foreign labor. Alifan Sa'at is the resident playwright with the theatre company "Wild Rice". "Twenty Years of WILD RICE" chronicles the theatre company's 20-year history. "Scarlet Harlot: My Double Life" is a new book which Gerrie Lim co-wrote with Ashley Chan. It focuses on Ashley's life as an escort in Singapore. Ismail S. Talib is an Associate Professor at National University of Singapore. He is editor of an anthology "Robert Yeo at Eighty: A Tribute" which inludes poetry, reviews, essays and art from many of Singapore's notable artists and literati paying tribute to Mr. Yeo. "Sherlock Sam" is one of the best-selling middle-grade series in Singapore. "Sherlock Sam and the Seafaring Scourge on Sentosa" is the latest installment in the series by A.J. Low. "Ace Agent Spycat and the Flying Sidekick" is the debut novel by Darren Lim, an award-winning animator, illustrator and writer. It is inspired byhis award-winning short film, "Spycat and the Paper Chase". Singapore-based Evelyn Sue Wong's "Just a Little Mynah" is the story of a multilingual mynah who uses its knowledge of languages to help someone in trouble. Award-winning author/illustrator Quek Hong Shin's latest book in a series on Singapore's culture and heritage is "The  Marvelous Sugee Cake". Singapore-based author Vivian Teo returns with a sequel to her best-selling novel "My BFF Is an Alien" with "My BFF is an Alien: Sabotage".
Art News/Opportunities
The renowned Northwest photographer Mary Randlett was known for her portraits of artists and her landscapes. In one image we see a confident chic Japanese American lady seated at the end of a park bench in late winter staring confidently at the camera wrapped in a fur coat. On the empty bench and scattered at her feet are fallen leaves. Behind her is the Northwest Craft Center & Gallery once prominently situated in the middle of Seattle Center. That woman was Ruth Nomura who died in mid-April 2020. She was director of the Northwest Craft Center and Gallery since 1963, a gallery started by professors from the UW art school and others in the Seattle arts community. A local icon of Seattle's arts and crafts scene, Nomura had a good eye for picking out talent among established and emerging artists of the Northwest for some forty-plus years. She encouraged, discovered and encouraged hundreds of artists in clay, jewelry and printmaking and she knew all the great ceramic and crafts artists in the area. She supported all the arts and had season tickets to theatre and dance besides being an avid baseball fan. A celebration of her life is planned once health conditions change.