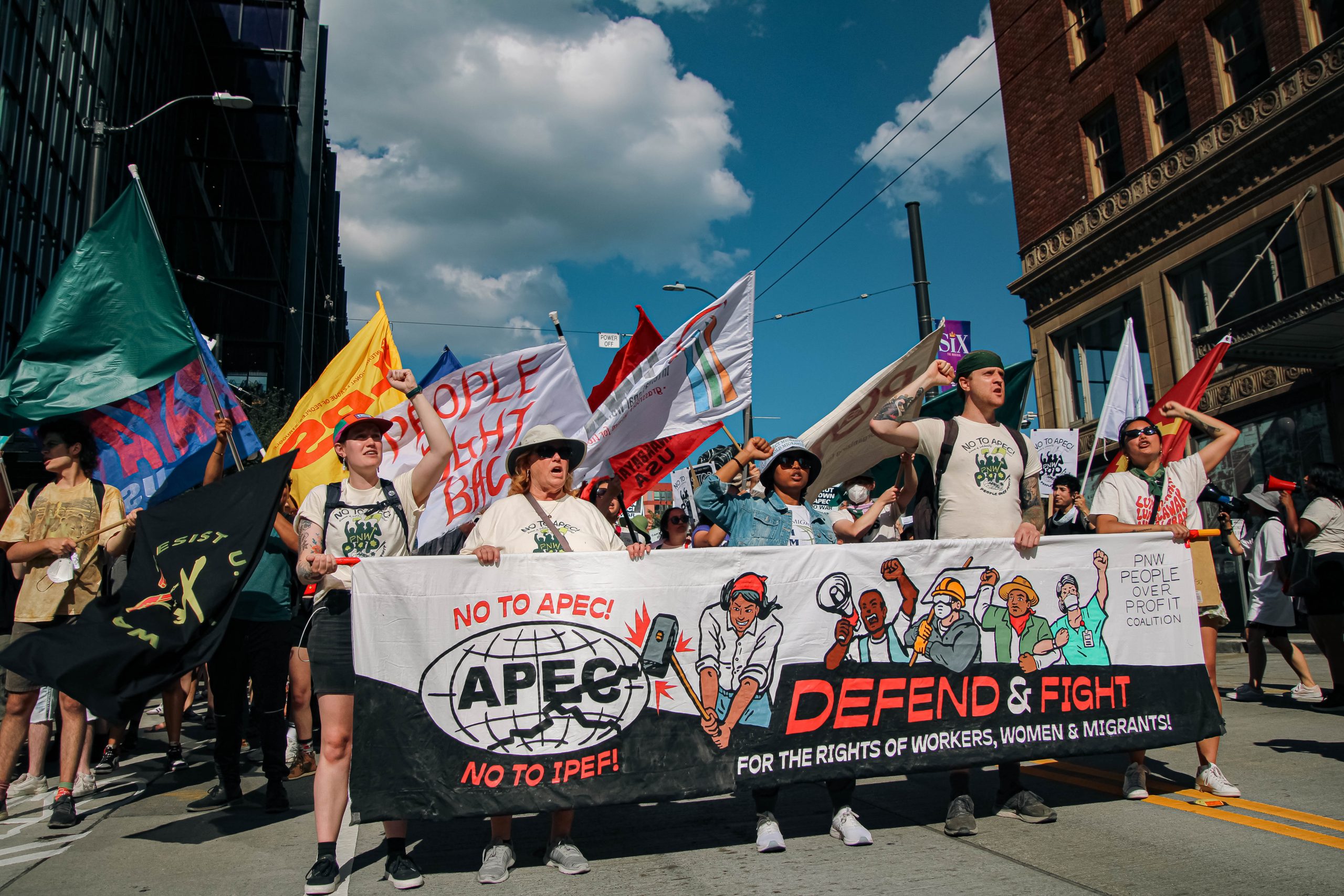 On July 29, trade ministers from the Asia-Pacific gathered in Seattle to begin a month of secretive, closed-door meetings with corporate representatives and government officials to re-write the rules of global trade. Hundreds of people turned out to protest the economic forum.
The Asia-Pacific Economic Cooperation (APEC) includes 21 "member economies," including this year's host, the United States, along with China, Australia, Indonesia, and the Philippines. Notably absent at these meetings are the billions of poor and marginalized people in the region who will be directly affected by the decisions made this month. 
For over 30 years, APEC has claimed to create solutions to the world's intensifying problems of inequality, climate crisis, and poverty. In reality, they are a main cause of these problems. APEC upholds trade deals like the Indo-Pacific Economic Framework for Prosperity (IPEF), which loosens trade rules affecting over 40% of the global economy. IPEF might promise green energy and "inclusive growth," but this language falsely paints an image of environmentalism and obscures the corporate domination from these dealings.
To denounce the undemocratic and anti-people agenda of APEC, demonstrators gathered at a Peoples' Summit organized by the Pacific Northwest People Over Profit (PNW-POP) coalition on July 29 and 30. While APEC's 2023 theme is "creating a resilient and sustainable future for all," PNW-POP exposed how APEC actually makes it easier for multinational corporations to increase their profits at the expense of migrants, workers, women and the environment. 
This is done through private ownership of services like water and energy, deregulation of laws that make labor cheap and unprotected, increased foreign loans that plummet developing countries further into debt, and other ways of maximizing profit at the expense of the people.
Seattle – home to locally-based multinational corporations like Amazon, Boeing, and Microsoft – is ideal for hosting APEC. Corporations like these will reap billions in profit from APEC's relaxation of trade regulation, while workers worldwide will suffer from worsening labor conditions, forced displacement, and environmental destruction. Much of Seattle's migrant population, many concentrated in South-end neighborhoods like the CID, are displaced here after being pushed out from their homelands due to APEC deals. 
These migrants arrive in a new expensive city only to face  local issues of rent unaffordability, houselessness, and public education budget cuts that are directly tied to how APEC prioritizes profit over people. For example, APEC policies encourage increased military spending to steal land and resources. With an annual U.S. military budget exceeding $870 billion, how many basic, sorely-needed services could be funded with those taxpayer dollars instead? 
PNW-POP was created as a direct response to this exploitation of the people and APEC's presence in the U.S. Our coalition consists of dozens of organizations fighting for labor, anti-war, environmental, and human rights issues. Hundreds from Washington, Oregon, and California have joined PNW-POP to uplift the peoples' needs, concerned about how APEC creates very real, lasting impacts on everyday people. 
The coalition began the weekend by organizing a Peoples' Summit, a response to APEC's refusal to opening itself to the public, featuring 15 workshops presented on forced migration, women's labor issues, and organizing for worker rights. Keynote speaker Eni Lestari, Chairperson of the International Migrants Alliance, exposed how APEC's free trade policies force millions to desperately migrate in hope of bettering their lives, only to end up exploited as cheap labor, deported, or even enslaved in other countries.  
"Most migrants are excluded from minimum wage legislation and paid as cheap as one third of the wage of local workers," said Lestari. "They are excluded from labor legislation and other laws, without working hours and food regulation, and often blamed whenever crises arise. During the COVID-19 pandemic, many migrants and refugees are stigmatized as coronavirus carriers and spreaders and excluded from relief and benefits." 
The next day, PNW-POP led a 500-person rally and march from Cal Anderson Park to the Seattle Convention Center, where APEC's senior finance officials were located. The protesters filled the streets in front of the center, chanting "No to APEC!" and demanded the officials come out and face the people. The Washington Fair Trade Coalition tried to deliver a petition with over 10,000 signatures demanding that APEC allow for more input from workers and the public. However, APEC refused to accept their petition.
Eventually, dozens of officials exited the building and the crowd erupted in boos, chants, and condemnations of shame. Multiple speakers uplifted the issues of women, migrants, and workers worldwide who were excluded from these APEC deals, yet will be seriously impacted by them. Before the contingent departed, we reminded APEC that we would be back, and that they had not seen the last of us. 
The fight against APEC is not over. PNW-POP will be continuing to protest against APEC meetings throughout August. These meetings are making policies for sectors such as health, women, and the environment. PNW-POP will be there to reject their false solutions to these sectors. We call on the public to join in demanding real services and solutions for the people, such as healthcare, education, and housing. 
The national APEC summit will be in San Francisco during the month of November. World leaders, including President Biden, will converge to shake hands for their profiteering deals. PNW-POP calls on everyone concerned about secretive decisions affecting billions of people without their say to come to San Francisco to demand policies that address the basic needs of the people without exploiting our labor and destroying the environment. 
Resistance against APEC has followed since the cooperation began 34 years ago. In 2019, APEC was even shut down and forced to cancel in Chile, after 1 million protested privatization, rising costs of living, and climate change. With enough people, this can happen again. Together, the people can fight for – and win – a better future that benefits the world's majority, not only the ruling elite. 
To learn more about PNW-POP and join the fight against APEC, visit PNW-POP.com and text "PNW POP" to (833) 576-2920 for updates on upcoming actions.