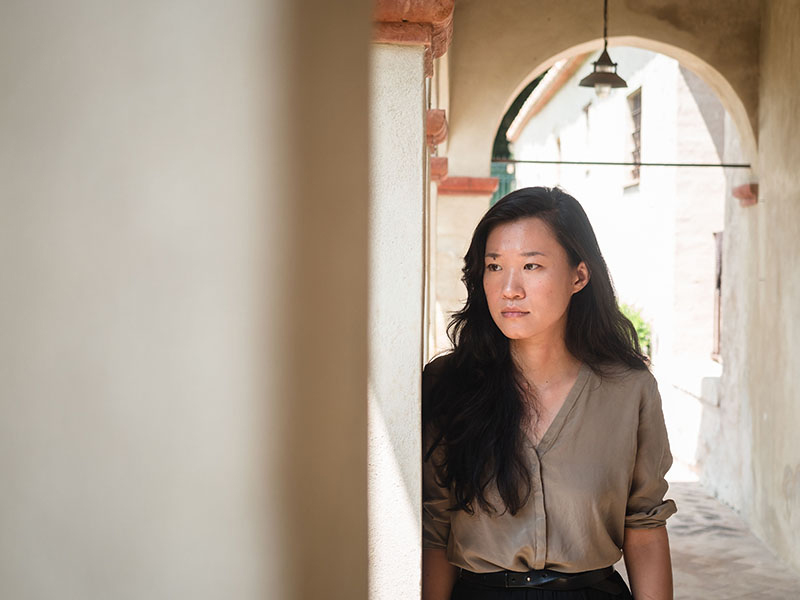 The opening lines of Jenny Xie's latest poetry collection read, "By negative space, by forgetting's lining." Much of the work Xie explores in her latest collection, "The Rupture Tense," excavates the seen versus the unseen. Xie is a poet and educator who utilizes her sense of sight – the physical as well as the intuitive – to interrogate her family's past, present, and future. She incorporates the concrete and the obscure, absorbing visual stimuli such as photos, memories, nature, the behaviors of her relatives, even empty spaces to locate and elucidate meaning of her familial roots. 
Born in Anhui Province, China, and raised in New Jersey, Xie devotes much of her recent poetry collection to examining China's history as a means of connecting to her ancestry. Poems in the opening segment of the collection focus on the photographs of Li Zhensheng, a Chinese photojournalist who took close to 100,000 photographs during the Cultural Revolution, between 1966 – 1976. Photos of a united China, sanctioned by the Chinese government, were published. Those he captured showing images of torture, humiliation, and sometimes, execution of citizens whom the Chinese government considered "class enemies," Li hid as photographic negatives under the floorboards of his apartment. They remained hidden for almost twenty years. 
In 2019 Xie came across Red-Color News Soldier, the photography book where Li finally published those photos. "I was stunned speechless upon viewing Li Zhensheng's photographs for the first time," Xie wrote recently via e-mail. "Even though I'd known about the Cultural Revolution for most of my life, I had no real visual understanding of that era. Li's photographs became a cracked opening, a portal, to my relatives' past, and to a historical and collective past that is undergoing various kinds of erasure and erosion."  
Xie directs our gaze to five of these photos in the "Red Puncta" poems. Calling our attention to French Critic Roland Barthes' concept of the 'punctum,' or the aspect of a photo that "pricks" or "pokes" viewers, Xie highlights certain images: The subjects' faces (both human and material), the "twine that screws" prisoners' hands together and the ever-present tome of the time, "The Little Red Book." Although each of these poems formally resembles the rectangular shape of a photograph, we are not provided any visual images. Xie acts as the viewfinder. We aren't meant to see the image, we are meant to see the implications of the image, which lays the foundation for Xie's immersion into the complications of her relationship to her family.  
Familial relationships are also present in the work of local poet and memoirist, Jane Wong, who will be in conversation with Xie as part of Seattle Arts & Lectures' Poetry Series on January 17 at Rainier Arts Center. Of the similarities between their work, Wong says, "…both our books delve into the layered and terrifying history of the Great Leap Forward and the Cultural Revolution. In this way, we are moving together across generations, as China haunts us both. I'm especially excited to talk to Jenny about how time shifts in her work and how she defines 'the rupture tense.' As she writes: 'That sonic dimension is asynchronous…That memory contains no vector.'" 
Xie's exploration in the book's title poem is set in China as she describes a visit with her family, her interrogation into her history leaping into the present. At first describing a wide-angled perspective where "someone from long ago stages a return," Xie slowly moves closer, from the airport to the cab ride to an exchange with a cousin. She uses cinematic language like "cutaway," "close-ups," and "flashback," constructing an imagistic narrative. We are observers here, and despite the implied intimacy of a family reunion, it appears that Xie is physically present yet remains as disconnected from her family as if she were viewing them through a lens. Communication is strained. There is a "Theater of gift giving." Childhood photo albums are shared. Language and memory seem to hover in space and time, perhaps as hidden as Li's negatives under the floorboards. "How does the clandestine behave?" Xie asks in the poem. Via e-mail she explained, "I'm interested in what doesn't yield immediately or easily to sight, to understanding, to explanation. The hidden and unseen can contain immensities, are inexhaustible."  
Wong also relates to concealed places in "The Rupture Tense." "I also kept returning to form in her book, such as the brackets in "Deep Storage," the moments of litany, and the use of questions throughout – questions that echo into what feels like a continuous well (as in the poem, "Present Continuous"): 'When is it enough – staying still? / Absorbing the echoing of tenses?'" 
Identifying what exactly is 'the rupture tense' is one of those questions that echoes. Is it a rupture that can be healed? Xie answered, "I don't know that the 'rupturing' of tenses – the piercing and leakage of past into present, future into the past, and so on – needs to be closed or healed. Thinking of the past, present, and future as enmeshed is one way, out of many, of making sense and meaning of the infinities of time." It appears that Xie imagines the 'rupture' as a means of bleeding that line so that all tenses exist together, blurred within what is visible and what is not. The seen and the unseen exist on the same plane, visible to those who would take the time to look and consider. The shifting spaces become areas of revelation rather than concealment.  
A regard for revelation or knowledge feels integral to this collection as well as to Xie's previous book, "Eye Level," and she seems comfortable with whatever knowledge readers discover. "I'm surprised by how my poems think and feel ahead of, and outside of, my own understanding, and how the language I sew together holds kinds of knowledge that elude my will. I've also been moved to see how readers of the collection shape kinds of meaning and connections that I would never have anticipated. It's one of the great pleasures of being read."  
Seattle Arts & Lectures presents a talk by poet Jenny Xie on Tuesday, January 17, 2023 at 7:30pm (PST) At Rainer Arts Center at 3515 South Alaska St. in Seattle. In-person and online. For details, call 206-621-2230 or go to [email protected].