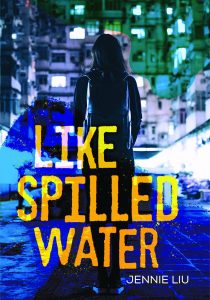 Jennie Liu's, Like Spilled Water, leads the reader through the battles faced and discoveries made by Na, a 19-year-old female raised in Weeping Willow Village in China. At the start of the novel, Na is a vocational student heading home to her village for summer break. Her plans are shockingly derailed as she receives news of her brother's untimely death. With extremely limited information, she meets her parents in Taiyuan and suddenly assumes a caretaker role to her distraught father.
As Na stays in Taiyuan longer, she meets some of her brother's friends, notably Min and Wei. In what Min and Wei share about Bao-bao, Na realizes how little she knew about her own younger sibling. She grapples with guilt as she reflects on her long-standing resentment toward him. Her parents showered their only son with gifts of education and opportunity as most Chinese families did. After all, as a Chinese idiom Na's father often states, "having a daughter is like spilled water"; of no value to her family. In a summer of growth and realization, Na must sort through messy situations for her truth.
In the eyes of a young adult, born and raised with Chinese tradition, the decisions and conclusions Na faces appear impossible and murky. As the novel progresses, Na's insight into her parents' motives and faults grows significantly, and as a result, so does the reader's. This story challenges the reader to understand the roles and restrictions of being a daughter to a Chinese family as it explores the bridges connecting generations and cultures.
Na trudges through sadness, jealousy and guilt and is forced to navigate conflict and humiliation. She is ultimately faced with a decision: to continue being "like spilled water" or depart from tradition and conformity to find her confidence and radiance.
Liu's novel sparks conversations many families are neither able nor willing to have. The author's note shares statistics regarding mental health, LGBTQ+ rights, and women empowerment in China providing tangible context to themes present in the story. I would recommend this novel to readers seeking to catch a glimpse into modern Chinese culture or looking for a fast-paced, thought-provoking read.