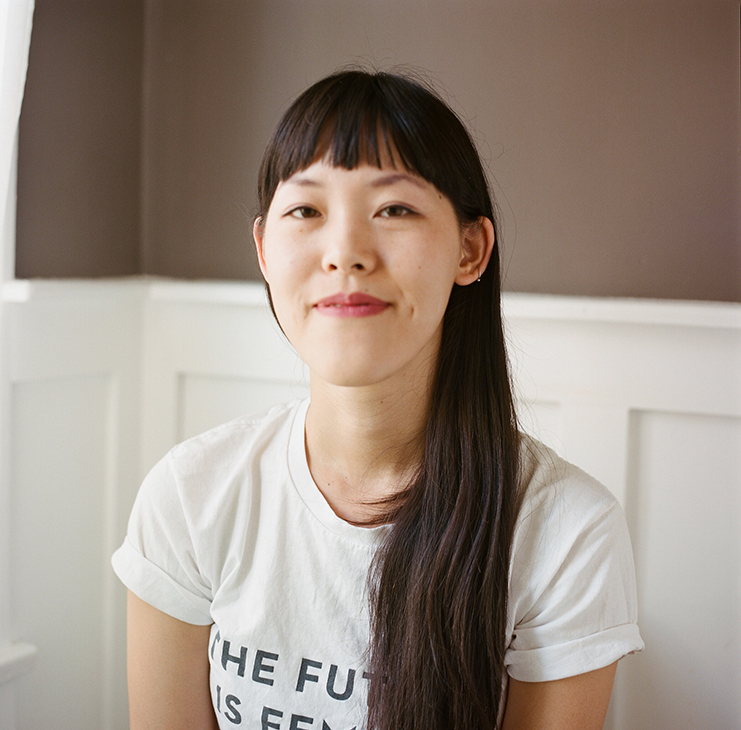 In Stargazing, cartoonist, illustrator and author Jen Wang dives deep into the recesses of her mind to create two wholly different characters that are based on two sides of her own personality. Christine Hong is studious, obedient and wary of her parent's expectations and the image she gives off to her community. Moon Lin is artistic, bold and carefree, indifferent to society's labels and unabashed about being herself.
When Christine's family lends a helping hand to Moon's mom by renting a spare unit to them on their property, the two girls become fast friends. Moon's warm, inclusive personality thaws Christine's guarded self, introducing her to the world of K-pop, dancing, and even nail polish, a forbidden indulgence in her home. Moon is also Buddhist, allowing Christine to try vegetarian versions of Chinese dishes for the first time.
As Moon starts getting the attention of Madison, a popular girl in school, Christine becomes jealous of Moon's newfound and effortless popularity. To complicate things further, her math grade goes down and her father shows disapproval of Moon's influence on her.
Her conflicting feelings come to a boil at Madison's birthday party, causing her to do something terrible. Through a chain of events, Moon has a seizure and goes to the hospital. Riddled with guilt, Christine must decide whether she can muster the courage to face the dear friend she has wronged.
This middle-grade book, which comes on the heels of the success of The Prince and the Dressmaker, is a wonderful addition to Wang's growing repertoire of books. Wang weaves a delightful tale about friendship, pursuing one's heart, and having the courage to be the person one was meant to be (all in the context of an Asian American family and community); the book will find a beloved home in the hearts and minds of countless children, young teens and, perhaps, even adults.
The IE was fortunate enough to get a chance to email interview Jen Wang before Stargazing's release on Sept. 10:
International Examiner: Can you tell our readers a little bit about your family background?
Jen Wang: I was born and [raised] in the California Bay Area, but my parents are from Taiwan and immigrated to the States in the 1980s. I still have some family there and go back to visit every few years.
IE: Can you explain your background and experience as a cartoonist and illustrator? How did you get your start in comics?
JW: I started drawing web comics in high school, and [by] putting [them] online, I met a number of other cartoonists my age who were doing the same thing. In college I'd stopped doing web comics but stayed in touch with the cartoonist community and got invited to participate in an anthology called Flight that later got published by Image Comics. Through Flight I got connected to my literary agent, and she was there to help me when I graduated college and started working on my first graphic novel, KOKO BE GOOD.
IE: What ultimately made you decide to become a graphic novelist?
JW: I don't know that I really decided. My goal was to just make one because I knew I was capable of it. I always liked to write and draw, and especially both together. After I made one, I made another one, and so on and so forth.
IE: Did you have any role models in the comic industry while you were growing up?
JW: Comics were a lot harder to get when I was growing up in the '90s, early 2000s. A lot of the mainstream superhero comics weren't very accessible to me, so I was mostly reading a lot of Chinese-translated manga I got from a local Chinese bookstore in my neighborhood in the East Bay. Even though their lives weren't really applicable to mine because they lived in Japan, a lot of manga artists I read were women, and that must've subconsciously did something for me. Just reading books by women like Rumiko Takahashi and Chiho Saitou, who wrote and drew their own work.
IE: In Stargazing, I was surprised to see you put K-pop and Korean words in there! Are you a K-pop fan? Did you base the K-pop singer featured in the story on a particular singer? And why did you decide to put Korean words in there? And how did you decide what Korean words to put in there?
JW: I'm not a K-pop expert, but I enjoy it! Chara is inspired by the K-pop star CL, who was part of the group 2NE1. She just has this really sassy, confident attitude that I feel someone like Moon would really idolize. I asked my friend Hellen Jo, also a fantastic cartoonist, to write me a K-pop song in the style of CL, and she really knocked it out of the park with "Queen B"!
IE: It seems like both Moon and Christine's characters are a product of you when you were growing up. Would you say you were more like Moon interest-wise? And personality-wise, you were more like Christine? Or is Christine based more on someone you knew?
JW: Christine and Moon both share aspects of me. Moon has more of my artistic, confident and independent side; Christine has my more rational, studious and more perfectionist side. Initially, when I was developing the story, it was easier to see myself as Moon, but I thought that's why it would be important to write from Christine's point of view. It would be too easy to judge Christine for being less of the outsider, and I wanted to be able to love and empathize with them both.
IE: Growing up, did you find it difficult to fit in with your community? Has this had a long-term effect on your life? If so, in what way?
JW: I had other Chinese-American friends, but I always felt a little bit off, and I couldn't quite relate to their situations. Like Moon, I was Buddhist, vegetarian, and I wasn't expected to pursue academics or become a doctor or lawyer when I grew up. I wanted to be an artist or writer. At the same time, I wasn't a white American or a kid from Asia, so I was just in this weird space in between. I did eventually meet more Asian Americans in adulthood that had similar stories to me, but it took me a while to find them. By then I'd learned to accept that everyone's story is different and there's no one way to be Asian American or Chinese American.
IE: Moon's tumor is based on your own experience as a child. What made you decide to share this deeply personal story through one of your characters?
JW: The tumor incident happened when I was six years old, so I was young enough to not have a full understanding of what it meant at the time. It just seemed like a typical thing a kid might go through, like having a bad flu or breaking a bone. So in a sense, it was easy to share because it felt like a natural part of my life and something I grew up with. I felt it would be a good way to illustrate how Moon might've felt about herself.
IE: What would you like your readers to get out of your story?
JW: Hopefully, readers get a sense of familiarity and connection with the characters. I liked reading stories about other Asian American kids as a kid, so having a graphic novel version out there, [I thought], would be nice. I also liked stories about other outsider kids or kids figuring out awkward social situations, so hopefully, it can be relatable to anyone.