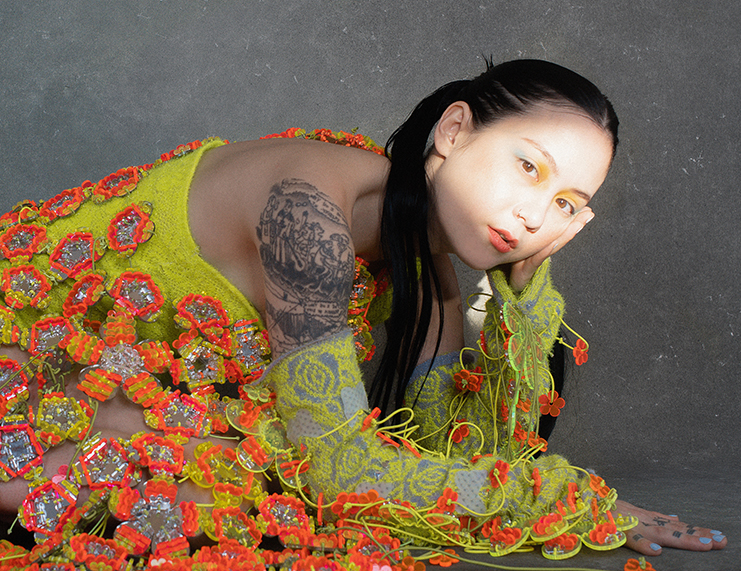 She is reluctant to admit it, but in the grand scheme of her accomplishments this year, Michelle Zauner is having a fairly decent 2021. Her memoir Crying in H-Mart came out earlier this year in April and debuted at #2 on The New York Times' Hardcover Nonfiction Best Sellers. By June, in what the Hollywood Reporter called "a competitive situation", Orion Pictures picked up the rights to the memoir to bring it to the big screen, and Zauner is currently working on writing the screenplay. Also in June, her band Japanese Breakfast released its third album, Jubilee, and she's gearing up for an international tour that kicks off this month, including three nights in Seattle at the end of September. Amidst all this, the IE was able to catch up with her to talk about the fantastic roll of creativity she's been on and how it came to be.
IE: You've had your memoir Crying in H-Mart come out and then Jubilee, and now Crying in H-Mart is going to become a movie. How are you feeling about all this? It's been a crazy year for all of us, but for you in particular.
MZ: It's been great. It's surreal and I've been trying to really wrap my head around what's going on. It's the first time in my life that people have been, "How does it feel to be noticed in this way?" And it's hard to think of it that way because I haven't really gone outside that often so I don't really know how much has changed. But yeah, I'm just trying to appreciate it and really wrap my head around it.
The album Jubilee is incredibly uplifting. Right now, it feels like the album we need. It feels like giving life the benefit of the doubt.
It was a very natural desire to pivot from this theme of grief and loss I've become somewhat known for as an artist. And I think I've been wanting to run away from that for a while just because it's a difficult thing to rehash and talk about all the time. And I think there's this part of yourself, too, that when I start making art about something else, I've completed a chapter in my life and I can move forward.
I started writing Jubilee after turning in the rough draft of Crying in H Mart, and I felt like in the process of writing that book I had kind of unpacked everything I needed to say about that experience and was able to talk about different parts of the human experience, different parts of my life, different preoccupations that I was sorting through. It just felt like a new chapter for me working on this album. It was really fulfilling.
I read it in one sitting, and I didn't mean to, but I couldn't stop reading. What was the experience in writing it? It felt like one of these books that just came out of the writer all at once, but I'm sure that wasn't the case.
I think it was a little of both. I definitely find that a lot of raw source material starts that way for me, and that was kind of how Japanese Breakfast started for me where I wrote songs every day for the month of June.
I tended to write 1,000 words a day once I got my book deal. It was pitched that I turn in 90,000 words. I was like, okay, I'll just write 1,000 words a day even if they are complete garbage until I hit 90,000, and then I'll take a look at what I've done and try to make sense of the mess I put out there. For two years or so I was writing a lot on tour, in the back of the van, on planes, in between sound check and show time.
The real work really started when you look at that mess and figure out where the story is, but I think once you have a sense of what the chapters are, what the narrative arc is, what you actually have to remember, it's kind of like you collect them [memories] for the next couple of years. You're like, 'Oh, I just had this spark of a memory that came out of nowhere that I couldn't have just conjured up – I know that this goes into a certain section, and then you kind of tuck it away or put it in there once it comes to you. But it's a lot of years of waiting for those moments to happen and taking note of them when they do.
It all seems very disciplined.
I mean, it's bad writing (laughs); it's not good by any means, but yeah, I found I need rules and self-imposed homework in that way to be productive.
There was a recent New York Times article that went into great detail and depth of the rise of Asian musical artists, and you were a major part of that article and certainly a big part of Asian representation on stage. How does that feel? 
I'm really excited. I feel like the youth of today has way more options of who to get into or who to feel represented by. I went on the Mitski tour [in 2016], opening for Mitski with Jay Som, and I didn't even realize it at the time, but it was probably one of the first tours fronted all by three Asian American women.
I kind of took for granted how special that was until we went out there and saw these huge crowds full of a lot of Asian American girls. Thinking about what that probably meant to them, I think it's really wonderful to be a part of it. And we're getting more and more of specific, nuanced, different types of stories within the [Asian] community, and I'm so glad to be a part of it.
Crying in H-Mart came out in the spring, and it was already announced by summer this year that it's going to become a movie. How did that happen? 
I have this sneaking suspicion – particularly off the coattails of Crazy Rich Asians and The Farewell and Minari and hopefully Shang Chi – I think that Hollywood is realizing that they've got a lot of catching up to do, and I feel like they're really hungry for this type of story right now.
My literary agent, right after I had turned in the book, had started finding agents for me in the film world. We started shopping it around and they were interested in the story. I talked to a couple production companies and took meetings for a while. At the time, I really didn't want to even think about Crying in H-Mart again because I'd spent so many years working on this project and then was ready to run away from it and do something new. And then by the time we decided on Orion, I realized that I think that I'm the only person that can do this, just because I feel like I'm the only person that can take the creative liberty needed for the story to feel the way that I want it to feel. I've been starting very slowly working on the screenplay this year.
So within one year, Crying in H-Mart comes out, Jubilee comes out, you're going on tour, and you're writing a screenplay. That's incredible.
Thank you! That's nice to hear because I forget sometimes.
And it's been during a time when a lot of us have been feeling paralyzed creatively.
I mean, I feel pretty paralyzed as well, creatively, like why am I working on this movie, I don't know if there's going to be any human alive to see it. So it's been really slow for me. In the beginning of the pandemic, I was finishing the final draft of the book. I had my smaller kind of finishing touches on things, but it has been really difficult for me to focus creatively as well. It seems like I've been really productive, but all of this had been done and was sitting in the rafters before – this [COVID] – happened. I'm also floundering, don't worry.
You're going to hit the road pretty soon. Are you excited about it?
I am excited, I'm nervous. We're taking every precaution we can. It's a really long tour and it's really intense to be around people right now after so long inside, but I am really excited to try and find my footing back on the road because it's just been a while. It's nice because I had a taste of being back on the road from this last run, but I found that my stamina for being around people and doing more than one thing in a day is really down, so I am nervous about finding my footing, but I am still very excited.
I haven't seen the Pacific Northwest in almost two years and that's my hometown and I do really miss it so I'm looking forward to getting to visit again. I need to visit my mom's grave, there's a lot of feelings of being excited to see that part of that country again because I really miss it.
We get you all for three nights!
Three nights! We love Seattle, the whole band loves Seattle. We're always really excited because Seattle has this strange tradition where a lot of times people will bring fruit to our concerts and pass them up to stage. One time I played the Crocodile and our bass player had jokingly put a banana from the green room on my keyboard station. As a joke I sent it out into the crowd during a song, and by the end of the song I had gotten back an apple and an orange, and so ever since then, people have been bringing weirder and weirder fruits to our shows.
What have you been reading?
I've been attempting to re-read A Doll's House, the Henrik Ibsen play. I've mostly been reading screen plays to prepare for my screenplay, but the smartest book that I read most recently is A Swim in the Pond in the Rain by George Saunders which is an incredible book about Russian short stories.
I have zero sense of style, so I'm very impressed by your fashion sense.
 Oh, thank you. I have a stylist named Cecilia Liu who is a good friend, and before meeting her, I really don't know much at all about that world. My mom was really into fashion, and I had always shared an interest in that because I always wanted to be taken seriously as a creative and intellectual; and especially playing in bands where I've always felt like I've had to present more masculine to be taken seriously.
I'm in a place in my life where I don't feel like I have to do that anymore, and I can experiment in fashion in a way that my favorite artists always did to mark specific eras in their creative careers like people like David Bowie or Elton John or Bjork. I really admire being able to look back at different parts of their album cycles and being able to know what era they were in visually based on what they were wearing.
Over the past few years, I've been able to be involved in that world and have a lot of fun with it. Usually when I'm not doing a photo shoot or on stage, I'll pretty much dress like a stagehand. But because I've gotten exposed to so many designers and so many artistic garments, my closet has become a lot more interesting, and I feel like I've been able to take a lot more risks in my every day, and that's a lot of fun for me. I used to never really wear color or anything interesting to me and now I feel like I'm more confident in my everyday wear, which is kind of a new thing for me.
I came of age during the grunge era which was my Korean mom's absolute worst nightmare come to life. 
Worst nightmare, totally. I didn't grow up during the grunge era, but I was wearing oversized Daniel Johnston t-shirts and cardigans I found at Goodwill, and my mom was like, "I would have killed to have a mother that wanted to buy me clothes and you have really fucked this up for me."
Japanese Breakfast plays at the Neptune Theater in Seattle September 25, 26 and 27. At the time of print, all three shows are sold out. Masks and proof of vaccination are required. This interview has been edited for space and clarity.