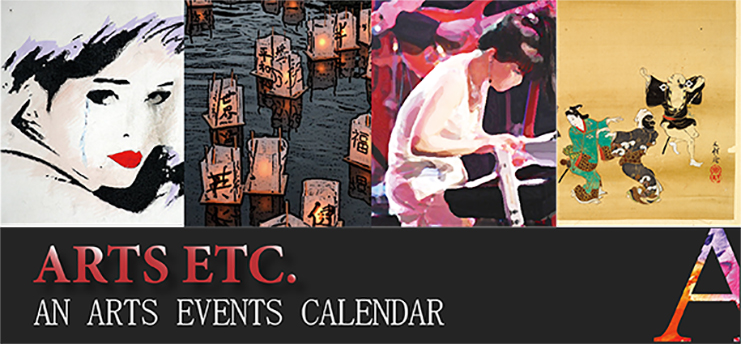 Visual Arts
The Traver Gallery presents their annual "Gallery Artist Group Exhibition" from Jan. 16 – Feb. 29, 2020. Open also during the First Thursday Art Walk on Thurs., Feb. 6 from 5 – 8pm.  Some of the artists represented by this gallery include Ling Chun, Jun Kaneko, Masami Koda, Hiroshi Yamano, Jiro Yonezawa and many others. 110 Union St. Suite 200 in Seattle. 206-587-6501 or go to www.travergallery.com.
"Brighter Future: To be heard. To be seen. To be free." This is a group show featuring artworks created by more than 50 local artists of color reflecting on freedom. Includes work by Aaliyah Gupta, Carina del Rosario, Erin Shigaki, Julia Kang Robinson, Lauren Iida, Naomi Ishikawa, Vikram Madan, Junko Yamamoto, Julia Taiyatrairong, Yoona Lee, Naoko Morisawa, Lihong Yang, Trung Pham, Young Hee Lee, Cheryll Leo-Gwin, Fiona K. Lau, Hanako O'Leary, Kamla Kakaria, Evan Chau, Catherine Cross Uehara, Cheryl Fujii Zahniser and others. At ARTS at King Street  Station which is on the third floor. 303 South Jackson St. Hours are Tues. – Sat. from 10am – 6pm and First Thursdays from 10am – 8pm. On view through  January 11, 2020. The exhibition was coordinated through The Ethnic Heritage Art Gallery roster, the Office of Arts & Culture Ethnic Artist roster and the general public.
"Beyond Bollywood: Indian Americans Shape the Nation" is guest curated by author and historian Amy Bhatt. A touring show organized by the Smithsonian, Mohai curators have added many items from their own permanent collection to augment this exhibit about a people and their culture.  On view   through  Jan. 26, 2020. Go to mohai.org to get details of program activities. 860 Terry Ave. N. in Seattle. 206-324-1126.
The work of Fong Baatz and Romson Regarde Bustillo is included in a group exhibition at Bainbridge Island Museum of Art.  Two dozen Puget Sound area artists are featured whose work includes portraiture focused on the human face. On view  through Feb. 23, 2020.  550 Winslow Way East on Bainbridge Island. Go to www.biartmuseum.org for details.
Pottery Northwest has the following –  On view Jan. 10 – 31, 2020 is a solo show by artist-in-residence Tzyy Yi Young. Her ceramic pieces and installation reflect on "intimacy, community, strength and altruism."  226 1st Ave. N. 206-285-4421 or email [email protected].
Seattle Asian Art Museum re-opens after a renovation with two new shows. Both open on Sat., Feb. 8, 2020. "Be/longing: Contemporary Asian Art" features 12 expatriate  (or one time expatriate) contemporary artists from Azerbaijan, Iran, India, Thailand, China, Korea, and Japan. Sourced from the museum collection and two private sources, the work reflects their perspectives on Asian heritage "as both insiders and outsiders" in the world. "Boundless Stories of Asian Art" tries to explore the complexity of the populous continent of Asia. Instead of the usual geographic approach, the Asian art curators have organized the displays around 12 common themes such as "worship and celebration, visual arts and literature, and clothing and identity" with a broad division of "spiritual life"-themed art in the south galleries and "material life" in the north. The museum has a re-opening weekend from 9am – 9pm Feb. 8 & 9, 2020. It is free but tickets are required so go to seattleartmuseum.org for details. If you're a Seattle Art Museum member, it gets better. There is a Members Open House on Feb. 5 & 6, 2020 and the curators will be there to talk about the new exhibits and design. 1400 E. Prospect St. 206-654-3210.
"SubSpontaneous" is the title of a collaboration between artists Rob Rhee and Francesca Lohmann. This show intermingles the works of both artists who collaborate with the forces of nature in their sculptural practices. 206-622-9250. On view Jan. 25 – April 19, 2020. Free. Frye Art Museum at 704 Terry in Seattle.
At KOBO at Higo in the CID is the following – New works by Seattle artist and plein air painter Rob Vetter are in the Japantown Gallery in the store.  602 South  Jackson.  206-381-3000. Kobo also has a sister location on Capitol Hill at 814 East Roy St., 206-726-0704.
A   group show with work by Caryn Friedlander, Yuko Ishii, Alan Lau (full disclosure, that's me), William Song and more comes under the heading of "A Circle Around The Sun – New Works by Gallery Artists" and remains on view through January 31, 2020. Meet the artists at First Thursday reception on Jan. 9, 2020 from 5 – 8pm. ArtXchange Gallery at 512 First Ave. S, 206-839-0327 or [email protected].
L.A.-based Ahree Lee is a multi-media artist working in video, photography, sound and interactive installations.  She has a video installation entitled "Permutations" currently on view in front of the Bill & Melinda Gates Foundation campus at 500 Fifth Ave. N. on view from 7am – 10pm.  This same installation also appears at 4Culture's Storefront Media Gallery space at 101 Prefontaine Pl. S.  It will be on view for a year.  This is part of Storefront Media Gallery sponsored by 4Culture.  206-263-1588 for details.
Pakistani artist Humaira Abid  who works out of Seattle and Lahore will present new work at Greg Kucera Gallery in a show with fellow sculptor Peter Millet during the months of May & June. In 2017, she received the Arts Innovator Award from Artist Trust. Seattle-raised artist Roger Shimomura is working on a monumental project one small piece at a time. His new series entitled "100 White Lies" which consists of 100 small 12" by 12" paintings detailing the hypocrisy of American history will make its debut at the gallery in Jan., 2021. Greg Kucera Gallery is located at 217 Third Ave. S. in Pioneer Square. 206-624-0770 or go to www.gregkucera.com.
Asia Pacific Cultural Center has a show every month of a local Asian American artist every month in their gallery.   Puget Sound Sumi Artists present a group show entitled "Wabi Sabi – Beauty in Imperfection"  on view now through Jan., 2020.  On the First Saturday of each month there is a cooking class from a different country of the Asia/Pacific region from 11am – noon. To register and get details, call 253-383-3900.And looking ahead, the Center for its 22nd annual new year celebration presents "Vietnam – Country And Culture" set for Feb. 8, 2020 from 11 am – 6pm. Tacoma Dome Exhibition Hall located at 2727 E. "D" St.   APCC is at 4851 South Tacoma Way in Tacoma. 253-383-3900 or go asiapacificculturalcenter.org.
Seattle Art Museum has the following –  "Exceptionally Ordinary: Mingei (folkart) 1920-2020".  George Tsutakawa's lovely "Obos 1" wood sculpture is included in this show which expands upon the meaning of folk art. Includes work by artists from Japan, Korea and the U.S. It positions Mingei within a history of crafts and crafts making. On view  through July 11, 2020.  Ongoing is "Pure Amusements: Wealth, Leisure, and Culture in Late Imperial China".   The "Fall Saturday University Lecture Series" takes place through Jan. 18 2020.  The theme is "Silk Roads, Past and Present: Ancient Afghan Treasure to China's Belt & Road Initiative".  Talks are at 10am in the Plestcheeff Auditorium.   On Jan. 11, 2020, BuYun Chen of Swarthmore College addresses "Silk and Fashion in Tang Dynasty China".  On Jan. 18, 2020 David Bachman of UW will talk about "The 21st Century Silk Road: China's Belt and Road Initiative". The "Winter Saturday University Lecture Series" continues with a series of talks on the subject of "What is 'Precious?'" with scholars Yukio Lippit of Harvard on wooden sculpture, Emma Flatt of the University of North Carolina on scent, artist Xiaoze Xie on banned books and others.  The series will explore ways that art objects, relationships, and areas of knowledge have been highly valued in different times and places in Asia. Here is a partial schedule – Feb. 1 has "Rarities Fit For Kings", Feb. 8 has "Woodwork and the Arts of Japan", Feb. 15 has "The Dragon And The Pearl: Explorations of a Eurasian Motif", Feb. 22 has "The Castaway Princess and Other Stories of Japan in the Pacific", Feb. 29 has "Out of the  Dark: Banned Books in China" and March 7, "Chaekgeori, Korean Still-life Painting". The series goes on from Feb. 1 – March 28, 2020 at 10am at Seattle Art Museum.  Cost is $73 or $46 for SAM members.  Individual tickets at the door and free for students with ID.  Tickets for the whole series go on sale Nov., 2019. As part of the "Asia Talk" series, Judith Lerner from the Institute for the Study of the Ancient World at NYU will give a talk entitled "Travels of the Horn Rhyton, a Uniquely Iranian Drinking Vessel" on Thursday, April 16 at 7pm at Seattle Asian Art Museum. $10 general, $5 for members and free at  the door for students with ID. On the third floor of SAM, tea ceremony demonstrations continue on Third Thursdays at 5:30pm and Third Sundays at 2:30pm.  Free with admission.  Go to visitsam.org/performs for details. Seattle Art Museum is located at 1300 First Ave.  206-654-3210 or try www.seattleartmuseum.org.
Seattle artist Junko Yamamoto  has been busy . Her work is the illustration for the cover of the forthcoming album "++Glacial++–Glacial –" by Paul Kikuchi and Evan Schiller. Her work is in the group show "Brighter Future: To be heard. To be seen. To be free." Up until Jan. 11, 2020 at ARTS at King Street Station (3rd floor), 303 South Jackson. Her work is included in an article about the Microsoft Art Collection by Shlomit Oren in the Israeli online Portfolio Magazine. And finally, the artist's work is included in "Re:Definition", a year-long exhibition in the Paramount Theatre Bar as curated by Tariqa Waters. Open the end of January, 2020.
Pacific Bonsai Museum shakes up this Japanese tradition with LAB (Living Art of Bonsai), an experimental collaborative for bonsai innovation.  This project is a re-sequencing in the order of influence between the bonsai artist, ceramicist and stand maker.  The project kicks off in 2018 and continues through 2020.   A video trailer from a film about this new process can be viewed at http://www.bonsaimirai.com.  For more information, go to http://www.pacificbonsaimuseum.org.  The Pacific Bonsai Museum is at 2515 S. 336th St. in Federal Way, WA. 206-612-0026 for information.
New and recent shows /activities at the The Wing include the following – "Where Beauty Lies" is an exhibit that explores Asian Pacific American's relationship to physical appearance and personal presentation, the history of beauty standards and products, and the ways in which we are redefining beauty.  Oct. 10, 2019 – Sept. 19, 2021. "Woven Together" presents a window into Burma/Myanmar with personal stories reflecting on its history, diversity and perseverance.  Opens Dec. 7, 2019 and continues through Nov. 10, 2020.  "New Years All Year Round" is the annual look at familial and cultural aspects of the Lunar new year on view through Feb. 2, 2020. "Excluded, Inside the Lines" is on view through Feb. 23, 2020.  It uncovers the history of redlining and the impact on minority communities.  "A Dragon Lives Here", part 4 of the ongoing Bruce Lee exhibition series is ongoing.  This concluding part hones in on Bruce Lee's Seattle roots and how this region played a key role in shaping Lee and his groundbreaking career.  "I Am Filipino" exhibit is ongoing.   Toddler Story Time set for Thursdays at 11am always has events centered around a kid's book and an art activity afterwards.   A new addition to The Wing's daily Historic Hotel Tour is "APT 507" which is the story of Au Shee, one Chinese immigrant woman who helped build Seattle's Chinatown.  Her living room is interactive with objects meant to be felt, opened and experienced.  Carina del Rosario curates an exhibit entitled "Wide Angle/Close up: A Self Portrait of the Asian Pacific Islander American Community" from May 10, 2019 – April 19, 2020.  Includes photography, video, and photo-based installations by photojournalists that document the community from the inside out.  Set for the George  Tsutakawa Gallery.  "Chinatown in the 1970s" recreates Seattle's Chinatown in the 1970's and explores the values and customs that continue to shape the neighborhood today.  July 20, 2019 – Jan. 5, 2020 in the KidPLACE Gallery.  The Museum is located at 719  South King St. (206) 623-5124 or  visit www.wingluke.org.  Closed Mondays. Tuesday – Sunday from 10am – 5pm. First Thursday of each month is free from 10am – 8pm. Third Saturday of each month is free from 10am – 8pm.
Seattle artist Alan Lau (full disclosure, that's me) has a solo show of his paintings at Shoreline Community College Gallery. On view  from Jan. 13 – March 13, 2020.  On  Thursday,  Jan. 30th, Lau will do a poetry reading with jazz bassist Geoff Harper at 12:30pm and there will be a Q & A and art reception with the artist at 1:30pm. All events are free. 16101 Greenwood Ave. N. in Shoreline, WA. 206-546-4101 or email [email protected] for more information.
The Northwest Flower & Garden Festival in Seattle plays host to Hiroki Ohara, Headmaster of Japan's Ohara School of Ikebana. He will create arrangements that convey the changing of the seasons from winter to spring. His presentation entitled "Snow-Moon-Flower: The Serenity of Ikebana" takes place on Sat., Feb. 29, 2020 at 11:45am on the DIY Stage of the festival. The festival itself runs from Feb. 26 – March 1, 2020 at Washington State Convention Center at 705 Pike St. in downtown Seattle. 206-231-0140 or go to gardenshow.com. For tickets, try northwestflowerandgardenfestival.tix123.com.
Tacoma Art Museum has the following – "Immigration Artists and the American West" rediscovers stories and experiences of immigrant artists caught up in the Western expansion. On view through June, 14, 2020. "Places to Call Home: Settlements in the West" gives you representations of American cities throughout their history and development. Includes work by Kenjiro Nomura and Mian Situ. On view through March 1,  2019. Opening on Feb. 22, 2020 is "Forgotten Stories: Northwest Public Art of the 1930s". This show looks at the public art initiatives under the WPA that pulled America out of a depression and gave many artists work  painting murals for the government during the 1930s. 1701 Pacific Ave. 253-272-4258.
Video artist Yunmi Her noticed a factory worker outside her window who everyday ordered lunch from a food truck and ate it sitting on a trash can lid before going back into a building through the same door he came out of. This ritual so fascinated the artist that she tried to imagine his life and routines beyond his lunch ritual using a two channel video with male and female voice-overs and Twitter accounts. "The factory worker in 2016" will be on view from Jan. 9 – 31, 2020. Gallery 4Culture. 101 Prefontaine Pl. . 206-296-7580 or try [email protected].
"ACES: Artists of Color Expo & Symposium" showcases a variety of work by 75 artists of color selected from an open call as well as various activities including talks by noted local artists. Feb. 28 – 29 at Seattle Center in The Armory & Vera Project. 305 Harrison.
The Puget Sound Sumi Artists present: "The World of Sumi", a group show on view March 26 – May 19, 2020. Free reception on Fri., March 27 at 6pm.  Open for viewing for ticket-goers 1 hour prior to an event or by appointment. Held in the Washington Center for the Performing Arts at 512 Washington St. in Olympia.
"Land of Joy And Sorrow: Japanese Pioneers of the Yakima Valley" is an ongoing exhibit that traces the story of the Japanese families who settled in the Yakima valley.  Yakima Valley Museum at 2105 Tieton Dr. in Yakima, WA. 509-248-0747.
The Portland Chinatown Museum has the following –  "Visions of Diana" is the first Portland show of abstract paintings and photographs of Diana Lo Mei Hing. The work illuminates nature in infinite motion and transformation. The artist grew up in China but fled with her family to Italy. In 2015, she moved to Portland. In the permanent gallery is "Beyond the Gate: A Tale of Portland's Historic Chinatowns".  127 NW Third Ave. 503-224-0008 or email [email protected].
"Fractions" is a show of work by Seattle-based artist Ko Kirk  Yamahira in which the artist teases apart fabric until its threads hang limply. Through Feb. 1, 2020. Russo Lee Gallery in Portland. 805 N.W. 21st Ave. 503-226-2754 of try [email protected].
Oregon Nikkei Legacy Center has a number of shows that cover Seattle's Nikkei-American history.  "Genji Mihara: An Issei Pioneer", "Unsettled/Resettled: Seattle's Hunt Hotel" and "Original Seattle Japanese Language School and Nihonmachi Restaurant Artifacts".  All are currently on view at 121 NW Second Ave. in Portland.  503-224-1458.  For current activities and exhibits, go to www.oregonnikkeilr.org.
The Portland Japanese Garden has the following exhibits – "Spirits Rising: Hiroshima" is a series of photographs taken by Ishiuchi Miyako of clothing worn by victims of the atomic bombing. On view  from Jan.  18 – March 15, 2020. A special event connected to this exhibition will be a screening of a documentary film on the photographer entitled "Things Left Behind" on Jan. 18, 2020 at 3pm. There will be a panel discussion with the photographer, the filmmaker Linda Hoaglund and Portland Japanese Garden Art Curator Laura Mueller. 611 SW Kingston Ave.  in Portland, Oregon.  503-223-1321 or go to japanesegarden.org.
The Jordan Schnitzer Museum of Art located on the campus of the University of Oregon in Eugene has the following – Most people following the visual arts are familiar by now with the  paintings/prints by Roger Shimomura  that simultaneously evoke American pop culture, ukiyo-e, internment and American history. But few are equally aware of his career in performance art. A solo show on that phase of his work will rectify that. Entitled "Staging Shimomura" the exhibition will cover his performance art career and is on view from Feb. 29 – June 21, 2020. "Kwang Young Chun: Aggregations" on view through June 28, 2020.  This South Korean artist combines hundreds of paper-wrapped parcels to create sculptural compositions that resemble crystal formations, asteroids of the surface of the moon.  "Evocative Shadows: Art of the Japanese Mezzotint" is on view until August 2, 2020.  1430 Johnson Lane in Eugene, Oregon. 541-346-3027.
Portland Art Museum has "Curator's Choice – Japanese Print Acquisitions of the Past Decade" Through April 12, 2020.  New shows coming up include the following – "Objects of Contact – Encounters between Japan and the West" from Feb. 29 – August 29, 2020. "Joryu Hanga Kyokai 1956-1965 – Japan's Women Printmakers" on  view from May 9 – Nov. 8, 2020. 1219 SW Park Ave. 503-226-2811.
The Museum of Anthropology at UBC presents a  group show of 11 artists who have achieved mastery in ceramics. Entitled "Playing With Fire: Ceramics Of The Extraordinary", it includes work by Ying-Yueh Chuang, Brendan Tang and many others. On view through  March 29, 2020. 6393 N.W. Marine Dr. in  Vancouver, B.C. Canada. 604-822-5087.
Nearly one million people came to Canada from the Punjab region of India in the 20th century. "Haq & History" tells their history with stories of immigrants, the rare objects that chronicle their work and explains what their experiences were like. Opens Jan. 9, 2020 at S'eliyemetaxwtexw ArtGallery at the University of the Fraser Valley at 33844 King Rd.  in Canada. 604-504-7441×4543 or go to sag-ufv.ca. Free.
Dr. Sun Yat-Sen Classical Chinese Garden in Vancouver, BC has the following. "Chaji" is the first exhibit in Lam Wong's year-long artist residency.  It looks at tea philosophy and the aspect of respect. Includes work of invited artists Don Wong (the artist's father), Arthur Cheng, Bryan Mulvihill, and Chuck Rice plus the work of the late artist/composer John Cage.  The exhibit remains on view through Jan. 10, 2020.  578 Carrall St.  604-662-3207 or try vanouverchinesegarden.com.
Chinese Cultural Centre Museum has the ongoing exhibit "Generation to Generation – History of Chinese Canadians in British Columbia."  555 Columbia St. Vancouver, BC. 604-658-8880.  Admission by donation.
Art Gallery of Greater Victoria is at 1040 Moss St.  in Victoria, BC. 250-384-4171 or go to aggv.ca.
Bay Area photographer Michael Jang has a major exhibition entitled "Michael Jang's California" on view through Jan. 18, 2020.  Introduced and curated by Sandra S. Phillips, SFMoMA curator emerita of photography.  It explores the artist's career as a portrait street photographer in California with a focus on his early work as he was discovering the media.  At the McEvoy Foundation for the Arts located at 1150 – 25th St., Building B in San Francisco. 415-580-7605 or try [email protected].  A book on his work entitled "Who Is Michael Jang?" will be released by  Atelier Editions.
Asian Art Museum, San Francisco has the following –On view through March 22 2020 is "Lost At Sea: Art Recovered from Shipwrecks".  On view through April 26, 2020 is "Chang Dai-Chien: Painting from Heart to Hand."  "Awaken: A Tibetan Journey Toward Enlightenment" opens Jan. 17, 2020 and remains on view until May 3, 2020.200 Larkin St. 415-581-3500.
Berkeley Art Museum/Pacific Film Archive (BAMPFA) has the following –  The museum mounts the first ever North American Exhibition on the work of 18th century Japanese painter Sakaki Hyakusen and the Nanga School.  On view through Feb. 2, 2020, the show entitled "Hinges: Sakaki Hyakusen and the Birth of Nanga Painting" will spotlight a rare pair of six-fold screen paintings. The exhibition features thirty-five rarely exhibited works by Hyakusen and his Nanga School disciples who notably incorporated Chinese painting styles into Japanese art during the Edo Period. The work will  be juxtaposed in contrast to notable works by Chinese artists who influenced their style. The exhibition will be organized in three sections.  Showcased will be two recently restored screen paintings by Hyakusen, Hyakusen's connections to traditional Chinese landscape painters and his influence on Nanga School painters like Yosa Buson and Ike Taiga. The show is accompanied by a catalog on UC Press edited by BAMPFA's Senior Curator for Asian Art Julia M. White. "Divine Women, Divine Wisdom" is on view through Jan. 12, 2020.  It features art from South Asia and the Himalayan region that celebrates the wisdom, power and compassion of women within the context of Hindu and Buddhist traditions. 155 Center St. in Berkeley, CA. 510-642-0808 or go to [email protected].
LACMA or Los Angeles County Museum of Art has the following – The installation artist Do Ho Suh re-envisions the apartment/studio he had when he lived in New York in "Do Ho Suh: 348 West 22nd St" which  remains on view through Oct. 25, 2020.  "Fiji: Art & Life in the Pacific" is exhibited from Dec. 15, 2019 – July 19, 2020. "Where the Truth Lies" The Art of Qiu Ying"  on view Feb. 9 – May 17, 2020. The iconic Japanese artist Yoshitomo Nara known for his naïve figurative work has a retrospective from April 5 – August 2, 2020. 5905 Wilshire Blvd. 323-857-6010.
The Japanese American National Museum has the following shows  –"Under a Mushroom Cloud: Hiroshima, Nagasaki and the Atomic Bombs" is on view through June 7, 2020. It will include artifacts of "A" bomb victims. "Common Ground: The Heart of Community." This overview exhibit of Japanese American history is ongoing.   100 N. Central Ave.  in Los Angeles. 213-625-0414 or go to http://www.janm.org
The Freer/Sackler Gallery on the Smithsonian Mall has the following. "Xu Bing: Monkeys Grasp for the Moon" is ongoing. "Sacred Dedication: A Korean Buddhist Masterpiece" puts on view a thousand-year old guilded wood statue of the Korean bodhisattva of compassion through March 22, 2020.  202-633-1000 or go to FreerSackler.si.edu for details.
The Metropolitan Museum of Art has the following –    "Children to Immortals: Figural Representation in Chinese Art" through Feb. 23, 2020.  "Kyoto: Capitol of Artistic Imagination" is on view through August 2, 2020.  "Sita And Rama: The Ramayama in Indian Painting" remains on view through August 23, 2020. 1000 Fifth Ave. New York, New York. Go to metmuseum.org for details.
The Rubin Museum of Art has the following shows – A multi-media group show entitled "Measure Your Existence" curated by Christine Starkman features work by Felix Gonzalez-Torres, Shilpa Gupta, Teh Ching Hsieh, Meiro Koizumi, Lee Mingwei and Taryn Simon. Lee Mingwei gives a "Brainwave" talk as part of the show on Feb. 29, 2020 at the museum. The show opens Feb. 7 and closes on August 20, 2020. "Shahidul Alam: Truth to Power" is a new show by this Bangladeshi photographer who looks at the global South.  On view from  Nov. 8, 2019 – May 4, 2020.  "Charged with Buddha's Blessings – Relics from an Ancient Stupa" is on view through June 8, 2020.  "Masterworks of Himalayan Art" is on view through March 23, 2020.   "The Wheel of Intentions" is an interactive installation on view through Jan. 6, 2020.  "Gateway to Himalayan Art" is on view through June 8, 2020.   "The Tibetan Buddhist Shrine Room" is on view through September 16, 2019. 150 W. 17th St.  New York, New York.  212-620-5000×344 or go to rubinmuseum.org.
The Japan Society has the following –  "Made in Tokyo: Architecture and Living, 1964/2020". On view through January 26, 2020. 333 East 47th St. New York, New York. 212-263-1258.
Fashion designer Anna Sui who grew up in Detroit but found fame in New York gets a retrospective show entitled "The World of Anna Sui" at the Museum of Arts & Design. It is on view now through Feb. 23, 2020. 2 Columbus Circle in Manhattan. 212-299-7701 or go to madmuseum.org.
The Museum of Chinese in America has the following –  "Gathering, Collecting And documenting Chinese American History" and "The Chinese Helped Build the Railroad – The Railroad Helped Build America". Both shows are on view through March 22, 2020. 215 Centre St. New York, NY. 855-955-MOCA or go to mocanyc.org.
MoMA (Museum of Modern Art) has a comprehensive renovation  which will include more ethnic artists and women of color when it re-opens in October 21, 2019. It includes a show of Haegue Yang's kinesthetic sculptures. 11 West 53rd St. Go to moma.org for details.
The Asia Society Museum in New York presents the following – "The Art of Impermanence: Japanese Works from the John C. Weber Collection and Mr. And Mrs. John D. Rockefeller 3rd Collection" on view from Feb. 11 – April 26, 2020. To find out more, go to AsiaSociety.org/NY. 725 Park Ave.  New York City, New York. 212-327-9721 or go to www.asiasociety.org for more details.
"To See From A Distance" is the first major retrospective on the work of Chinese artist Guo Fengyi.  Her intricate ink drawings reference Chinese mythology, traditional medicine and the philosophy of the I Ching.  Feb. 14,  – May 3, 2020.  At the Drawing Center at 35 Wooster St. in New York City. +1-212-219-2166  or try www.drawingcenter.org.
The work of Roger Shimomura is included in a group show at the American Academy of Arts And Letters. Every year, over 100 artist nominees  working in various media are submitted by members to be represented in this show. Art And Purchase Awards will be selected from this exhibition and works will be donated to museums across the country. On view during  March/April of 2020. 633 West 155th St. 212-368-5900.
Yto Barrada and Michael Wang have site-specific installations at The Lower Manhattan Cultural Council on Governor's Island starting on Sept. 19, 2019.  Go to lmcc.net for details.
The Noguchi Museum has the following –  "Noguchi: Body-Space-Devices" looks at how the artist implicates his body in his work.  Artist Brendan Fernandes has made a version of Noguchi's non-rocking rocking chair that Noguchi created for Martha Graham's "Appalachian Spring" dance piece.  Dancers will perform with the chairs and Noguchi's sculpture throughout the exhibition.  On view through May 3, 2020.  "Models For Spaces" on view through Feb. 2, 2020 offers a selection of designs from lesser known projects.  "In Search of Contoured Playground" on view through Feb. 2, 2020 has a design for a never built Noguchi playscape, a 10 foot square enlargement of Noguchi's model.  9 – 01 33rd Rd, Long Island City, NY. 718-204-7088.
The work of multi-media artist Yayoi Kusama is as popular as ever. At age 90, she continues to work and produce new work at an amazing rate. "Kusama: Cosmic Nature" is a mix of old and new works that will be displayed inside and out at the New York Botanical Garden in the Bronx. It will be on view starting May 2, 2020 and will be up for six months. It will include a monumental site-specific pumpkin sculpture as well as a display of her sketchbooks. Tickets for this go on sale in January.
Museum of Fine Arts Boston has the following – "Conservation In Action: Japanese Buddhist Sculpture In a New Light" is a rare look at the conservation of seven Buddhist sculptures.  On view through  June 30, 2020.   "Weng Family Collection of Chinese Painting: Family And Friends" celebrates a landmark gift of Chinese art and is on view through August 9, 2020. 465 Huntington Ave.  Go to mfa.org or call 617 -267-9300.
The Institute of Contemporary Art, Boston has a group show entitled "When Home Won't Let You Stay: Migration Through Contemporary Art".  Twenty artists respond to the global refugee crisis.  Includes work by Do Ho Suh. Through Jan. 26, 2020. "Yayoi Kusama: Love Is Calling" is the most immersive and kaleidoscopic of this internationally know Japanese artist's Infinity Rooms.    On view through  Feb. 7  2020.  A companion show to this includes "Beyond Infinity: Contemporary Art After Kusama" in which 15 works in various media by the artist throughout her career will be shown along with works by her contemporaries.  25 Harbor Shore Drive. 617-478-3100 or go to [email protected] for details.
"Power in S.E. Asia" is ongoing.  "Sacred Dedication: A Korean Buddhist Masterpiece" is on view through March 22, 2020.  "My Iran: Six Women Photographers" is on view through Feb. 9, 2020. "Resound: Ancient Bells of China" through July 5, 2021. All at the Freer/Sackler Gallery on the Smithsonian Mall in Washington D.C.
The Peabody Essex Museum has the following –   "Mega City: India's Culture of the Streets" on view through June 28, 2020.    On view through Jan. 19, 2020 is Kimsooja's "Archive of Mind."  This is a participatory installation with visitor assistance that builds over the course of the exhibit.  Museum visitors are encouraged to sit at the space and form a ball of clay with their own hands.  Thousands of clay spheres will be generated through small individual gestures that reveal the emotional traces of their makers and cumulatively generate a complex array of texture, scale and tone.  On view through May 17, 2020 is "A Lasting Memento: John Thomson's Photographs Along the River Min".  Scotsman John Thomson is considered to be one of the first photographers to document East and South Asia.  This exhibit takes us back to an earlier time.  It features more than 40 landscapes, city views and portrait studies.  The show is complemented by a selection of photographs by contemporary artist Luo Dan who was inspired by Thomson to undertake his own journey in Southwestern China in 2010.  161 Essex St. in Salem, Massachusetts. 816745-4876 or go to pem.org.
The Minneapolis Institute of Art has the following –  "Captive Beauties: Depictions of Women in Late Imperial China" through July 19, 2020. "Abstract Prints by Hagiwara Hideo" through Dec. 6, 2020. "Nguyen Trinh Thi: Fifth Cinema" through Feb. 17, 2020. "Yoshiteshi: Master Draftsman Transformed" on view Feb. 1 – April 12, 2020. "Romance And Heroism: Theatrical Robes from Late Imperial China" through April 19, 2020. "All Flowers in Bloom: Porcelains from China's Last Dynasty" through May 17, 2020. Minneapolis Institute of Art.  2400 Third Ave. S. Call toll free at 888-642-2787.
"Invisible Cities" is the title of a double- venue exhibition of Beijing-based artist Liu Wei in Cleveland. It marks the first US exhibition for this multi-media artist specializing in architectural geometries.  One show is at the Museum of Contemporary Art through January 5, 2020.  Go to mocacleveland.org for details. The second show is on view through Feb. 16 2020 at Cleveland Museum of Art at 11150 East Boulevard.  216-421-7350 or try clevelandart.org.
"Waking Dream" includes major works by Do Ho Suh and Christian Marclay on view through 2022.  Suh's work is a major sculptural recreation of the apartment he rented when he lived in London.  A piece by Maya Lin is also on view. At Ruby City located at 150 Camp St. in San Antonio, Texas. Go to Rubycity.org.
"Mapa Wiya" is an incredible group show from the Menil collection of Aboriginal art.  On view through Feb. 2, 2020 in Houston, Texas.  Go to menil.org for details.
Anila Quayyum Aghai, a Pakistani American artist has a show entitled "Between Light And Shadow" in which she mimics the shadows as seen in the intricately pierced screens of Islamic and Middle Eastern architecture.  On view  through Feb. 9,  2020. Toledo Museum of Art  at 2455 Monroe St.  in Toledo, Ohio.  419-255-8000 or try toledomuseum.org.
The Nikkei National Museum & Cultural Centre in Burnaby BC Canada has undergone some renovation and restructuring and presents a show entitled "Nikkei" which juxtaposes archives and artworks and includes stories, personal items, digitized "heritage" film footage and Cindy Mochizuki's video installation to examine what it means to be a person of Japanese ancestry.  6688 Southoaks Cres. 604-777-7000. Go to centre. nikkeiplace.org.
A retrospective of over 200 works  by the Korean American inventor of video art, Nam June Paik through Feb. 9, 2020.   At The Tate  Modern in London.  Bankside in London.  +44 (0) 20-7887-8888  or go to tate.org.uk.
The Tate St. Ives has a show by Haegue Yang from May 22 – Sept. 6, 2020.  Porthmeor Beach, St. Ives, Cornwall, England.  Go to tate.org.uk for details.
Japan House in London has the following – "WOW – City Lights and Woodland Shade, Digital Art Encounters with Japan" through March 23, 2020. 101-111 Kensington High St. 44-20-3972-7100 or try [email protected].
National Museum of Modern Art, Kyoto has the following – "Forms of Memory and Space: Nino Caruso, Giant of Contemporary Italian Ceramics" from Jan. 4 – Feb. 16, 2020 and "100 Years of Czech Design" from March 6 – May 10, 2020.  Go to www.momak.go.jp/english/.
The  National Museum of Modern Art Osaka presents  "Impossible Architecture – The Architects' Dreams" which looks at designs by architects that somehow for some reason never got built. Jan. 7 – March 15, 2020. "Collection: The Aesthetics of Contemporary Japan" is on view Jan. 7 – March 15, 2020.  4-2-55 Nakanoshima, Kita-ku, Osaka. Go to nmao.go.jp for details.
The Museum of Oriental Ceramics has the following –   "Japanese Bamboo Art from New York: The Abbey Collection, Gifts to the Metropolitan Museum of Art" is on view Dec. 21, 2019 – April 12, 2020.  1-1-26 Nakanoshima, Kita Ku in Osaka. 81-06-6223-0055 or go to moco.or.jp.
Tokyo Opera City Art Gallery has the following shows.   From Jan. 11 – March 22, 2020 includes shows by Kazuo Shiraga, "Pietas" group show and "Ulala" by Imai.  3-20-2 Nishi-Shinjuku, Shinjuku-ku, Tokyo, Japan.  +81- (0)3-5353-0756.
National Museum of Modern Art, Tokyo presents presents "The Window: A Journey of Art and Architecture Through Windows" and an exhibition of their "MOMAT Collection" both on view through Feb. 2, 2020.  1-1 Kitanomaru-koen, Chiyoda-ku, Tokyo, Japan. +81 3-5777-8600.
The Mori Art Museum has the following – A show tentatively entitled "The Future And Arts" is set for Nov. 19, 2019 – March 29, 2020.  T106-6108, Tokyo, Minato City, Roppongi, 6 Chome – 10-1 Japan.  +81-3-5777-8600.
"teamLab*Borderless" houses works by this hi-tech art group in the Mori Building Digital Art Museum.  With computer-graphic  projections of animals, plants and objects from nature to light sculptures and a forest of lamps.  On view indefinitely.  Aomi Station, Odaiba, Tokyo, Japan.  03-6406-3949.
The Seattle Asian Art Museum is reimagined, reinstalled and newly renovated and extended.  It reopens on Thursday, Feb. 8, 2020.  Tickets to opening events will be available online starting in December of 2019.  New features include improvement to critical systems, expanded gallery and education spaces and a new park lobby that connects the museum to the surrounding Volunteer Park.  Instead of dividing cultures by country alone, works of art from different countries will be on display side by side. Opening shows include "Boundless: Stories of Asian Art" and "Be/longing: Contemporary Asian Art."  A free weekend long celebration is planned for Feb. 8 & 9, 2020 from 9am – 9pm with performances, art making, tours and live music.  An interactive map and digital art activities in every gallery will get the viewer involved.  A new Asian Paintings Conservation Center is planned the future on the grounds.  New additions include a community gallery and community meeting room.
Performing Arts
Martin Bakari sings the role of Monsieur Triquet in the Seattle Opera production of "Eugene Onegin", a decadent Russian romance based on Pushkin's novel with music by Tchaikovsky. On stage Jan. 11, 12, 15, 18, 19, 22, 24 & 25 at McCaw Hall in Seattle Center. 321 Mercer St. 206-389-7676.
The Triple Door has the following – For fans of  Hawaiian guitar music, check out Keola Beamer & Jeff Peterson appearing with Moanalani Beamer on Jan. 14, 2020 at 7:30pm. Plan ahead for two evenings with Japanese jazz piano wonder Hiromi who comes to the club on March 9 & 10 at 7:30pm. 216 Union St. 206-838-4333 or try thetripledoor.com
Andrew Nguyen presents "i///u", a Seattle neo-soul band that introduces elements of jazz into their music. They headline on Thursday, Jan. 16 at 7:30pm with WINEHOUSE and Honeypot. Singer/songwriters ings and Tomo Nakayama host a Hygge Party (Danish/Norwegian for a mood of coziness and comfortable conviviality) on Thursday, Jan. 23 at 7:30pm. All concerts at Fremont  Abbey at 4272 Fremont Ave. N. in Seattle. For details, go to fremontabbey.org.
Local actress Sunam Ellis won a Gregory Award (Seattle's local equivalent of the Awards) for "Best Supporting Actress" in Seattle Public Theatre's production of "Hand To God" back in 2018. Catch her on stage again when she stars as playwright Olympe de Gouges in a new play about four fierce women in 19th century Paris entitled "The Revolutionists" by Lauren Gunderson. The rest of the cast includes Jonelle Jordan, Dedra Woods and Hannah Mootz.  It's directed by Kelly Kitchens and runs from Jan. 16 – Feb. 9, 2020 at Arts West. 4711 California Ave. SW in West Seattle. Go to www.artswest.org for details.
With the new year here, one sees a number of lunar new year celebrations. Here are a few. "TET In Seattle" is celebrated Jan. 18 & 19, 2020 at Seattle Center from 10:30am – 6pm. 305 Harrison St. On Jan. 24, 2020, the Vietnamese Student Association at UW Tacoma celebrates TET from 6 – 10pm. 1900 Commerce St. in Tacoma. On Feb. 8, 2020 there are two new years celebrations. APCC holds their 22nd Annual New Year Celebration featuring "Vietnam, Country And Culture" at Tacoma Dome Exhibition Hall from 11am – 6pm (go to asiapacificculturalcenter.org for details). While, back in Seattle, there is a Lunar New Year Celebration at Hing Hay Park from 11am – 4pm at 423 Maynard Ave. S. in the CID. On Feb. 15, 2020, there is a "Seattle Night Market: Lunar New Year" celebration at Magnuson Park Hangar 30 from noon to 10pm. 6310 NE 74th St.
From Feb. 21 – 29, the 3rd Annual Seattle International Dance Festival directed by Cyrus Khambatta, Jaewoo Jung and Kyoung-shin Kim takes place at Capitol Hill's Erickson Theatre across from Seattle Central Community College at 1524 Harvard .  This is SIDF's Winter Mini-Fest  which always includes Seattle's Khambatta Dance Company (the Festival's sponsor) with a special guest. This year's guest is "Unplugged Bodies" from Seoul, South Korea. Concerts at 8pm on two weekends, Feb. 21 & 22 and Feb. 28 & 29, 2020. Go to seattleIDF.org for details.
The Danny Woo Garden has a community service day scheduled for Feb. 1, 2020 from 10am – 1pm. Come out and help this community resource keep going. 620 South  Main St. in Seattle's CID.
"SEIJIN-shiki" is the Japanese coming-of-age celebration for children held annually in January. The JIA Foundation brings this tradition to the USA.  Open to everyone in the community to attend. If you are coming-of-age this year (born between January 1998 and March 2000) and are interested in Japanese culture, you are eligible to participate in this celebration.  Emceed by television reporter Lori Matsukawa. On Sunday, Jan. 19, 2020 from 1 – 3pm. Bellevue College's Carlson Theater on campus at 3000 Landerholm Circle SE in Bellevue. Go to http://japaneseinamerica.org/seijinshiki/ for details.
Future Seattle Opera productions include the following –  "Charlie Parker's Yardbird – The Man Behind A Legend" with music by Daniel Schnyder and libretto by Bridgette A. Wimberly.  Plays Feb. 22, 23, 26, 29 AND March 1, 4, 6 & 7, 2020.  Kelly Kuo will make his Seattle Opera debut as conductor for the orchestra for this production.
In the fall, Seattle Symphony begins a new season under new conductor Thomas Dausgaard.  Some highlights include the following –    Yundi was the youngest pianist to win the International Chopin Piano Competition at the age of 18. Now he embarks on his 2020 Piano Recital World Tour with a stop in Seattle on Monday, Feb. 17, 2020 at 8pm. The annual "Celebrate Asia" concert has Tianyi Lu conducting and Gaurav Mazumdav on sitar and Conrad Tao on piano in a program of compositions by Huang Ruo, Reena Esmail, Conrad Tao and Gershwin.  Sunday, March 8, 2020 at 4pm.  Eun Sun Kim conducts the orchestra with Elisa Barston on violin in Tchaikovsky's "Symphony No. 8" on March 12 & 14 with a special "Tchaikovsy Untuxed" concert on March 13.  Pianist Aimi Kobayashi participates in "Bach Fest 1" on May 21 with conductor Ryan Bancroft and fellow pianist Alexandra Dovgan.  All concerts at Benaroya  Hall in downtown Seattle.  200 University St.  Go to seattlesymphony.org for details or call 206-215-4747.
Named in honor of Seattle philanthropists James & Sherry Raisbeck who donated money to transform the former Soundbridge at 200 University across from SAM into a state of the art immersive environment for inventive performances and ideal for education programs and community engagement, the building is now called Octave 9:Raisbeck Music Center.  Some highlights from their innovative concert and educational programming include the following – On Wed., Jan. 29, 2020 at 7:30pm, catch virtuoso violinist Patricia Kopatchinskaja in recital performing Gykorgy Kurtag's "Kafka Fragments" in which excerpts from the famous Czech writer's diaries and letters are set to music and song with soprano Ah Young Hong singing the words.  On April 24, 2020 at 7:30pm, Hannah Lash & Hub New Music join forces to present music for flute, clarinet, violin, cello and harp.  A new composition by Takuma Itoh will be performed.
STG & Bill Blumenreich presents Shin Lim, winner of "America's Got Talent" and a card trick magician who brings his sleight of hand magic to the Moore Theatre stage on Wed., Jan. 15, 2020 at 7:30pm. 1932 Second Ave. 206-682-1414.
A Sensible Theatre Company is partnering with Café Nordo's 'The Knife Room' to bring "The Sensible Cabaret", a once a month series hosted by Cassi Q. Kohl. Jan. 20 features Lia Lee and Kirsten Delohr Helland. Doors open 7pm. Cabaret starts at 8pm. 103 South Main St. in Pioneer Square. For details, go to ASensibleTC.
Ocampo/Wang Dance Company out of New Jersey brings a world premiere of a new piece along with other guest choreographers from around the country to "Chop Shop: Bodies of Work", an annual contemporary dance festival set for Feb. 15 at 7:30pm & Feb. 16 at 3pm, 2020 at the Eastside's Meydenbauer Center.  11100 NE 6th St. in Bellevue. Tickets available at brownpapertickets.com. For more information, try chopshopdance.org.
ArtsWest has also announced their new 2019/2020 season entitled "Agents of Change" which looks at revolutions and the people who participate in them.  The prolific and talented playwright/director/actress Sara Porkalob returns with a new play and a world premiere for the new season.  "Alex and Alix" looks at the unseen forces that shape the way we remember love and a moving meditation on memory, trauma and healing.  Two women in love  and one name.  Set for  April 30 – May 24, 2020.  Learn more details about the entire new season at artswest.org.  ArtsWest is located in West Seattle at 4711 California Ave. SW.
Café Nordo has already announced their upcoming 11th season entitled "Where The Tea Party Never Ends" and early memberships are available.  Come watch as they spin their interesting mix of original theatre, music and cuisine tailored to fit the theme of each production.  The ever prolific Sara Porkalob is back with "The Angel in the House" from Feb. 8 – March 15, 2020.  She wrote and directed this piece that's a Victorian thriller with corsets, blood, revenge and cake.  "Night Parade: The Ghost Forest" takes place   June 13 – July 21, 2020.  Conceived of and Directed by Tom Dang and written by Kendall Uyeji.  Take a dive into Japan's Aokigahara Forest near Mr. Fuji, famous for suicides. When a Western blogger mockingly posts a photo of a suicide on social media, he is spirited away by ghosts and demons of that forest.  Café Nordo is at 109 South Main. Go to www.cafenordo.com to find out more about their new season and how you can get tickets. APCC is at 4851 South Tacoma Way in Tacoma. 253-383-3900 or go to apcc96.org.
"First Sundays" is the title of a concert series of jazz and classical music held at Bainbridge Island's Waterfront Park Community Center from January through spring. Concerts start at 4pm. On April 5, former Puget sound resident Frank Huang returns from Ohio to perform a classical piano  concert. 370 Brien St. SE on Bainbridge Island. For details on the whole series, go to firstsundaysconcerts.org.
The Meany Center For The Performing Arts has announced their 2019/2020 season. Some performers include the following – David Finckel & Wu Han perform with Philip Setzer in a program of Beethoven, Shostakovich and Mendelssohn on Mon., May 18, 2020 at 7:30pm.  Concert pianist George Li plays a recital of Haydn, Schubert, Ravel and Schumann on Wed., April 19, 2020 at 7:30pm.   Violin virtuoso Midori performs with pianist Jean-Yves Thibaudet on Thurs., Jan. 23, 2020 at 7:30pm in an all-Beethoven program in honor of the composer's 250th anniversary.  Meany Center is located on the Seattle campus of the University of Washington.  206-543-4880 or go to meanycenter.org.
The Wind Ensemble with Donna Shin on flute prepare for a Korea tour with a concert on Thursday, March 12 at 7:39pm. 7:30pm.  Kathryn Alvord  Gerlich Theater at Meany Hall. Go to music.washington.edu for details.
Caracol Productions presents "Model Minority – An Asian Womxn Comedy Show" on Jan. 30, 2020 at  Columbia City Theatre. $15 online or $20 at the door. Featuring Stephanie Nam, Ellen Acuaria, Dewa Dorje, Cindy Sun, Risha Srinivasan and Bernice Ye Umiom. Go to [email protected] for details.
Indian virtuoso percussionist Zakir Hussain comes to Seattle for his annual concert with Kala Ramnath and Jayanthi Kumaresh on March 28, 2020.  Presented by STG. For details, try stgpresents.org/season or call 206-812-1114.
On The Boards presents a performance piece entitled "Cuckoo" as conceived of and performed by Jaha Koo in which he takes viewers on a journey through the last 20 years of Korean history as told by a bunch of talkative rice cookers.  The piece combines personal experience with political events and reflections on happiness, economic crises and death.  Coming Jan. 23 – Jan. 26, 2019.  100 West Roy St. in the Queen Anne neighborhood of Seattle.  206-217-9886 or go to ontheboards.org.
The Edmonds Center for the Arts has the following – The International Guitar Night celebrates their 20th Anniversary Tour with a stop here on Wed., March 4, 2020 at 7:30 pm. Hawaiian slack key master Jim Kimo West is part of this group of global guitar luminaries.  "Masters of Hawaiian Music" brings guitar wizards George Kahumoku Jr., Nathan Aweau and Jeff Peterson in an evening of music from the islands.  Set for March 21 at 7:30pm. South Korea's acclaimed Brush Theatre present a performance piece entitled "Yao Yao" which tells the story of a father who must go to work and the child left at home who wants him to stay. The troupe introduces a magical world of adventure and discovery with a playful blend of reality and imagination using screen art technology and live music. Part of the Edmonds Center  for the Arts Education Matinee Series. On March 31 at 10am. For schools wishing to reserve tickets, contact [email protected] or call 425-275-9485.  ECA is located at 410 – 4th Ave. N. in Edmonds, WA. Info # is 425-273-9595.
"Asian Arts in Action" is a series of Asia-related performances and visual artists' demonstrations presented by Seattle Art Museum throughout the year. Eurasia Consort performs a program entitled "The Wind in the Pines" on March 22, 2020 at 2pm in Seattle Asian Art Museum's Stimson Auditorium. Founded by Tomoko Sugawara and August Denhard, this group presents music of the silkroads, past and present. Music in this concert includes new compositions by Alice Shields and Bun-Ching Lam and music from the Tang Dynasty discovered in the Mogao Caves in Dunhuang, China. On April 10 at 7pm and April 12 at 2pm, Tasveer presents a new production of poignant stories using Eve Ensler's "Vagina Monologues" as an inspiration. Narrated by South Asian women as part of Tasveer's 15th Annual Aaina Festival. Held at Seattle Asian Art Museum's Stimson Auditorium. May 14 at 6:30pm is "Makers' Night" which takes place in the Seattle Asian Art Museum Education Studio. This is the beginning of a new summer series of monthly sessions for adults held on the 2nd Free Thursday evenings in sessions led by rotating artists. This session is led by  artist Juliet Shen who shares his personal videos of flowing water in northwest rivers and shorelines that inspire her experiments with ink on paper. Technique will emphasize using brush and ink to interpret from memory the lively contradicting movements of water currents observed in the videos. 206-654-3210 or  try visitsam.org/tickets. To stay up to date on SAM news, try the website, visitsam.org and select "Gardner Center".
Emerald City Music stages a number of concerts in the Puget Sound area. The Aizuri Quartet present a program entitled "Songs & Echoes of Home" This all female string quartet makes their Emerald City debut with Ariana Kim on violin, Miho Seagiusa on vioin, Ayane Kozasa on viola and Karen Ouzounian on cello. They perform on Friday, Feb. 14, 2020 at 8pm at 415 Westlake in Seattle,  again on Sat., Feb. 15, 2020 at 512 Washington St. SE in Olympia at the Washington Center for the Arts and  again on Sunday, Feb. 16, 2020 at 4pm at Lairmount Manor at 405 Fieldstone Rd. in Bellingham under the auspices of The Bellingham Festival of Music. (Please note that the Bellingham venue does not sell tickets at the door, you must get advance tickets by calling 360-201-6621 OR try [email protected]).  Another program entitled "What You Are To Me" is a  landmark collaboration between three national arts organizations. This season finale features a world-premiere by Philadelphia-based composer Patrick Castillo with three unique gems of the chamber music library. Performers are Kristin Lee and Sean Lee on violins, Dmitri Atapine on cello and Hyeyeon Park and Gloria Chien on pianos. Friday, May 1, 2020 at 8pm at 415 Westlake in Seattle  AND Sat., May 2, 2020 at 7:30pm at Minnaert Center in Olympia. 206-250-5510 or go to emeraldcitymusic.org for details.
Tacoma Arts Live presents  a play entitled "Cowboy vs Samurai" by Michael Golamco June 4 – 21, 2020 at Theatre On The Square at 915 Broadway. The story is about a quartet of searching lovers who confront some Asian stereotypes of Ango America along with the self-image struggles of Asian Americans themselves, all the while trying to connect as whole people. 253-591-5894.
Olympia Symphony performs Beethoven's Emperor Concerto with New York-based pianist Angie Zhang on March 15, 2020. On April 19, 2020 at 3pm, the Olympia Symphony returns with a program entitled "Da-Da-Da-Daaaah!" with Kristin Lee as guest soloist on violin performing Barber's Violin Concerto.  Washington Center for the Performing Arts at 512 Washington St. SE in Olympia. Try [email protected] for tickets.
The Changmu Dance Company from South Korea has transformed Korean dance through innovative choreography with poetry and its mastery of traditional forms.  They make their Portland debut on Wed., April 15, 2020 at 7:30pm.  Arlene Schnitzer Hall. 503-245-1600  for tickets.
Santa Fe Opera presents a new adaptation of David Henry Hwang's "M. Butterfly" as an opera in this world premiere.  Music by Huang Ruo and  libretto by the playwright.  Set for August  of 2020.  Stars Kang Min Justin Kim, David Bizic and Hera Hyesang Park. Musical conductor is Xian Zhang.  301 Opera Drive in Santa Fe, New Mexico. 1-800-280-4654.
"Orlando" is a new opera based on the novel by Virginia Woolf, composed by Olga Neuwirth, with a libretto by Neuwirth and Catherine Filloux and is directed by Polly Graham. It opened December 8, 2020 at the Vienna State Opera. It also marked the debut of fashion designer Rei Kawakubo as a costume designer and the first time she has designed for the stage. It is the first opera commissioned from a female composer by the Vienna Opera in its 150 year old history.
Eun Sunkim will be the first woman to hold the music director post at an American company of major size and stature. She attained this distinction when San Francisco Opera named her as their next director. Kim who is 39 was born in Seoul.  She regularly conducts in Europe and made her American debut in 2017 when under trying circumstances she conducted "La Triviata" for the Houston Grand Opera in an improvised theater in a convention center shortly after Hurricane Harvey flooded the company's regular home. Kim said "So I'm so grateful to be the 'first female director' but I also look forward to a future where the next generation will be called just the conductor."
Seattle performance artist Susan Lieu has taken her show "140 LBS: How Beauty Killed My Mother" on the road for a national tour. Being pregnant hasn't stopped her from doing all her own bookings and managing the tour herself with the help of family and friends. Ashley Lee of the Los Angeles Times covered her during her Southern California venues. In February, 2020, she'll premiere an expanded version entitled "Over 140 LBS" back in Seattle. By then she'll have performed over 50 shows in 10 different cities.
Degenerate Art Ensemble's last production entitled "Skeleton Flower" has been  invited to be performed at the International Festival of Contemporary Dance in Mexico City in August 2020 and at NEXT Space in New York also in 2020. A new piece is going to be commissioned by Colorado College and the Cincinnati Contemporary Art Center for a world premiere in 2021.
Two 24-year-old Japanese monks have taken their love of break dancing as a way of spreading Buddhist teaching. Known as Kaiten Bosu (Spinning monks), Koki Kawahara and Jojitsu Asukai of Kyoto feel that break dancing and Buddhism share the same philosophy of peace and equality. Kawahara said that he "wanted to get many people interested in Buddhism using my dance skills."
Film & Media
"Fujitaro Kubota And his Garden" is a local documentary film made through a grass roots effort by people involved with Kubota Garden over many years. It premiered at the Ark Cinema a few months back to sell-out audiences and people had to be turned away. Now it returns for one night only in a screening on Wed., January 29, 2020 at 7pm and 9:30pm at the Rainer Beach Community Club located at 6038 South Pilgrim St.
The Northwest Film Forum presents the following –Aggie Pak Yee Lee's  animated short "Muteum" about the museum viewer's experience is part of the "2019 Sundance Film Festival Short Film Tour" which screens Jan. 17,18, 19, 21, & 22. 1515 – 12th Ave.  206-329-2629  or try nwfilmforum.org.
The Southeast Asia x Seattle Film Festival screens Jan. 9 – 10, 2020  from 5:30pm – 7:30pm in Thomson Hall 101 on the Seattle campus of the University of Washington. Free. The festival with its diverse programming of shorts from all across Southeast Asia deals with issues of gender, modernity & development and migration & diaspora with the discerning eye of satire and investigative journalism.  A rare opportunity to see films from Myanmar, Indonesia, and the Philippines with participants from the USA, Canada & Japan as well. For information, go to [email protected] or call 206-543-9606.
The Beacon is a new art house cinema showing unusual finds of international cinema from around the world.  Their "Anime Sunrise" series continues on Sundays  at noon. 4405 Rainier Ave. S. 206-420-SEAT or try [email protected].
Makoto Shinkai whose 2016 anime film "Your Name" was an international hit is back with his new anime feature entitled "Weathering With You". It headlined the Anime section of the 2019 Tokyo International Film Festival which was held Oct. 28 – Nov. 5, 2019. It comes to the U.S. in a special fan preview   Jan. 15 & 16 followed by nationwide theatrical release on Jan. 17, 2020. It will be shown dubbed in English as well as in the original Japanese with English subtitles. Advance tickets can be purchased online at www.fanthomevents.com.
Coming to the Grand Illusion Cinema is "The Wonderland" a new anime feature from Keiichi Hara ("Colorful", "Miss Hokusai"). It will screen Jan. 31 – Feb. 2, 2020. It tells the story of a girl with no confidence and how she gains it by joining a mysterious alchemist and his student in their mission to save the world. Go to http://wwws.warnerbros.co.jp/birthdaywonderland/ for a peek. 1403 NE 50th St. 206-523-3935. This theatre takes cash or check only in payment.
"Chinatown Rising" is a documentary film made by a San Francisco Chinatown father and son based on early footage shot around demonstrations in the community during the 1960s and 70s, a time of revolution and protests. It premiered in San Francisco a few months ago and now surfaces in Seattle for a one day screening on Sat., March 7, 2020 at 11am at SIFF Uptown in Queen Anne. Tickets available at brownpapertickets.com.
Leslie Tai's "My American Surrogate" is a documentary film that tells the story of how a Chinese surrogacy agent's business in Southern California has become a one-stop shop for wealthy Chinese couples seeking to hire American surrogates to have their babies for them. The film was the winner of the New York Times Op-Doc Pitch Competition and made in partnership with The New York Times, Pulitzer Center on Crisis Reporting and Tribeca Film Institute. It is now streaming on The New York Times.
A short documentary film by Laura Nix about a Vietnamese American couple's real-life refugee love story entitled "Walk Run Cha Cha" has made the Oscar shortlist for documentary shorts. Chipaul and Millie Cao met the director when she stumbled upon the Lai Lai Ballroom & Dance Studio in Alhambra while researching mini-malls for another film project. Nix eventually chose them as documentary subjects.
"Vanishing Chinatown: The World of The May's Photo Studio" is a documentary film directed, written and edited by Emiko Omori. The executive producer is Gayle K. Yamada. Produced by Lydia Tanji and Wylie Wong. Consulting editor was Wendy Slick. Wong is a Bay Area-based art collector, art consultant and curator who grew up in Seattle. As a student, he found a pile of negatives in a Chinatown dumpster which turned out to be  remains of the May Photo Studio, a portrait photography studio in the neighborhood. This formed the genesis for the film which will make its Seattle debut at this year's Seattle Asian American Film Festival which takes place at Northwest Film Forum and Broadway Performance Hall both on Capitol Hill.  The festival takes place Feb. 20 – 23,  2020. Northwest Film Forum is at 1515 – 12th Ave. Broadway Performance Hall is at 1625 Broadway. For details, go to seattleaaff.org.
Plan ahead for two one-time only screenings of unique films in their "Asia Films" series at Seattle Art Museum.  "Edo Avant Garde" is a documentary film by Linda Hoaglund who will be in attendance. It tells the untold story of the vital role Japanese artists of the Edo era (1603-1868) played in pioneering modern art. Japan prospered during this time in peaceful isolation from Western powers and audacious artists innovated abstraction, minimalism, surrealism and the illusion of 3D. Shown in partnership with UW East Asia Resource Center, Japan Studies Program and the Henry M. Jackson School of International Studies, UW. Free but you must RSVP in advance. Screens on Jan. 20, 2020 at SAM's Nordstrom Lecture Hall at 1pm. "Masters of Modern Design: The Art of  the Japanese American" will screen on May 7, 2020 at the Asian Art Museum's Stimson Auditorium with director Akira Boch in attendance. The work of Japanese American designers permeated post-war American culture although their contributions are not widely known. This film lifts the veil on that by presenting the stories and contributions of Ruth Asawa, George Nakashima, Isamu Noguchi, S. Neil Fujita and Gyo Obata (architect son of noted artist Chiura Obata). Free but you must RSVP starting in Feb, 2020.
The Chinese Historical Society in San Francisco has made a documentary film on the life and legacy of former San Francisco Mayor Ed Lee who was raised in Seattle. Jane Chin served as Executive Producer and Rick Quan, Emmy-winning broadcaster wrote and directed the film. For details on the "Mayor Ed Lee" documentary, contact the Chinese Historical Society of America by email at [email protected] or call 415-391-1188. For more information on this film, see Honolulu-based journalist Heidi Chang's article on the project at https://www.latimes.com/entertainment-arts/story/2019-12-12/the-life-and-legacy-of-sf-mayor-ed-lee-is-chronicled-in-a-new-documentary.
Streaming now on Netflix is "Daily Show" correspondent Ronny Chieng in a show  entitled "Asian Comedian Destroys America!" He talks about his multicultural upbringing – (born in Malaysia/raised in America/Singapore and schooled in Australia), the effects of rampant consumerism and how the US would do with an Asian American president.
Awkwafina became the first Asian American to win "Best Actress" at the Golden Globes awards for the film, "The Farewell". It was the film's only win of the night. Bong Jong Ho's "Parasite", a South Korean film about the have's and the have-not's won in the "Best Motion Picture, Foreign Language" category.
The Written & Spoken Arts
"Epic Reads Meet Up" is a chance to meet three young adult authors with new books  on HarperCollins Books in small groups. Purchase of the authors' new books is a requirement to attend this event. Adam Silvera reads from "Infinity Son", Abigail Hing Wen reads from "Loveboat, Taipei" and Farah Naz Rishi reads from "I Hope You Get This Message". Thursday, Jan. 16, 2020 at 6pm. "The Best of Uncanny" is an evening devoted to an new anthology that celebrates the best of Uncanny Magazine filled with stunning cover art, passionate science fiction and fantasy,  poetry, and provocative  nonfiction. Co-editor/publisher Michael Damian Thomas and contributing authors Caroline M. Yaochin  and E. Lily Yu will appear and read from the magazine on Friday, Jan. 17 , 2020 at 6:30pm. The  University Book Store. 4326 University Way NE. 206-634-3400 or try [email protected].
Elliott Bay Book Company continues to sponsor readings in their Capitol Hill bookstore as well as co-producing events all over the city.  Below you will find a partial listing of some of their events. Events are at the bookstore unless otherwise noted. 1521 Tenth Ave. On Jan. 9 at 7pm, UW professor/author/editor Shawn Wong  will be joined by literary scholar Tara Fickle to discuss the third edition of "Aiiieeeee!" (UW Press), a groundbreaking 1974 anthology of Asian American literature which he helped edit with Frank Chin, Lawson Fusao Inada and Jeffrey Paul Chan. Now considered a classic  and the first of the genre though criticized for its lack of inclusion of queer voices, women writers and writers from East Asia. These points that will probably be addressed in what will be a stimulating discussion that ponders the future of Asian American literature. Many know Viet Thanh as a Pulitzer Prize-winning Vietnamese American author/editor of several titles but he shows another side in "Chicken of the Sea", a children's picture book he co-authored with his son Ellison. To add to the fun, the book was illustrated by award-winning Caldecott Medalist, author/illustrator  Thi Bui and her son, Hien Bui-Stafford. Sat., Jan. 11, 2020 at 2pm.  On Friday, Jan. 24 at 7pm, novelist Yangsze Choo reads from "The Night Tiger", a tale of a boy who searches for a dead master's finger and along the way, he meets  a Malaysian dance-hall girl and an aspiring physician. Fiction writer Paul Yoon reads from his new novel entitled "Run Me To Earth" (Simon & Schuster)  on February 3 at 7pm. In this story, three orphaned kids in 1970's Laos are motorcycle couriers across a bomb-laden landscape and the thread of their destinies continue to be entwined across decades and continents.  Mimi Lok talks about her new book of short stories entitled "Last of Her Name" (Kaya) with Joyce Chen on February 26 at 7pm. The book traces the lives of women of the Asian diaspora and the histories they were born into. The day after the reading, Lok reads with Washinton State Poet Laureate Claudia Castro Luna at Seattle University.  206-624-6600 or go to www.elliottbaybook.com.
In a project powered by Shunpike, poet/curator Shin Yu Pai is launching a new series entitled "Lyric World: Conversations with Contemporary Poets", a literary conversation series that will be hosted at Town Hall Seattle. It builds upon her previous work as an artist-in-residence for the organization. It includes a poetry reading, a musical guest and a facilitated conversation between the poet and a peer from the community centered on a specific theme. The series kicks off on Jan. 30th, 2020  at 7:30pm with a reading by mixed race Okinawan American poet Thomas Pruiksma who will share work connected to the notion of poetry and magic/wonder. Poet Melanie Noel will facilitate the onstage conversation and Jali Ibrahim Arsalan will perform West African kora music. Additional programs are planned for March and June. March 19 includes poet Koon Woon on the theme of "displacement/home" in conversation with Paul Nelson and a performance by percussionist Paul Kikuchi. June 25 features poet Prageeta Sharma dealing with the theme of "memory and grief" in conversation with Afrose Fatima Ahmed. The goal is to support local writers of the Asian diaspora who have never presented their work on Seattle Town Hall's stage. In The Forum at 1119 – 8th Ave. 206-652-4255 or email [email protected].
Seattle Arts & Lectures has released their new program details for their 2019/20 season. Among the many highlights included are these – SAL and Copper Canyon Press present Seattle-raised poet and prose writer Paisley Rekdal. She will read from "Nightingale", a book that "radically rewrites and contemporizes many of the myths central to Ovid's epic, 'The Metamorphoses'." She does a Q & A with Rebecca Hoogs on Thursday, Feb. 6, 2020 at 7:30pm at Broadway Performance Hall.  Rekdal teaches at the University of Utah and was that state's poet-laureate. 625 Broadway  on Capitol Hill.  In the "Literary Arts" series, Min Jin Lee will speak.  Her last novel "Pachinko" looked at four generations of an immigrant Korean family living in Japan running a pachinko parlor and gave Americans an intimate peek at a mostly hidden Japanese-Korean culture.  It was a finalist for the 2017 National Book Award in Fiction.  Set for  March 17, 2020.  In the "Journalism Series", the award-winning husband/wife reporting team of Nicholas Kristof & Cheryl WuDunn who shared a Pulitzer Prize will talk about their new book "Tightrope" which looks at the crisis in working-class America, the lives of real Americans today.  They appear on Feb. 5, 2020.   Rick Barot, award-winning Tacoma poet engages in conversation with fellow poet Jane Wong about the long colonial structure that sustained Spanish control over, much of Latin and South America, the Caribbean and the Philippines as outlined in his recent book of poetry entitled "Chord".  Set for  March 19, 2020.  Also look for appearances throughout the year at SAL events from 2019/20 Youth Poet Laureate, Wei-Wei Lee. Lee will have her first book published by Poetry NW Editions in the spring of 2020.  For more detailed information on SAL and its new season, go to lectures.org.
Hugo House that venerated Northwest center for writers and poets re-opens in brand-new digs with expanded space but in the same location.  Catch their readings and celebrate their new space.  Also with the opening of the new Hugo House, the writing center rolls out a new series of classes/workshops with a varied number of subjects taught by a talented group of writers like Nisi Shawl, Sonora Jha, R. O. Kwon, Anne Liu Kellor, Michelle Penaloza, Richard Chiem, Diana Xin, Anglela Garbes, Lora Shinn, Aimee Bhausar and Shankar Narayan.  Hugo House has selected writers for the 2019-20 Hugo Fellowships.  Joyce Chen and Jen Soriano were some of the writers selected.  The writers will be given advice and have a space to write.  They will give two readings as well.  Chen is a writer/editor/creator from Los Angeles.  She will be working on a collection of essays that examine the push/pull conflict between American ideals of independence and self-fulfillment and Taiwanese values of family community and sacrifice.  Jen Soriano is a Filipinx-American writer who blurs the lines between non-fiction, surrealism and poetry.  She is working on a memoir of colonization, historical trauma and the neuroscience of healing as well as an essay collection on gender, technology and mothering. Hugo House also brings to Seattle, award-winning novelist Gish Jen who presents a talk entitled "Politics & Possibility" on Thurs., Feb. 20, 2020 at 7pm.  It's part of their "Word Works: Writers On Writing" series. She will address the topic of how Trump's America can influence powerful writing and  how it probably inspired her new novel entitled "The Resisters". Tickets on sale  at hugohouse.org. Hugo House is at 1634 – 11th Ave.  on Capitol Hill. 206-453-1937.  Go to hugohouse.org.
It's early but mark your calendars for a panel discussion between Diasporic Vietnamese writers. The line-up is impressive and includes Vet Thanh Nguyen, Kim Thuy, Marcelino Truong, Vincent Lam, Diana Khoi Nguyen, Lan Cao, Mai Elliott, Le Ly Hayslip, Duy Doan and Cathy Linh Che. Tickets are $20. The event sponsored by DVAN and the Smithsonian Asian Pacific American Center will take place at Town Hall Seattle on May 2, 2020 at 4pm. Details are being worked out but for questions, email [email protected].
The University of Washington Alumni Association has released their schedule of 2020 Winter Public Arts & Lectures. Below are a few to make note of.  "No-No Boy: The Story of How a Novel goes from 1500 Copies Sold to 158,000 Copies" is the topic of a talk by Shawn Wong, author and UW Professor of English presented by UW Libraries. Wong shares the story of how a novel published in obscurity became re-discovered and the foundational work in the canon of Asian American literature. Jan. 30 at 7pm in Kane Hall 210 on the Seattle UW campus.  The Simpson Center For The Humanities presents their Solomon Katz Distinguished Lecture by Anna Lowenhaupt Tsing. Tsing, a Professor of Anthropology at UC Santa Cruz is the author of a book entitled "The Mushroom at the End of the World" which traces the history of the Matsutake mushroom – both a sought-after delicacy and an invasive weed – through the worlds of Japanese gourmets capitalist traders, Hmong jungle fighters, industrial forests, Yi Chinese goat herders and Finnish nature guides, revealing promise in a time of massive destruction. Feb. 25, 2020 at 7pm in Kane Hall 210 on the Seattle UW campus. The Department of Asian Languages And Literature present Paul S. Atkins, UW Professor of Asian Languages and Literature who will deliver a talk on "Zen Master Zekkai: The Life and Poetry of a Medieval Japanese Monk". Atkins opens a window into classical Japanese history and culture through the life if a Zen monk considered one of the best Japanese poets to compose in Chinese. March 3, 2020 at 7pm in Kane Hall 210 on the Seattle UW campus. The Near Eastern Languages and Civilization department presents  Fatemeh Shams, poet and Assistant Professor of Persian Literature at the University of Pennsylvania who gives a talk entitled "Revolution in Rhyme: Official Poets of the Islamic Republic" in which he explores the complex social history and politics of literary production in Iran after the 1979 revolution and how the Islamic Republic uses literature in identity construction. March 10, 2020 at 7pm in Kane Hall 225 on the Seattle UW campus. UW Tacoma's School of Interdisciplinary Arts & Sciences presents a monthly series entitled "Grit City Think & Drink" at the Swiss Restaurant And Pub located at 904 Jefferson Ave. in Tacoma. Cynthia Howson, Senior Lecturer, Interdisciplinary Arts & Sciences at UW Tacoma and Pierre Ly, Associate Professor at the University of Puget Sound present a talk entitled "The Rise of Chinese Wine: A Political Economy Story" in which they trace how Chinese wine has gone from being ignored to earning god medals and praise by famous critics. Hear how the story of wine is linked to politics, globalization, economic growth, environmental challenges, land rights and governance. March 10, 2020. To find the full schedule, go to uwalum.com/golectures.
Hua Hsu, staff writer at The New Yorker has written an article in the Jan. 6, 2020 issue of the magazine entitled "The Asian-American Canon Breakers" in which he discusses the history of "Aiiieeeee! – An Anthology of Asian-American Writers"  (on UW Press in a new 3rd edition with a foreword by Tara Fickle) within the context of Asian American literature and its reception in the American literary canon.
"The Weight of Our Sky" (Salaam Reads) by Hanna Alkaf was a critically praised young adult novel that tells the story of a young teenage girl struggling with mental illness against the backdrop of the May 13, 1969 riots in Malaysia. Now, fans can experience it as a web comic at the portal Webtoon. The book was adapted by producer Susan  Cheng and writer Alya Rehman with an all-Malaysian team of illustrator Nisrina and colorists Nurel and Toadfrogs.  Great care was taken with detail in order to faithfully reproduce the apparel worn and architecture that was part of that era during that time. Four episodes have been released with many more to come. Go to bit.ly/weight_sky to get a look.
Sonny Mehta, former president and editor in chief and then chairman of the Knopf Doubleday Publishing Group died of pneumonia at his home in Manhattan recently. He was 77. For 32 years, his leadership at the publishing house showed him to be a fervent reader and an instinctive decision maker who could find great books and give them the push they needed to succeed. He published the work of nine Nobel literature laureates including Kazuo Ishiguro's "Remains of the Day". Other popular books by authors whose books were published under his watch included Toni Morrison, Anne Rice, John le Carre, Gabriel Garcia Marquez, Michael Crichton, Steig Larsson and many others. Born Ajai Singh Mehta, he was the son of one of independent India's first diplomats. He started as a paperback publisher in England when he  was hired by Knopf. He succeeded Robert A. Gottlieb in 1968 who handpicked Mehta to replace him.
Below is a partial list of new books by or about Asian Americans and new titles on Asia. If you are interested in reviewing any of them, please let us know –
"Interrogation Room" (White Pine) by Jennifer Kwon Dobbs. A searing book of poems that looks at the continuing consequences of the Korean conflict and the toll it has taken on women, children and orphans and adoptees.
"Mr. Cat And The Little Girl" (Clavis) written and illustrated by Wang Yuwei was inspired by the author's experience adopting a cat. It conveys in dreamy illustrations and spare text the unique relationship and emotion fostered between people and cats through a fairytale-like concept.
"Bred From The Eyes of A Wolf" (Plays Inverse Press) by Kim Kyung Ju as translated by Jake Levine. This Korean drama transplants the Oedipus myth into a post-zombie apocalypse world exposing the wilderness at the heart of every human relationship.
"Run Me To Earth" (Simon & Schuster) by Paul Yoon. In this novel, three orphans try to survive devastating loss and the perilous landscape of 1960s Laos. Their experience as motorcycle couriers across a bomb-laden landscape and their  journey for survival around the world brings us the power of hope, perseverance and grace amidst violence and cruelty.
"Printed in North Korea – The Art of Everyday Life in the DPRK" (Phaidon) by Nicholas Bonner. This book of never-before-seen prints from North Korea offers a rare glimpse into the country and the creativity behind the propaganda.
"America For Americans – A History of Xenophobia In The United States" (Basic) by Erika Lee. Though many of us cling to the idea of America as a nation of immigrants, this award-winning historian returns with a sober look at how our nation has fostered a dark history and violence of hatred against foreigners landing on our shores.
"The Plotters" (Anchor Books) by Un-Su Kim as translated by Sora Kim Russell. This crime novel tells the story   of an assassin who steps out of line only to discover an extraordinary scheme set into motion by a trio of young women. Our man must decide at that moment if he'll remain a pawn forever or finally take control of the plot.
"Kiki & Jax – The Life-changing magic of Friendship" (Crown) by Marie Kondo and co-written and illustrated by Salina Yoon. This timeless story of friendship tries to instill in children a sense of tidiness and the rich transformational magic that family brings.
"A Savage Dreamland – Journeys in Burma" (Bloomsbury) by David Eimer. This former Asia correspondent for The Telegraph was one of the first outsiders to access the country in its entirety. He arrived in 2010 as the country transitioned from a dictatorship to a democracy.
"Liking in Silence" (White Pine) by Kin Sa-in translated by Brother Anthony of Taize & Susan Hwang. This poet looks at the names and gestures of everyday persons forgotten by South Korean economic prosperity and gives them a voice.
"Death is Hard Work" (Picador) by Khaled Khalifa. This novel tells the tale of three ordinary people who face a crisis with simple determination. How does a family bury their father in his hometown when the whole country of Syria is a war-zone?
"Dreams of Fallen Blossoms – Tune Poems of Su Dong-Po" (White Pine) as translated by Yun Wang. This great Sung Dynasty Chinese poet is rendered in English with clarity and valuable notes about each poem.
"Block Seventeen" (Black Stone) by Kimiko Giuthrie. A debut novel that examines the inheritance of trauma, both  historical and personal. In a search for a missing mother, the ghost of the internment camp experience haunts a family up to the present.
"Shape Shifters – Journey Across Terrains of Race And Identity" (University of Nebraska) edited by Lily Ann e Y. Welty Tamai, Ingrid Dineen-Wimberly and Paul Spickard. This collection of essays challenges readers to think in new ways about race an d social mobility as it probes peoples of mixed race identity.
"The Great Successor – The Divinely Perfect Destiny of Brilliant Comrade Kim Jong Un" (Public Affairs) by Anna Fifield. This book slashes through myths to uncover an illuminating portrait of a rogue family's rule over an entire nation. A compelling mix of biography, cultural history and  political intrigue. The author comes to Town Hall Seattle to talk about it on June 16, 2020.
"Stormy – a story about finding a forever home" (Schwartz & Wade) by Guojing. A wordless picture book that shows how a fierce storm brings a stray pup and a kind woman together. A celebration of patience, friendship and home that children will take to heart.
"Quiet Odyssey – A Pioneer Korean Woman in America" (UW Press) by Mary Paik Lee. Edited by Su Cheng Chan with a new foreword by David Yoo. This memoir of an immigrant Korean woman's life in America is considered a classic and is back in print in this new edition.
"Most of the Better Natural Things in the World" (Chronicle) by Dave Eggers and Angela Chang. Lush color-rich landscapes illuminate a single word per page of the world's most beautiful places. Instills in the child an appreciation of nature.
"Stories of The Sahara" (Bloomsbury) by Sanmo as translated by Mike Fu. This best-selling Chinese author/nomad traveled to the Spanish Sahara to be with her fiancé. Her travel diaries document the lives of nomadic peoples in the desert, her wedding and interactions with a new world all with a sense of wonder.
"The Night Gardener" (Simon & Schuster) by the Fan Brothers. A small town's trees are transformed over night into topiaries of larger-than-life animals. A young boy, spellbound by their beauty wonders who is making them. These Canadian brothers transform this tale with a meticulous magic of lined detail. Sure to delight child and adult alike.
"Eight Outcasts – Social and Political Marginalization in China Under Mao" (UC Press) by Yang Kuisong and translated by Gregor Benton and Ye Zhen. The communist revolution brought sweeping changes in the country on all levels. But these movements did not come about without the persecution of hundreds of thousands of the country's citizens. This book reveals the stories of eight victims of the Maoist dictatorship.
"The Hidden History of Burma – Race, Capitalism And The Crisis of Democracy in the 21st Century" (Norton) by Thant  Myint-U. This historian, former diplomat and presidential advisor looks at his country at its breaking level and offers a sobering re-evaluation.
"Tiny Feet Between The Mountains" (Simon & Schuster) written and illustrated by Hanna Cha. Our heroine is  the tiniest girl in her village yet she never complains and never gives up. When the sun disappears, she volunteers to go to the mountains to see what the matter is. When she meets a tiger, all is revealed. Colorful illustrations make this tale   for children come alive.
"Opening The Gates To Asia – A Transpacific History of How America Repealed Asian Exclusion" (University of North Carolina) by Jane H. Hong. The first comprehensive history of Asian  exclusion repeal. The author unearths the movement that successfully ended restrictions on Asian immigration.
"Ronin Island – Vol. One – Together in Strength" (Boom Studios!) by Greg Pak, Giannis Milonogiannis and Irma Kniivila. After a catastrophic event changes 19th century Japan, Korea and China, two young soldiers must protect their home from a warlord's oncoming forces. A graphic novel that is a  coming-of-age story set against the backdrop of war.
"Aiiieeeee! An Anthology of Asian American Writers – Third Edition" (UW Press) as edited by Frank Chin, Jeffrey Paul Chan, Lawson Fusao Inada and Shawn Wong. Now back in print with a new foreword by scholar Tara Fickle, this third edition reminds us how Asian Americans fought for – and seized –  their place in the American literary canon.
"Newcomer" (Minotaur) by Keigo Higashino as translated by Giles Murray. A new paperback edition about a Tokyo detective  who must solve the baffling murder of a woman in a tight-knit neighborhood. New to the area, he must learn the stories of each and every storefront character before the pieces fit together, revealing the killer.
"Hysteria" (Action Books) by Kim Yideum as translated by Jake Levine, So Eun Seo and Hedgie Choi. This is the Korean poet's second book to appear in English. It rides through the surface of wage labor, patriarchy and subsistence in blunt, down to earth language that slices open the materiality of everyday life.
"A Fragile Inheritance – Radical Stakes in Contemporary Indian Art" (Duke) by Saloni Mathur. In this art history book, the author investigates the work of two seminal figures from Southern India – the New Delhi-based critic/curator Geeta Kaspur and contemporary multimedia artist Vivian Sundaram. This book presents new understandings of the culture and politics of decolonization and the role of a non-Western aesthetic avant-garde within the discourse of contemporary art.
"I Remember – Poems and Pictures of Heritage" (Lee & Low) as compiled by Lee Bennett Hopkins. In this newest poetry anthology, fourteen authors and sixteen illustrators of diverse backgrounds share honest portraits of their childhood experiences growing up in the U.S.
"Mulan – Before The Sword" (Disney) is by Newberry-winner Grace Lin. It is an original prequel novel based  on the upcoming Disney Studios live action "Mulan" film. On sale Feb. 2020. Ages 8 – 12.
"Yes  No  Maybe  So" (Balzer + Bray) by Becky Albertalli and Aisha Saeed is a novel about love, resistance, elections and local activism. Based on the author's real life experiences canvassing for a special election in Atlanta. What happens when two teenagers  – one Jewish and one Muslim, end up engaging in neighborhood activism on the eve of an election? Due out Feb. 2020.
"The Art Lover's Guide to Japanese Museums" (Modern Art Press) by Sophie Richard. An indispensable guide to Japan's most fascinating museums and galleries that gives in-depth information on not only the famous places but artist's houses and quirky alternative spaces as well.
"Days of Distraction" (Ecco) by Alexandra Chang is a debut novel that is a tender portrait of a young woman coming into her own. It tackles issues of identity, the micro aggressions and overt racism experienced by Asian Americans and the complications of being in an interracial relationship. Publication  date March 2020.
"Lake Like A Mirror" (Two Lines Press) – Short Stories by Ho Sok Fong as translated by Natascha Bruce. Described by critics as "the most accomplished Malaysian writer, full stop", these stories explore the lives of women buffeted by powers beyond their control. Publication  date March 2020.
"Up  Down  Inside  Out" (Enchanted Lion Books) by Joo Hee Kim. This picture book takes eighteen aphorisms with each visually explained in the most imaginable way possible. It challenges the reader to think through the meaning of each and how that meaning might be rendered visually. A book that is a mastery of printmaking where the use of two spot colors creates a world of shadows and tones from a very limited palette.
"The Chaos Curse" (Scholastic) is volume 3 of the "Kiranmala and the Kingdom Beyond" series by Sayantani Dasgupta. Our heroine must travel back to her New Jersey hometown to save Prince Lal, trapped in a tree in the yard of her best-enemy-for-life. Kiran must grapple with the tangled threats that threaten to ensnare her or it could be the end of her story and the entire universe. Ages 8 – 12. Out March 2020.
"The Gentle Order of Girls and Boys – Four Stories" (Counterpoint) by Dao Strom. Comes with a new introduction by the author. A look at the lives of Vietnamese American immigrant women in the 1970's centered on their ordinary lives as mothers, lovers, friends and daughters against the backdrop of immigration and assimilation.
"Stand Up, Yumi Chung!" (Kokita) by Jessica Kim. A shy kid hoping to break out of her shell with stand-up comedy finds complications from her parent's expectations. Will she find the courage to step up to her dreams and become  herself? Ages 9 – 12. Out March 2020.
"Be An Invent Her – An Everywoman's Guide To Creating The Next Big Thing (Sasquatch) by Mina Yoo and Hilary Myerson. Women are the ultimate creators, yet they are wildly under represented. This is the complete guide geared towards any woman who wants to bring her invention from idea to the marketplace
"The Three Brothers – Memories of My Family (Grove Atlantic) by Yan Lianke as translated by Carlos Rojas. This noted Chinese writer whose books are banned in China is known for his satirical, surreal fiction. But here, he offers a memoir in which he traces his family's difficult past through the Cultural Revolution and attempts to understand his own complicated relationship with the country who made him a writer. Due out March 2020.
"The Iron Will of Genie Lo" (Amulet) by F. C. Yee continues the saga and is the sequel to "The Epic Crush of Genie Lo". Our heroine hears news of a cosmos-threatening force of destruction in a nearby alternative universe just as she's visiting a prestigious college. The Jade Emperor is missing and Genie must embark on a quest to make things right but can she afford  to make the sacrifice? Publication date is Jan. 2020.
"Invisible People" – Stories of Lives at the Margins" (Temple University Press) by Alex Tizon. Edited by Sam Howe Verhovek with a foreword by Jose Antonio Vargas. The late Alex Tizon was a Pulitzer Prize-winning journalist who documented the world's harshest injustices with acute sensitivity. This posthumously published collection gathers his best essays between 1994 – 2017 with  two autobiographical pieces forming the moral center.
"A Bond Undone" (St. Martin's) by Jin Yong is the second book in the epic "Legends of the Condor Heroes" series as translated by Gigi Chang. When our hero learns the truth of his father's death, he also finds himself betrothed against his will to two women, neither of which is his sweetheart. Meanwhile he travels through the country meeting challengers and foes alike.
"Defiant Vision – Prints & Poetry by Munio Makuuchi" (Smith College Museum of Art) by Aprile Gallant and Floyd Cheung with an afterword by Margo Machida. This is the first published scholarship on this largely unrecognized American artist/poet and places him within his social, historical, artistic and literary context. Makuuchi spent his final years showing his art and reading his poetry in Seattle. This book serves as an exhibition catalog for an exhibition recently held at Smith College  of Art.
"No Steps Behind – Beate Sirota Gordon's Battle for Women's Rights in Japan" (Creston) by Jeff Gottesfeld with illustrations by Shiella Witano. This biographical picture book looks at the power of education to transform lives and Gordon's role in shaping Japan's post-war constitution.
"Allure – Material Art and Installations From China (Smart Museum of Art) by Wu Hung and Orianna Cacchione with Christine Mehring and Trevor Smith is the catalog for a touring exhibition coming to Seattle Art Museum. It looks at how Chinese contemporary artists have been experimenting with a wide array of unconventional materials to make monumental paintings and sculptural installations.
"That We May Live" (Two Lines Press) is a new collection of speculative fiction by some of today's most exciting writers in China and Hong Kong, many of whom are appearing in English for the first time. Lightly touching on issues of urbanization, sexuality, and propaganda, the collection builds a world both utterly disorienting and disturbingly familiar, prompting the question: Where does reality end and absurdity begin in a world pushed to its very limits?
"Detours: A Decolonial Guide to Hawai'I" (Duke) edited by Hokulani K. Aikau and Venadette Vicuna Gonzalez In this reinvention of a travel guide you'll find artists, activists and scholars pushing the reader away from the fantasy of Hawai'i as a tropical paradise and offering instead a multilayered and holistic engagement with Hawai'i's true culture and complex history.
"The Mushroom at the End of the World- On The Possibility of Life in Capirtalist Ruins" (Princeton) by Anna Lowenhaupt Tsing.  Matsutake is the most valuable mushroom in the world – and a weed that grows in human disturbed forests across the northern hemisphere. The author's account of this sought-after fungi offers insights into areas far beyond just mushrooms and addresses a crucial question: "what manages to live in these ruins we have made?"
"Life For Sale" (Vintage) by Yukio Mishima. Translated by Stephen Dodd. This popular Japanese novel looks at a salaryman who, after botching a suicide attempts to put his life up for sale in the classifieds. Surprised by the response, this Tokyo everyman finds himself caught up in a continent-wide conspiracy. Due out April 2020.
"Nian, The Chinese New Year  Dragon" (Sleeping Bear Press) by Virginia Loh-Hagan with illustrations by Timothy Banks. A Chinese new  year legend pits a hungry dragon who terrorizes a village against a young girl who gets advice from a warrior in a dream about how to defeat the monster. But will 15 days be enough to accomplish the task?
"Vigil – Hong Kong on the Brink" (Columbia Global Reports) by Jeffrey Wasserstrom. The author gets behind the headlines, telling the dramatic story of an extraordinary city and how it got to this breaking point in an effort to help readers understand what may be the most consequential unresolved situation in the world today. February 2020 publication date.
"The Man Without Talent" (New York Review Comics) by Yoshiharu Tsuge as translated with an essay by Ryan Holmberg. This collection is a look at one of Japan's most beloved cult manga artists. The semi-autobiographical character in these stories is a comic artist who can't survive on what he does best and involves himself  in get-rich schemes that soon turn to dust. The protagonist is torn between the desire to create and the desire to just fade away.
Hailed as a "great Hawaiian novel", "Sharks In The Time Of Saviors" (F S & G) by Kawai Strong Washburn follows the fortunes of the children of an island family as they struggle on the mainland for that piece of the American dream. When supernatural events revisit the family – with tragic circumstances – everyone is forced to reckon with the desire to belong, to rescue, and to not disappear. Publication date  of March 2020.
"The Farm" (Random House) is a novel by Joanne Ramos that paints a portrait of Filipinas in New York and the politics of motherhood and female autonomy.  Questions of money, ethics, privilege and ambition are posed as each character makes compromises.
"The Light Between Us" (Tor Teen) by Andrew Fukuda.  This young adult novel set for Jan.  2020 publication portrays the relationship between pen pals as a young Japanese American man and a French-Jewish friend go off to war on the eve of WWII.  The scenes go from the plains of an internment camp in Manzanar to the horrors of Auschwitz.  Will their friendship survive the travails of war and conflict?
"Cluster" (McClellad & Stewart) is a new book by award-winning Canadian poet Souvankham Thammavongsa in which she looks at the whole idea of "meaning" and the ways in which it arrives, if at all.  Born in a Lao refugee camp in Thailand, the poet was raised and educated in Toronto.
"Butterfly Yellow" (Harper) by Thanhha Lai is a novel set in the final days of the Vietnam War.  When an older sister and younger brother are separated at the airport, years pass. When the sister finally finds him years later in Texas, he has no memory of their family or Vietnam.  What can she do to bridge that gap?  A young adult novel by this National Book Award and Newberry Honor-winning author.
"Grief" (Wave) is the latest book by poet Prageeta Sharma.  With staggering emotional honesty, Sharma is able to bring forth poems that confront the sudden loss of her spouse to cancer.
"Like A Champion" (7.13) is a book of short stories by Vincent Chu.  This book is an ode to the underdogs, long shots, disappointed worker bees and hopeful lovers.
"Water/Tongue" (Omnidawn) by Mai C. Doan is a book of poems that looks at the diasporic body in an uncertain landscape and the devastating effects of colonialism.
"A Beginner's Guide to Japan-Observations and Provocations" (Knopf) by Pico Iyer.  A compendium of the author's observations of the oddities and insights of Japanese life culled from a foreigner's more than thirty-two years living in this island nation.
"Locus" (Omnidawn) by Jason Bayani explores the experience of identity that haunts Philipinx-Americans in the wake of the 1965 Hart-Celler Immigration Act.  Inspired by the rhythms of hip-hop, he lays down his stories of families, cultures and memories passed down from generations.
"Fu Ping" (Columbia) is a novel by Chinese writer Wang Anyi as translated by Howard Goldblatt.  In it, she keenly observes the lives of lower class women in Shanghai in the early years of the People's Republic of China.  These are renderings of history, class and the human heart.
"Goddess of Democracy – an occupy lyric" (Omnidawn) by Henry Weir Leung.  The poet considers the icon that came out of Tiananmen Square in light of his eyewitness observations of the 2014 Umbrella Revolution in Hong Kong.  Disobedience more and more becomes a global question that the poet holds up for the reader to ponder.
"Dear America – The Story of An Undocumented Citizen" (Harper) is the Young Reader's Edition of Pulitzer Prize-winning author Jose Antonio Vargas.  This illegal immigrant from the Philippines challenges what it means to be American when the country he's called home doesn't consider him on of its own.
"Patience, Miyuki" (Princeton Architectural Press) is a picture book by Roxanne Marie Galliez as illustrated by Seng Soun Ratanavanh.  A little girl learns patience as she waits for a flower to bloom with her wise grandfather.
"The Magical Language of Others" (Tin House) is a memoir by award-winning Seattle poet E. J. Koh set for Jan. 2020 release.  Left in the care of a brother in the US when her parents have to return to Korea for work, her mother wrote her letters that went unanswered.   Years later the adult author embarked on a project to translate this written inheritance.  "If her letters could go to sleep, my translations would be their dreams", Koh writes.
"The Galleons" (Milkweed) is the long-awaited new book of poetry by local poet Rick Barot who conveys the immigrant journey of his own Filipino American family within the larger context of history in the aftermath of colonialism.
"The Piano Recital" (Kids Can Press) is a new picture book by Akiko Miyakoshi.  It's an enchanting tale of a nervous girl's first recital and how she gets encouragement from a magical audience of mice.
"Kanban – Traditional Shop Signs of Japan" (Mingei International/Princeton University Press) by Alan Scott Pate is a lovely catalog for an exhibition on the history and origins of traditional shop signs in Japan.
"Our Favorite Day" (Candlewick) is a picture book written and illustrated by Joowon Oh. An old man reserves that special day when he spends time with his granddaughter.  In charming color illustrations, their day together comes alive.
"More to the Story" (Simon & Schuster) by Hena Khan comes a new story inspired by "Little Women".  Four sisters from a modern American Muslim family living in Georgia come of age.  When the father goes overseas for a job, one sister longs to be a journalist and wants to write an article that will make her dad proud.  But will her dreams be abandoned when a younger sister falls ill?  A young adult novel.
"Older Sister. Not Necessarily Related." (McClelland & Stewart) by Jenny Heijun Wills is a memoir that dwells into gender, class, racial and ethnic complexities through a story of a Korean adoptee in Canada who returns to reconnect with her birth family.  In this book, one feels the ripple effect of dislocation and the rewards of struggle and forgiveness.
"Japanese Tales of Lafcadio Hearn" (Princeton) as edited and introduced by Andrei Codrescu with a foreword by Jack Vipes.  This volume, part of the Oddly Modern Fairy Tales" series bring together a choice selection of strange stories, inspired by Japanese folk tales as written by Western expatriate Lafcadio Hearn at the turn of the 19th century.
"Latani of The Distant Sea" (HarperCollins) is the latest book by Newberry Medal-winner Erin Entrada Kelly.  This fable inspired by Filipino folklore is filled with a rich mythology and pits a timid twelve-year-old girl against epic tests to survive and save her village from disaster.
"Surrender" (Imprint) by Cao Wenxuan as illustrated by Yu Rong.  In this picture book, children will read how seven animals try to survive the sweltering season but all are selfish.  It isn't until they learn to share that they thrive. Lyrical poetic prose is matched by delicate, sensitive images.
"Along The Indigo" (Amulet) is by prolific young adult author/editor Elsie Chapman.  Her new novel is a heart-wrenching story of a plucky heroine trying to escape the poverty of a seedy river town to give herself and her little sister a better life.
"Useful Phrases For Immigrants" (Blair) is a collection of stories by May-lee Chai that recently won the American Book Award from The Before Columbus Foundation.  Set in China and in the Chinese diaspora, it presents characters who cross borders, re-invent traditions and search for love.  It was selected as the winner of the 2018 Bakmin Award by Tayari Jones.
"Last of Her Name – A Novella & Stories" (Kaya) by Mimi Lok.  A wide range of stories that portray the interconnected lives of diasporic women and the histories they are born into.  With a cast of outsiders like an elderly housebreaker, wounded lovers and kung-fu fighting teenage girls.
"The Ranger" (Groundwood) by Nancy Vo.  When a ranger comes across a fox in a trap, she nurses it back to health.  When misfortune befalls the ranger, the fox returns the favor.  A picture book of understanding and companionship is evoked in striking illustrations.
"No Good Very Bad Asian" (C&R) is a comic novel by Leland Cheuk of a Chinese American underachiever's journey into stand-up comedy while navigating the duties and obligations of society and a traditional Chinese family.
"Place and Postcolonial  Ecofeminism – Pakistani Women's Literary And Cinematic Visions" (Nebraska) by Shazia Rahman.  A look at contemporary Pakistani literature and film through the voices of women's narratives.
"Iced In Paradise" (Prospect Park) is by Naomi Hirahara, the Edgar-winning author of the Mas Arai mysteries.  In it, we discover a new unlikely detective in Leilani Santiago. Leaving a post-collegiate Seattle life, she returns to the islands to care for an ailing mother and keep afloat a family business.  But when she discovers a dead body and her estranged father becomes the suspect, she must work fast to solve the murder and put her life and that of her family back in order.
"Zhuangzi – The Way of Nature" (Princeton) is illustrated by C. C. Tsai with a foreword by Edward Slingerland.  Tsui is one of East Asia's beloved cartoonists.  He is adept at taking tales of traditional Asian philosophy and literature and fashioning them into playful and illuminating cartoons.  In this volume, he takes on a pillar of classical Daoism aided by a skillful translation by Brian Bruya who provides an informative introduction.
"Skyward: The Story of Female Pilots in WWII" (Flying Eye) by Sally Weng.  This children's picture book tells the little known story of women pilots who learn to fly and contribute to the war effort.
"Banned – Immigration Enforcement In The Time of Trump" (NYU) by Shoba Sivaprasad Wadhia tries to make sense of a muddled immigration policy with a thoughtful analysis of immigration law and policy illustrated by insightful case studies and interviews.
"A Hero Born – Legends of the Condor House 1 (St. Martin's Press) is an epic novel by Jin Yong as translated by Anna Holmwood.  This Hong Kong writer has created one of the world's most beloved martial arts novels that stretches from the mid-fifties to the emergence of Bruce Lee's career in film.  His novels have been widely read in Asia. Hailed as a Chinese "Lord of the Rings", this kung-fu fantasy features fierce battles, complex characters and plots woven into historical events.
"Maangchi's Big Book of Korean Cooking" (HMH) by Maangchi is billed as "You Tube's Korean Julia Child" by the NY Times.  This book is called the definitive book on Korean food and the culture it comes from.  Set for Oct. 2019 release.
"Divine Gardens – Mayumi Oda & The San Francisco Zen Center" (Parallax) captures the essence of the artist's art and life as a zen practitioner.  It is a celebration of the garden and her joyful female "goddesses" who leap off the page in vibrant colorful hues.
"How Do You Say Goodnight?" (Little Simon) by Cindy Jin and illustrated by Shirley Ng-Benitez is a cute board book for kids in which the little ones learn how to say good night in an array of languages and cultures.
"Japanese Ghost Stories" by  Lafcadio Hearn (Penguin Books) Edited with an introduction by Paul Murray (biographer of Hearn).  Hearn was a journalist and 19th century master storyteller who drew on traditional Japanese folklore.  Infused with memories of his own haunted childhood in Ireland, he created these chilling tales.
"Masking Identity – The Performance Art of Roger Shimomura" (printed by CreateSpace, an Amazon Company) by Krystal Reiko Hauseur.  This book is a monograph of the artist's thirteen performance pieces created over an eighteen-year period.  Looks at the historical significance and visual impact of Shimomura's performance art that continually dealt with racism, discrimination, and the Asian American experience.
"Everest" (Flying Eye) by Sangma Francis & Lisk Feng.  A non-fiction picture book full of facts about the world's highest mountain  with marvelous visuals by Feng.
"Rising Son – A US Soldier's Secret and Heroic Role in World War II" (Sasquatch) by Sandra Vea.  The story of a Japanese American man who joined the Military Intelligence Service assigned to convince Japanese Imperial soldiers to lay down their arms while wearing a target on his back. Reveals a little-known history of how the confluence of race, war and loyalty played out when the nation called for the service of those it judged most harshly.
"Things To Make And Break" (Coffee House) is a book of stories by May-Lan Tran.  A collection of stories that reveal old relationships, past selves and hopes for the future where the path is not always clear and self-invention and self-annihilation appear as road signs to a varied cast of characters.
"The Immortal Jellyfish" (Flying Eye) by writer/artist Sang Miao tackles the issue of death as a young boy loses his grandfather only to reunite again with him in a mythical city.
"Bullets And Opium – Real-Life Stories of China After the Tiananmen Square Massacre" (Signal) by Liao Yiwa.  Now living in exile in Berlin, the author bears witness with first person accounts from ordinary people who were actually there that fateful day.
"Stories For South Asian Super Girls" (Kashi House) by Raj Kaur Khaira is a treasure trove of 50 illustrated biographies of amazing South Asian women.  A young adult  book of "sheroes" sure to inspire.
"ESL or You Weren't Here" (Nightboat) by Aldrin Valdez.  A debut book of poems that looks at a young man's upbringing as a queer immigrant body adrift in a sea of contradictions with negotiations between Tagalog and English at every corner.
"Bone Talk" (David Fickling Books) by Candy Gourlay tells the story of an indigenous village boy in the Philippines who must use all his skills to battle the encroachment of American invaders in this young adult novel set for November 2019 publication.
"Always Angali" (Bharat Babies) by Sheetal Sheth  with illustrations by Jessica Blank. When an Indian girl in America finds she is bullied for her different name, she asks her parents to change it but they refuse.  A timeless children's  story about appreciating what makes us special and honoring our differences.
"Sightseer in This Killing City" (Penguin) by Eugene Gloria.  This new book of poems captures the surreal and disorienting feelings of the present and reveals an obsession with arrivals and departures and the bitter divisions in America.
"Parade" (Soft Skull) by Hiromi Kawakami as translated by Allison Markin Powell.  It's a summer afternoon and the student tells her former high school teacher a modern folk-tale of creatures over a bowl of cold noodles. Set for Nov 2019 publication.
"Bodega" (Milkweed Editions) is a debut book of poems by Minnesota poet Su Hwang. With rich lyrical and narrative poetics, she offers a revealing perspective on our nation of immigrants and the tensions rising in the margins where they live and work.
"My Story Starts Here – Voices of Young Offenders" (Groundwood) by Deborah Ellis is set for Oct, 2019 release.  It is an oral history of kids involved in the criminal justice system telling their own stories.  From different socioeconomic backgrounds, genders, sexual orientations and ethnicities, the common threads that bind include loss of parents, dislocation, poverty, truancy, addiction and discrimination.
The Goose Egg" (Knopf) by Washington author/artist Liz Wong tells the story of an elephant who rescues a baby goose who then adopts her as her mother.  This picture book is tale of parenting and how love changes everything.
"Fashion And Beauty in The Time of Asia" (NYU Press) edited by S. Heijin Lee, Christina Moon and Thuy Lin Nguyen Tu.  This collection of essays considers the role of bodily aesthetics foraged through engagements with fashion and beauty.  Topics run the gamut from the American influence on plastic surgery in Korea, Chinese garment workers to Nepalese nail technicians in New York.
"You Go First" (Greenwillow) by Erin Entrada Kelly.  How do two friends more than a thousand miles away survive middle school and heartbreak at home?  A love of online scrabble binds them together and their lives intersect in unexpected ways in this young adult novel.
In "Hybrida" (Norton) is Tina Chang's new book of poems and in it, she confronts the complexities of raising a mixed-race child during an era of political upheaval in the United States.
"Spin The Dawn" (Knopf) by Elizabeth Lin.  This fairy tale is about a young seamstress who must use her creativity as a weapon against evil forces invading the land.
"Before I Was A Critic I was A Human Being" (Book Hug) by Amy Fung.  This collection of essays takes a closer look at Canada's mythologies of multiculturalism, settler colonialism, and identity through the lens of a national art critic.
"Jaya And Rasa: A Love Story" (Cinco Puntos) is both a teenage romance and a tale of crime fiction as a love blooms between two strangers who cross paths.  Will their relationship survive the chaos of their respective lives?
"Love in the New Millennium" (Yale) by Can Xue with a foreword by Eileen Myles and translated from the Chinese by Annelise Finegan Wacmoen.  A dark comic novel about a group of women who inhabit a world of constant surveillance, where informants lurk in the flower beds and false reports fly.  Love stories of a new millennium by a master storyteller.
"Malaya – Essays On Freedom" (Little A) by Cinelle Barnes.  These essays tell of a harrowing childhood in the Philippines and coming of age in the American South as a woman with a brown body in a profoundly white world. Set for Oct, 2019 release.
"Super Satya Saves The Day" (Bharat Babies) by Raakhee Mirchandani with pictures by Tim Palin.  Can a little girl conquer the tallest slide in Hoboken without her superhero cape?  Will she be able to face her fears, help her friends and be the true hero everyone knows she is?
"Empire of Style – Silk And  Fashion in Tang China" (UW Press) by Buyen Chen.  During the Tang dynasty, the Silk Road was filled with a critical market and the thriving cultures of Central Asia and the Middle East.  Chen looks at this vibrant fashion system that emerged through the efforts of Tang artisans, wearers and critics of clothing.
"The Art of Logic In an Illogical World" (Basic Books) by Eugenia Cheng.  This mathematician and columnist demonstrates how to use mathematical logic to complement our emotions and transform the way we think about challenges.
"Team Taek Wondo #3 – How To Be Cheeri" (Rodale Kids) by Master Taekwon Lee & Jeffrey Nodelman and illustrated by Ethen Beavers.  What happens when hard worker Cheeri must collaborate with fun loving Baeoh?  How can they join forces and learn to work together to meet their next challenge?  A lesson-learning graphic novel for kids.
"Bomb Children – Life In The Former Battlefields of Laos" (Duke) by Leah Zani.  The author looks at how the explosive remnants of war continues to be a part of people's everyday lives.
"Chicks Rule!" (Abrams) is a picture book by Sudipta Bardhan-Quallen with pictures by Renee Kurilla that demonstrates that when little girls work together, no obstacle is insurmountable.
"Zeng Fanzhi" (Hauser & Wirth) is a catalog of a 2018 exhibition by one of China's most well known contemporary artists that toured Zurich, London and Hong Kong.  The artist often works on multiple artworks in different styles and this book is a reflection of that as it moves from the purely abstract to the figurative to traditional landscape.
"Paper Son" (Random House) by Julie Leung and illustrated by Chris Sasaki tells the inspiring story of artist Tyrus Wong, the Chinese American responsible for bringing Disney's Bambi to life.
"Symptoms of a Heart Break" (Imprint) by Sona Charaipotra is a young adult novel of a young doctor treating kids with cancer who must mend her own broken heart even as she starts to become attracted to a patient.
"Hard Damage" (University of Nebraska) by Aria Aber won the Prairie Schooner Book Prize in poetry.  Leaping from the personal to the political, an Afghani family history comes alive as a poet explores the historical and personal implication of Afghan American relatives in an urgent, lyrical language.
"Anna May Wong – Performing The Modern" (Temple University Press) by Shirley Jennifer Lim.  The author explores modernity and women of color through the central presence of this famed Chinese American actress.  In this study, Lim captures Wong's emergence through the contradictions of gender and race.
"The Rise of Kiyosi – Avatar, The Last Airbnder" (Amulet) by F. C. Yee with Avatar co-creator Michael Dante Dimartino.  The story behind the longest-living avatar in the history of this beloved world.  It maps Kiyoshi's journey from a girl of humble origins to the merciless pursuer of justice in this young adult fantasy epic.
"I Love You So Mochi" (Scholastic) by Sarah Kuhn.  When a young girl gets into an explosive fight with her mother, she's able to escape to Kyoto when her grandparents invite her to visit.  When she meets a Japanese med student, she learns more than she bargained for – about her self and her complex relationships.
"Your House Will Pay" (Ecco) by Steph Cha is a novel that looks at a history of Los Angeles after Rodney King and how it impacted and shaped her city.  She deals with issues of how crime, violence and injustice permeates  communities and families.
Mommy Sayang" (Pixar Animation Studios Artist Showcase Books) by Rosanna Sullivan. When illness comes between a mother and her child, they must find a way to love in a different yet meaningful way.  Charmingly illustrated by the author.
"Shojin Ryori – The Art of Japanese Vegetarian Cuisine" (Marshall Cavendish) by Danny Chu.  Explores a cuisine that originated from Japanese Zen temples that use no meat, fish, egg or dairy products.  The author is a former foreign currency trader who left the corporate world to study this unique cuisine.
Chirri & Chirra – Underground" (Enchated Lion) by Kaya Doi and translated by David Boyd.  A charming Japanese picture book about two sisters who embark on an adventure beneath the earth's surface as they follow badgers and discover another world.
"Instantly Indian Cookbook – Modern Classic Recipes For The Instant Pot" (Knopf) is the latest by the godmother of Indian cookbook writers, Madhur Jaffrey.  In it, she tries to make cooking Indian food in your home easier via the use of the Instant Pot.  Runs the gamut with recipes, side dishes, spices, special ingredients and handy tips.
"A Scarf For Keiko" (Kar-Ben) by Ann Malaspina and illustrated by Merribe Liddiard.  A special friendship is tested when Sam's Japanese American neighbor Keiko is forced into an internment camp with her family as WWII draws near. How will they remain friends?
"Like A Love Story" (Balzer + Bray) by Abdi Nazemian.  Three characters in 1980's NYC – an Iranian boy who keeps the secret that he's gay, a young girl who wants to be a fashion designer and a gay uncle with AIDS that she worships.  When all three get caught up in secrets and emotions, will friendship and love still triumph?
"A Song For China – How My father  Wrote Yellow River Cantata" (Groundwood) by Ange Zhang.  A true story of a young Chinese author who composed the words to a song that became a patriotic anthem. Illustrated by the author's woodblock-style art with sidebars that explain the historic background to the story.  Set for September, 2019.
"The Safety of Edges" (Marrowstone Press) by Thomas Hitoshi Pruiksma uses poetry to ponder liminal times and spaces, tracing between now and then and there, childhood and the grown poet.
"You Are My Magical Unicorn" (Cartwheel) is a colorful board book by Joyce Wan that expresses the mantra that every child needs to feel important and loved.
"Bloody Seoul" (Cinco Punto) by Sonia Patel is a young adult coming-of-age story about a boy who wants to inherit leadership of his father's gang but along the way, discovers important new truths that help him find himself and another path.
"My Big Bad Monster" (Disney Hyperion) by A.N. Kang.  How a little girl defeats her monster of self-doubt comes alive in these colorful pages.
"Kitchen Curse" (Verso) is a book of stories by Eka Kurniawan as translated by Annie Tucker.  These dark tales explore the turbulent dreams of an ex-prostitute, a perpetual student, victims of anti-Communist genocide, an elephant and a stone.  An Indonesian writer hailed as a SE Asian "Marquez."
"The Boy Who Grew A Forest – The True Story of Jadav Payeng" (Sleeping Bear) by Sophia Gholz and illustrated by Kayla Harren.  This picture book tells the inspiring story of a little Indian boy who planted a forest on an island starting with one seed.
Big Sister, Little Sister, Red Sister – Three Women at the Heart of Twentieth-Century China" (Knopf) by Jung Chang, noted author of "Wild Swans".  This book tells the story of three real-life sisters from Shanghai who married some of the most powerful men in modern China.  A gripping tale of these women who helped shape the history of twentieth-century China.
"The Epic Crush of Genie Lo" (Amulet) by F. C. Yee.  What happens when an overachieving Chinese American high school girl drops her studies to fight a hellspawn straight out of Chinese folklore with the aid of the mysterious new boy in school?
"The Memory Police" (Pantheon) by Yoko Ogawa as translated by Stephen Snyder.  This is a haunting Orwellian novel about the terrors of state surveillance by the acclaimed Japanese author of "The Housekeeper and the Professor".
With "The Candle And The Flame" (Scholastic) by Nafiza Azad, we enter another world and another time.  Based on Islamic mythology and Arabic folklore, the author evokes a city on the Silk Road and a young woman who must be quick on her feet and alert to her senses as she navigates political intrigue and the dangers of a magical battlefield to survive.  A young adult fantasy novel.  The author born in Fuji is an Indo-Fijian Muslim Canadian.
"Man Tiger" (Verso) by Eka Kurniawan is set in a small town on the Indonesian coast. This novel tells the story of two tormented and interlinked families and an ordinary young man who conceals within himself a supernatural female white tiger.  Translated by Labodalih Sembiring.
"Ojiichan's Gift" (Kids Can Press) by Chieri Uegaki and illustrated by Genevieve Simms.  A picture book about a grandfather's garden in Japan and how an American granddaughter learns to tend the garden on her summer visits until everything changes. A story of facing changes in life and the bond of love.
"The Dragon Warrior" (Bloomsbury) by Katie Zhao.  This middle-grade fantasy takes a page from Chinese mythology.  A young outcast embarks on a quest to prove herself and honor her family as well.  Set for October, 2019 release.
"Bilal Cooks Dahl" (Salaam) by Aisha Saeed and illustrated by Anoosha Syed.  When a South Asian boy helps his dad cook his favorite dish, he worries if his friends will like it too.
"The Sea of Japan" (Spark Press) is a novel by award-winning Japanese author Keita Nagano.  Fleeing a disastrous teaching job in Boston, an American girl gets another position teaching overseas in a Japanese fishing village.  Saved from drowning by a local fisherman, she soon becomes immersed in a war over fishing rights between his village and the one nearby.
"Other Words For Home" (B+B) by Jasmine Warga.  A Syrian girl and her mother are forced to flee their war-torn country leaving an older brother and father behind.  Will they find a new home in Cincinnati?  A young adult novel  about losing and finding home or perhaps   finding yourself.
"The Secrets  of Noh Masks"  (Kodansha) by Michshige Udaka with photography by Shuichi Yamagata.  This book is written by a Noh actor  who is also a mask maker.  He shares his love of this unique ancient drama form with the world.  The photographs make the masks come out of the darkness and become alive
"Zombie Run" (Solstice) is a novel co-written by Dwayne Perkins and Koji Steven Sakai.  It explores how to survive in a Zombie world and discover love along the way.
"The Gurkha and the Lord  of Tuesday" (Tor.com) by Saad Z. Hossain.  A compact story of a king who wakes up from imprisoned slumber only to find to his surprise that the city he covets, has citizens unwilling to revolt.
"Grass" (Drawn & Quarterly) by Keum Suk Gendry-Kim is a graphic novel.  This is the true story of a Korean comfort woman who documents how the atrocity of war devastates women's lives.  A landmark graphic novel that makes truly personal the desperate cost of war and the importance of peace.
"Hello, Universe" (Greenwillow) by Erin Entrada Kelly.  This Newberry Award-winner tells the story of a few kids whose lives collide in surprising and unexpected ways that enrich each of them.
A trio of Japanese American artists have created "442" (Little Nalu Pictures), a graphic novel that recounts the experiences of those in their community who served in the combat regiment that became the most decorated unit in the history of American warfare. Written by Koji Steven Sakai and Phineas Kiyomura and illustrated by Rob Sato.
"The Factory" (ND) by Hiroko Oyamada and translated by David Boyd.  A Japanese novel  that looks at life in a factory from the perspective of three different characters.  This surreal, modern fable dares to ask, "Where does the factory end and the rest of the world begin?"  Set for October 2019 release.
"Take the Mic – Fictional Stories  of Everyday Resistance" (Arthur A. Levine) edited by Behany C. Morrow.   A powerful  collection of short pieces by some of the best young adult authors.  Poems, prose and art that show how today's youth can resist injustice today.
"Who Is Afraid of Little Wolf?" (Prestel) by author/illustrator Yayo Kawamura is a board book for little ones that stresses the importance of overcoming prejudice and the power of friendship with colorful artwork of all the animals in the forest.
"Small Days And Nights" (Norton) by Tishani Doshi is this prize-winning poet's novel that tells the story of a young woman who returns home to Pondicherry after a failed US marriage to find she has inherited property in Madras, discovers a sister she never knew existed and must grow up fast to forge a life with meaning.  Set for January 2020 release.
"A Life Made by Hand – The Story of Ruth Asawa" (Princeton Architectural Press) written and illustrated by Andrea D'Aquino.  Imaginatively illustrated, this picture book tells the story of a pioneering Japanese American artist beloved in the Bay Area.
"My Footprints" (Capstone) by Bao Phi and illustrated by Basia Tran. Bullied at school, a Vietnamese American girl with lesbian parents walks home through the woods stomping through the snow angry and alone. But when a bird catches her eye, things change and she sets off on an imaginary exploration of all the animals in the forest.
"Voices from the Railroad – Stories by descendants of Chinese Railroad Workers" (Chinese Historical Society of America) – Edited by Sue Lee & Connie Young Yu.  An important document that gives voice and recognition to a forgotten generation of early Chinese Americans who built the railroad that linked a nation.
"RUSE" (Simon Pulse) is the thrilling sequel to "Want" by Cindy Pon.  Set in a futuristic Shanghai.  What happens when a group of teens lose a friend, kidnapped by their evil adversary?
"Queen of Physics – How Wu Chien Shiung Helped Unlock the Secrets of the Atom" (Sterling) by Teresa Robeson and illustrated by Rebecca Huang.  Overcoming prejudice and obstacles, this famous physicist went on to make a large difference in the world. Another "shero" story  for the kids.
"Changing And Unchanging Things: Noguchi And Hasegawa in Post War Japan" (UC Press) edited by Dakin Hart and Mark Dean Johnson.  When the artist Isamu Noguchi returns to Japan for the first time in 20 years, it is 1950.  A key figure for Noguchi during this period was fellow artist Saburo Hasegawa who had lived abroad in Paris in the 1930's and later influenced the American "Beats" about Japanese culture.  Together the two artists explore traditional Japanese culture and how it can strike a balance between tradition and Western modernity.  The exhibition catalog for a show at the Asian Art Museum in San Francisco.
"Yao Bai and The Egg Pirates" (West Margin Press) by Tim J. Meyers and illustrated by Bonnie Pang.  A story of resourceful Chinese immigrants who journeyed to the Farallon Islands to gather eggs to sell, only to be attacked by pirates.  A story taken from history that will enlighten the kids.
"What God Is Honored Here? – Writings on Miscarriage and Infant Loss by and for Native Women and Women of color" (Minnesota) edited by Shannon Gibney and Kao Kalia Yang.  A look at pregnancy loss among these groups with insights into the pain and bonds between mothers and their children.
"My First Origami Fairy Tales Kit" (Tuttle) by Joel Stern includes paper models of knights, princesses, dragons and ogres with 36 folding sheets and easy-to-read instructions.
"Fake It Till You Break It" (Swoon Reads) by Jenn P. Nguyen.  What happens when best friends pretend to be a couple in order to get their matchmaking moms off their backs only to realize they are really falling for each other?
"The Dinner That Cooked Itself" (Flying Eye) by J. C. Hsyu and Kenard Pak.  Told in the form of a folktale from ancient China, a decent man longs for a bride but remains lonely until a fairy appears bearing fragrant gifts.
"A Life in a Sea of Red – Photojournalism  by Liu Heung Shing" (Steidl).  This book captures half a century of documentation by this noted Chinese photographer of the changes in life in the former Soviet Union and China.
"Mya's long Walk – A Step At A Time" (Clarion) is by Linda Sue Park and illustrated by Brian Pinkney.  It is the picture book companion to "A Long Walk To Water" and evokes the visceral fragility of living without access to fresh, clean water in the desert of South Sudan.
"B, Book, And Me" (Two Lines Press) by  Kim Sagwa as translated by Sunhee Jeong.  Due out February 2020.  Two loners and best friends support each other as they try to subsist with absent parents and uncaring teachers.  When one of the girl's sister is dying, whom can they turn to?
"A Map Into The World" (Carolrhoda) by Kao Kalia Yang and illustrated by Seo Kim tells the heartfelt story of a young Hmong girl seeking beauty and connection in a busy world.
"The Resisters" (Knopf) by Gish Jen is her latest novel due out Feb. of 2020. It is a story set in the future of an America half under water and deeply divided. But will things come together when athletes from different economic classes get together to compete in the Olympics?
"It Began With A Page – How Gyo Fujikawa Drew The Way" (Harper) by Kyo Maclear with art by Julie Mostad.  A book that tells the story of a world famous children's author and her groundbreaking fight for racial diversity in picture books.
"A Team of Their Own – How An International Sisterhood Made Olympic History" (Hanover Square Press) by Seth Berkman.  Before the last Winter Olympics, North and South Korea merged their women's ice hockey teams into one.  This book tells the story of a team who lost every game but made leaps as the first ever Korean team to overcome language, culture, and political barriers to write history.
"When Spring Comes to the DMZ" (Plough Publishing) by Uk-Bae Lee is a picture book for children that looks at the lush no-man's land that lies untouched and serves as a barrier between North and South Korea through the eyes of a grandfather and his grandson.
Rick Riordan presents Roshani Chokshi's "Aru Shah And The Song Of Death" (Disney/Hyperion). This is Book Two of the Pandava Quartet. It finds Aru joining forces with an ultra-strong girl and the boy across the street on a quest to prove her innocence and discover who has stolen the god of love's bow and arrow.
"The House of Yan – A Family at the Heart of a Century in Chinese History" (Harper) by Lan Yan tells the story of an elite Communist family upended by the cultural revolution and how the author returns as an adult to China to see the country with new eyes.
"The Wolf of Oren-Yaro" (Orbit) by K. S.Villoso due out Feb. 2020 is a Filipino-inspired fantasy about a woman in power finding strength against all odds.  A young adult fantasy novel.
"Okinawan Princess – Da Legend of Hajichi Tatoos" (Bess Press) by Lee A.  Tonouchi and illustrated by Laura Kina.  Japanese & Okinawan translations by Masahi Sakihara.  Tell the legend behind the bold blue hajichi tattoos once worn on the back of the hands of Okinawan women.  Written in Hawai'i creole and translated into Japanese and the endangered indigenous Okinawan language.
New York-based poet/artist Yoko Otomo's new book entitled "Anonymous Landscape" (Lithic Press) offers readers gem-like reflections of moving simplicity in her poems on a landscape of the mind open to beauty and the act of living.
"The Living Days" (Feminist Press) by Ananda Devi, a novel of post-9/11 London that looks at racism, aging and the perturbing nature of desire which all surface in the relationship between an older woman and a teenager who meet one day on Portobello Road.
"Hinges – Sakaki Hyakusen and the Birth of Nanga Painting" (UC Press) by Julia M. White.  This book is the catalog for the first US exhibition focusing on the founding father of the Nanga school of brushpainting in Japan in the eighteenth century.  The Japanese work is shown alongside Chinese paintings by traditional masters and the Japanese painters that followed in Hyakusen's footsteps.
"Ballerina Project" (Chronicle Chroma) by photographer Dane Shitagi.  This popular instagram project that covers over eighteen years of portraits of fifty accomplished ballerinas around the world is now in book form.
Art News/Opportunities
The Gallery 4Culture gallery space is one of the premiere spaces in Pioneer Square for artists in all  contemporary media to show their work. Visual artists working in all contemporary media and genres are invited to submit solo, collaborative and group exhibition proposals for Sept. 2020 – July 2021. Selected artists receive curatorial direction, PR support and a $500 honorarium. But hurry! The deadline is on Mon., Jan. 13, 2020 by 4pm. For ?'s about the application process, contact Andy Le at 206-263-1587 or try [email protected]. For information about the gallery, contact Jordan Howland at 206-623-1589 or try [email protected].
"Distinction" is the title of the 23rd Annual Juried Exhibition for photographers sponsored by Photographic Center Northwest. The juror will be esteemed photographer Kris Graves and the deadline  is Jan. 31, 2020. The exhibition will run from March 26 – May 3, 2020. There is a $50 fee for the first five images and $5 each for additional images with a limit of 10 total. For more information, go to pcnw.org/submission.
Friends of Asian Art was awarded a three-year Civic Partners Grant from the Seattle Office of Arts & Culture. The grant will go toward producing interactive Asian arts and culture programs to senior centers and retirement communities within the greater Seattle area. For more details on this  organization or to become a member, to to friendsofasianart3.com.
ARTS at King Street Station is a cultural space that celebrates the creativity of communities of color, and that reflects and foster the creativity and talents of people that continue to create the fabric of Seattle. We are seeking proposals for exhibitions, performances, workshops, lectures, readings, screenings, gatherings, events and more. All creative mediums are welcome. Apply anytime with the rolling deadline. All selected proposals will be resourced up to $25,000 depending on scale and type. Download an application. Go to Seattle.gov or type in ARTS at King Street Station.