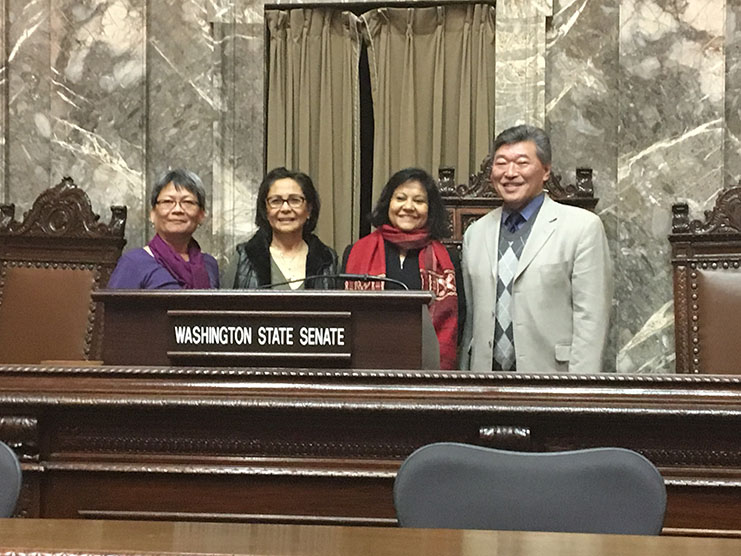 It started with the murders and abuse of several immigrant women in Washington state at the hands of their American husbands.
In 1995 Susana Blackwell, a Filipina woman, was murdered by her husband Tim Blackwell outside the King County Courthouse along with her Filipina friends Phoebe Dizon and Veronica Laureta. She was eight months pregnant. Blackwell was a foreign bride (at the time described with the outmoded term "mail order bride"), and her husband Tim Blackwell found her through an ad in Asian Encounters magazine. At the time she was murdered, Blackwell had been seeking a divorce with the help of API Chaya.
A few years later another Filipina bride, Helen Clemente, was forced to work as a domestic servant in Seattle.
In 2000, Anastasia King, brought to the United States from Kyrgyzstan as a bride, was strangled to death by her husband. He had been abusing her, and she was seeking a divorce. 
State Representative Velma Veloria, Dr. Sutapa Basu, Executive Director of the UW Women's Center, and Emma Catague, Community Organizing Program Manager at Asian & Pacific Islander (API) CHAYA, started to see these incidents as examples of human trafficking.
The three women would lead a movement against human trafficking that created ground-breaking laws in Washington state and beyond.
According to Basu, the three women were also galvanized by racism in the media. Local media briefly covered the murders and abuse of the Filipina women, but King's death was covered in depth by  national media outlets.
"The attention from the mainstream media really came after Anastasia King was murdered," Basu said. "It was 20-some years ago and a devastating event, but still, it took a white, blond woman to be killed for other women to get noticed."
Basu stated, "Many of these foreign brides are motivated by the desire to escape their bleak economic conditions and view marriage to a western man as a ticket out of their situation. Some of these women find themselves in abusive relationships in a foreign place where they do not know or fully understand the culture and are isolated."
Basu, Veloria and Catague saw that the abuse and murders of foreign brides was more than just domestic violence: it was human trafficking.
"They were forced out of their homeland because of the economic conditions," said Veloria.  "They were brought in in terms of fraud, saying you can live here in the United States and make a lot of money."
At the time, according to Veloria, "Nobody even knew what human trafficking was." People assumed it wasn't happening in Washington state. The front-page cases of it were seen as domestic violence.
The buying and selling of women was something Basu had seen in India, where she worked with women's groups. 
In 2001, Basu took the lead in organizing the first human trafficking conference in Washington State. Hosted by the UW Women's Center and co-sponsored by a number of community nonprofits, it featured lawmakers, academics, social workers, students, victims and survivors of trafficking and their families.
In her keynote speech, Dr. Basu spoke about how globalization has exacerbated human trafficking. She said that contrary to popular belief, domestic servitude was the most common type of modern slavery, not the sex industry. "Victims of trafficking enter the trade in an attempt to escape poverty and strife in their homelands," Basu said.
The conference also framed human trafficking as a public health issue, to create another platform in which to attack the problem, and also to highlight the need for more services for women and children, who often suffer from physical and mental health problems. Victims also often face deportation, criminal charges and poverty.
"A lot of victims of human trafficking are also victims of domestic violence and sexual assault, and they go through trauma," said Catague.
Based on recommendations from the conference, Veloria helped procure $50,000 dollars in Gov. Gary Locke's state budget to study human trafficking to see if it existed in Washington.
"They found yes, indeed, human trafficking exists in the state of Washington," Veloria said. Once the study was reported in the state legislature the following year, she put forward a bill to make human trafficking a crime on the state level. 
At first, when Veloria went in front of her colleagues and talked about human trafficking, they acted like she was crazy, claiming it didn't exist. 
But in 2003 the state legislature passed House Bill (HB) 1175, which Veloria sponsored, making Washington the first state to criminalize human trafficking. All states have since adopted criminal penalties for human traffickers. The bill was brought to the national council of state legislators, and taken up all over the country. 
Veloria credits the adoption of anti-trafficking laws around the country with the movement she, Basu and Catague created. Veloria's legislative achievements complemented Basu's research and Catague's experience providing services to women and children. 
"If Velma wasn't in office then and she wasn't as involved in the community, I don't think we could have passed the bill," Basu said. "She always cared about what happened, not only in the Filipino community, but all of the Asian community."
Catague said that the new understanding of human trafficking helped service providers identify and help more victims. "When we go to the community and we start talking about it, we realize that there is a lot going on," she said.
In Washington, people are trafficked to work in agriculture, construction, salons, hotels, restaurants, massage parlors, domestic work and other industries. Most are people of color.
Basu, Catague and Veloria see numerous solutions that could help attack the problem.
One of these is putting background checks in place for men who seek foreign brides. Indle King, who murdered his wife Anastasia King, had a history of unreported domestic violence against his first wife. Anastasia King's mother, who attended the first human trafficking conference in 2001, said she would never have let her daughter marry King if she had known about his history.
It is also important to train service providers about what human trafficking looks like, Basu said. Nurses and doctors should be aware of potential trafficking, and should ask to see patients alone if they suspect it. Possible victims should know they are entitled to a translator.
Catague said more community education needs to be done. "There are still a lot of victims out there. They cannot come out. We need to find them," she said. 
Long-term housing is another critical resource in the fight against trafficking, according to Catague. If a victim brings charges against a trafficker, it can take years for the case to be settled. In some cases, "while they're doing that they cannot work," Catague said, "so we need to help them figure out a way how they can survive and at the same time provide support to their family back home."
Basu said organizations working to combat human trafficking and provide services for victims and survivors need to have more diversity and hire more people of color. "Most of the victims and survivors are people of color," Basu stated. "They need to diversify their staff so that they can provide culturally-appropriate services." Basu praised API Chaya for being an exemplar in this. 
Basu also calls for corporations with factories in other parts of the world to make sure their supply chains are free of coerced or exploitative labor. "Corporations that get things made in other countries, they need to pay people living wages of the respective countries, not pay them two dollars a day for ten hours of work," Basu said. "You cannot survive, you cannot feed your family." And consumers should change their mindset, and "consume less but pay people for their labor," Basu said.
For Veloria, the solution to this comes to international trade agreements. The drive for cheaper products leads to a race to the bottom, and to exploitation. 
"If you continue to have this race to the bottom, then people will want to move, they will be forced to migrate," Veloria said.
When it comes to foreign brides, "a lot of women go through it because there are no opportunities in their own country," Veloria said. "They would rather be married to somebody that could present to them a better option."
Veloria considers the bill to criminalize human trafficking one of their greatest accomplishments. It has inspired action from other groups, and continues to inspire action against trafficking, recently from the Port of Seattle and the King County Council. 
"Because of the work that we have done, there are so many people and so many organizations that have been built around the issue of human trafficking, whether it be sex or labor," Veloria said.
Catague said she is most proud to see survivors of human trafficking safe and thriving. "Now they're having a really good life, they're really successful, have jobs and have a family and are safe," she said. "I see them every day, they're in the community, they're happy and looking forward to their life."