Stevie Shao has rapidly become a well-known muralist in Seattle. Her first mural was on plywood covering a closed-down business in Ballard, Seattle. The mural featured "It's Gonna Be OK" in eye-catching, bright pink letters cleanly written over a city landscape that quickly caught the attention of many dispirited Seattleites during the pandemic. Shao began making a name for herself in the Seattle community.   
"Being a muralist is sort of the unexpected next step that I think all my prior work was pointing to. I love the physical nature of it and that each mural presents different needs and challenges for the artwork," Shao said. "If it's taught me anything, it's when to push myself harder or to pull back." 
It is interesting to think about the toll that painting can take, both physically and mentally. I think we often default to thinking about painting a small canvas or a piece of paper and perhaps not about the physical act of moving the brush across a vast surface. I cannot imagine the confidence Shao might need to make such broad, steady strokes across an intimidating canvas like that of a wall or an entire storefront. 
"I love the physical nature of it and that each mural presents different needs and challenges for the artwork. It can be really hard on your body, which I think makes it easier to check in with myself and pushes me to advance the work and technique," Shao said.  
Reflecting the culture she grew up with, and as a second-generation Chinese American in Seattle, Shao's murals allow her to express her heritage. 
"It helps me celebrate the natural environment in the Pacific Northwest, where I grew up, as well as my Chinese heritage," she said. "I'm really enthusiastic about engaging color schemes you can find in traditional textiles and crafts, and love incorporating bright patterns and really bold imagery."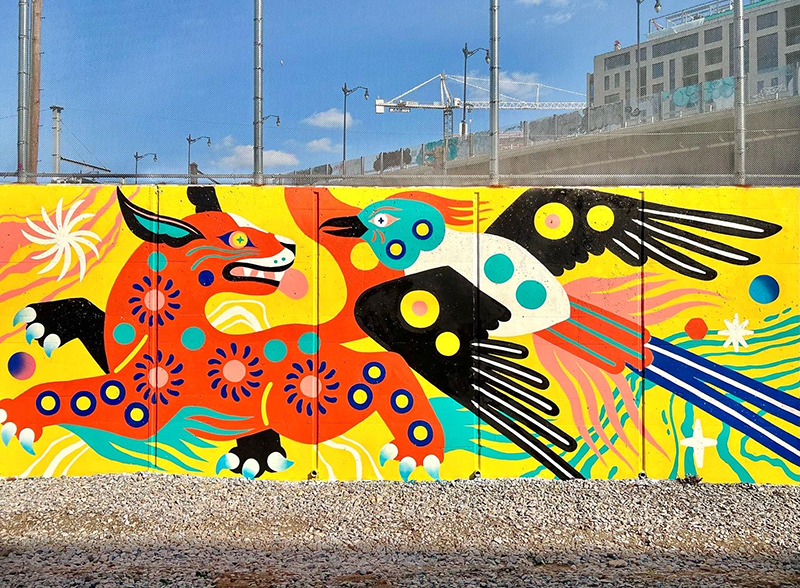 Since completing her first mural, Shao has become a full-time artist and has more recently worked on a mural in Washington D.C. at Alethia Tanner park, the Crossroads building near UW campus, and a collaboration for Forest for the Trees this past week with Lauren YS (@squid.licker on Instagram) who was visiting from Los Angeles. They collaborated on a mural on the top floor of the historic Railspur Building. 
"The image is an homage to Bruce Lee titled 'Enter the Dragon,'" Shao said. "Lauren recently shared a post explaining some of the work Lee did during his lifetime. In 'Enter the Dragon' he 'showed the symbiotic relationship between colonialism and racism. It included direct references to police harassment of Black people and also the Black martial arts movement,'" Shao said, quoting YS. 
Painting a mural allows artists to have a dynamic interaction with the environment and create a material product for others to see and enjoy. It allows people to simply walk by on the sidewalk or around the corner and potentially relate to or connect with an unexpected burst of color. 
"What I love about the work I develop is that it connects to this instinct to understand the world through symbology and myths. It's beautiful that this can be formed anywhere based on our surroundings." 
This instinct to use symbols and myths Shao describes then gets put directly onto the surface of our world; this conceptualization becomes one with what is being conceptualized. I think there is a respectable vulnerability to this. While all art is vulnerable perhaps, murals specifically are exposed to the public very intentionally. Every part of it is meant to be seen: every stroke, every color, any "mistake". I personally love how unguarded it feels. 
I deeply admire the intention of the murals Shao has created and continues to create for others to connect and interact with as well as for herself: to express and honor parts of her own identity and heritage through her bright patterns and bold imagery. Stay on the lookout for her work as you will continue seeing more and more of her art popping up!