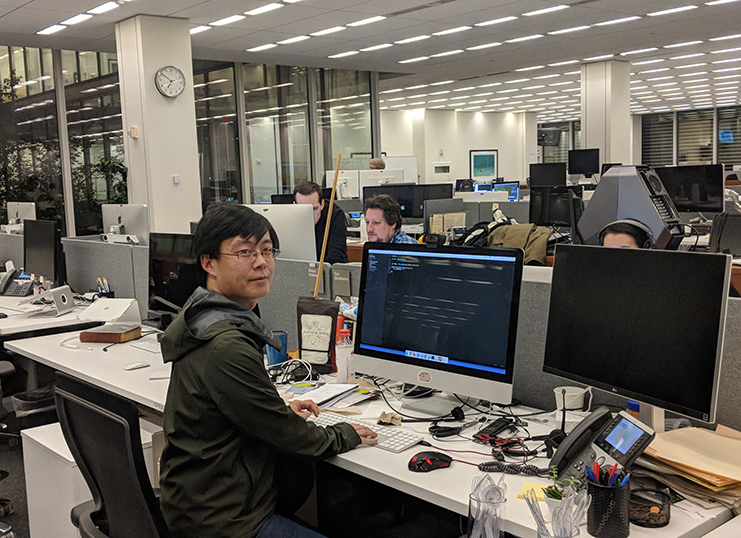 Tom Giratikanon is a Puget Sound success story, and his parents, Thai immigrants who raised their only child in Edmonds, are justifiably proud. When I revealed that his parents mentioned him five minutes into our initial meeting in an elevator, he quipped, "I'm surprised it took them that long."
"Usually it's less than five minutes," Giratikanon said. "Sometimes we'll be at dinner. And the waiter will say hi. They will say, 'I'm here with my son from New York who works at the New York Times.' It usually takes 10 more seconds before they get there."
To be fair, Giratikanon's parents made a relevant connection in that elevator. Like their son, I'm a journalist of Thai heritage who attended Northwestern University's Medill School of Journalism. Giratikanon co-founded the online daily news site, North by Northwestern, at our alma mater, and is now managing the New York Times graphics department — he's in a superlative category for journalistic achievement.
While a student at Edmonds-Woodway High School, Giratikanon's enterprising nature caught the attention of The Seattle Times, which featured him twice in 2015. The first article covered his editorial leadership and launch of The Prophet, an alternative newspaper offering critical commentary on school and social issues. The second article was an update on Giratikanon after his first quarter of college.
The Seattle Times had identified a changemaker. At his next alma mater, starting from his freshman year, Giratikanon left another legacy — North by Northwestern (NBN), an innovative news website that embraced the digital future of journalism. By his graduation in 2009, NBN was accessed daily by over 1,500 on-campus computers, had a 75-member staff, and included a print magazine. More than a decade later, NBN is a major campus news source along with its rival, the Daily Northwestern.
Giratikanon is a visual journalist at The New York Times specializing in programming, graphics and data visualization. While in the Big Apple recently, I visited Giratikanon at the New York Times, where he is assistant graphics editor. The graphics team was hard at work that evening illustrating U.S. midterm election results, but Giratikanon took some time to chat. In 2017, infographics site Malofiej25 reported that four New York Times departments were led by a visual journalist; the critical storytelling skill often leads to management.
Keep your eye on Giratikanon — his career is one to watch.
IE: Back in high school, were you on the school newspaper and then decided to spin off into an alternate one?
Giratikanon: To be on the school paper in high school you had to be in the class or the class associated with it. Because of scheduling, I wasn't able to take that class. So I and a few others started our own newspaper/magazine, The Prophet.
IE: Did you feel there was a particular perspective to convey or otherwise something lacking in the traditional school paper?
Giratikanon: We wrote about the rise of social media at the time, how to communicate off the Internet, a long story about Xanga [a website that hosts weblogs, photoblogs, and social networking profiles], things that wouldn't have been covered in the school paper but we thought would be interesting. I wish I still had copies of the Prophet.
IE: Before you started the school paper, what did you think you were going to be when you grew up?
Giratikanon: There are so many things. I remember in high school making a graphic that showed different career paths…when I would go into each, things like radio show host, or gamemaker, or codebreaker, I don't remember where journalism falls in it. It was subsection of media.
IE: Interesting you were already showing your penchant for graphics!
Giratikanon: Visual display of information, yes. I've been trying to find that piece of paper. I know it's somewhere in my house. I drew it, and there's only one copy.
IE: You were a summer instructor with the Medill-Northwestern Journalism Institute for nine years. That's a high school program. Did you participate as a student?
Giratikanon: Yes. One of my teachers in junior year of high school recommended, suggested, it to me. It's called "Cherubs" informally. It's like a five-week thing where you live on campus and meet journalism professors and meet others who are interested in journalism. With that experience it's hard not to get excited about it with all the people around you excited. There were a lot of people who came in from photography, broadcast TV or writing. It was a really amazing experience. I remember meeting an instructor who was a freelancer for the Los Angeles Times. That blew my mind so hard… I was like, this is a real person who has a byline! It was so transformative to meet someone who actually does the work.
IE: North By Northwestern (NBN) was pioneering also because it was a digital publication at a time when the existing campus newspaper was all print. Tell us how you came up with this. You had a partner, right?
Giratikanon: I had a co-founder named Patrick St. Michel, also at Medill. We became roommates. Both of us felt like there was this new thing — online journalism — but there wasn't quite an outlet to try out those things. So we decided to make something new. I worked at the Daily Northwestern which is a great publication but at the time it was very focused on their daily print. So it just felt like we needed to be able to try out these new things, so that was the driving force. Others, including one of my colleagues who is now here [at the New York Times], also helped. They were the first staffers, first participants.
Actually after AAJA [Asian American Journalists Association annual convention], it was in Hawaii that year, 2006 maybe, it was after my freshman year, I spent the summer designing the site. Andrew Devigal, who now teaches journalism in Oregon, was here, used to run the multimedia team at the Times. He was one of the mentors in the student newsroom at AAJA Hawaii so he taught me a lot about gathering audio, editing photos, how do you tell the visual or different type of story. I used to wonder why can't we do these things back in school. So that led us to creating a website.
IE: It sounds like Medill was very open to letting you explore this creative idea.
Giratikanon: They didn't stop us, if that's what you're saying. We didn't ask for permission. We didn't notify them. We just kind of did it. Initially from our dorm room, and then yes, from a Medill classroom at night. A computer lab. Budget's expensive.
IE: You seem very humble but it's this thing today which is gone strong up to this number of years.
Giratikanon: 12 years, I guess.
IE: Yeah! 12 years. I remember it while on campus in 2008. I didn't realize at the time it was still so new.
Giratikanon: One of our interns in interactive news attends NU, and works at NBN so actually a lot of interns in the Times newsroom have come through NBN. A total of four people at the New York Times have worked on NBN. So three including myself in the graphic department and one at the breaking news desk. NBN has a great track record. Two Pulitzer Prize winners.
IE: Tell us about your journey to the New York Times after college.
Giratikanon: I graduated in 2009 during the recession. It was hard to find a job — I was unemployed for 6 months. My first job after school was at the Boston Globe. I was there two and a half years, then I came to the Times. And I've been here for six and a half years.
I was interested in and made a lot of graphics at NBN. At the Boston Globe, my job was not graphics specifically, it was more general coding, but I was interested in and found time for graphics. It was about a quarter of my job at that point. I was doing broader work, in terms of general newsroom development — some graphics but also making reader tools, photo submission and voting tools. We did this thing called "Munch Madness" where people voted for their favorite restaurants in Boston. That was pretty fun. We built graphics for presenting work in different ways. So I didn't do a huge map until I got here actually.
IE: Did you have your sights set on coming to New York City as the hub for journalism?
Giratikanon: I wanted to work at the Times specifically just because before I got here, for a long time, they'd clearly been leaders in certain graphics and visual journalism and visualizing things in different ways. So if you want to do that work it's a pretty common place to want to work if you're interested in that.
IE: Did you apply cold to the New York Times or did you have a connection here?
Giratikanon: I got rejected many times from the New York Times before I worked here. At least three times.
IE: And then finally the door opened.
Giratikanon: Yes. My parents were excited that I got a job, period. Thinking back to those six months of being unemployed. They were so happy by the time I got a job. They were much happier than I was. I was happy, but they were ecstatic!
IE: What's the most fun thing about living in New York?
Giratikanon: The food is amazing, which is probably a boring answer. My favorite Thai restaurant is SriPraPai, the one in Queens. And there are a lot of places now that are serving khao mun gai (chicken rice). The new trend here is carts and street food.
IE: When you go back to Seattle what's your favorite restaurant to visit?
Giratikanon: We like trying whatever new Thai restaurant just opened. Every time I visit home my parents will take me to the latest new place with some twist or different approach.
IE: Growing up, were you and your family well connected to the Thai community of Seattle?
Giratikanon: We definitely, we obviously have a lot of family, family friends also from Thailand. For example, one thing my parents did every year was have a pretty big Thanksgiving with all the family but also other Thai people they met along the way, or sort of became close to us. So the thing I go home every year for is that. There's about 30 people — both family and people who grew up in Seattle together, who came from Thailand or Bangkok.
IE: Any tips for budding journalists, especially of Asian American descent?
Giratikanon: Advice, I mean, do it if you enjoy it. With graphics and more technical [side of journalism]… it's actually pretty easy to get a job if you're interested in that kind of thing. As a writer, it's much more challenging. So it depends on what you want to do.
Giratikanon's work can be seen at:
https://www.nytimes.com/by/tom-giratikanon