This year is a banner year for author Rajani LaRocca. She has two middle grade novels publishing as well as four picture books for children.
Welcome to the International Examiner, Rajani. How did you get into writing children's books?
I've loved books and writing from childhood, but I also knew from an early age that I wanted to be a physician. When I told my teacher in a high school creative writing class, "I love writing, but I know this won't be my career, because I want to be a doctor," he said, "Who says you have to choose?" He brought in books by authors who happened to be doctors, so that planted a seed in my mind. During medical school and early motherhood, I didn't have time, but 10 years ago, I decided to try being creative again. It quickly became apparent to me that I wanted to write for children, because the stories I cared about the most were ones I read as a kid.
What were your favorite books as a child?
My all-time favorite was The Westing Game by Ellen Raskin. I loved the big cast of characters, the central mystery, and the spunky kid protagonist. I also loved all of Madeleine L'Engle's novels, especially The Arm of the Starfish, which involves marine biology where the line between science and science fiction is wonderfully blurred. When I visited my family in India, I fell in love with Amar Chitra Katha comics that depicted stories from Indian history, literature and mythology. As someone who was raised in the U.S., those books gave me an invaluable link to where I come from.
Since 2018, you have had eight widely acclaimed books in print. How do you balance family responsibilities and being a doctor with such a prolific writing career?
When you love something, you always find time to do it. In a way, I think having two busy careers forces me to be more efficient. And being a working mom means that I squeeze writing into the "nooks and crannies" of my days: while sitting in parking lots at school or at piano lessons or on sports fields during halftime. I dictate into my phone trying to capture ideas when they arrive. I've written early in the morning and late at night. I also set short-term and long-term writing goals.
What books are next for you?
I'll Go and Come Back will be published by Candlewick on March 29, 2022. It's a picture book about a little girl who visits her family in India and feels lonely and homesick. Her grandmother makes her feel better through play, reading and food. When the grandmother visits the girl in the U.S. and feels homesick herself, the girl makes her feel better. The story is built around a Tamil phrase where people never say "goodbye," but instead, "I'll go and come back," which holds the promise of return. My next middle grade novel, Switch, with Harper Collins comes out in fall 2022. It's about musical twin sisters who grow apart, impersonate each other at their summer camp on a dare and find that music helps them find their way back to each other.
***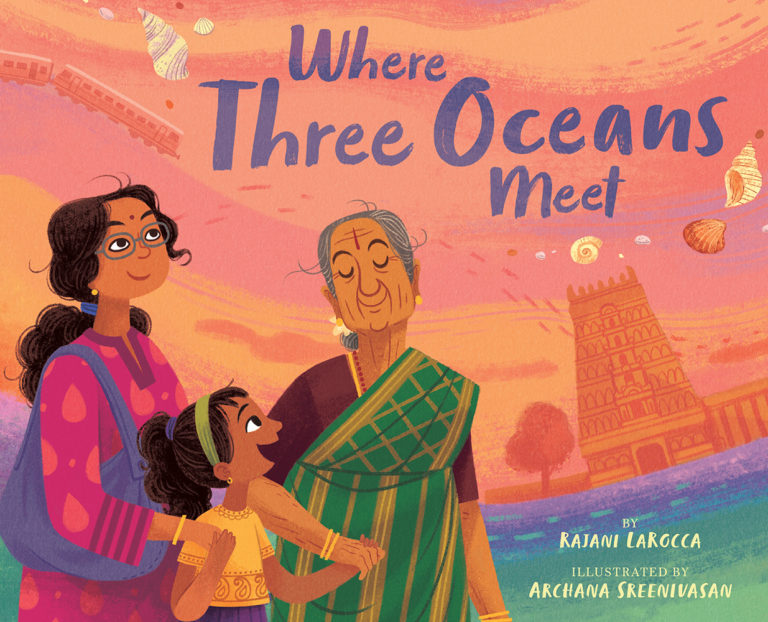 Where Three Oceans Meet by Rajani LaRocca, illustrated by Archana Sreenivasan
This is a gorgeous meditation on the meaning of family and the feeling of oneness that can be experienced with people in vast spaces of nature. Young Sejal and Mommy live in the U.S. and are currently visiting Mommy's mother, Pati's, home in South India. Together, they plan a tour of some of the cities, meeting friends along the way. The trip is rich with experiences for Sejal, such as traveling on the Indian railway, tasting new foods, shopping in bazaars, praying in temples, her first boat ride. Sejal never wants the trip to end, and yet, she cannot wait for the culmination of the trip: Kanyakumari, India's southernmost point, where three oceans – Indian Ocean, Arabian Sea, and Bay of Bengal – meet.
Like three fragile strands of hair make one strong braid, these three women of different ages and experiences have discovered over the course of their journey that they make one strong family. The artwork is replete in cultural details that only a skilled artist embedded in the culture can impart.
Seven Golden Rings by Rajani LaRocca, illustrated by Archana Sreenivasan
The talented writer-illustrator duo returns with a lovely folktale of how a bright young man in ancient India advances in life by using his skilled mind. Bhagat is a poor young man barely eking out a living in a dusty corner of the Rajah's kingdom. The king is fond of music and the arts, but he is not a good manager of resources, so his people suffer. Bhagat decides one day to invest his last resources into a musical performance in front of the Rajah, hoping to earn a place in the royal troupe. Bhagat uses math to stretch his meager resources far. While he does not qualify for the troupe, his brainy mathematical, binary computing and musical abilities convince the Rajah to hire him as a planner and thinker for his kingdom. The expressive artwork is steeped in the historical children's art techniques of India.
Bracelets for Bina's Brothers by Rajani LaRocca, illustrated by Chaaya Prabhat
For the Indian holiday of Raksha Bandhan, Bina is determined to make bespoke bracelets for her three older brothers based on their preferences of colors they like and colors they don't. Bina uses colors and patterns of beads to weave together memorable tokens of her affection. This book is for the young who are just learning patterns, the basis of math. The clever artwork conveys the joyous love Bina and her family share while at the same time telling its own smaller, complementary story. It also conveys the essence of the festival of Raksha Bandhan, which celebrates the bond between brothers and sisters.
The Secret Code Inside You: all about your DNA by Rajani LaRocca, illustrated by Steven Salerno
This outstanding book has it all: story, science, philosophy and even a banana chemistry experiment. Through rhythmic, rhyming prose, it explains the essential complexity of cells, DNA, and genetics in a simple fashion for young minds. The essence of the book shows the dichotomy between the predictive nature of genetic code and the freedom of human choice. Even while explaining how the body works, the words urge children to look beyond to the limitless possibilities of what the mind and body can do together. Who "you" are is unique. The artwork is fun and fresh and adds to the playful mien of the book. It changes in style, emphasis and meaning as the words shift from page to page. This book is a must for every children's library and home libraries of kids everywhere.