Donnie Chin, longtime director of the International District Emergency Center, was a hero within Seattle's Chinatown-International District. In the 1970s and '80s, Chin led a group of young first responders, mostly kids from the neighborhood, who stood guard as the community's firefighters, medics and rescuers.
They were known as Donnie's kids. 
"He based IDEC really on the Black Panther movement, in that sense of building community and supporting yourselves in this need and doing for the community, what the white community would not do for you," said Maiko Winkler-Chin, executive director of the Seattle Chinatown International District Preservation and Development Authority.
It's been five years since Chin was shot and killed in the neighborhood he dedicated his life to protecting, and his murder remains unsolved. The rise of a new street patrol in the International District, against a backdrop of debate around defunding Seattle police, marks the anniversary. 
The motley crew who congregated at the neighborhood's Emergency Center in those early days were children of immigrants, who worked long, low-paying hours in restaurants and garment factories. The center was a place to do homework and listen to Chin's favorite Motown tunes. Most calls they got were for drunk and disorderly conduct, but there also were accidents and crime scenes. 
"Because at that time, back in the days, they had hard time getting 911 response in a rapid time," said Kay Chinn, one of Donnie's kids who began helping Chin when he was 13. "He done some crazy stuff but they're wonderful crazy stuff." 
Another of the kids, Johnny Chan, remembers listening for calls and going on runs with a 40-pound citizens band radio. 
"He put a backbone on me," Chan said of Chin. "He taught me how to be streetwise. How to look out for others the proper way." 
Dean Wong, a close friend who helped found the Emergency Center, muses about the hole Chin left in the community. 
"We're all getting older," Wong said. "All the key members are nearing 70." 
Of all the prominent Asian Americans of his generation, he added, "no one is remembered like Donnie."
'Making sure everyone's okay'
It's Friday night. About a half dozen volunteers cluster under the Hing Hay Park pagoda to follow leader Tanya Woo on a patrol of the International District. Woo grew up in the neighborhood and her family owns the Louisa Hotel, which has been converted to affordable housing.
"Our whole premise is safety in numbers, hoping that our numbers are a deterrent for people," Woo said. "We're just out there watching, making sure everybody's OK."
Recent neighborhood crimes include three, consecutive break-ins at Tai Tung Restaurant on King Street, the first in its 85-year history, owner Harry Chan said. An intruder stole cash July 15, followed by a break-in and a subsequent arrest.
Matthew Toles, 26, a former resident who comes frequently to the International District, started the night watch to address long-standing problems in the wake of the George Floyd protests.
"The events of June 1 were more of a catalyst than a motivation," Toles said. "They were what got the community together and what made it very apparent that nobody was going to take care of us and that we have to do it ourselves."
Each shift draws people of all ages, races and backgrounds to walk the city's International District, Nihonmachi and Little Saigon. Many are regulars. Toles envisions the patrols lasting "in perpetuity," to pick up where Chin and others started many years ago.
Donnie's Kids were part of a street battle over survival. The cops couldn't be trusted, so neighbors looked out for their own. The crew that shows up today is united, similarly, by a shared sense of ownership.
"I like that there's people here I know and people that care about me and will look out for me and take care of me," Toles said. "This is just what a community is about."
Dean Wong: Dragon 2 (1968-present)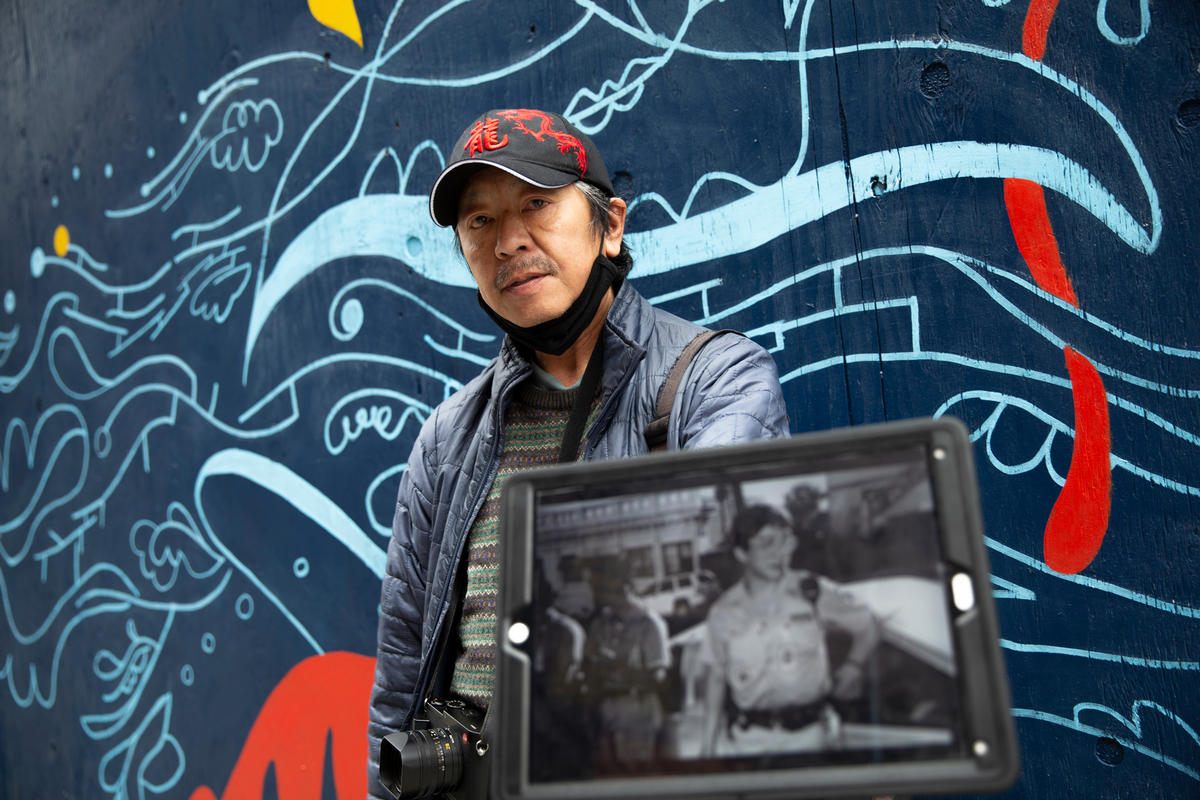 Johnny Chan: Dragon 59 (1980-1995; 2018-present)
As the Dragons grew older, the allure of peers from outside the International District peeled some away. Johnny Chan, who lived with his mom and older brother at the Oak Tin Family Association Apartments, remembers Chin shaping his taste in music.
"We were outside all night," Chan said. "We would stay with him. He would feed us, listen to his oldies music." The Kids would dig through old records to find something "smooth;" Smokey Robinson was Chin's favorite.
The uniform matched Chin's love of military gear and offbeat habit of picking up MRE rations for the Kids.
"He literally made me wear khaki bell-bottoms and military boots and run around with a 40-pound bag of CB radio on my back," Chan said. "My friends would say, 'Hey, I just saw you yesterday, you were like Rambo or something.'"
As Chan entered high school, the explaining got more awkward and he spent less time at the Emergency Center. In 2018, he became active again.
Kay Chinn: Dragon 71, (1982-present)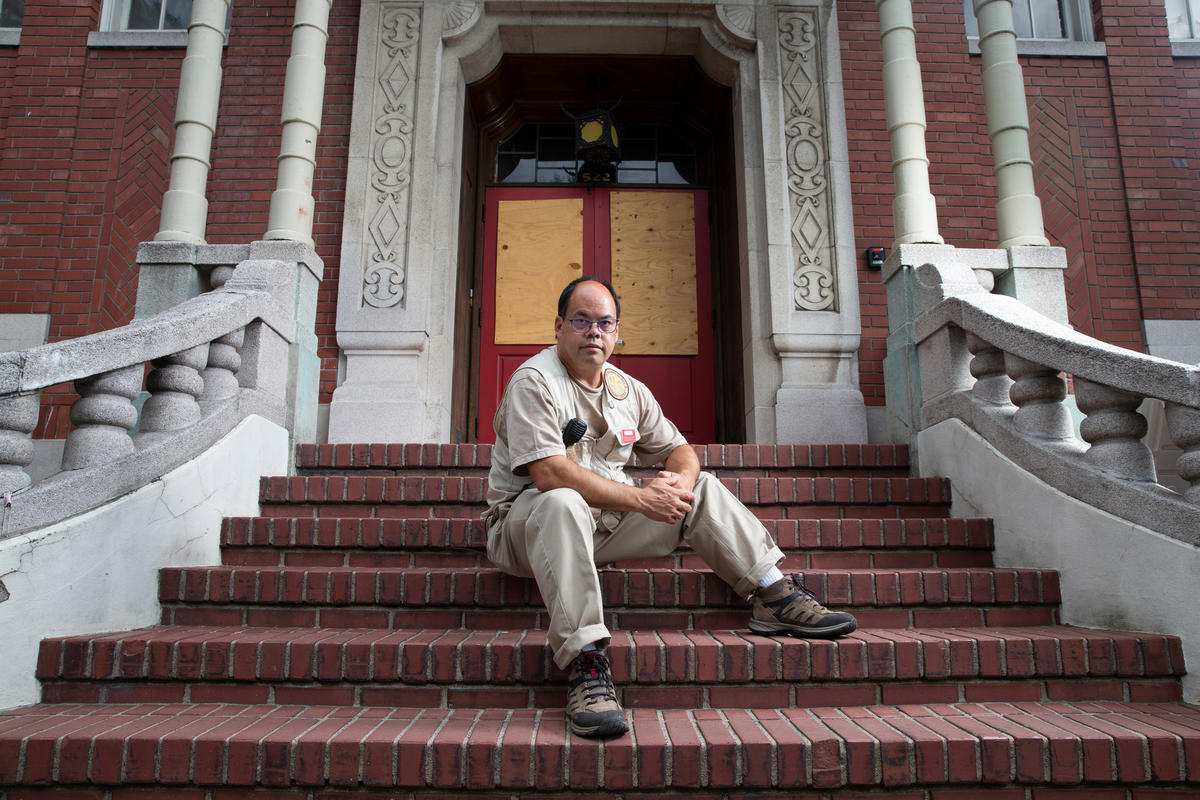 He'd strengthen you on your strengths. He strengthened your weaknesses, too. He made you.
Some of Donnie's Kids have passed the torch to bring their kids around to volunteer at the Emergency Center. Kay Chinn, a second-generation Chinese American, lived off and on in the International District and Beacon Hill. He still volunteers for the center, along with his 14-year-old son, Shawn, who serves a support role — code name Support 23.
"He'd train you," Chinn said. "He'd strengthen you on your strengths. He strengthened your weaknesses, too. He made you."
Chinn remembers hustling at odd jobs, doing restaurant and delivery work and how he felt safe with all the adults looking out for him. "I got to know all of the elders here because I was at IDEC and we would work with all of the elders doing first aid and stuff."
It shaped Chinn's need to give back. "That was my way of paying them back for all their service of watching me as a kid. That was my honor."
Angela Lee: Support 7 (1990-2018)
The few girls that braved hanging out with the boys had to be tough. Chin egged them to stick up for themselves. "We lived here, worked here, played here, you name it," said Angela Lee, who lived at the Kong Yick Apartments until her family moved to Beacon Hill in 1983.
The Kids picked fights and played simple games. "We took Donnie's Taser machine and played tag with that," she said. "That was our toy back then."
By middle school, the bickering died down and the Kids were helping out. Lee would translate for the elders and recent immigrants, something Chin often asked the Kids to do. She continued to come back through the years — and to see the same, now-grown faces.
"Eventually we all came back and volunteered and helped out whenever we can," Lee said. With COVID-19, and no street fairs such as Dragon Fest and Bon Odori, that has changed. "This year is the first year we're not doing aid stations. It's kind of sad."
Angela Toda is marketing and communications administrator for International Community Health Services. She reported this story in partnership with photojournalist Karen Ducey. The photography for this project is supported with a grant from 4Culture and from the Society of Professional Journalists–Western Washington chapter Passion Projects grant. This story is co-publishing in partnership with the public radio station KNKX.