"Rocking is really essentially a metaphor for having the fearlessness to try, and when you fail, you pick yourself back up again."
— June Millington, co-founder and lead guitarist of Fanny 
From 1969-1975, Fanny, a groundbreaking Filipina American-led and founded all-female rock band, achieved commercial success with the release of five critically-acclaimed albums, including two Billboard Hot 100 Top 40 singles — yet, many have not heard of them until now. 
Fanny was co-founded by guitarist June Millington and her sister, bassist Jean, both self-taught musicians who had played music together since moving from the Philippines to Sacramento, California in 1961. After playing through a couple of variations of the band —first called as The Svelts, then as Wild Honey — they attracted the interest of producer Richard Perry who signed them to Reprise Records in 1969 as Fanny, which made the group the first all-women rock band to record an album under a major record label.
David Bowie was a fan. In a 1999 interview with Rolling Stone, Bowie declared Fanny as "One of the most important female bands in American rock." He noted: "They were extraordinary: They wrote everything… they were just colossal and wonderful, and nobody's ever mentioned them. They're as important as anybody else who's ever been, ever; it just wasn't their time. Revivify Fanny. And I will feel that my work is done."
The documentary, Fanny: The Right to Rock, did just that.
Directed and produced by American-Canadian filmmaker Bobbi Jo Hart, the film includes an extensive archival footage of the band's journey — from their highs and lows, touching on racism, sexism, and the power of feminism and sisterhood.
The documentary also includes interviews with musical icons like Bonnie Raitt, The Go-Go's Kathy Valentine, The Runaways' Cherie Currie, The B52's Kate Pierson, Todd Rundgren, Def Leppard's Joe Elliott, Charles Neville, and David Bowie guitarist and bassist Earl Slick and Gail Ann Dorsey, all of whom sing praises about Fanny. 
In 2018, nearly 50 years after forming Fanny, June and Jean Millington, along with Brie Howard-Darling, who has played with the sisters since The Svelts, reunited the band back together as Fanny Walked the Earth, a name which Howard-Darling said that "speaks of Fanny was here, and Fanny made a mark." They released an 11-track album, proving they can still rock.
Now in their 70s, Fanny deserves the overdue recognition they're receiving and more. The documentary Fanny: The Right to Rock is a must-see for musicians, music historians, music lovers, as well as the Filipino American/Asian American community. 
Fanny: The Right to Rock is screening as part of the Bainbridge Island Film Festival at Island Center Hall on Saturday, September 23 at 11:30 a.m. and at Lynwood Theatre on Sunday, September 24 at 4:15 p.m. Bainbridge Island resident Linda Wolf, archival photographer for Fanny, will be in attendance for a Q&A. As a preview, below is my interview with Linda:
Joann Natalia Aquino: In 1969, while working at Warner Bros./Reprise Records, you met the band Fanny. How did you become their resident documentary photographer?
Linda Wolf: I was 19 in 1969. I'd just returned to Los Angeles from living in the Sierra Nevada Mountains with Jackson Browne's band and needed a job, so I applied as a secretary at WB/Reprise Records. I'd been working there a couple months when I was asked to take care of this all-girl rock band who had just been signed to the label and who were coming in for a meeting. From the minute I saw the girls strutting down the hallway at Reprise, I knew I wanted to be part of whatever they were doing. We became instant friends. They needed a keyboard player, but I couldn't play well enough to join the band, so June (Millington), lead guitarist of the band, suggested I be their photographer. She had installed a makeshift darkroom behind the rehearsal room, lent me her father's Leica M3, and I quit my job and moved into Fanny Hill.
JNA: You lived with the band for a year and half at Fanny Hill, their then-mansion on Marmont Lane in Hollywood. What was that experience like?
LW: It was the best. We were a true sisterhood. The main focus in the house was rehearsing for the record to be recorded. Warner Brothers gave the girls a small stipend for food and covered the rent. I took small jobs as a writer doing some guy's homework who went to UCLA. We cooked our meals together and took our laundry to the laundromat and made bran muffins daily. Friends would come at all hours of the day and night to jam. Lowell George of Little Feat was a regular, and I brought over friends of mine from The Band. Dave Mason, Bernie Taupin, and other musicians who were in town dropped by including Joe Cocker. My role was to document everything, and I took it very seriously.
JNA: Over 80 of your archival photos of Fanny are featured in the documentary, Fanny: The Right to Rock. What moments were you looking to capture when you were photographing the band?
LW: Really, it was pure photojournalism. I'd been brought up and inspired by natural light, B&W photographers — Dorothea Lange, Cartier Bresson, Edouard Boubat, Doineau, Lartigue and the book The Family of Man. I photographed what I felt — what was raw and real and happening in front of me. It was an exciting time.
JNA: Did you stay in touch with the band members after you left Fanny Hill?
LW: Yes, we're friends for life, but there were stretches of time when we were not in touch. For example, I left Fanny Hill in March 1970 for a couple months to go on the road with the Joe Cocker: Mad Dogs & Englishmen Tour as a photographer. Also, Nickey Barclay, from Fanny, went on the tour with Mad Dogs for a few weeks. When the tour ended, I moved back into Fanny Hill, then later left for college in France where I lived for 5 years while Fanny got swept up in success after success — touring, recording with Barbra Streisand, making a record at Apple Studios in London, hanging with David Bowie, the Stones and the Beatles.
Our trajectories diverged but we kept in touch through postcards and letters. Later, Jeannie stayed with me after her breakup with Bowie, and I hung out with her after she married Earl Slick and had children. I'd see Brie from time to time because she lived down the street from my parents in Sherman Oaks and over the decades, I would photograph June's various projects.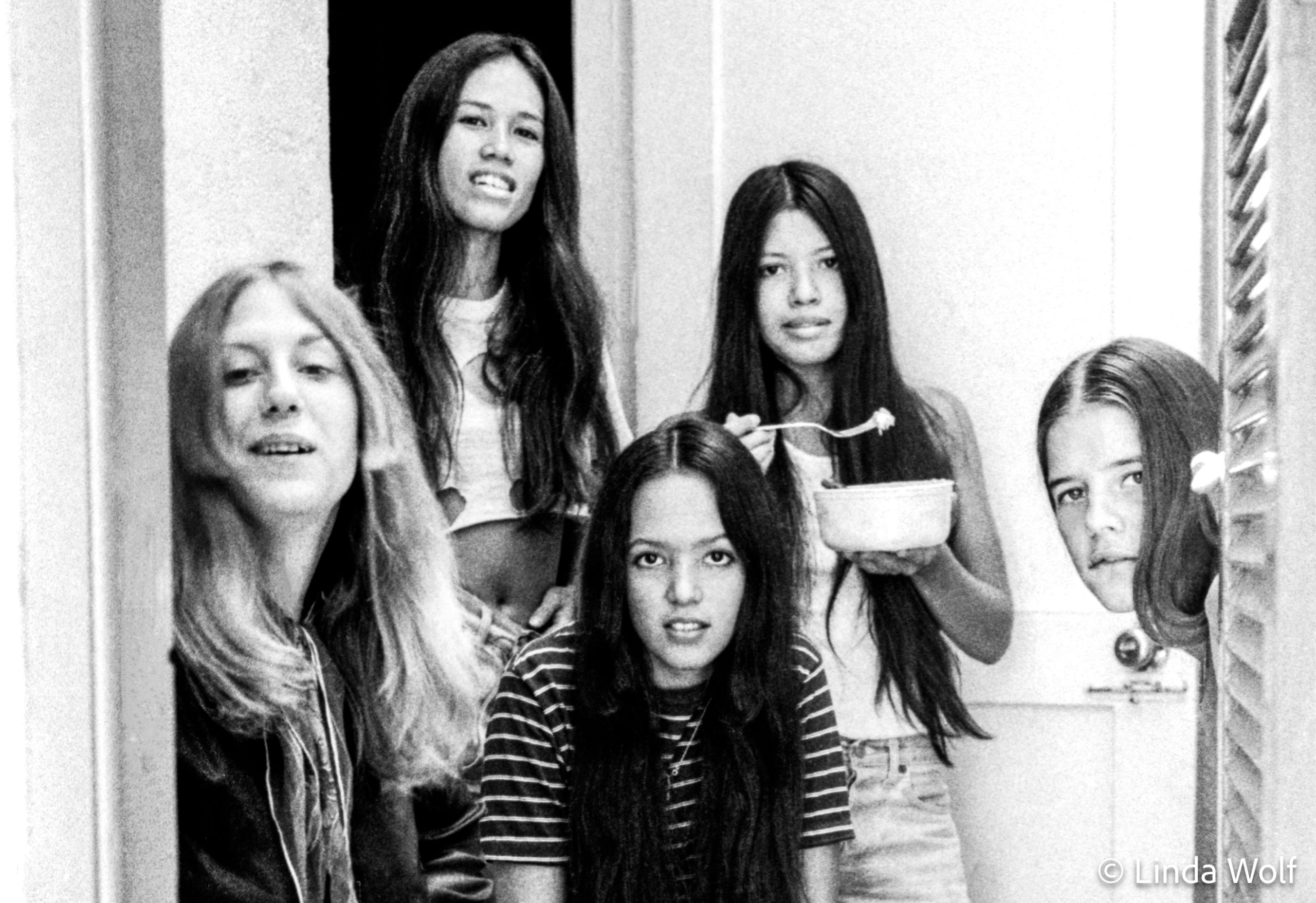 JNA: What led you from California to Bainbridge Island? 
In the late 1980s, we had two daughters under the age of 5. We didn't want them to grow up in LA. We wanted them to grow up in the kind of natural world Bainbridge afforded them. Also my father had moved up to British Columbia and we wanted to be near him. I asked around for suggestions of where we could find a ruralish community with a health food store, organic farms, good schools, and an artist community. Everyone said, "Bainbridge Island."
Since moving here, I've done what I can to contribute to this community. I founded Teen Talking Circles, a nonprofit which is over 30 years old. Interestingly enough, June Millington visited us here on Bainbridge in the early 1990s. She and her partner, Ann Hackler, had already co-founded the nonprofit the Institute for the Musical Arts (IMA) which has grown into an internationally known teaching, performing, and recording facility supporting women and girls in music and music-related business. They wanted to know more about how we ran our nonprofit for girls. So, you see, I've been interweaving with my Fanny sisters for a long time and in many different ways.
Learn more about Linda Wolf's work via lindawolf.net and beingahuman.substack.com.